We've written a lot about braiding in the past, but braids are a topic that we'll never get tired of covering because there are just so many styles, shapes, and kinds! The options are basically endless, making hair braiding one of our favourite style and beauty topics to investigate, pour over, write about, and even learn ourselves. Whether the braid is the primary feature in a hairstyle or whether you're simply adding braided detail to a style, we're sure you'll find something you love on this list.
Check out these 15 gorgeous braided hairstyle ideas that are perfect for a night out, a special occasion, or even just a casual day at work or school if you're in the mood for looking your best! We know that some of these are pretty intricate, but once you've master basic braiding techniques, we think you'll be surprised by how naturally some of the multi-stranded and more complicated looks come to you. You'll never learn how to do them if you don't try! See what we mean below.
1. 5-strand braid with a braid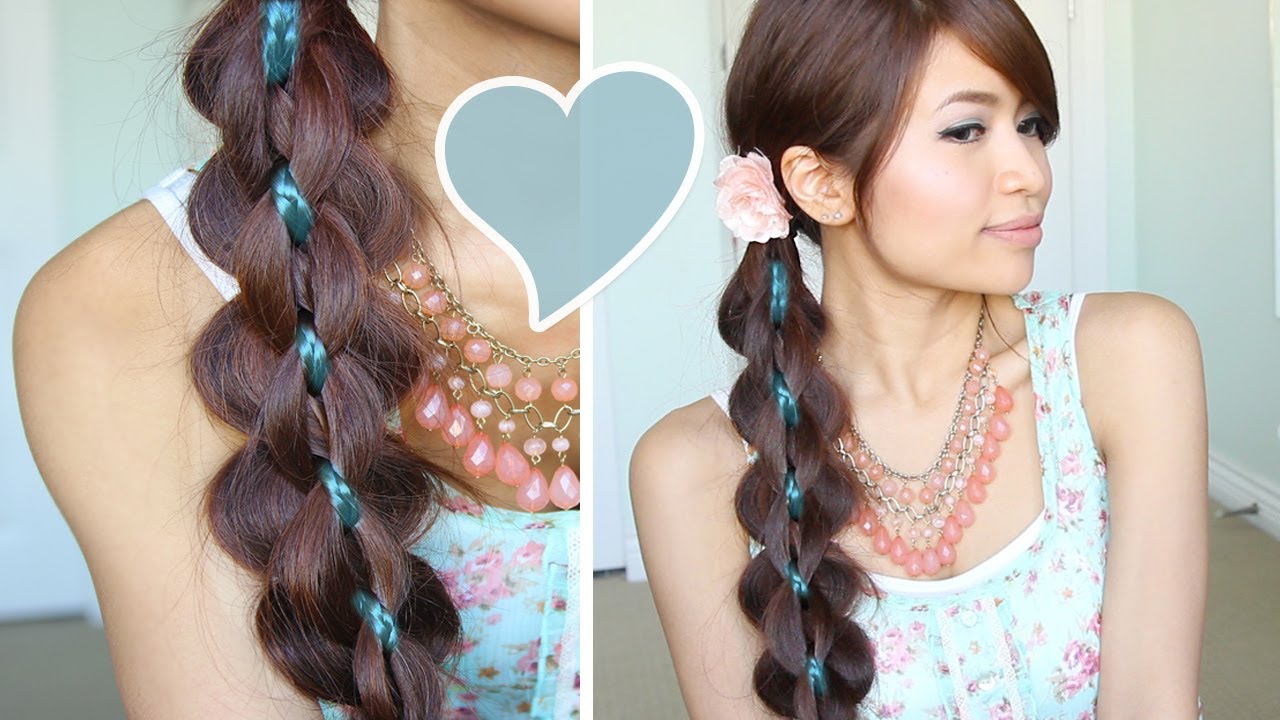 5-stranded braids are always stunning, even if you just braid them tightly and normally, tie them off at the end, and call it a day. If you're looking for a way to make them look even a little bit more interesting than they already do, however, then you should definitely check out this idea from BebeXO! Besides pushing the strands up the centre one a little bit to give the style some extra visual texture, but they've also tied a faux hair braid at the top and used that as one of the five weaving strands. We adore the way they chose a blue one to stand out from the black hair in an absolutely stunning way.
2. Braid on a braid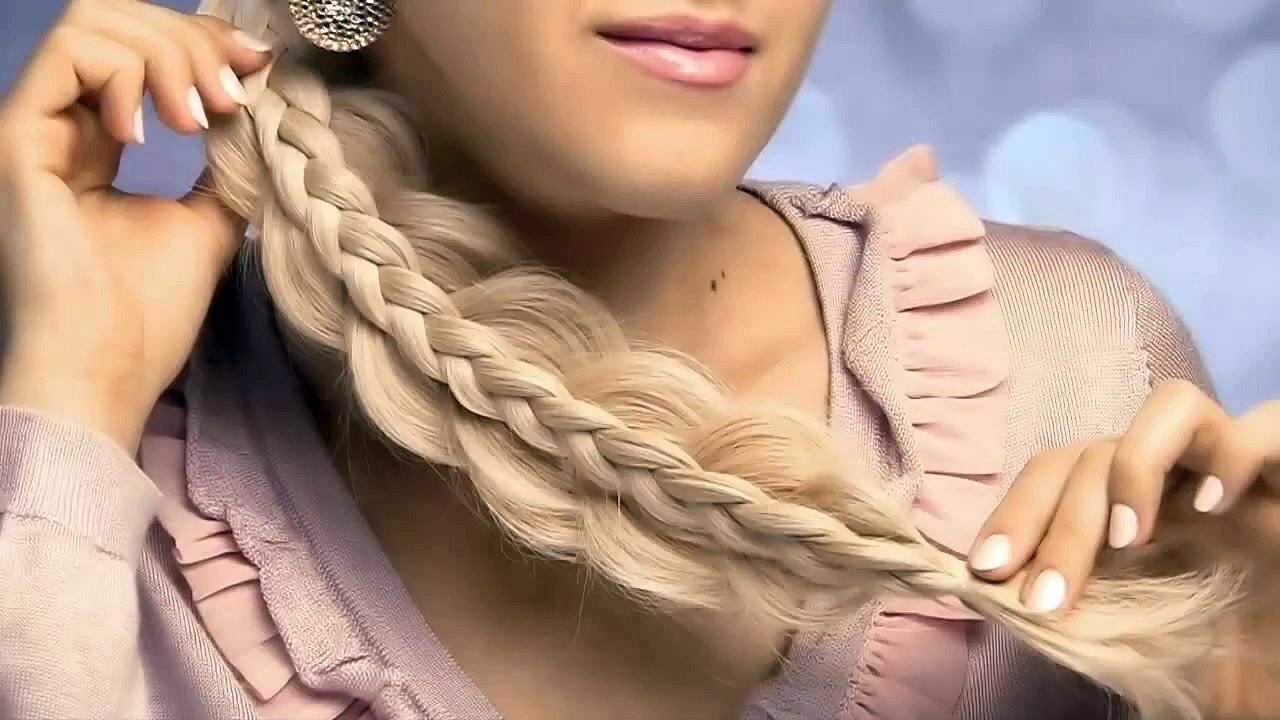 Are you looking for something a little more unique than a braid that's been braided into another braid because you're actually quite experienced at hair styling and you're ready for a challenge? Then check out this stunning option from Fashionisers that involves creating a braid on top of another braid! We can't get over how pretty the layered look is in the end, with loops from the base braid looping out from behind the braid on top.
3. Trendy retro braids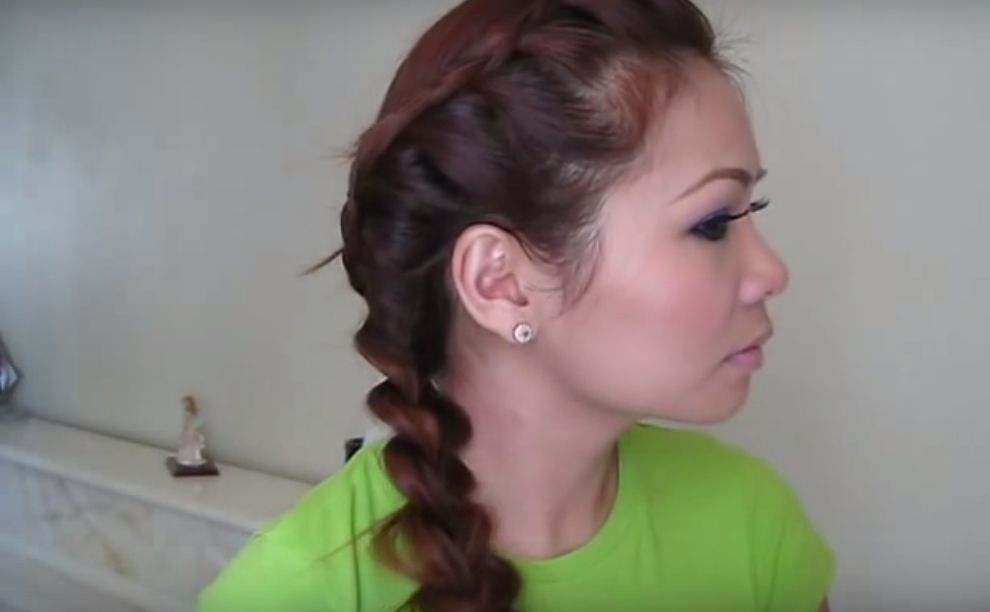 Perhaps braids are your favourite because your personal style is quite "Boho chic" and you like the way they call back to a more vintage look in your long, textured hair? Then check out how Cinthia Truong took that retro idea and ran with it by braiding the hair from the very front hairline, down to the ends so the whole head is framed in a pretty way.
4. Tangled inspired braid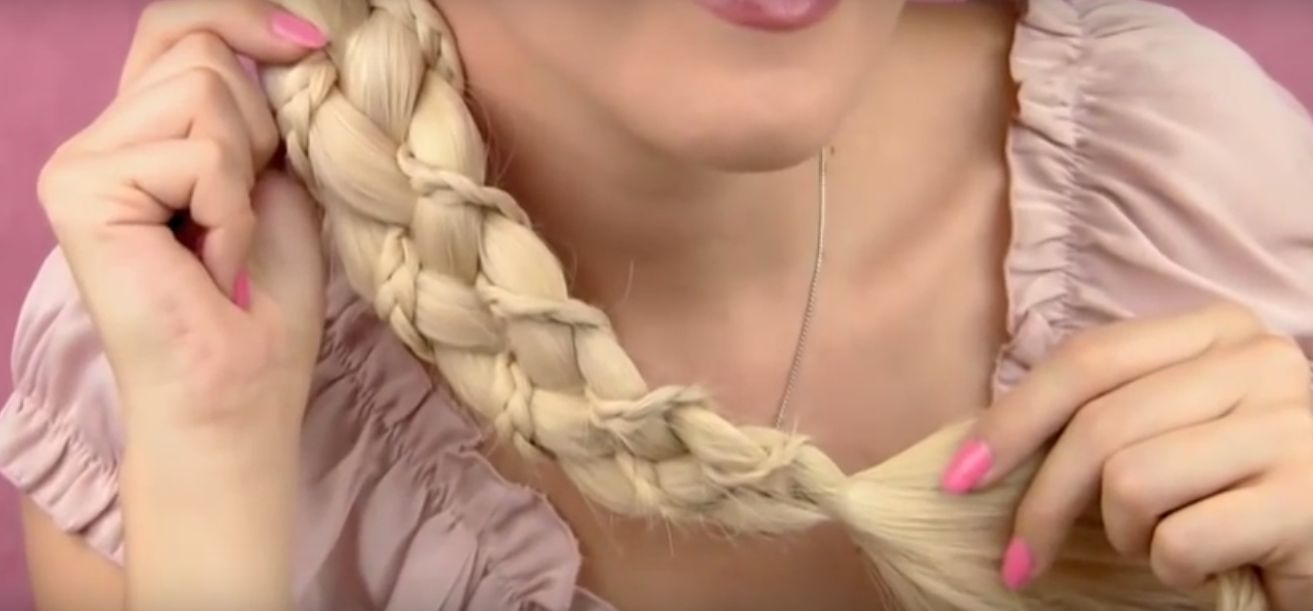 Have you always loved Disney movies and wished you could look like a Disney princess since you were very little? Well, by now we're sure you've accepted that you might never be an actual princess, but that doesn't mean you can't style your hair like one! The Rapunzel-inspired movie Tangled features a princess with a stunning, intricately woven braid that features several other braids winding throughout the base strands, and that's exactly what Lilith Moon teaches you to do here.
5. Waterfall mermaid braid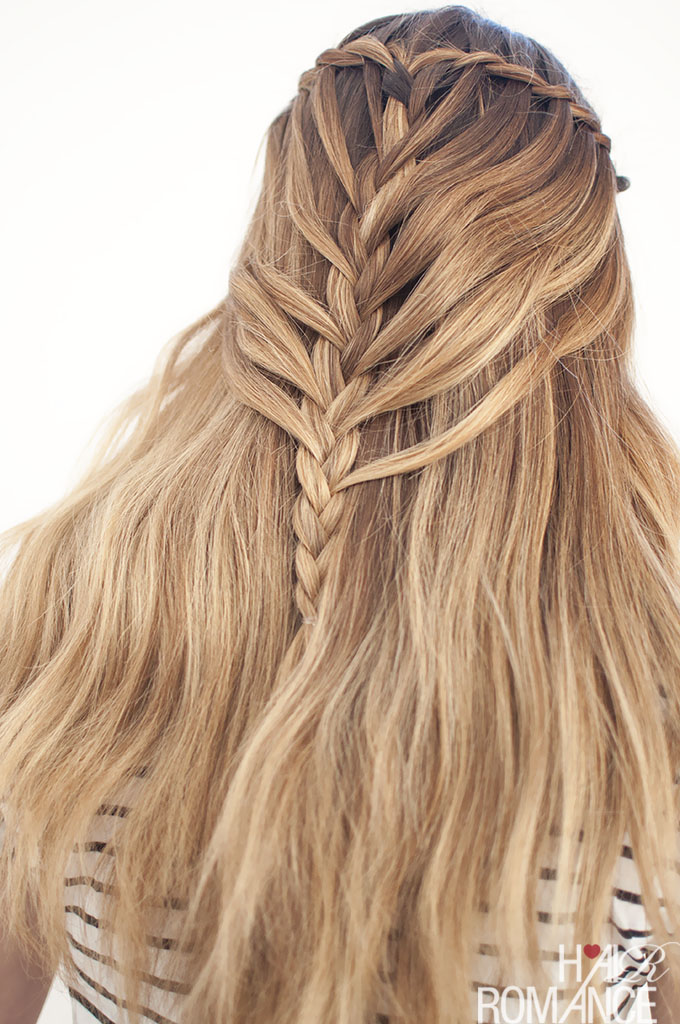 Waterfall braids are always stunning, particularly if you have the finger dexterity to do small ones with many strands involved, but sometimes it's fun to make little adjustments to classic styles in order to shake things up a bit. That's what Hair Romance did with this mermaid inspired version of a waterfall braid! They've gathered hair from both sides rather than just one so the braid weaves down the centre of the head and ends up shaped like a scaled fish tail.
6. Reverse braided bun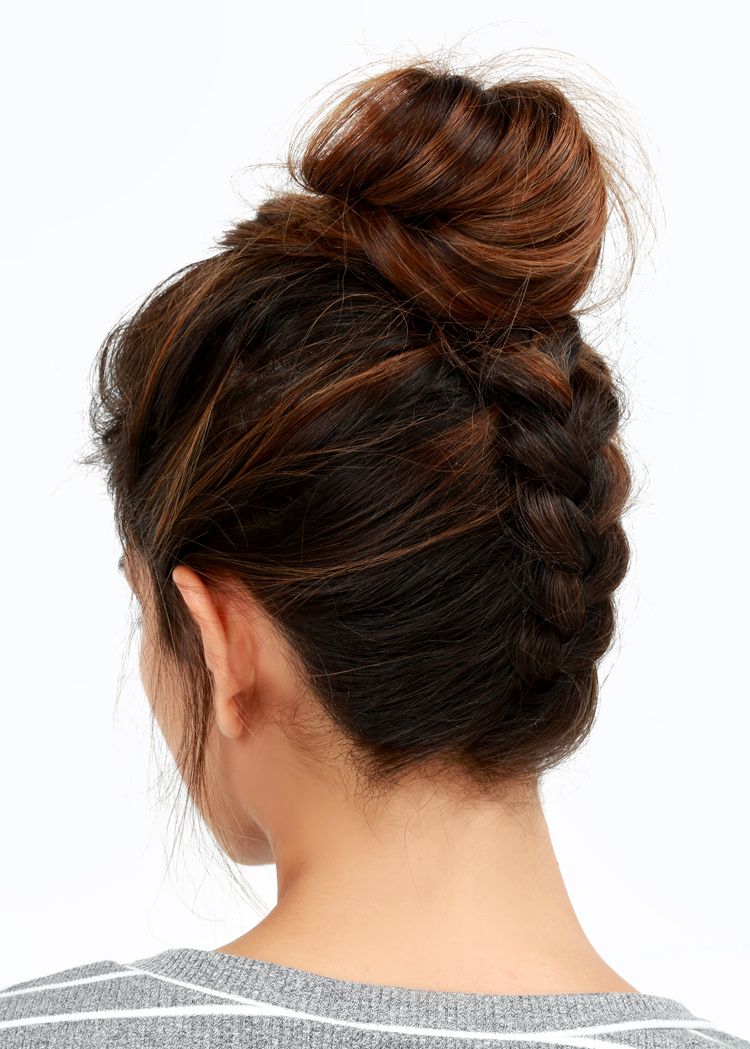 When we do most different braided hairstyles, we tend to start the braid at the top of our head leading into whatever style we've chosen. Besides liking how that kind of braid looks, we kind of just do it out of habit now. Lulu's, however, is here to remind you that you can start braids from the bottom of a style too! They're French braided upwards from the nape of the neck so the braid leads into a high bun at the crown, and we absolutely love the effect.
7. Intricate looping five-strand braid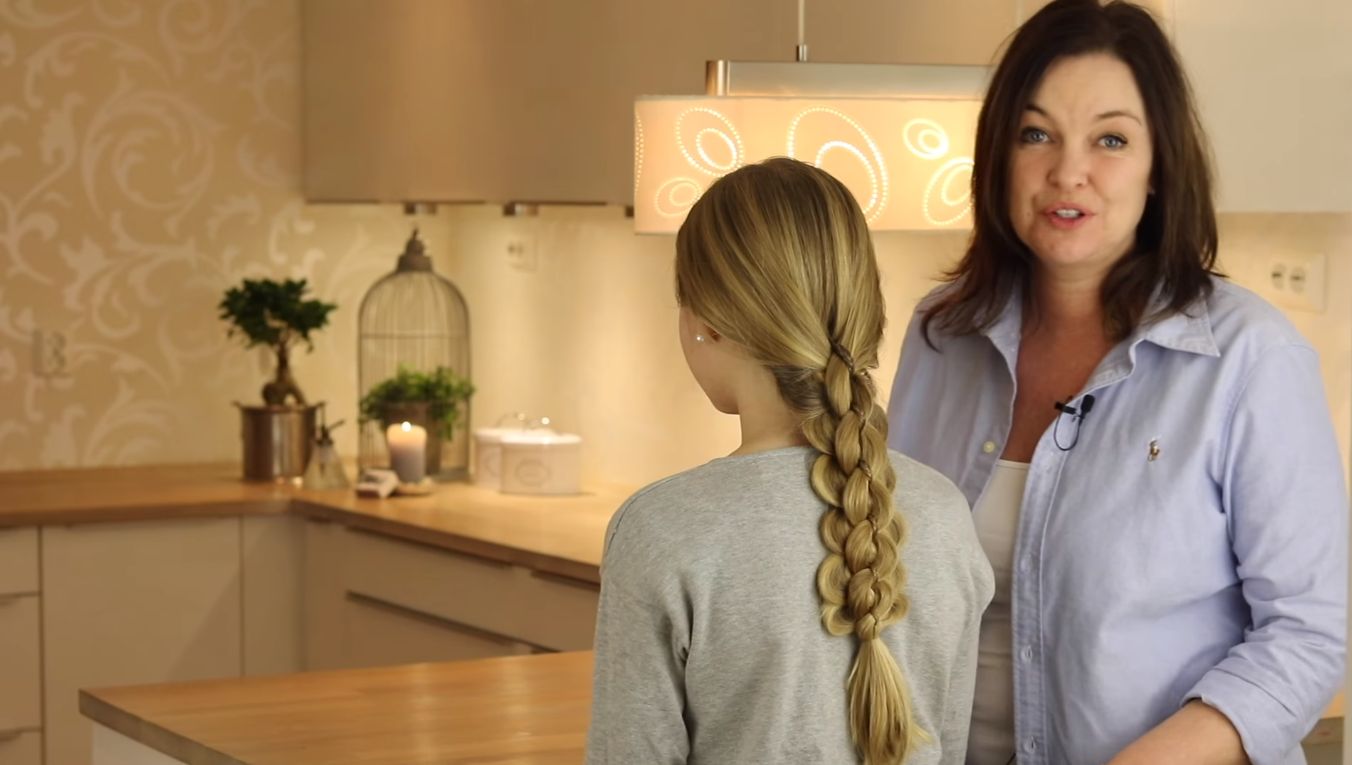 Did you love the aesthetic of the very first braid we showed you but you have a whole lot of hair of your own and don't really feel the need to add hair or colour to the style? Then try sticking to just the pushed up five strand braided part to get that pretty visual texture without extra complications. Flettemama navigates you through the whole process step by step!
8. Layered French braids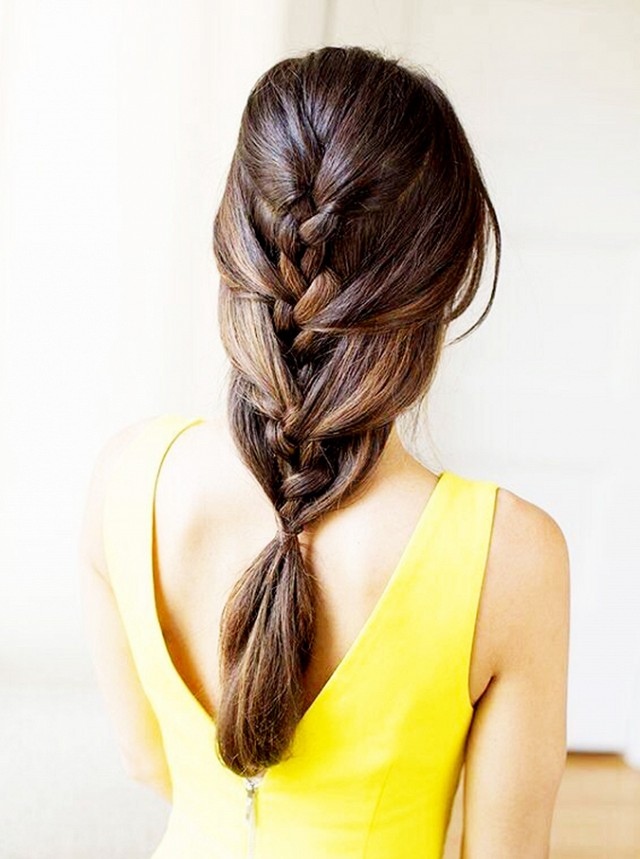 Just because you're making a braided hairstyle doesn't mean that you have to stick with just one braid! Best Hair Buy is here to show you that creating multiple braids in short layers can be just as pretty as making one lovely braid as a central piece! We love the way they've separated their braid down the back into sections like pieced together ponytail, but with a little more visual detail.
9. Half-up braid inside a braid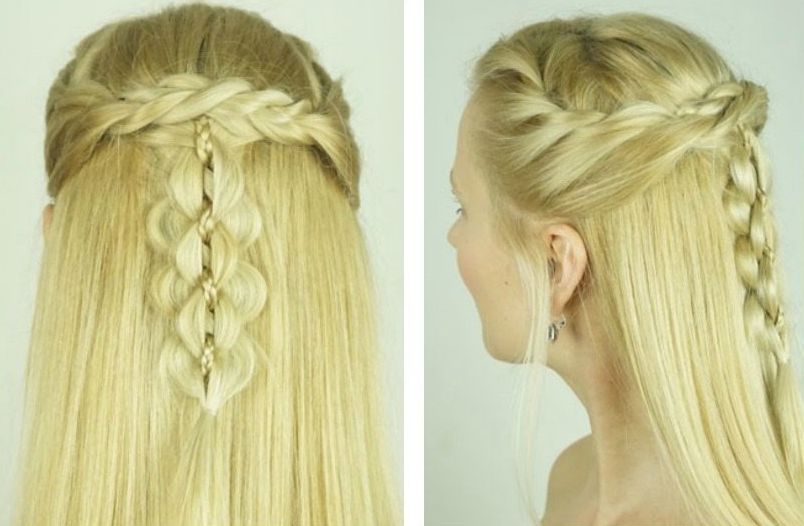 Are you still stuck on the idea of a beautifully pushed up five strand braid but you're really still scanning for styles that just have something a little more unique to them? Then we can't help but propose this half up, half down style by Hairs Affairs. They've got that textured braid you love, complete with a much smaller braid in the middle, but instead of standing alone, this five strand braid extends down from a horizontal French twisted braid that's been gathered in from each side.
10. Big Bohemian side braid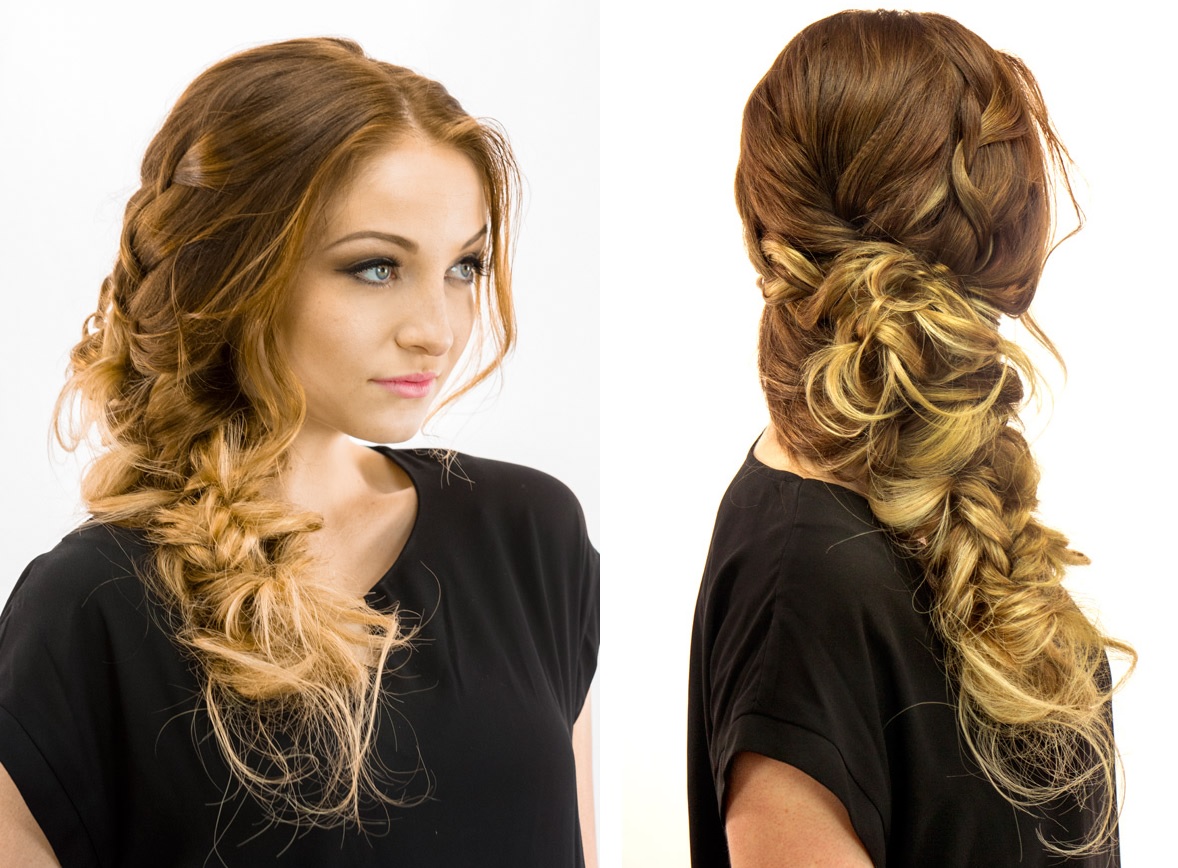 Do you have a whole lot of wonderfully curly, thick hair that you're always trying new things with in an attempt to keep it tamed and controlled some days when you don't feel like letting it flow free? Then it sounds like you've got the perfect hair type for a big Bohemian braid that's full of chicly messy volume. We love the way Hair and Makeup by Steph has cultivated this perfectly messy braid that hits the spot right between stylish and maybe falling apart just a little too much.
11. Waving modern braid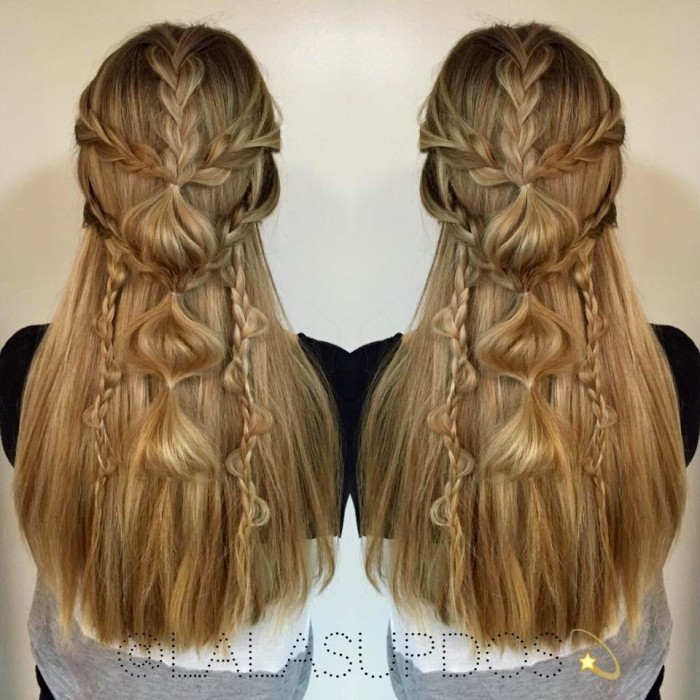 Are you still fixated a little bit on the idea of uniquely textured braids that start to take cool looping shapes as you work, like the pushed up five strand braid, but you're still convinced that something even more you is out there? Then take a look at how Viral Creek created braids that are strategically pulled in certain spots so that they take on a beautiful waving shape.
12. Kaleidoscope braid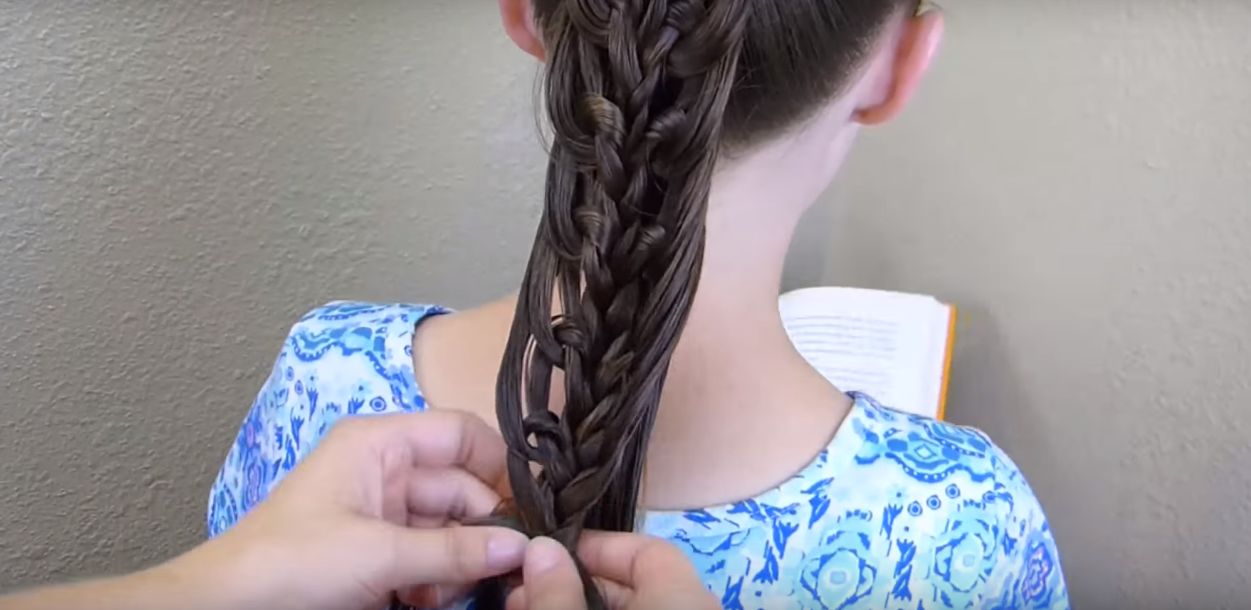 If you really think about it, braiding is really just a repeated weaving pattern. Once you've placed each of the hair strands, no matter how many you're using, you start again from the beginning and place them in the same way once again. Who says, however, that you have to weave it the same way each time? Princess Hairstyles sure think sit's time to change things up a little bit! We love the way they wove strands in a looping pattern all the way down the surface of a ponytail so that it almost looks like a braid but even more intricate.
13. Criss cross ponytail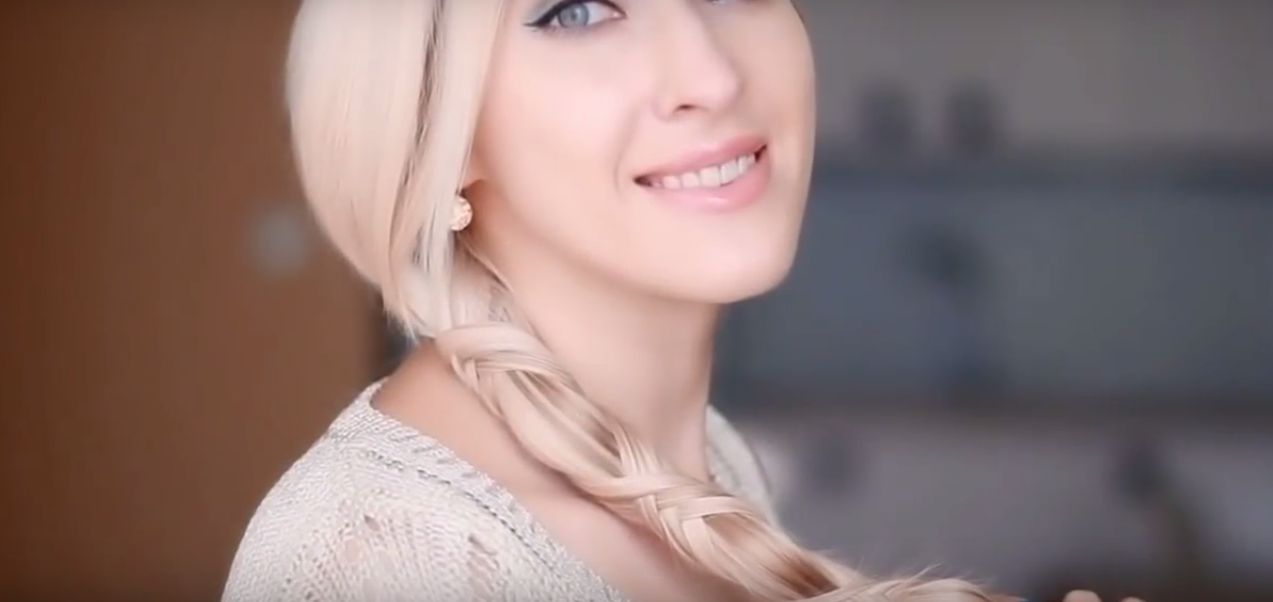 If you're going to accept that braids are really just repeated weaving patterns, then your braiding world has just opened up by leaps and bounds! Even though it might not look like a classic braid because it's done around a ponytail, this stunning weaving pattern from Lilith Moon is one that will have your friends thinking you went and got your hair styled that morning rather than doing it yourself. It's deceivingly easy even though it looks incredibly intricate, especially because it's done with such thin hair strands, and so many of them.
14. Half up basket weave braid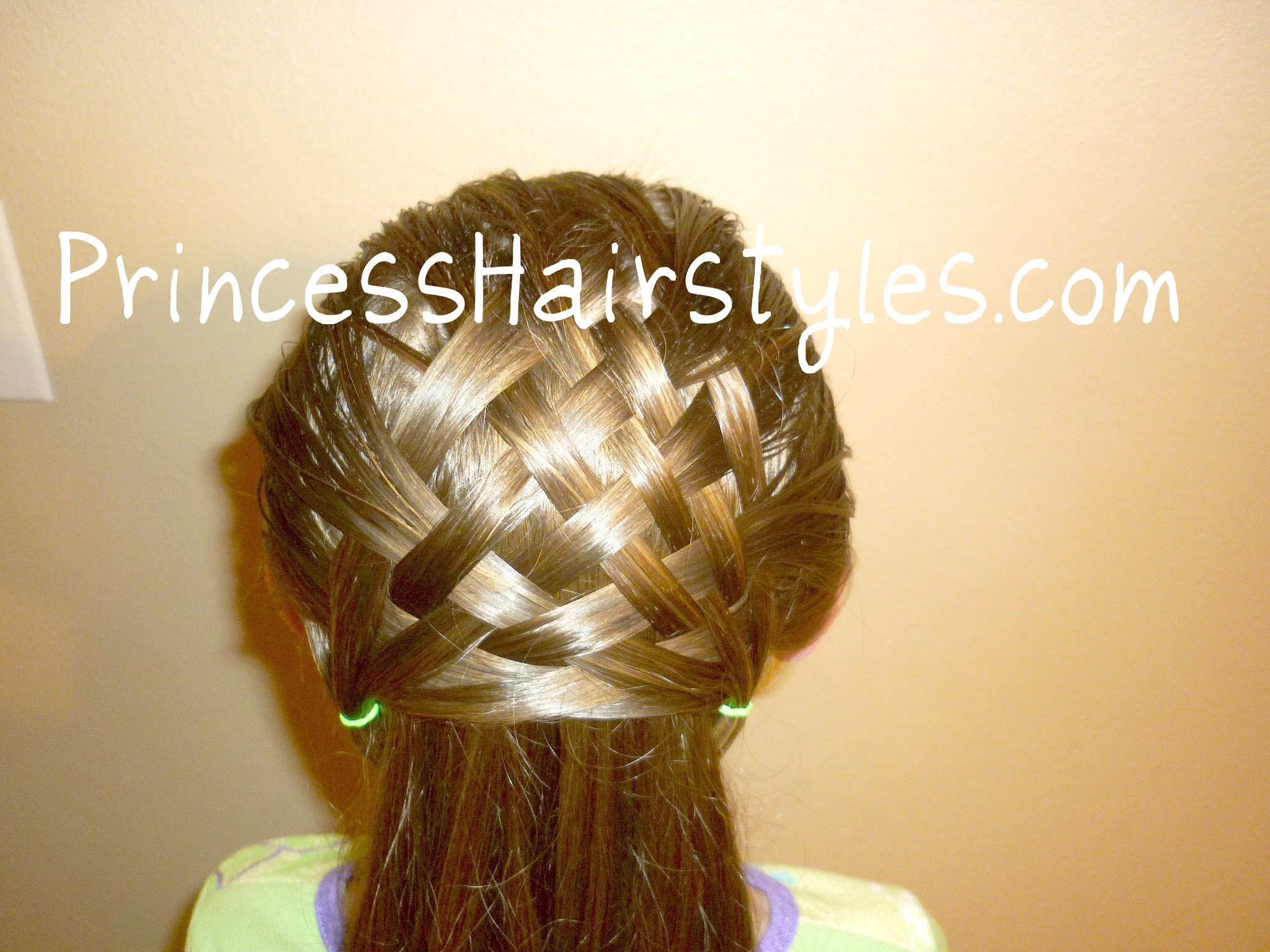 Are you actually quite skilled at braiding and hair styling so you're combing the Internet for an idea that will really challenge you? Well, you won't find a braided hair design much more impressive than a basket weave! Princess Hairstyles guides you through the process of creating an awesomely intricate pattern all across the back of the head that looks especially cool if you leave some of the hair hanging down so it contrasts with the stunning pattern you're building on top, drawing the eye of anyone who sees the style throughout the day.
15. Corset braid updo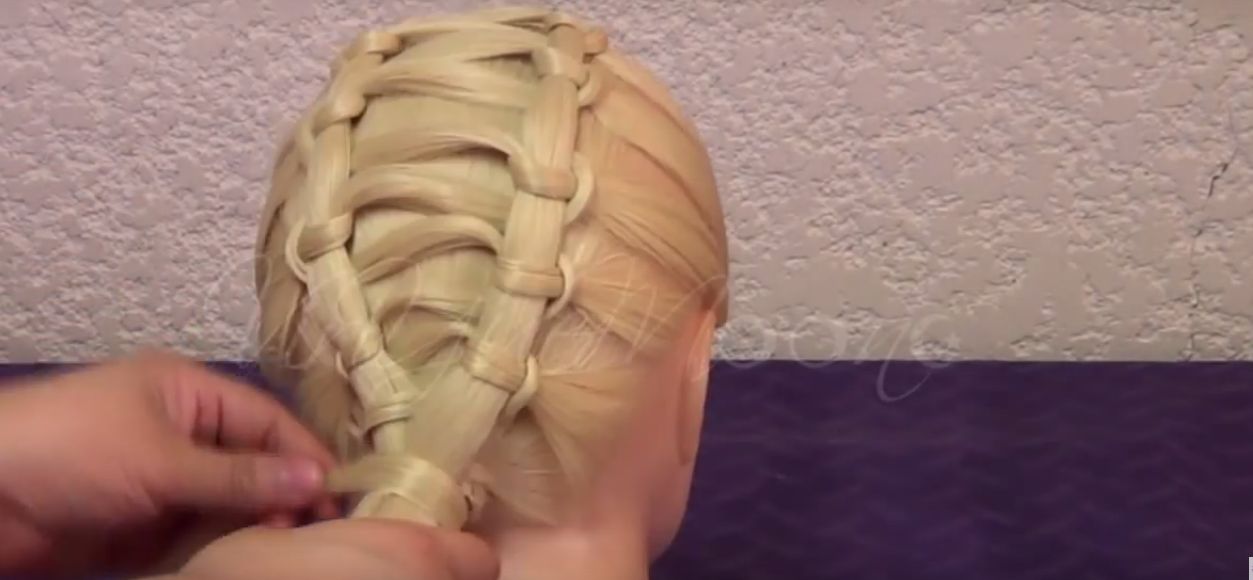 Are you still totally intrigued by the idea of more woven style braids rather than simpler styles that involve classic braids, but you still just haven't seen the one that quite keeps your attention? Then, for our last option, we urge you to check out this absolutely breathtaking style from Viri Yue Moon! This beautiful woven pattern was inspired by a corset, with hair strands weaving  through other hair loops the way the ribbon lace weave through a corset.
Do you know someone who loves to style their own or their daughter's hair in new and fashionable ways, but who could use a little inspiration? Share this post with them to make sure they don't run out of ideas!