You might be shocked to see just how many different Short Hairstyles for Thin Hair are. We all are guilty of cursing our short and thin hair and shouting hair goals in our hearts whenever we see long and thick hair bouncing away in the sunshine.
Well, luckily, you are in for a treat here. You are going to see mesmerizing Short Haircuts for Thin hair which make long hair look dull and boring.
21 Stunning Short Hairstyles for Thin Hair to Look Trendy
Some people believe that prettily styled hair is the key to a polished look. Well, it is true. However, we all sometimes need quick fixes to our hair to help them look brighter, bouncier and more adorable. Here you'll find a combination of Short Hairstyles for Thin Hair ranging from playful to extremely exquisite.
1.      Side-parted Curly Bob: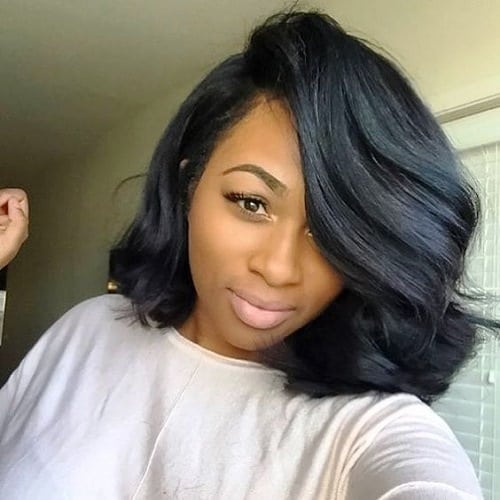 If you have short, thin hair and you are tired of your plain hair you can get yourself a fancy side-parted bob. It is not just one of the most stylish Short Hairstyles for Thin Hair but quite trendy too. No matter what your face shape is, it will definitely give an added glow to your appearance.
Throw in shaded roots and razor chopped ends and bingo, you have got a perfect hairstyle to show off at formal events, school functions and really just everywhere.
2.      Short Shagged Cut with Textured Ends: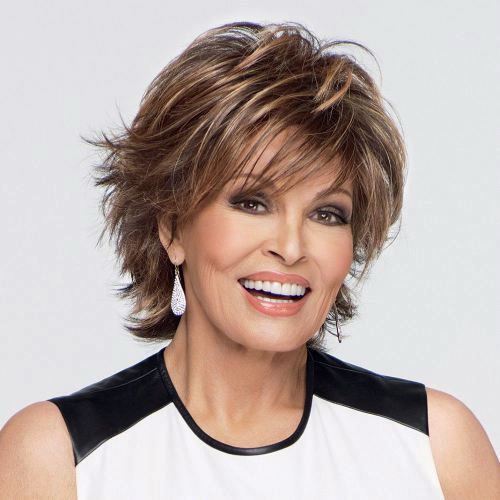 Give your bob a twist and chop them off at a few places to mix up a pixie and a bob. The layers give a bouncy and fluffy effect to your hair and save them from looking flat.
You can even jazz it up by adding in a stylish headband which will make it look beautiful and get the best out of the Short Haircuts for Thin Hair.
3.      Layers And Bouncy Bangs: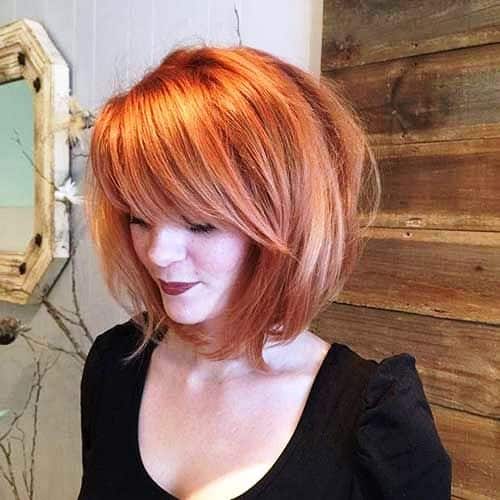 Layers with bangs always give a very bouncy and full effect to your hair. Moreover, it's easier to style and manage by just pinning it up or using some hair product and a very little heat.
What you can do is; pin up the front layers with a fancy sparkly clip and straighten up your bangs for a polished look, put them up in a messy side bun for a fresh look or just leave it combed to look casual and still stylish.
4.      Swept Back Pixie: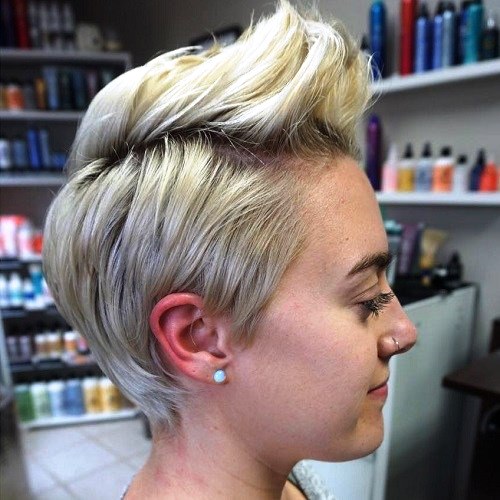 Want to look edgy yet sophisticated, stylish yet rebellious? Well cut your hair into a swept back pixie and style it with rainbow die to look unique and always stand out in a crowd. It gives a lot of volume to your hair and is voted as one of the best Haircuts for Thin Hair to Look Thick.
5.      Blunt Bob and Wispy Bangs: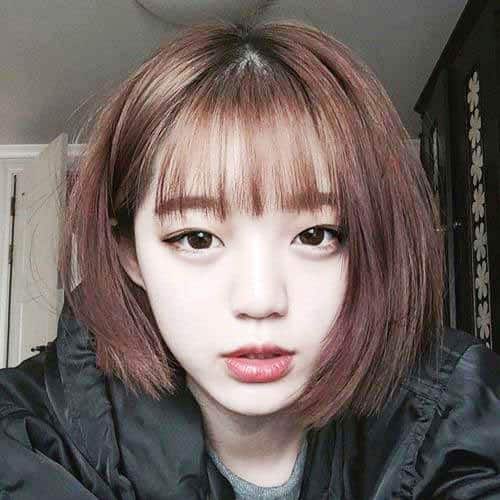 If you have finely textured hair and you want to put them to good use, blunt bob and wispy bangs are the hairstyle designed just for you. It gives a very shiny and sophisticated look and easy to manage style as compared to other Short Hairstyles for Thin Hair.
You literally just have to put in a pin or two or give them a blow dry and you are ready to carry them just anywhere.
6.      Super Sleek Ponytail: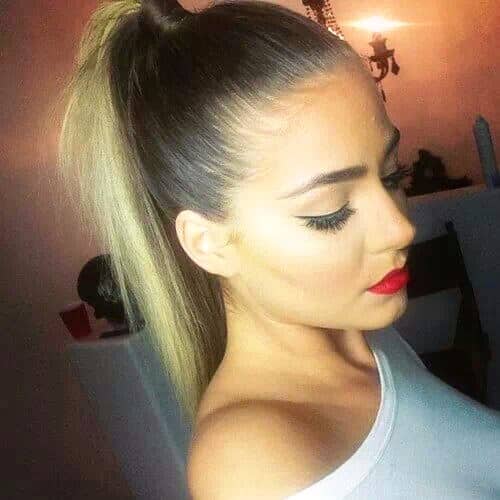 Since we are talking about Short Hairstyles for Thin Hair, let's not forget to mention the super sleek ponytail. Yes, the answer to all your problems; well at least all hair problems. Apart from leaving your hair as they are, a sleek ponytail is probably the only hairstyle that looks good on just all types of hair.
Even if you have curly hair, you can give yourself a sleek look by straightening them and tying them up in a ponytail. It gives style to your hair even if you have a simple straight cut.
7.      Beachy Waves: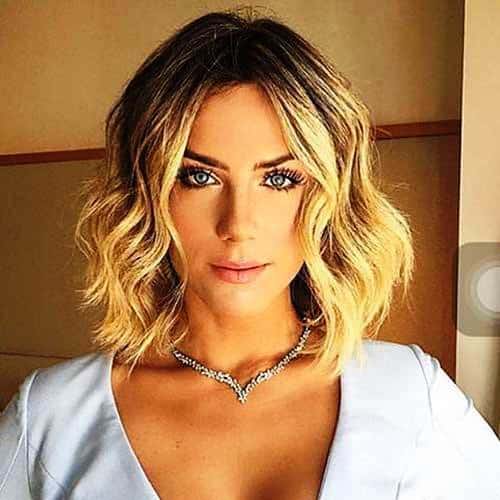 Talking about simple Short Haircuts for Thin Hair, let's discuss the Beachy waves that give you a completely fresh and sexy makeover. Just use a simple curling iron on your short bob and you are good to go. Hey, Pairing it with an accessory like a crown headband or side pins is always a plus.
8.      Low Bun: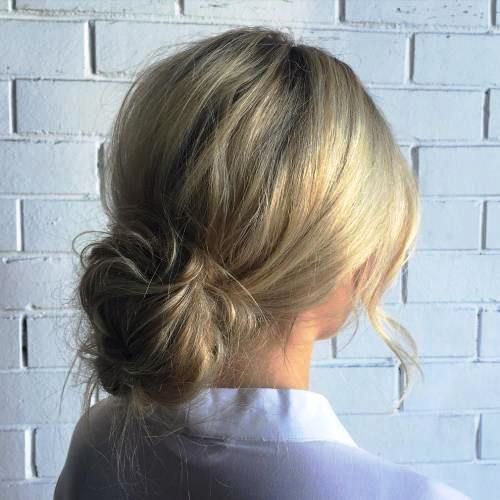 One of the best Short Hairstyles for Thin Hair is a low bun. It's a go-to hairstyle for everyone as it gives a very reformed look no matter what the texture of your hair is. This classic bun needs nothing more than a few pins and probably some gel.
All you have to do is comb all your hair to the back and swirl it into a low bun in the middle or on either side. You really cannot go wrong with this.
9.      Pixie with a flip in the front: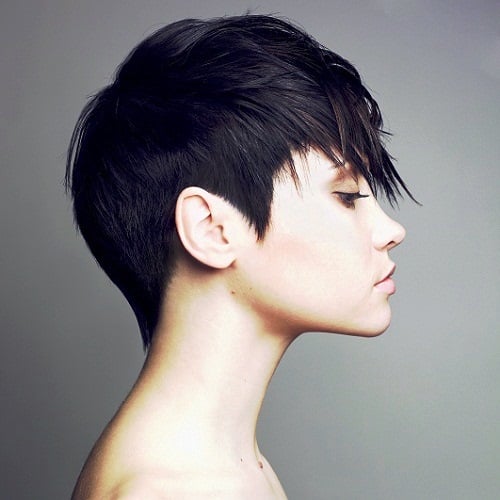 It's a perfect Short Haircut for Thin hair. Why you'd think. Well, it takes the attributes of your length and texture and uses them as your greatest strength. Style up your pixie with some bangs in the front.
Now grease your crown area with gel or wax and push it back till it starts hanging in the front and gives your hair a flip to the back. Voila! You are ready to head out to party.
10. Half Up-do for Short Hairstyles for Thin Hair: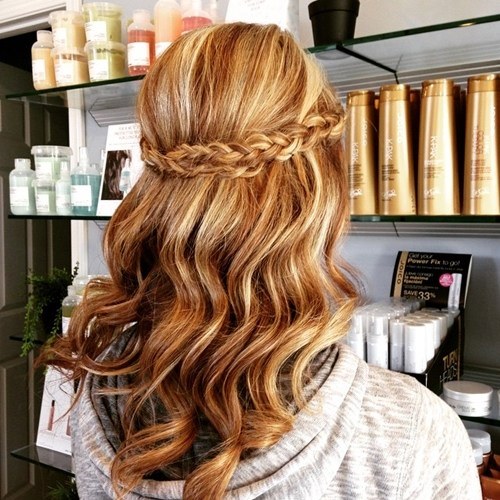 It is trendy and completely chic. Nothing else could suit more on  Short Hairstyles for Thin Hair than a half up-do. Running late for a meeting, messy hair, bad oily situation? No matter what your problem is, you can still give a very chic look to your hair in the matter of a minute.
All you got to do is to take a chunk of your hair from the topmost layers and tying them up in a knot while letting your leftover hair to relax and set back.
11. Wavy Bob with a Side Twist: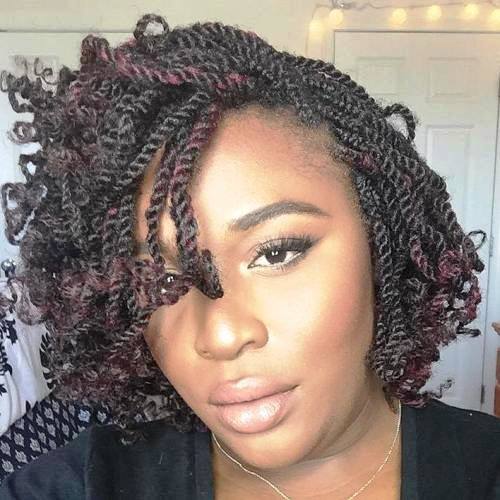 The options of Short Hairstyles for Thin Hair are limitless. If you flawlessly flaunt a bob and want to spice up your hairstyle. What you do is deep side part your hair and curl the heavy side into beach waves.
As for the other side, braid them and pin them on the back. If you wish to carry this look for a formal event, you can use a shiny or decorative pin to give a more refined look. Last but not the least, use any Hairspray and you are done.
12. Braided Bob: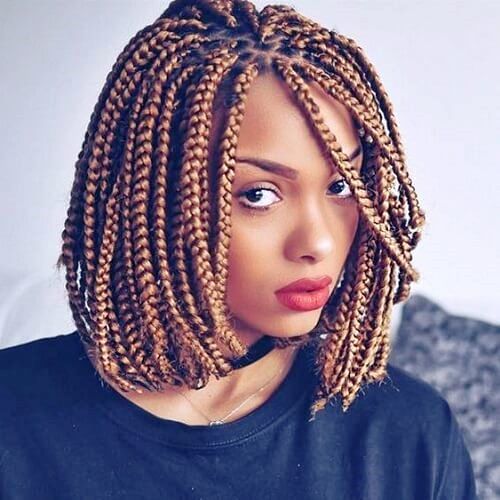 Another very different way of styling your bob is to braid away some layers from both sides while letting the other locks of your hair take their natural course. To achieve an elegant look, straighten the leftover hair and pair this hairstyle up with just any kind of dress.
13. Bowl Cut: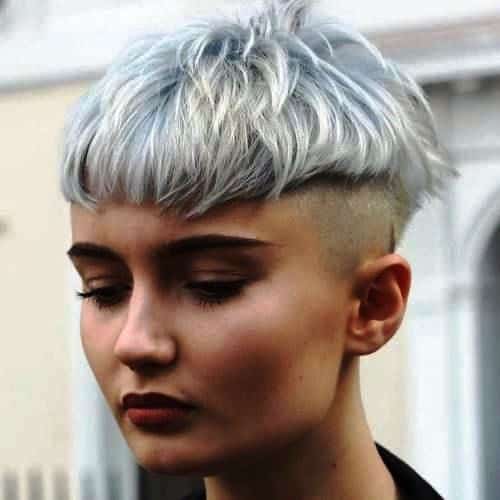 The world is evolving and so are the hairstyles. Something which was unimaginable a few years ago is retro and cute now. Take this tampered bowl cut. We may not have even considered it a few years ago, while it is one of the most popular Haircuts for Thin Straight Hair these days.
This incredibly sexy boyish cut with loose layers hanging above the ears is the dream these days. It's not just in fashion, it is the fashion, especially if you have blonde or brunette hair.
14. Silver Bob with Loose Layers: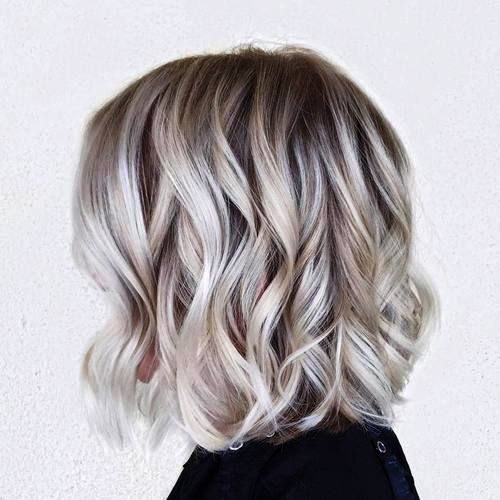 Although it's best recommended as a Short Hairstyle for Thin Hair for Women above 50, it would suit just about anyone. The full layers flowing away, give a very round and heavy look to your hair while the silver die enhances a unique personality and sharpness in your hair.
15. Short and Messy Hairstyle with a Side Twist: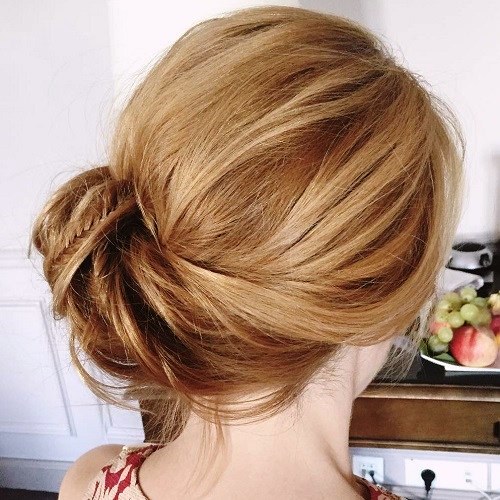 If you already wear a short, somewhat wavy bob with layers that cover your eyes or bangs that simply just annoy your forehead, this Short Hairstyle for Thin Hair is just for you.
What you do is make good use of those bangs and layers and style them up by making two parallel locks of your hair and sliding them around each other like a braid. When you have secured them with a hair pin.
16. Short Haircut with Side Part: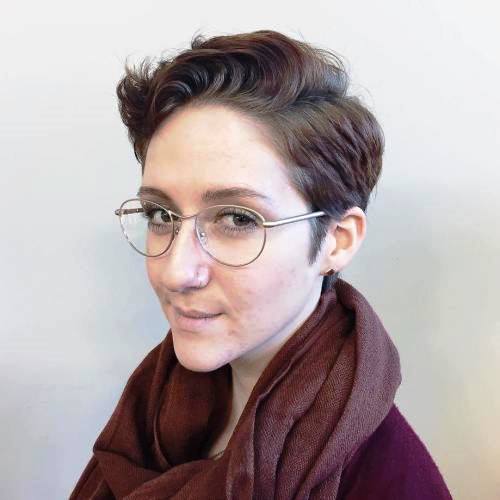 One may think that for short and thin hair, you have limited options when you consider haircuts. Well, not true. There is a variety of Short Hairstyles for Thin Hair which is both retro and edgy. With a deep side part and chopped off ends, you can easily achieve this look.
You can also apply hair gel at one side to give an even fiercer look.This is a perfect Hairstyle for Fine and Thin Hair.
17. Choppy Hairdo with Streaks: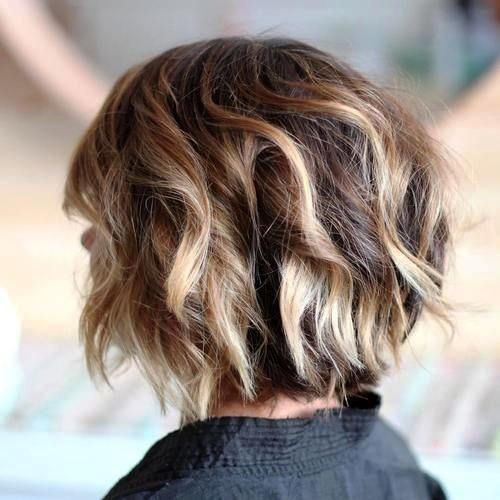 If you want to give some volume to your thin hair, all you have to do is chop off your hair into teased layers and wispy bangs. To further transform them use an edgy die like blue or green and color your roots or simply get highlights.
18. Elegant Braided Bob: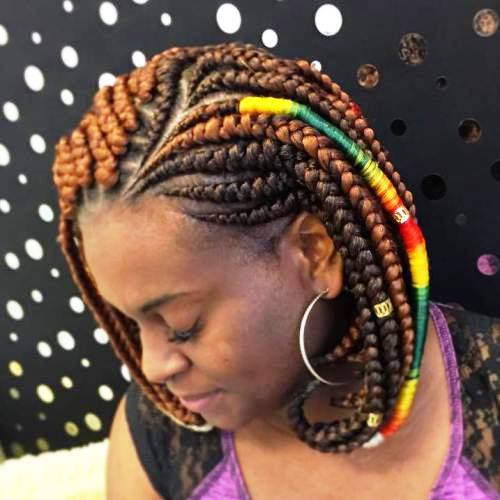 Giving a modern twist to the vintage side up-do this braided bob changes you into a fairytale princess in no time. It is especially preferable as a Short Hairstyle for Thin Hair because it gives you the look of an up-do without actually requiring lots of hair.
All you got to do is part your hair from the middle and make a fishtail from either of the sides. Lastly, pin this up on the side and add a flower or a clip to give a very mesmerizing look.
19. Messy Updo: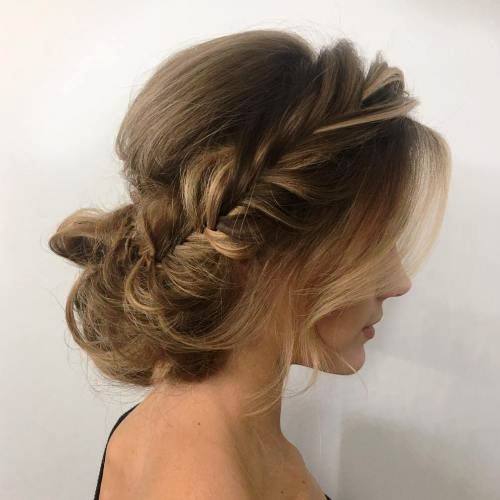 If you want to style your hair in a messy updo, but you literally have limited resources, don't worry. You can easily create a messy updo with short fine hair. What you need to do is comb back your hair with the help of your fingers and create several portions.
Then give a twirl to each chunk of locks using a curling iron and pin them on the back of your head in a way that imitates a bun. To add more glamour, you can wear a princess headband at the top or just a fancy pin at the back.
20. The Center Dutch: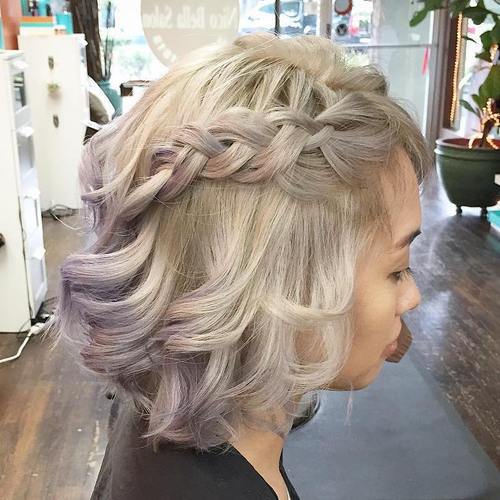 Sugar and Spice and everything nice. That is exactly how I would describe this Short Hairstyle for Thin Hair. It's pretty, it's sophisticated, it's edgy and it's definitely chic. Giving a simple twist to the half up-do, this hairstyle enhances the beauty of your hair.
It can be created in two simple steps. First, comb your back and hold a huge chunk of hair from the center down. Next, braid it up in a fishtail and secure it with a band.
21. Metallic Shaggy Haircut: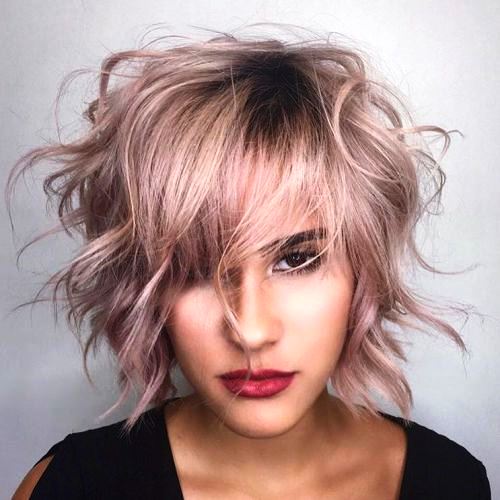 This Short Hairstyle for Thin Hair gives a whole new beginning. If you want to get a makeover and feel different, this is just the hairstyle for you. After dyeing your hair metallic gray, get them chopped into a shaggy bob. Now rock this chic hairstyle with dark colored lips and smoky eyes.
22. Retro Bob: (Bonus)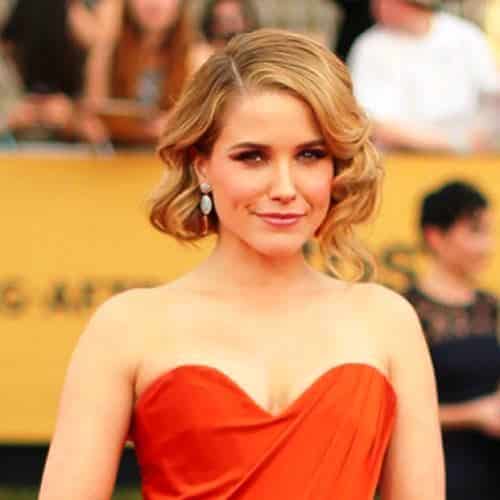 If we talk about short hair and forget Marilyn Monroe, it will be such a shame. It is an evergreen hairstyle which has never gone out of fashion since it was introduced in the 1920s. The best part about this? It makes you look like you know fashion, even if you don't.
Last but definitely not the least, it's very easy to create. All you need is a curling iron and your fingers to give your hair those perfect twirly curls that enhance your look with elegance and beauty. Pair it up with red lipstick and you can stand out at any event.
Conclusion: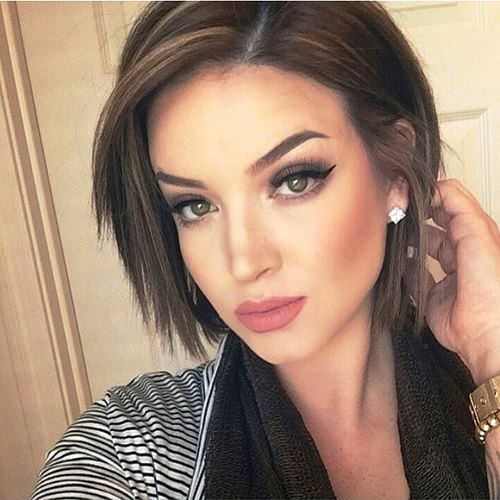 No matter what the size or texture of your hair is, you can always stand out in the crowd and make everyone sway if you style them properly. There are Short Hairstyles for Thin Hair that you can make easily in the matter of minutes and wear them just anywhere.
Just select the Short Hairstyles for Thin Hair which suits your face shape and the occasion you want them for. Remember your hair and everything else will always fall perfectly in place if you are confident enough to carry it with a  bright smile.