2019 has been the year of bringing back old trends and making them part of the new trend. Not only does this pertain to fashion but it also pertains to makeup. Makeup has evolved tremendously throughout the years and this year is no exception.
Time to put down the contouring powder. Step away from the fake lashes and smooth out the eyeliner. Here are 17 pretty makeup looks that you will want to try this year to freshen up your look. Not only all these looks trending but, they are easy to create with a few products.
17.Clumpy Lashes and Faux Freckles
Did you ever think there would come a time when you would want to make your lashes clumpy? Well the time has come. This makeup look is simple yet makes an impact. You want to use a mascara with a thin wand and wiggle it back and forth on your lashes until they are the thickness that you want them to be. You want to do this for the top and bottom lashes.
Then you want to take advantage of a taupe color eyeliner and create faux freckles. Faux freckles will bring the attention to your face. The key to making your freckles look as realistic as possible is doing them in different sizes and spacing them out about ½ an inch apart. You want to keep the rest of your face as natural as possible.
16.White Wingliner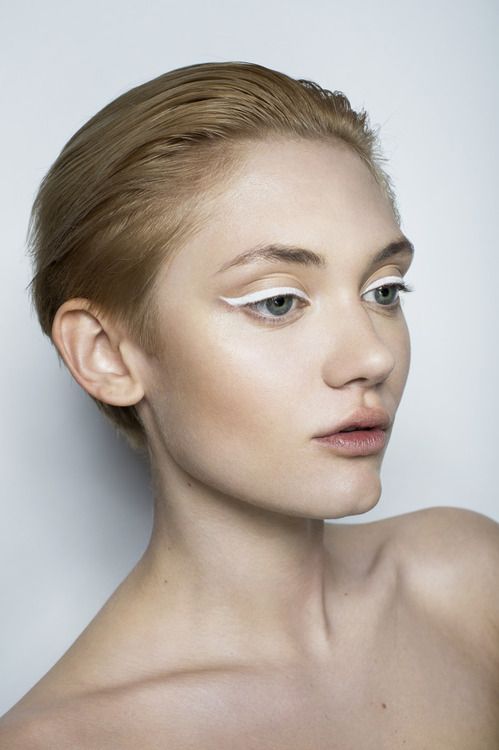 Time to update your black eyeliner and make it white. We all are aware of wearing white eyeliner in our waterline to make our eyes appear larger. However, now you can wear white wing liner instead of black. The white gives your eyes a pop of natural color that makes you look edgy all at the same time.
The same way you would use a black eyeliner you want to do the same with your white liner. You want to keep the rest of your face natural with little to no product and you also want to skip the mascara as dark lashes will be too much for this look.
15.Cobalt Blue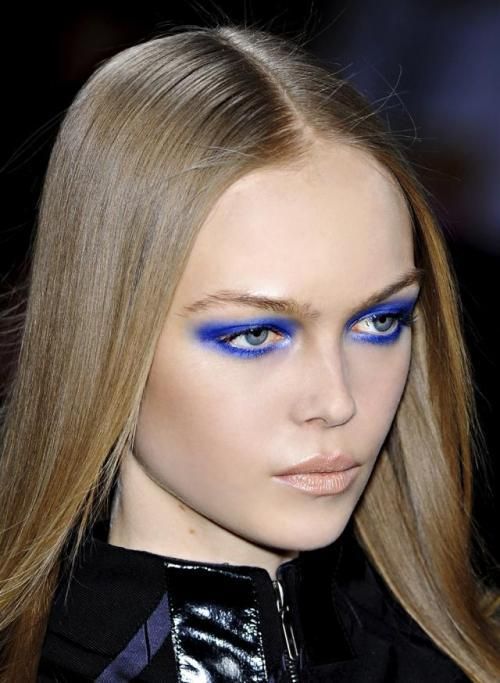 Blue eyeliner is making a come back and we are obsessed. The key to pulling off a blue liner is going for a cobalt blue. It is the perfect hue on all skin tones and eye colors. The darker the skin the brighter you can go with the blue. You also want to line the top and bottom of your eyes to give you the rich cobalt blue effect.
If you want to intensify the look you can also smog the liner on your lids.The key to this look is making the cobalt blue the center of attention so you want to go very light on the rest of your face and skin. A BB cream would be perfect for this look  it will give you coverage without overpowering your skin.
14.Glossy Black Cherry Lips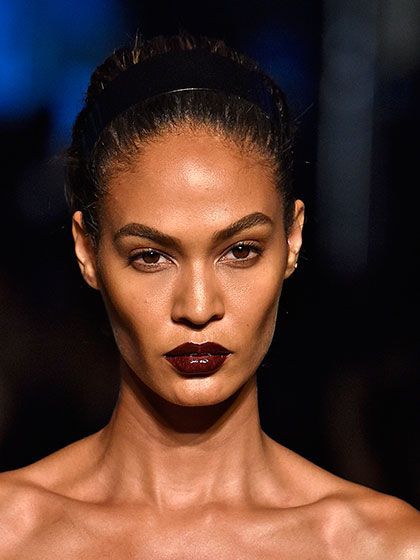 Matte lips have taken over the makeup world in a big way. However, glossy lips are making a come back and we could not be anymore excited. Although, matte lips are the IT trend this 2018 and every brand has created their own version of it we are ready for gloss. Black cherry lips are sexy and they are even sexier when they are shiny.
You want to have a natural face when you wear a glossy black cherry lip because you want them to be the center of attention. To create the look get a dark red lipstick fill in your lips and add a clear gloss on top to add the glossy effect to your already dark cherry lips. You want to use mascara on your eyes to open them up a bit and you are ready to go.
13.Sun Kissed Glow
We are all about the glow for every season and every time of year. It is very much on trend to have a sun kissed glow everywhere. If you have golden tones to your skin, this is the perfect look for you. You will have a natural sun kissed glow to you that you can just add caramel tones to enhance your skin tone.
If you have a light complexion you can add champagne tones to give you the sun kissed glow. The key is to use subtle warm tones all over your skin from the color on your eyes to your cheeks and your lips. A golden highlight will work wonders with this look.
12.Chestnut Colored Lipstick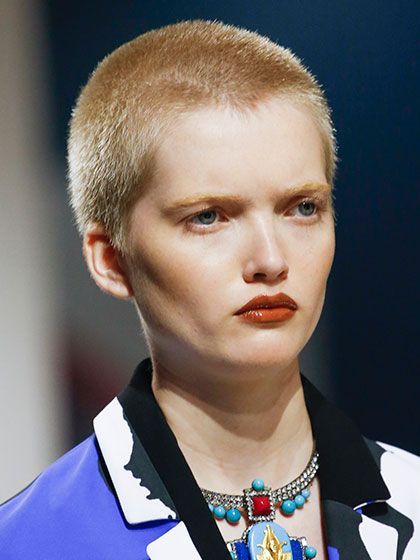 Brown tones have become a huge color trending in the makeup work and lipstick is no exception. We are now looking at chestnut colored lipstick. Chestnut is the perfect nude color without being too nude. What this means is it will work with all skin tones regardless of the undertones that you may have.
The perfect way to pull off this color is wearing a little bit of concealer and mascara and you are good to go. This is seamless because the color is so unique that you do not need to add much to the rest of your face.
11.Sunset Shades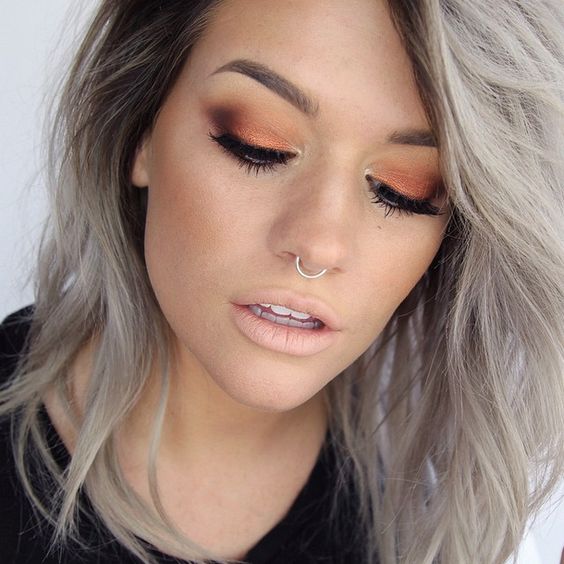 Did you never think orange eyeshadow would be a trend? Well it is and so is yellow and red. Sunset shadows are on trend and will want to be wearing them too. The key to wearing bright warm colors is blending and more blending. You want to blend the shades enough that they maintain their color but you cannot identify where they begin or end.
If you are a little bit worried about using orange on your lips, you may want to blend a mixture of light orange and darker orange to achieve the perfect shade for you. The truth is orange is actually very flattering on all skin tones and eye colors.
10.Flirty Lashes and Nude Pink Lips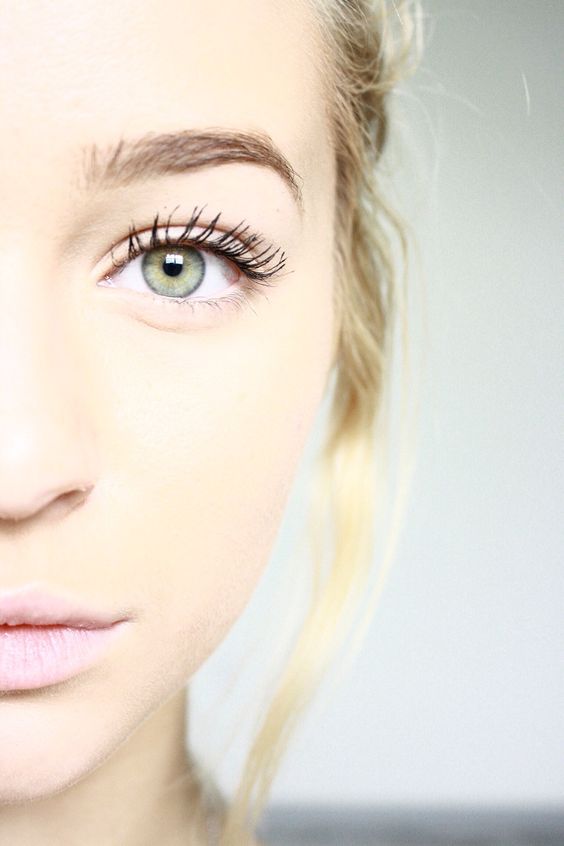 The 60s are coming back to us in a big way. We are now looking at "twiggy inspired lashes" and nude pink lips. What this means is you want thick mascara lashes. Not false lashes instead you want to use multiple coats of mascara and if your lashes end up with clumps that is perfectly fine.
You want to have thick lashes with a bare lid. You want to keep the rest of your face nude except for your lashes and nude pink lips. When you are going for a nude pink lip you want it to be a matte color. The simpler the look the better. To give your look a hint of flirtiness add a little bit of blush to the apples of your cheeks.
9.Dark Eyes and Lips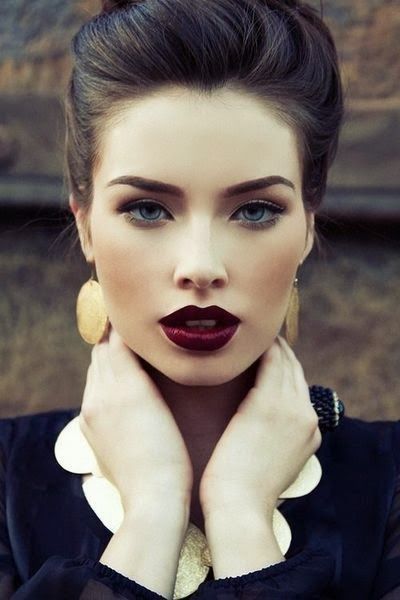 There is an old age beauty rule that states you cannot wear bold eyes and bold lips at the same time. It is now time to get rid of it and try something new. Time to bring out the dark eyes and dark lips. The key to making this look work for you is using colors that are in the same color family.
If you are going for a brown smokey eye go for a tan lip color or vise versa. Another way to pull this look off is by sporting a lighter smokey eye with a very bold lip that will balance out the darkness in both colors.
8.Bare Face with Red Lips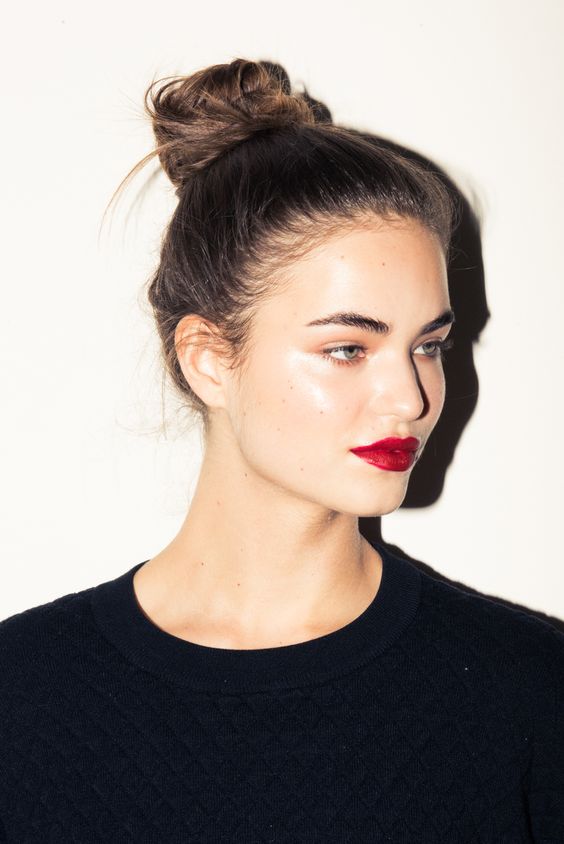 Red lips will always be a classic look for many of us. It is the perfect look for any and every occasion that you may go to. And it is currently back on trend however, when it comes to red lips you want to pair it with a bare face. What this means is you want to keep the rest of your face as natural as possible while giving your lips the statement that it needs.
To create this look simply use foundation and a little bit of concealer to give your face a flawless even complexion and nothing else. Then you want to grab a bold red lipstick and fill in your lips and you are done. You can go for a matte red lip color or a glossy red tone the options are endless.
7.Cranberry Shadow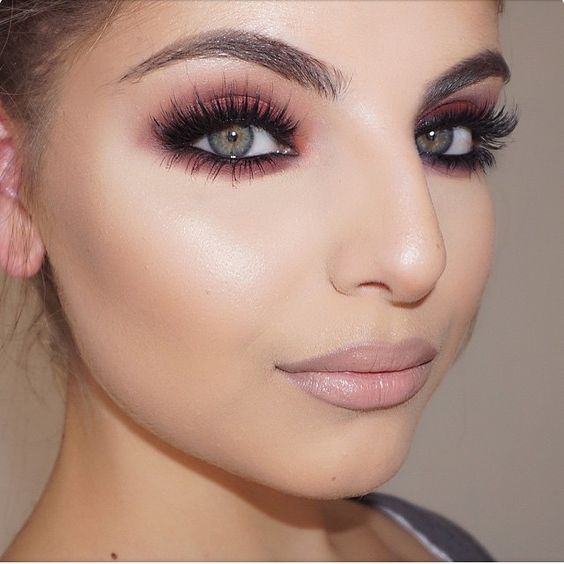 Whether, it is fall, spring or summer cranberry shadows are coming with a vengeance. With a hint of brown, red eyeshadow becomes sultry, sexy and elegant. It is one of those shades that works well with all skin tones and eye colors. It can be worn in múltiple ways however, we recommend using a matte shadow when you work with a cranberry color.
When you are working with matte shades, it is recommended to use a primer first to get the best blending out of the shade. You can pair a cranberry shadow with any lip color that you decide to choose.
6.Grungy Black

Grungy makeup is making a comeback in a huge way. We are not only going to experience dark shades that are common with grungy makeup we are going to experience a black shadow all over the lid. Do not be intimidated by a black shadow all over your lid it is actually quite flattering for all skin tones. The key to wearing black shadow is keeping the rest of your face minimal.
You want to keep everything light and fresh on the rest of the face. While keeping it strong and dark in the eyes. The main focus should be your solid black shadow. If you are worried that black is a bit too much for you, you can always add silver to your lids to break down the black.
5.Sparkly Wings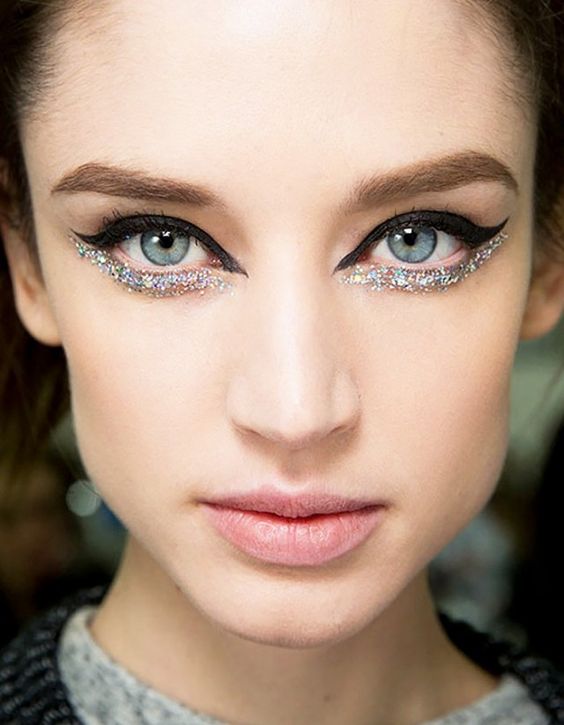 A classic wing liner has always been a signature trait for most of us. However, it is now time to revamp your look and add some sparkles. Sparkly wings are now on trend. They key to this look is letting your eyes do all the talking. You want your sparkly wings to be the center of attention.
The best way to create this look is to line your eyes with a black eyeliner first and then go in with the sparkles. You can choose from colorful sparkles or one tone the options are endless.
4.Champagne Shadow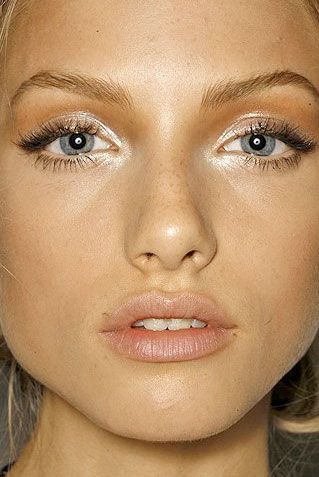 Put down the contouring kit and pick up the champagne shadow. We are now giving contouring a break and strategically highlighting key points on our face. This is a great look for the summer time as it gives you a fresh face while bringing out your best features. It is important to remember wherever you place the highlight is where you will draw light and attention to your face.
We suggest a champagne shade because it works well for everyone regardless of your skin tone it is universally flattering. We also recommend placing this shade in the inner corners of your eyes, all over your lid, your eyebrow bone, the tops of your cheeks and your cupid's bow. You want to keep the rest of your face matte to really showcase where you have highlighted your face.
3.Smudged Silver Shadow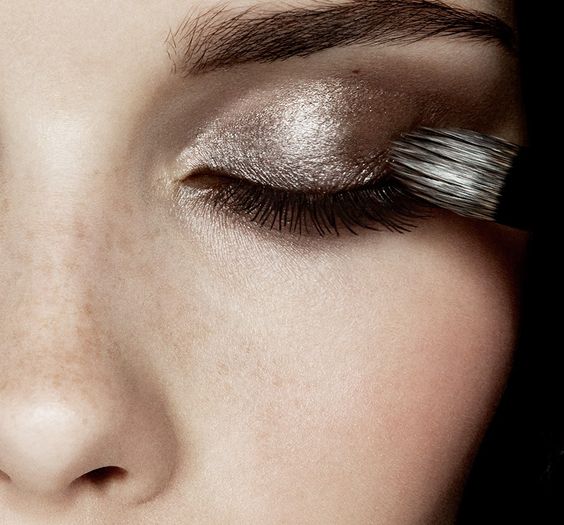 Metallics are definitely a favorite this 2018 and silver is definitely the shade to watch out for. We are loving silver on the lid, as a highlight or even on the lips. The key is having a smudged look all over your top lid and bottom lash line.
You want the look to be lived in as if you have been wearing it for some time. That is the look you are going for when you wear silver shadow. It makes it look edgy and cool without being too put together.
2.Gold Eyeshadow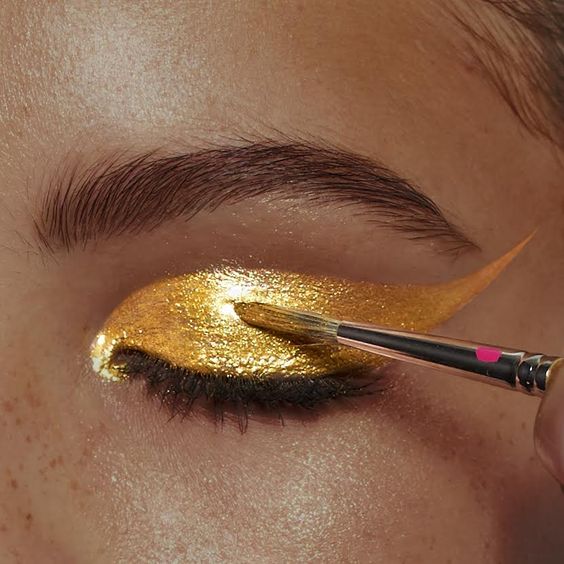 Just like silver is making a huge impact on the makeup trend. Gold is as well. Gold shadow is a little bit harder to wear as it is a more vibrant color however, if done correctly you will have created the perfect look that goes well with everything. Just like the silver shade you want to use it all over the lid for a perfectly golden shade. Gold on your eyes is the perfect color to make a statement.
It is bold and outrageous which is what you want when you are working with a gold shadow. Keep the rest of your face with little to no makeup and let your eyes do the talking. If you want to be even more bold with your look try a gold pigment instead of a gold eyeshadow
1.No Makeup, Makeup Look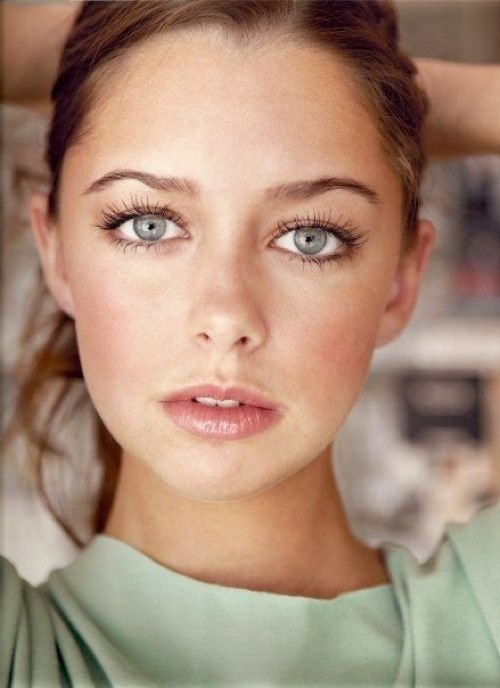 The no makeup, makeup look is now on trend and it is here to stay. We are now looking at the trend of having even skin without the appearance of wearing too much makeup. It is the perfect look for any occasion as it is all about perfecting your skin and giving you the appearance of flawless skin.
The key to this look is wearing a light foundation and concealer that perfectly match your skin. A semi matte foundation will work best for this look as it will give you a hint of dewiness without a glow. You also want to wear mascara and a light shade of lipstick to complete this look.
Next time you are wondering how to do your makeup try one of these looks. And please tell us which one is your personal favorite.