Cutting your hair can be scary. It's a big decision. Once you crop your hair off, all you can do if you don't like it is wait for it to grow back over time. However, that doesn't mean you should avoid cutting your hair just because it's nerve-wracking. Some risks are worth taking in life, and cutting your hair just might be a worth-it risk for you. Either way, you'll never know unless you try.
If you need inspiration for short cuts that will make you feel comfortable and confident in your own skin–and hair–keep reading this post. From edgy pixie cuts to classic bob cuts, these 6 short haircuts are one of a kind, designed to be unique, make statements and turn heads in the best possible way. Plus, they're all currently trending in this year.
1. Pixie Cut with Bangs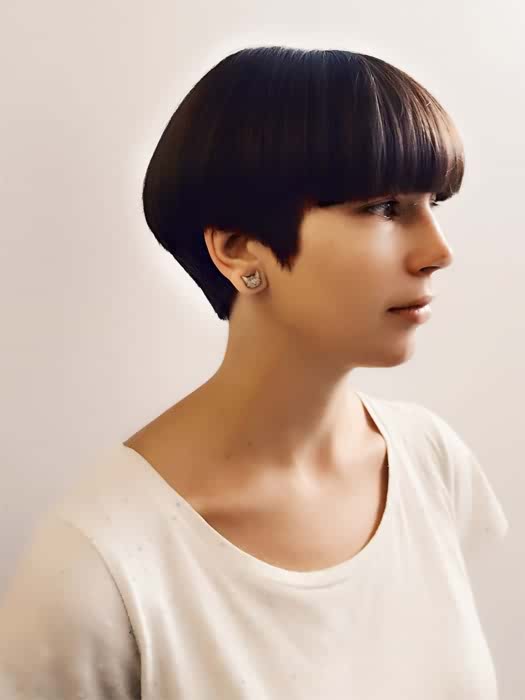 If you're attached to your bangs, getting a pixie cut doesn't mean you can't still rock your fringe. As you can see from the picture above, pixie cuts can accommodate straight bangs. This pixie cut features straight, rounded long bangs that draw more attention to and enhance your facial features.
The rounded layers of this pixie cut give it a unique, off-beat finish that you don't see very often–which only serves to make this pixie cut even more special. Sharper pointed layers around the ears add balance to this cut and prevent it from looking too bulky.
2. Pixie Cut with Micro Bangs and Pointed Layers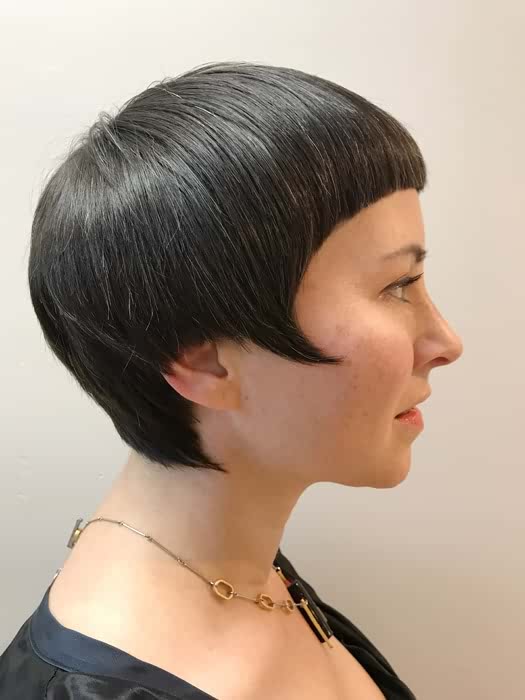 Micro bangs–or baby bangs, as they are also affectionately known–are definitely making a comeback for 2020. These ultra-short bangs like the ones you see in the picture above are fun and low-maintenance. Baby bangs are especially flattering for women with heart-shaped faces.
The unique pointed layers of this pixie cut that fall around your ears give this hair look a bold, unique finishing touch These slightly longer layers help offset the micro fringe of this low-kmaintenancep pixie cut to ensure a balanced finish for this hair look.
3. Classic Chin-Length Bob for Women Over 50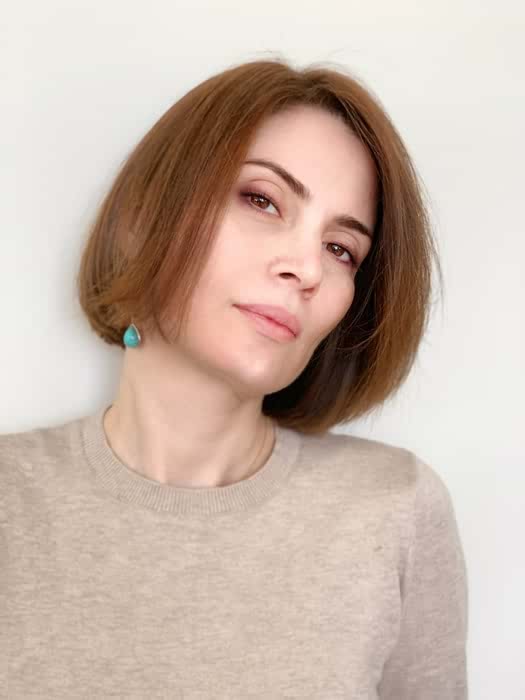 Sometimes, simplicity is best. There is undeniable charm to the classic bob haircut like the one you see in the picture above.
Classic bob cuts like this one are flattering, timelessly trendy, and quick and easy to style in the morning. Traditional chin-length bobs like the one you see in the picture above are especially flattering for women with oval-shaped faces.
4. Tousled Pixie with Long Side Bangs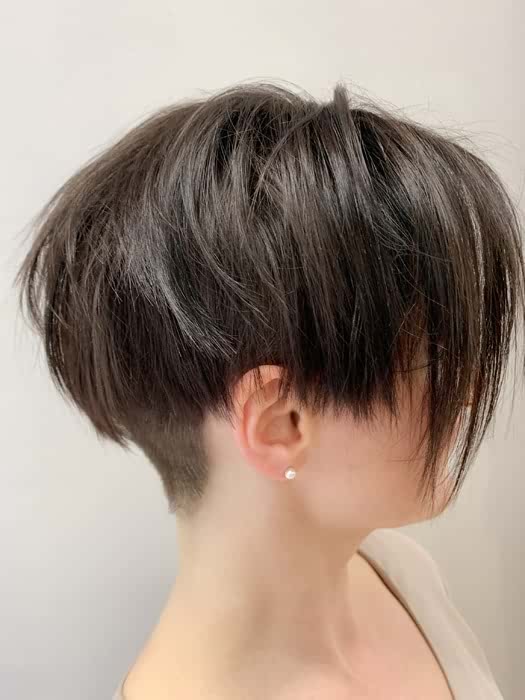 This tousled pixie is perfect for thick-haired women who want to rock a pixie cut without it looking overly bulky. A shaved back cuts the bulk out of this classic pixie cut, while tousled layers maintain the volume of this haircut and keep it from falling flat.
Longer side-swept bangs add feminine style to his pixie haircut and help balance out its shorter, more voluminous layers to ensure a streamlined finish for this cut. If you have naturally thick hair, you can easily pull off a pixie cut like the one in the picture above.
5. Chin-Length Bob with Blunt Micro Bangs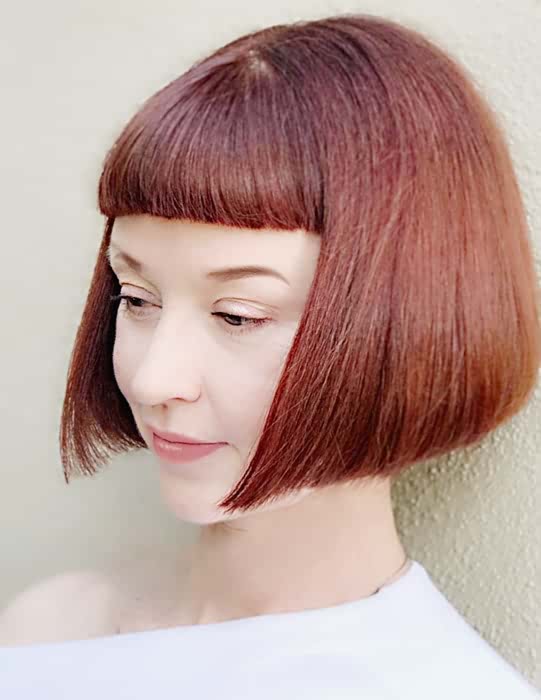 This chin-length bob features slightly angled layers that are cropped in a subtle A-line shape. A middle part and blunt ends give this bob haircut a stylish, streamlined finish.
Blunt micro bangs add a bold, edgy finish to this classic chin-length bob haircut. This bob haircut is especially flattering or women with naturally oval- and heart-shaped faces.
6. Edgy Pixie Cut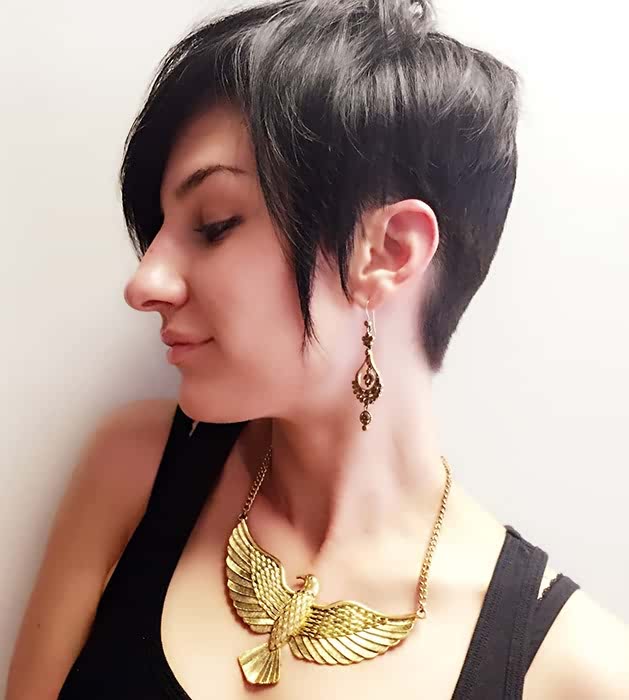 This bold, edgy pixie cut puts a daring twist on the classic pixie cut without taking you too far outside of your comfort zone.
It features a shaved back, longer pointed  layers on both sides, and a tousled finish on top with plenty of volume and dimension for a flattering finish.