We're pretty big fans of getting a fresh, fun, and totally funky manicure any time of year, but there's just something about getting our nails all brightly done in the summer that's particularly exciting. Maybe that's because we feel like it's finally time to use all the eye catching colours and shades that popped just a little too much in the dead of winter but really speak to our personality now that the sun is out. There are plenty of great summer colours to choose from when it comes to painting your nails, but for us there's one clear shade that just takes the cake because it positively screams sunshine. We spend our summers completely obsessed with bright orange!
If you're on the same page as us, here are 15 fantastic bright orange manicures that will brighten your mood and your whole look, each and every day.
1. Orange tipped French manicure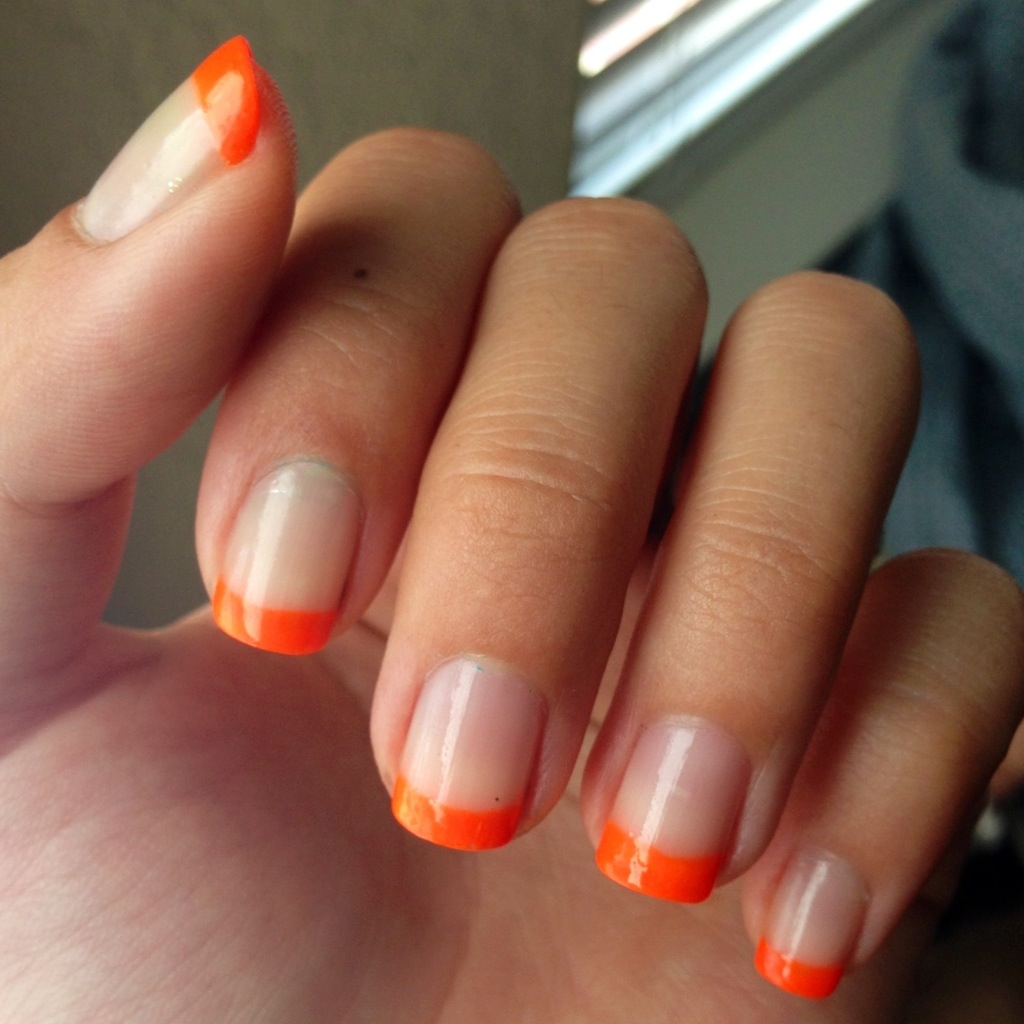 Are you a pretty huge fan of the classic French manicure when it comes to shape and style but you'd rather have a little colour pop in the look rather than just working with white and blush pink? In that case, don't be afraid to replace the tip colour with the brightest orange you can find, just like Champagne Taste, Beer Budget did here!
2. Orange velvet nails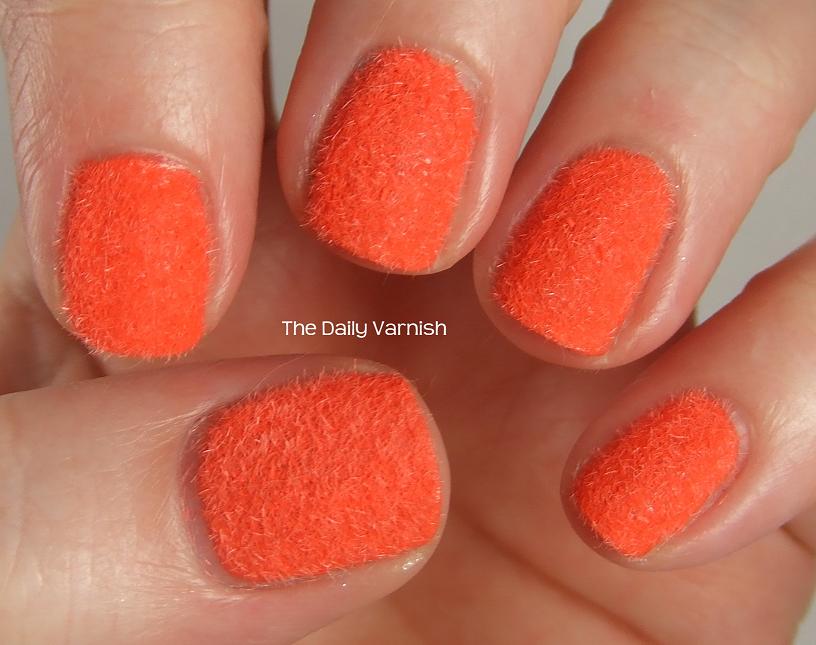 Perhaps you're the kind of person who loves really unique nails, particularly if they come with a bit of awesome texture that you don't often see around in the average manicure? Then you're probably already familiar with the concept of velvet nails, but just in case you aren't, here's a great tutorial from The Daily Varnish for making that effect happen yourself! Of course the colour they show you how to work with is orange because, like we said earlier, we're completely obsessed with it.
3. Black and orange angled tips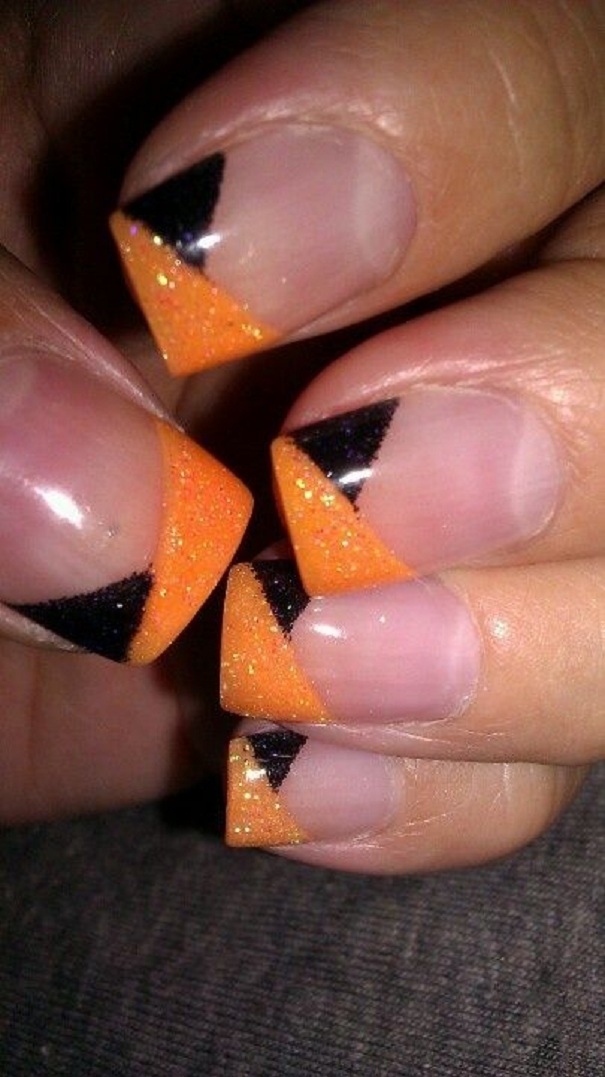 If you ask us, black and orange is a versatile colour combination that you can wear any time of year rather than just around Halloween as long as you do it right! Make it a more year-round look by playing with angles and getting geometric about things, kind of like how Beauty Nine to Five did here with these overlapping angular tips in black and a fantastically bright sparkling orange.
4. Orange with orchid accent fingers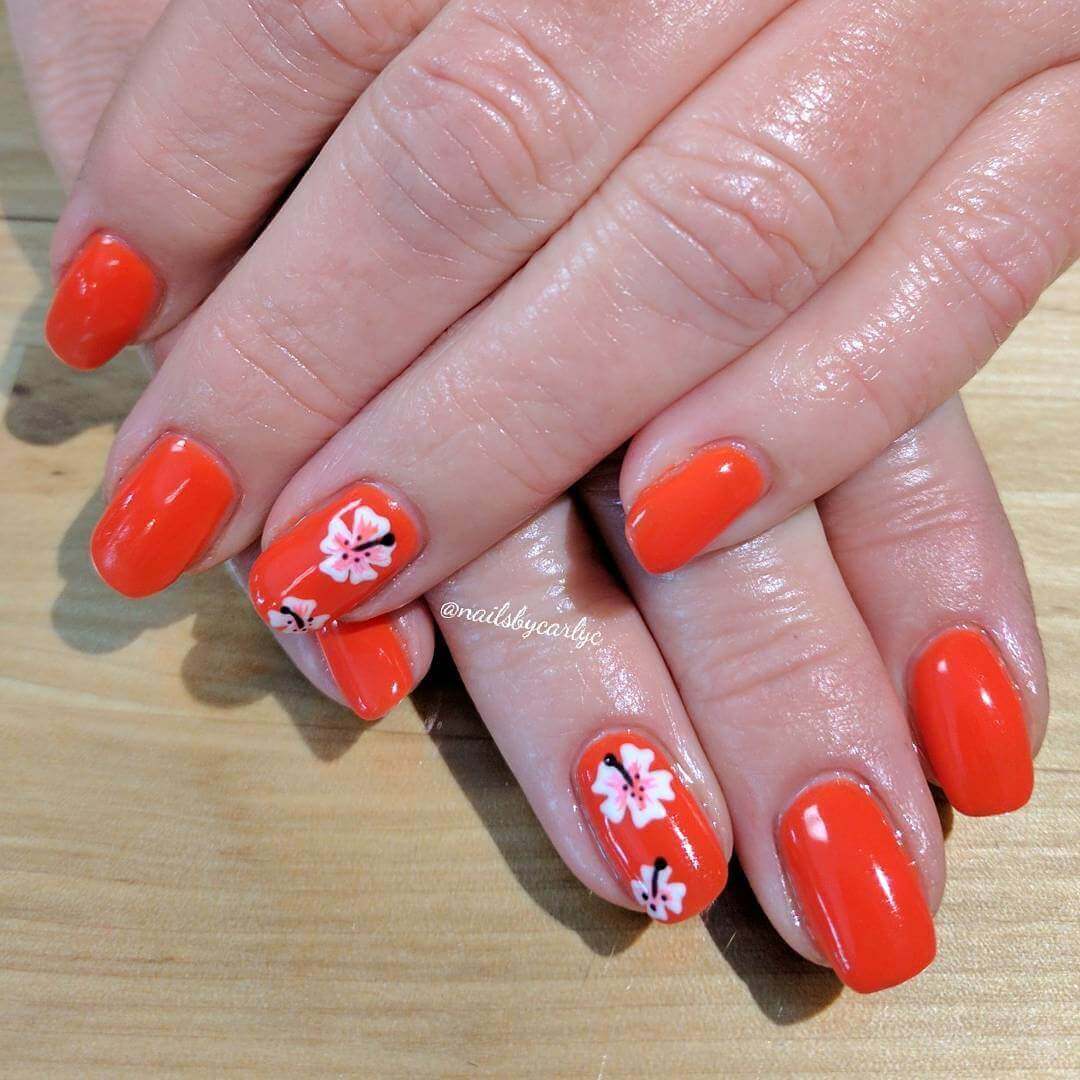 Are you in love with the idea of a nice, solid orange background for your manicure but you think perhaps spicing up at least one nail on each hand could be fun? In that case, you'll want to find something that complements the colour you love rather than taking away from it. We think these adorable little orchids on a summery orange background, featured on We Heart Nails, are the perfect example! The shape is also surprisingly easy to make if you're willing to be a little bit patient with yourself.
5. Rainbow stripes with fluorescent orange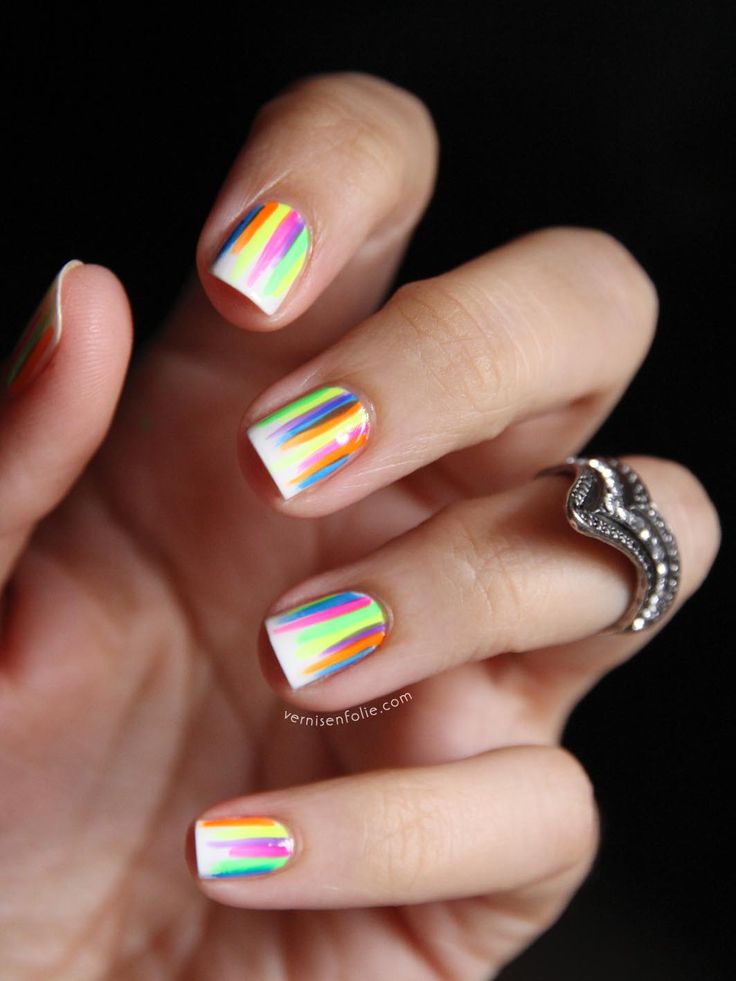 Are you actually quite open to having any number of fun, bright summer colours in your manicure as long as orange is one of the shades featured? In that case, we have a feeling you might really enjoy these full colour spectrum stripes on a white background! Pretty Designs shows you how easily they can be done.
6. Two oranges and some glitter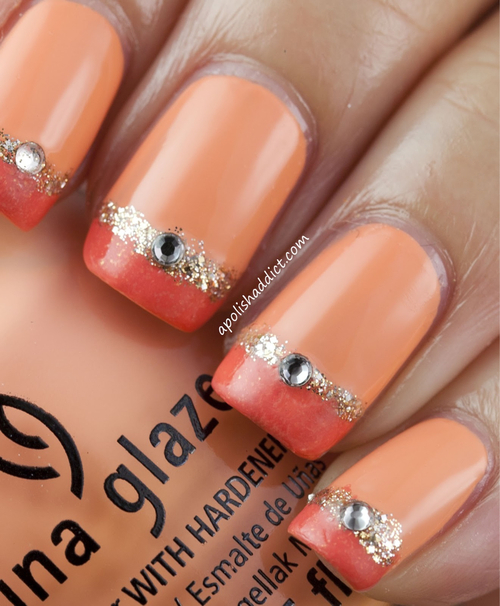 Perhaps you love orange so much that you can't resist the idea of putting two different but complementary shades of orange together? We totally support you in that decision, especially now that we've seen this stunning look featured on Love This Pic, which separates the two shades with a lovely, subtle line of glitter and a rhinestone.
7. Orange tribal nails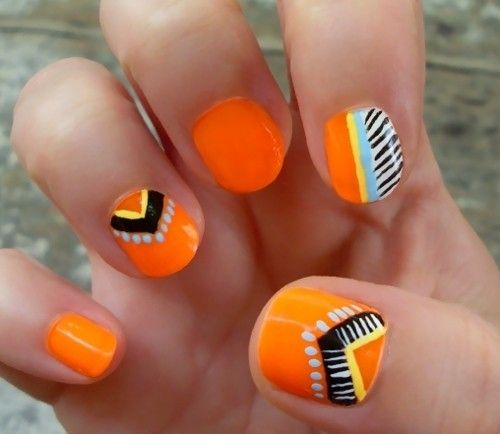 Are you still thinking about how much you love the idea of using bright orange as an awesome base colour so that even the nails that don't get patterned details look great, but you haven't quite seen an embellishment idea yet that has quite kept your attention? Then maybe this detailed tribal idea featured on Pinterest is the one for you! You could recreate the patterns you see in the picture or try making similar ones of your own design.
8. Dark to light orange ombre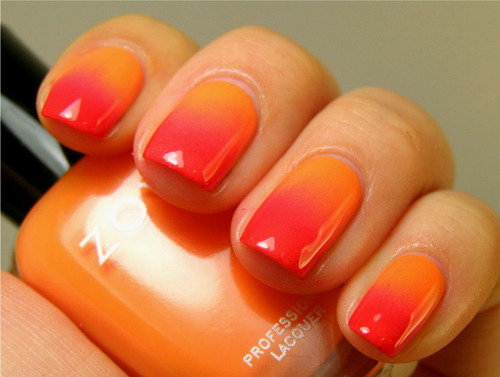 Are you still thinking about the idea of combining more than one shade or orange but rather than separating them or blocking them out concretely, you're rather see them merge from one to the next?
9. Neon orange with an orange paisley accent nail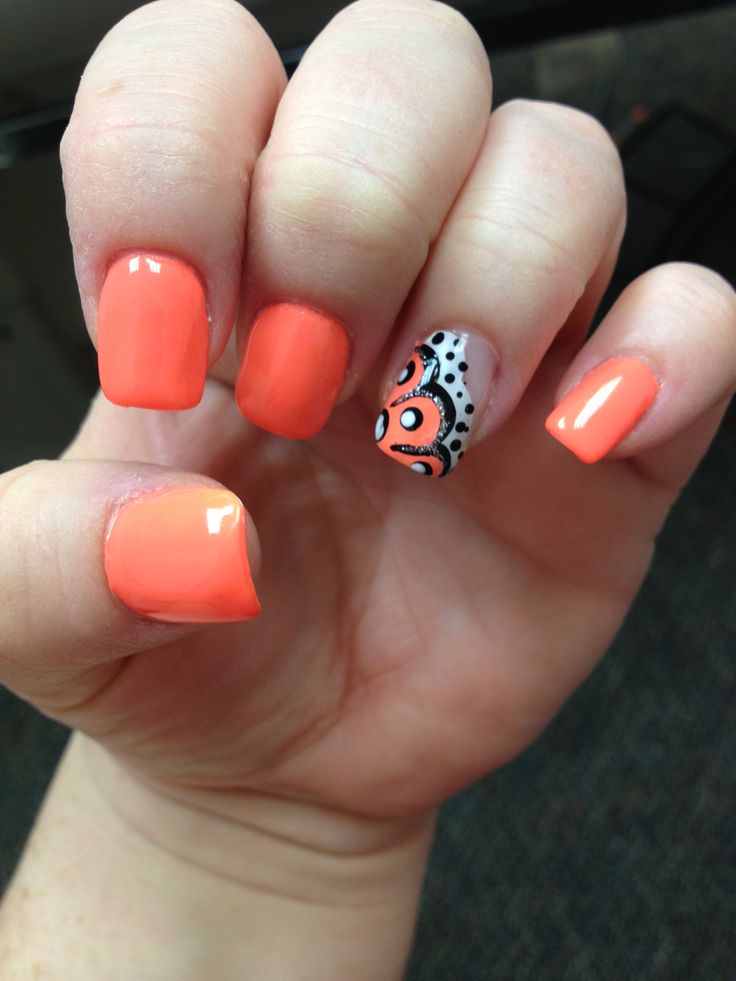 Do you have a steady hand, an artist's eye, and the patience to really get creative with your designs, even if it's just on one nail? In that case, creating something like this orange and paisley pattern from Pinterest might be the best idea for you! You get to use your favourite orange colour on each of the other nails but then you also get to tie it back into the swirling design you create as an accent colour there as well!
10. Orange fruity nails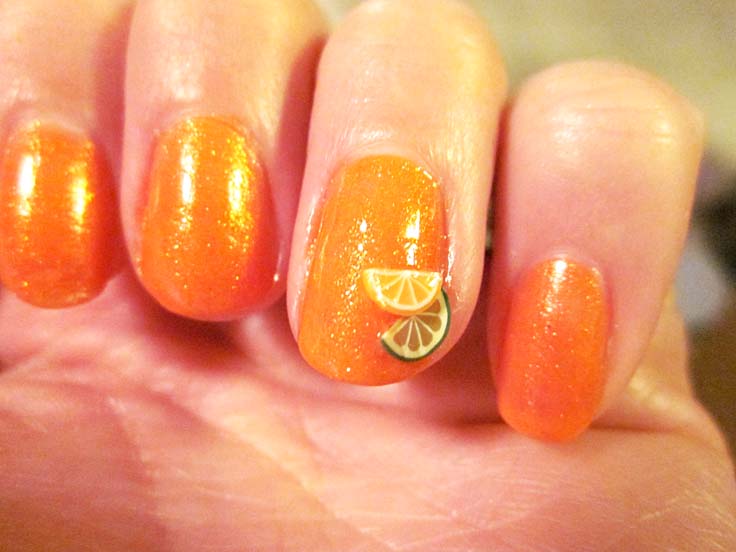 Have you been scrolling through our list and just thinking the entire time about how shades of orange this bright just remind you of fruit salad? Then get literal with that! DIY Nail Designs suggests using fruit shaped beads or decals glued to your nail to really bring the look to life.
11. Cute Tigger nails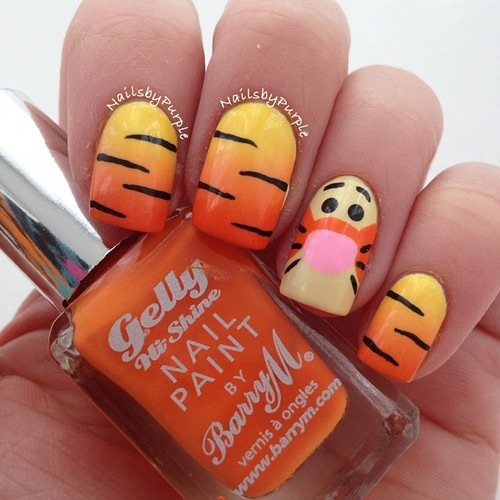 Rather than fruit, can you think of nothing but tigers when you see this much orange in one place? Then why not give your manicure a hilarious novelty theme and make it an homage to one of the best tigers there ever was? We'll always love Tigger from Winnie the Pooh no matter how old we get! Check out this simple design on Favim.
12. Blue and orange marbled nails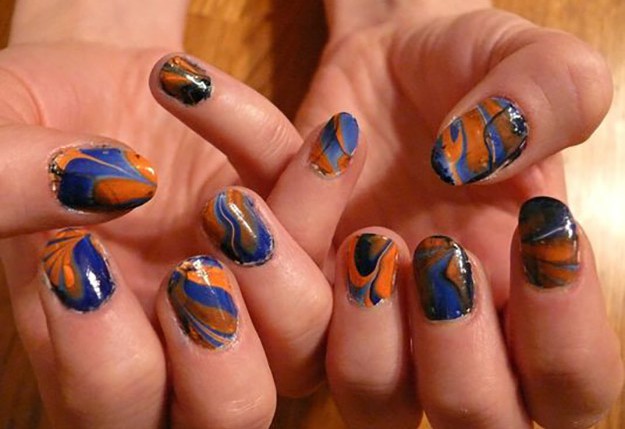 We admit that we know the marbled nail trend is a few years old now, but we'll also admit that this fact hasn't diminished our obsession with it at all! If you ask us, those intricate swirls are a timeless look that can be recreated in countless different ways to keep things bright, fun, and interesting. One of our very favourite colour combinations is bright orange and royal blue, just like DIY Projects has done here. Their tutorial walks you through the entire water marbling process, just in case you haven't tried it yet. You'll be hooked once you do!
13. Orange and coloured chevron nails
We talked earlier about being open to involving lots of different colours in your manicure as long as orange is heavily featured, but maybe the neon rainbow swipes we showed you then didn't quite speak to your sense of style? Then check out this chevron design from Hair Sublime instead! Besides the fun of choosing which colours you'll combine with your favourite shade of orange, you'll get the added joy of creating an awesome but fairly easy design by hand.
14. Orange nails with gold nail beds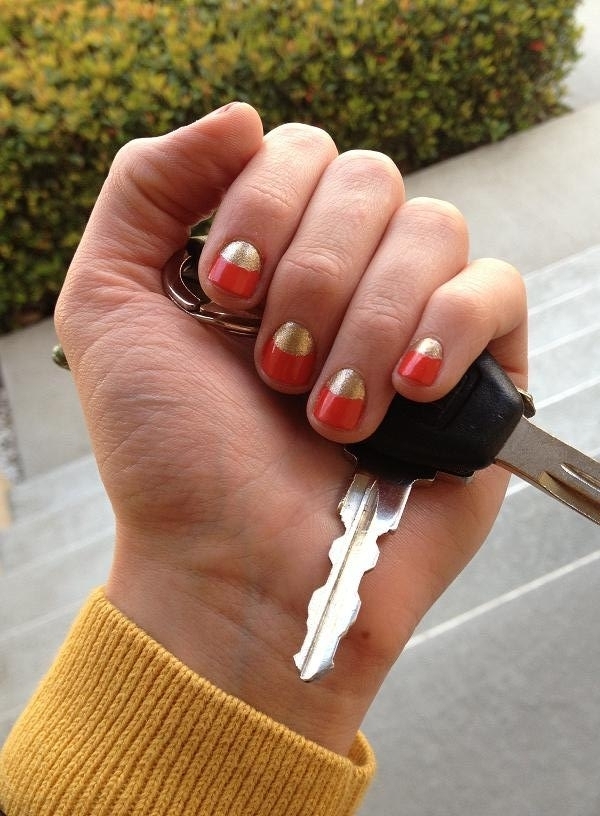 We've talked a lot about colour combinations and this one's a classic, so you're probably wondering why we've taken so long to give you a design that merges the two, but it's finally here! Nothing quite reminds us of a really hot day in high summer, right before the sun starts to set, like the combination of orange and gold together. That's we love this dual coloured orange and gold manicure from Andrea Everyday so much! The idea of making the base colour orange and just the beds of the nail a metallic or sparkling gold adds depth to the look and really draws the eye.
15. Orange cherry blossom nails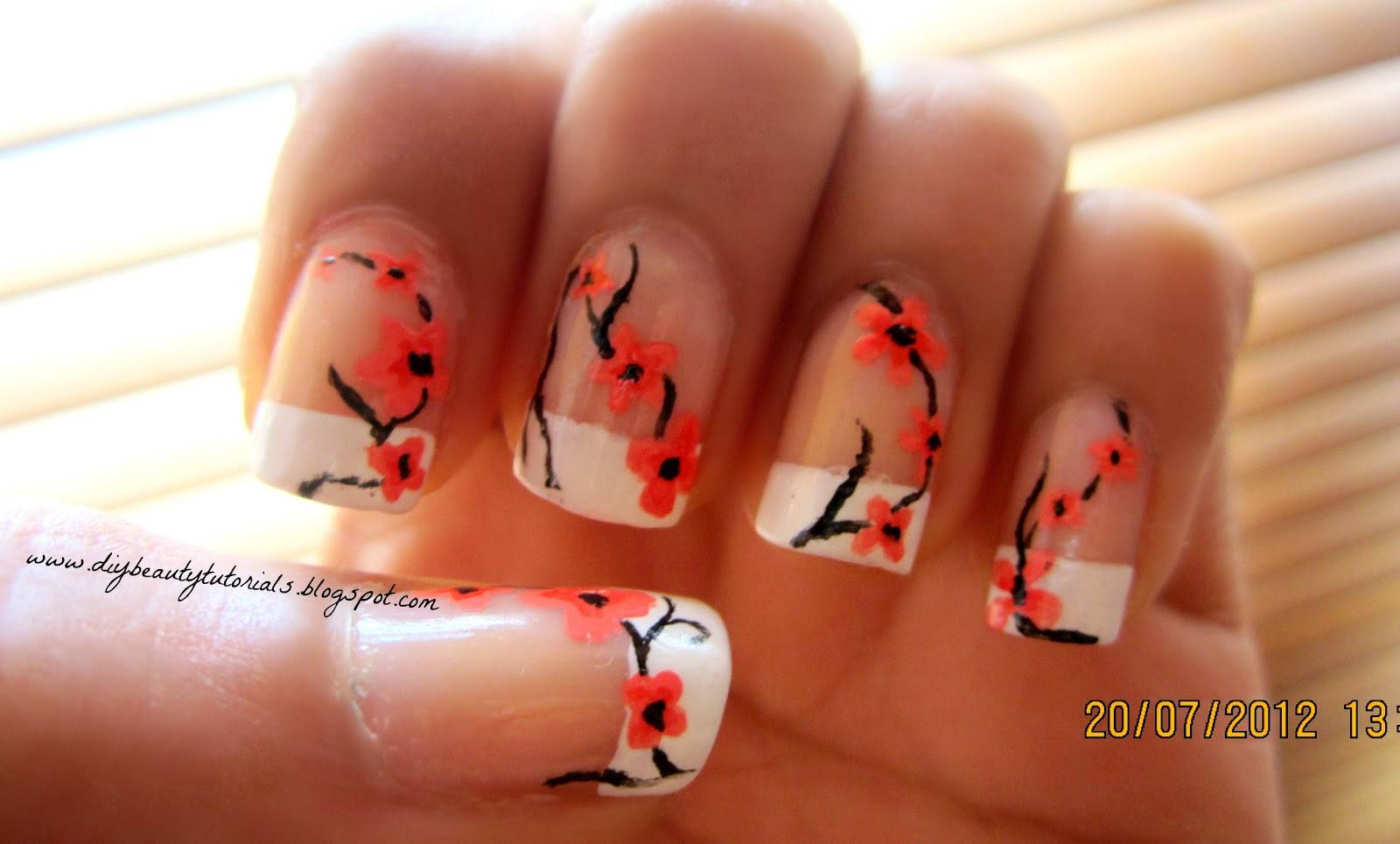 When you think about your love for orange and how you'd like to feature it best in your personal style, does your mind always picture it as more of an accent colour than a colour blocked base? Sometimes pretty little details in your favourite shade can actually help you appreciate it a little more, particularly against a natural background. These adorable little orange cherry blossoms, complete with winding branches, are the perfect example of what we mean! Check them out in more detail on Stuff Point.
Do you know a fellow nail art enthusiast who's always on the lookout for cute polish patterns and designs featuring their favourite colour? Make their day by sharing this orange-tastic post with them so they can try each look out for themselves!