Winter weather undoubtedly brings chilly temperatures, so you'll catch us amassing an impressive collection of warm mittens right around this time of year. We're pretty cold people most of the time, so we always make sure to have mittens and gloves on us over the holidays! Just because we spend a lot of time with our hands covered in the winter, however, doesn't have to mean you can't take pride in your nails. We're avid fans of nail art any time of year, so the only thing that changes for us in the winter is that our seasonal manicures get a little more festive!
Just in case you love a good seasonal manicure just like we do but you could use some new ideas, here are 15 of the prettiest winter inspired nail designs we've come across this year.
1. Metallic stripes and snowflakes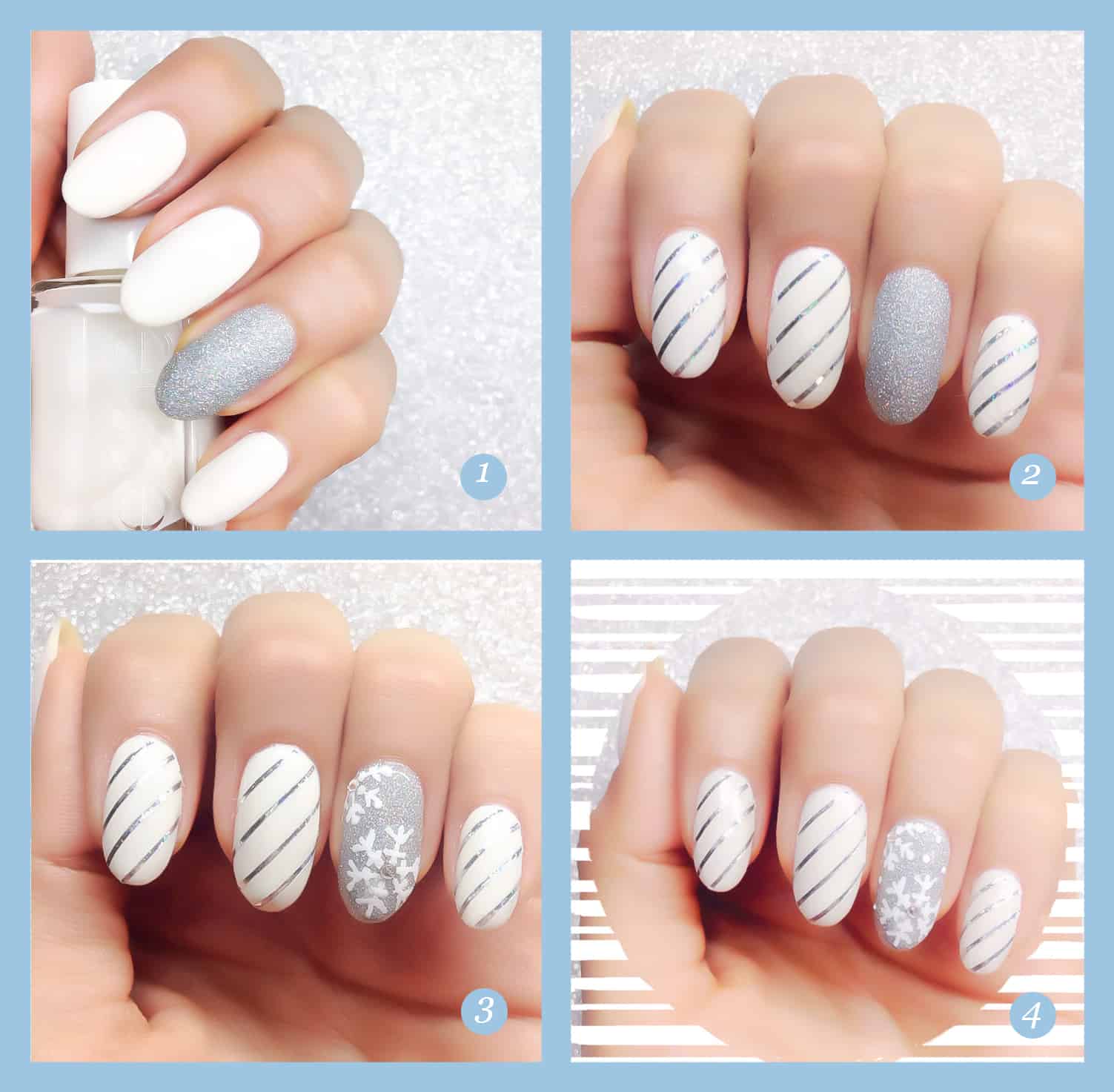 Have you always been the kind of nail art enthusiast who loves a bit of detail and embellishment, but you're quite new to practicing your skills so you'd still like to keep things quite simple? In that case, we have a feeling you might really enjoy this stripes and snowflakes design from Beauty Bender! They show you how to create cute little snowflake designs on an accent nail using white polish, as well as how to cut and stick pretty silver stripes from metallic tape.
2. Frozen inspired winter sparkle nails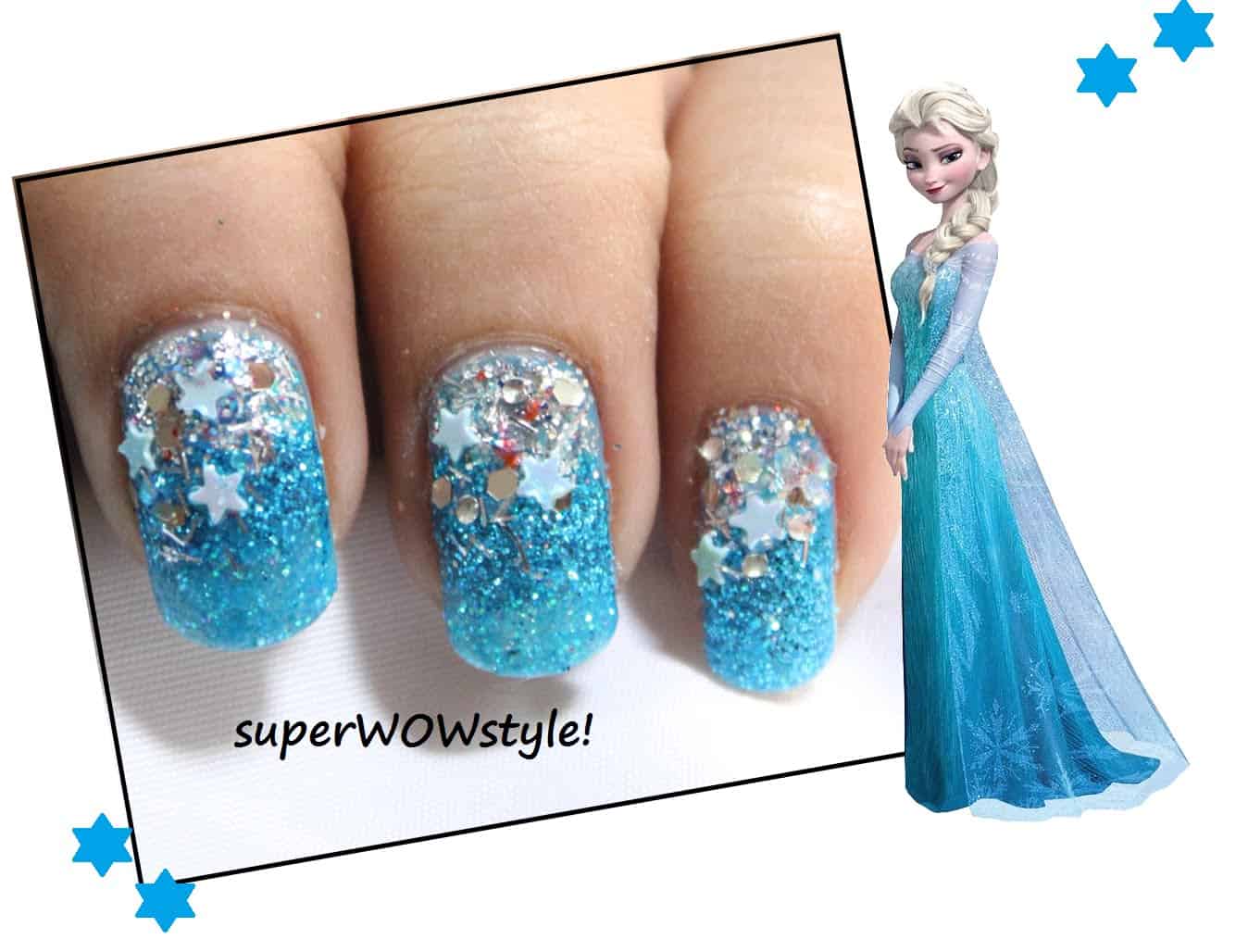 Perhaps you're an excited Disney enthusiast and, ever since the release of the movie Frozen, winter and snow have reminded you of Queen Elsa? Then here's an absolutely awesome winter and Disney inspired manicure for you! This design from Super WOW Style uses blue polish, glitter polish, and polish with star shaped confetti in it to mimic the pretty magical swirls featured in Frozen.
3. Deep blue with white dots and snowflakes
Is your personal style quite minimalist and you'd like to have just a touch of detail, but still ensure your manicure is very winter themed? Then we think perhaps this deep blue snowy manicure from Never Too Much Glitter is the best answer for you! We love the way they've combined a shining finish polish with one in the same sparkle but that has some sparkle. Carefully paint the white dots and lovely snowflakes on the surface of whichever nails you want to have as your accent nails and voila!
4. Deep green and Christmas tree decals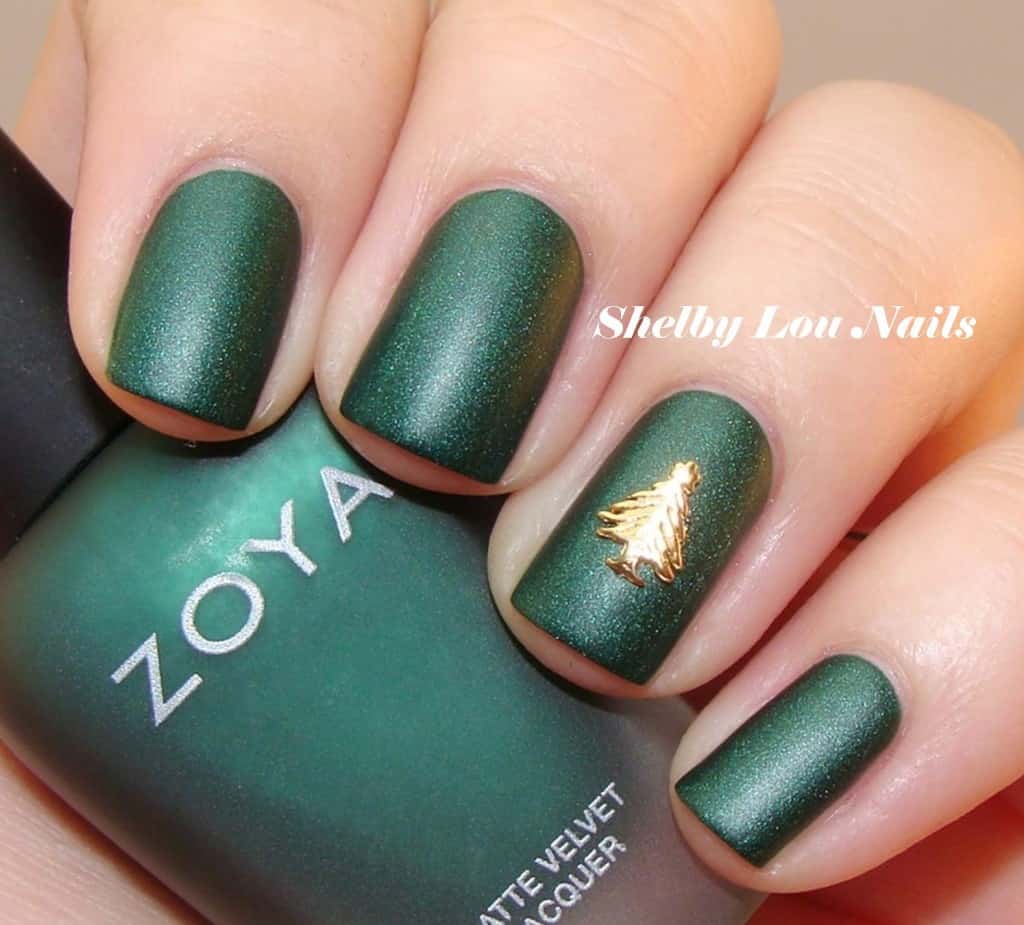 Have you always loved working with decals because you love the way they add some glamour to the look but without you having to paint very fine details, since you're not yet very confident in your hand painting skills? Then we definitely think you should check out this sparkling deep green manicure from Holicoffee with a lovely gold decale Christmas tree! It's simple to do but impactful to see.
5. Blue ombre with white snowflakes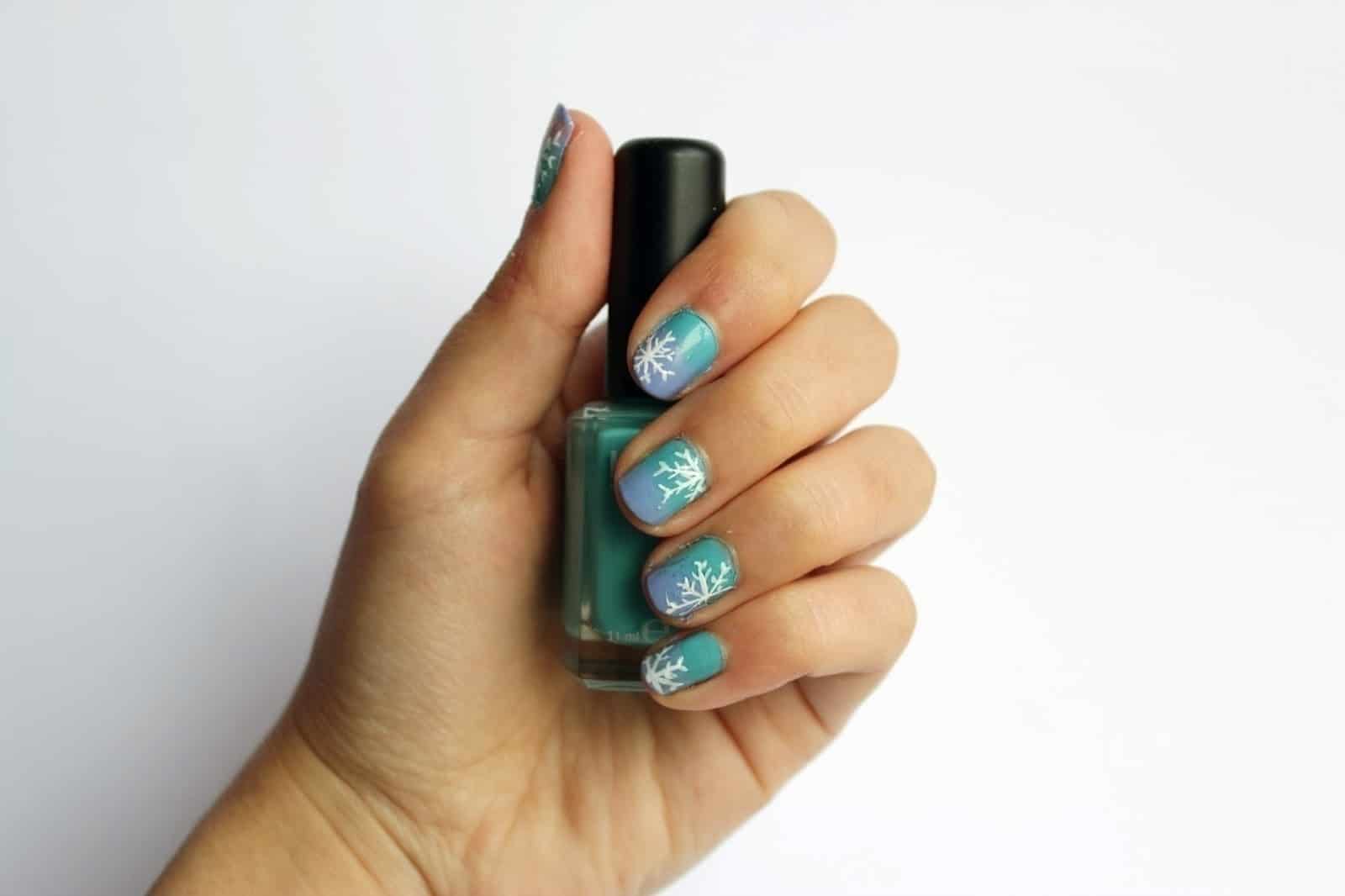 Are you intent on having a winter themed manicure but you've always been more a fan of pastels than deep, wintry colours? Then we think you might prefer this pretty light blue ombre base from Cut Out and Keep for your snowflakes! We love the way they started with a more teal based blue, moving through into a more periwinkle blue before painting the delicate little white snowflakes on.
6. Christmas sweater nails
Have you always had a soft spot for the kind of Fair Isle knitted sweaters your grandma knit you every year for Christmas because they remind you of fond childhood memories? Then we have a feeling you're going to love this Christmas sweater manicure from Burkatron! They guide you through the process of painting a red base and adding strategic geometric white details to look like knitted colour work.
7. Easy icicle nails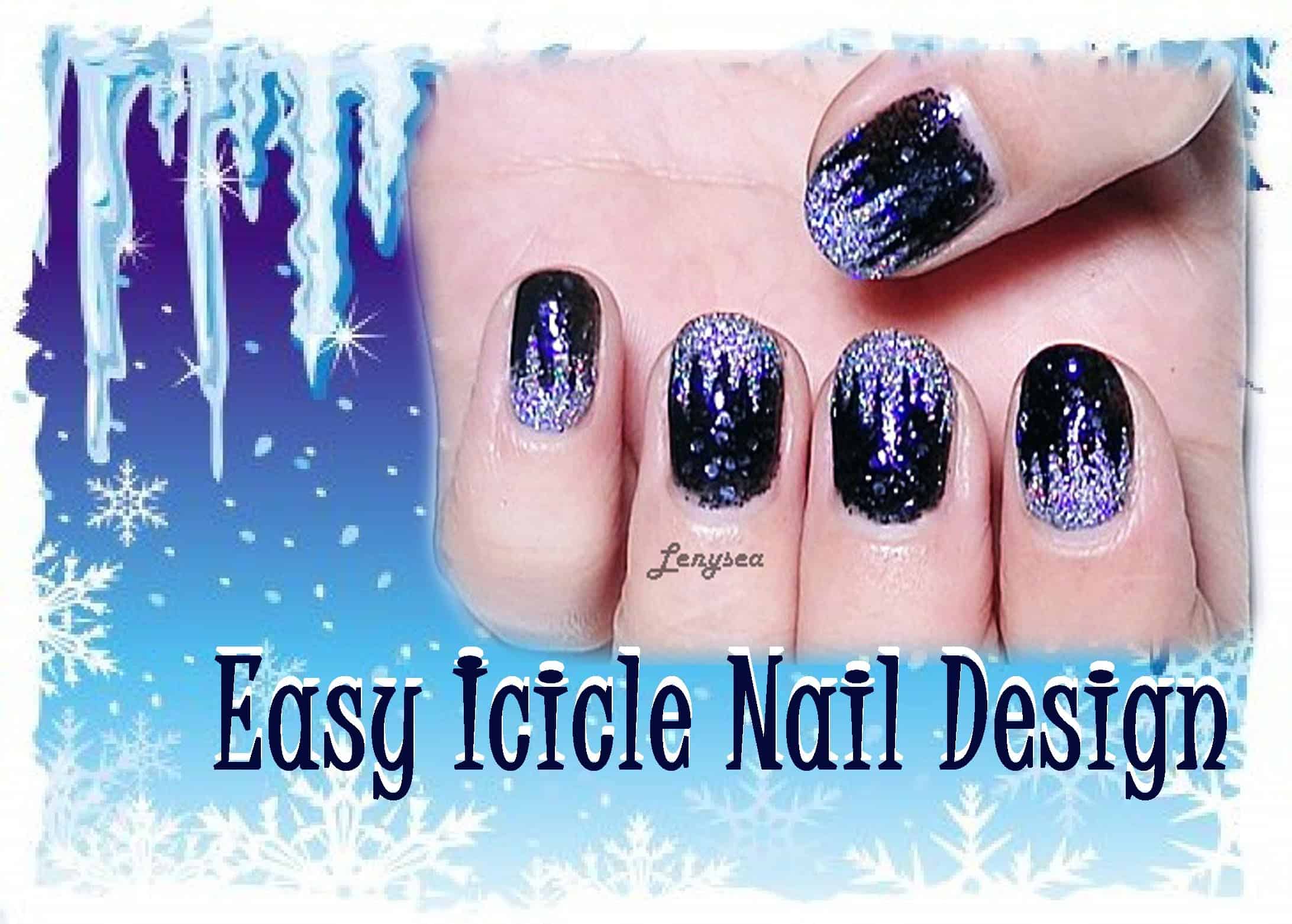 Has your favourite part of winter always been the beauteous ice and snow you see frozen all along your roof panes, twinkling in your windows as the sun sets? Well, here's a totally awesome way from Lenysea to mimic those glimmers and glints using sparkle polish! They show you step by step how to lay down a dark base before you create peaks of glitter to make the "icicles".
8. Mint with black snowflakes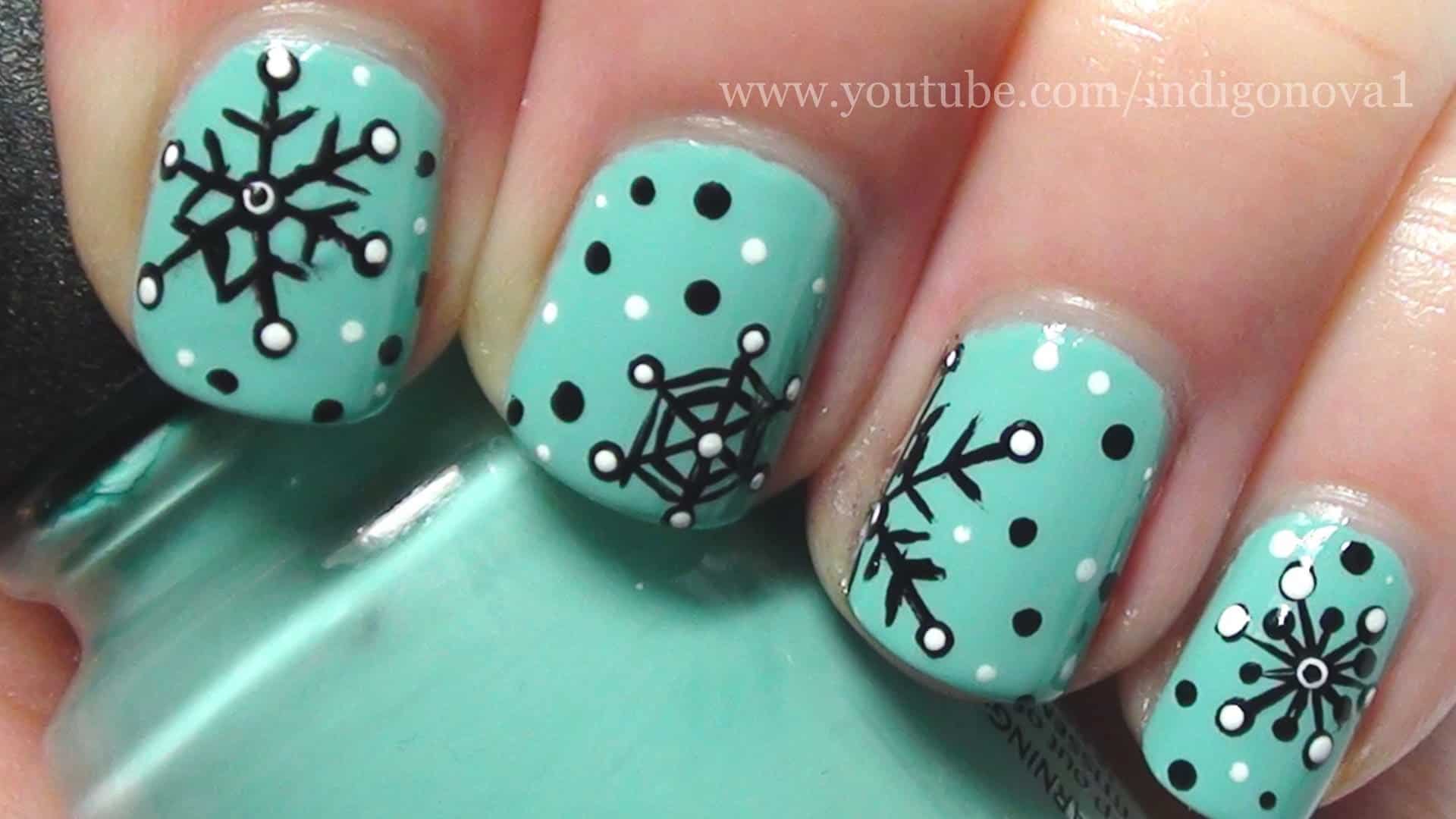 Are you totally intrigued by the idea of painting detailed little snowflakes on your nails but you've done the classic white lines design before and you're looking for something at least a little bit different now? In that case, we think perhaps these black and white flakes painted onto a pretty mint base might appeal to you a little bit more! Find a nice, easy step by step guide for making the snowflakes from dots and lines on How-To Instructions.
9. Frosty the Snowman nails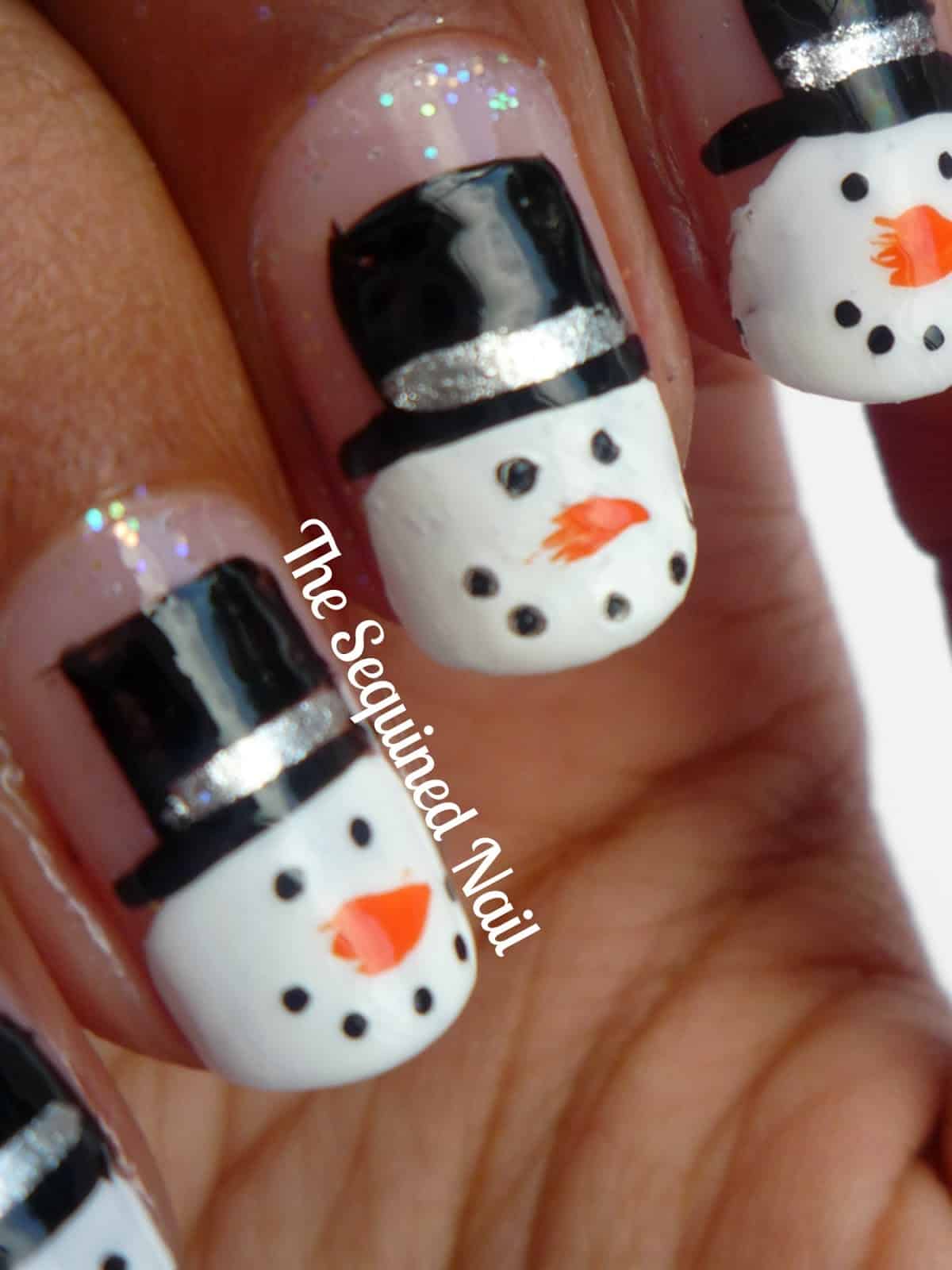 If you're going to go to the trouble of theming your seasonal manicures, would you rather keep it cute with some characters? Then grab the orange polish you bought for Halloween a couple months back and get ready to use it again in this snowman design from The Sequinned Nail! They show you how to make a snowman's face, top hat, carrot nose, and happy coal smile. Add a sparkly band around the hat for a bit of glitz and glam!
10. Glittery neon Christmas light nails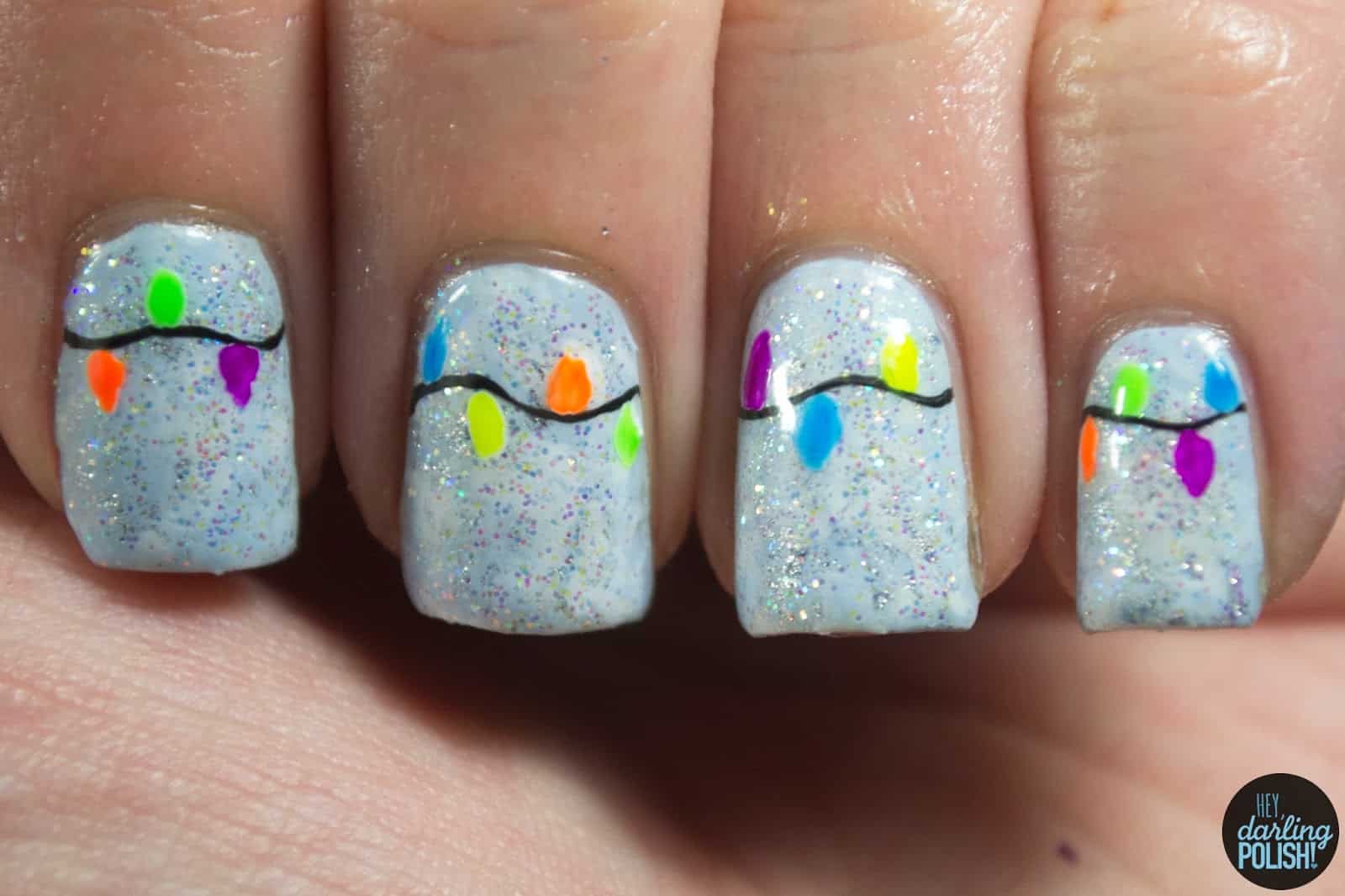 Just in case your personal style is a little more bright and flashy all year round, no matter the season, here's an idea that's undoubtedly wintery and Christmas themed but that still lets you sneak a little bit of your beloved neon shades into the mix. Fast 1 Cash shows you how to paint your nails like a set of little Christmas lights waving on a snowy night. The neon colours makes the lights look like they're flowing against a sparkly white background!
11. Red Christmas bows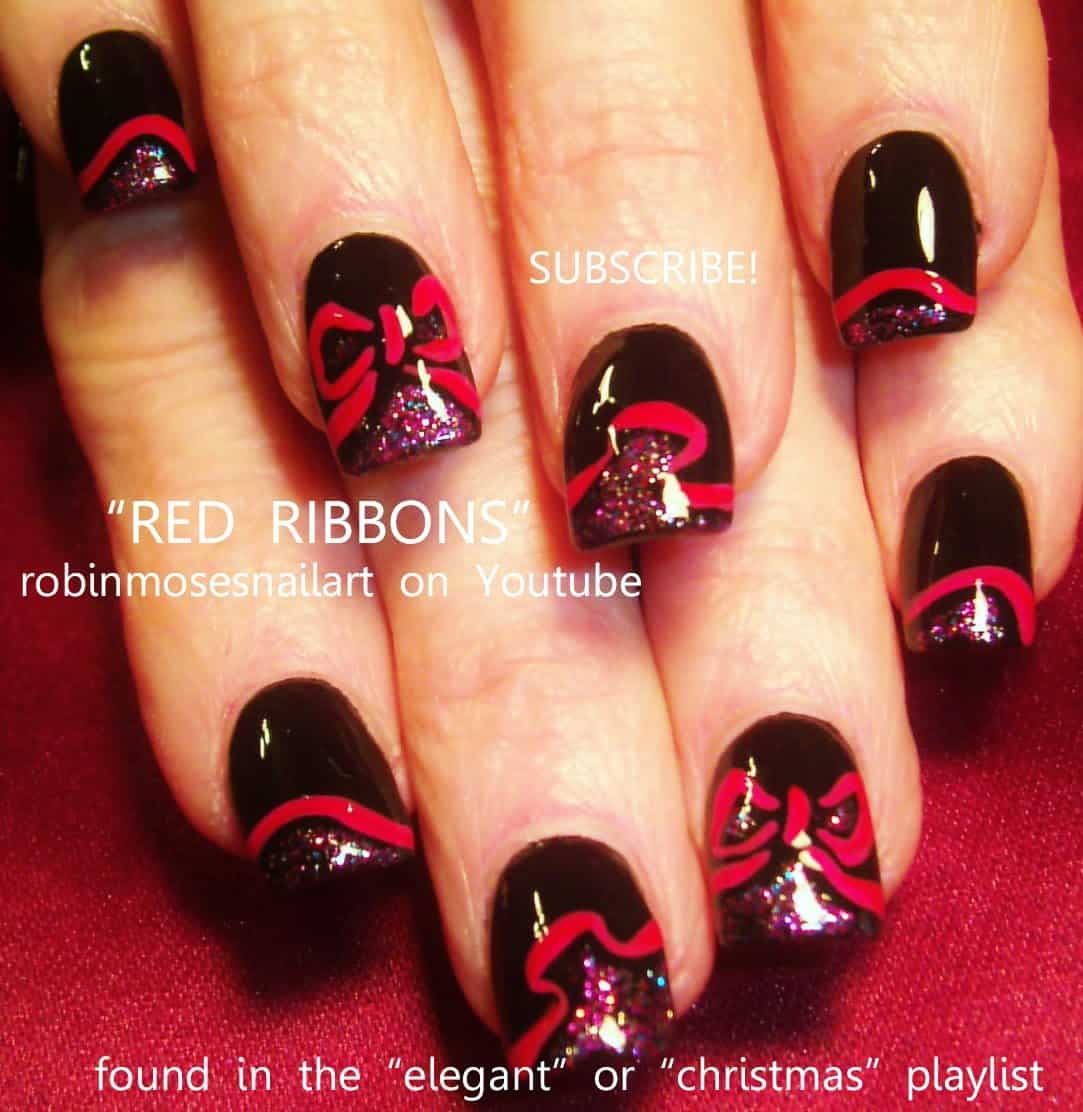 Has your favourite part of Christmas always been the beautiful ways that everyone wraps their gifts, all done up in pretty papers with bows on top? Then maybe you'd rather harness that kind of holiday cheer on your nails instead! Check out how Robin Moses Nail Art painted a lovely continuous gift ribbon design across all of their nails on each hand, adding a glitter underlay for a bit of excitement.
12. Christmas bobble manicure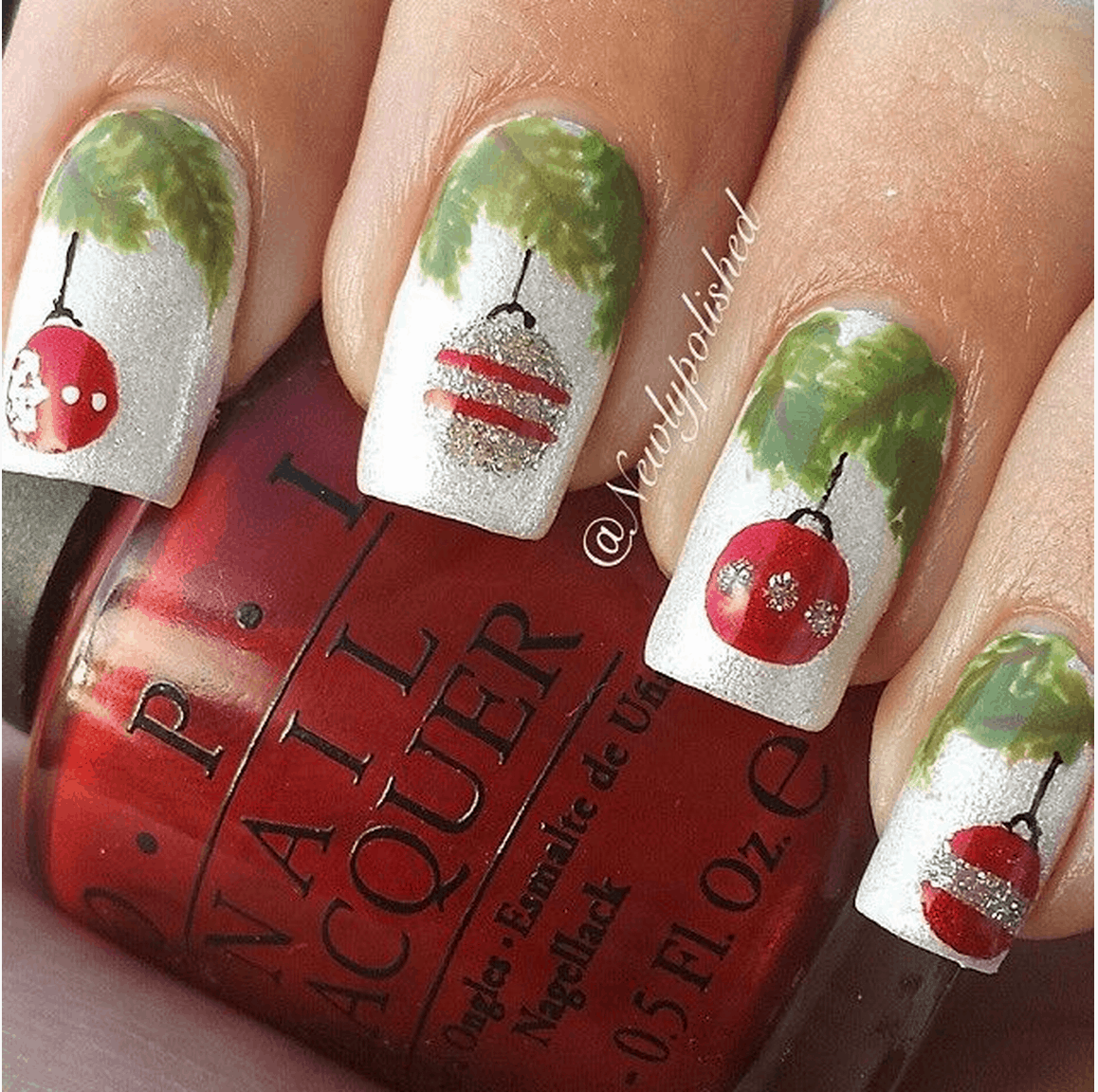 Are you one of those hard core Christmas enthusiasts who actually has more than one Christmas tree because you have so many beautiful ornaments to hang up? Then we think you're the perfect person to rock this adorable Christmas ornament manicure from Nenuno! Their tutorial shows you how to make the cute little bobbles themselves, as well as how to paint little fir tree branches for them to hang from.
13. Textured winter cable nails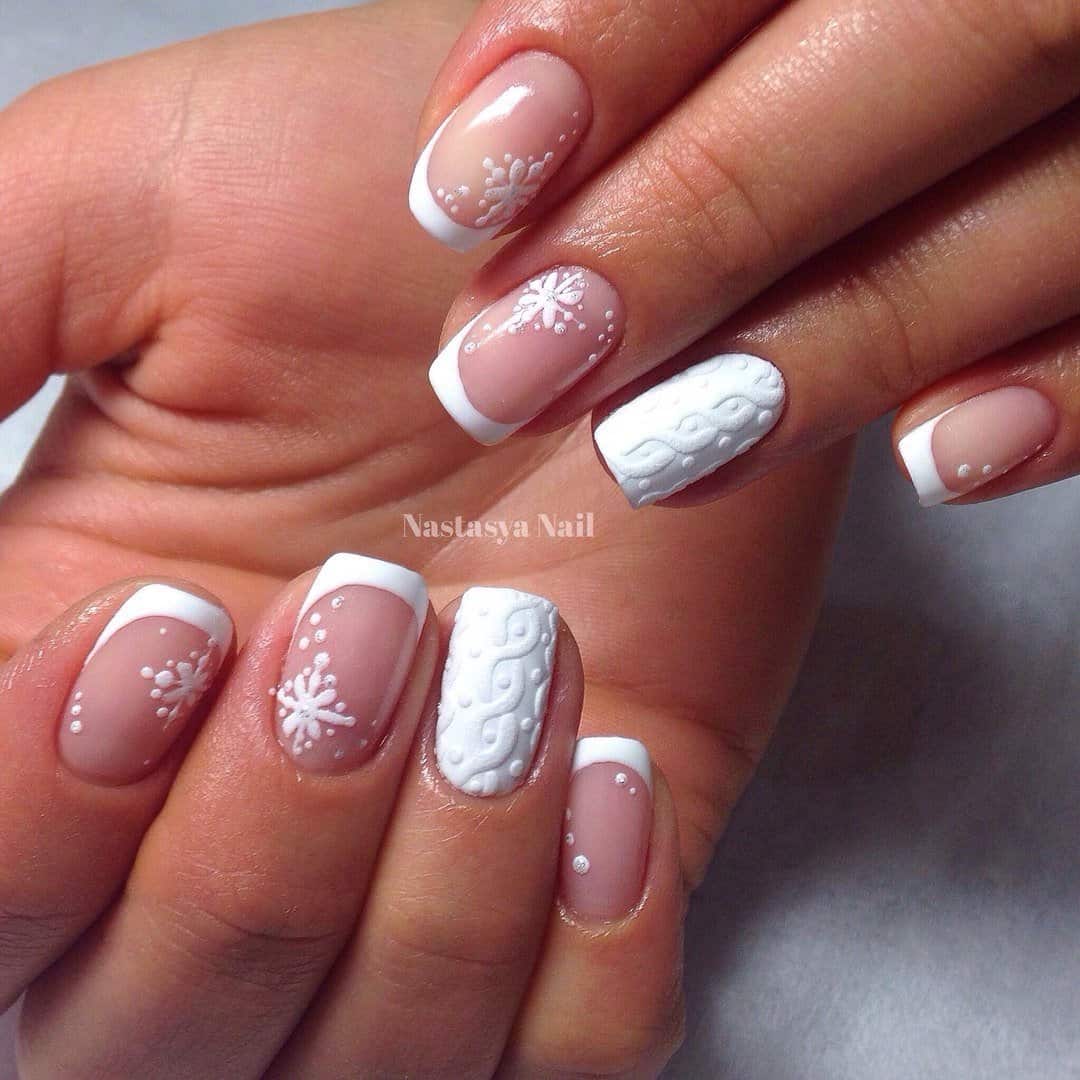 Did we really catch your attention when we showed you a manicure modelled after classic knitted Christmas sweaters but you're holding out for one that just has something a little extra special to it? Well, look no further than this raised texture manicure from Best Manikyur that mimics the braiding pattern you'd find on a beautifully hand knit cable sweater!
14. Penguin and polar bear nails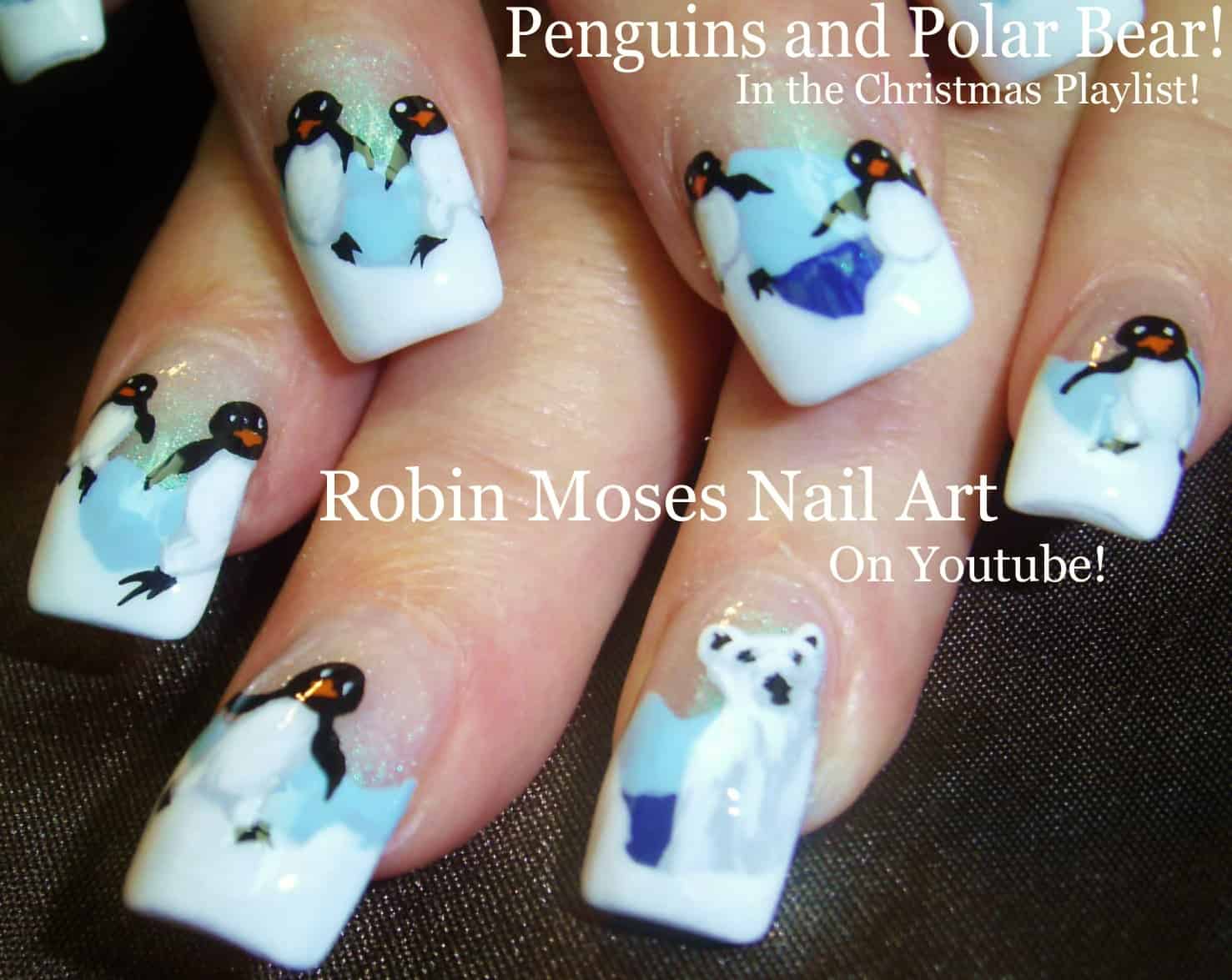 Are you still thinking about how much you love the idea of painting characters as part of your winter manicure but you've done snowmen before and you'd rather try something different this year? Then maybe these adorable penguins and polar bears outlined on Robin Moses Nail Art will be more up your aisle! We love that they're a little less cartoonish than some of the other designs on our list but still with a clearly hand painted charm.
15. Red and white reindeer nails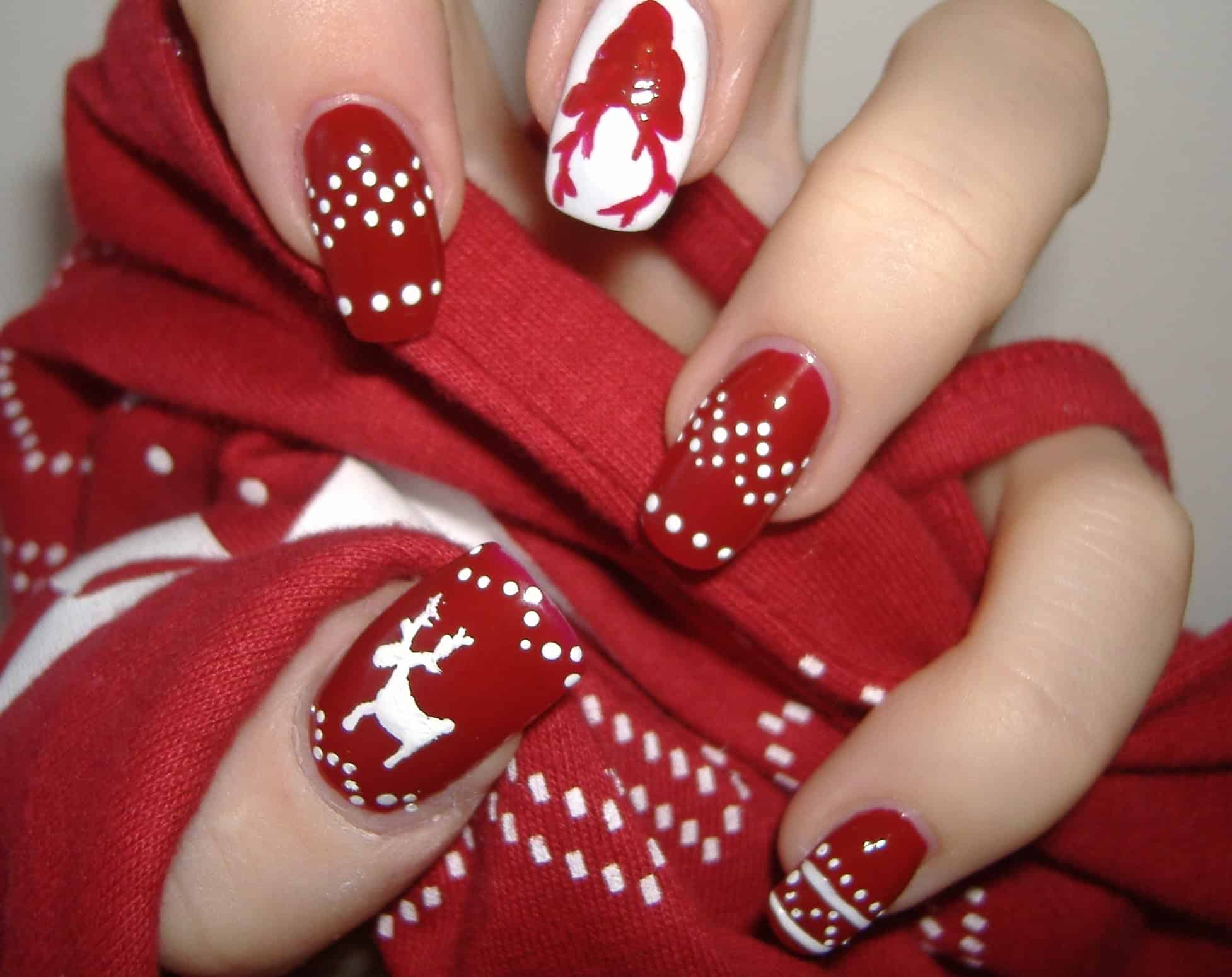 Have you noticed a subtle lack of reindeer on our list so far, so you've been holding out for a design that will let you paint your favourite antlered friends? Well, here's a creative idea from Nail Art Patterns that combines cute reindeer with the sweater manicure idea we've already talked about above! They show you how surprisingly simple the little white deer silhouettes are to create.
Have you given yourself other fantastic winter and Christmas themed manicures that you were very happy with and got a lot of compliments on, but you don't see any designs that are quite the same on our list? Tell us all about them or link us to photos of your finished nails in the comments section!