Cold winter weather can play hard with the look and feel of your hair. To ensure vibrant, healthy hair all through the winter, it's essential to make these four simple steps part of your regular routine: cleanse, hydrate, treat and protect. And here is three easy ways to look after your hair during winter.
Easy Winter Hair Care Tips
1. Special care when going out
As a cold weather your hair needs extra layer as your body. Special care should be taken when going out in wintery conditions. When you're going outside on a cold and blustery day, a scarf or hat can protect your hair, although continuously wearing hats can have the reverse effect. Make sure your headwear is not too tight because otherwise this can lead to limp and greasy hair as a result of overworked sebaceous glands. Try not to go out on a very cold day while your hair is wet, as the hair can freeze and is at high risk of breakage.
2. Don't shampoo too often and use good conditioner
As in winter, the air is quite dry and that will effect to your hair aswell. To keep your hair well moisturized don't shampoo too often as it can exacerbate dryness hair and scalp. Perhaps try shampoo that has word "replenish" as this means the product will add moisture to the hair. You can lock in moisture and add shine by running the hair under cold water after shampooing. Use a top quality, moisturizing conditioner each time you wash.
3. Be careful and don't over do with hair hot tools
Hair tools such as curling irons and blow dryers can increase hair static and dryness. While we still need to use it, you can limit your use of hot items, as well as protecting the hair by applying a leave in conditioner before use. Washing the hair in warm water rather than hot water can also help, as can using the 'cool' setting on your hairdryer. This can mean that drying your hair takes longer, but the damage done should be reduced.
14 Winter Hair Colors For Brunettes
1. Light Brown Balayage Hair
2. Creamy Light Brown Balayage Hair
3. Copper over chocolate milk hair
4. Natural Ash Brown
5. Caramel & Honey Hair
6. Light brown natural hair
7. Beautiful lob blonde
8. Cute espresso brown hair
9. Gorgeous maple tone
10. Flowing Brunette Balayage
11. Delicious coffee tone hair color
12. Chocolate Brown and Iced Cocoa Hair
13. Babylight Balayage
14. Caramel Balayage Copper Highlight
1. Light Brown Balayage Hair
This light brown balayage hair has made us swoon. The light brown hair color for the lengths set off by dark roots adds a sense of fullness and depth to otherwise flat and lifeless hair. The delicate tones of the balayage pattern are muted and lend an air of refinement. We love the brightness at the end of hair.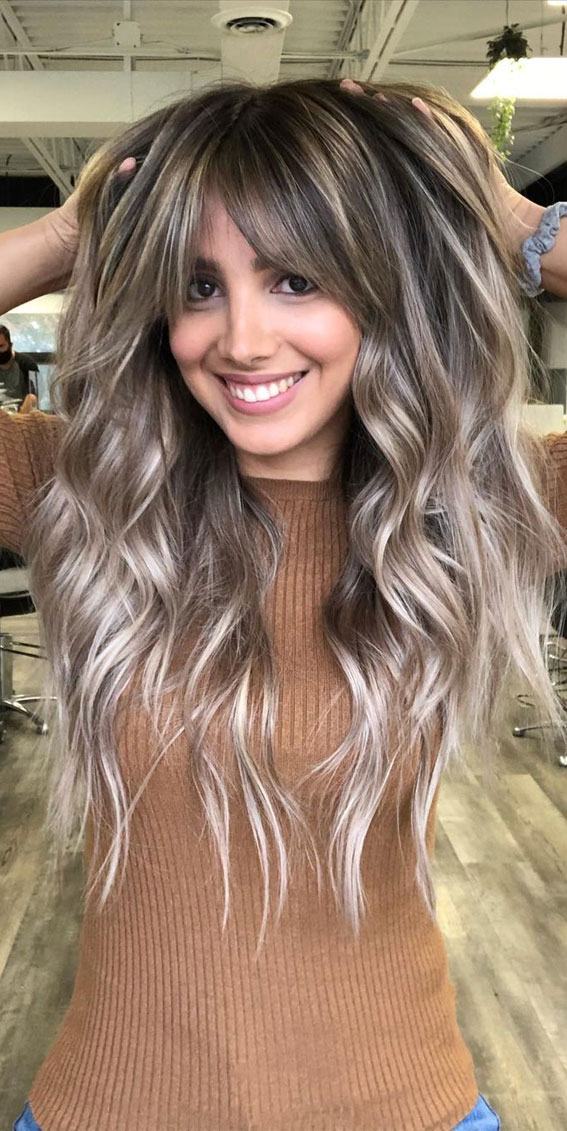 2. Creamy Light Brown Balayage Hair
If you love the natural look, then you need to see this hairstyle with perfect wave. Think of this style as the recreation of the highlights you used to get as a kid. With inspiration like that, you'll achieve a youthful style.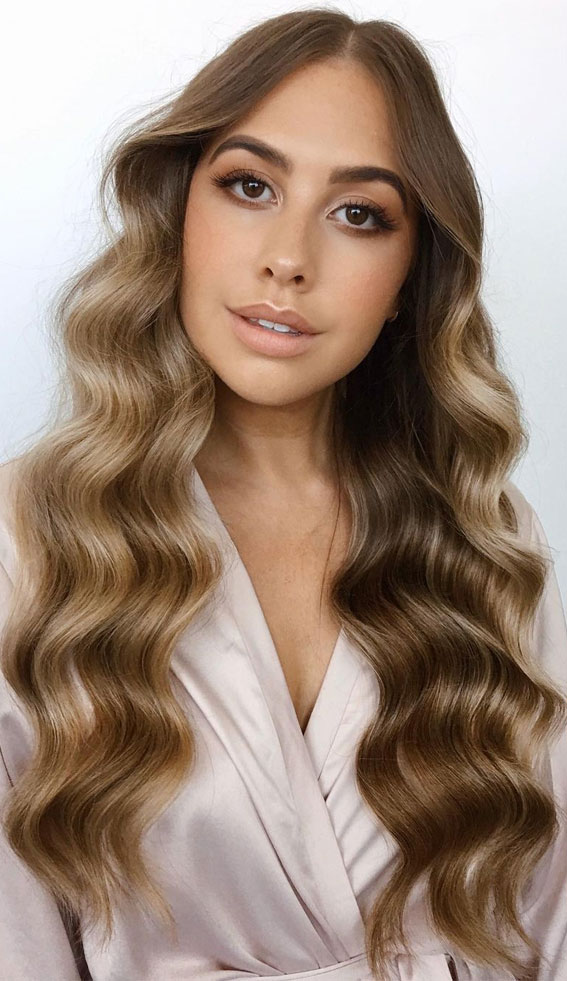 3. Copper over chocolate milk hair
This is another cute light brown hairstyle! The amazing effect comes from a diffused application of copper highlights over chocolate milk strands, which look like reflective liquid sheen, while the waves themselves were all styled to go in the same direction, which enhances that flowy feel. Kind of Obsessed with Hair Knots at the Minute.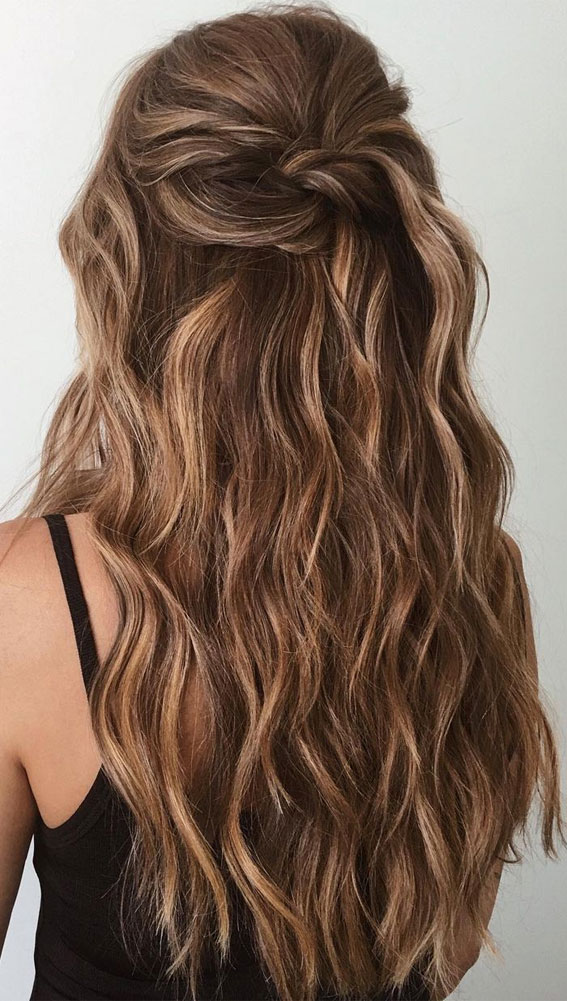 4. Natural Ash Brown
This hairstyle reminds us of our favorite plum and red wine. Dark blue roots give way to more ash brown-colored mids and ends. The natural ash brown color was applied in a soft, hand-painting technique that makes things look very natural, despite the originality of the placement.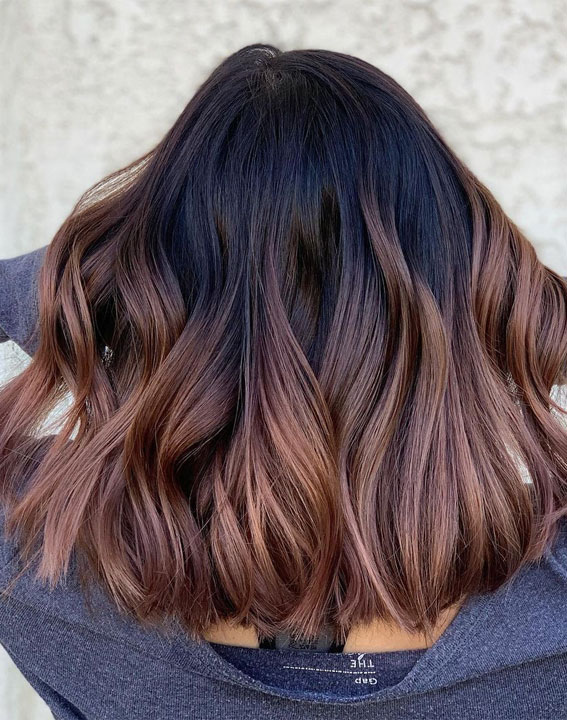 5. Caramel & Honey Hair
This hair idea looks delicious like honey drip on caramel. ? This radiant winter hair color is perfect for brunettes who want to embrace the warmth of winter with a subtle, but no less shimmering and eye-catching, look. Caramel & Honey balayage highlights sprinkled throughout the roots and ends create a flattering, pearlescent appeal.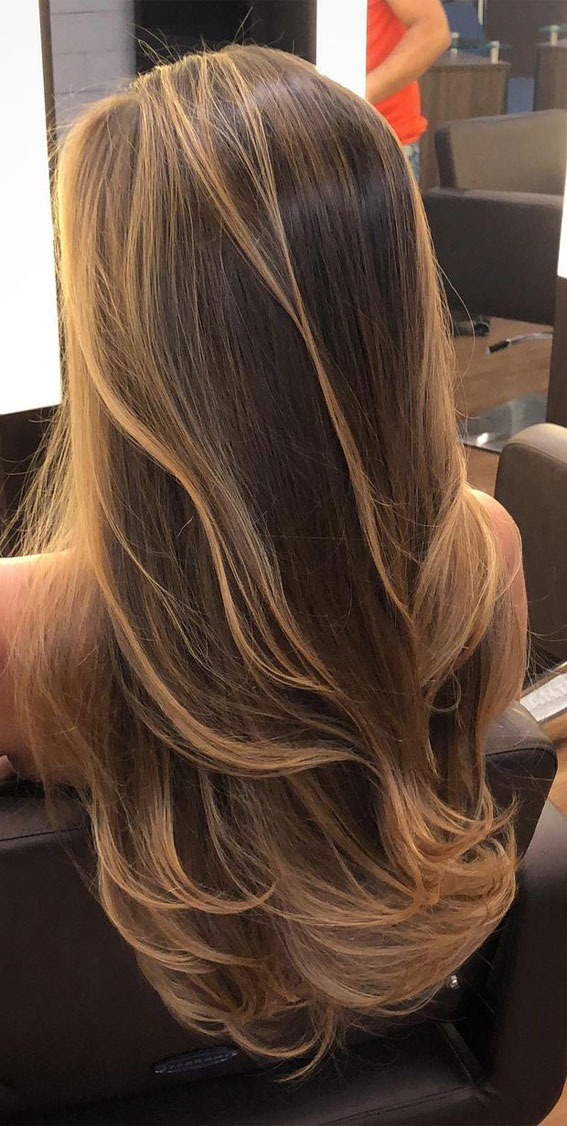 6. Light brown natural hair
We have a stunning light brown natural hair. The hair is dark brown at the root and then around under midway the hair changes into a few cocoa tones. Midway the colors are cool tone of cocoa with a hint of caramel and further down the hair turns brighter. The color combo is stunning and it really makes a statement.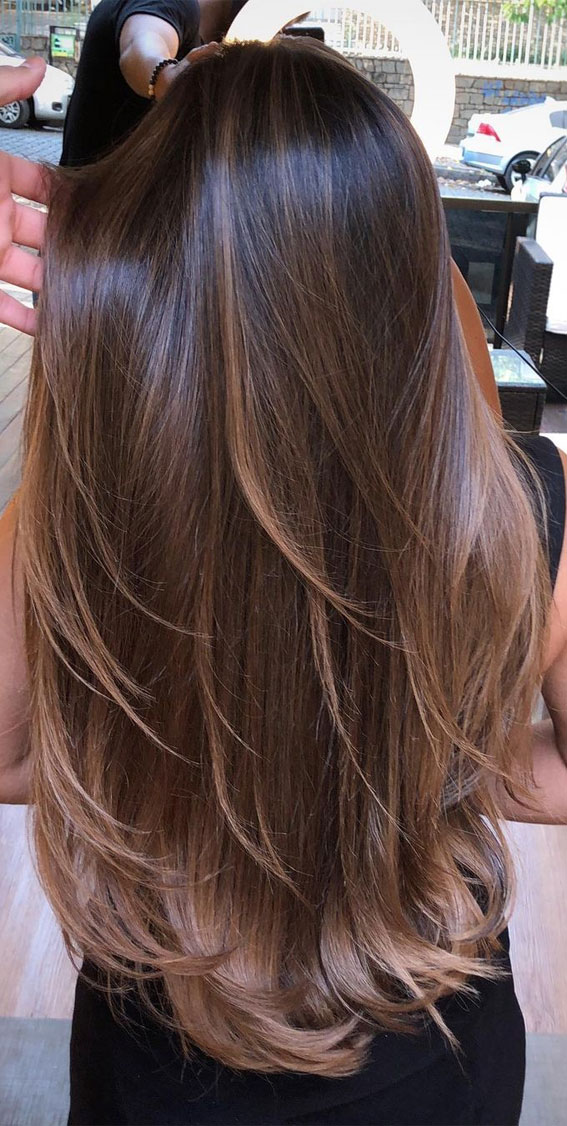 7. Beautiful lob blonde
Balayage can be so versatile in that you can introduce a wide variety of different shades into your hair and it will still look natural. In this style, there are much lighter shades of blonde that make for a more wintry look. Contrasted with the darker shades, this style is beautifully textured.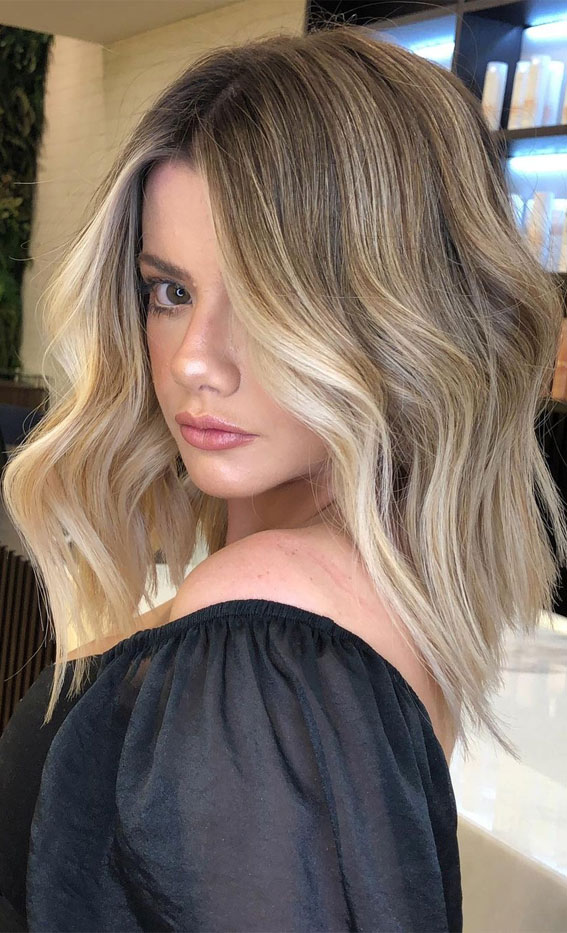 8. Cute espresso brown hair
This balayage is so classy and subtle, but it has a powerful impact! It features a combination of deep, espresso brown tresses with highlights achieved with light brown hair dye. The difference between the two shades isn't vast, but it still gives a bronze dimension and helps to light up the face.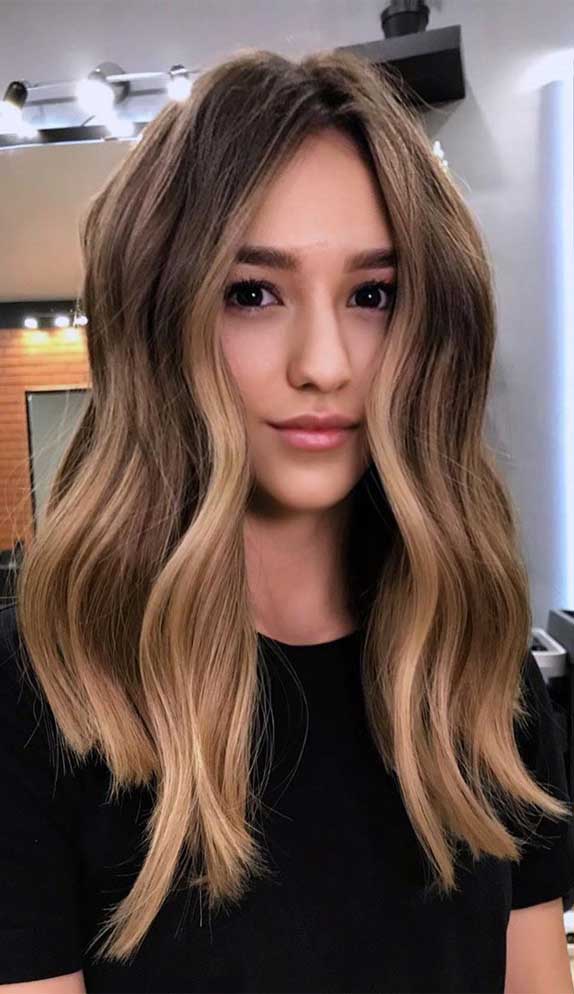 9. Gorgeous maple tone
The natural flow of highlights and lowlights in this light brown hair brings to mind the grain of a gorgeous wood like maple. It stands out because of the smooth but wavy styling, but curls or pin-straight styling would look just as incredible.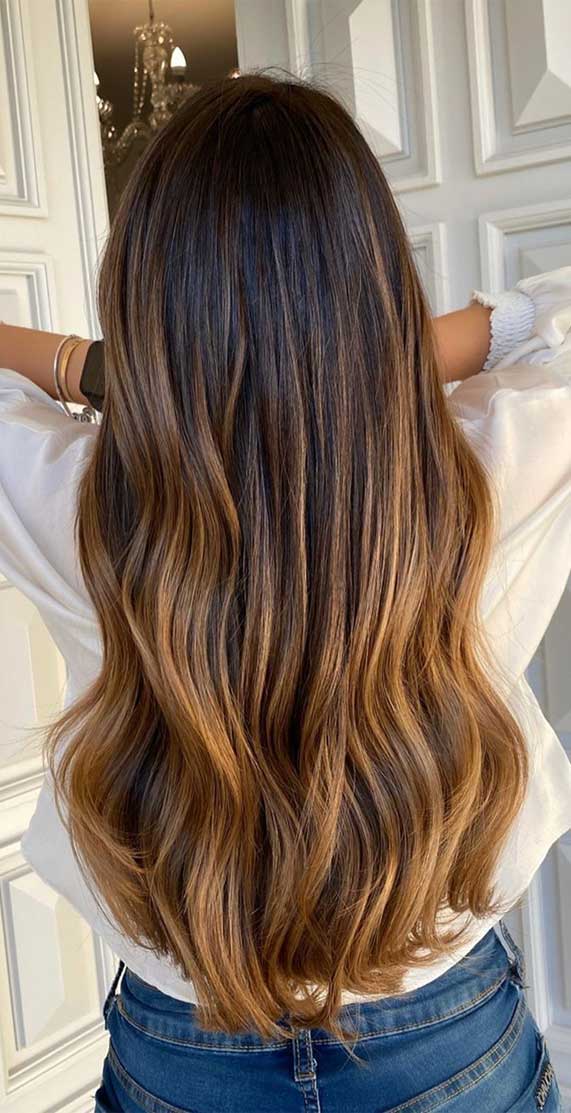 10. Flowing Brunette Balayage
When you have longer hair, a balayage style of hair highlights can be even more beautifully emphasized. If you have ever considered brown hair to be boring or dull, think again. With help colouring from professional ike this flowing style. The brown honey provides a flawless and simple transition between the dark roots and undertones and the light caramel highlights.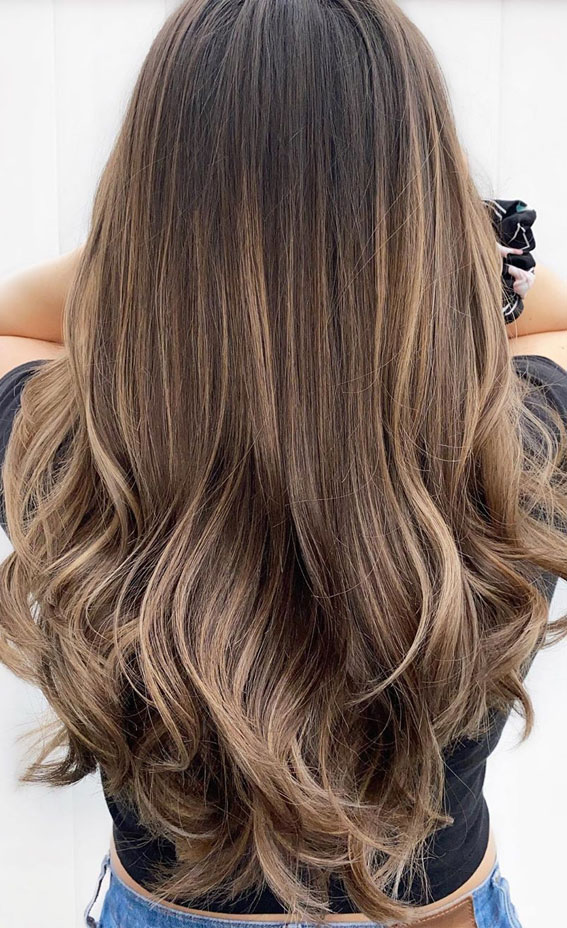 11. Delicious coffee tone hair color
Light brown hair was basically made for caffeine addicts! The natural shade of the roots is deep and espresso-like, which is why the light brown highlights over it remind us of the milk foam mixing into espresso in a well-made macchiato.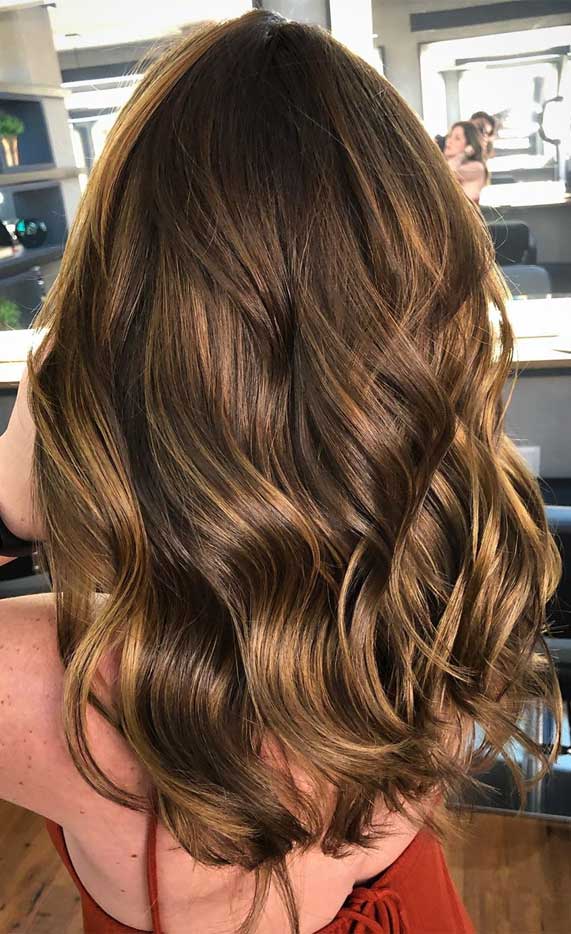 12. Chocolate Brown and Iced Cocoa Hair
Like the subtle and easy to wear hairstyles? By incorporating tones of chocolate brown, iced cocoa and brighter blonde hair colors, this look enchants for the holidays. The soft wave creates a lush and textured appearance.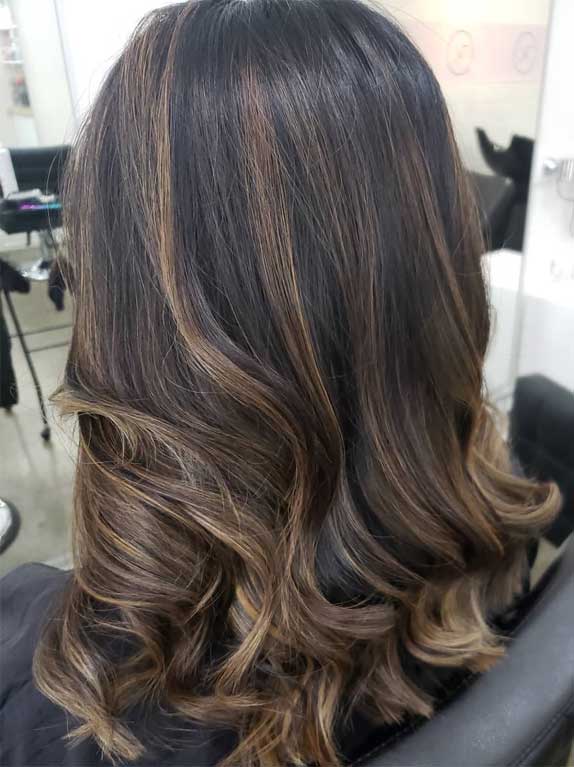 13. Babylight Balayage
Balayage and babylights are the perfect match! If you're after a softer, more subtle transition from darker to lighter, then this look is bound to inspire your next trip.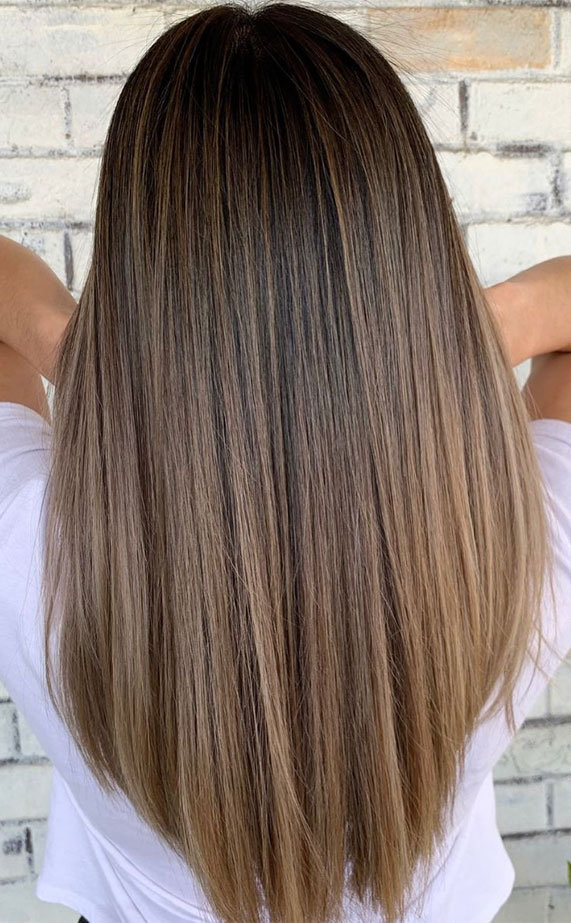 14. Caramel Balayage Copper Highlight
Dark hair with highlights can be tricky. Here is a good look that blend lighter shade of copper tone to dark hair. These highlights work incredibly well with that balayage sweeping technique to make even the darkest of dark hair with highlights look naturally sun-kissed.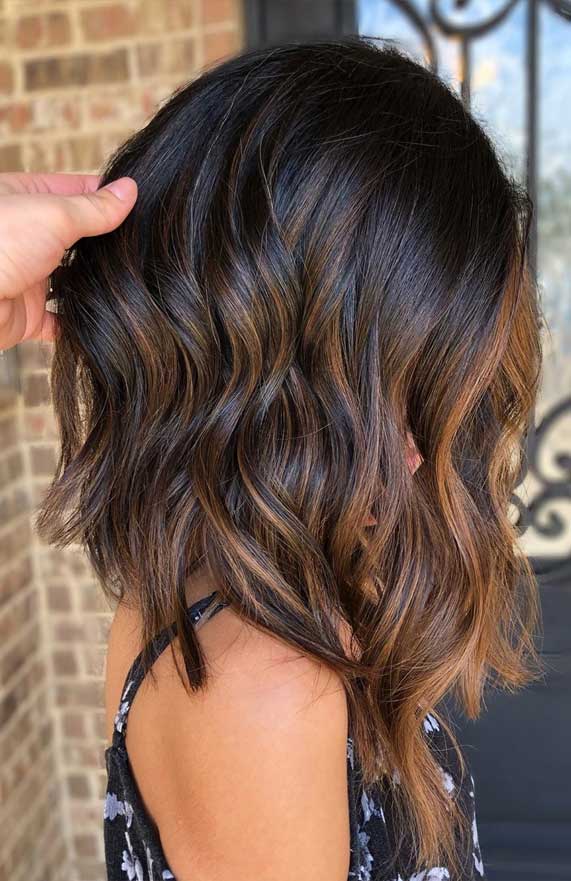 Hope you find the one that you can wear for a new winter hair color look.