Mint is  a perfectly cheerful colour for the sunny transition months between spring and summer. Even better, it's also ridiculously trendy right now! You can class it up so it compliments the clutch and shoes that you've paired with your little black dress, or wear it casually with a cute mint crop top at the beach.
Check out these 15 inspiration manicures that will have you digging in your polish stash for the brightest mint you own!
1. Stars and gems mint manicure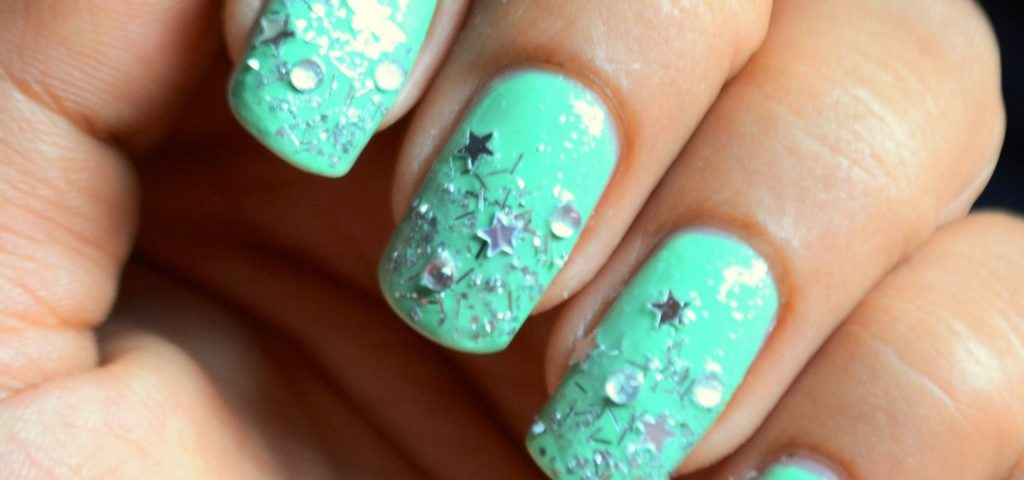 Super WOW Style suggests jazzing up a solid mint base by painting over it with a fun chunky glitter flecked with stars. If you're feeling really fancy, try sticking on some clear or silver rhinestones, just like this picture!
2. Mint caviar manicure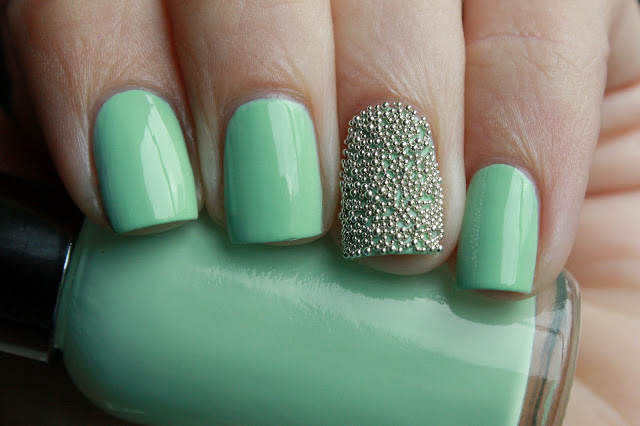 This style from Pretty Designs uses tiny silver "caviar" beads to give your accent nail some interesting texture. Of course, you can bead as many nails as you like, but leaving some of them solid mint shows off the colour very well.
3. Mint nails with black polka dots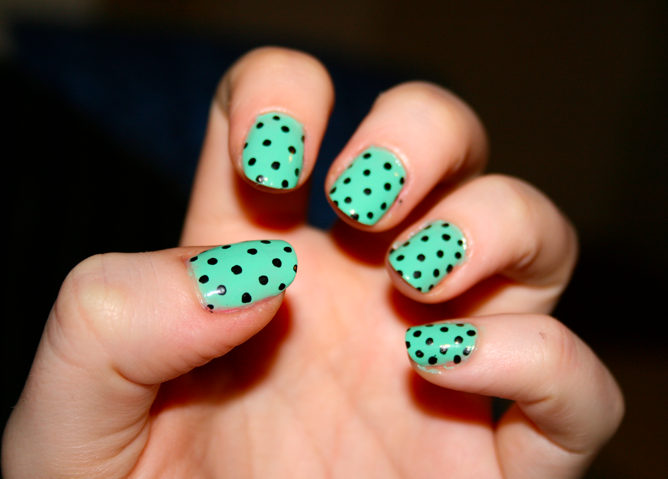 Do you feel like adding some subtle detail without getting too complicated and time consuming? Black contrasts very well against a solid mint background and tiny polka dots are extremely simple to do! Check out how this look on Overstuffed turned out.
4. Mint tribal print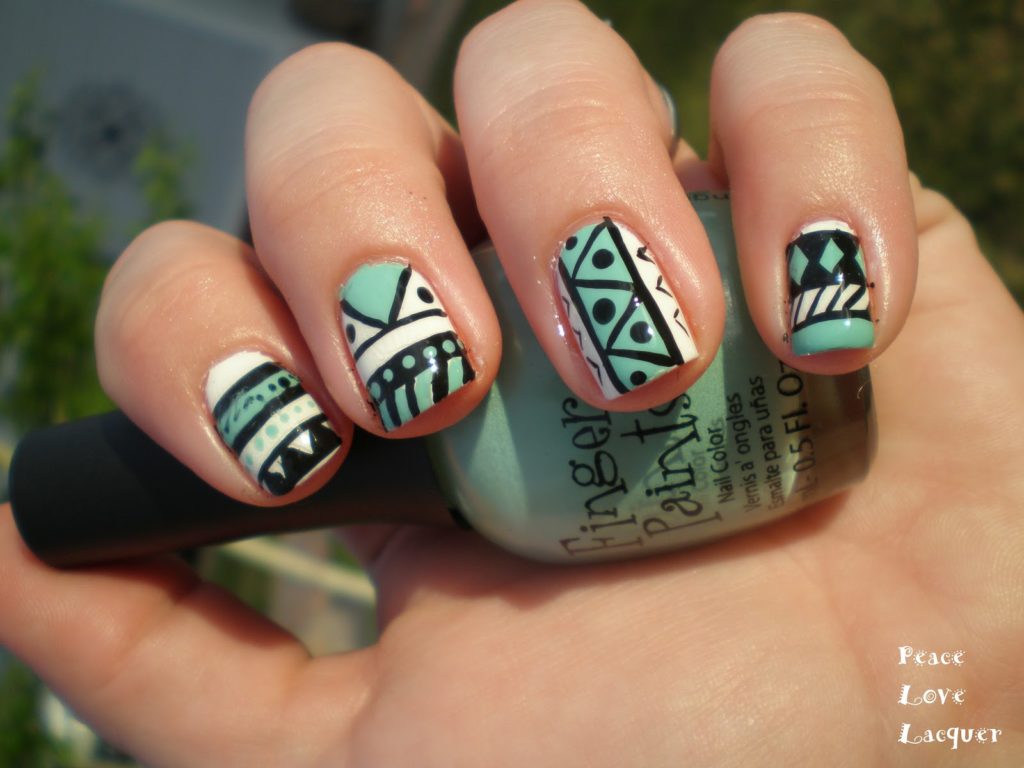 If you have time, patience, and a steady hand, mint makes for a beautiful accent colour when it's painted into geometric shapes and detailed patterns. Check out this tribal print featured on Peace, Love, Lacquer.
5. Mint with mustaches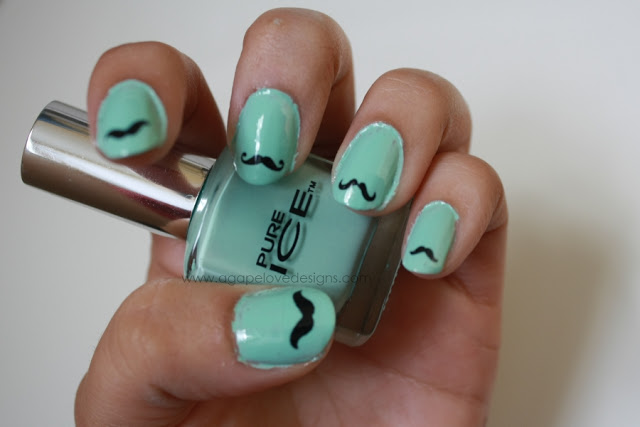 Agape Love Designs has the perfect idea for a funny, kitschy look! Tiny painted mustaches add a little character to your outfit and will make people look twice.
6. Mint with glitter and white hearts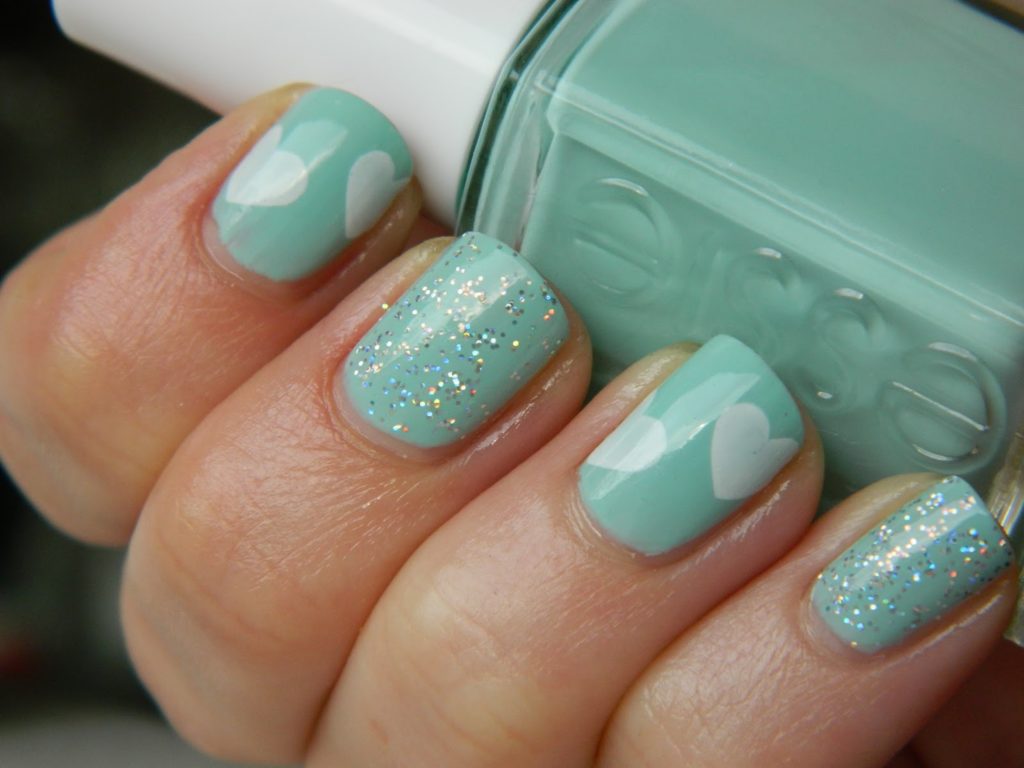 Mostly Nail Polish suggests combining careful painting skills and glitter. White hearts stand out subtly against a light mint background and glitter is always welcome.
7. Geometric skittle nails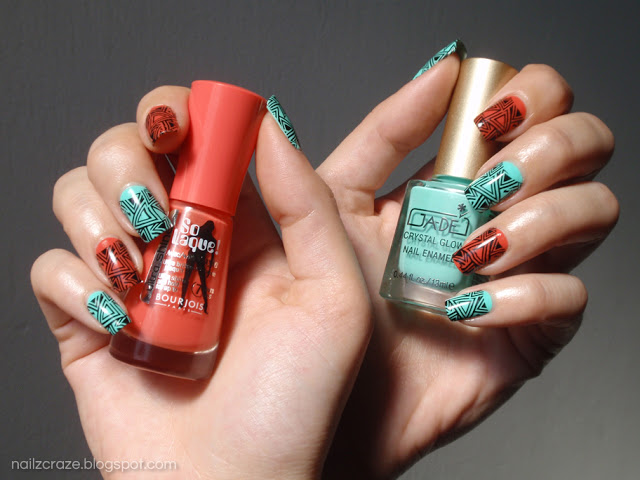 Nail Craze
isn't wrong when they say the colours in this look look like skittles! Using a very thin paintbrush or a toothpick will help you get the thin lines you need to paint detailed geometrics.
8. Minty sweater nails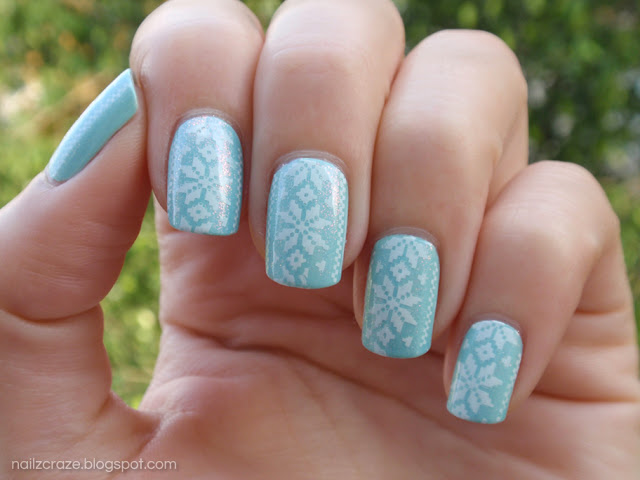 Nail Craze introduces you to the concept of nail stamps and suggests trying them out with a soft white against a pastel mint background. We absolutely adore this sweater pattern, even for summer!
9. Mint, purple, and white chevron nails
Polished Elegance's sparkly purple and mint chevron design takes a steady hand (or some careful work with tape) to get those straight edges and even peaks, but we definitely think it's worth the effort!
10. Outlined half moon mint manicure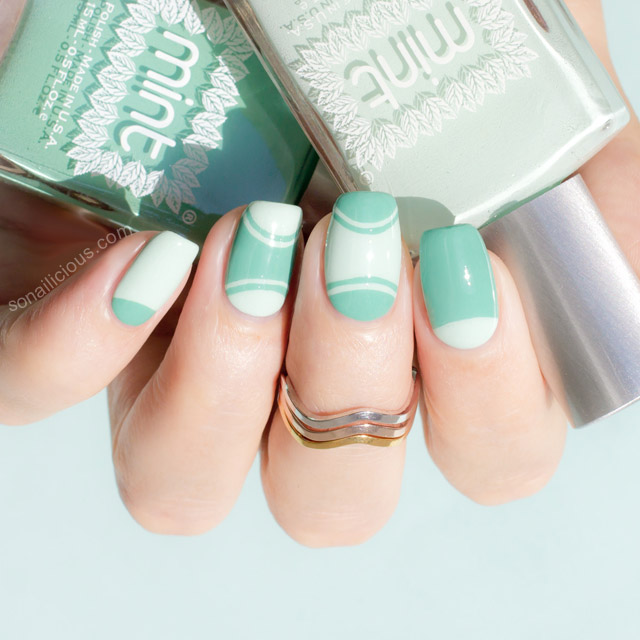 So Nailicious gets creative with the directions of their arches when it comes to "half moon" manicures! We love the reversal of white and mint on the accents nails.
11. Mint and gold gradient glitter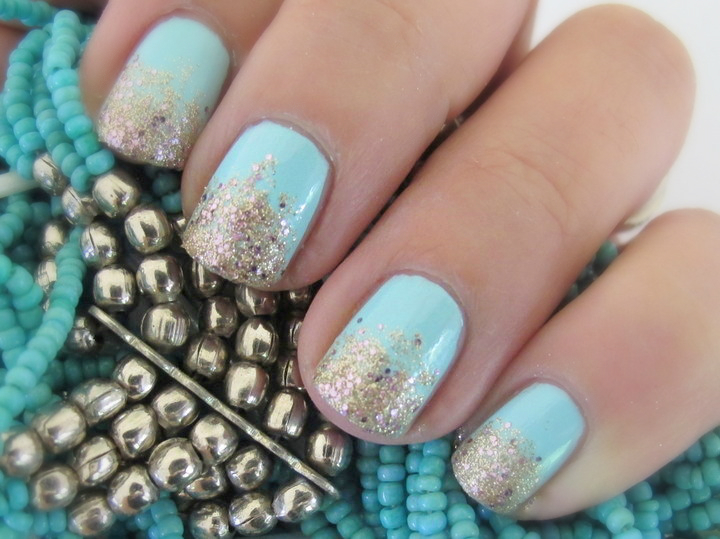 Fading some fine gold glitter down from the tips of your nails so it dissipates makes for a subtly glamorous look that catches the eye without being too much. Check out how Makeup and Macaroons.
12. Mint with pink roses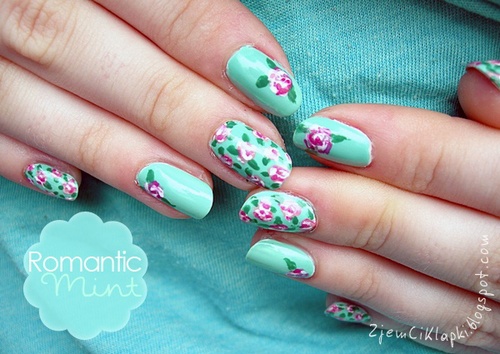 Zjem Ci Klapki's blog is written in Portuguese, but Google Translate will help you learn how to create this romantic rose patter that looks irresistibly pretty on a mint background.
13. Silver mint python manicure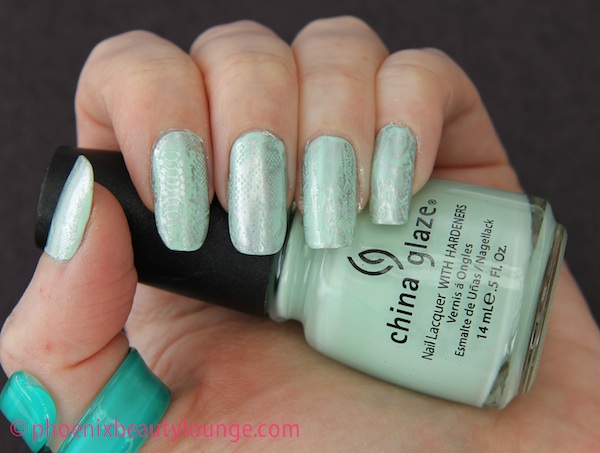 Painting silver polish over a piece of place placed on top of a mint background will create an effect so close to snakeskin that people will hardly notice the difference! Check out how Phoenix Beauty Lounge did it.
14. Mint and silver French manicure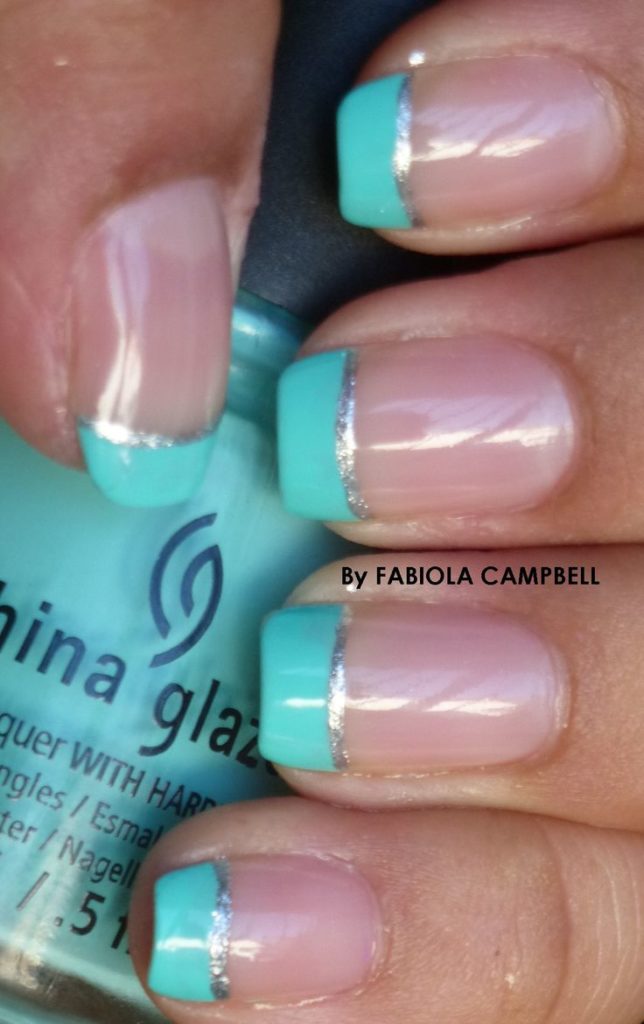 The mint doesn't always have to be the central part of the look. Sometimes including just a little bit actually stands out more. These French manicure tips featured on Pretty Designs are a great example.
15. Mint, white, and glitter tape manicure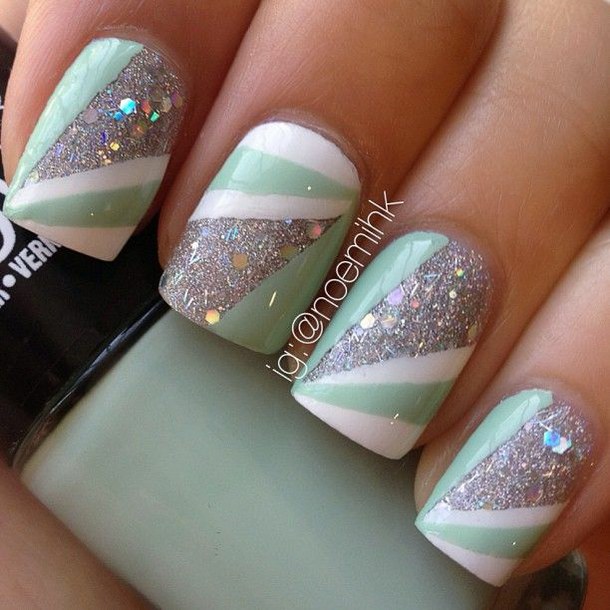 Favim shows you how to create clean fanning lines using tape. Alternate colours and add a strip of glitter, but make sure your mint makes it into the scheme!
Have you painted other mint-themed manicures that we simply must see? Tell us about them or link us to pictures in the comments section!