Medium-length hair is somewhere in between short hair and long hair. While the actual definition of medium hair is difficult to determine, medium-length styles usually fall right around your shoulders or a few inches below your shoulders. Whether you're growing out your hair from a shorter style or have it permanently cropped in an in-between cut, medium-length hairstyles are fun, flirty, and easy to style.
These 10 low-maintenance medium-length hairstyles will help you get through an awkward grow-out phase or just give you more inspiration on how best to style your medium-length locks. Keep reading to learn the details of how to achieve these 10 stylish medium-length hairstyles.
1. Shoulder-Length Wavy Warm Blonde Cut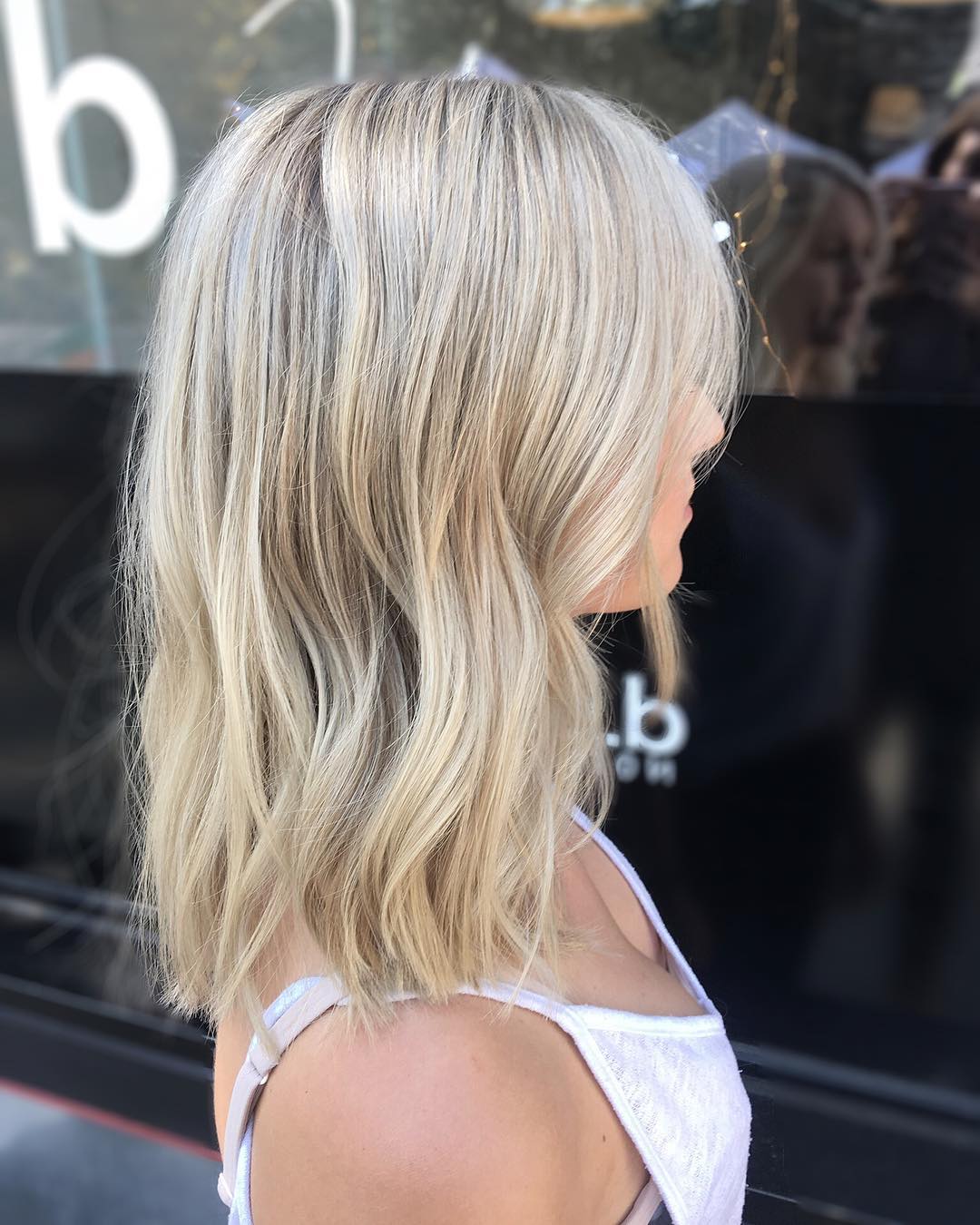 This medium-length cut falls to your shoulders in warm blonde waves. It blends together multiple warm-toned blonde shades to ensure a bright, multi-dimensional finish.
If your hair is naturally straight or wavy, you may not even need to use heated tools to style this low-maintenance cut at all. If you want to create waves like you see above, though, use a flat iron or curling rod to create loose waves. Let them settle for an hour or two or even overnight before you spray them to achieve a subtle, more relaxed finish.
2. Shoulder-Length Cool Blonde  Cut with Lowlights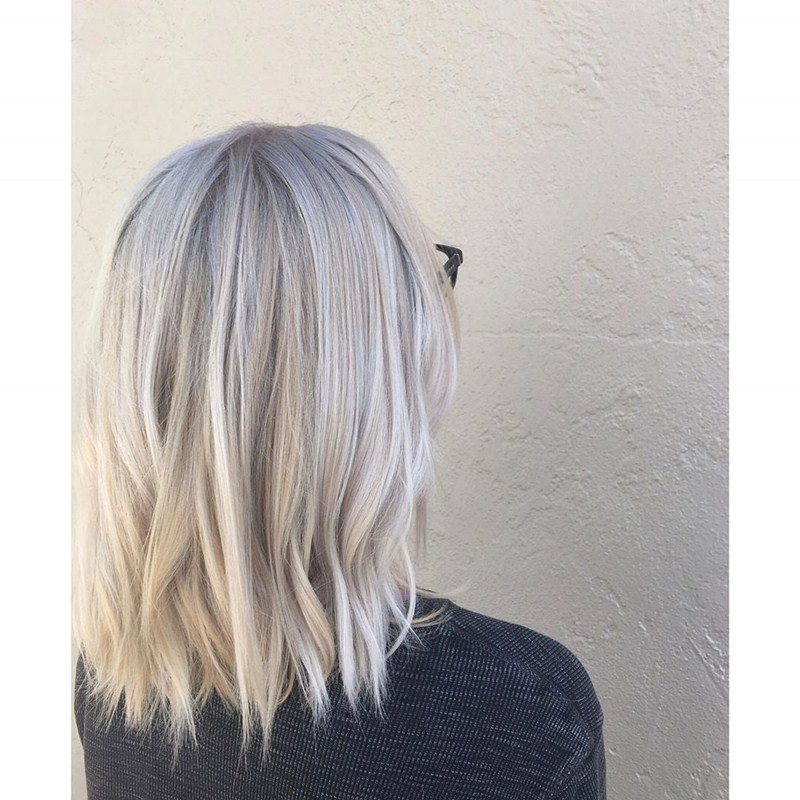 Cool blonde shades are ultra-trendy right now, so this cool blonde cut is stylish as well as gorgeous. Its cool blonde finish is bright, versatile, flattering, and looks totally natural.
This casual medium haircut also features subtle, dirty blonde lowlights. These lowlights add dimension to this look and give it a more natural-looking finish.
3. Curly Hot Pink and Maroon Shoulder-Length Cut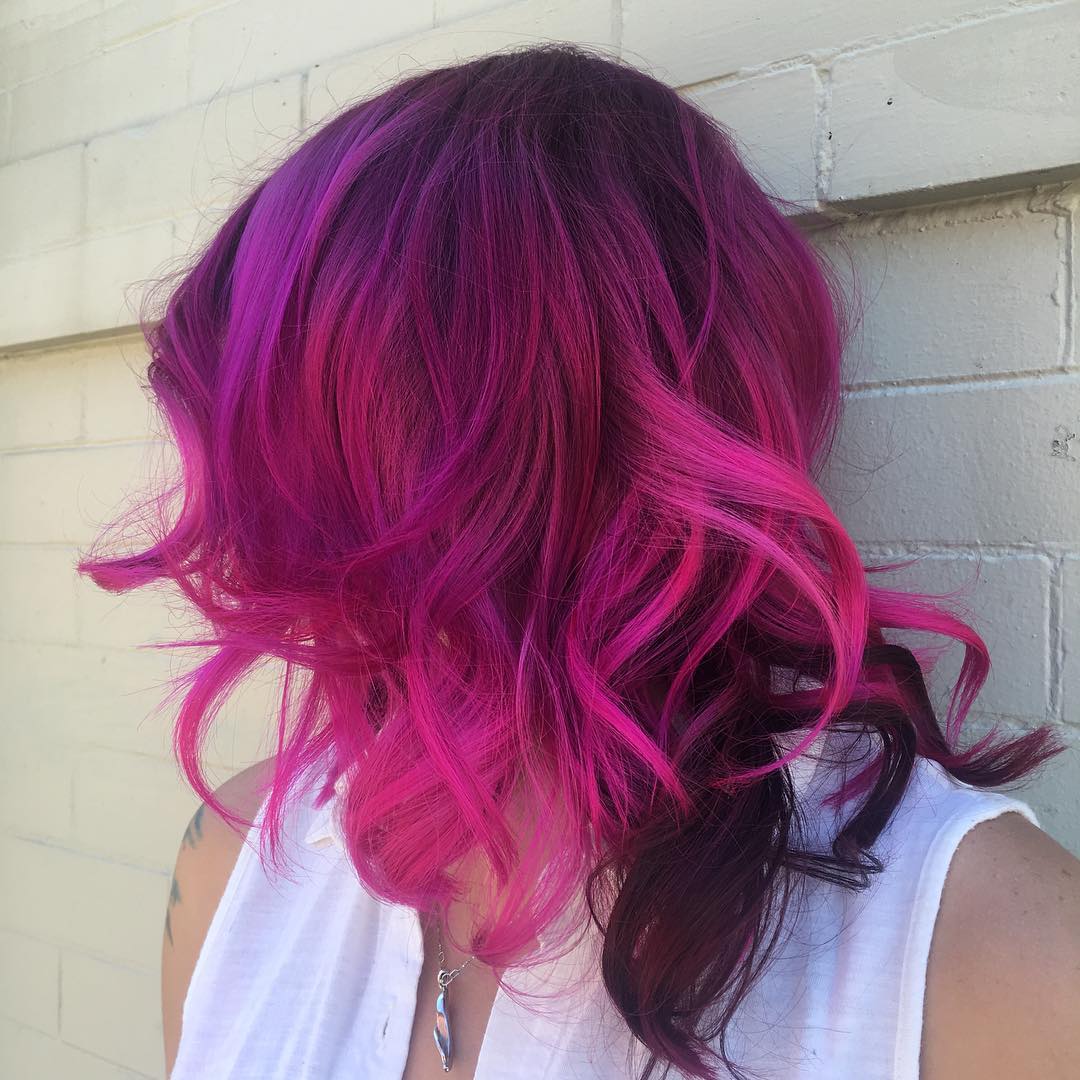 Fantasy colors make any medium-length haircut a little more fun, as you can see from the ultra-fun style above.
This shoulder-length pink hairstyle blends together shades of hot pink and rich maroon to create a gorgeous, multi-dimensional fantasy pink finish for your hair. All you need is a curling iron or a flat iron to create the beautiful curls you see in the above picture.
4. Dirty Blonde Shoulder-Length A-Line Lob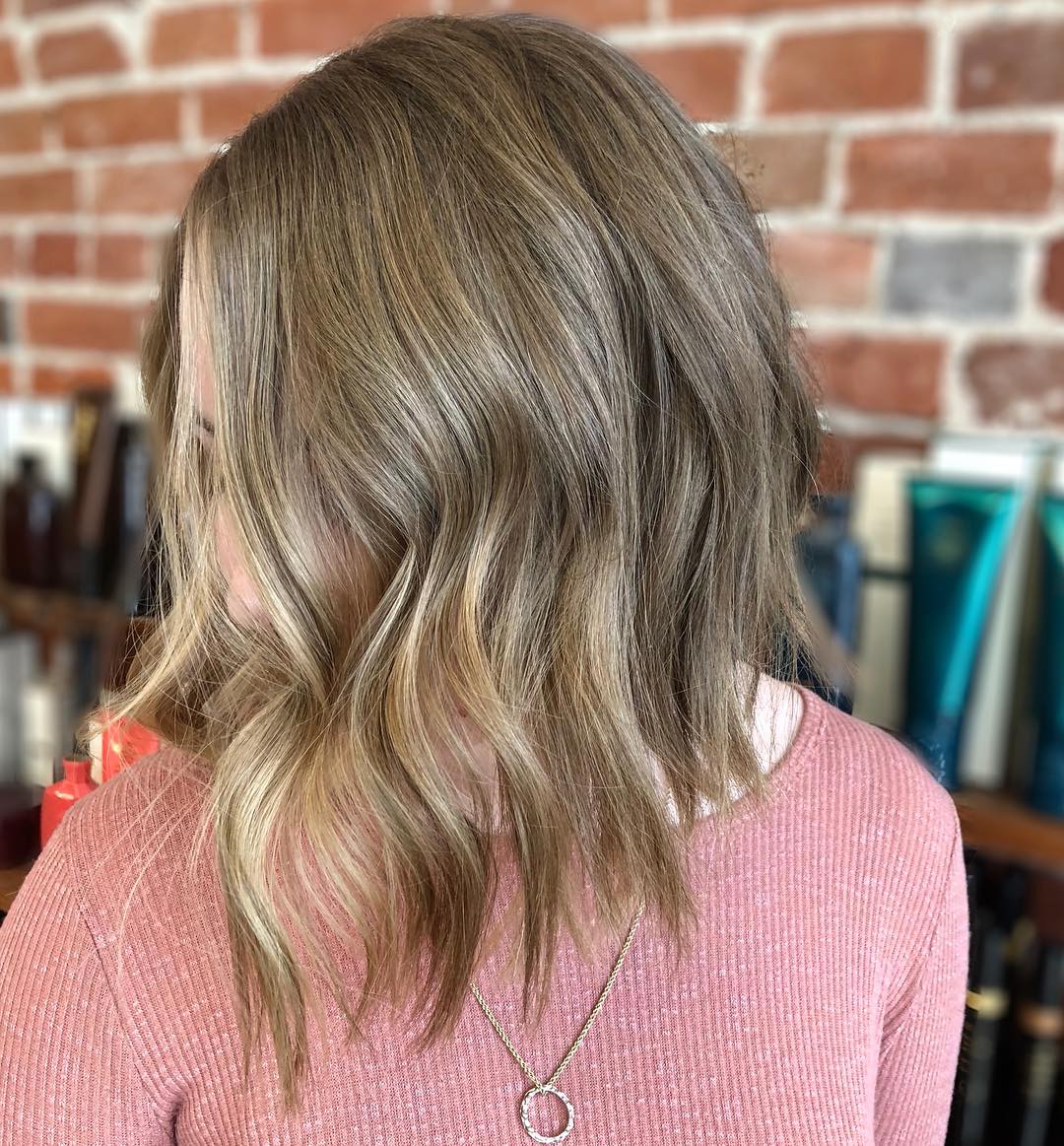 Medium-length A-line lobs are ultra-trendy and almost universally flattering. This lob allows you to get in on the bob trend without cropping your hair too short.
Styling this shoulder-length angled lob is easy and gives you lots of options. You can curl it, straighten it, or leave it natural. It looks great with any style.
5. Shoulder-Length Dirty Blonde Cut with Highlights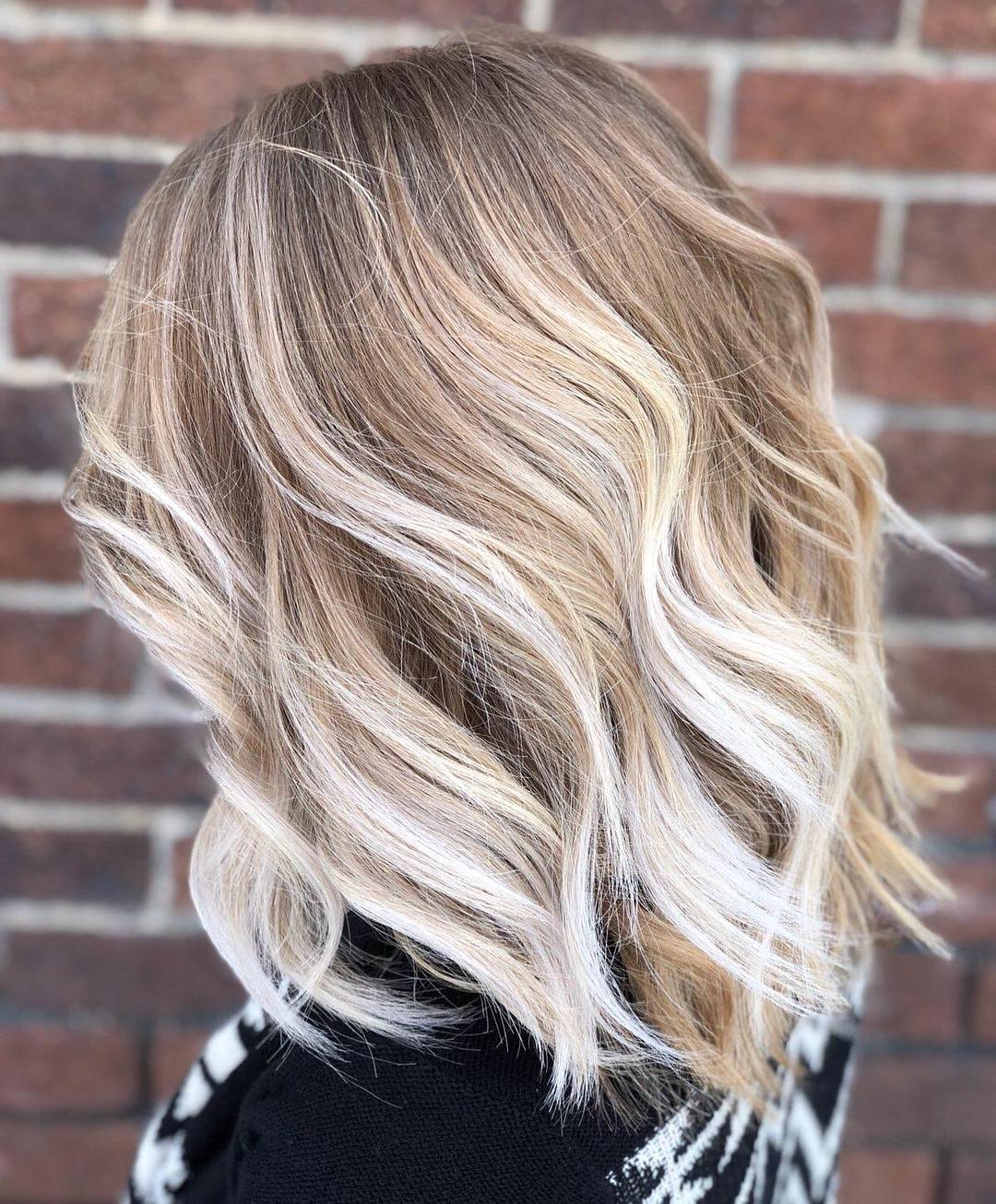 If you're looking to brighten up your natural blonde hair, this is the perfect look for you.
This shoulder-length cut has a medium dirty blonde foundation. It features bright blonde highlights that add a luminous finish to this style without looking unnatural.
6. Medium-Length Natural Blonde Cut – Daily Hair Idea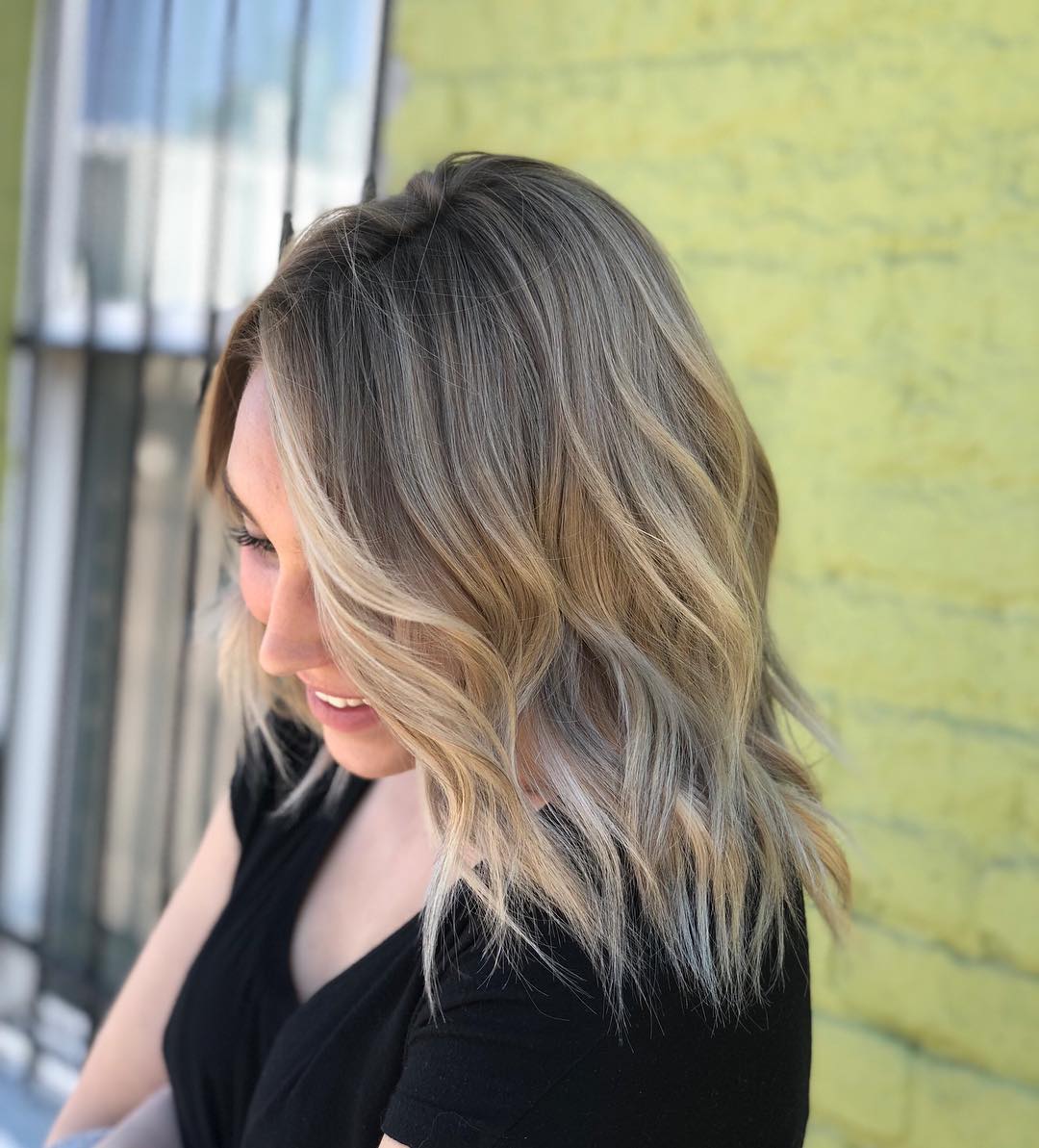 This wavy medium-length cut is perfect for women with naturally blonde or light brunette hair colors. It features bright lighter blonde highlights that are seamlessly blended with darker brunette roots with a seamless finish.
If you have naturally wavy hair, don't worry about using heated tools to style this cut. Touch up or create the loose, relaxed waves you see above  using a flat iron or thick curling rod.
7. Natural Auburn Cut with Highlights and Lowlights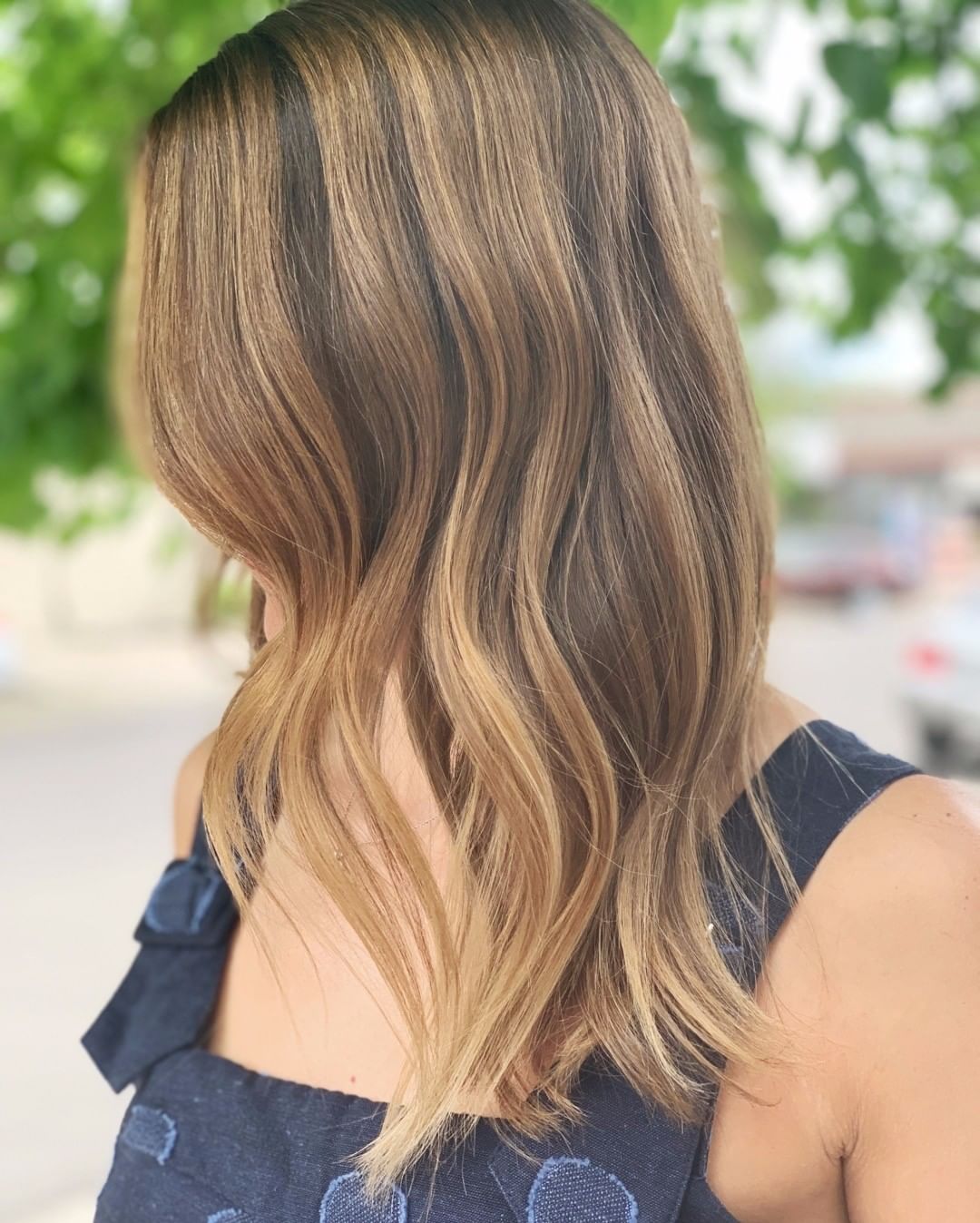 This bright, medium-length auburn cut features both highlights and lowlights. Its highlights add bright luminosity to this medium-length style, and its lowlights help give it a more natural-looking finish.
It's easy to achieve the effortless subtle waves you see above with this low-maintenance medium-length hairstyle. You can use a blow-dryer or a thick-barreled curling rod to create a few loose waves in the top layers of your hair. Add texturizing spray, scrunch, and hairspray for longevity.
You can even style your hair at night and sleep on it, then touch it up in the morning and be out the door in record time. Just wait to use hairspray until the next morning.
8. Shoulder-Length Blonde Balayage Bob Style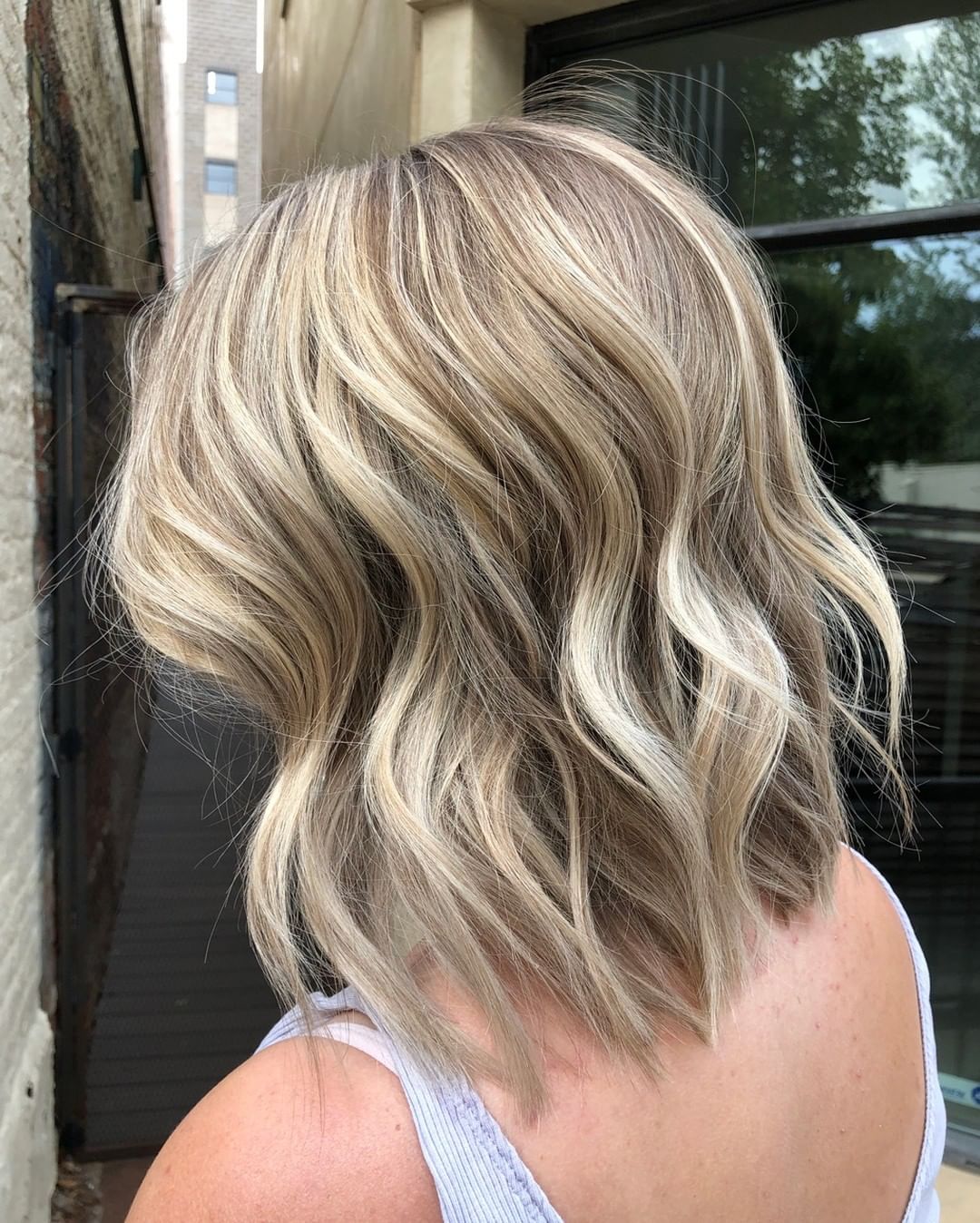 This shoulder-length blonde look features dirty blonde and platinum blonde balayage that give it a cool-toned finish that looks seamless and completely natural.
Use a flat iron to mimic the gorgeous natural-looking waves that add volume and dimension to this shoulder-length blonde balayage style. Add texturizing spray for extra volume if your style is falling a little flat. Do you love this bob hairstyle?
9. Shoulder-Length Brunette and Blonde Balayage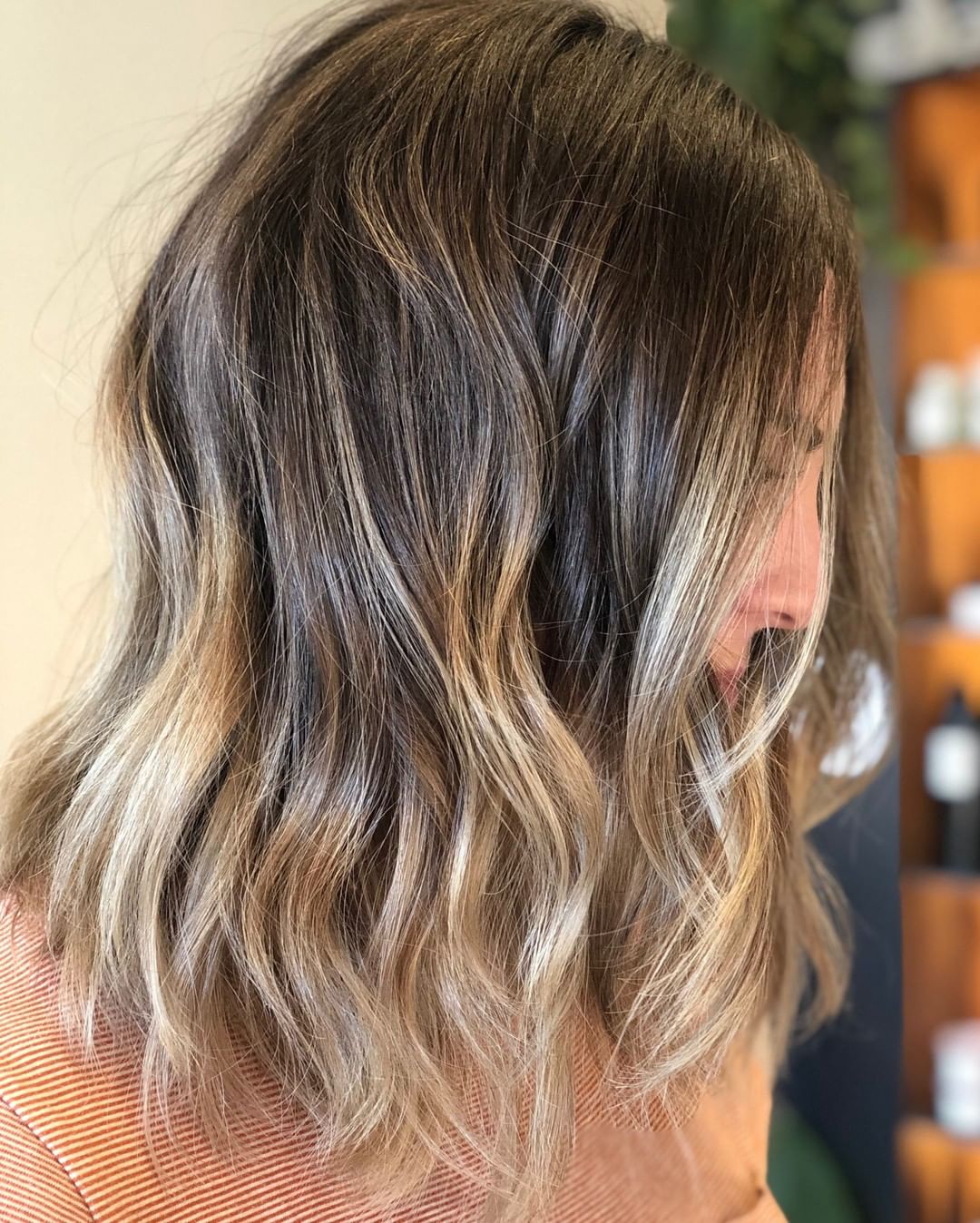 Balayage can be tough to pull off on hair that isn't super long, but this brunette and blonde balayage proves how gorgeous multi-toned balayage can look when paired with a medium-length haircut.
This brunette and blonde balayage look seamlessly blends dark ash brunette roots into cool dirty blonde ends. Dark brunette roots help this cut look more natural, and lighter blonde ends give this balayage style a bright finish.
10. Shoulder-Length Platinum Blonde Bob Cut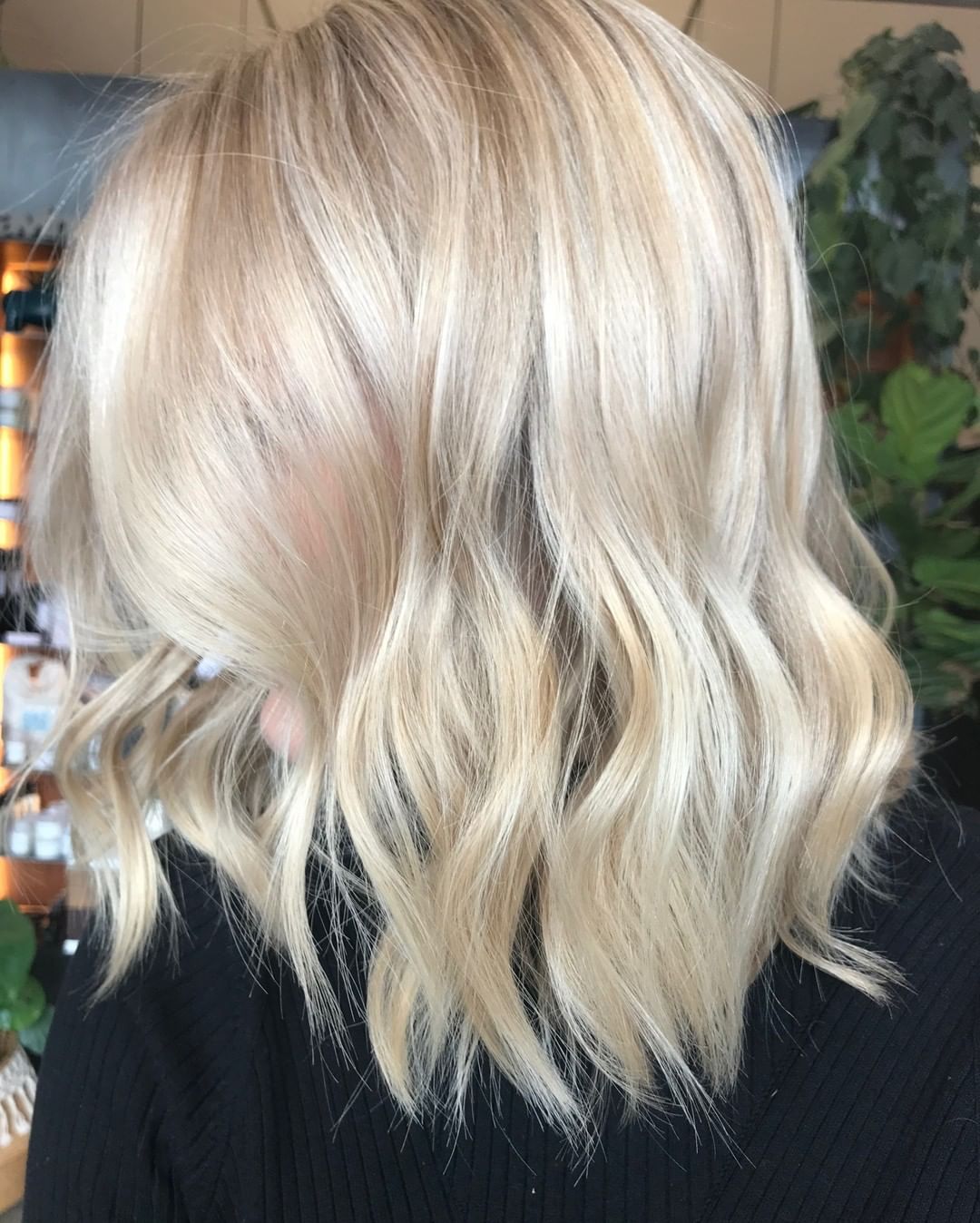 Nothing's better than a bright blonde, and this gorgeous shoulder-length platinum blonde cut blends warmer platinum blonde tones and white blonde highlights that stand out with an ultra-bright finish.
This blonde bob haircut is perfect for women with naturally wavy hair. If you have straight hair and want to create your own waves like you see in the picture above, use a flat iron to style loose, relaxed waves through the top layers of your hair from roots to ends.