Cute Christmas Nail Designs 2020
Pick one of these cute Christmas nails below and try on for your winter nail look. These Pretty Holiday Nail Art Ideas include;
Beautiful baby blue and shimmery glitter blue with snowflake accent
Minimalist Christmas Nails
Snowflake & Tartan designs on Pink nails
Blue Tone Frosty Nails
Pink Festive Christmas Nails
Pink Nude Festive Nails
Hand painted snowflake winter nails
Glitter gold and white sweater nails
Textured Christmas Neutrals
Gingerbread man, Christmas Trees, Snowflake
Silver and Navy Christmas Nails
Mismatched Christmas Nail Art Design
Festive pink nails with glitter tips
Gold, Green, Plaid and Red Festive Nails
Royal blue and gold winter nails
Reindeer on Neutral Christmas Nails
1. Beautiful baby blue and shimmery glitter blue with snowflake accent
Sequin has become so popular for nail art and with designs like this, we can see why! This manicure features long coffin nails.  Most of the nails have baby blue base color and some have shimmery sequin blue accent nails and two nails have white snowflake and sequin accent nails.
Products used : Pastel color acrylic, Glitters acrylic Ocean Mystery G31, Snow Flakes stickers and Topcoat from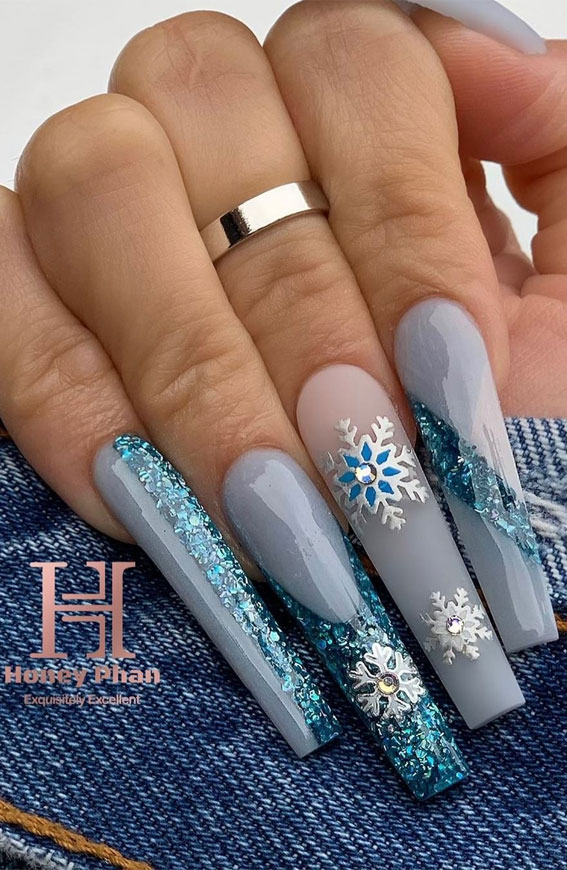 2. Minimalist Christmas Nails
Embellishment are a cute and simple way to revamp nude nail design and when it comes to Christmas nails, that's definitely true. This pretty minimalist Christmas nail design on pink nude gel nails with words "ho ho ho" in gold written on the nails.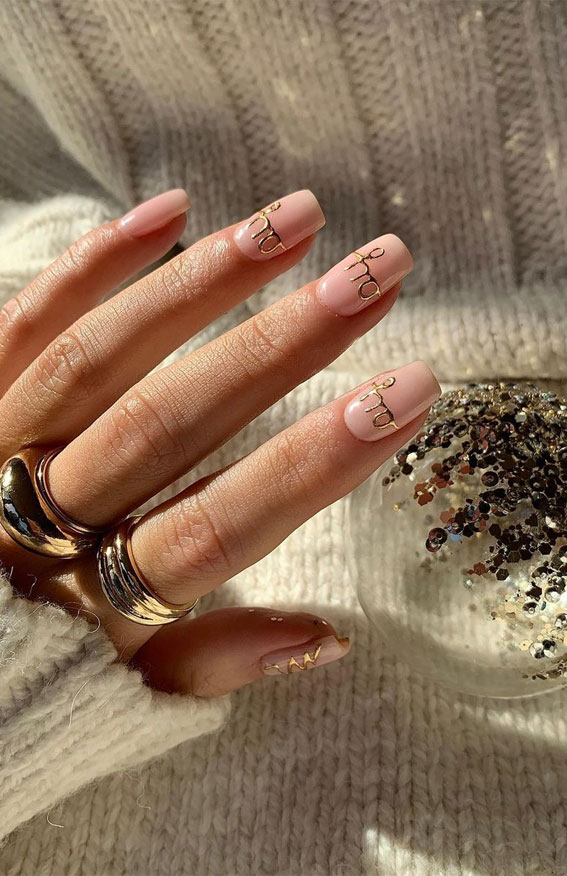 3.Snowflake & Tartan designs
Another idea how to wear pink manicure for the upcoming holidays. This manicure is super stylish. Pink manicure is nice combined with a snowflake and tartan style on middle and little finger, and white snowflakes is really in the spirit of the holidays.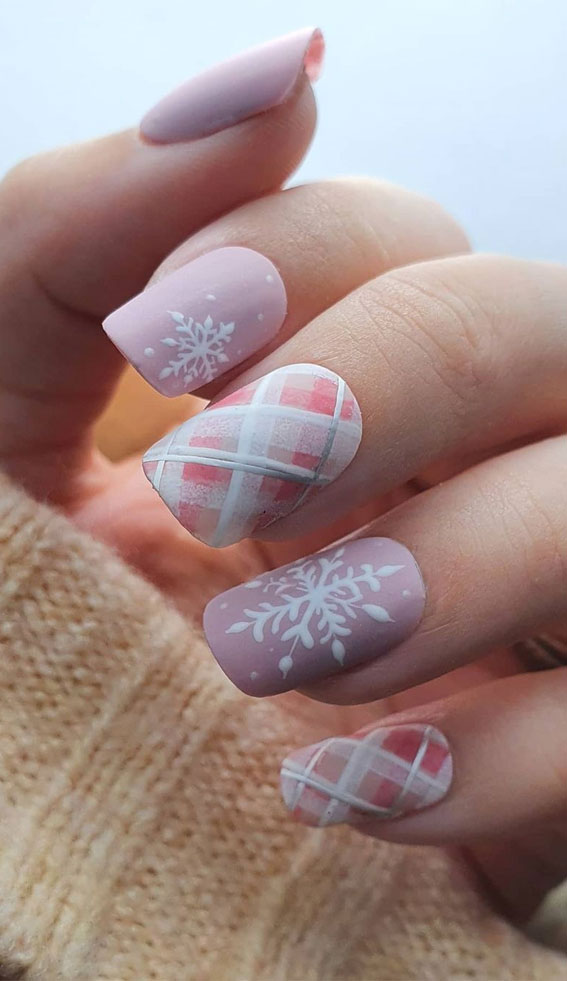 4. Blue Tone Frosty Nails
Snowflake, Sequin and Crystal Nails. Want winter inspired nails that will make a statement? Then these nails could be for you. Mismatched blue tone and silver color combo is winter's must have color. When combined with silver studs and jewelry, you definitely have a winning nail design.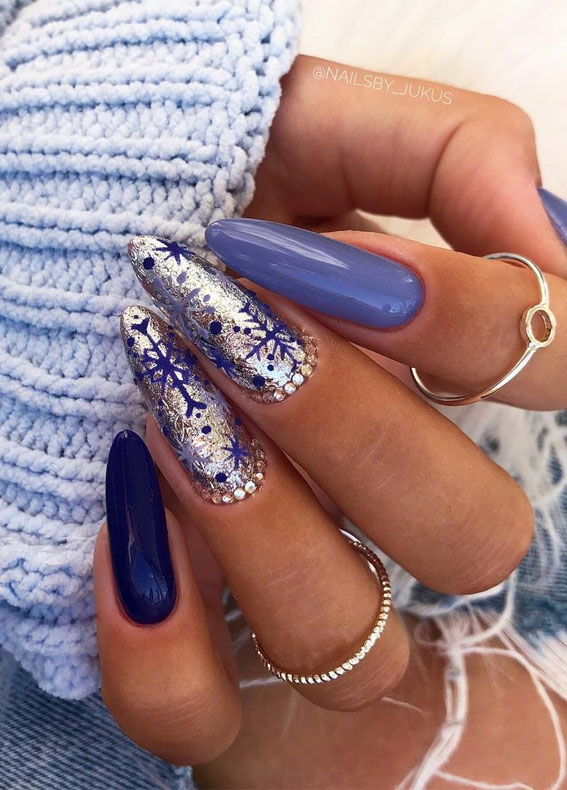 5. Pink Festive Christmas Nails
Another gorgeous pink festive nail design with shimmery glitter. We love the way nail artist combine this pink , white and gold glitter together beautifully. We love the glitter on Christmas bauble accent nail.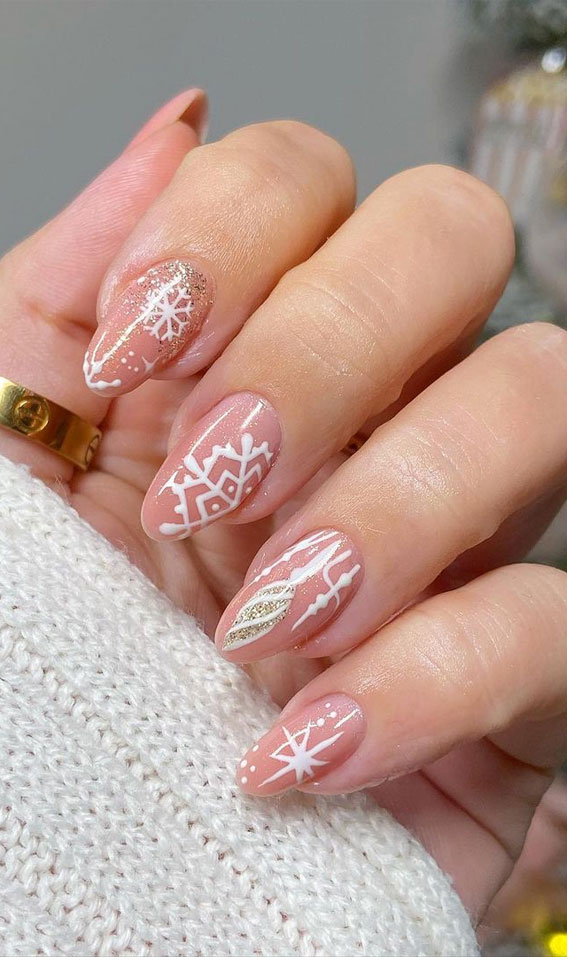 6. Pink Nude Festive Nails
No matter what season is, don't limit yourself if your love for the nude nails. We have a cute example of pink nude festive nails right here. These super cute nails show you how to do just that. The nude pink works great as the neutral background with pretty rose gold details combine with others cute festive designs.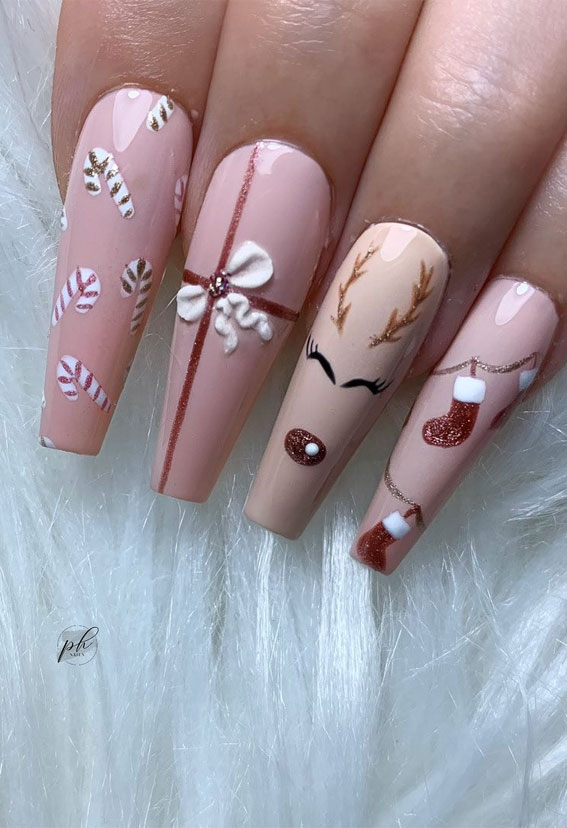 7. Hand painted winter nails
Nails like this would look amazing for the winter and the holiday season. As the snowflake hand painted is in white and gold accent, it compliments the frosty blue perfectly. Wear these nails with jumper would look amazing.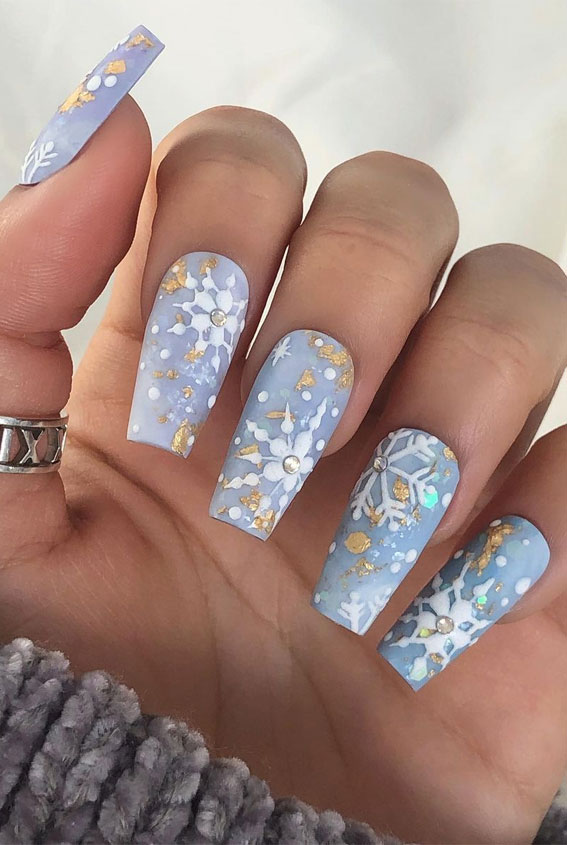 8. Glitter gold and white sweater nails
Make you nail looks cozy like the cozy snuggle winter. If you're wearing the sweater you may as well get your nails to match! The nails feature four different designs, one nail is nude base with glitter, two nails has gold glitter covered all over. One nail is white sweater and the last design is striped white, gold and nude design. The striped nail looks like acrylic the way its so perfect and sharp.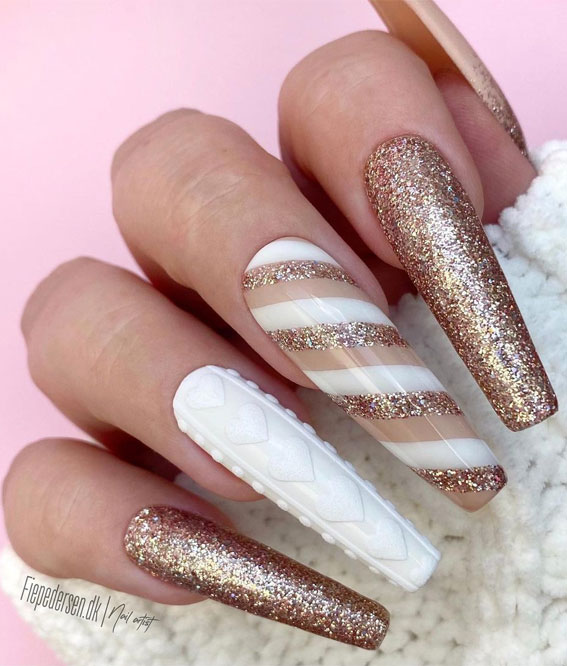 9. Textured Christmas Neutrals
Another cute neutral nail design for Christmas nails look. The nail colors look yummy like warm spice latte that just perfect for cozy winter. The cute details on neutral nails are super cute and not to mention those textured snowflake and Christmas lights.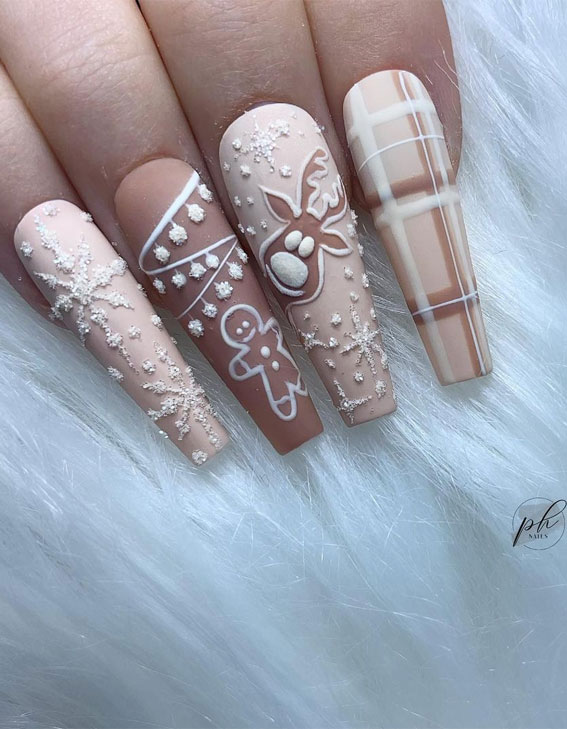 10. Gingerbread man, Christmas Trees, Snowflake
Here we have a super cute festive holiday nails right here. The nails feature different design each nail with beautiful cool winter color combo base nails. We love the gingerbread man, Christmas trees on three nails, the one in green color with red star on top of the tree. And the cutest Santa with snow falling down.  The snowflakes on blue grey base and black matte base.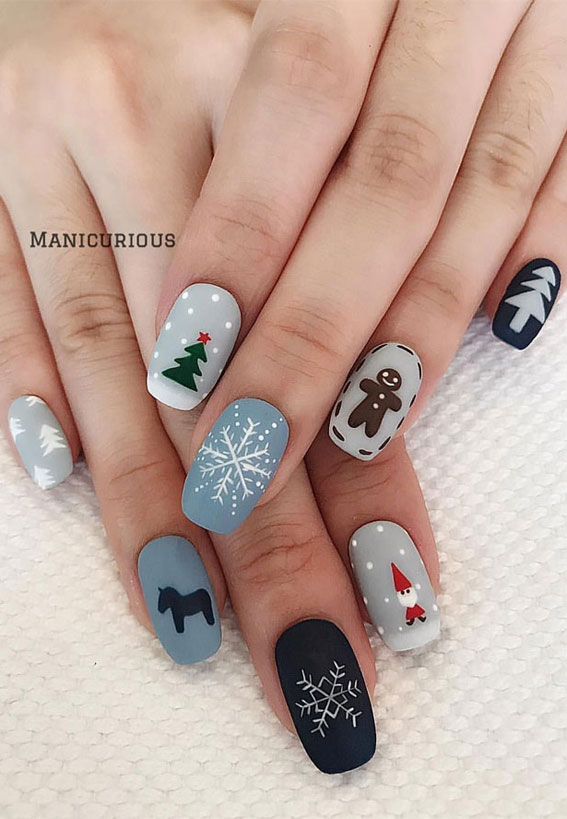 11. Silver and Navy Christmas Nails
This holiday Christmas nails design here is so elegant. If you love blue and silver, then this nail idea is for you. We love the way nail artist combine this silver and navy together beautifully. And extra glam for two nails that has snowflake on it.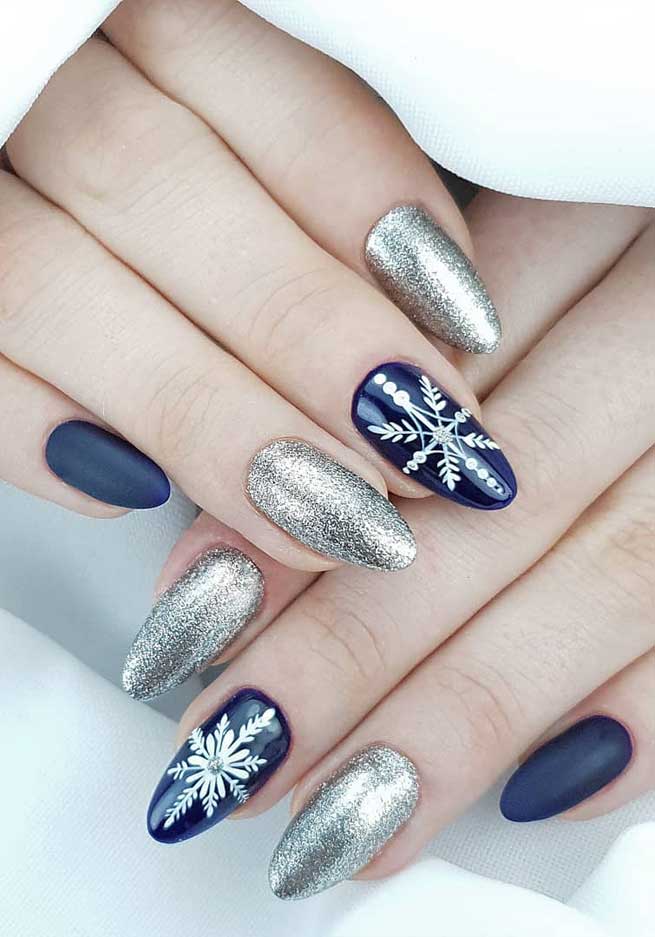 12. Mismatched Christmas Nail Art Design
This manicure is perhaps the best representative of the winter manicure. Grey and white colours combined with the snowflake and polar bear that represents cold of winter.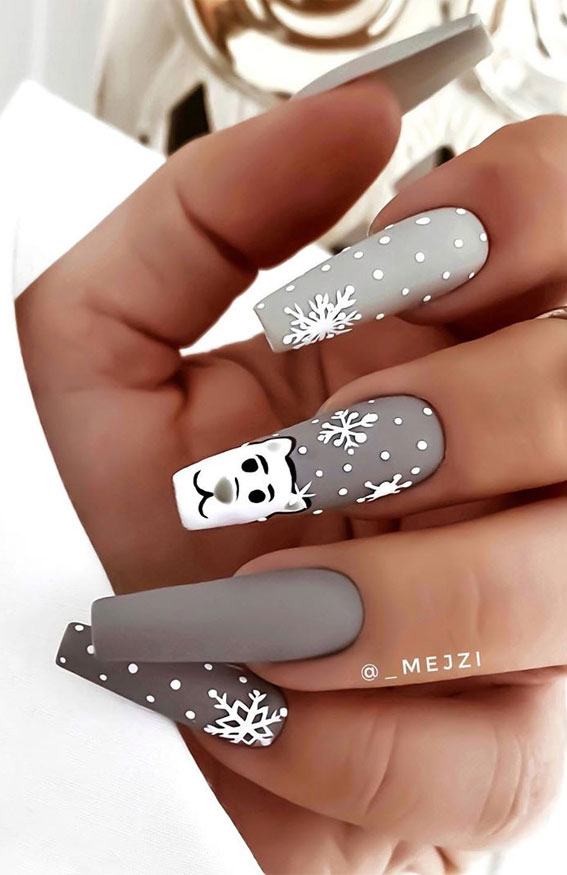 13. Festive pink nails with glitter tips
Pink isn't only for spring. This festive holiday nails really sparkling and stunning. The nails feature long coffin nail in pink base color. One nail is simple matte pink polish, one nail is matte pink base with white snowflake and crystal that make its so shine. And the last design is pink base color with shimmery glitter tip nails.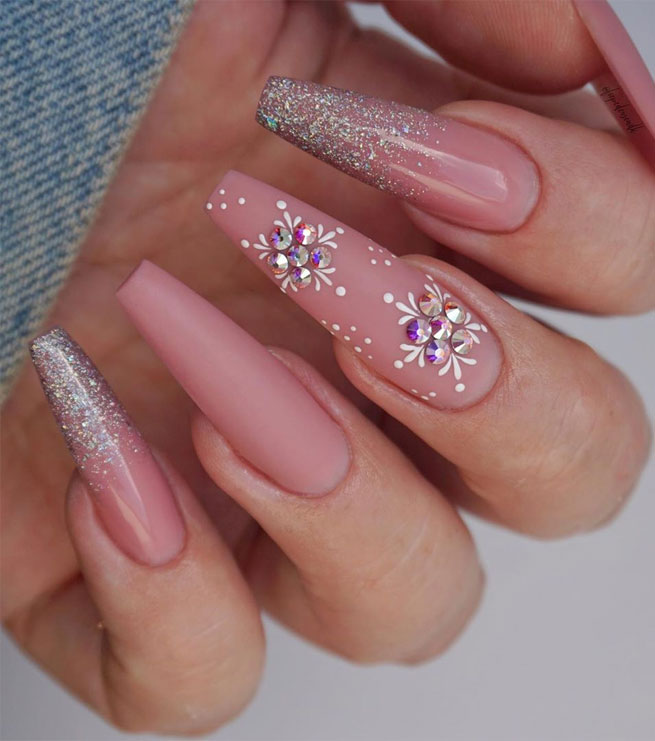 14. Gold, Green, Plaid and Red Festive Nails
If you like plaid designs, then this next idea is for you. The nails are festive glitter gold, green red with a plaid design. Plaid nails are popular in cold season. You could recreate this look in different colours or have more plaid nails.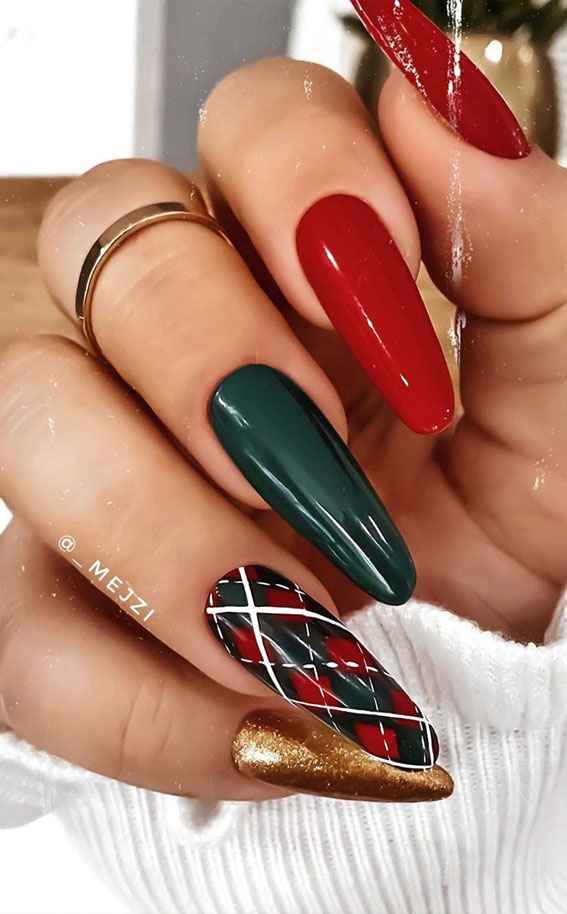 15. Royal blue and gold winter nails
Looking for elelgant Christmas nails? Then this next pick is for you. The nails feature two colours and three different designs. Two nails are matte royal blue nails, one nail is royal blue base with nude and gold line cut across in the middle and white snowflake accent nail, one nail is gold glitter and the last nail is half nude half royal blue nail with snowflake design.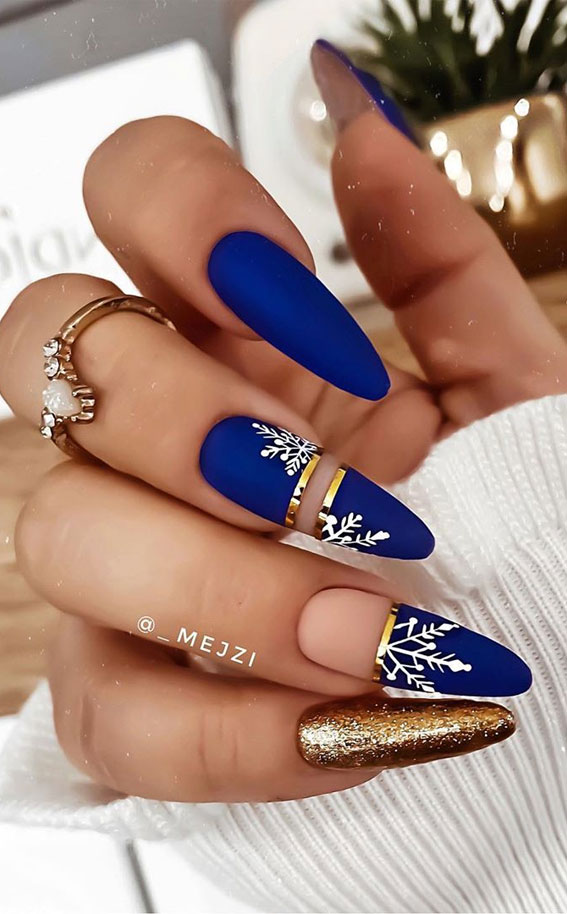 16. Neutral Christmas Nails
Looking for cute Christmas nails? Then this next pick is for you. The nails feature neutral and brown nails with snowflake and one nail has a cute Reindeer design. This nail looks really lovely to wear with cozy jumper.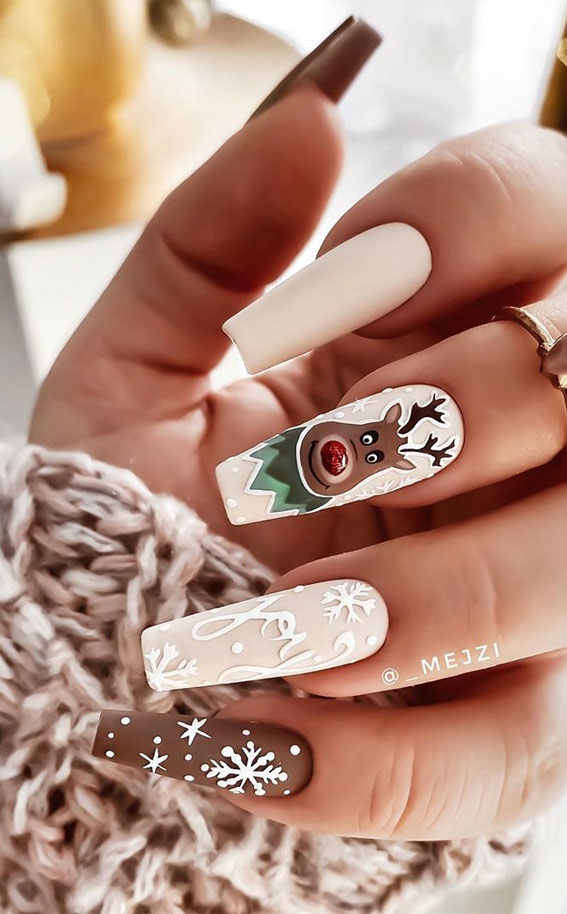 We hope you have found some stylish Christmas nail designs to be wearing in this Christmas 2020!