We can't help ourselves but be obsessed with all things tropical during this time of the year. Palm trees, pineapples, flamingos, cocktails, beaches, all those things remind us of beautiful exotic destinations. Bring your love for exotic destinations to your nails this season by flaunting a tropical-themed manicure. Here are our favorite nail designs for you to get inspired.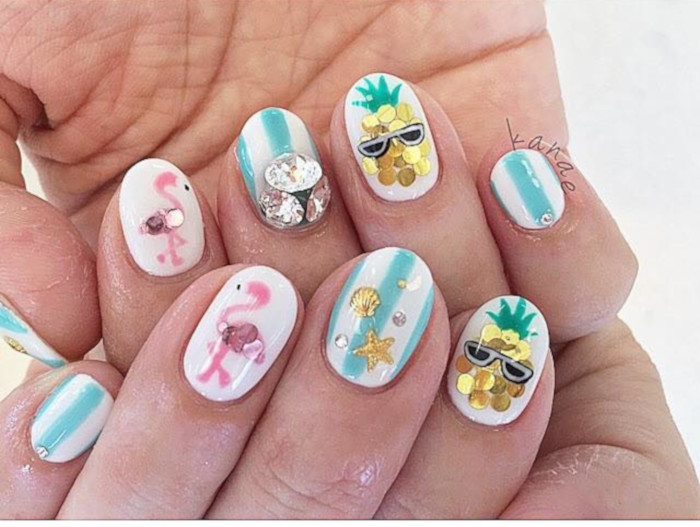 If you are into girly nail designs, here is one to flaunt this summer. Stripes, pineapples, flamingos, sequins and more 3D embellishments – all this is a fun way to show your love for the hottest season of the year.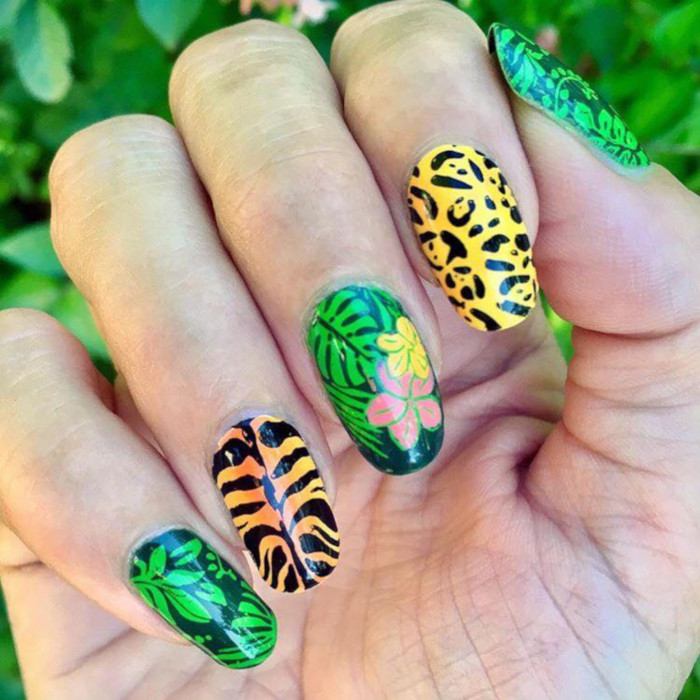 Is a wild safari adventure on your list this summer? Make sure you go prepared! Use some of its spectacular flora and fauna to get your nails dressed in the fanciest of prints.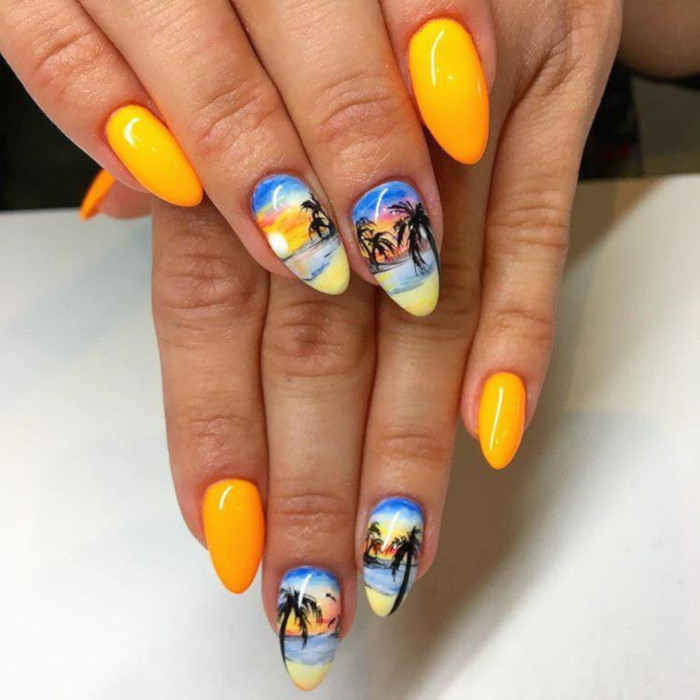 This nail design will make you book a one-way ticket to a tropical paradise. The yellow color is a subtle nod to the sun, while the graphics show the beauty of summer sunsets on the beach.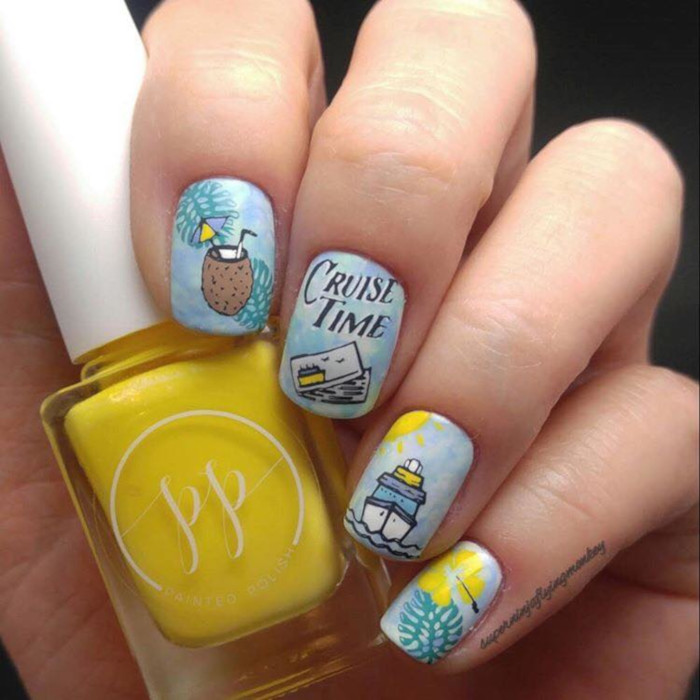 This fun nail art explains it all – it's cruise time everybody! You'd probably want to pin this photo and show it to your nail lady before going on a vacation.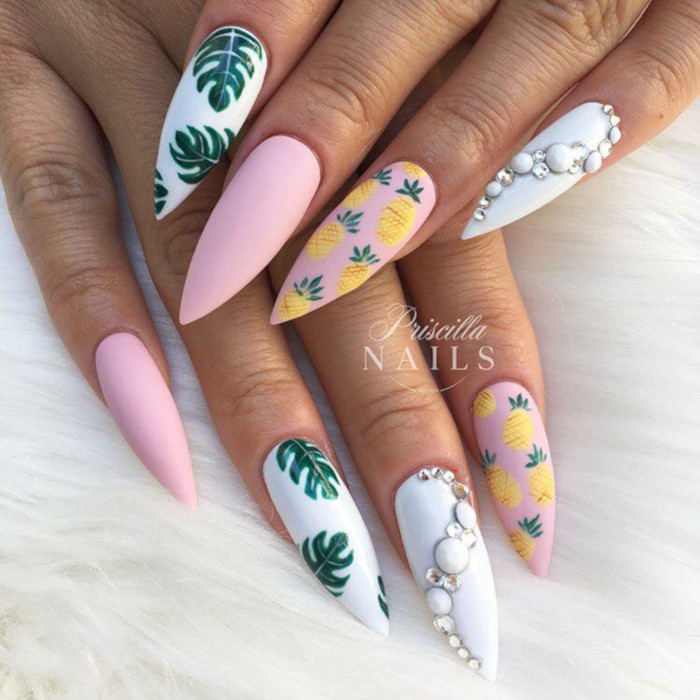 Pastel nails are such a good idea for the summer months. This chic mani includes 3D embellishments and summery prints, but still, is not too loud.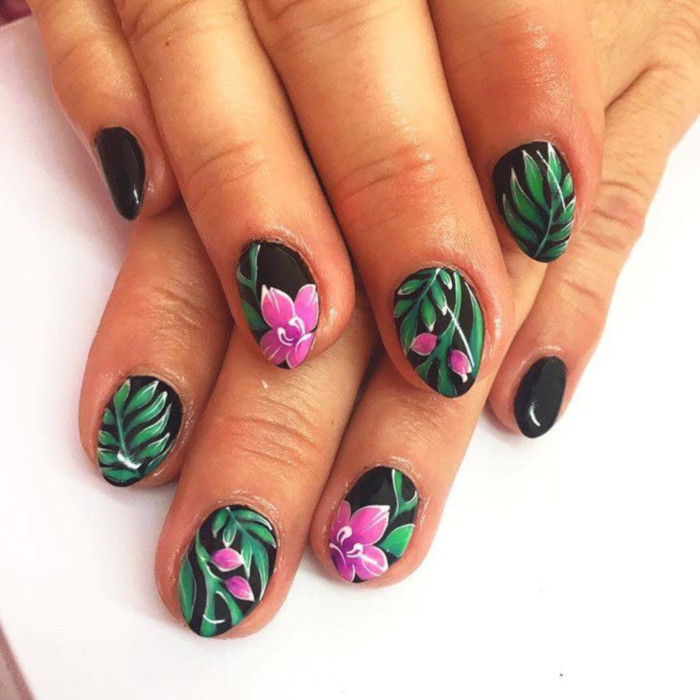 Get some jungle vibes involved to your nails by copying this nail design. You can add any pop of color you want, from neon yellow to the bright pink you see in the photo.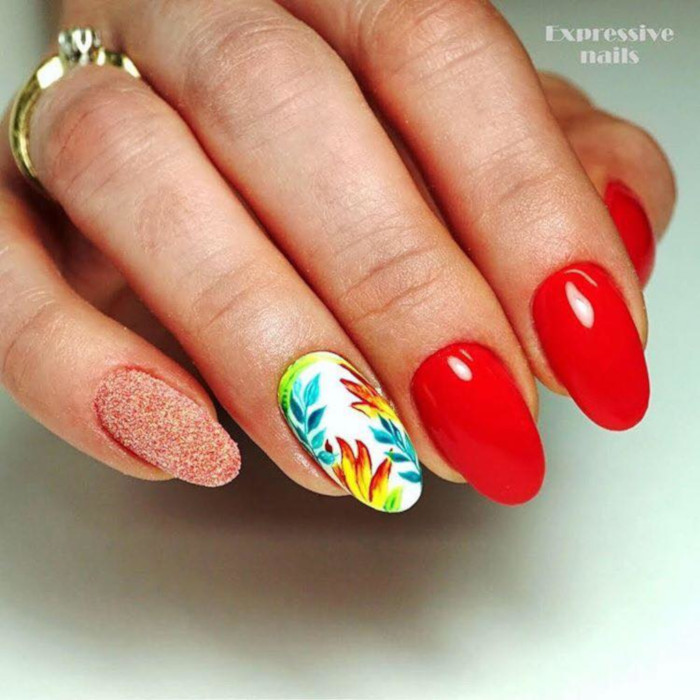 You can refresh any regular manicure by adding a tropical-inspired print to at least one of your nails.
Here is an innovative way to mix geometric and tropical elements into one nail design. Don't forget about the super cute koala! It gives a special charm to this manicure.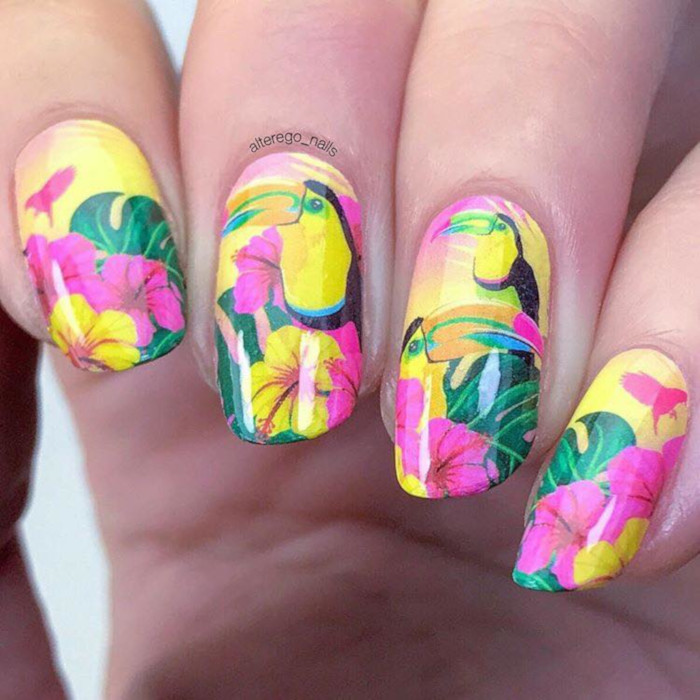 Playful toucans and giant colorful flowers are such a great combo. Don't hesitate to get creative and explore the tropical world for more inspiration.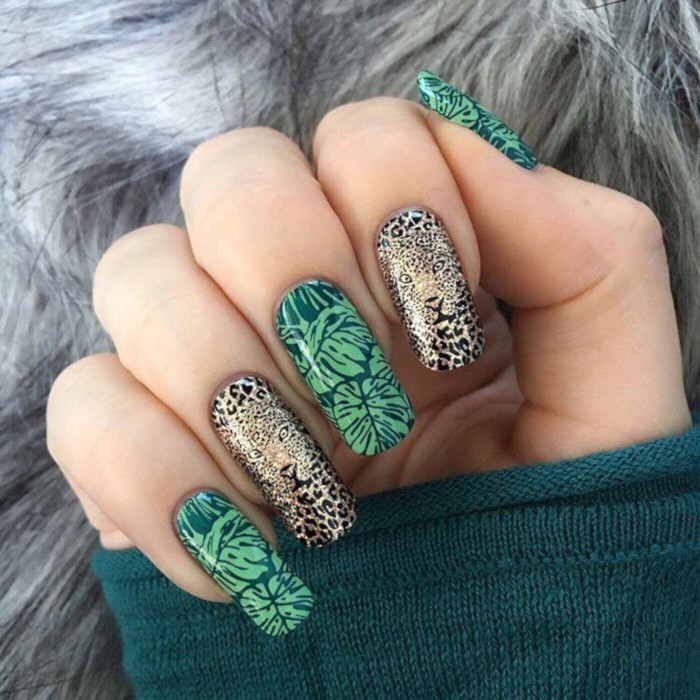 The Wildcats are an endless source of inspiration when it comes to fashion and beauty. Bring the jungle beat to your nails by copying this nail design.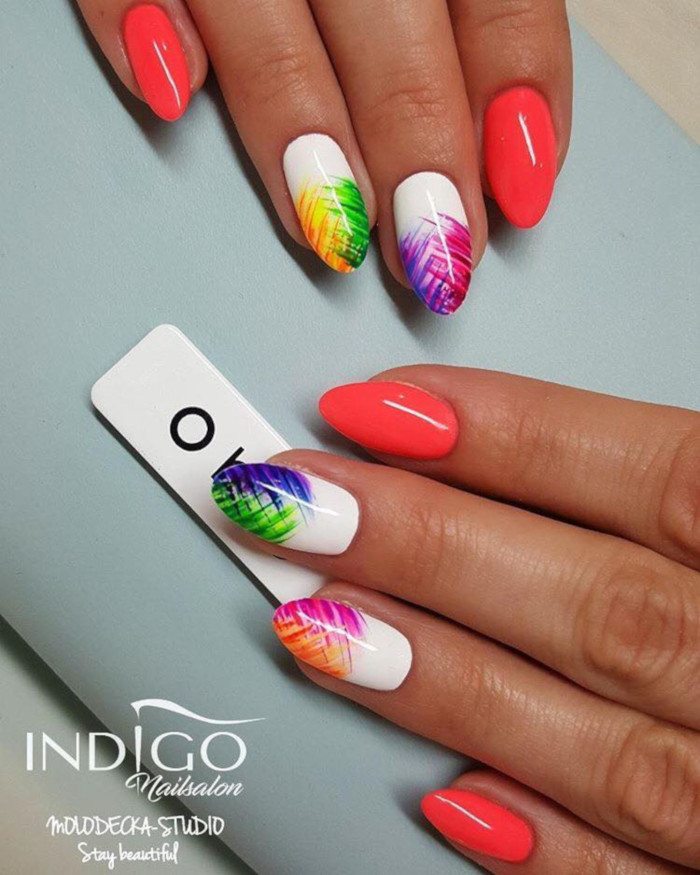 This abstract manicure is a discreet nod to the tropical world. You can get creative with colors and shapes if you want to get your nails done in a similar way.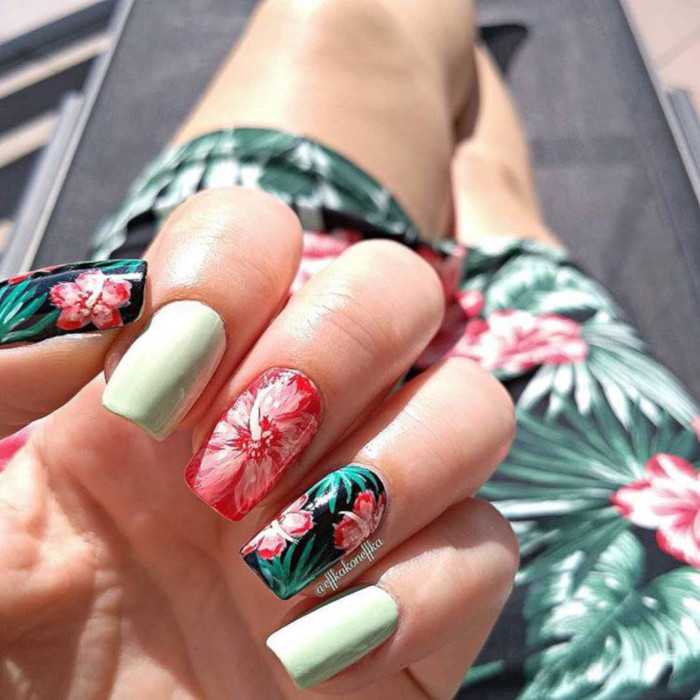 Summer is the season of cute floral dresses. To upgrade your style you can get a matching nail design for the ultimate Instagrammable combo.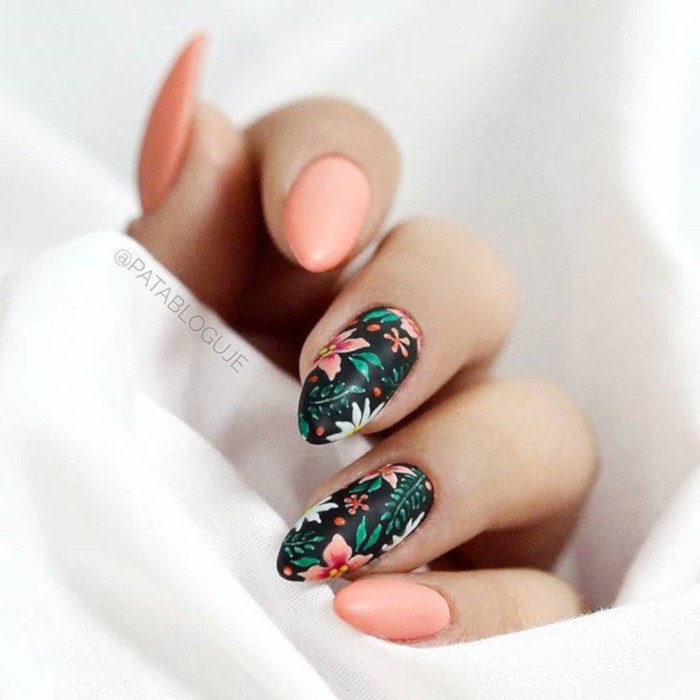 You can never get enough inspiration from the tropical flora. This chic mani is another way to bring vacation vibes to your everyday life.
If you have hidden artistic talent, don't hesitate to show it off through your nails. This hand-painted exotic manicure is out of this world.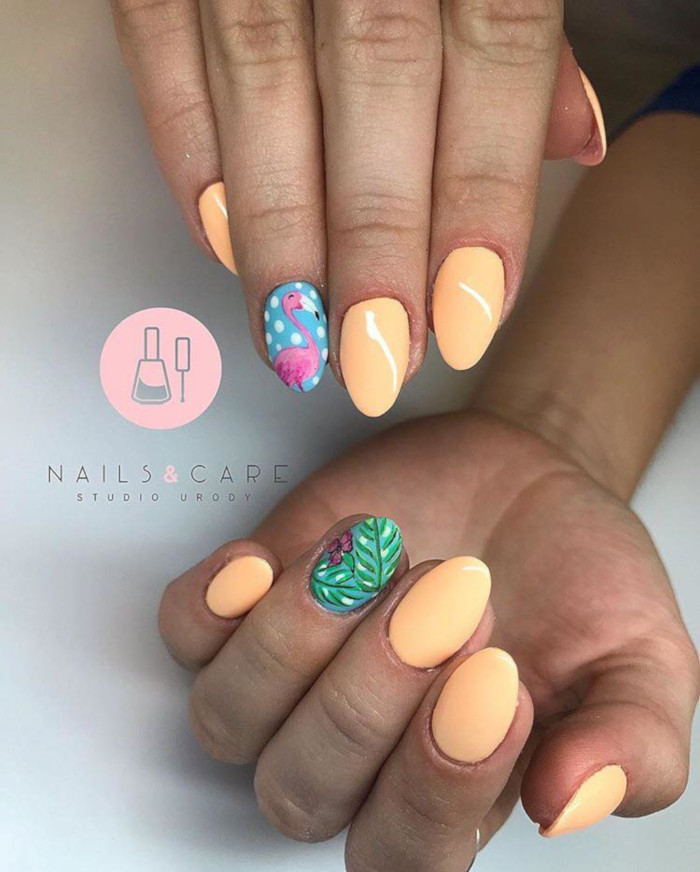 This photo is a proof that all you need to make your manicure summer-approved is a happy flamingo!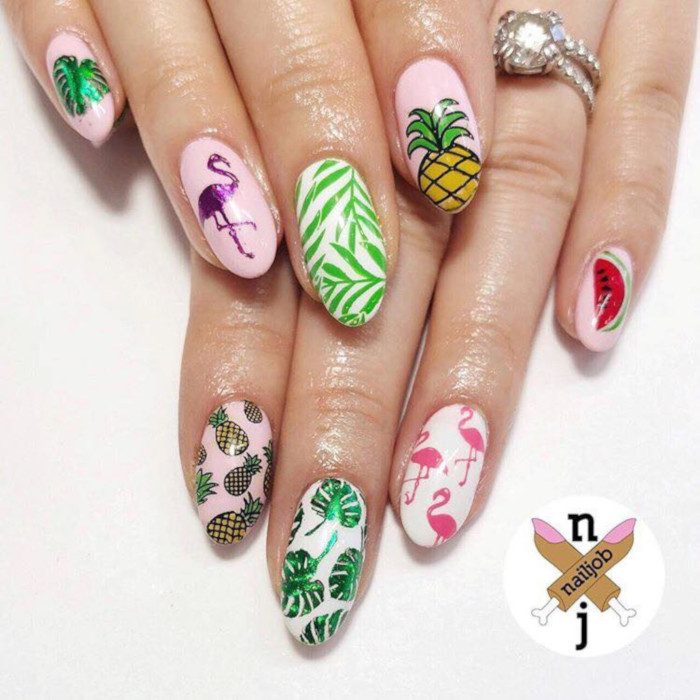 If you can't decide on one pattern or graphic, feel free to flaunt a mani that features all of them!