For those of us who love to experiment with makeup, Halloween may be the best day of the year… it gives us the excuse to go crazy with all kinds of colors and designs. So today we're sharing 25 of our favorite creative halloween makeup ideas to get you inspired.
1. Spooky Skeleton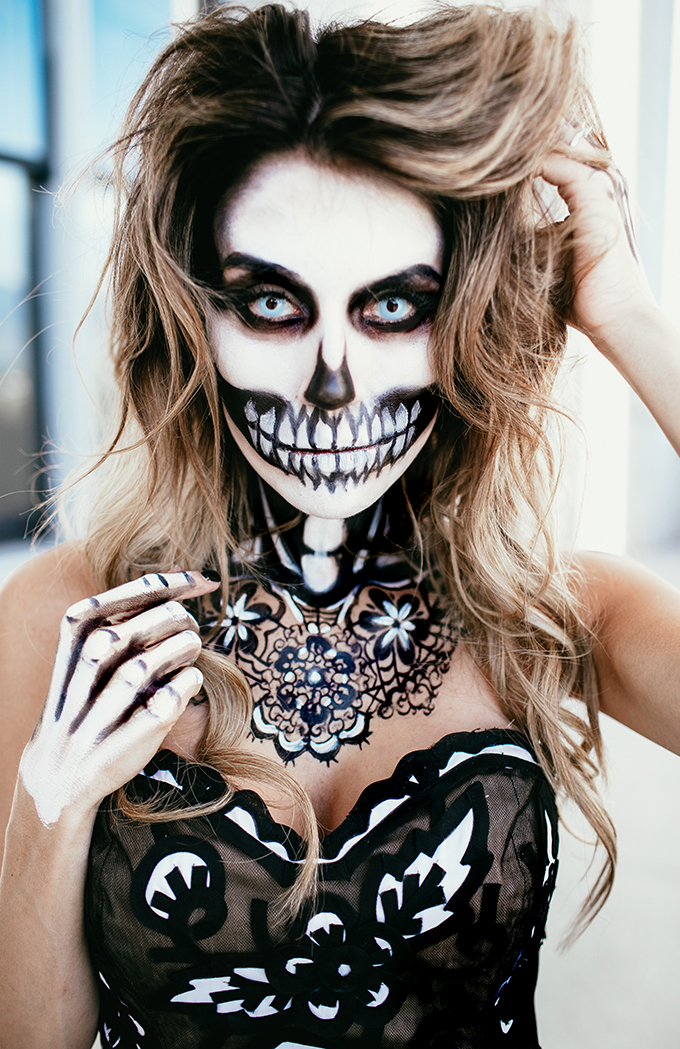 This amazing skeleton costume is done mostly with black and white makeup, by creating a large set of teeth and dark eye sockets to mimic a skull. Paint your hands white and you'll have a makeup look that is sure to wow everyone on October 31st. Find out more here.
2. Color Explosion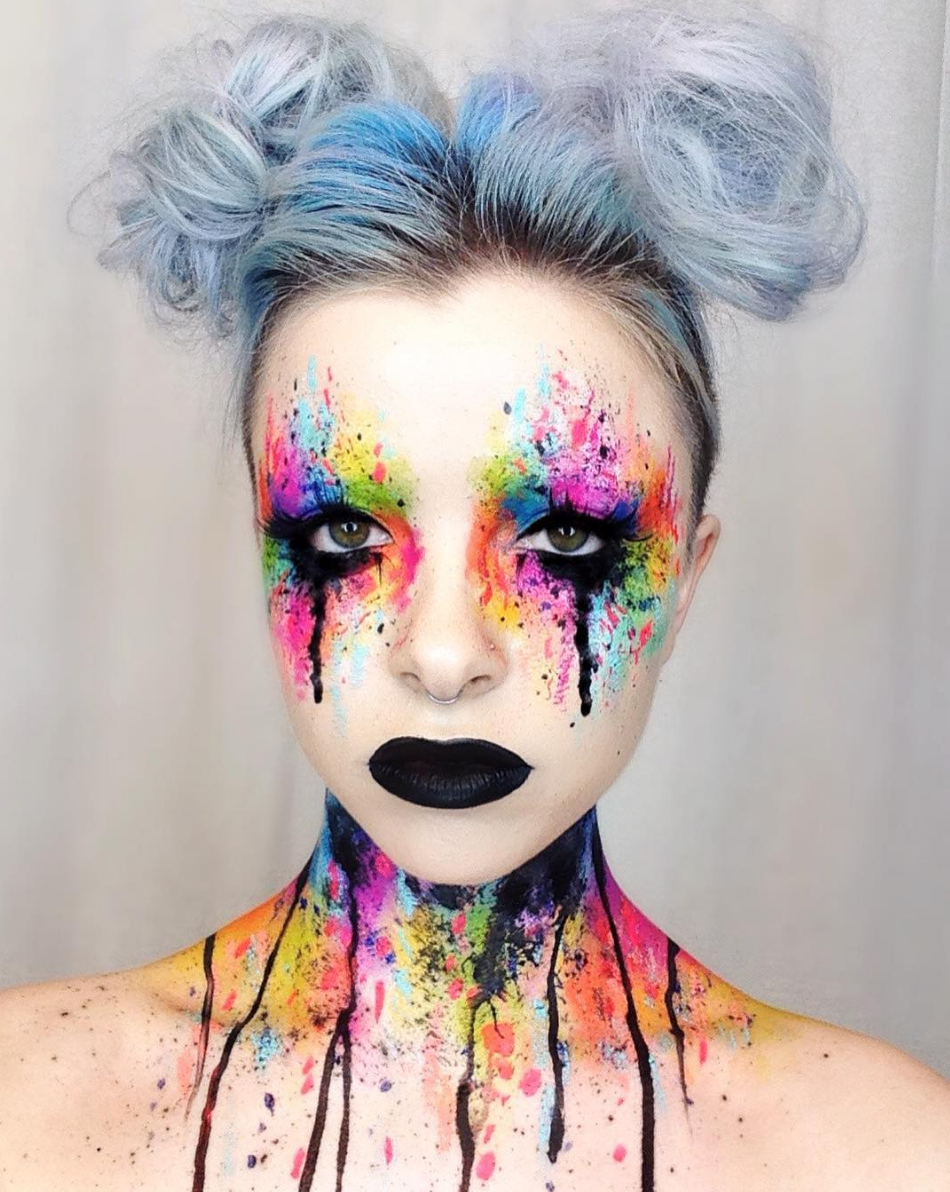 This colorful makeup look is quite a showstopper, with every color in the rainbow painted onto her neck and around her eyes. And black makeup drips highlight the color along her neck and cheeks, while black lipstick adds the perfect finishing touch. Found here.
3. Gangster Clown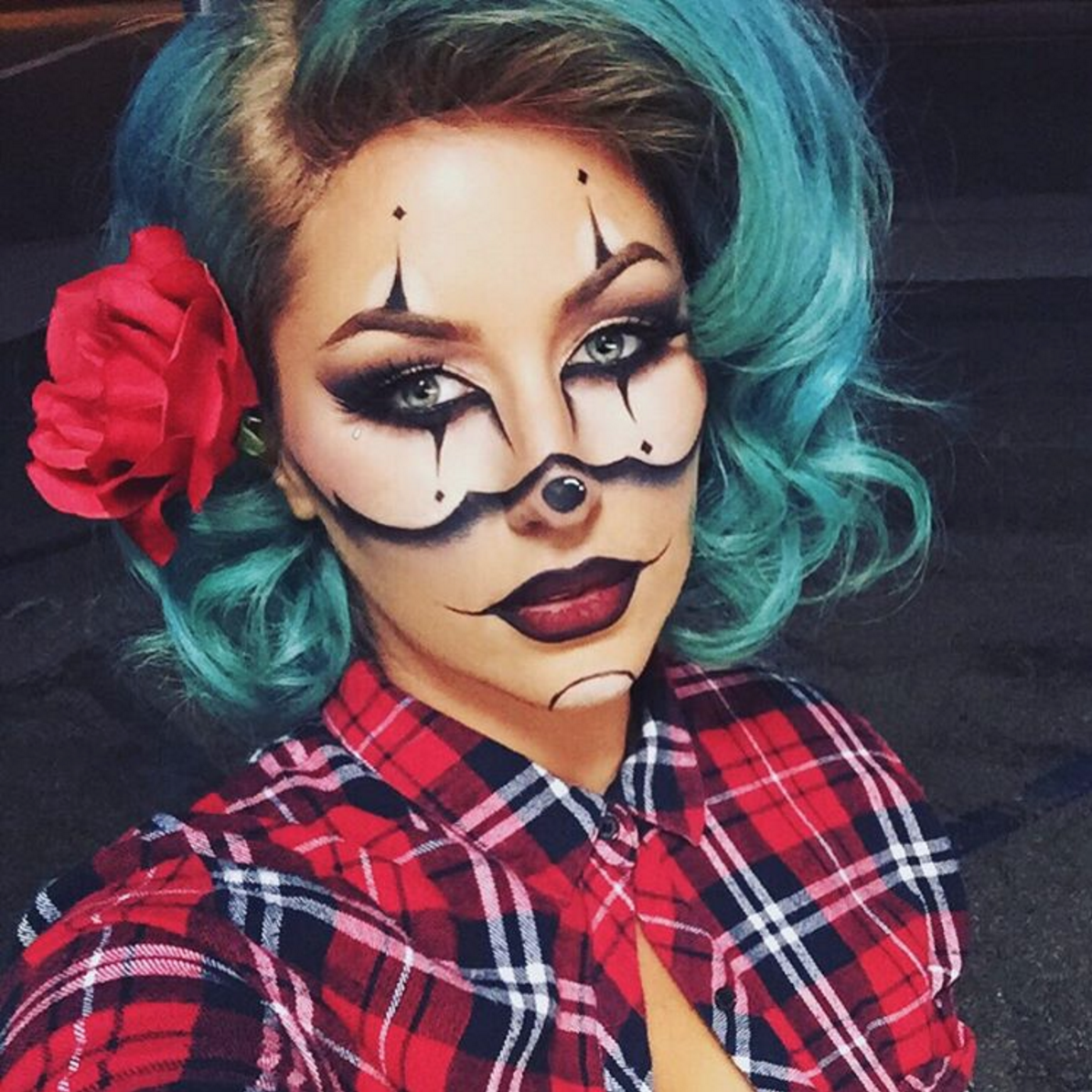 This clever gangster clown has a unique look, thanks to the unusual combination of two different costume ideas. Black makeup is used to accent her eyes, nose, lips and chin, then red and white add dimension to her lips and cheekbones. See it right over here.
4. Cheshire Cat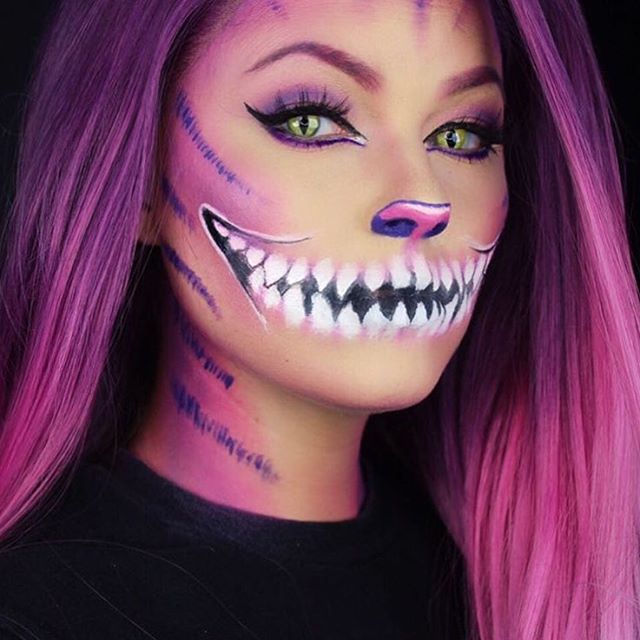 This cheshire cat has a super colorful look, thanks to the addition of pink and purple ombre coloring throughout her cheeks, neck and even in her hair. The large black and white mouth helps viewers to identify her costume. Found at The Makeup Addict.
5. Pastel Clown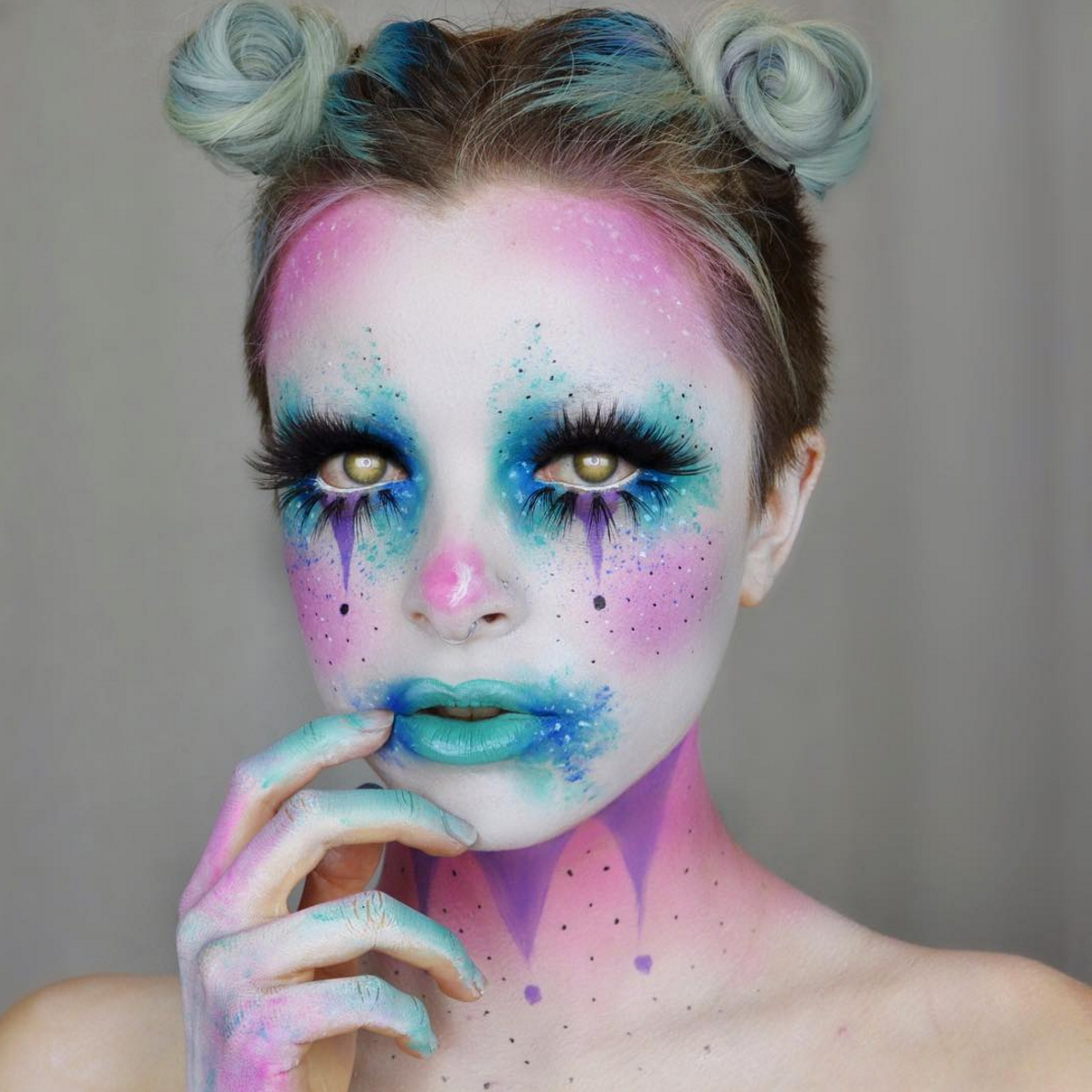 This beautiful pastel clown look is done by applying pinks, purple, blues and greens over the top of a white base. The long black eyelashes add extra drama to the look, as does the turquoise lipstick. Check out the original photo over on Instagram.
6. Angular Art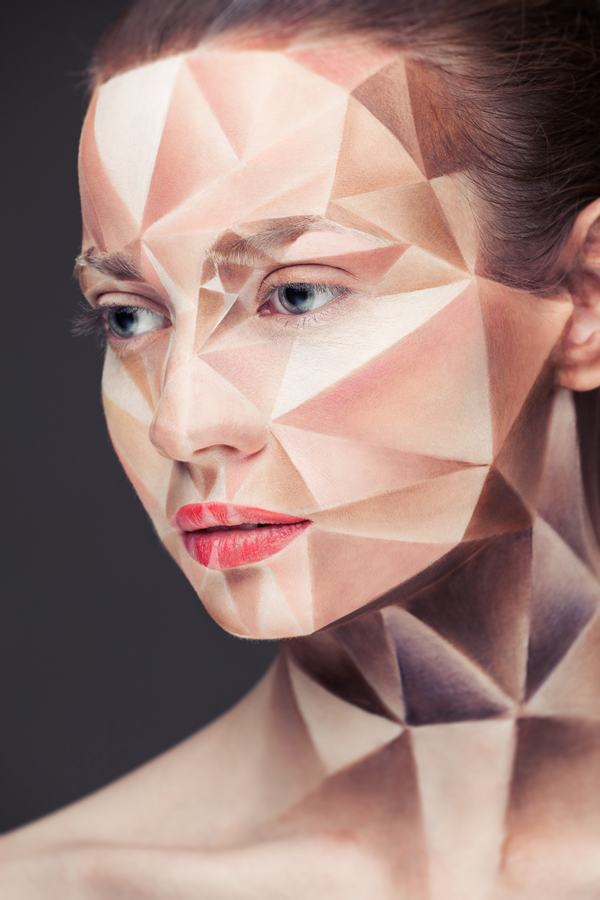 This makeup design is not so much a costume as it is a look. It is meant to mimic a painting, giving her face an angular faceted sort of vibe. Make your way over to Alexander Khokhlov's website to check out more of his amazing makeup photographs.
7. Mythical Horned Creature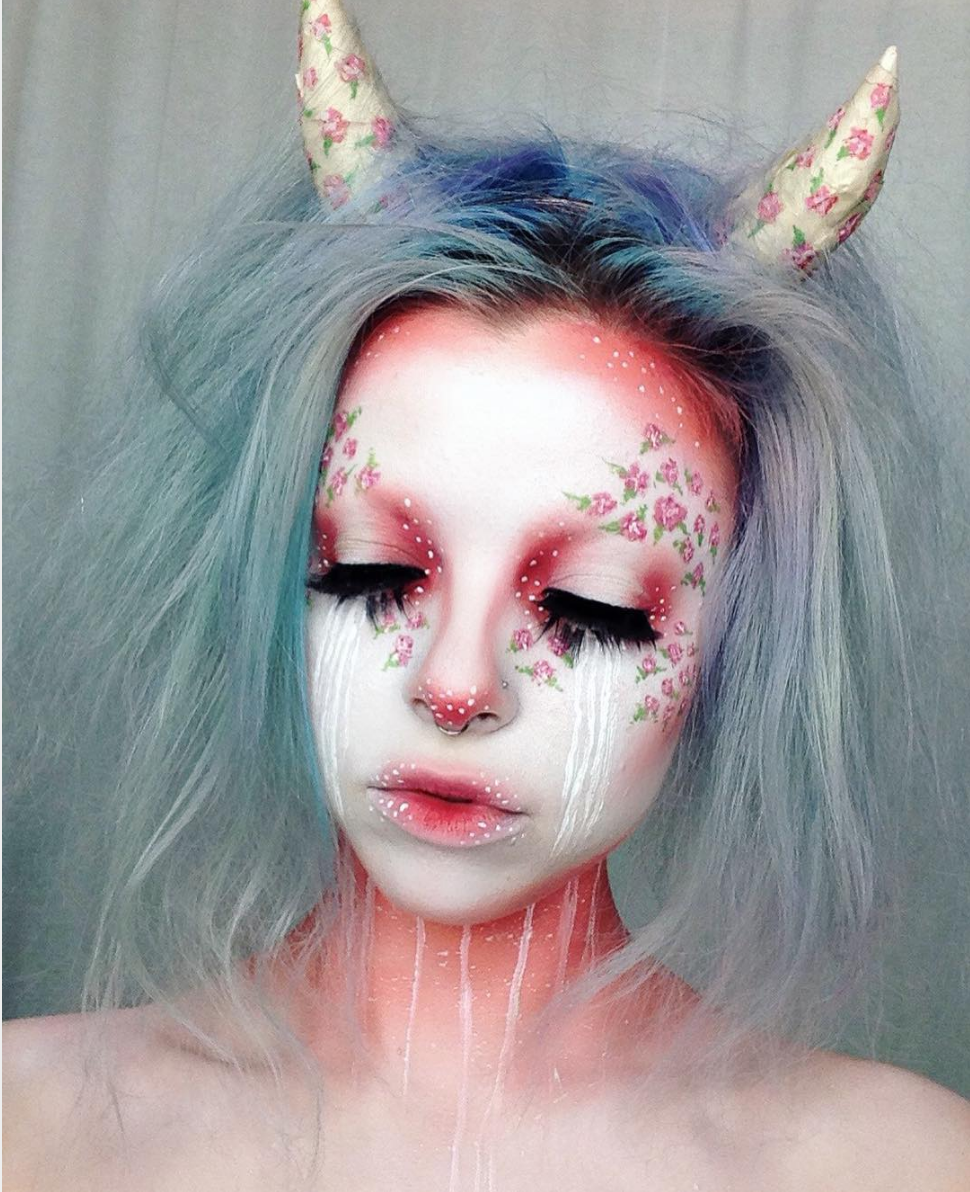 This stunning makeup look has a unique combination of creepy dripping white color along with beautiful floral details – and an ethereal gray blue hair color to top it off. And thick, black eye makeup tops it all off. Make your way over to Kimberley Margarita's Instagram to check it out.
8. Half and Half Face
This incredible makeup look gives the impression that half of her face is cracking off and becoming a different sort of being. The key is to draw a zig zag across your face and create a beautiful, traditional makeup look on one side and an icy green and purple look on the other half. See more here.
9. Comic Book Girl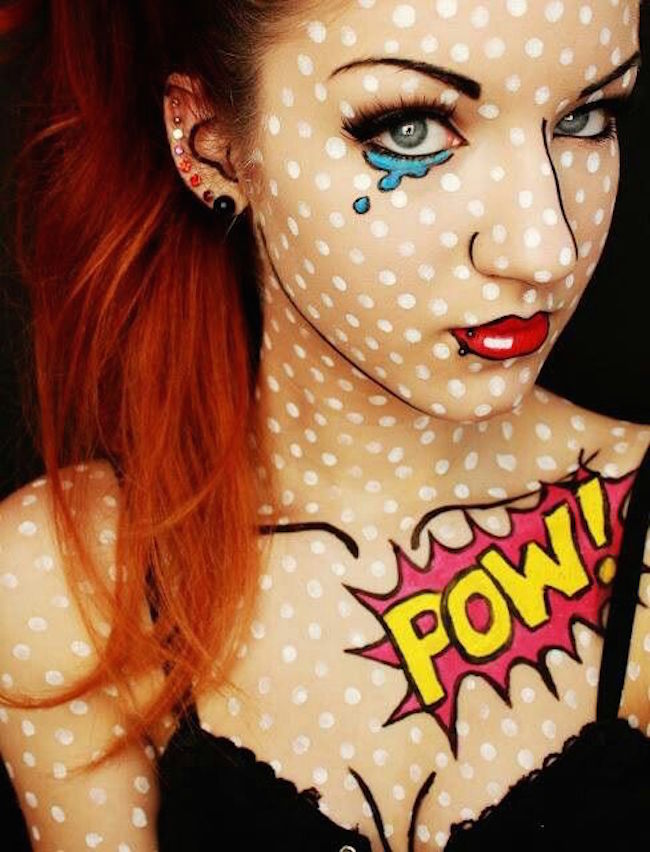 This amazing makeup look is meant to be reminiscent of artist Roy Lichtenstein's pop art work back in the 1960's. Bold black lines create the comic book effect, which is then accented with bright colors and little white polka dots. Head over to The 11 Best to check out this and lots of others.
10. Woodland Deer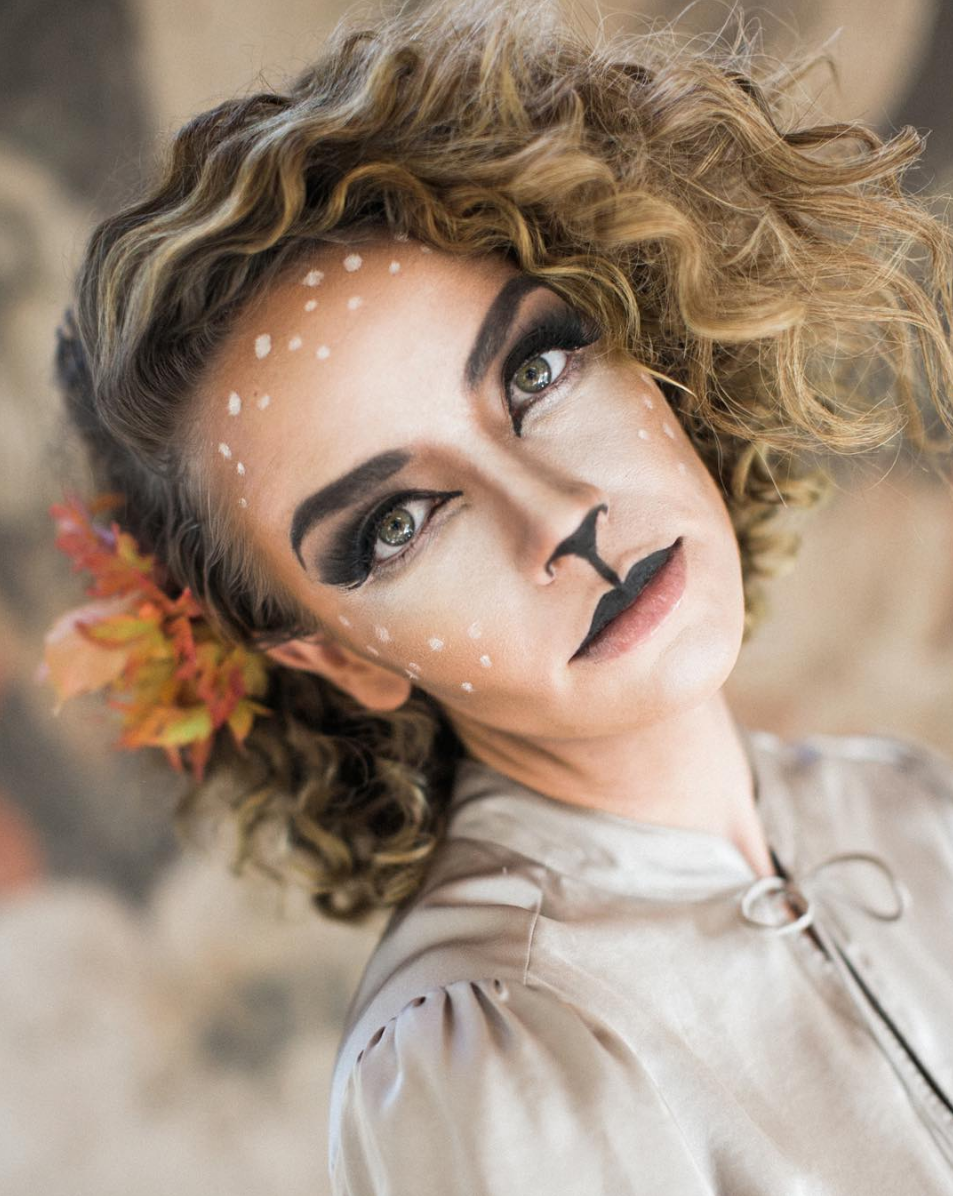 This gorgeous deer makeup has a mythical woodland sort of feel, with pretty neutral tones and faux leaves. Creating a subtle base that's darker around the perimeter of the face is the key, then a pearlescent lighter hue on the cheeks and forehead lets her eyes stand out. Found here.
11. Robot Makeup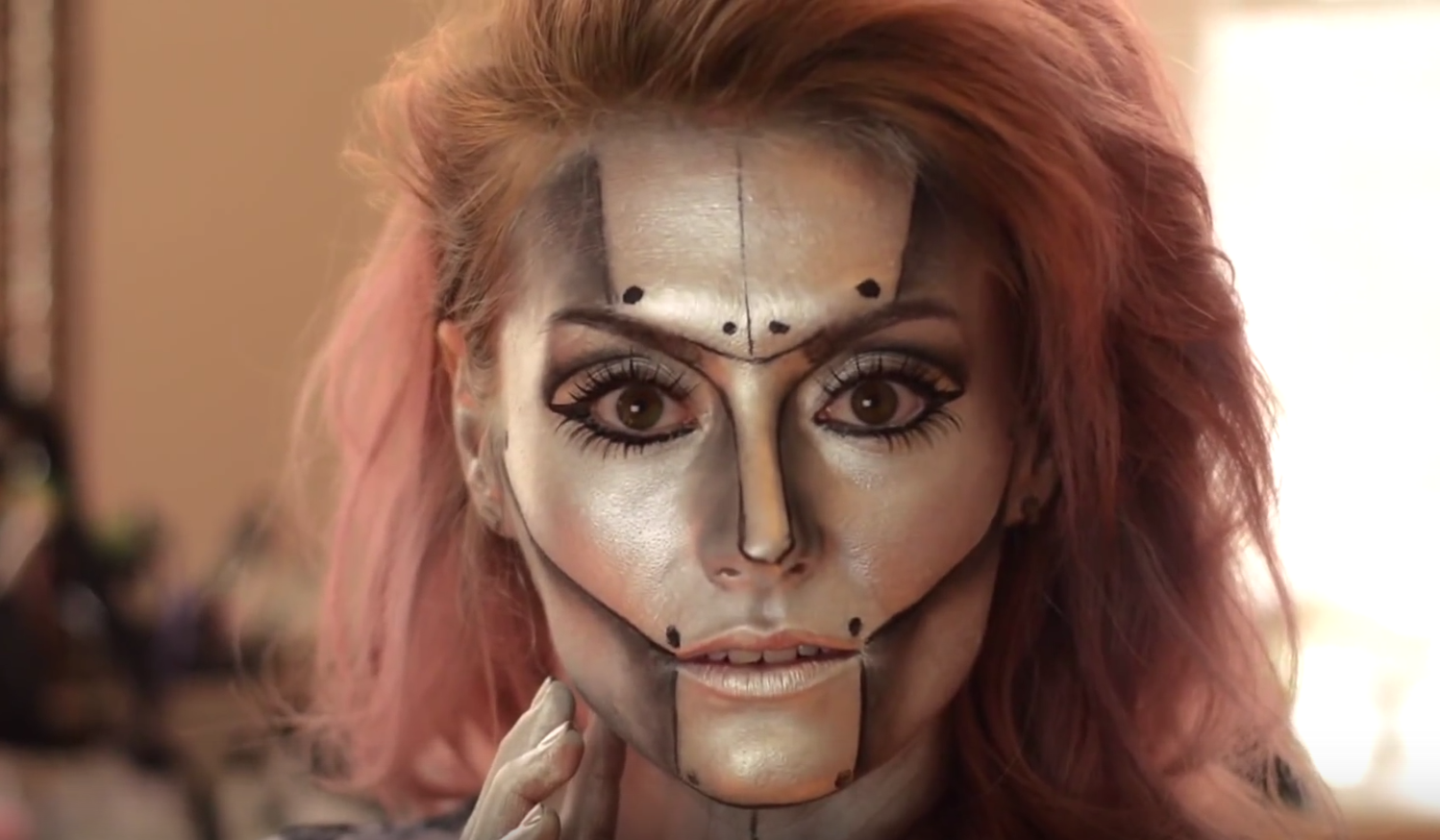 This stunning metallic robot look is actually easier to recreate than you might think. Just follow along with her instructional video and copy all of the steps that she shares, and you'll be looking like a robot in no time! Head over to Shannon O'Brien's YouTube channel to check out her excellent tutorial.
12. Painted Angular Face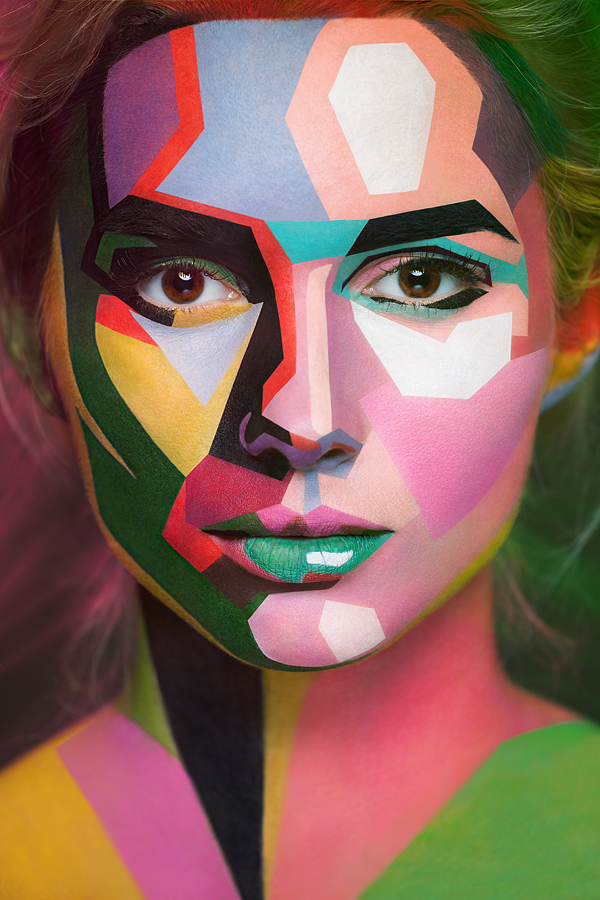 If you are a fan of art, then you may enjoy this colorful look that is reminiscent of an oil or acrylic painting. Artist Alexander Khokhlov used many different colors to create randomly shaped sections throughout her face and neck. Make your way over to his website to see more of his work.
13. Intricate Black Makeup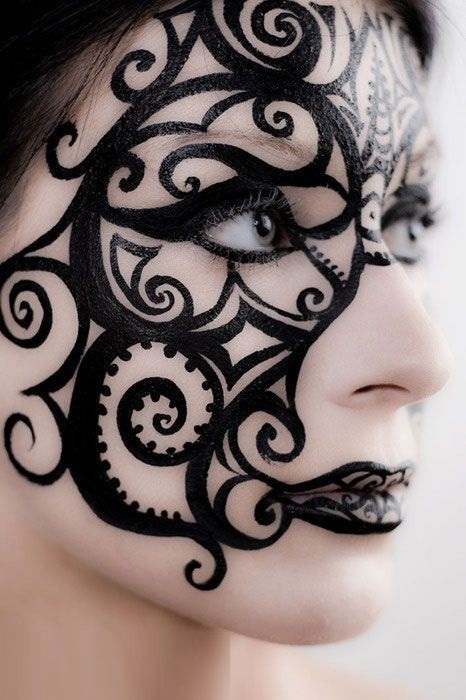 If color isn't your thing, then you might consider going monochromatic with this spooky look. All you'll need is black makeup (or even eyeliner) and a steady hand. Be sure to vary the thickness of the different curly-cues. Head over to The Xerxes to check out this and lots of other ideas.
14. Queen of Hearts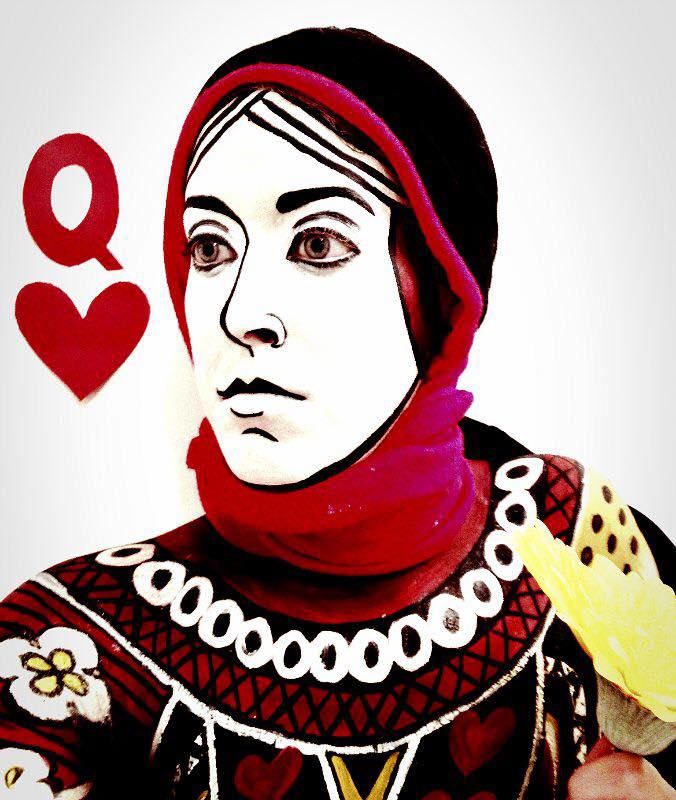 This Queen of Hearts makeup looks almost fake, until you see her eyes. The incredible part about this is that she did the entire look herself… she even painted her own shoulders! Head on over to Carly Paige's Facebook page to check out this and lots of other beautiful Halloween makeup ideas.
15. The Dark Side Makeup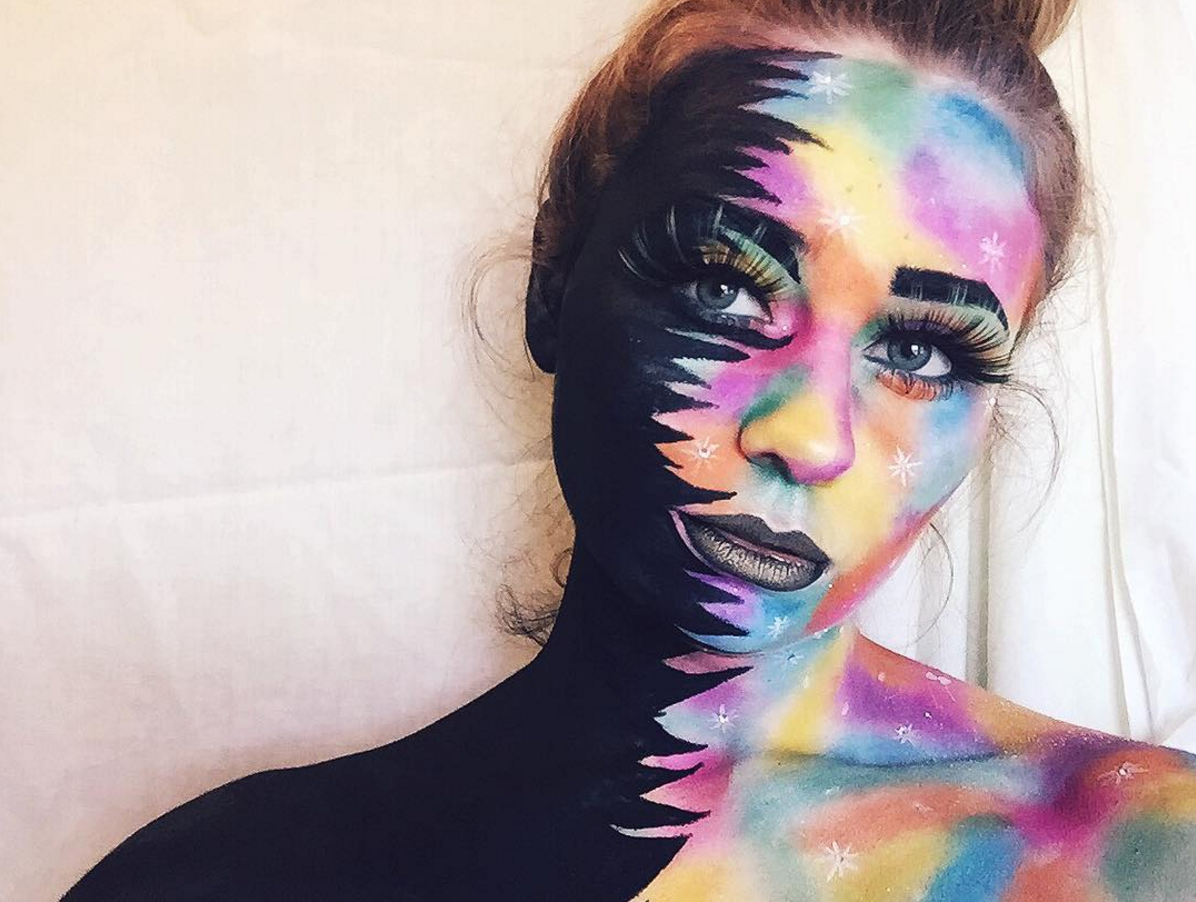 This unique makeup is meant to represent happiness and positivity overcoming the dark side. To recreate this look, apply many different makeup colors to most of your face and neck, and then paint the other side black and overlap with a zig zagged edge. Check it out over on her Instagram page.
16. Stretched Lips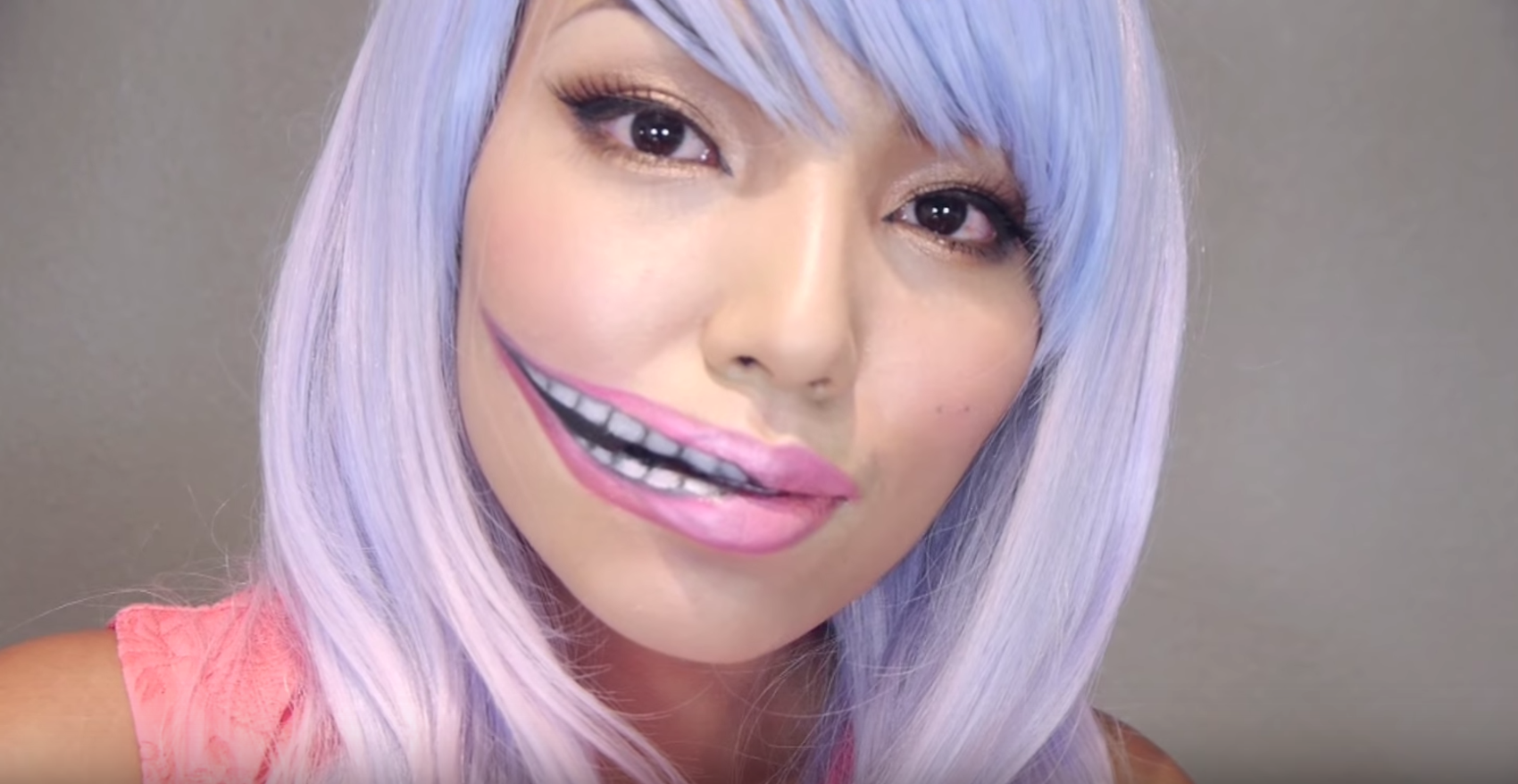 This amazing idea would be great for those of you have a bit of a sense of humor when it comes to Halloween. The stretched lip look is quite easy to pull off as long as you follow along with this awesome tutorial over on YouTube. Add a colorful wig to really put the look over the top!
17. Reptilian Halloween Makeup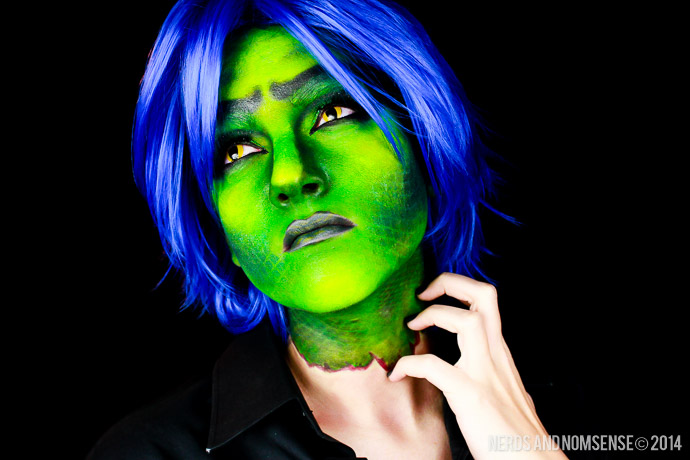 If you'd like to go less glam and more animalistic, give this reptilian look a try. It has a unique textured green surface, blue hair and even creepy yellow eyes. Make your way over to the tutorial at Nerds and Nomsense to find out exactly how to recreate this unique reptilian look yourself.
18. Glamorous Leopard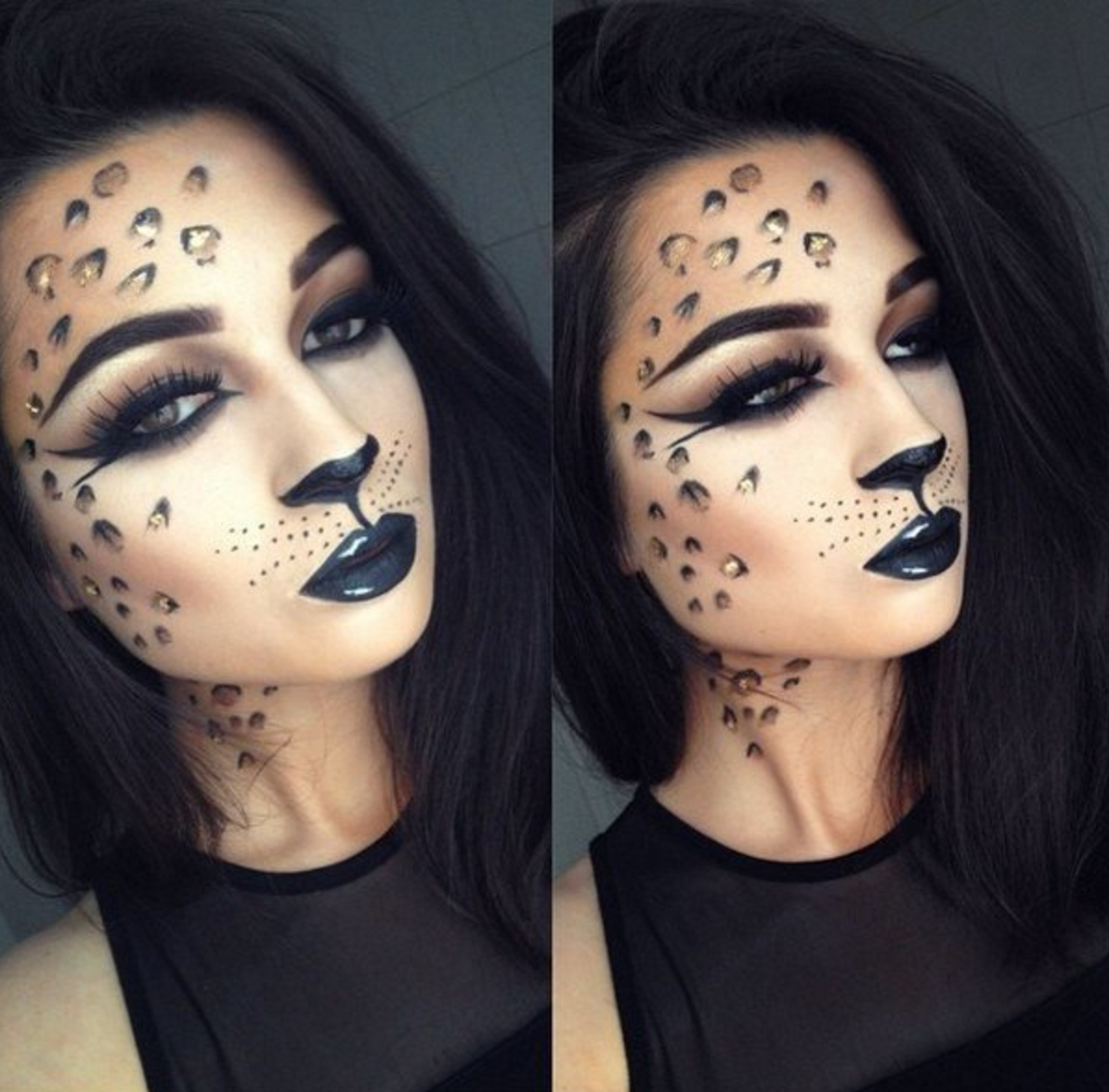 This look is done using primarily black makeup, along with just a bit of white and some small gold accents for the spots. The key is to create a super black lip finish, and lots of tiny dots to represent whiskers. And a classic cat eye too, of course! Head over to Beautylish to check it out.
19. Lady Beetlejuice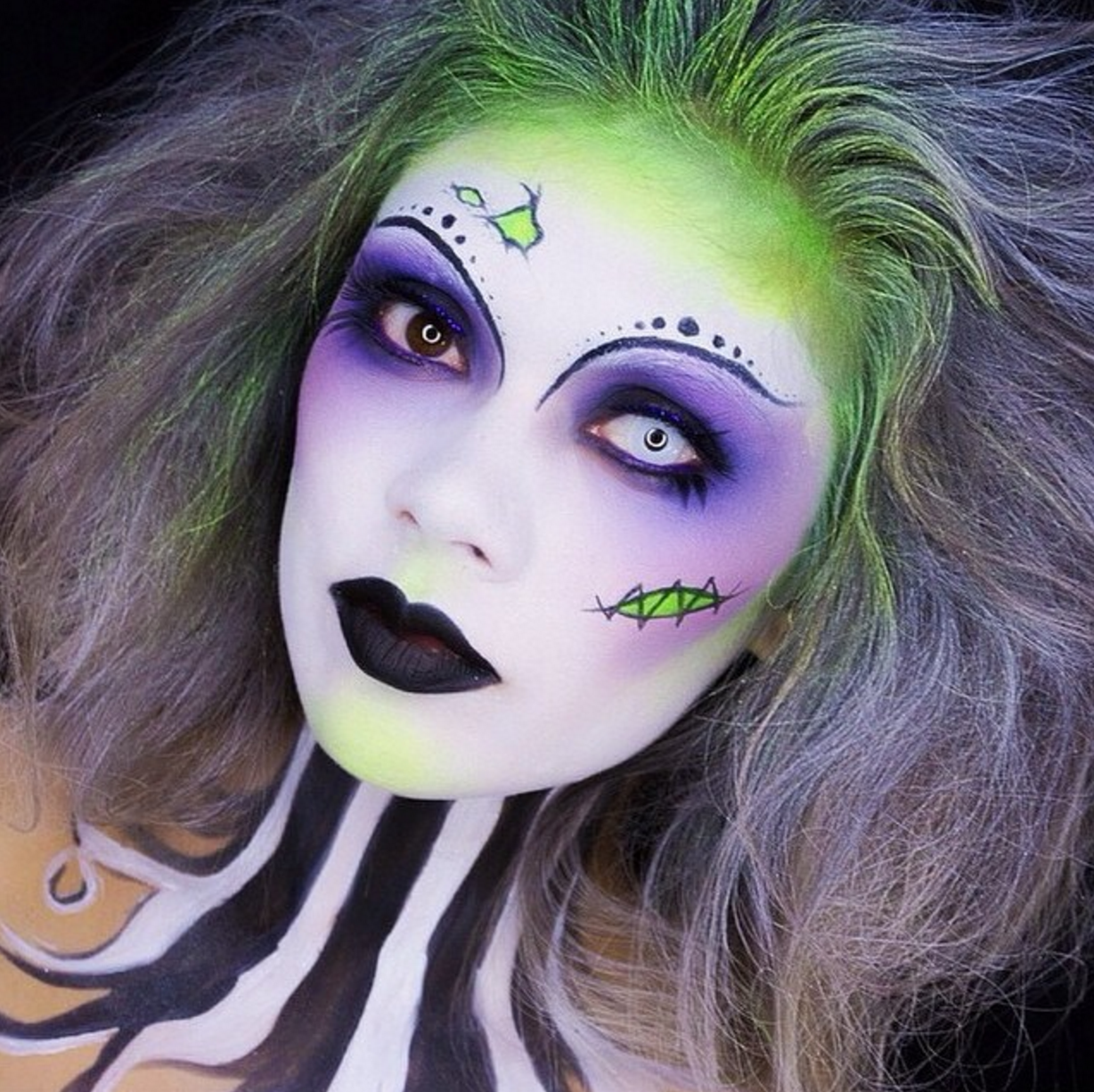 This awesome female version of Beetlejuice is a great idea for a unique Halloween costume. The striped neck is the key to ensuring that the costume is recognizable, while the faded green and purple makeup gives it a bold, memorable look. Head over to Instaglam Styles to check it out.
20. Miss Argentina
This eye-catching idea stems from the 'Miss Argentina' character in Beetlejuice. The most noticeable part of her look is of course her green skin, but the contrasting red lip gives it that serious "wow factor." Make your way over to Shannon O'Brien's YouTube Channel to check out the tutorial.
21. Ethereal Glitter Makeup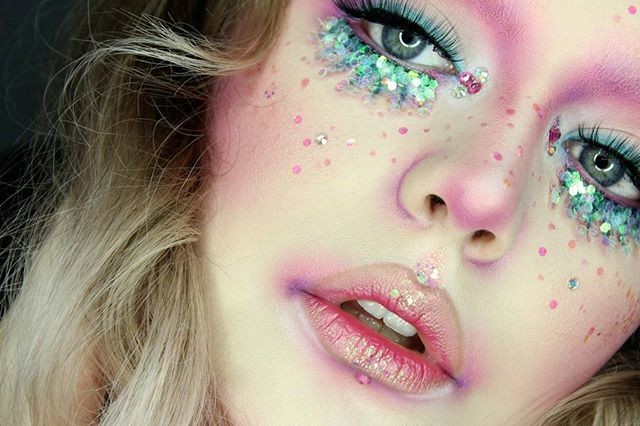 This colorful makeup look involves lots of pink and turquoise, and some sparkly green glitter for underneath the eyes. And a stripe of dark, thick eyeliner makes everything pop. For added effect, wispy blond hair falls in soft curls to frame her face. Found over at Lime Crime on Tumblr.
22. Creepy Cute Doll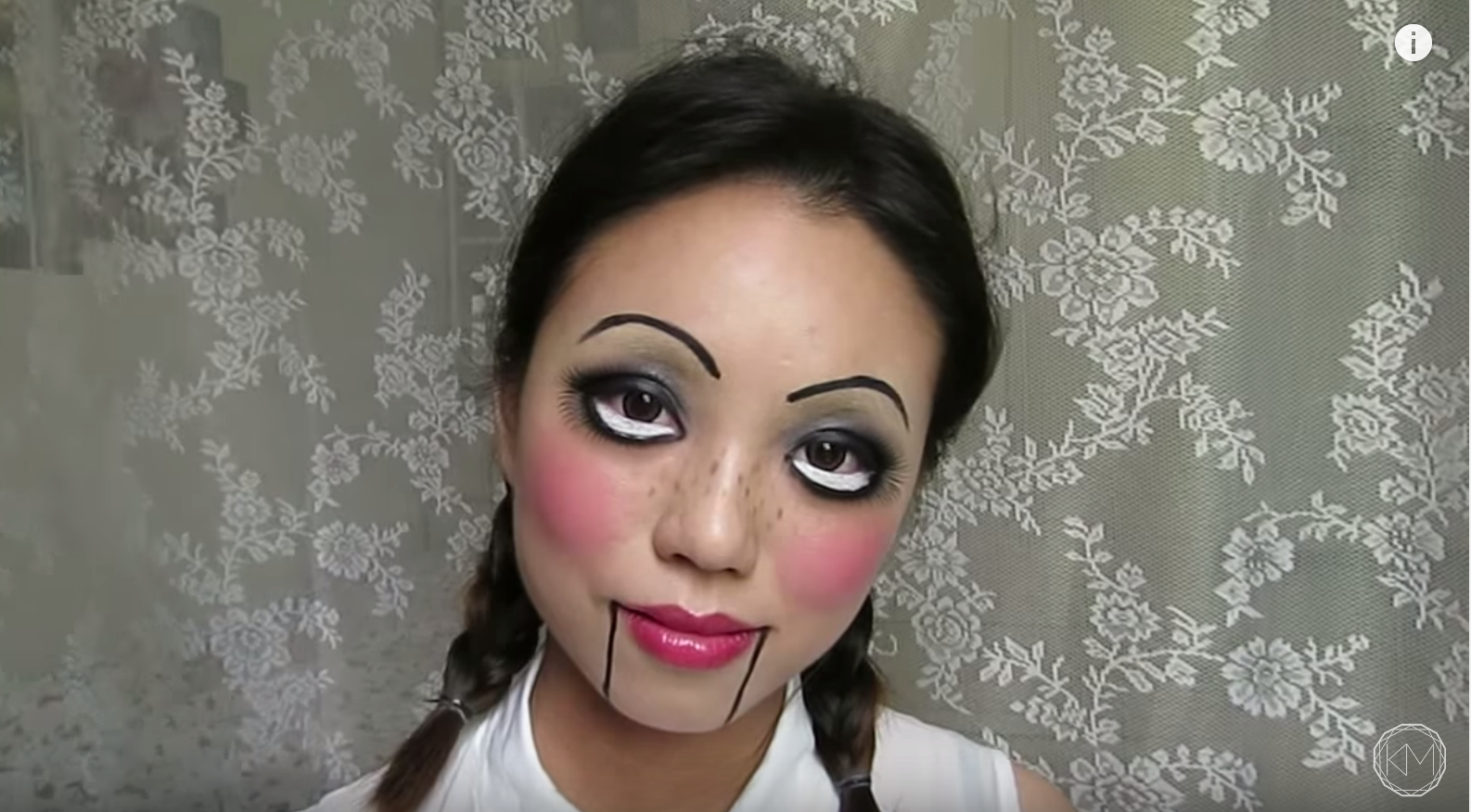 This eye-catching look evokes a mix of scary and sweet, with her large watery eyes mixed with rosy cheeks and pink lips. The key to making this costume look right is to create distinct black lines by her mouth and arching over her eyes. Head over to YouTube to check out Karman's video tutorial.
23. Star Wars Makeup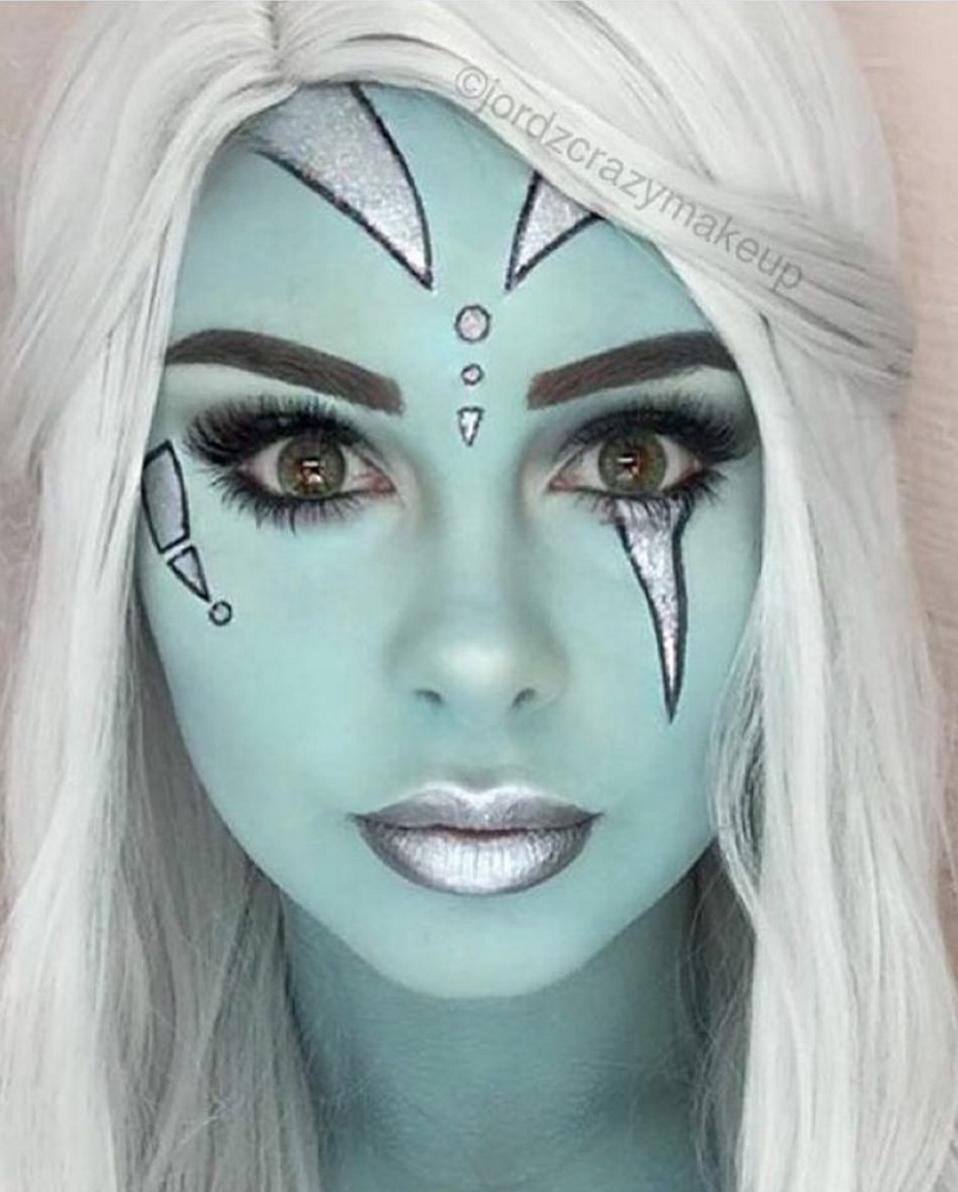 This fun look is a nod to Star Wars, and it's a simple one to recreate. Start with a base of aqua or mint green, then draw black outlines around metallic silver triangles. Finish the look with silver lips and fake eyelashes. Make your way over to Jordz Crazy Makeup page on Instagram to check it out.
24. Creepy Scarecrow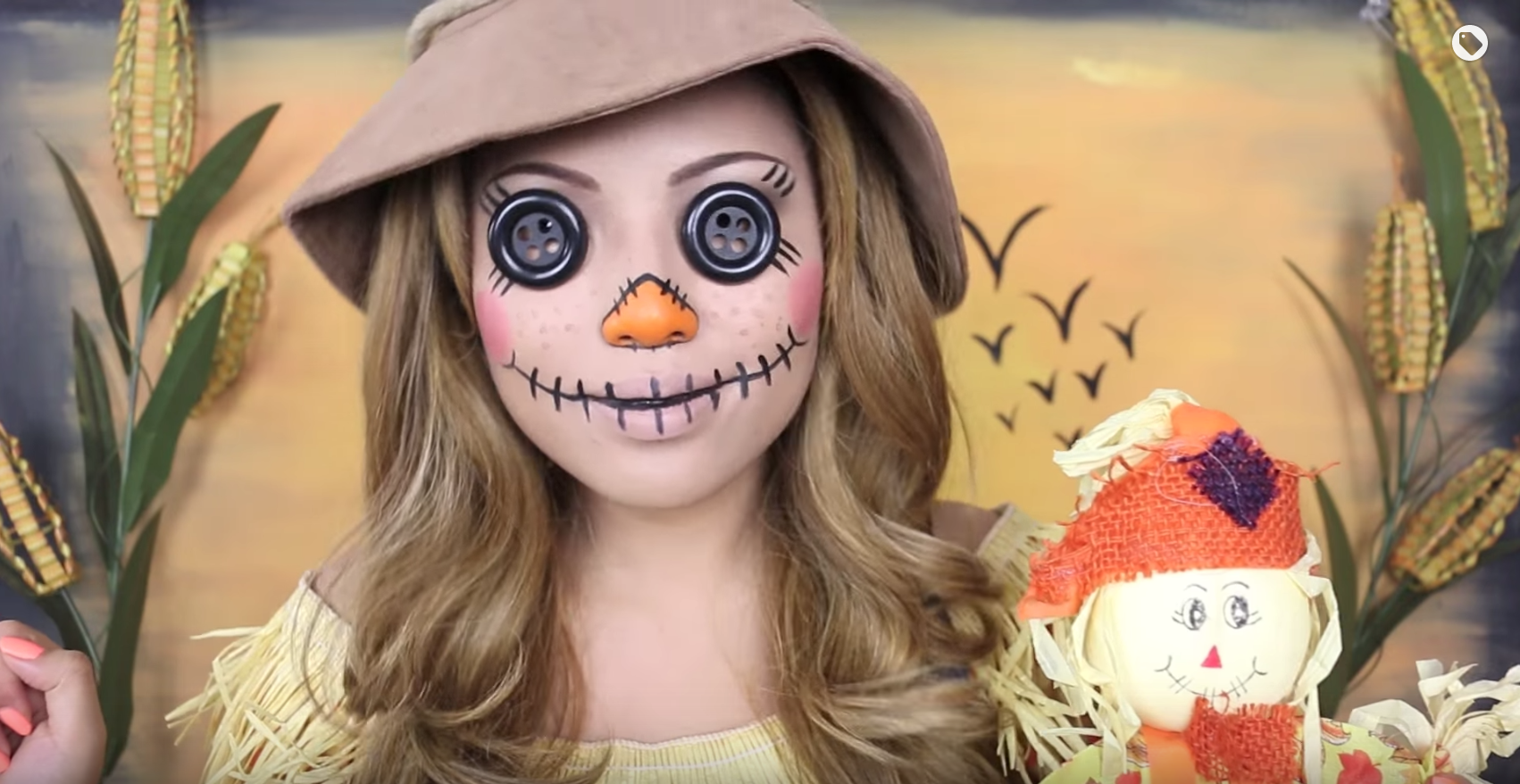 This scarecrow makeup look certainly is creepy, thanks in part to the black button eyes. Other important elements of this look are the long black mouth line and the bright orange nose. And don't forget the rosy cheeks! Head over to YouTube to check out her super helpful video tutorial.
25. Dark Mermaid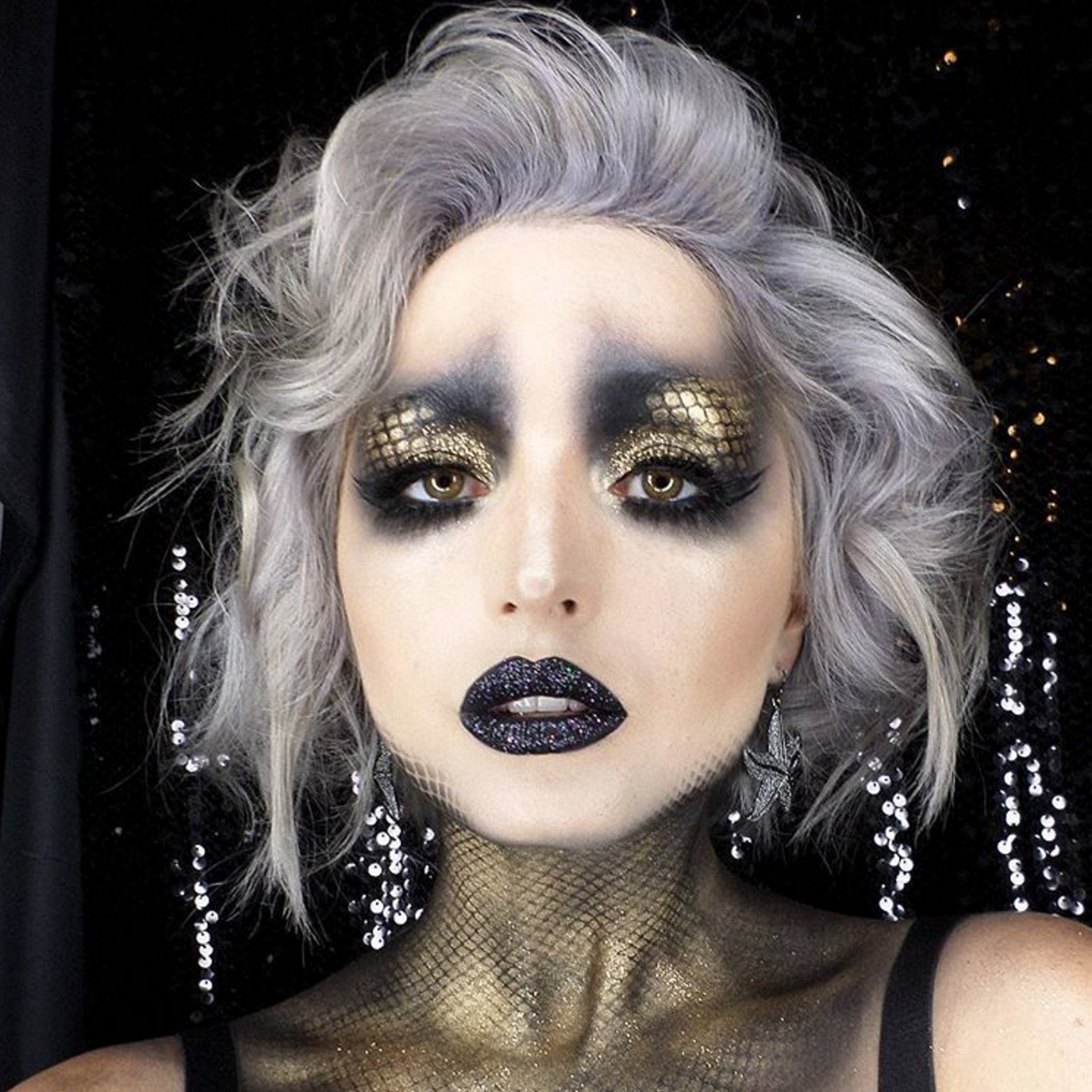 This last look is oh-so-glamorous, with a hint of dark creepiness mixed in. The area above her eyes and on her neck have a dark base, which is then topped with a gold texture to look like scales. Black lashes, liner and lipstick (with some glitter) finish off this beautiful look. Found on Vlada Haggerty's Instagram page.