When it comes to doing our own makeup, we've learned almost entirely from online tutorials or copying pictures. We have no doubt that proper makeup artistry classes are the way to go if you intend to become a licensed professional someday, and we admire anyone with the drive to complete a program, but in the meantime we see nothing wrong with teaching yourself a few techniques and practicing using whatever DIY guidance you can get your hands on!
Because we learned makeup all on our own, we're always on the lookout for inspiration pictures and looks that we can try to copy onto our own faces in order to practice techniques and learn new things. Our absolute favourite part of our makeup to do is our eyeliner and you wouldn't believe the number of creative eyeliner pictures we have saved on our phones and computer desktops!
Just in case you're in need of a little bit of eyeliner inspiration as well, here are 15 DIY liner photos and tutorials that will get your creative juices flowing and have you reaching for your favourite eyeliner before you've even finished scrolling.
1. Colour outlined winged liner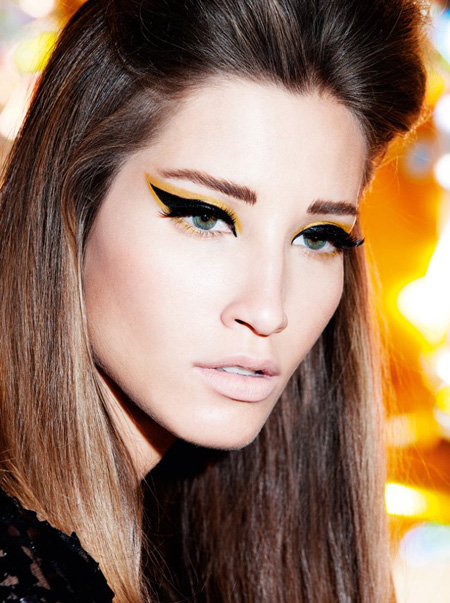 We've always been huge fans of a classic, matte black winged liner. There's just something so dramatic about it and we find we're drawn to looks that have a good sized wing above just about anything else. That doesn't mean, however, that we're opposed to switching our favourite looks up a little bit! This awesomely outlined look from Our Vanity, for example, is the perfect simple way to add a little something something to your regular old dramatic wing. They suggest using a different liner in a brighter colour to outline around the outer edge of your wing for maximum impact. We think this look would be stunning in any colour!
2. Painted lash eyeliner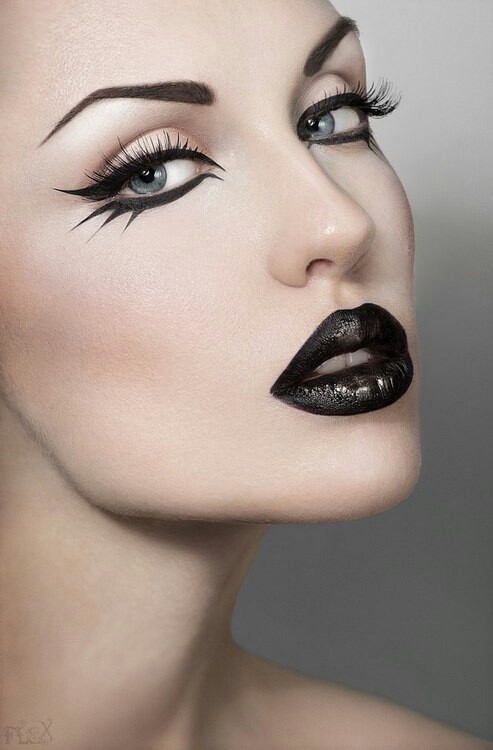 Are you a huge fan of wearing false eyelashes on top when you wear bold eyeliner but you always find that your eyes look a little bit imbalanced without amping up the bottom lashes as well? Sure, you can give them a coat of mascara, but sometimes that's just not enough depending on the size of the lashes that you put on top. Some people actually do try to balance their look out by gluing small, subtle false eyelashes along their bottom lash line as well, but we've tried it a number of times and we'll admit that it's not the most comfortable thing to wear all day. That's why we adore this alternative idea featured on Pinterest! Get the extra eyeball drama you're looking for by carefully drawing an extra layer of lashes along the bottom when you draw in your bottom liner. You can get as light handed or bold as you please here!
3. 60s cut crease liner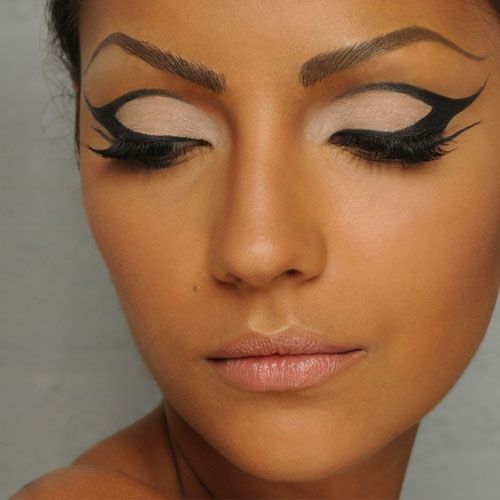 Have you always admired the unique makeup styles of 1960s supermodels like Twiggy and wish you could mimic them so that your own eyes could look that big at the next party you attend? In that case, you simply must take a look at this simple eye makeup tutorial from Corks and Leather! They teach you how to enlarge the look of your eyes by creating yourself a "cut crease" using your favourite black eyeliner. This will make your lid look like it has more surface area, raising your crease a little higher and giving you a wondrous wide-eyed look all round. People will notice your peepers from clear across the room!
4. Rainbow stripe eyeliner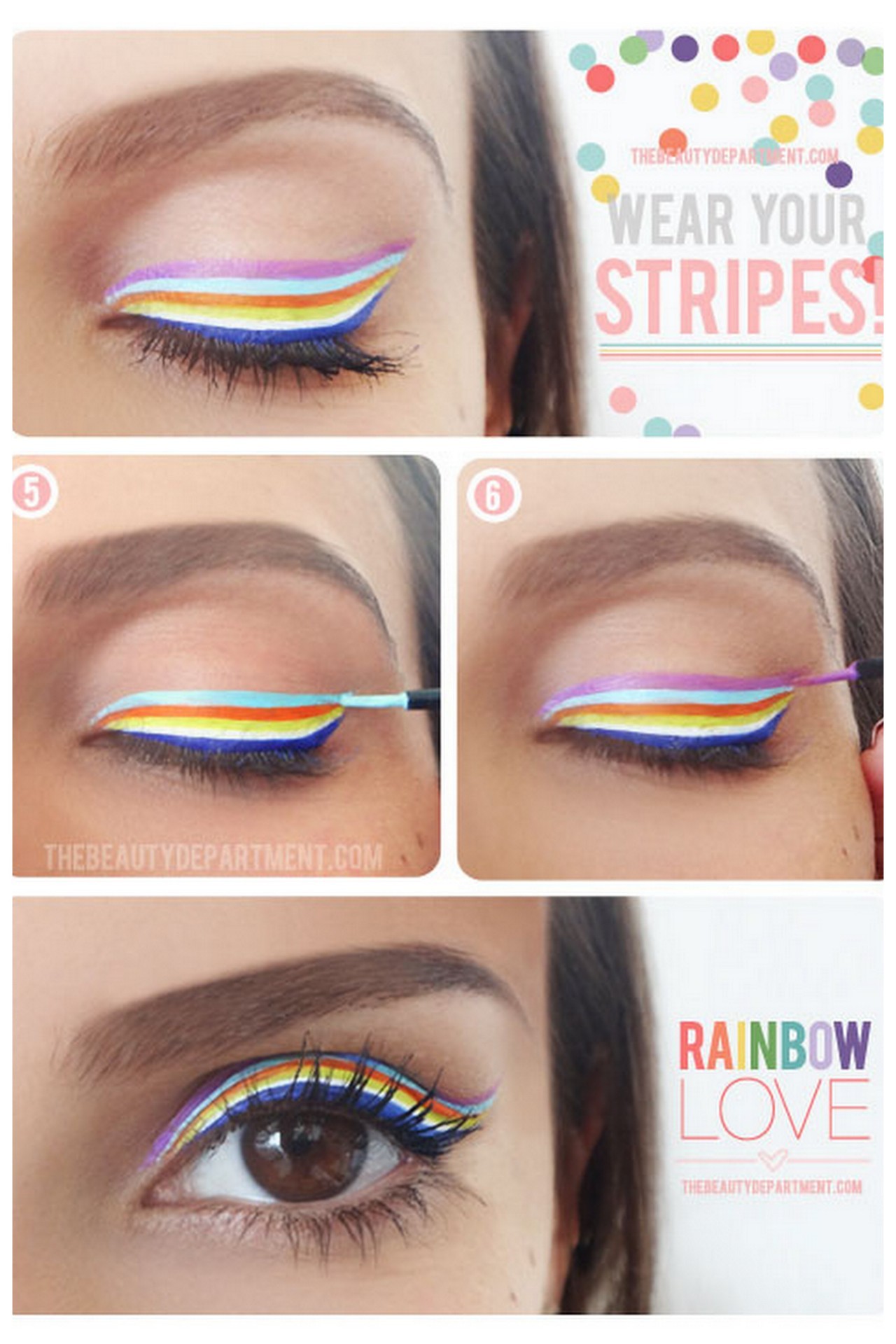 Do you have a steady hand, a love for colour, and a lot of patience? In that case, we think you might be the perfect kind of makeup enthusiast to try something layered and detailed like this brightly colour striping liner look! Besides being wonderfully eye-catching (we apologize for the small pun) thanks to the rainbow appearance, we love the way each layer that The Beauty Department drew on here still curls up into a wing to give the eyes drama and depth.
5. Coloured water line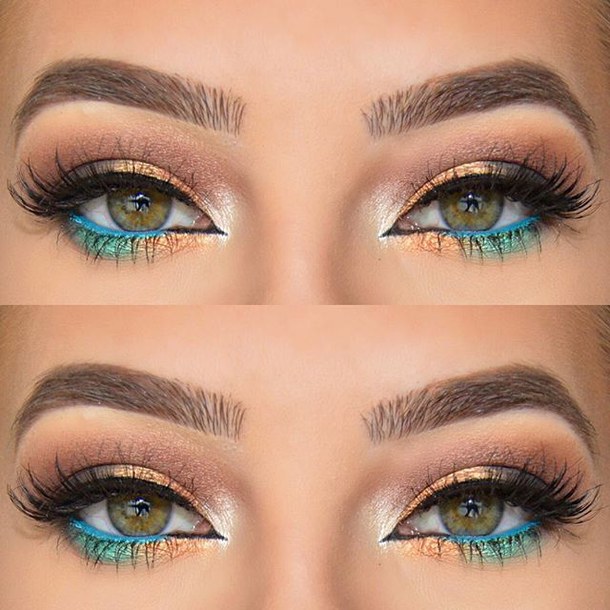 If you were a teenager in the early 2000s like we were, then you also grew up and began experimenting with makeup during the era of "scene kids" who heavily underlined their eyes with black pencil, carefully tracing a kohl liner along your waterline without making your eyes tear up so it all disappeared. Well, lining your water line is actually still in fashion all these years later, but just in new ways! One of our favourites is the idea of lining your very inner corner in black for impact but fading that into a much bright eyeliner that suits your eye colour and really makes your makeup pop. Favim chose an electric blue that we just can't get enough of!
6. Bright scalloped liner

Are you an avid follower of fun, often hilarious makeup trends and you've only just discovered the beauty of makeup stencils? We haven't known about these for very long either but when we did first come across them, we'll admit that we became just a little bit obsessed. We were particularly enthusiastic about them, however, when we learned that you can actually make your own eye makeup and brow stencils in just about any shape you please! This stunning DIY scalloped liner tutorial from Our Vanity is the perfect example of what we mean. We're particularly fond of how they used a bright blue liner to really make the shape stand out, rather than just settling on classic black.
7. Spiked double liner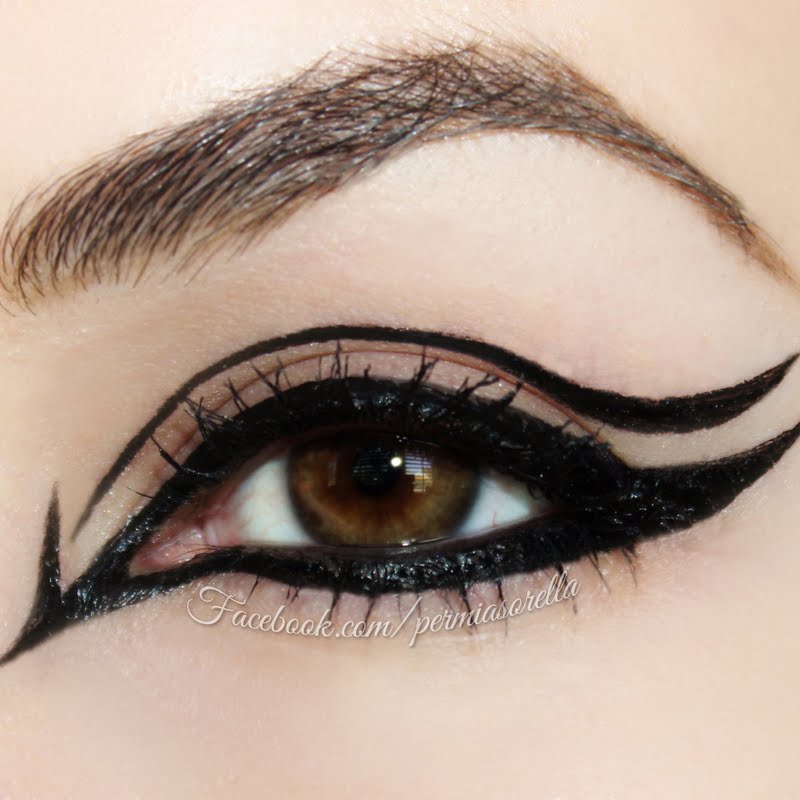 In most dramatically lined makeup looks we come across, the focus of the look happens along the top lash line, making the eyelid and the top of the eye the focal point of the makeup. Permiasorella, however, is here to remind you that the bottom of your eye and the lower lash line can totally be the star sometimes too! They suggest putting a cool spin on things by creating a dramatic lower wing that's spiked in the middle but still adding detail on top for the sake of balance by thinly lining the top lid and adding a symmetrical but bold cut crease. This might not be the kind of look you'd wear during a family dinner or out on a first date, but it's awesome for a night out dancing with your friends!
8. Sharp Egyptian inspired eyes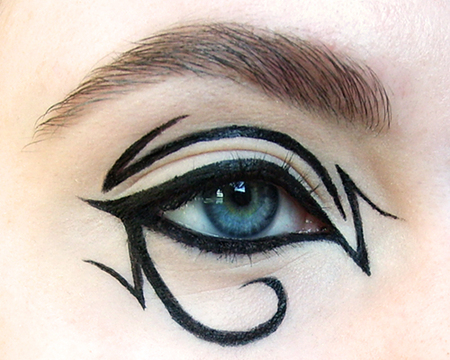 Do you really only dawn lots of black eyeliner when you're headed out for Halloween or costume parties, but you've always wanted to learn how to do that classically beautiful cat-inspired Egyptian style makeup that you see every year? Well, it might not quite be Halloween yet, but if you start practicing now, you'll have mastered the look by the time October gets here. Hows To Do shows you how to make an awesomely graphic Egyptian eye that will have everyone wondering whether a trained makeup artist help you out.
9. Dainty floral liner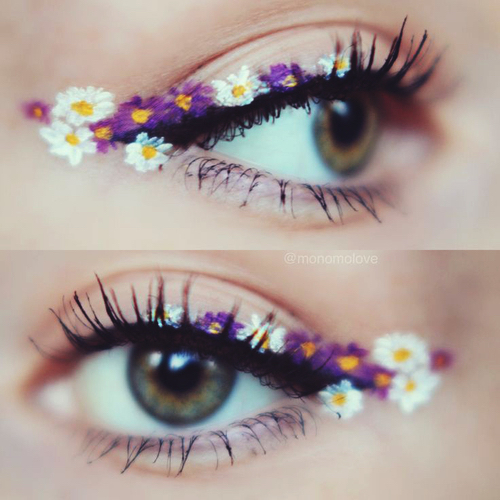 Just like any other form of art, makeup artistry often uses the same skills that you'd use elsewhere in your artistic and DIY arsenal. That means that you might have a particular advantage at creative makeup if you already feel confident doing things like hand painting! We love the idea of putting those skills to good use to create a whimsical floral liner just like this feature on Favim. It might not be the most versatile everyday look, but think how impressed your friends will be when you show up to their next party having maximized your flower child potential by just fully replacing our eyeliner with tiny blossoms!
10. Mini rhinestone liner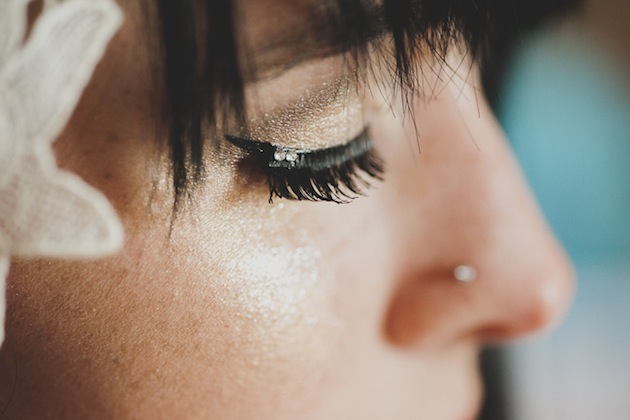 Are you looking for just the tiniest touch of glamour when it comes to your next creative makeover, but you'd still like to be able to wear the look out for a regular day or maybe even to work if your workplace doesn't mind makeup and accessories? Then you need to check out how Bridal Musings made use of little silver rhinestones by carefully gluing them (with safe cosmetic or lash glue only) along the lash line on top of a good winged liner. This look will get you through the day and on into the evening after work when you go out for a cocktail with your best friend on a Friday!
11. Lined inner corners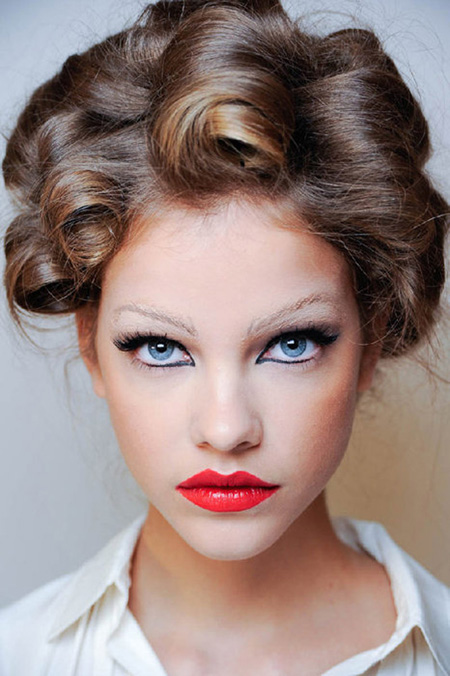 We've talked a lot about winged eyeliner (you can probably tell by now that it's our favourite shape and style) and ways to highlight the outer corner of your eye, but what about the inner corner? That area of the eye can look just as stunning and dramatic if you line it properly! Our Vanity shows you how to emphasize you inner corners in a sharp, neat way that draws the eye and gives your whole look a different angle than usual.
12. Bottom-heavy liner
Were you very intrigued by the idea of emphasizing the bottom of your eye along the lower lash line for once but you're just not sure the previous sharp look that we showed you was quite your style? Then perhaps you'd prefer something a little more glamorous and smoky instead! London Beep reminds you that thickly lining your lower eye doesn't have to throw the look off balance and can actually increase the vertical symmetry of your eye in a really pretty way. We think it adds some great intensity!
13. Pyramid double liner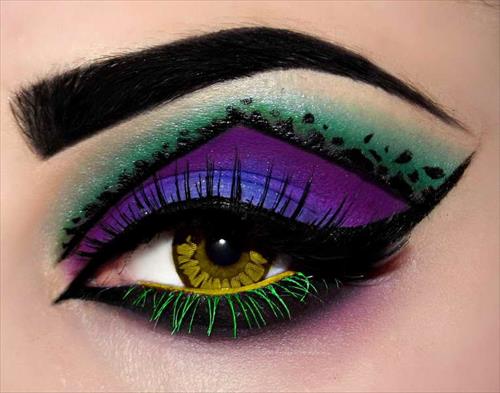 Now that you've been introduced to the idea of a dramatic cut crease, are you already exited to start getting creative with the look and experimenting with shapes? Then why not get a little more angular with your look and add a pyramid-inspired peak in the centre rather than rounding it off? We love how this look from Newnise combines that and some awesome colour play for a look that's truly one of a kind.
14. Sharp triple tails liner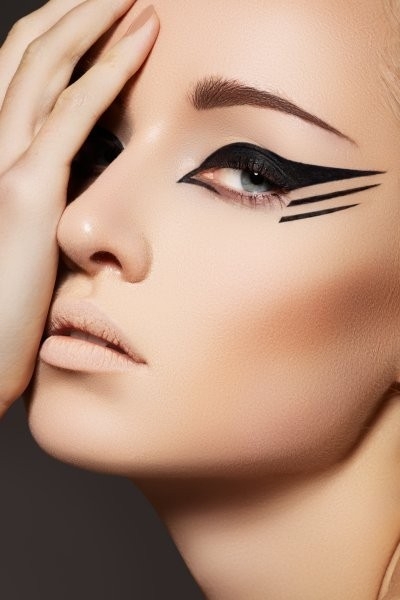 Are you slightly intrigued by the styles that line your inner corner but, in the end, you know you'll just always be a winged liner lover, no matter what shape or size the outer corner embellishment is? Honestly, we can't say we blame you! We do suggest, however, that you change things up once in a while just to stay interested. For example, we're completely obsessed with this triple tail look from The Model Stage that features a sharp angle for ultimate sass and style.
15. Metallic top-lined liner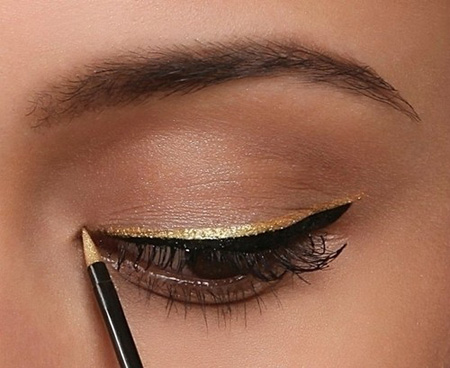 Are you still thinking about the very first idea we showed you where the black winged liner was entirely outlined in another colour all the way around its edge, but you're not quite so bold in your style and looking for a slightly downplayed version of that? Then we think we've got the idea for you! Our Vanity lined their regular eyeliner very carefully with a thin strip of metallic gold liquid liner, keeping the additional colour only along the top for a bit of subtlety (or, rather, as much subtlety as one can achieve with metallic gold eyes)!
Do you know another makeup enthusiast who's always looking for inspiration and new looks to try? Share this post with them to give them lots of fantastic new styles!