Even if you're the kind of person who wears a lot of fun makeup and experiments with your style all year round, Halloween is still a time for a little extra creativity! When we dress up each year, makeup is usually one of the biggest components of our look. If you're the same, then you know the value of practicing the look beforehand and picking a great tutorial to follow.
Just in case you're having trouble choosing a look or finding a good inspiration picture to follow, here are 15 great Halloween makeup tutorials that we've actually tried before!
1. Sally from The Nightmare Before Christmas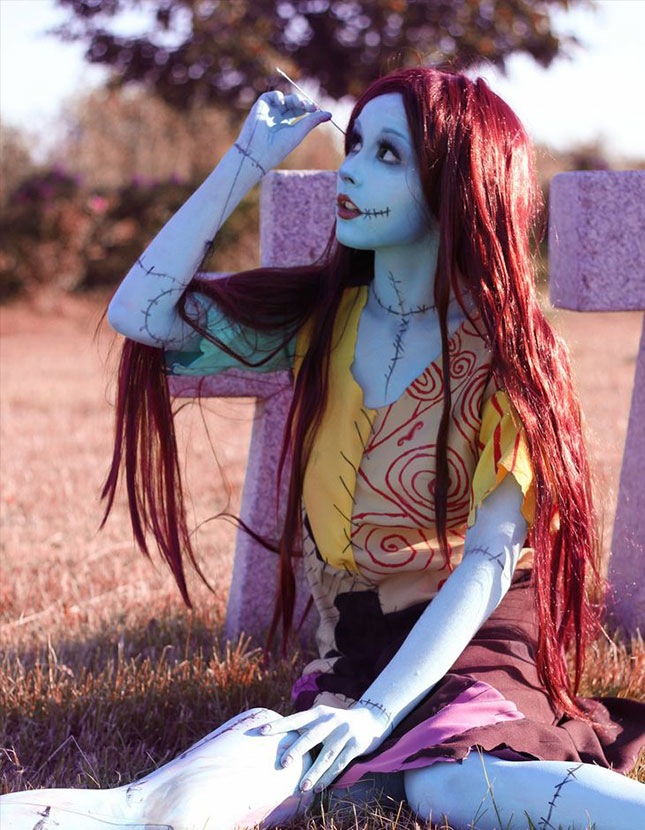 Okay, so maybe this one's a little daunting because, if you do the full look like Fashionably Geek did here, you'll have to paint your entire body! The great part about this idea, however, is that the technique is quite simple even though it looks thorough. Put stitches wherever you think looks good to make it look as though you've been pieced together just like Sally from The Nightmare Before Christmas!
2. Full zebra makeover
Do you actually love the idea of body painting yourself for a reall dramatic look, but you'd rather something a little less spooky than a stitched girl? Try transforming yourself into your favourite animal instead! We absolutely adore how this idea featured on Model Mayhem takes the idea further than just painting your skin and extends up into the hair.
3. Turquoise pop art zombie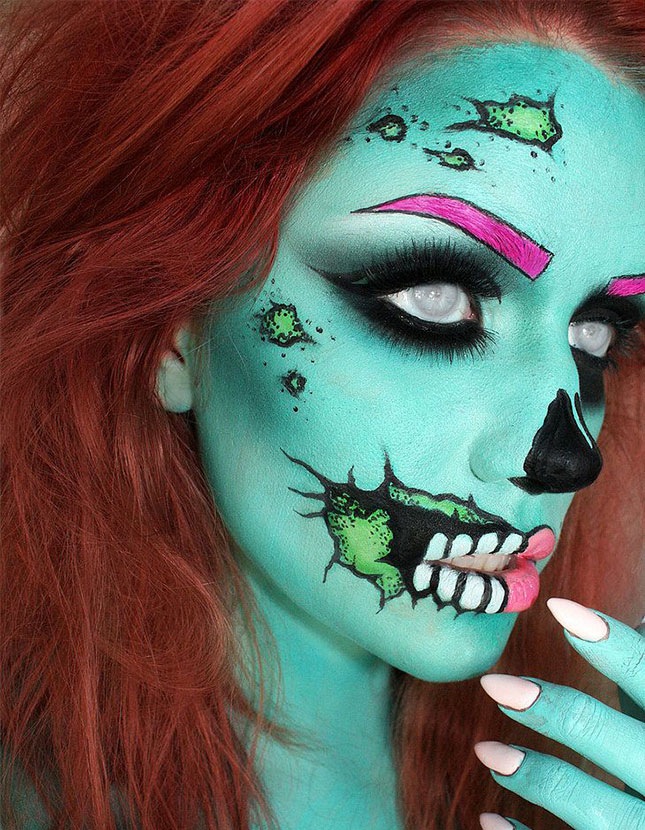 If you're got Instagram and you're a makeup enthusiast of any level, you've probably seen countless pop art, comic book, and Lichtenstein style makeup looks in your scrolling. This pop art zombie, however, is one of our absolute favourites! It's a colourful, creative take on the idea of turning yourself into a flesh eating creature, without having to cover yourself in all that sticky fake blood. Check this look out on Pop Sugar.
4. Pulled jaw teeth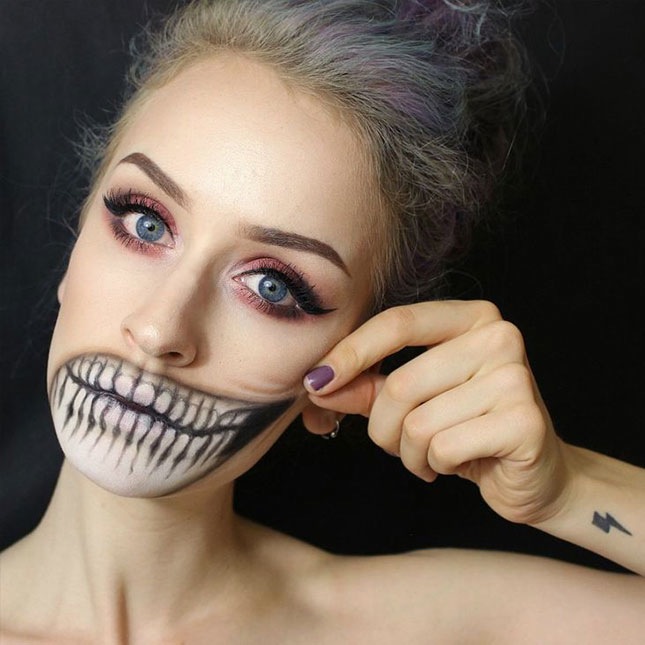 The beauty of makeup is that, with a  few careful strokes of a brush, you can turn your whole face into an optical illusion. Whether you have an entire look put together to suit this design or not, this idea from Pop Sugar will impress people on its own. It's also a lot easier to do than you might think!
5. Peacock feathered "mask"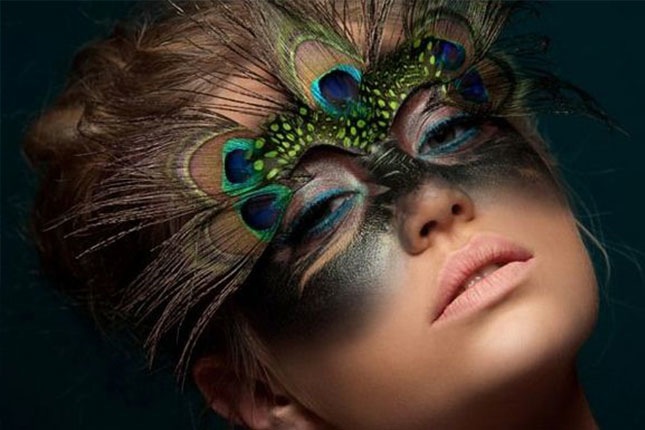 Have you always wanted to impress Halloween crowds with the perfect peacock makeup but you can't find a mask that measures up to what you're picturing? Grab some loose feathers instead, since they're probably easier to find, and then follow Keltie Colleen's lead in using cosmetic glue and makeup to create a feathered "mask" right on your face.
6. Sultry spiderwebs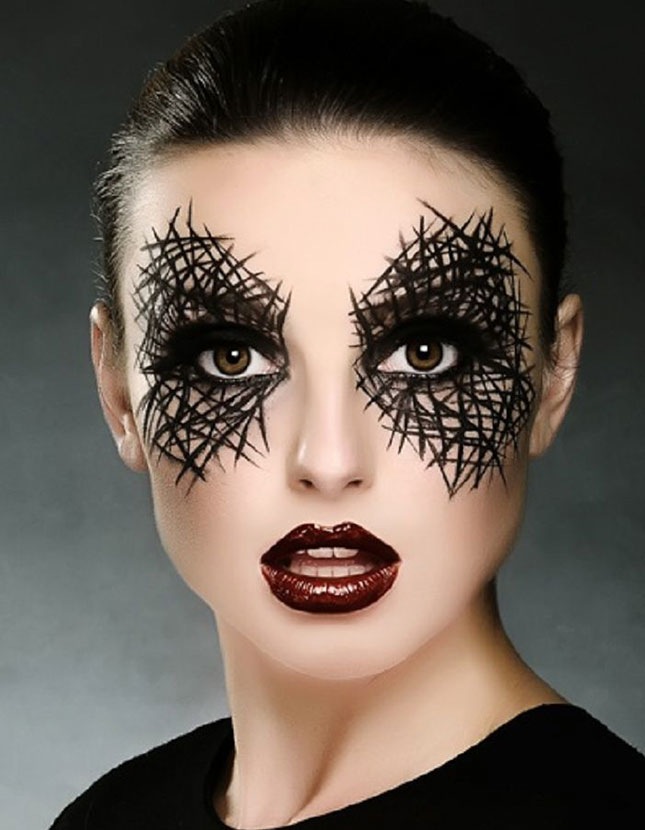 Okay, so this is a pretty abstract take on spider webs, but that's why we like it so much. The effect of this criss-crossed makeup technique is somewhere between looking like a tangled web and looking like your face has been scratched out with a pen in a picture. Get all the creepy details from Discover 0.
7. Lace masquerade "mask"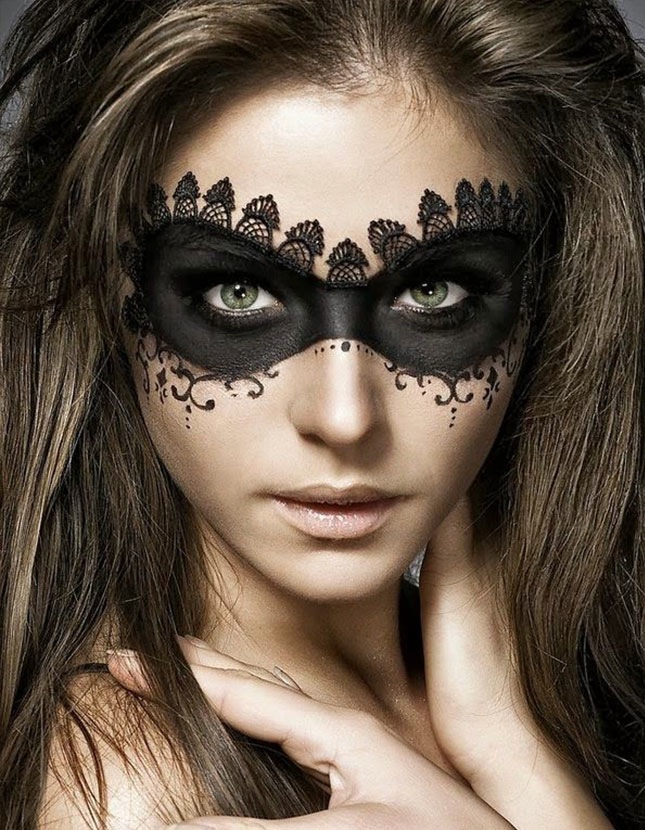 Do you have a steady hand, lots of patience, and a good attention to detail? Then perhaps this painted on lace "mask" is the makeup challenge you've been looking for when it comes to impressing your friends this Halloween! This look calls for  a fine little brush and an eye for symmetry, but you'll feel proud of the pictures you take throughout the night. See the details on Discover 0.
8. High fashion mime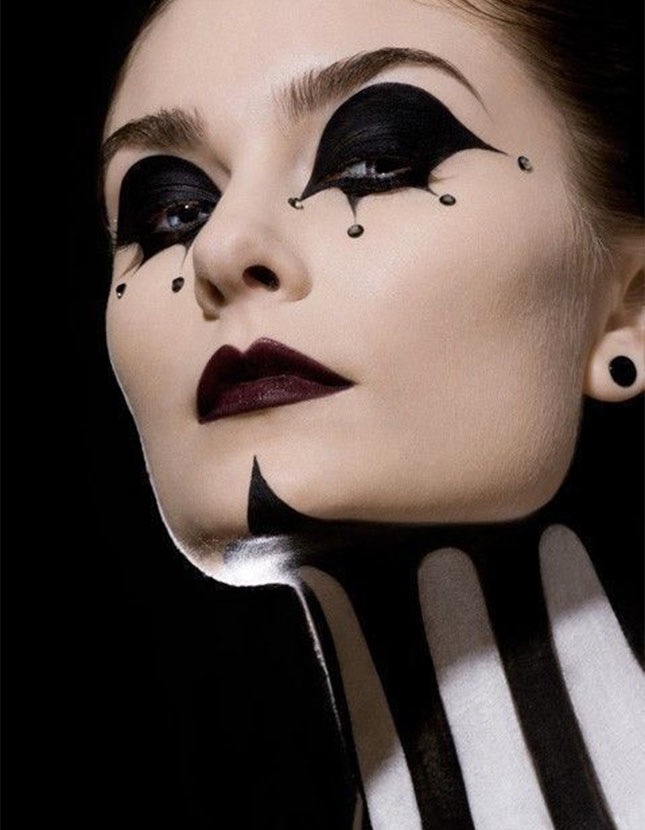 When we think of mimes, we usually think of simple white makeup with black lips and a little bit of eyeliner. Elke, however, redirects your thought process to a more high fashion alternative! The shapes, lines, and colours are still relatively simple, but the downward splayed angle of the eye makeup is especially stunning. Try placing a black rhinestone at each dot!
9. Couture clown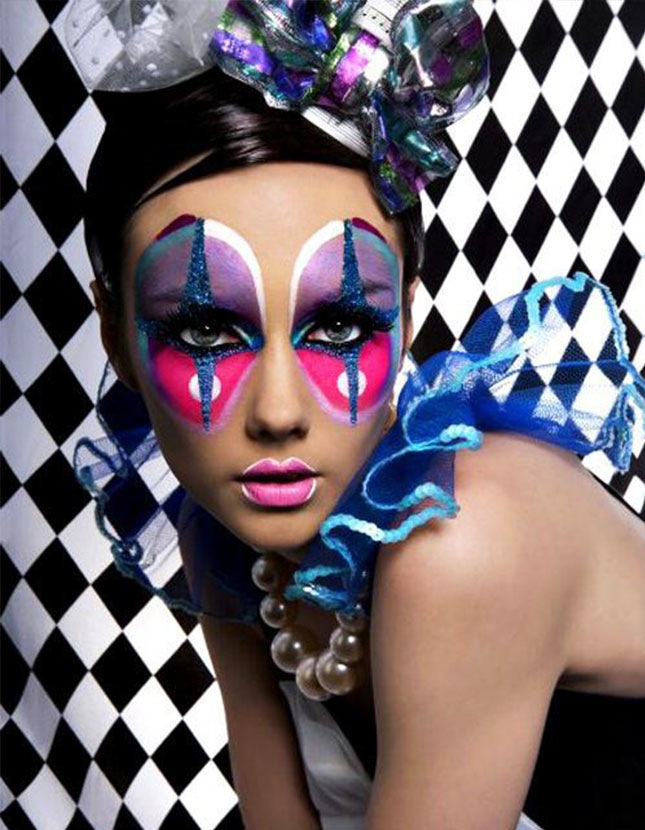 Do you love the idea of a high fashion mime but you're too much of a colour lover to stick to just black and white? Here's a bright couture clown alternative for you! We're obsessed with the idea of adding glitter to the makeup to make it a little more eye catching. See how it's all done on Elke.
10. Graphic novel eyes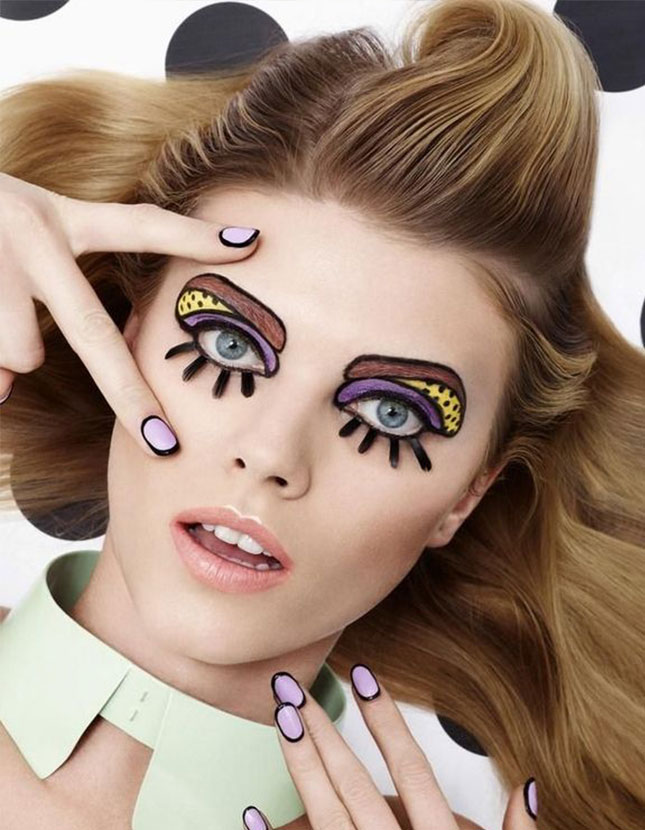 Did you like the pop art zombie, as well as all the other comic book makeup you've seen in your research, but you're not ready to commit to such a heavily painted look? Try just doing your eyes instead! These slightly more subtle pop art details by Keltie Colleen are a great way to make sure parts of your face stand out without getting paint all over your clothes.
11. Cheshire cat smile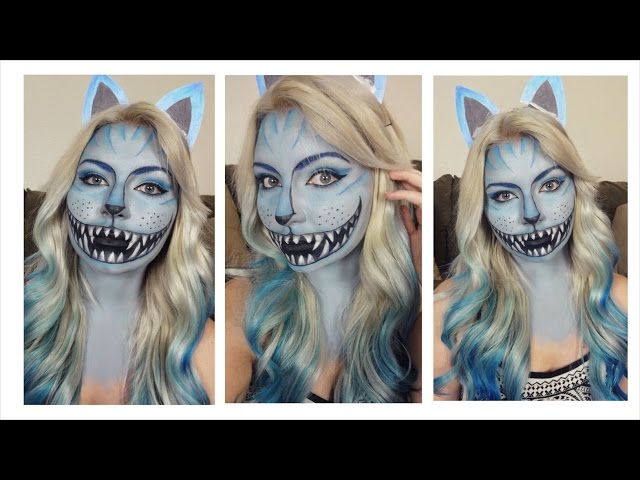 You probably don't have the special effects makeup it would take to give yourself an actual widened smile complete with sharp fangs, but makeup and a steady hand can help you circumvent those things! LinzMushel
guides you through the process of painting stripes and teeth fit for a Cheshire cat.
12. Rainbow zipper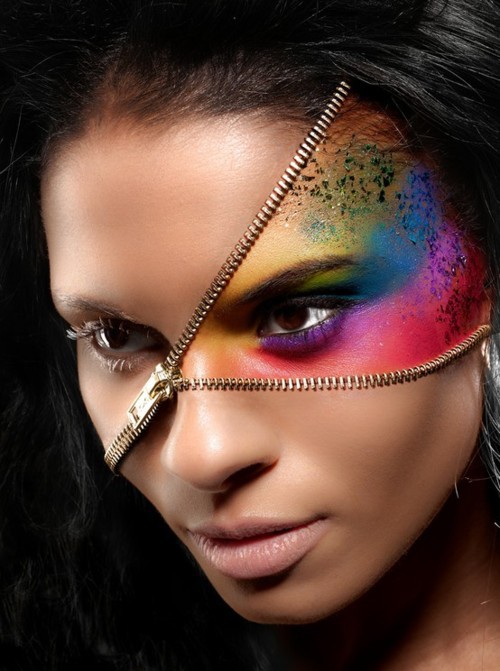 Do you actually like the idea of getting a little bit SFX with your look this Halloween? Then follow the example set by this idea from Everything I Love for gluing a half fastened zipper across your face! Leave the end of the zipper opened and splayed and paint the inside however you like. You've probably seen pictures of blood or robotic metal painted inside a zipper, but we're pretty big fans of this rainbow colour concept.
13. Poison Ivy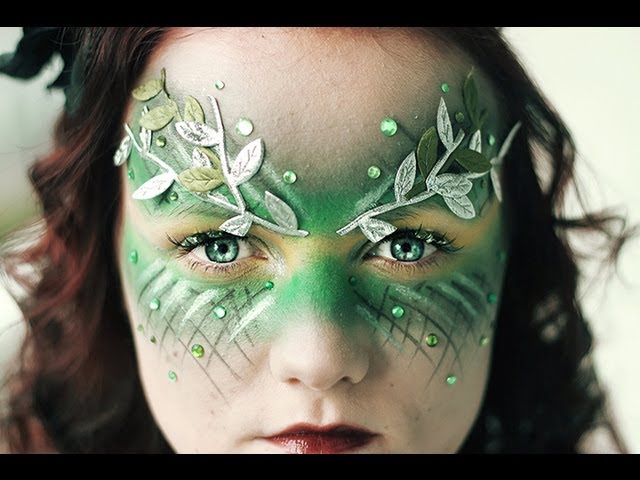 MaanoMeikka shows you how to use similar gluing techniques as the peacock feather mask in order to glue pretty green leaf appliques and delicate rhinestones around your eyes for a poisonous villain look. We think the shading and blending techniques used here would do the real Poison Ivy justice, even though they're quite simple.
14. Adorable deer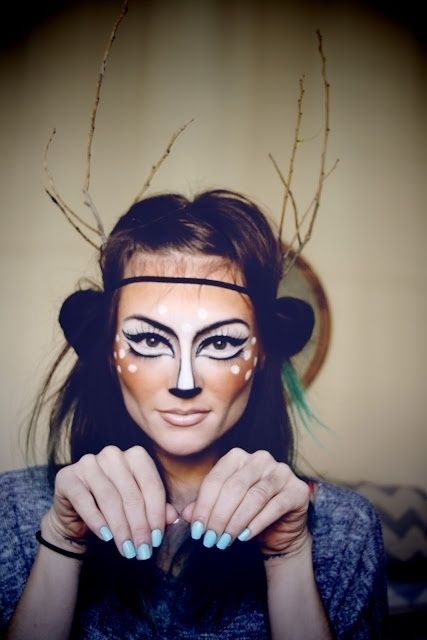 Are you hoping for a look that's still makeup heavy but a little cuter than the zombies and vampires around you? Check out how Courtney's Craftin' and Cookin' created this simple but totally adorable deer look! We love the big doe eyes and the snowy spots. Twigs will do for antlers if you don't have a head piece!
15. Queen of Hearts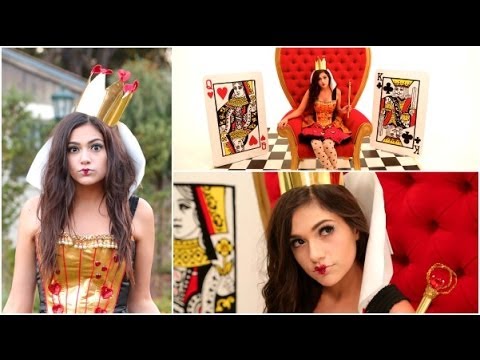 reminds you that makeup doesn't have to be complicated to be impressive! This pretty Queen of Hearts look is really quite simple, but the subtle details, like a strong brow and heart shaped lips, are really what make the look. Pair it with a heart covered corset and a dramatic collar with a crown, and you're fit for a royal night! Check the look out on Bethany Mota.
Do you know someone who could use a bit of Halloween makeup inspiration this weekend? Share this post with them so they can see a few new ideas they might not have thought of!