Even simple Long Hairstyles look marvelous because of the natural aesthetic look they possess. Not all are able to manage long hair. Some are restricted by their genetic length, some consider long hair a burden, while some struggle with hair fall and other scalp related issues.
There are countless possibilities while planning to style and cut your long hair. Layers, textures, bangs, shag and many other styles are available to make you look beautiful.
Hence, if you are looking for some eye catching, elegant, trendy and funky Long Hairstyles for your long beautiful hair, then you have jumped to the right place. Go through these beautiful directory of Long Hairstyles and pick your favorite one to get this season.
23 Pretty Long Hairstyles to Try Right Now
So, the wait is over! Just take a look below and learn how to style your long hair with no effort to look chic and stylish. Just pick a single one and you will just rock the occasions!
1.      Multilayered Mix Long Hairstyle: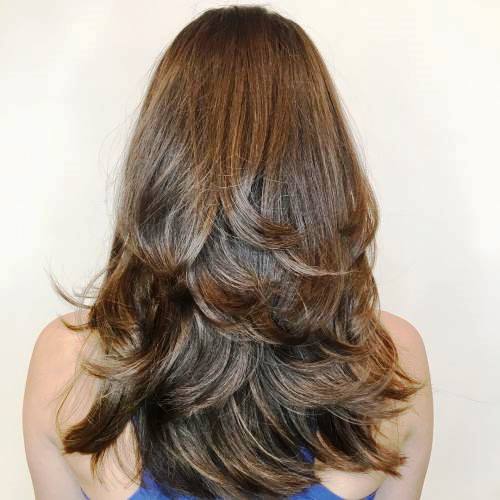 If you are looking for a chic and sleek haircut, then this multilayered mix long hairstyle is your ultimate destination. It provides a perfect movement and body to hair. The secret to haircut is a mixture of layers. Short layers are there just to frame the face.
While all other layers have a comparatively longer length. So prepare yourself to get your sleeked long hair to this one of the trendiest Long Hairstyles.
2.      Face Framing Long Layers: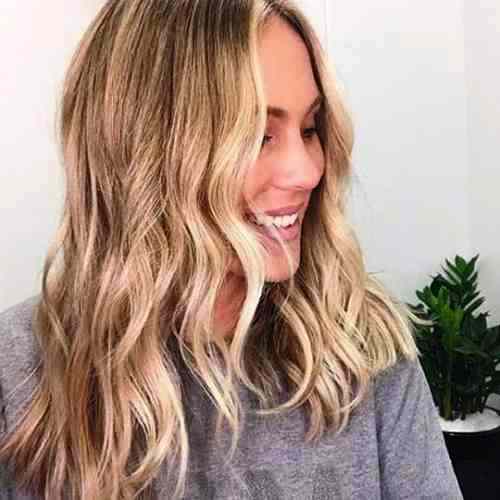 No matter what is the color and texture of your long hair, this face framing long haircut always gives a flattering look. In this cut, long layers are blended with short layers. However the layers covering and framing the face are responsible for giving a unique attire.
3.      Mix of short, Medium, and Long Cut Layers: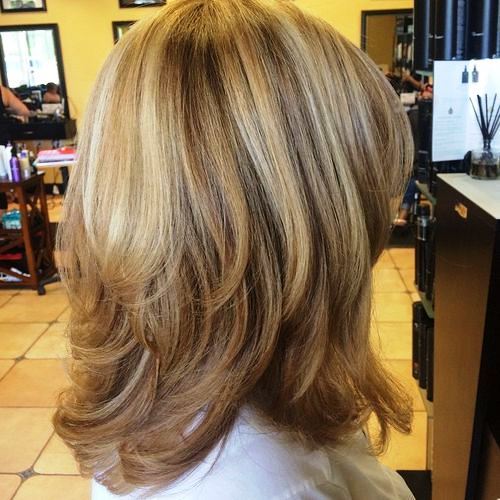 One of the easiest ways to get a fabulous look is to provide a layered texture in your long hair. In this haircut, a mixture of all types of layer lengths such as short, medium, and long is provided and blended properly.
This multi layer texture imparts an eye catching movement and it is easy to style. Buns, braids, ponytails, or shaggy, choose any style and get that perfect look in no time.
4.      Straight and Chic Long Haircut: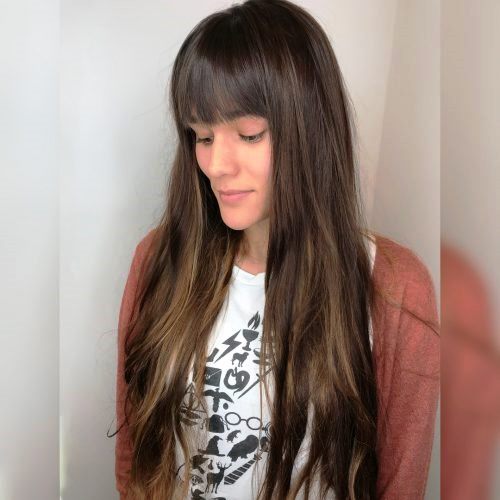 If you are blessed with shiny long hair and looking for something simple yet elegant haircut, this hairstyle is a right choice to opt. It gives a chic and sleek look to your hair without layers. At the end, feathered cut is provided to create a movement without losing hair length.
So, to pronounce the aesthetic look of your long shiny hair, straight and chic long haircut is one the best Long Hairstyles.
5. Feathered Layers with a U-shaped Cut for Long Hair:
Long hair gives you a room to try a number of Long Hairstyles. Long layers have always remained in fashion because they are simple and easy to style. For both wavy and straight hair types, this cut goes perfect.
Get a U-shaped cut at the end, which is responsible to provide a perfect and elegant fall. Hence, with the least mess you can get an amazing attire. So, feathered layers with a U-shaped cut for long hair is one of the glamorous Long Hairstyles of this season.
6.      Long Beachy Curls Haircut for Long Hair: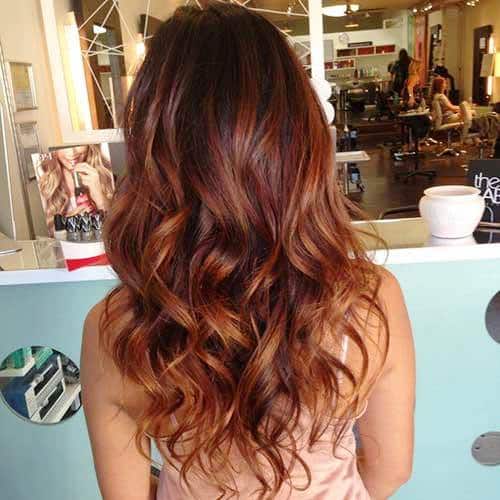 If you have long hair, but they seem lifeless and heavy. Then this long beachy curls haircut may provide you a better look. Keeping the top section straight, loose beach long curls are provided in the rest of hair.
It provides volume to hair and are easy to manage with low maintenance. If you are coping with a busy routine, then this long haircut is here to save your hairdo time.
7.      Dimensional Layered Haicut for Balayage Long Hair: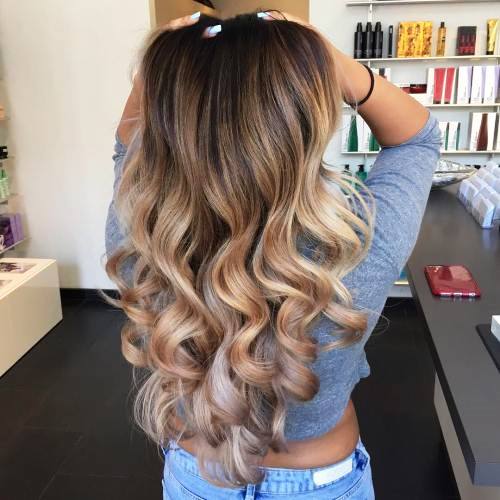 If you are ready to play with the color of your hair, then this is one of the trendiest Long Hairstyles. Provide choppy layers in your balayage and  long hair to get the desired attire. To really pronounce the color transition and texture, further add beach waves.
Hence, dimensional layered haircut provides a next level charm in your balayage and long hair.
8.      Long Layered Ombre Haircut for Long Hair: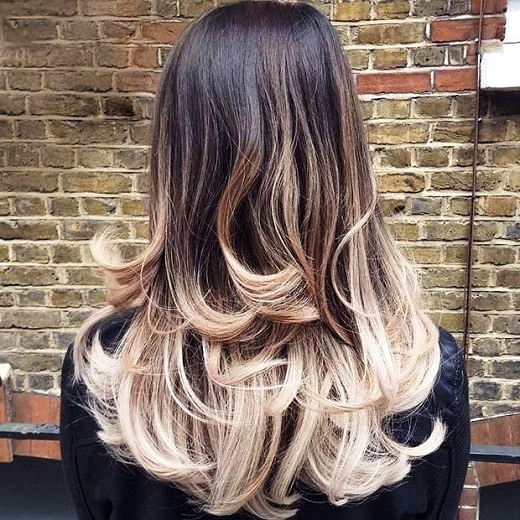 This long haircut comprises of only two layer lengths, short ones and long ones with no in between. If you have fine and thin hair, then this long haircut for thin hair provides so much volume and movement that you desire. And is a perfect choice if you love to wear ponytails.
For sure, long layered ombre haircut will take your ponytail look to a next level for your long hair
9.      Loose, Messy Curls with Bangs: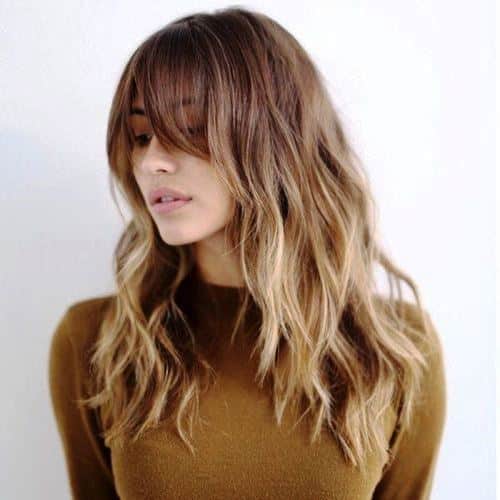 If you want your hair to look heavy and voluminous then loose, messy curls with Long Hairstyle with Bangs is a must to consider a choice. All you have to do is to use different barrel sizes, while curling your hair. Also keep alternating the curl direction.
Without being looking overdone, this haircut provides you a perfect attire.
10. Medium Textured Layers Haircut for Long Hair: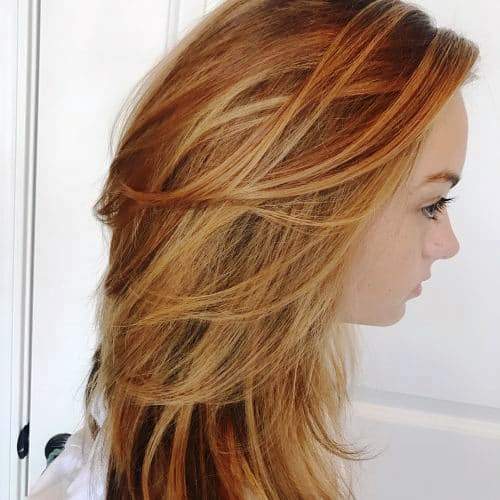 With long hair, it becomes sometimes difficult to get the versatility in hairstyle. The textured  layers in the middle of the long hair are enough to provide a new look with new dimension. Towards the front, get a short hair cutting to get an extra lift.
So, if you are bored of your routine hairdo, then this medium textured layers haircut for long hair is one of the classiest Long Hairstyles to try this season.
11. Shorter Stratified Strands for Long Hair: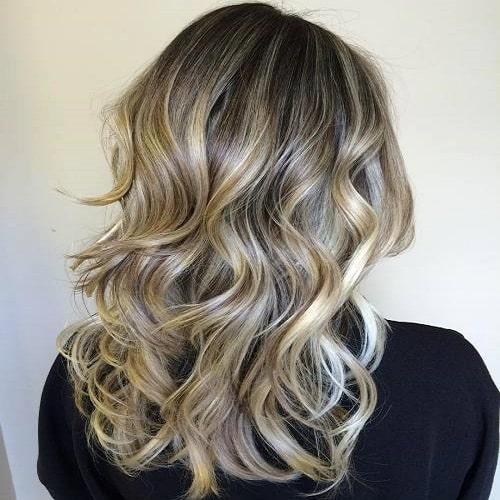 Are you tired of your ponytail style and want to try something new? Then this shorter stratified strand of long hair are what you are looking for.
This is a perfect style for those who love to carry their hair down freely. By giving some slight highlights, this attire looks an amazing and elegant deal. So, get a salon appointment to try this one of the glamorous Long Hairstyles this year.
12. Choppy Cut with Sprinkling of Layers for Long Hair: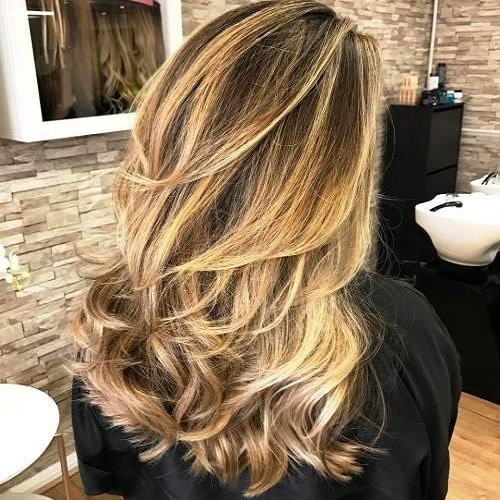 Women with long hair are sometimes afraid of getting layers because they don't want to sacrifice their hair length. This choppy cut with a sprinkling of layers is a solution for such ladies. It adds very light layers throughout the hair volume.
Through chopping cut, you get the same volume and look without losing hair length to get dense layers. Hence, this is one of the Easy Long Hairstyles.
13. Bedhead Layers for Long Hair: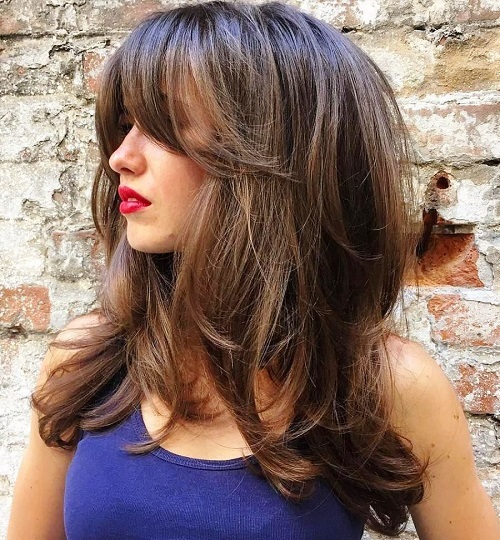 This haircut is another modification in traditional layer based hairstyles. In this style at the end, layers are provided in an irregular manner. Usage of a dry shampoo works well to get some shine in the attire.
So, when you come out of your bed you will look equally gorgeous with this one of the chic and easy to maintain Long Hairstyles.
14. Layers Haircut for Super Long Hair: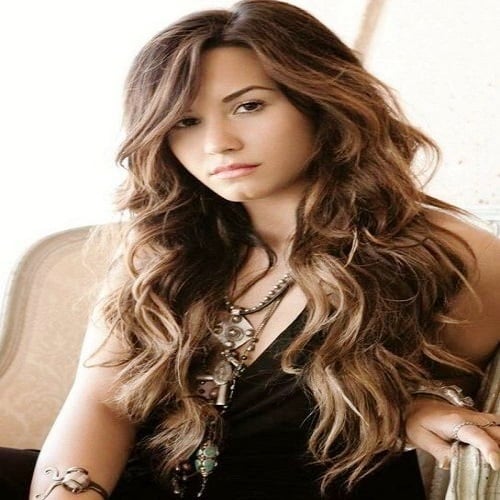 If you love your super long hair and don't want to compromise on the length then try this haircut. So, in this cut first you have long hair layers and then ultra long hair layers. This difference of layer length will give you a lot of dimension in look.
To further add the spice, slightly curl the ends and get ready for a chic style.
Long Bob Hairstyles are essentially classic and give a decent hint of sexiness.
15. Choppy Layers with Small Highlights for Long Hair: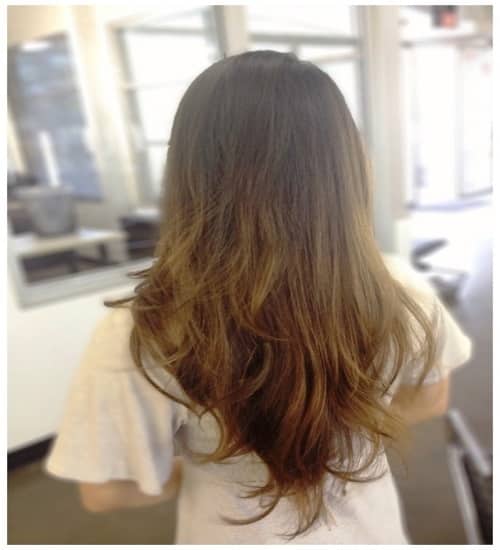 If you are ready to experience a new look with your long beautiful shiny hair, then choppy layers with small highlight style is a great choice. Small choppy layers are added with long layers in a regular manner in this haircut.
To get a glamorous look, try chocolate or blonde shade with this style. To get a perfect look, blow dry your hair, keeping your head down. This way a lot of volume will be added. Polish the ends with a curling iron to get some desired texture and movement.
Further addition of some shiner or hair wax is enough to pronounce the look.
16. Sleek and Straight Tresses: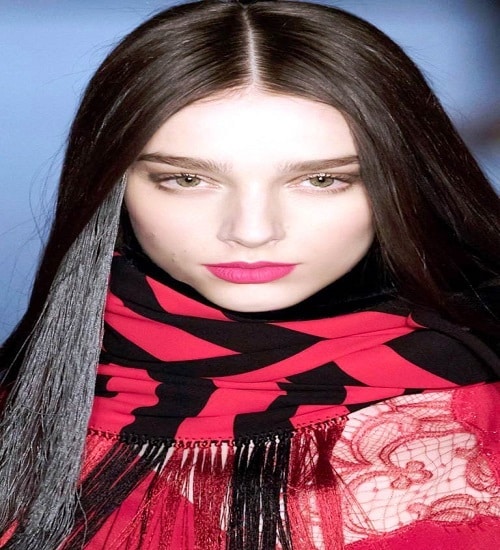 This haircut looks amazing to those who have straight hair. However, to get this perfect look a lot of determination and blowout skill is required. All you need is a straightener, a powerful blow dryer and a round brush to get the sleek and straight tresses.
So, if you are looking for Haircuts for Long Straight Hair, then this cut should be considered.
17. Classic Bouncy Layers Long Hairstyles: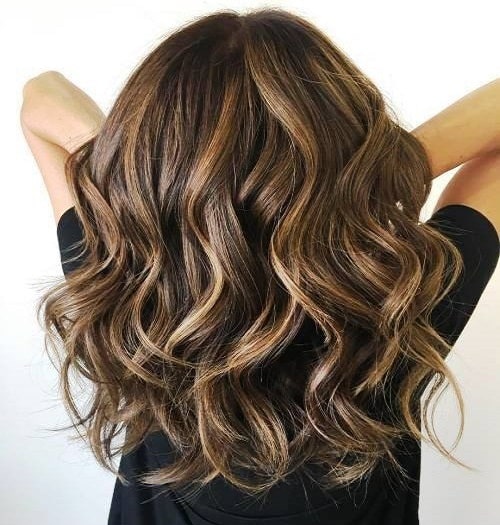 Do you want your hair to sway as you move? Then grab this classic bouncy layers hairstyle. This one is a beautiful free flowing style. By using a curling iron, add ringlets in the back side that will bounce freely while you walk.
Cut your hair a bit down at the middle point from back to get a curtain like attire.
18. Layered Hairstyle with a Flip: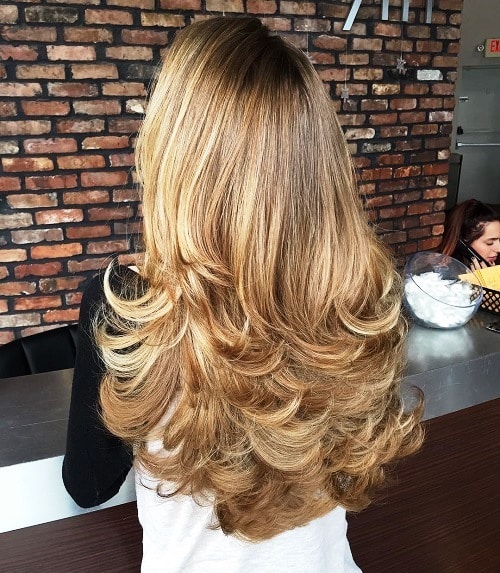 This is another one of the glamorous and classy Long Hairstyle with Layers to try this season. The bounce and body this style possesses, makes it a unique one. If you want to have curls or waves, then layers are must to be added. Because without layers, hair cannot possess waves or curls for a long time.
Medium length and short length layers are added to keep the curls perfectly formed and bouncy. Hence, this layered hairstyle with a flip is a chic addition in the hairstyle world.
19. Long Haircut having Irregular Layers: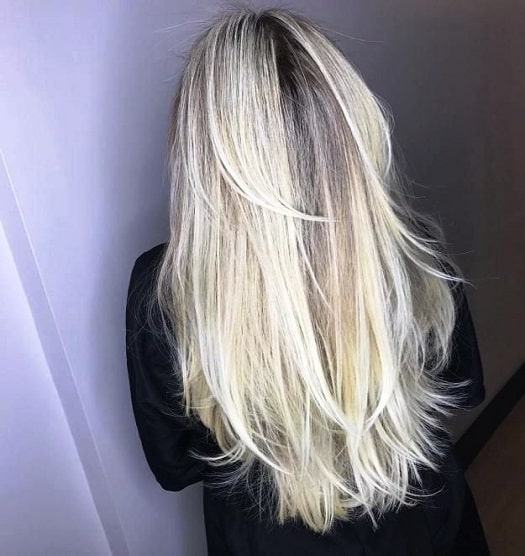 Layers provide you with a lot of versatile looks to carry. Layers are not restricted to follow any definite pattern. If you are looking for an interesting hairstyle then this long haircut having irregular layers can be your first choice.
This cut creates a flowing hair appearance. To frame your face, long and short length layers form a wispy strand. Hence, you can manage your long hair in an amazing way with more style.
20. Long Layers with Long Curls Haircut: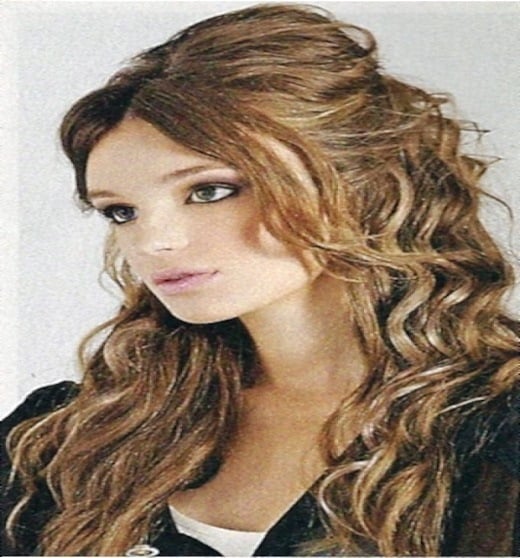 Do you love to carry both layers and curls? Then grab this hairstyle. This kind of long length layered haircuts are made to carry long curls. If hair is heavy then curls may fall totally flat. So the addition of layers keeps them in the desired form.
To get long curls, use either a flat iron or thick barreled curling machine. Hence, long layers with long curly haircut is one of the trendiest Long Hairstyle for round face.
21. Angled V Shaped Layers with Choppy Ends :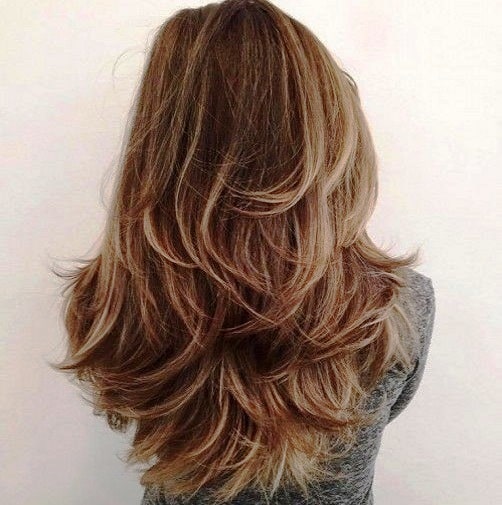 By cutting hair at different lengths one can get desired dimension and texture. In this haircut, layers are provided in V shaped angled style which provide body to the style. On the other hand, choppy ends are responsible for flipping the hair at the end.
With such kind of haircut, simple highlights are enough to emphasize the movement and shape. And for the final touch, you can try to add two different colors in your hair. Hence, this angled V shaped layers with choppy ends is one of the most elegant Long Hairstyles.
22. Dynamic Layers for Thick Long Hair:
Thick hair cut at the same length may seem too heavy and hard to manage. The solution to such issue is dynamic layers haircut. This hairstyle thins down the ends of hair by providing mermaid worthy layers. The wave like shape of these dynamic layers is enough to change your look.
If you want a low maintenance haircut, then this is one of the easiest Long Hairstyles.
We have collected some eye catching Long Hairstyle for Women over 50 which are decent yet modern.
23. Descending Face Framing Layers for Long Hair: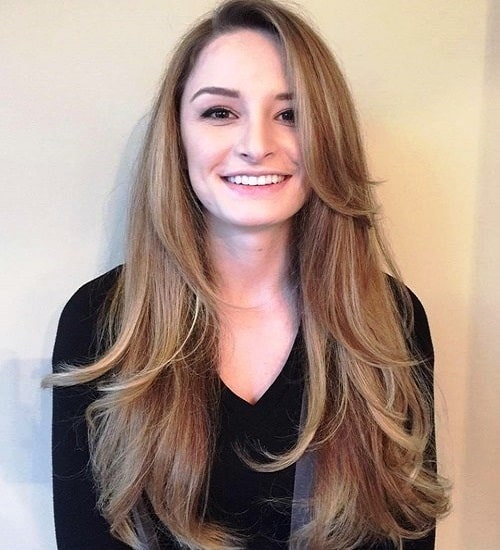 This haircut allows you to play with the layers' length at the front side. Cut your hair in a gradual manner, descending from front to back. Add some spice to this haircut by putting some trendy color in your hair.
24. Wrapping Feathered Styled Layers for Long Hair :(Bonus)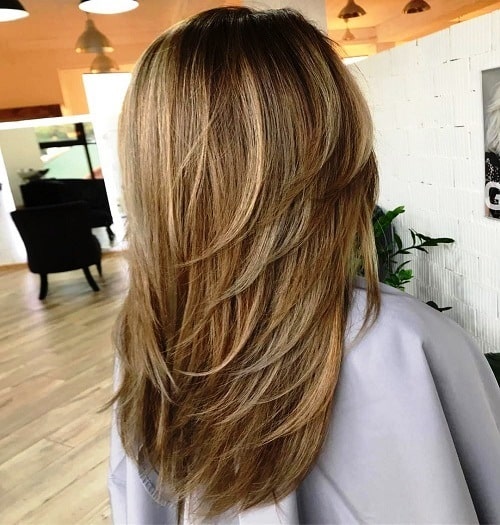 Feathers are too much in fashion these days. The best hairstyles are considered as the ones in which you just woke up and get your way without spending much time on your hairdo. And this is one of such kind of Long Hairstyles.
This cut provides an effortless look.
we have collected some of the must try Long Haircuts for Black Women
Conclusion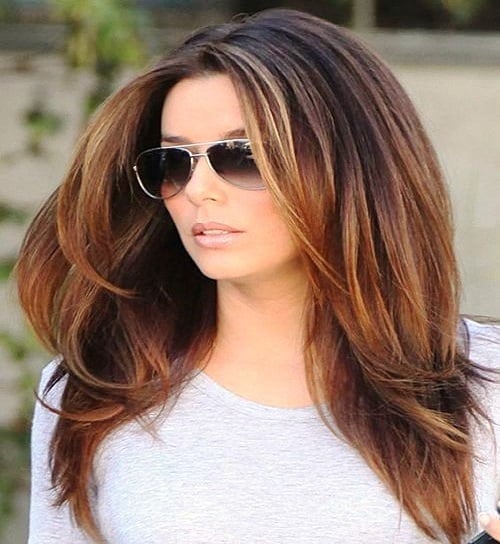 Hence, Long Hairstyles are keenly searched by the women who are blessed with long and beautiful hair. Although this length of hair does not provide a lot of versatility. However, missing two styles and adding highlights in conventional hairstyles can give you an entirely different look.
One can choose a hairstyle out of all above mentioned Long Hairstyles and try this season. All these cuts provide the necessary texture, shape, dimension, and transition to your personality.