Long hair offers a multitude of styling options, one of the most creative being the braid. And there are so many different types of braids; here are 25 of our favorite styles for long hair. And no, you don't have to be a professional stylist to accomplish these…. as with most things, practice makes perfect!
1. Fishtail Braid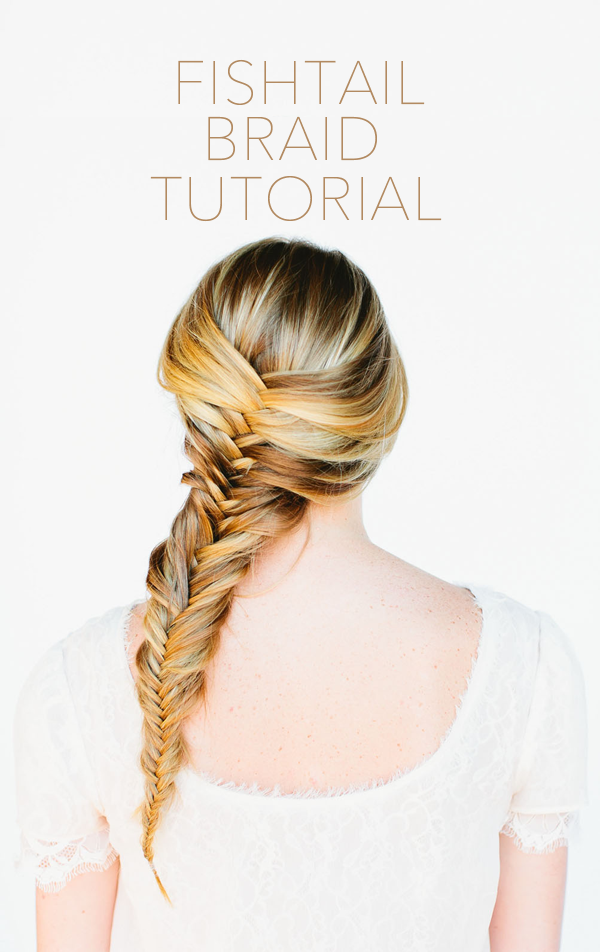 The fishtail braid is an oh-so-pretty take on the original, with an intricate look and a bohemian sort of style. And it's not all that difficult to accomplish! Make your way over to Once Wed to find out how to recreate this beautiful look on your own hair.
2. Braided Up-do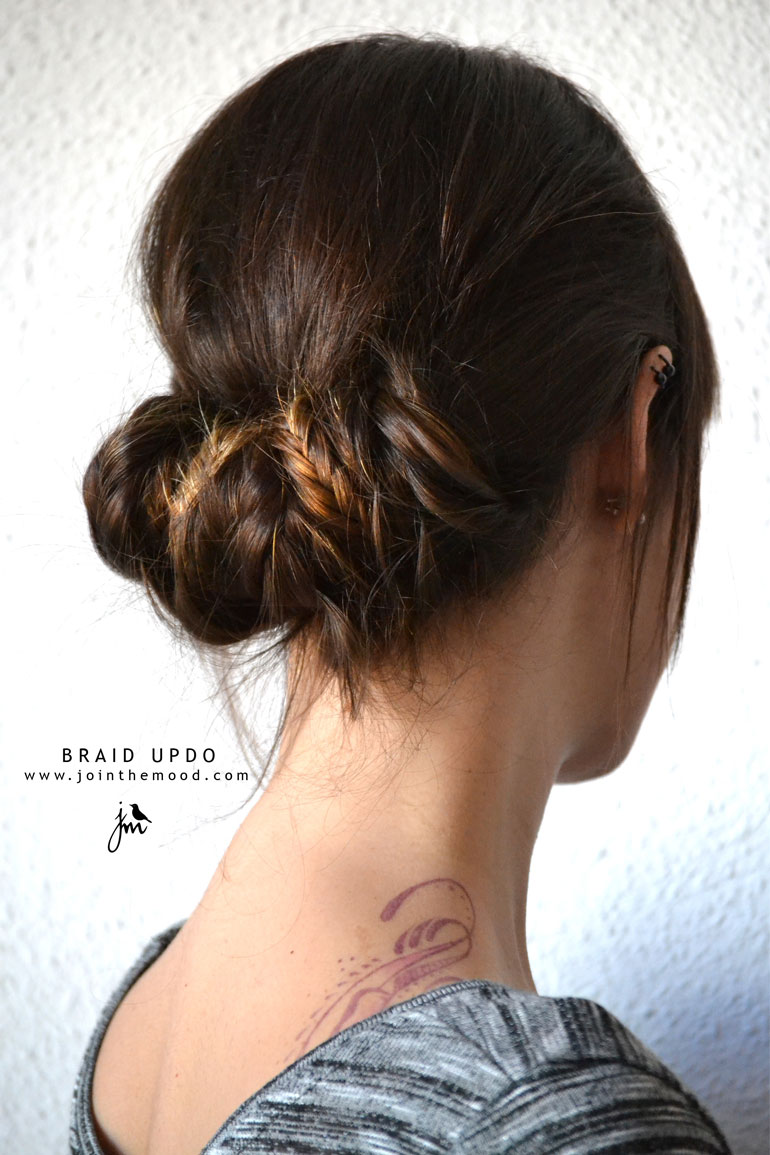 This stunning braided up-do would be a lovely look for a wedding or other fancy occasion. It is made by wrapping small braids around a piece of hair that is tied halfway up. Head over to Join The Mood to check out a helpful photo tutorial.
3. The Boho Braid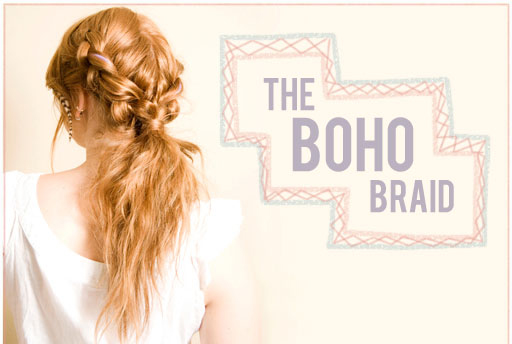 The boho braid is a more casual look, perfect for a festival or a night out on the town. The key to this one is to get lots of volume in your hair before you begin the braid. Make your way over to The Beauty Department to find out how to do it yourself.
4. Boho Rose Braid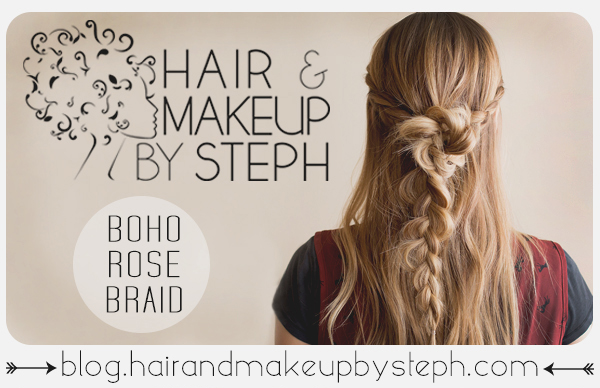 This half up, half down look has a pretty twist in the middle that is reminiscent of a rose, with a braid coming out of the bottom. It works best if you start with wavy hair. Head over to Hair and Makeup By Steph to check out the full tutorial.
5. Half Up Braid Bun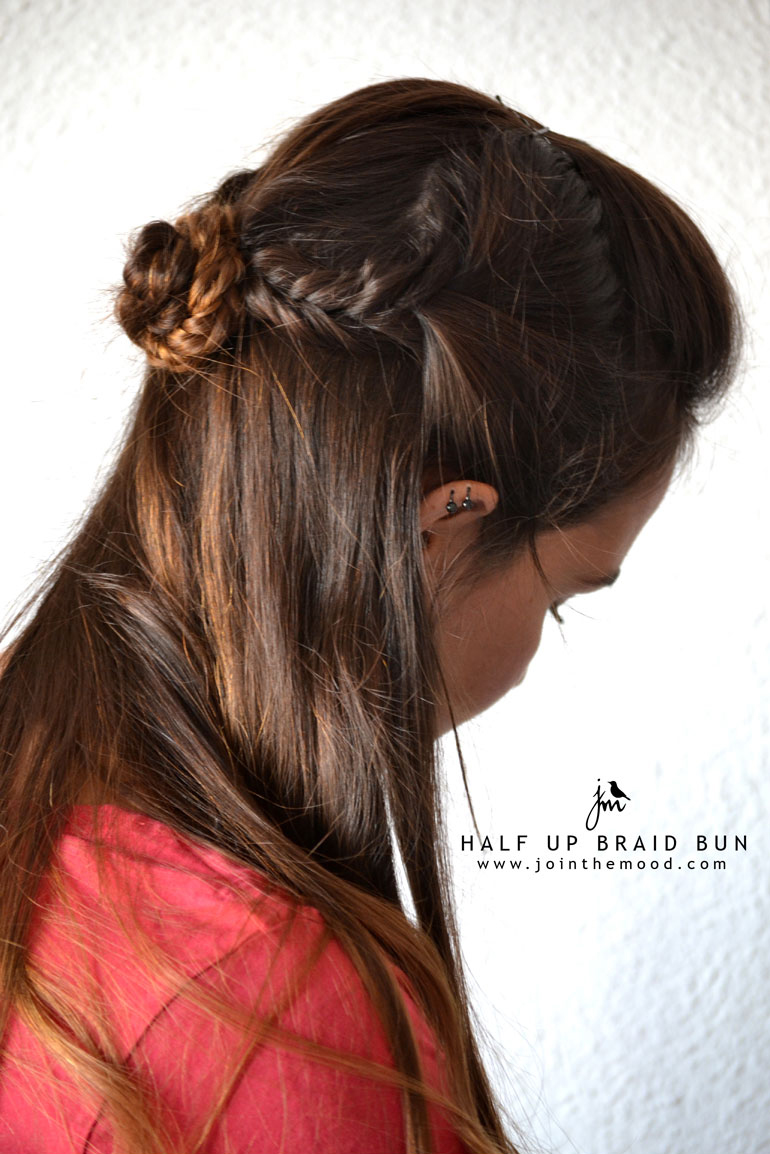 Here's another half up style, this time with two smaller braids wrapped in a circle to form a bun. This one has a more sleek look, and works with either straight or slightly wavy hair. Check out the simple instructions over at Join The Mood.
6. Pull Through Braid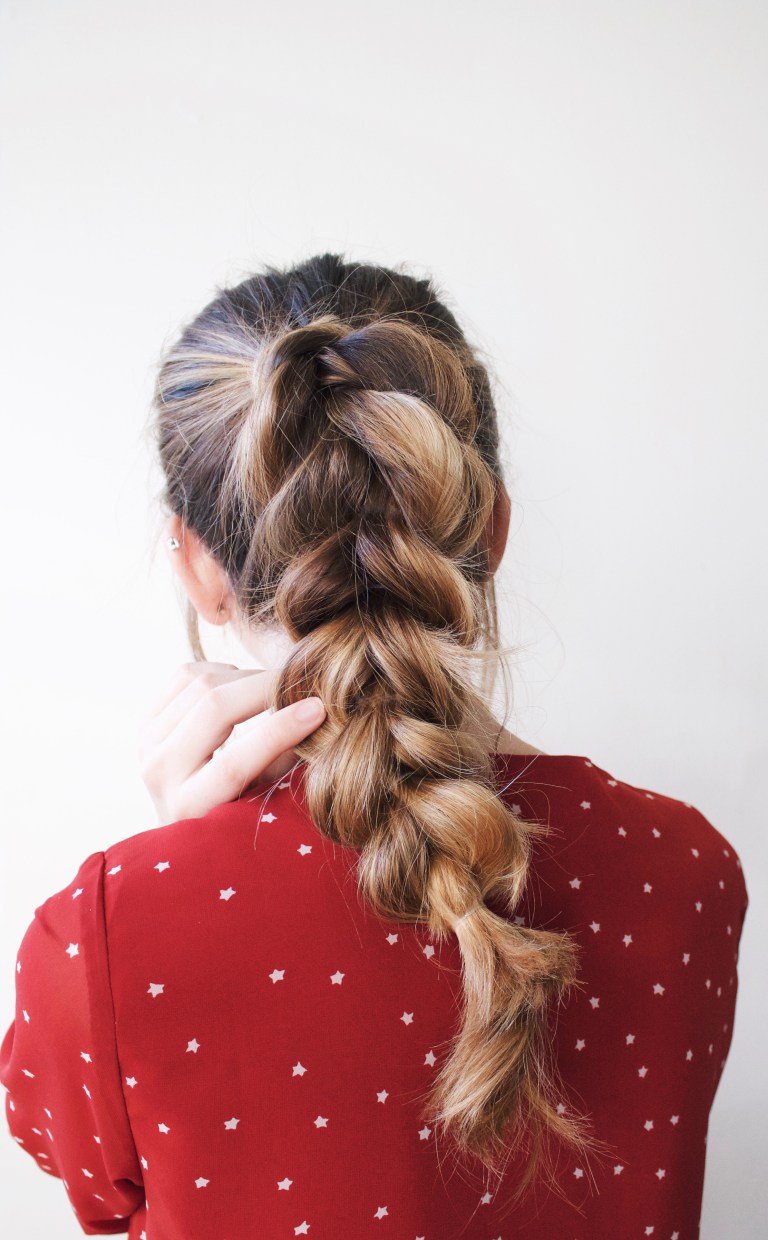 This voluminous braid is referred to as a "pull through" braid, and you'll see why once you check out the tutorial. It is not technically braided although the end result looks like it is. Head over to Breakfast At Vogue Blog to find out how to do this yourself.
7. Fabric Braid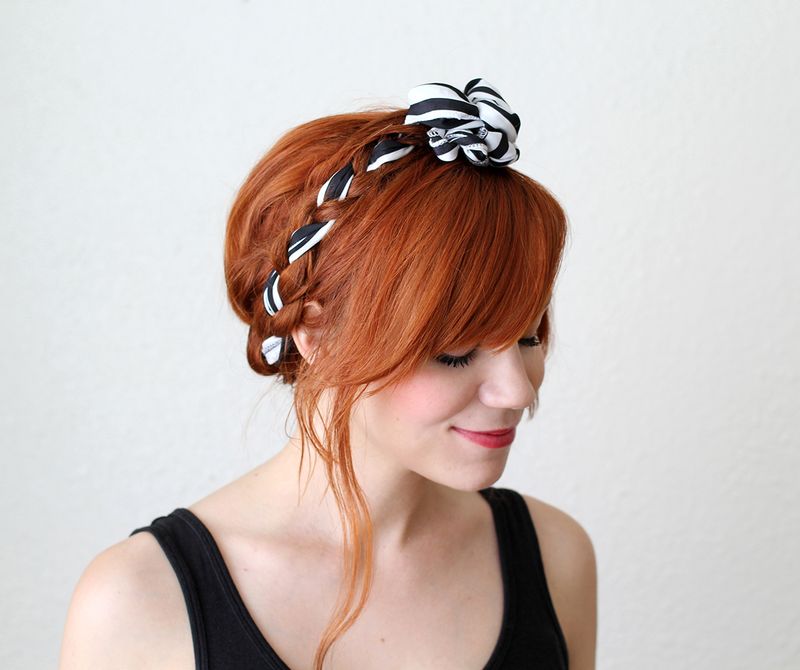 Why not add some pizzazz to your braid in the form of a pretty piece of fabric?! Here, a strip of black and white fabric is used in place of one strand… make your way over to A Beautiful Mess to find out exactly how they pulled off this funky look.
8. Up-Do With A Twist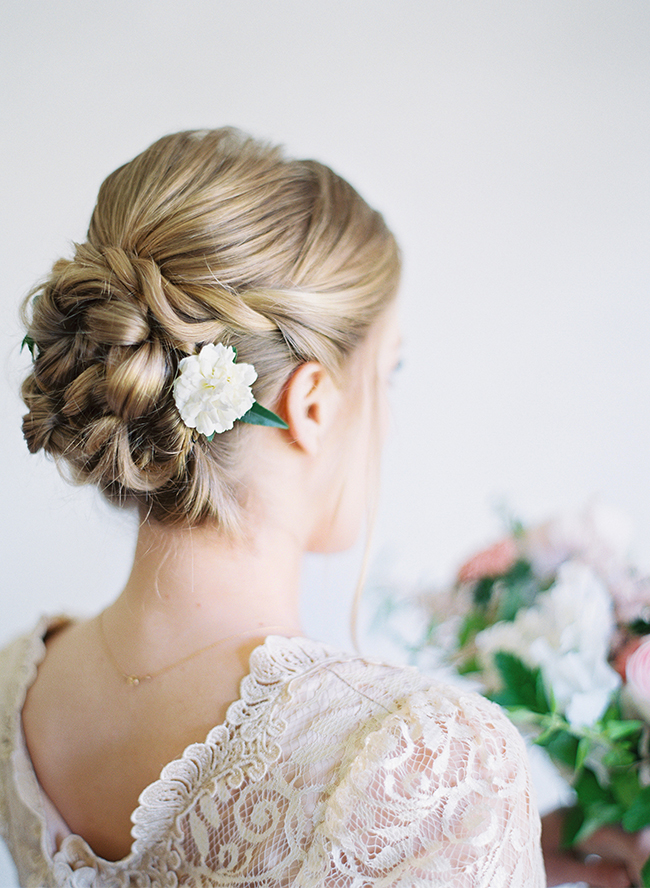 This stunning look would be perfect for a wedding or any event that you'd get dressed up for. It is achieved by braiding and twisting and then braiding and twisting again. Head over to Inspired By This to find out how to accomplish this look yourself.
9. Four-Strand Braid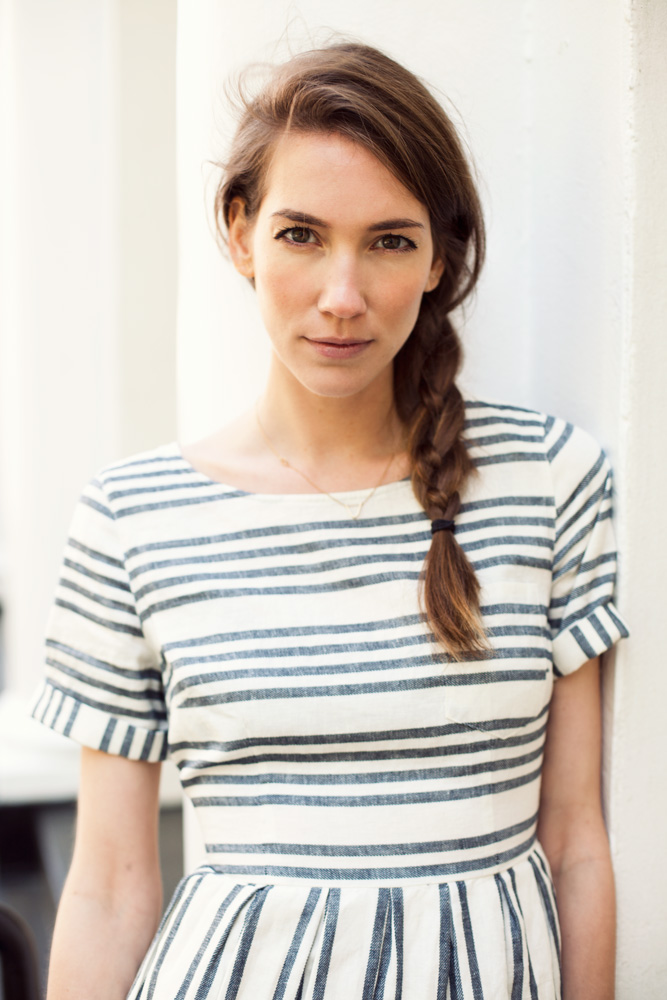 At first glance, this looks like your typical side braid… but if you look more carefully you'll see that it seems a bit unique – and that's because it has four strands! Check out the full tutorial and lots more photos over at A Cup of Joe.
10. Princess Braids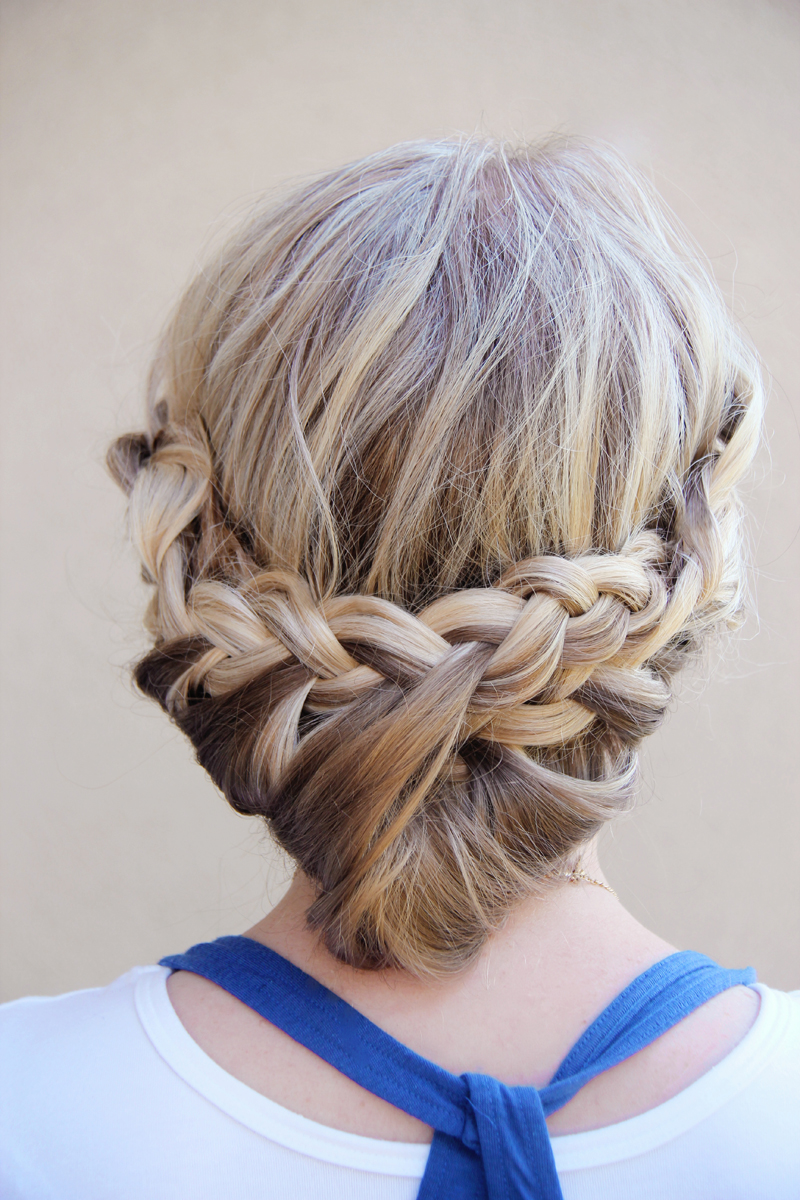 This lovely look has a magical, almost fairy tale vibe going on. To do it yourself, you'll do a half french braid on each side and then overlap them. Make your way over to Twist Me Pretty to find out how to do it yourself using their handy video.
11. Dutch Braided Pigtails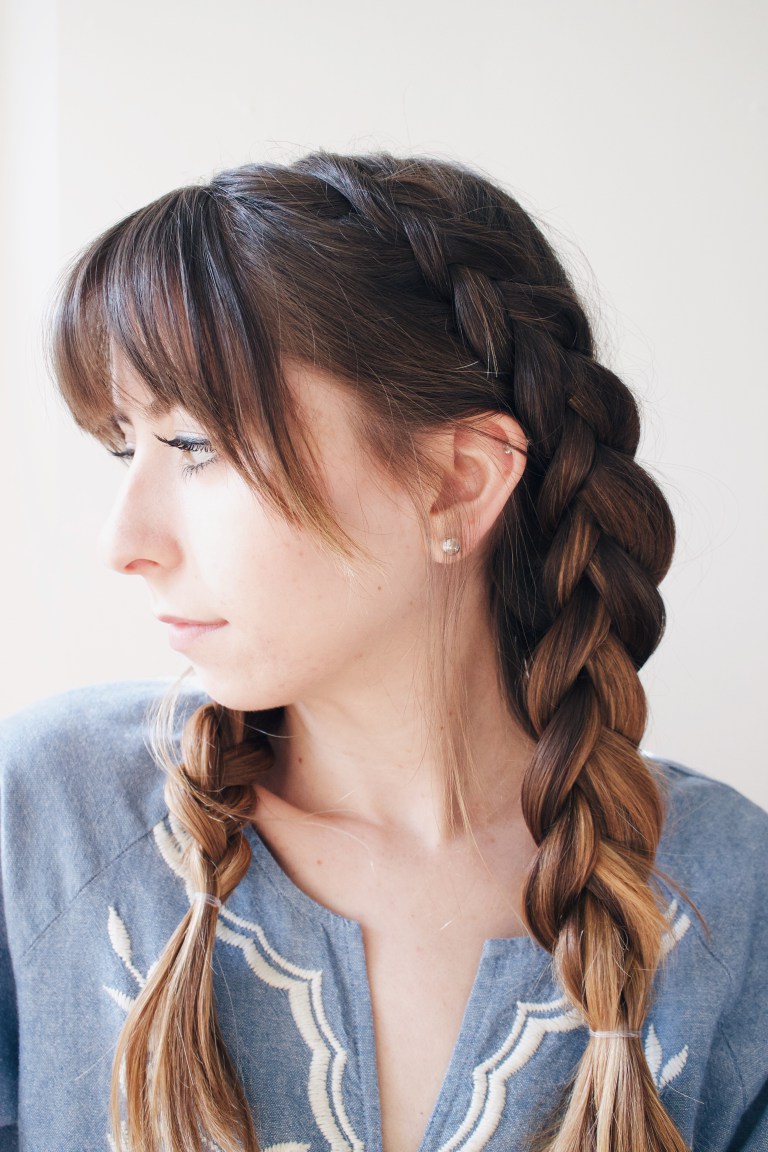 This cute hairstyle is modeled after the classic pigtail look, but done with dutch braids instead. Dutch braids are basically inside-out french braids. Make your way over to the Breakfast at Vogue blog to find out how to do double dutch braids on your own hair.
12. Half Up Braided Twist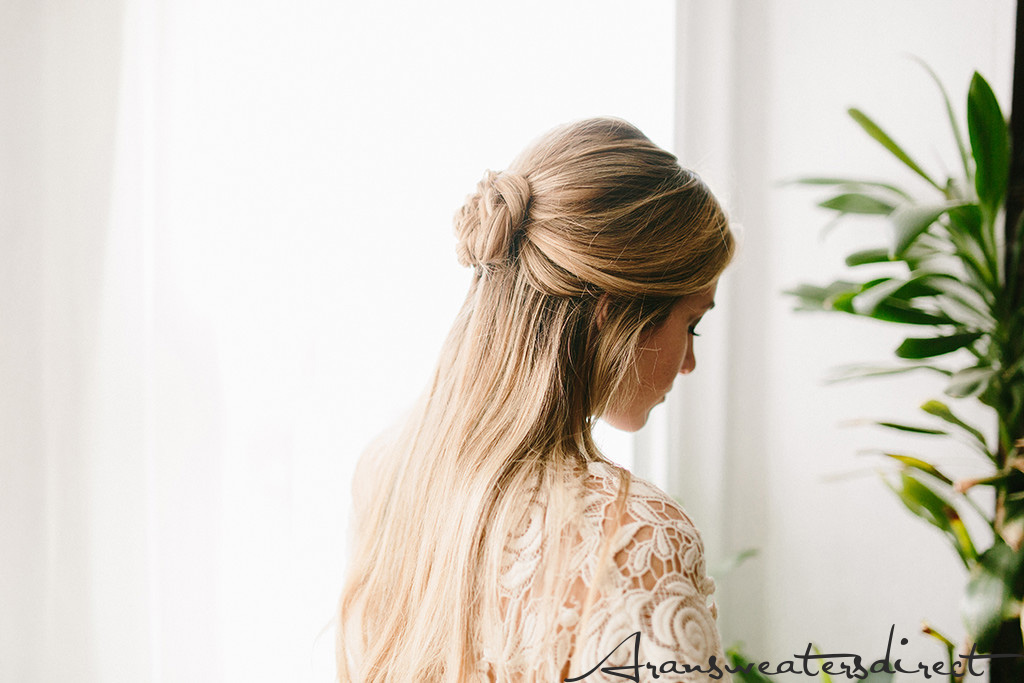 This hairstyle is all the rage right now…and with good reason. It has a nice, easy feel about it but it's also quite special-looking. And it's simple style to recreate, too! Make your way over to Aran Sweaters Direct to find out how to do it yourself.
13. Dutch Bun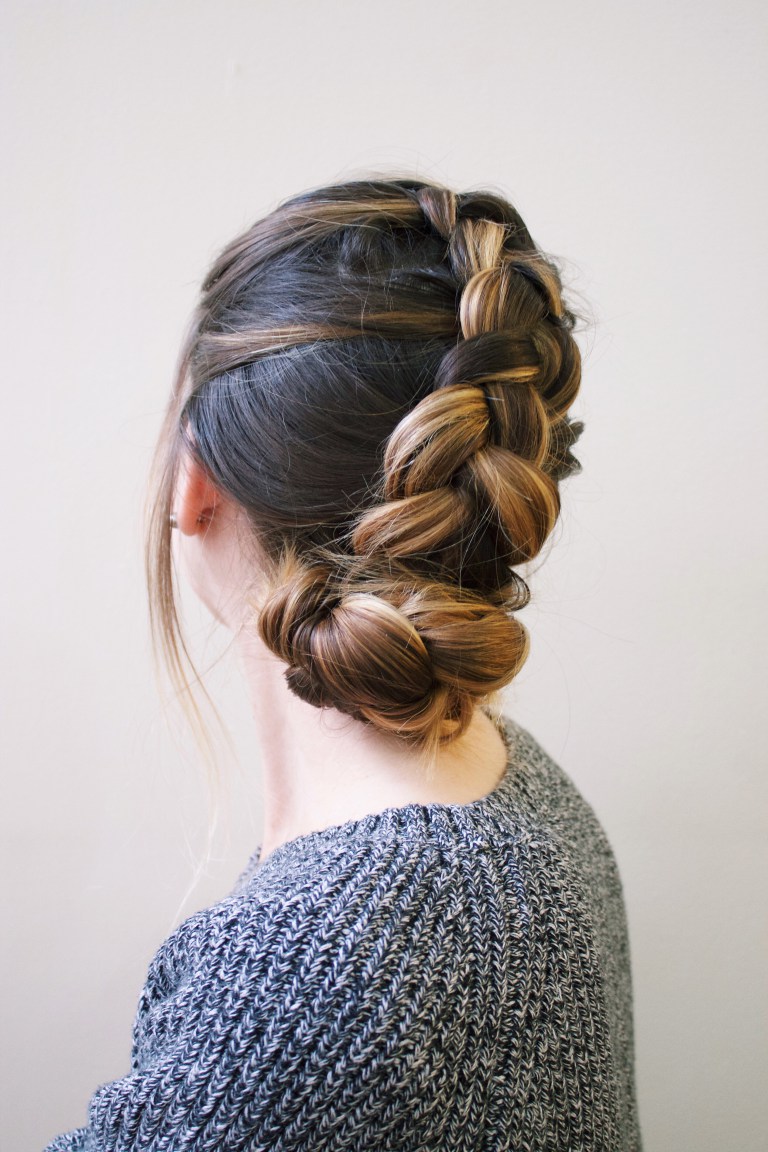 This dutch braid is finished with a bun at the bottom, turning it into a lovely up-do and giving it a fancier feel than some of the others. Find out how to do this on your own hair by heading over here. It also has a helpful drawing on top of one photo for reference.
14. Crossover Braids
This hairstyle actually has two parts – the crossover twists above, and the fishtail braid on the bottom. It would be a great look for a bridesmaid in a wedding, or for any other dressy event. Check out the full tutorial over at the One O blog.
15. X Braid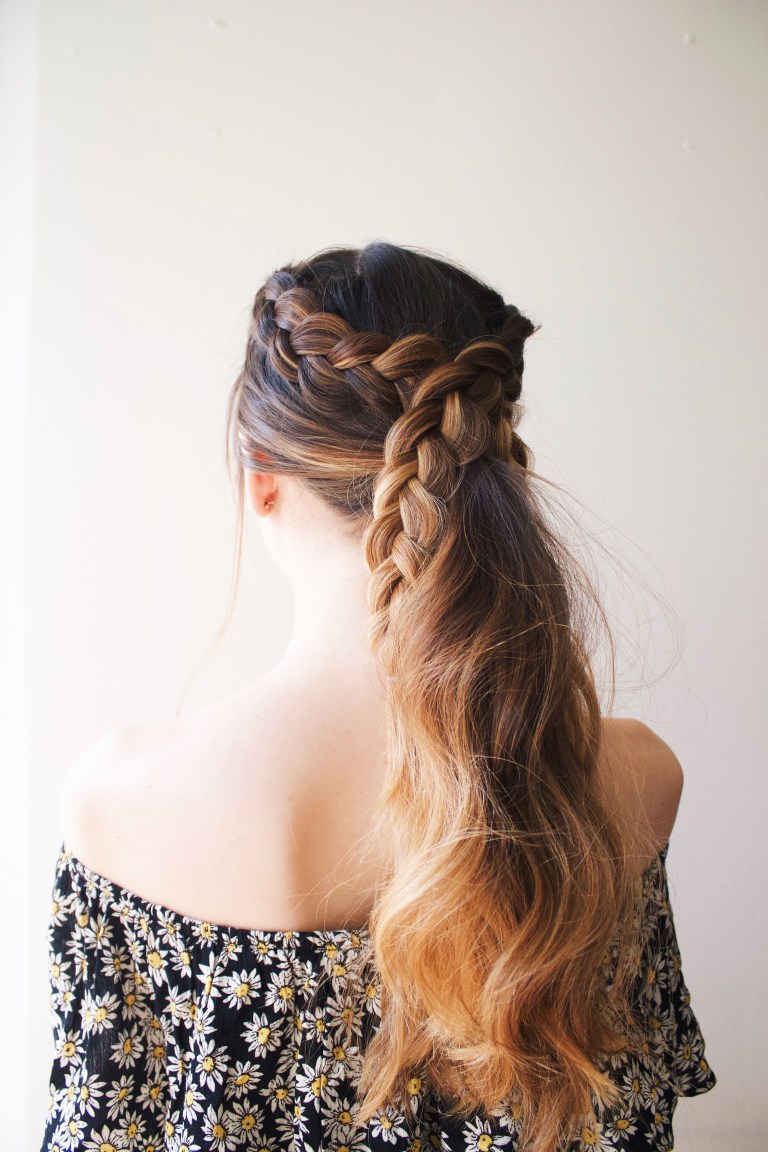 This look is really quite brilliant, with its crossover braids and wavy ponytail. Two dutch braids are created and then crossed over one another, hiding the spot where the elastic holds the pony in place. Make your way over here to learn how to do it.
16. Fishtail Crown Braid
This stunning look feels like it's from a dream, with the gorgeous fishtail braid encircling her head and the long, wavy hair below. Make your way over to Inspired By This to learn how to recreate this look on your own hair and to check out some more photos.
17. Braided Bangs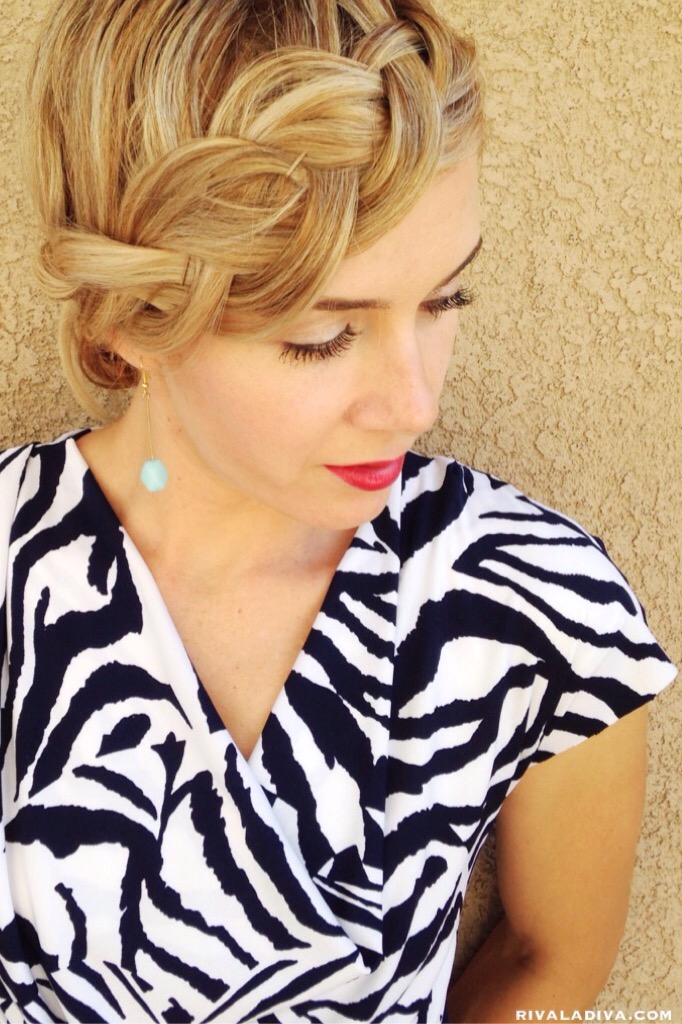 This unique look gives the impression that you have a braid instead of bangs, and the looseness of the braid makes it feel very luxurious. The rest of the hair is then pulled into a low bun. Check out more photos and a video tutorial over at Riva La Diva.
18. Braided Crown Tutorial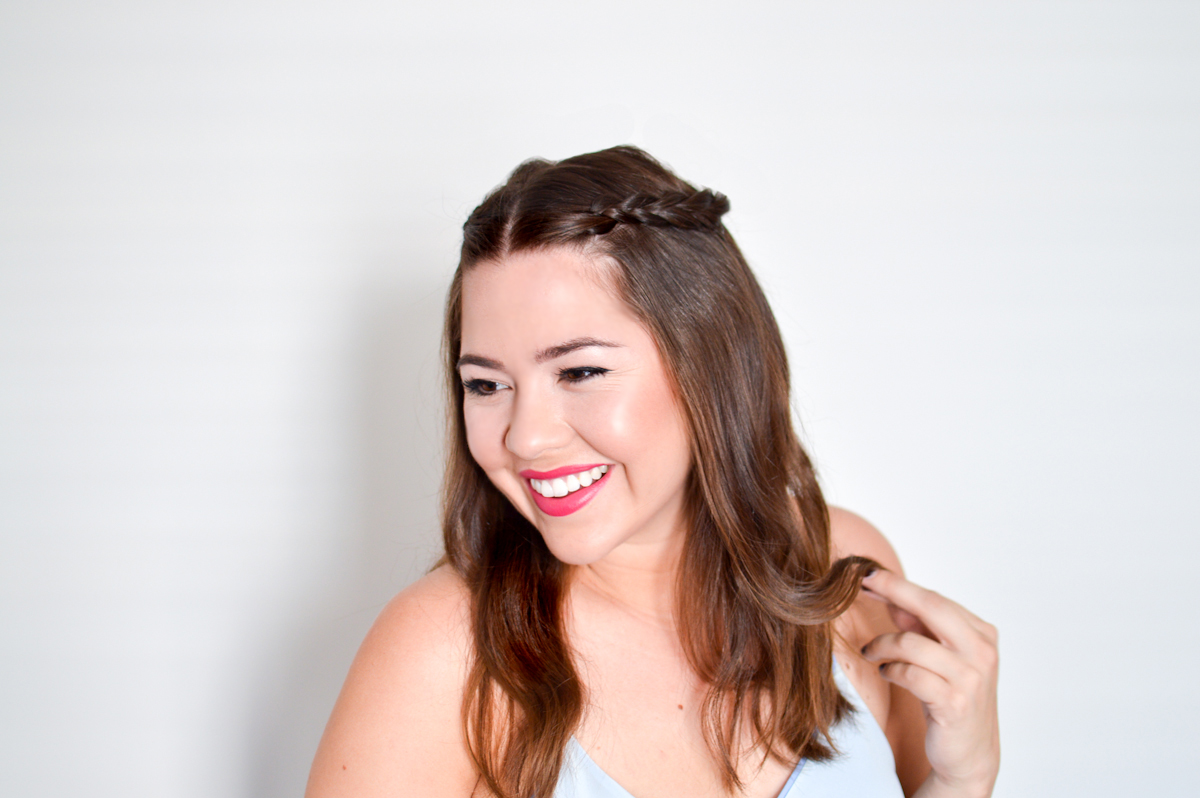 This fresh look is easy and quick to achieve, and it is flattering on most types of hair. You simply create small braids on each side of your forehead and connect them in the back. Head over to Birdie Shoots to find out exactly how to do it yourself.
19. Side Swept Double Braid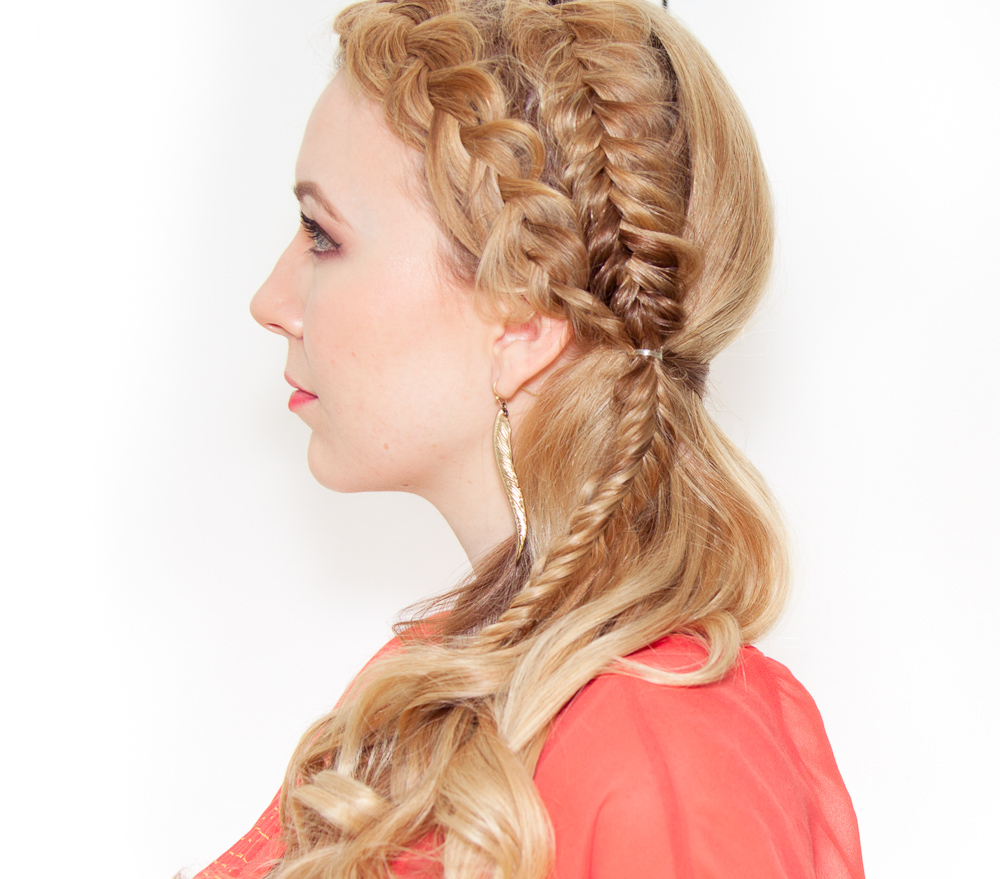 This fun hairstyle is achieved by creating two messy braids and then collecting them into one side swept ponytail. It is then finished with some pretty curls at the end of the pony. Check out the full tutorial for this one over at Design Everyday.
20. Braided Top Knot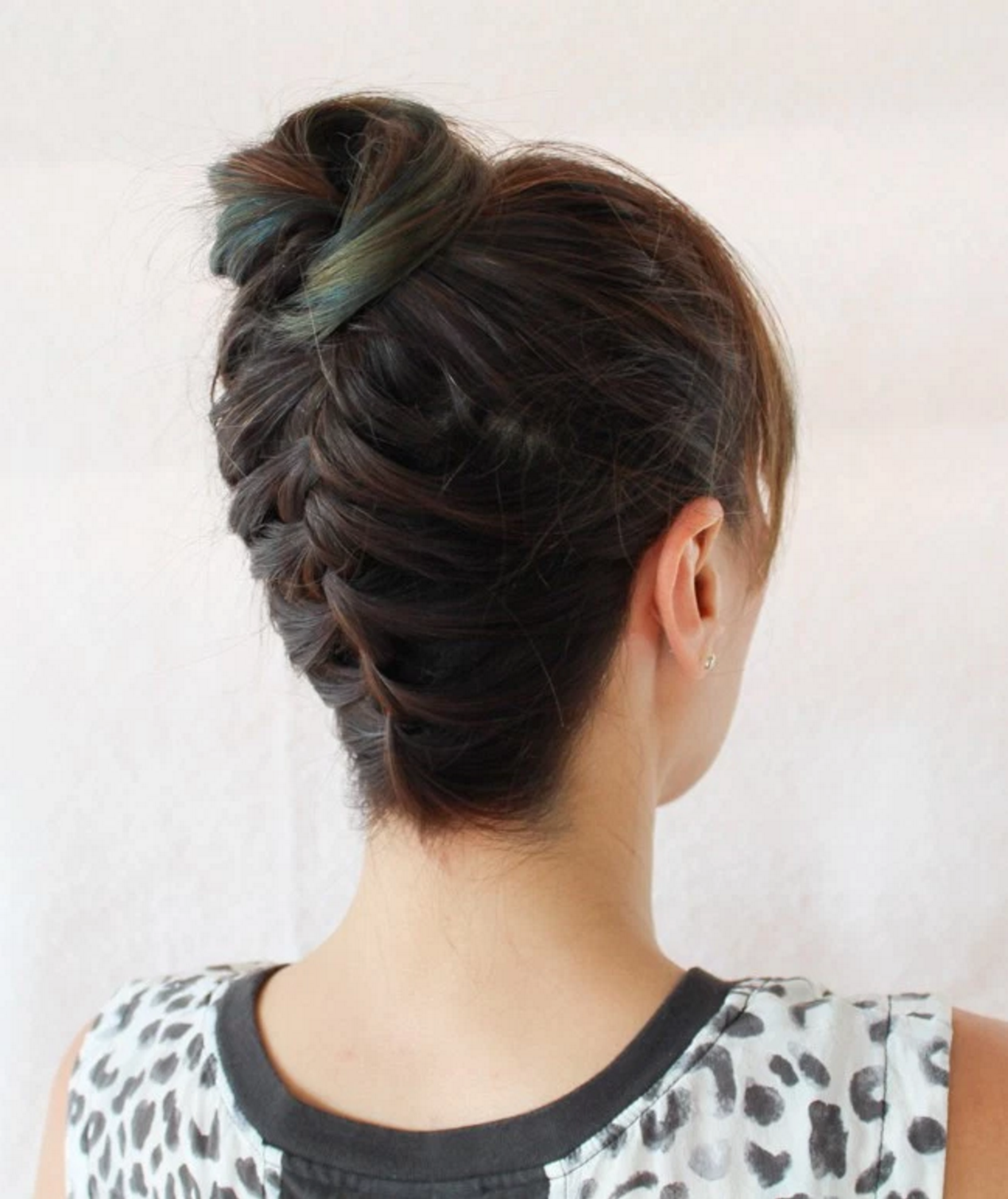 This lovely style has an elegant look to it, with a reverse french braid moving up from the nape of the neck and ending in a pretty top knot. Head over to Hello Glow to learn all about this beautiful hairstyle and to see more photos of it.
21. Lace Braid Tutorial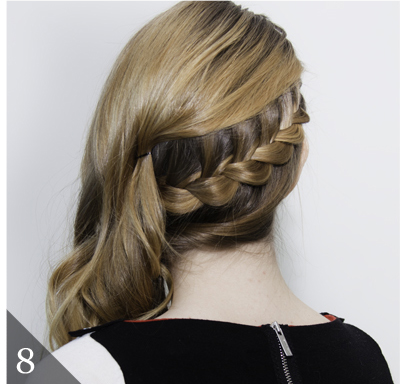 This hairstyle is incredibly unique, with its asymmetrical shape and side swept look. A waterfall braid is created along the bottom, while the top is pulled over and secured with pins.
22. Faux Hawk Braid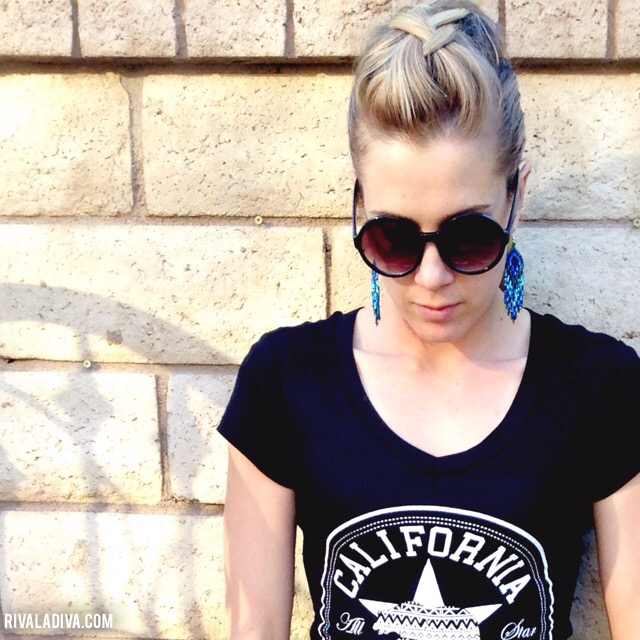 This fun look is great for a casual day out on the town with a graphic tee as shown above, or you could dress it up with pretty jewelry and a dress. Head on over to Riva La Diva to find out how to achieve this fun faux hawk braided hairstyle.
23. Kate Middleton Up-Do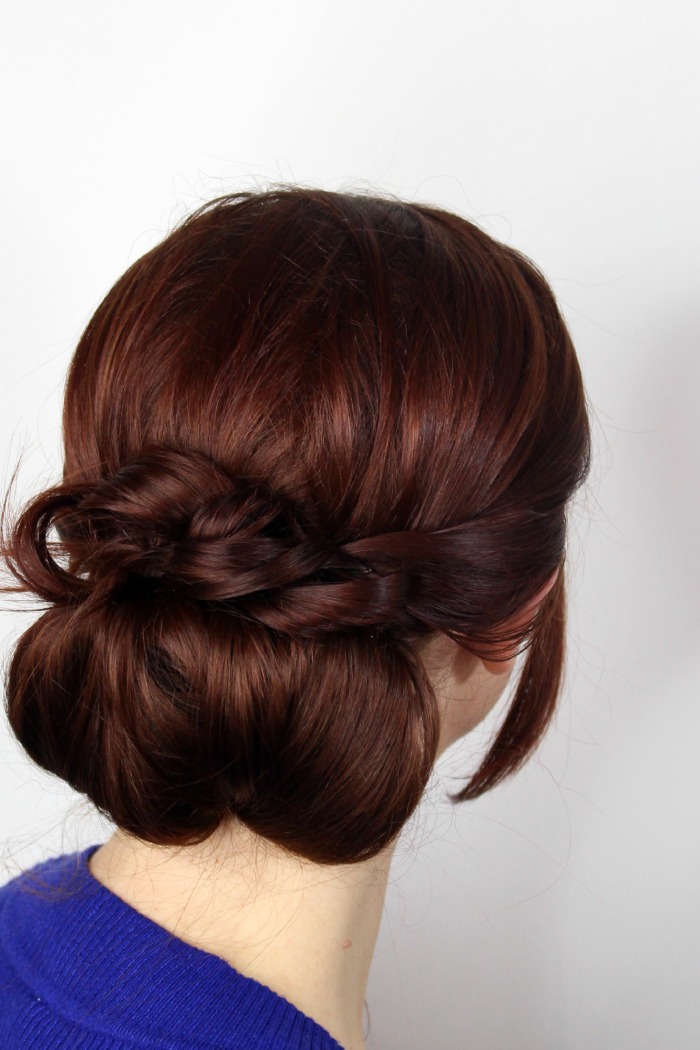 This pretty one is modeled after one of Kate Middleton's many gorgeous styles. Just create a loose braid of sorts across the middle of your head, and tuck the rest underneath. And it doesn't require a curling iron!
24. Double Braid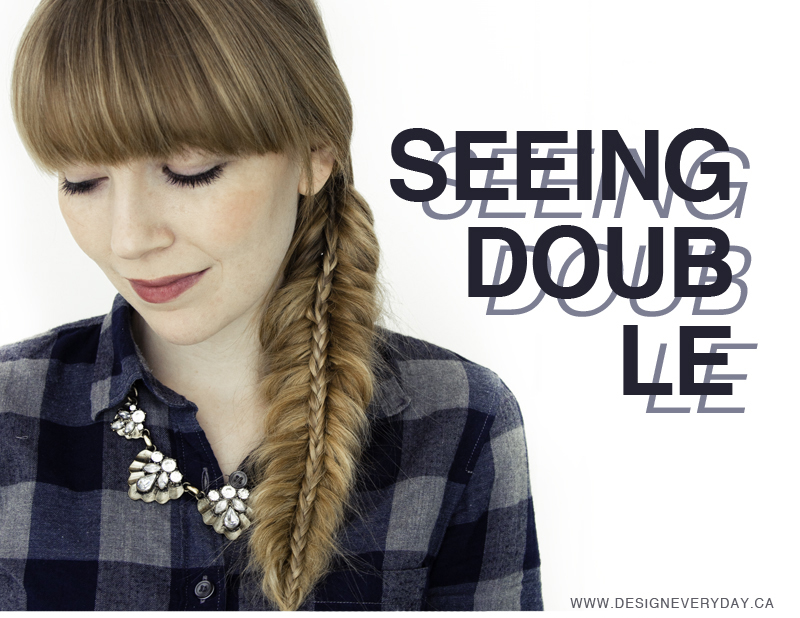 This unique style actually has two braids, one tiny one which is then attached to one huge one. Talk about a showstopper!
25. Half Up Braid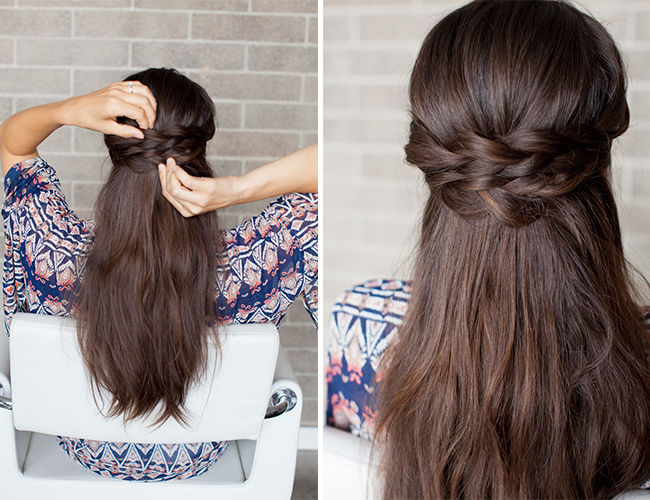 And last but certainly not least, we have a gorgeous hairstyle that is perfect for any event where you'd like to have a special style that's different than your everyday look.