What springs to mind when you think of a waterfall? These natural wonders are often considered to be absolutely stunning to look at, jaw droppingly intricate and full of cascading waves. The exact same things can be said for the hairstyle which shares its name with these beautiful spots of nature. Waterfall braids have been in style for hundreds of years and are more fashionable and stunning than ever before. Despite looking like something out of a fairytale, these elaborate braids are surprisingly simple to recreate. All you need to do is plait the braid into long, flowing locks like in these 20 pretty examples.
Half Up Half Down Waterfall hairstyle for women
Looking for a stunning way to show off your glossy brunette locks? This waterfall braid pushes up the crown into a very subtle, slightly messy beehive effect.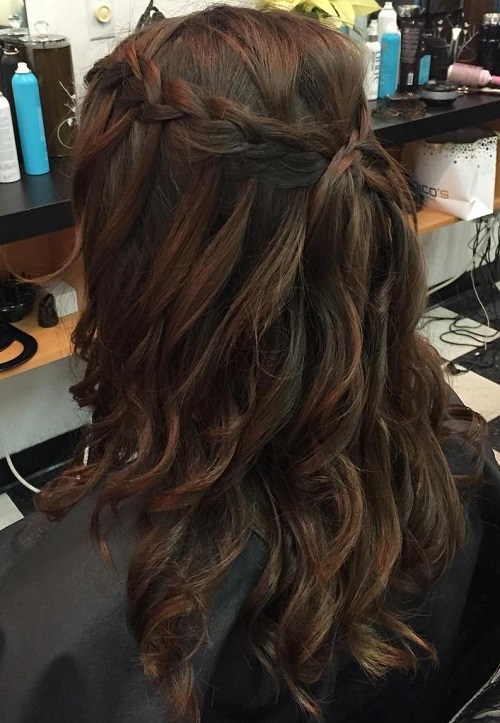 Fairy Hair – cute Waterfall braid for girls
Yet again, we can see just how perfectly blonde and brown balayage goes with waterfall braids. Try out this simple yet intricate style for yourself and you'll feel like a princess from a fairytale story book.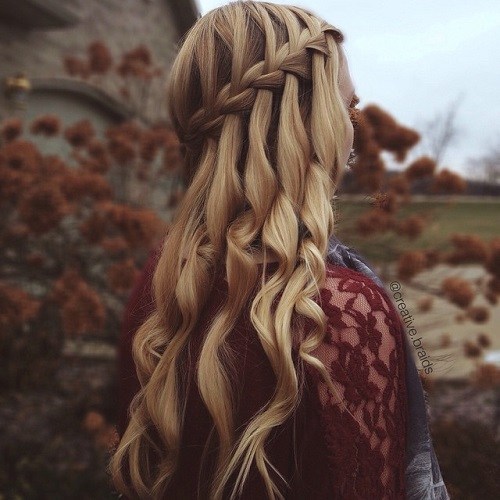 Bohemian Braid – Cute hohemian style Waterfall braid for women
This sweet side braid has been tied in a barrette style. There is something very romantic about this look, which can be worn with messy, wavy locks of any length or color.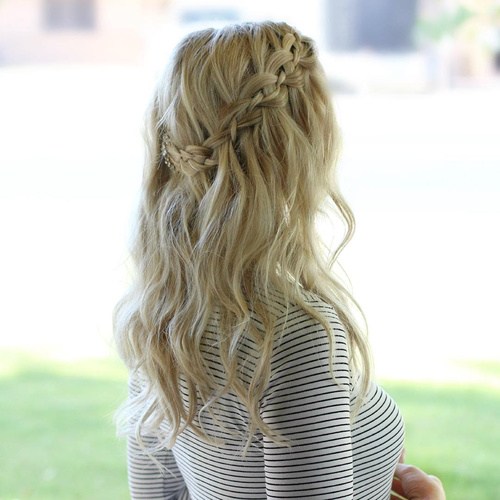 Super Long – cute Waterfall braid for girls with long hair
Something about the waterfall braid in these super long and luscious locks makes us think of Queen Cersei from Game of Thrones. If you're looking for a way to flaunt your flowing tresses while keeping them manageable and under control, this is the look for you.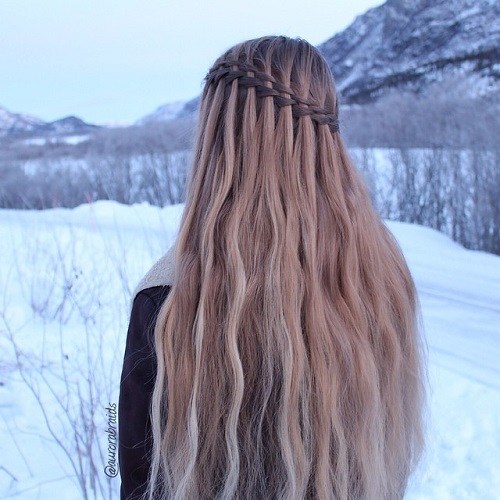 Auburn Crown – cute Waterfall braid for dating and night out
The braid in this hairstyle has been tied in a loose and twisted style. Even the accessories used to pin the braid in place are beautifully bohemian. As if that wasn't enough, we can't get enough of that warm, fiery red shade.
Blonde Curls – back view of brunette to blonde ombre Waterfall braid for girls
The braiding technique used in this style is incredibly simple and laid back. All you need to do to recreate this easygoing look is to put a relaxed, looping plait in the back of your bouncy blonde curls.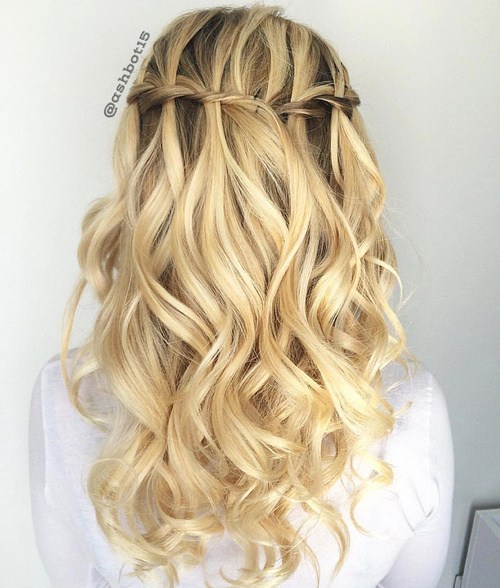 Red Dip Dye – cute braid for girls
A tangled web of waterfall braiding in some stunningly multi-tonal blonde hair is beautiful enough on its own. However, if you want to make your hairstyle stand out from the crowd, add a quirky touch such as these vivid red ends.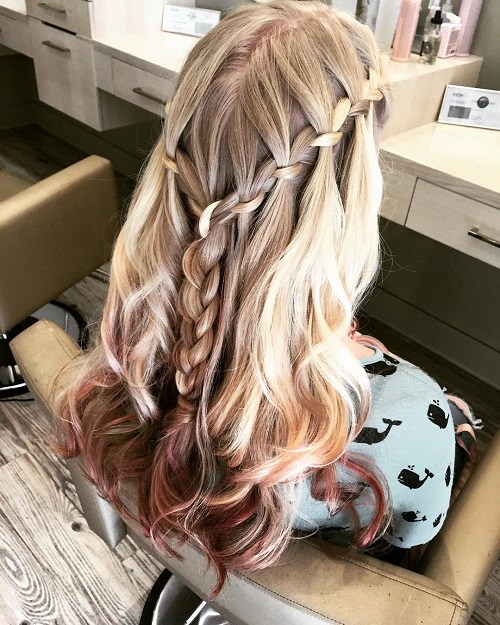 Ombre Braid – easy Waterfall braid for girls
The beauty of this hairstyle is all in the little, intricate details. We love the way the contrasting golden and brown ombre is shown off by that looping waterfall braid in the back of the hair.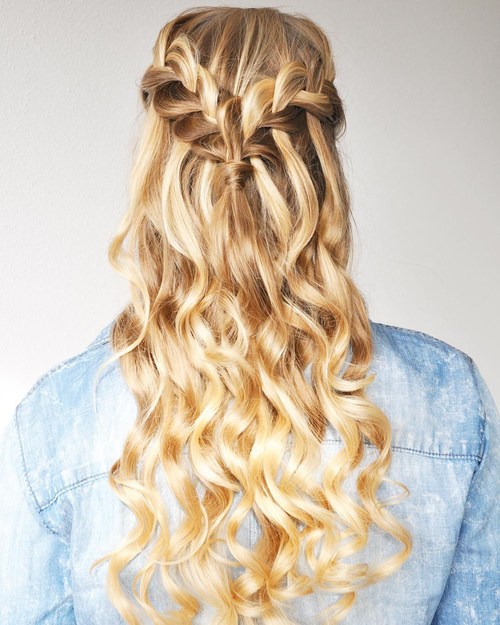 Subtle Braid in Waves – easy Waterfall braid for shoulder length hair
Let out your inner hippy chick by trying out this hairstyle. Long, flowing, ash brown waves take centre stage here, but that thin, diagonal waterfall braid adds just the perfect amount of detail to the look.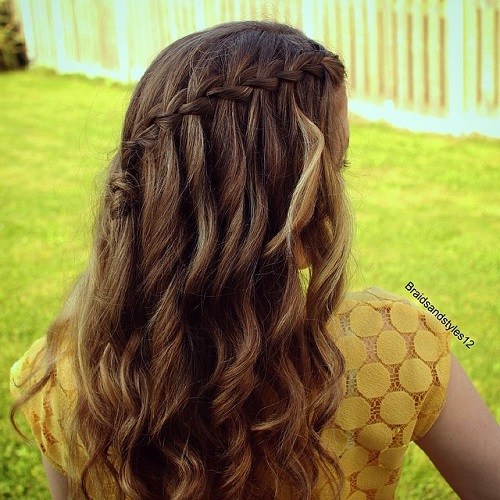 Double Up
What could be better than a stunningly sculpted waterfall braid? Two of course! This double trouble style looks as though it would be fit for a real life Greek goddess. Be warned, however, that this complex do won't be easy or quick to achieve, so it is perhaps best saved for special occasions.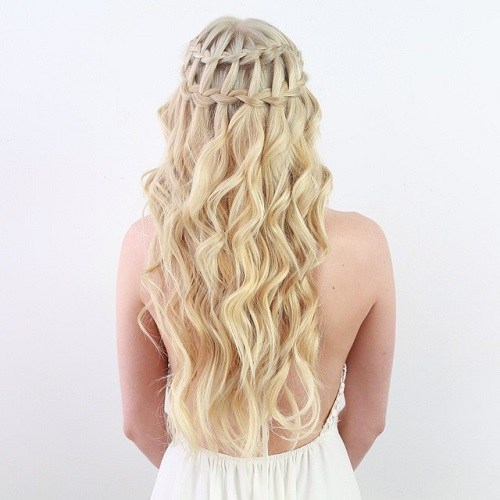 Balayage Curls
Show off your multi-tonal balayage in more beautiful detail than ever before experimenting with a side waterfall braid. This look is particularly suitable for girls with naturally thick or bushy hair who want to show off their impressive locks while keeping is pulled back and manageable.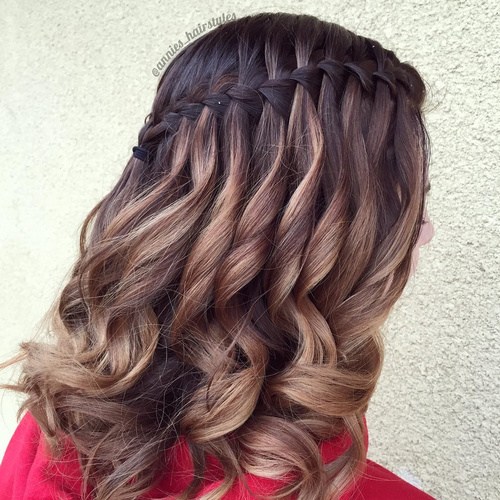 Spiraling Curls
We can't imagine a more glamorous or girly look than this. Whether your hair is naturally curly or you have to create these bouncy spirals using a curling iron, a twisted waterfall braid will look stunning on you.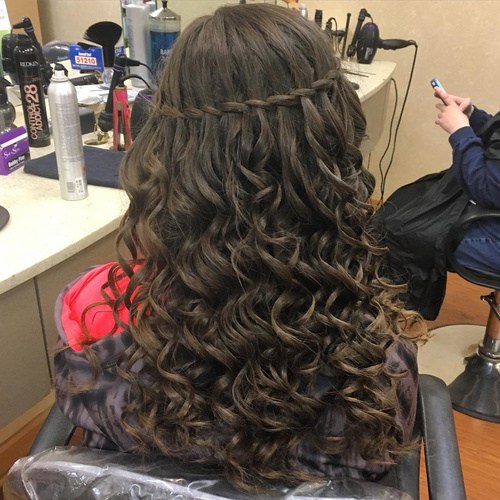 Fiery Balayage
The combination of colors in this wavy hair reminds us of a flickering flame. A loose crown waterfall braid looks beautiful when teamed with red, brown, ginger and blonde streaks.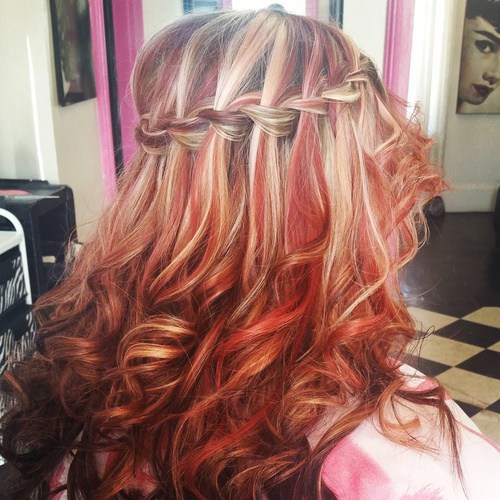 Smoky Silver
If you've been following hair fashion for the last few seasons then you'll know that silver hair is one of the biggest trends around right now. Add some slithers of silver throughout your long blonde waves if you want to make your waterfall braid look more unique than ever.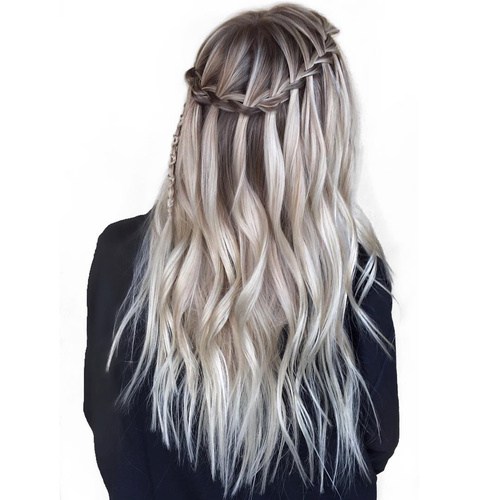 Beach Waves
One of the best things about a simple style like a waterfall braid is that it can be added to just about any loose hairstyle. Treat yourself to a summer vibe by wearing your sun-kissed blonde locks in loose beach waves like these and adding a twisted waterfall braid.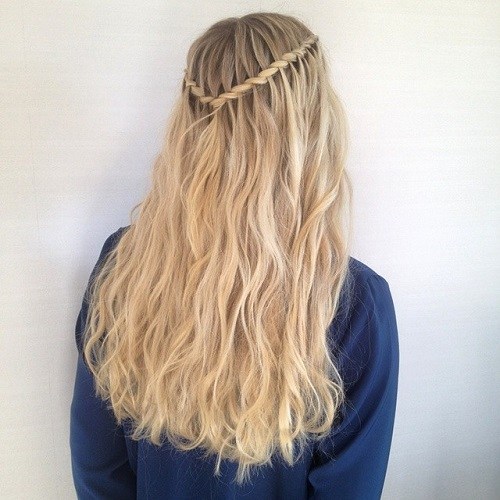 Lob
The long bob or 'lob' is one of the hottest haircuts of recent years. Keep your length just below the shoulders and add some chestnut and nutmeg brown highlights to make your waterfall braid look as whimsical as this.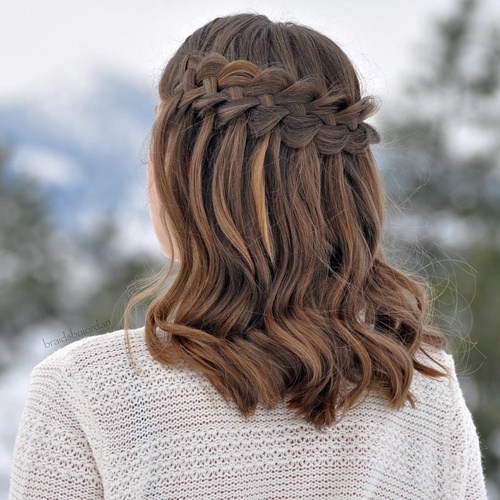 Highlights
One of the best things about waterfall braids is the way they make each and every section of hair stand out. If you have highlighted hair, like this model who has golden blonde highlights against a soft brunette base, then you'll love the definition this style adds to your hair.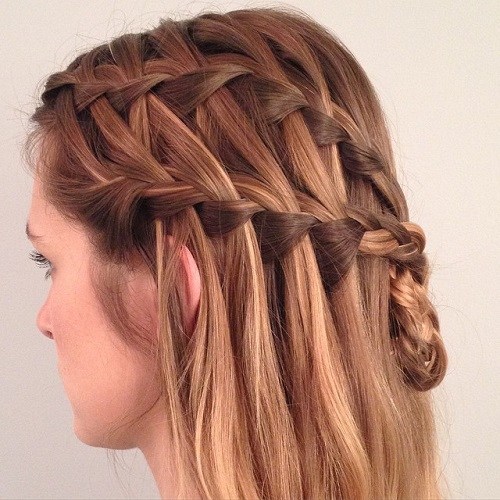 Purple Mane
Soften up your striking style with a waterfall braid like this one. This hair color is perfectly purple and a guaranteed head turner, the softly braided style, however, adds a touch of femininity – especially with that pretty flower shape.
Long and Sleek
Your waterfall braid can be worn in a way that flaunts your color, especially if you have chunky highlights like these. The streaks of caramel really stand out against the poker straight, chocolate brown base shade. Keep your locks sleek and shiny if you want to rock this style.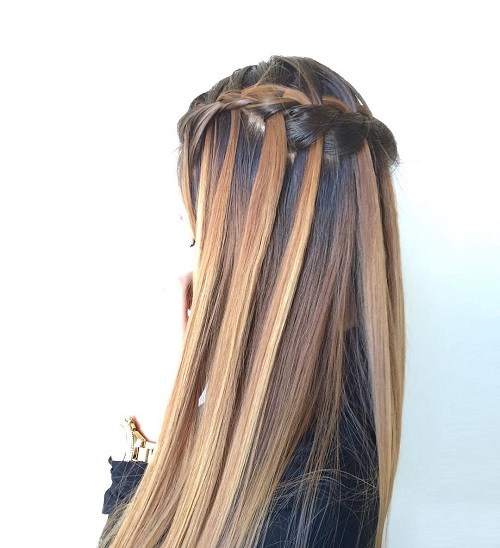 Touch of Texture
If you're worried that your hair is flat or dull, but don't want to do anything too drastic to liven it up, a waterfall braid is ideal for you. This small, prettily plaited braid in the side adds just the right amount of texture to this sweet red hairstyle.