1. Black and White Geometric Accent Tip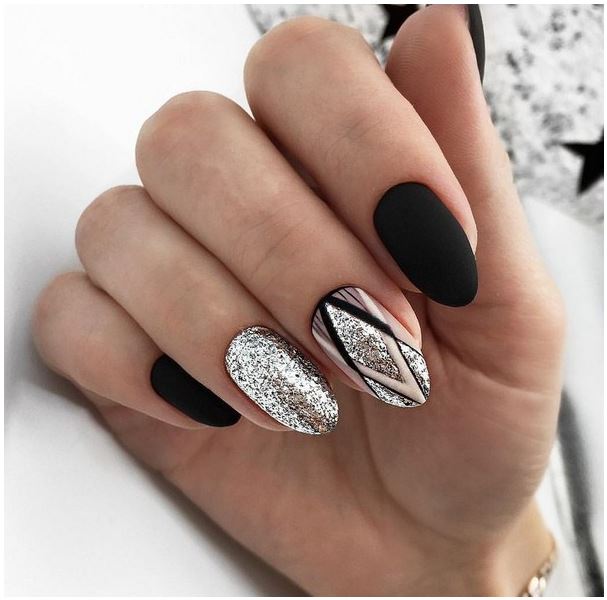 The most unbeatable color combination, black and white is surely one of the coolest things to go for when it comes to a geometrical mani. Three tips here are beautifully coated with a solid matte black, while the ring finger goes for a rich coat of sparkling silver. The accent tip here is a glorious geometric pattern worked up in silver, black and white.
2. Matte with Touches of Glitter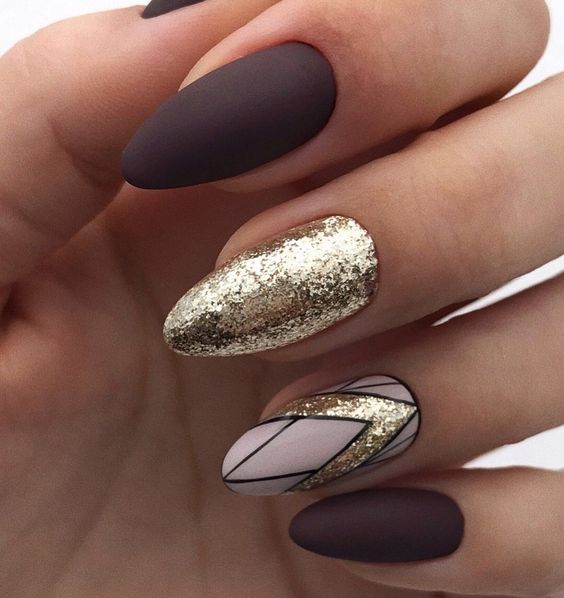 Featuring the beauty of matte finish paired with glitter, this nail art comes with a combination of golden, nude and brown. With three tips painted in solid shades, the ring finger comes with a beautiful geometric pattern making a triangle and some parallel lines. The pattern in the center is painted with the golden glitter making a gorgeous contrast of the three paints.
3. Contrasting Criss-Cross Mani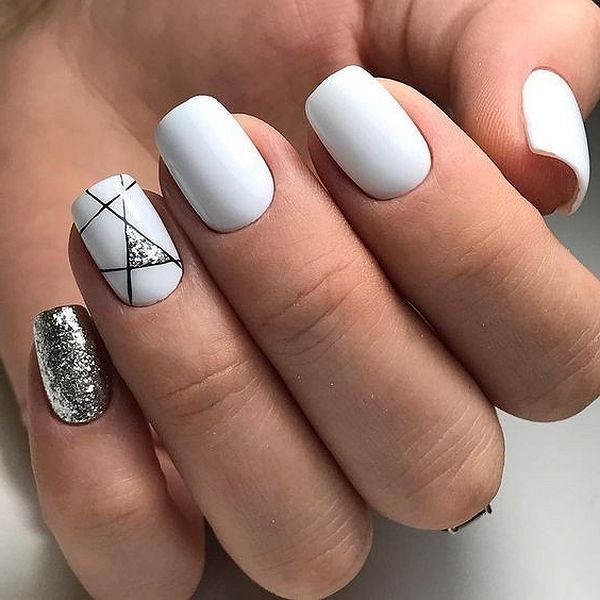 Making a contrast between white and silver, this nail design here comes with a simple pattern where three nails are painted with white and the ring finger has a white base flaunting the criss-cross lines. The little finger is painted with a coat of silver and the triangle created in the pattern is painted with silver making an elegant statement.
4. Vertical Geometrical Strips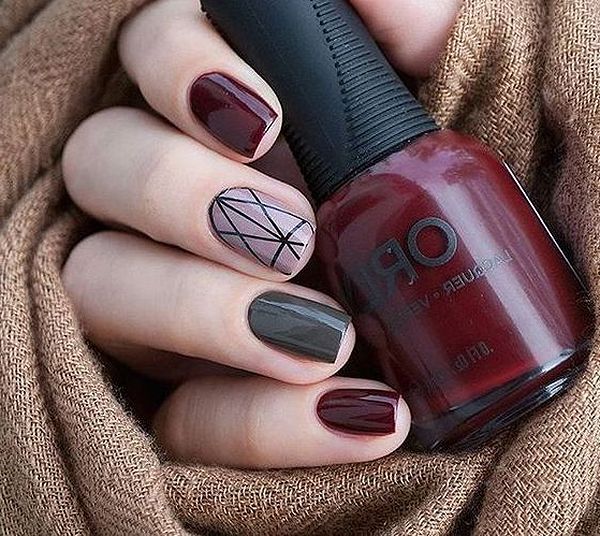 While one would rarely think of a combination of deep maroon, black and shades of grey, this nail art shows how wonderful of a pattern can be worked up with these unique shades. Three tips flaunt a solid layer of glossy maroon, while the ring finger is coated with a solid grey. For the accent tip, you have got a light neutral background with random vertical strips in black bringing out the geometry.
5. Simple Dotting Tool Geometric Design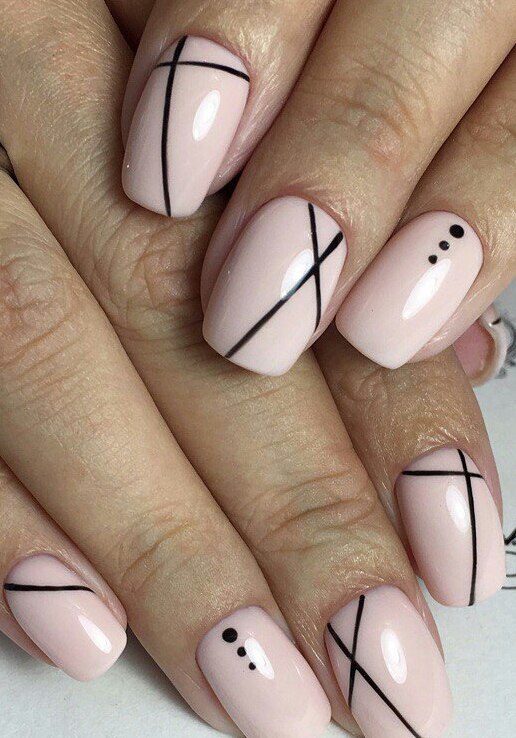 Looking for a simple nail design? Then this super elegant and pretty nail art is super easy to make. You just need some strips and the dotting tool to make the design. Making the combination of light baby pink base coat with black lines and dots, the design is perfect for a casual date or an outdoor visit. The pattern is simple to make and looks amazingly pretty.
6. Triangles and Lines Steal the Show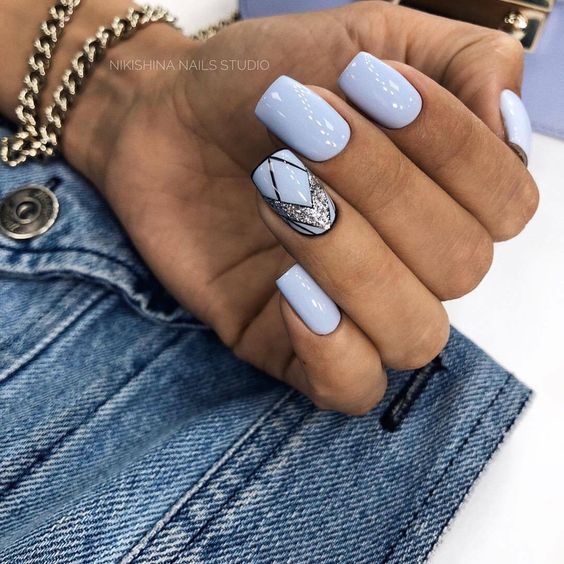 Three tips come flaunting the beauty of a simple light blue coat while the ring finger puts to display an intricate pattern with lines and triangles. To make this design, you need strips to cover the nail in a way that only the space for making the pattern is exposed. The triangle strip formed in the pattern is painted with a bright silver glitter tone making a contrast with the pretty blue shade.
7. Blue and Yellow Geometric Mani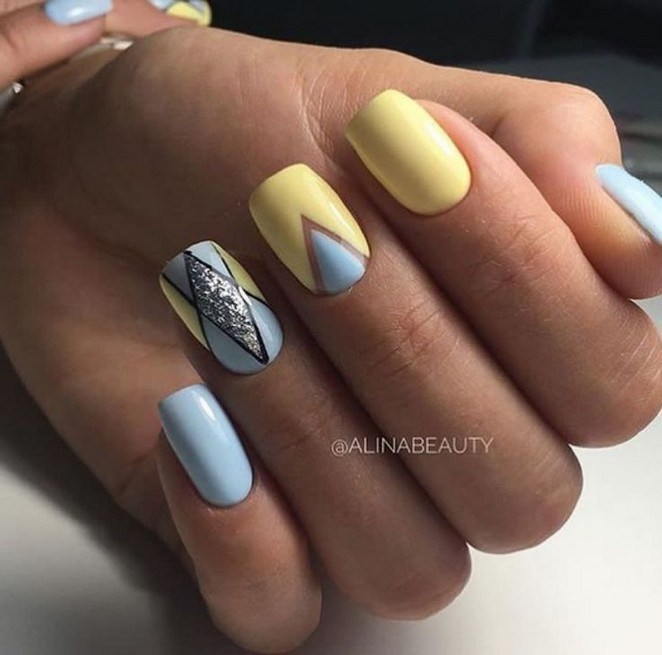 With a combination of light blue and yellow, three tips are painted in the solid tones. Two nails come with a beautiful pattern where a blend of the shades is used. The middle finger has a simple pattern where the upper half of the nail is painted yellow and the lower half is blue while in the middle, the natural texture is exposed. The ring finger shows an intricate pattern with lines and the center is painted with silver.
8. White and Silver Tips with Geometric Design on Accent Tip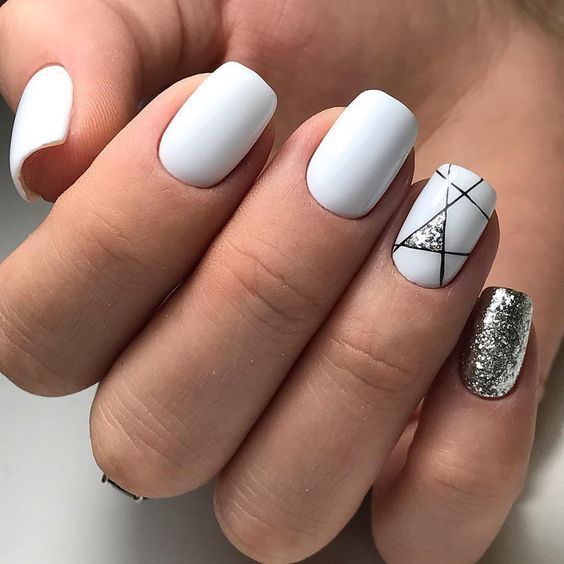 Looking for a mani that goes just well for a regular day at work, while working equally awesome for a dinner date? Here's a super versatile design that comes with a dominance of white, thereby being subtle and eye catching. Whereas, the integration of a silver glittery tip adds the much needed element of glamour to the same, finally going for a geometric pattern on the accent nail.
9. Integrate Negative Space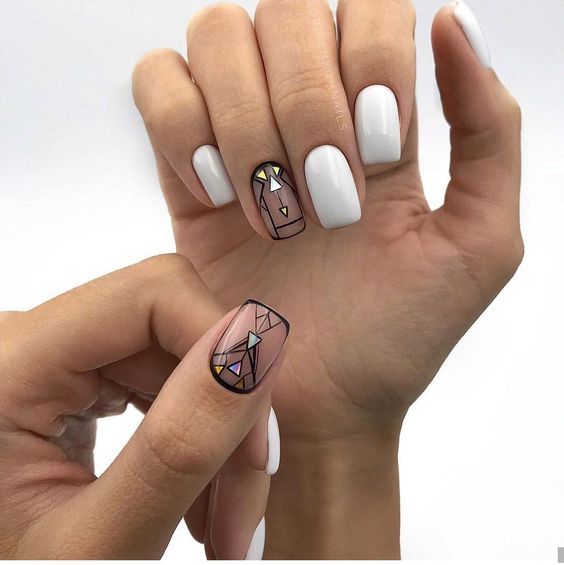 Choose one accent tip for each hand, and add a splash of solid white in a glossy finish on all the remaining tips. For the accent tip, you work up a super interesting geometric pattern that goes for a clever use of negative space and thin stripes done in black to work up the print. A few shiny triangle-shaped embellishments at random spots make it extraordinary.
10. Triangles get Entangled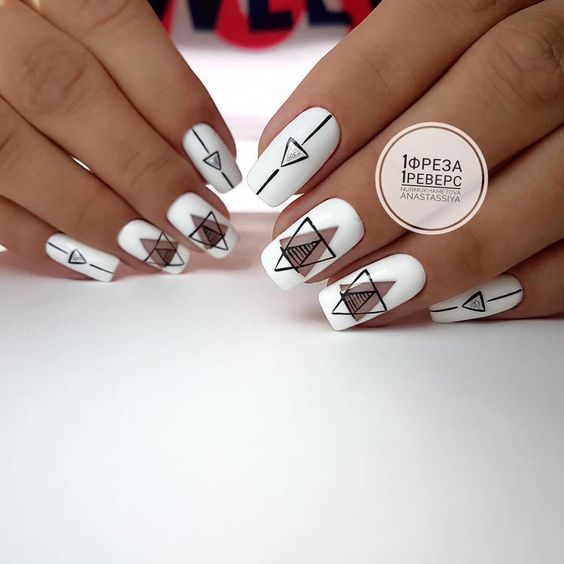 Although this one calls for a steady hand and a great deal of precision when it comes to making those stripes and triangles, the end results are totally worth the effort. The base for all the tips is a bright white, while two accent tips flaunt a nude triangle in the middle, along with another triangle atop the former one to create an interesting geometry. The remaining tips go for a single line with a tiny triangle in the middle.
11. Let's Combine Stripes, Shapes and Negative Space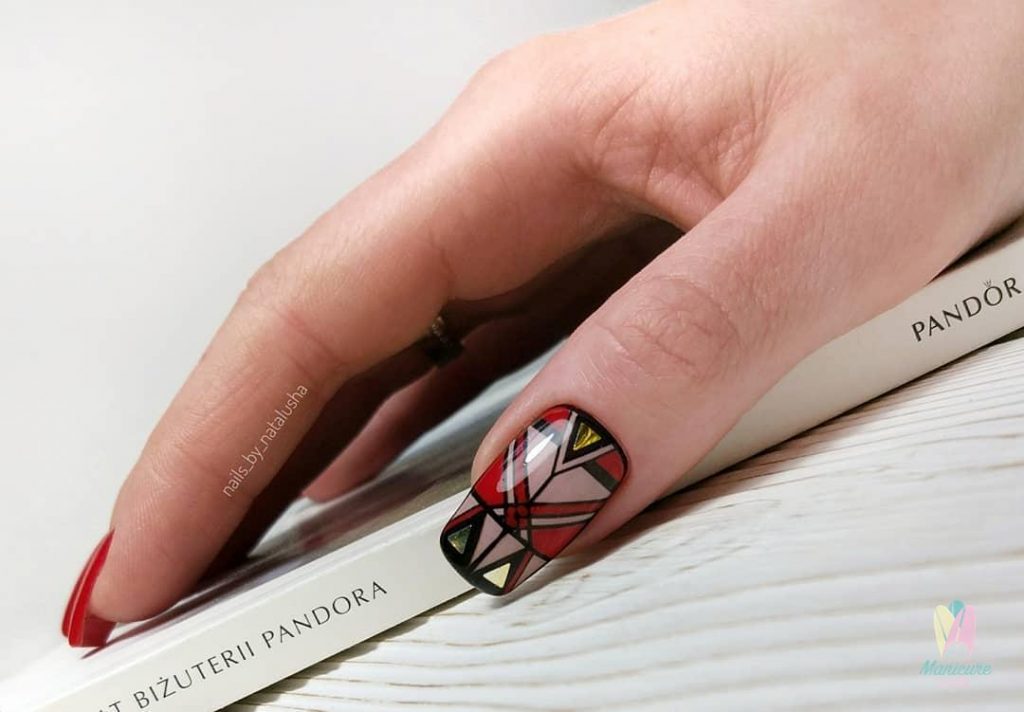 If you have got some striping tape on hand, it's time to head towards this super intricate geometric nail design that looks like a whole union of shapes and a combo of some vivid colors. Whether it's different-sized triangles, lot of negative space, or a dash of glitter – this one has got it all. Not to forget, some diagonal and horizontal stripes divide the pattern into unique individual sections!
12. Random Geometric Prints on Each Tip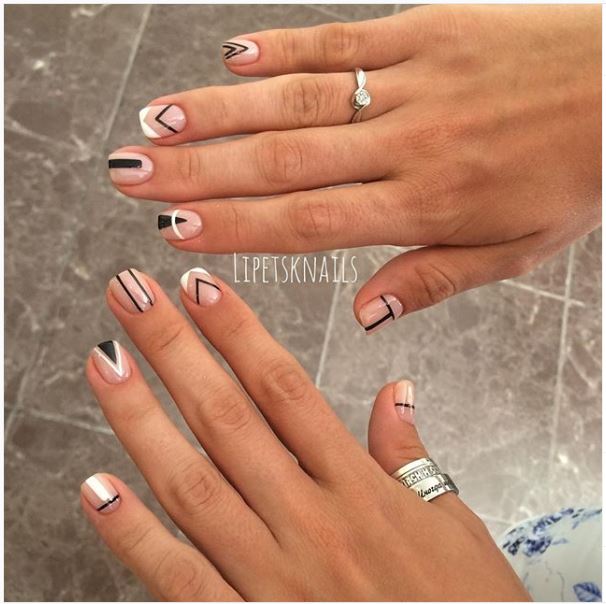 We totally adore that glossy nude base that covers the fingertips in this mani. Looking oh so subtle yet impactful at the same time, this mani has got sleek touches of white towards the tips for some nails, while white curved stripes go for others. It's a mix-match of random black vertical stripes for some tips, while the others have got single triangles worked up in the same hue. Just get as random as you can and voila!
13. Red and White Geometric Pattern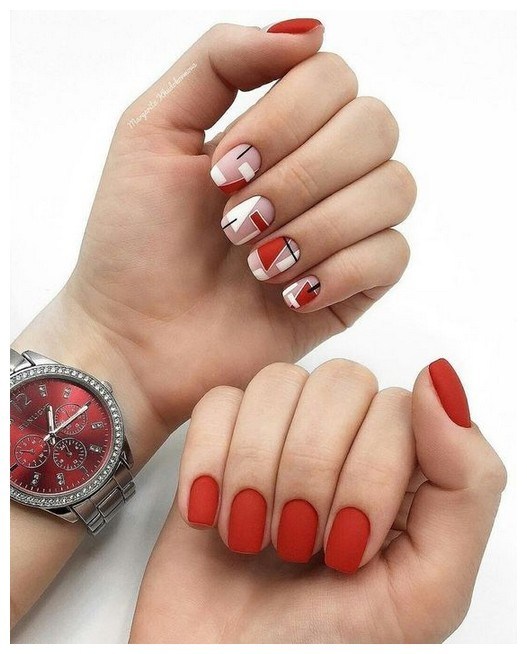 The union of red and white has got something so sensuous about it that it can spruce up even the most simplest of outfits and occasions. Here's a perfect example of the same that keeps one of the hands sticking to all solids and coats the tips with a matte red. The other hand goes for a neutral matte base for the tips, while random shapes and stripes in a combo of white, red and black sit on each nail.
14. Pastel Pink and Blue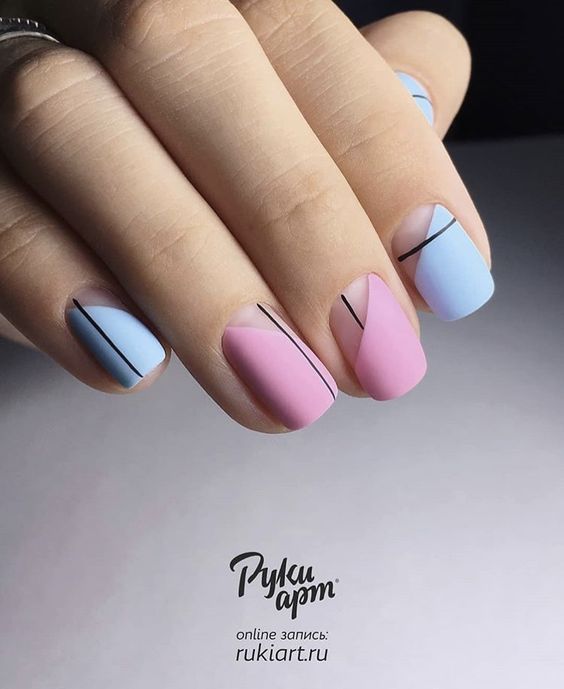 One of the easiest geometric nail art on this list, this manicure is all about simplicity and utmost elegance. And it has been put together with equally pleasing colors, mainly light blue and baby pink, while keeping everything limited to a lovely matte touch. Simply make a diagonal division on the nail that differentiates the color with the negative space, further filling the major section with the same color. Alternate the color between alternating tips, finally adding a vertical black stripe on each of them.
15. Pink and Gold Geometric Nails

Once you paint the whole nails with a nice base coat of bright white, you make a diagonal line across half of the nail, filling the bottom half with a blush polish. Paint the other direction across the top half of the nail with a lovely coat of glittery golden, and you have automatically got three different sections on each nail wherein the white base sneaks out in the middle. Lastly, apply a nice top coat to protect your design, and voila!
16. Peach, Blue And Neutral Hues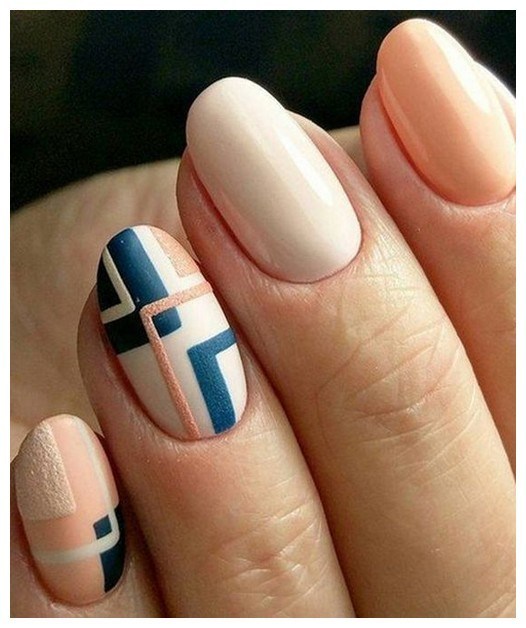 A natural nude nail color looks so similar to a light shade of peach that it becomes quite a tough deal to differentiate between the two – yet this manicure goes for solid coats of the two colors on the different tips and makes a statement at the same time. The ring finger is the accent nail, wherein you go for a light neutral base in matte finish, further working up an embossed geometric pattern in peach and blue.
17. Pink Nails with White Geometric Accents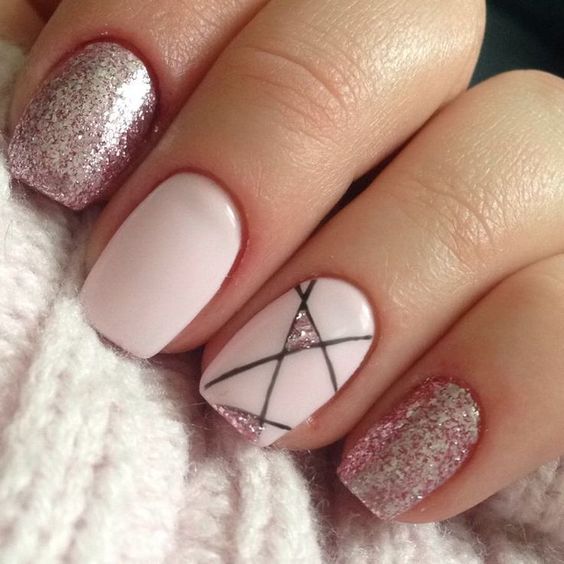 Glitter as well as solid layers of a pastel shades – both come into play miraculously well to end up in this wonderful manicure! Paint the nails with a nice coat of baby pink, leaving the first two fingers unpainted. Go for coats of glossy white on the two, allowing a random pattern of small blocks and light-painted stripes to sit on the two. Fill the blocks glittery shades or ombre.
18. Black and Yellow with Negative Space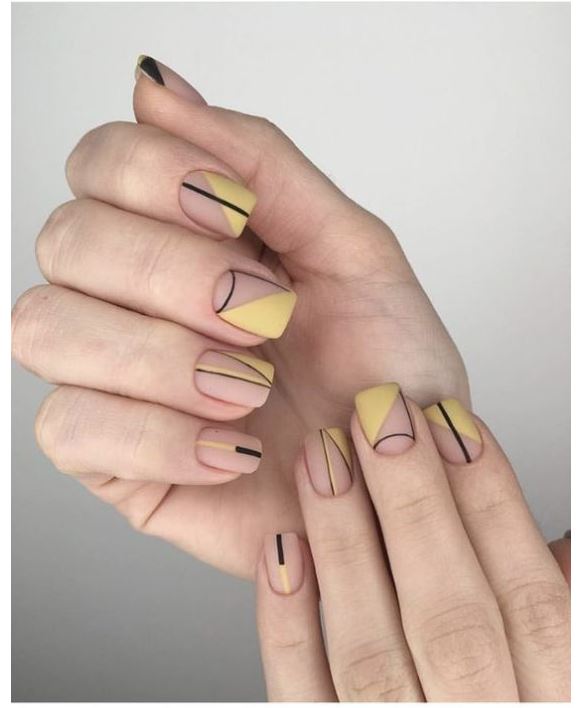 This glorious manicure is a reminder of the classic song 'black and yellow', while being equally amazing to look at as it was to hear. And the major use of negative space flaunting the base of your natural nails brings out the best of the designs worked up on each of the nails. It's about painting random diagonal triangles in yellow on the nails, going for strips in black, wherein some tips go for nice curves and others go for vertical ones.
Integrate some creative stripes, paint vibrant triangles on your nails, or simply go for a combination of random shapes! The aforesaid geometric nail art designs are all about sheer splendour.