No matter how old we get or how much our makeup skills advance, we'll always still love playing with brightly coloured eye makeup, just like we did when we were teens. Sure, we might not slather on thick panels of hot pink or baby blue eye shadow from our lash line to our brows in a solid streak like we did in the seventh grade, but that doesn't mean we're finished with those colours all together! In fact, pink eye makeup has been trending again over the past few months and we're incredibly happy to see it doing so. Besides the nostalgia of early high school dances that it's always brought us, we also think there are countless different ways to use pink shadows that are actually quite flattering, stylish, and even sometimes stunning. That's why we've actually become quite obsessed with it anew!
Just in case you're also intrigued by pink shadows once more like you were back in the day, here are 15 awesomely pink makeup tutorials for you to check out and try for yourself!
1. Hot pink glitter with a black wing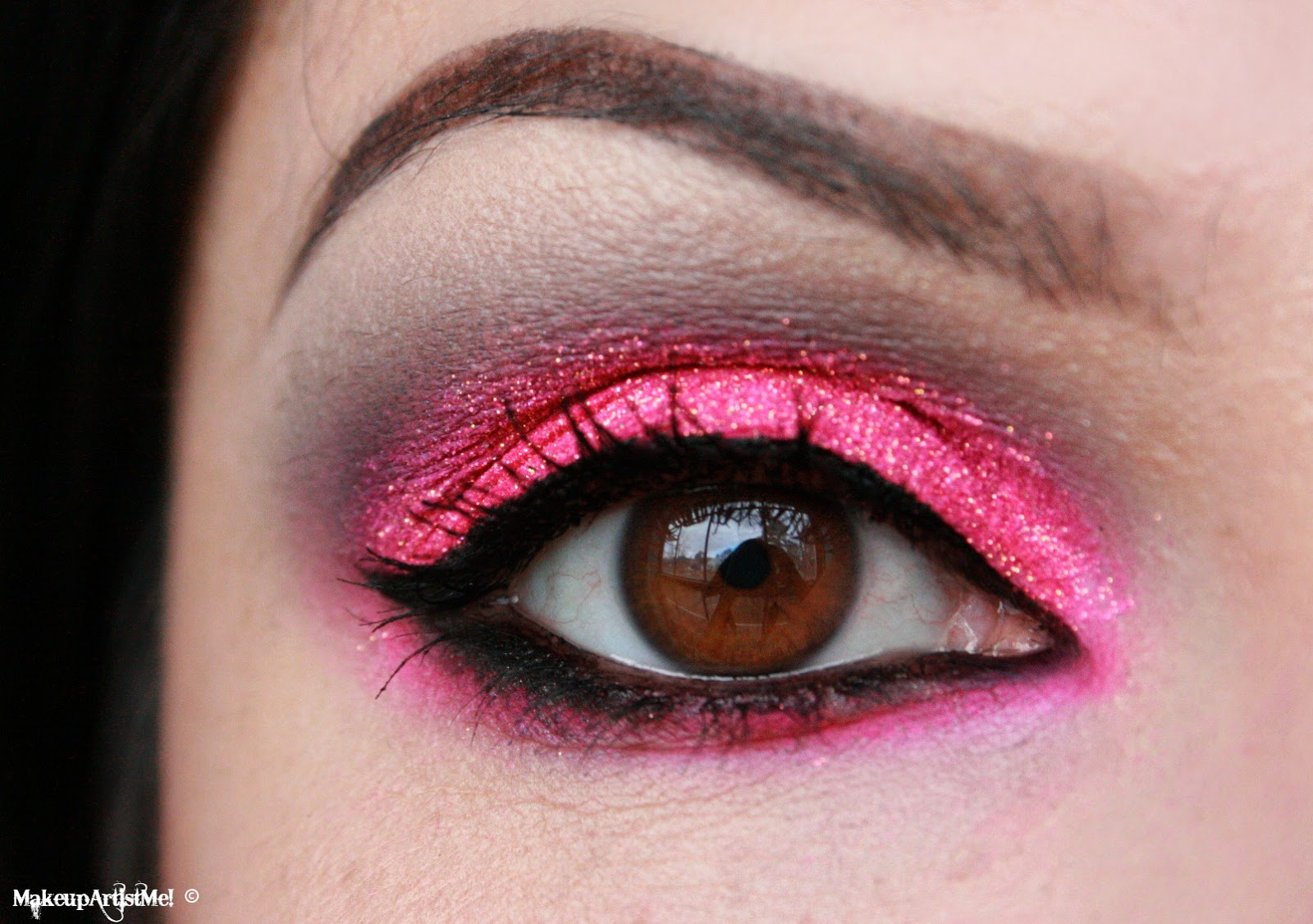 If you're going to work with a particular colour in your makeup, are you usually drawn to the absolute brightest option possible? We can't say we blame you! With really pigmented colours like pinks, which usually have great colour saturation in almost every brand, we tend to find that the brighter the pink is, the happier we are with the final look. That's why we loved this neon pink look from Makeup Artist Me! Do you know what makes us even happier than neon colours, though? Glitter, of course! Naturally, we're thrilled to see that they've covered their lid with a fine dusting of neon pink glitter to complement the shadow and really draw attention in a great way.
2. Neutral with a dark pink blended corner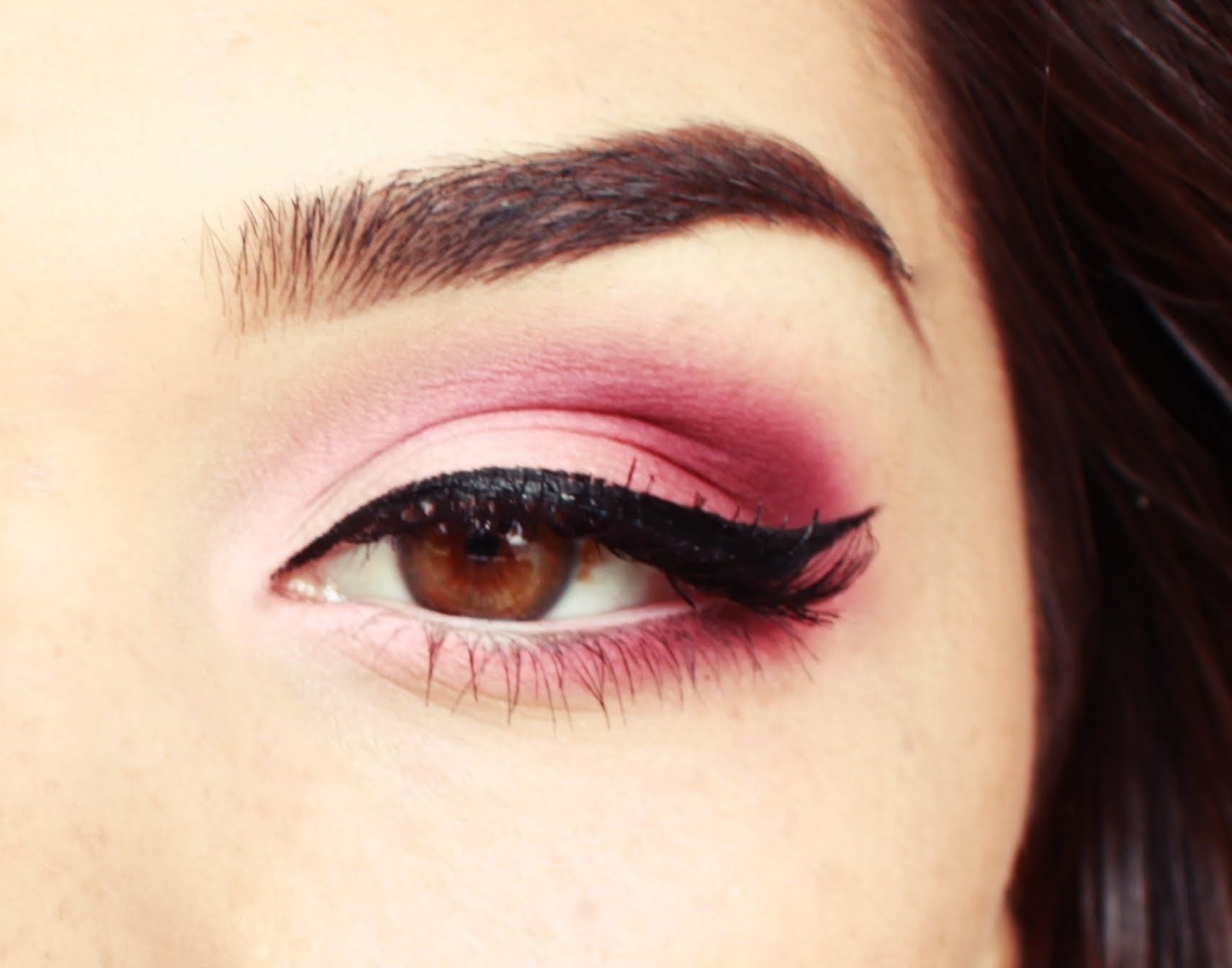 Have you always been a fan of colour gradients and doing makeup that shows a full range of your favourite shade? Then we have a feeling you're going to love this light-to-dark idea from easyNeon! Their step by step guide shows you how to go from a dusty pink so light and subtle that it's almost white to a rose petal pink that's much richer but just as beautiful. We love the way they've carried that gradient on both the lid and underneath the eye for extra intensity!
3. Subtle rose pink with a neutral outer corner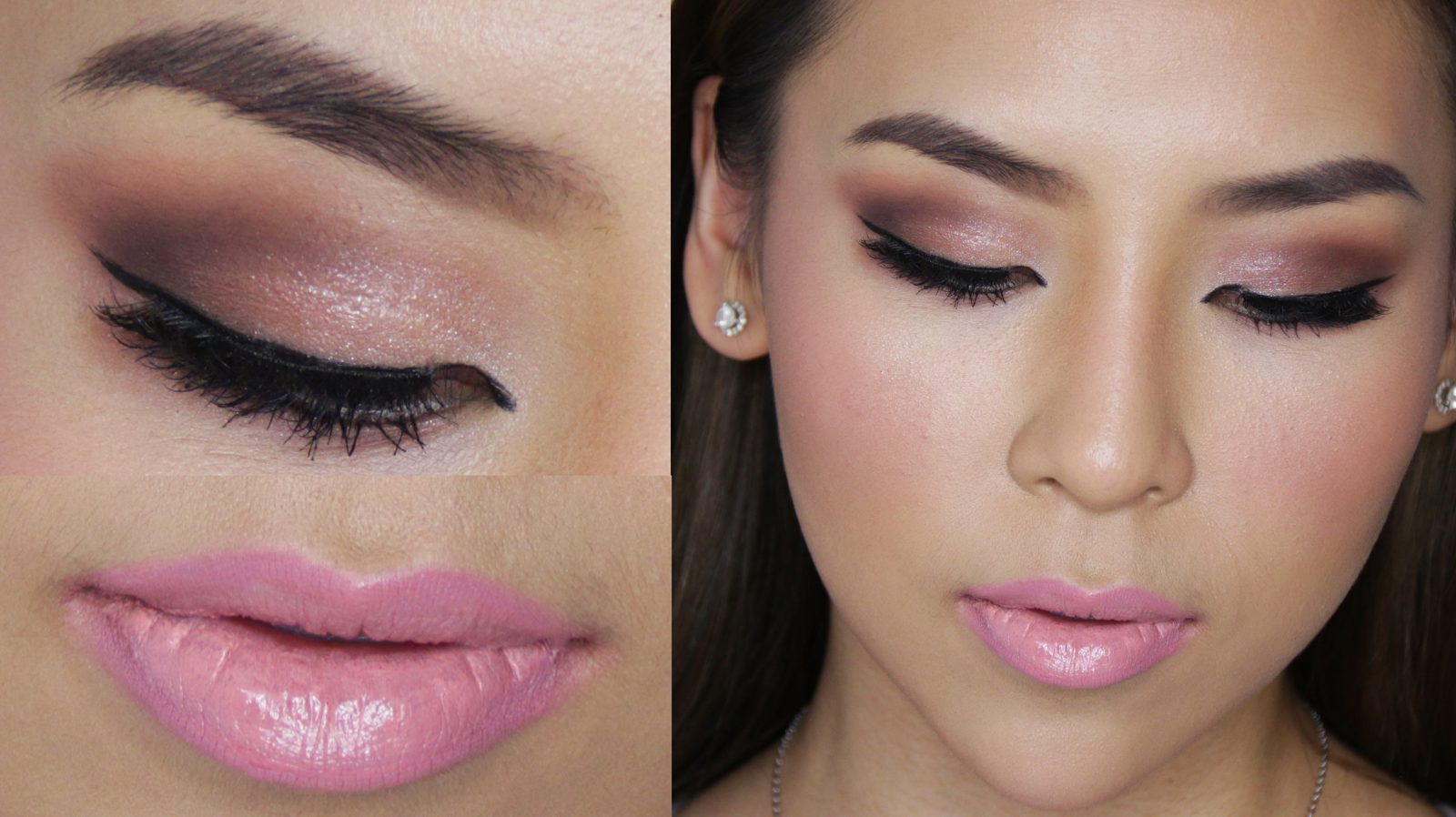 Are you intrigued by the idea of using a pale rose pink but you'd rather keep things a little more neutral moving out wards the corners than the rich petal pink we showed you above? In that case, we suggest trying out these light brown and taupe tones to complement your pastel pink inner corner instead! Tina Yong shows you how to smoke them out towards the outer corner of your eye properly.
4. Bright pink and white contrast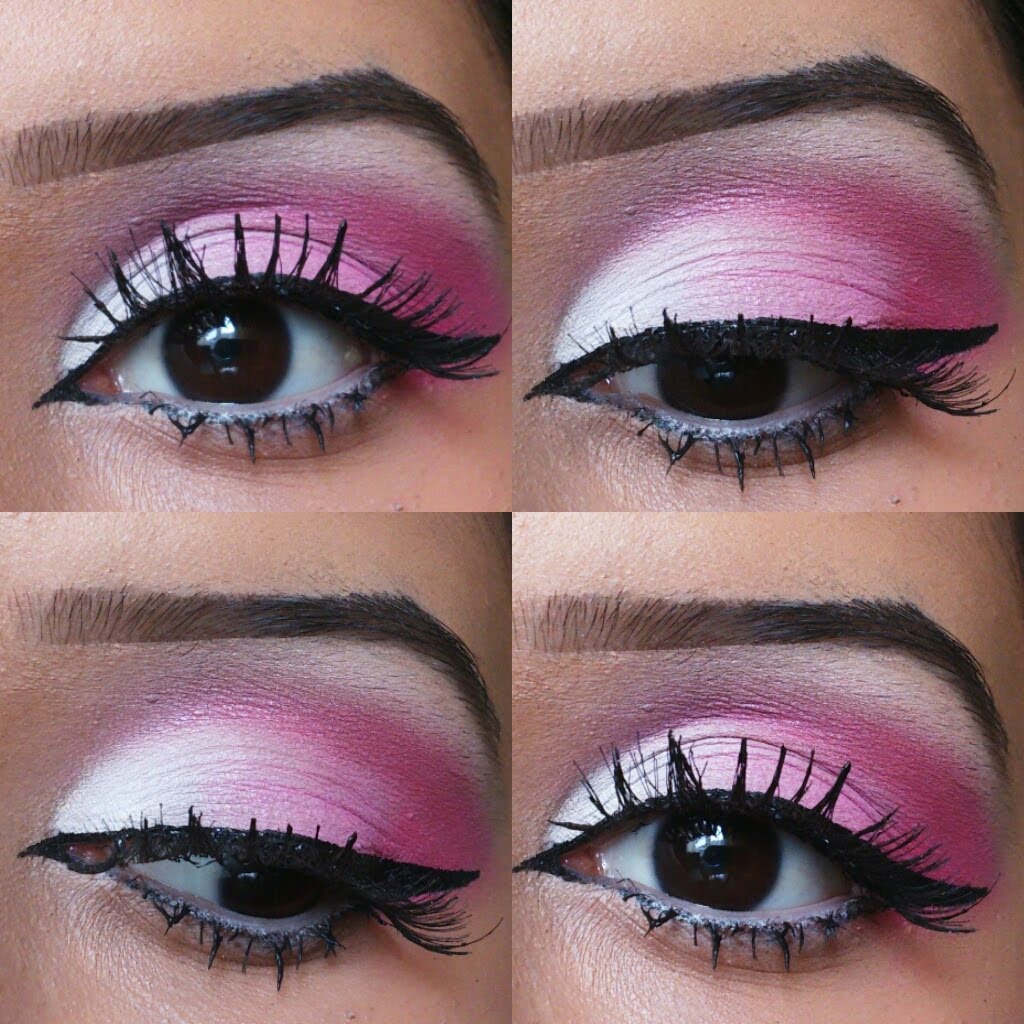 When it comes to making your brighter colours stand out, is a contrast that really pops the most important element for you? In that case, you're going to love this white-to-pink idea from rubyluvsmakeup! Rather than just laying the pink down on your skin or blending it out over a lighter but already pink toned neutral colour, they suggest blending it onto your lid over top of a pure matte white shadow, which helps the colour show in its full pigmentation. Leaving a bit of pure white at the very inner corner, like they did here, will also help the colour stand out in stark contrast!
5. Black, white, and pink smoky eye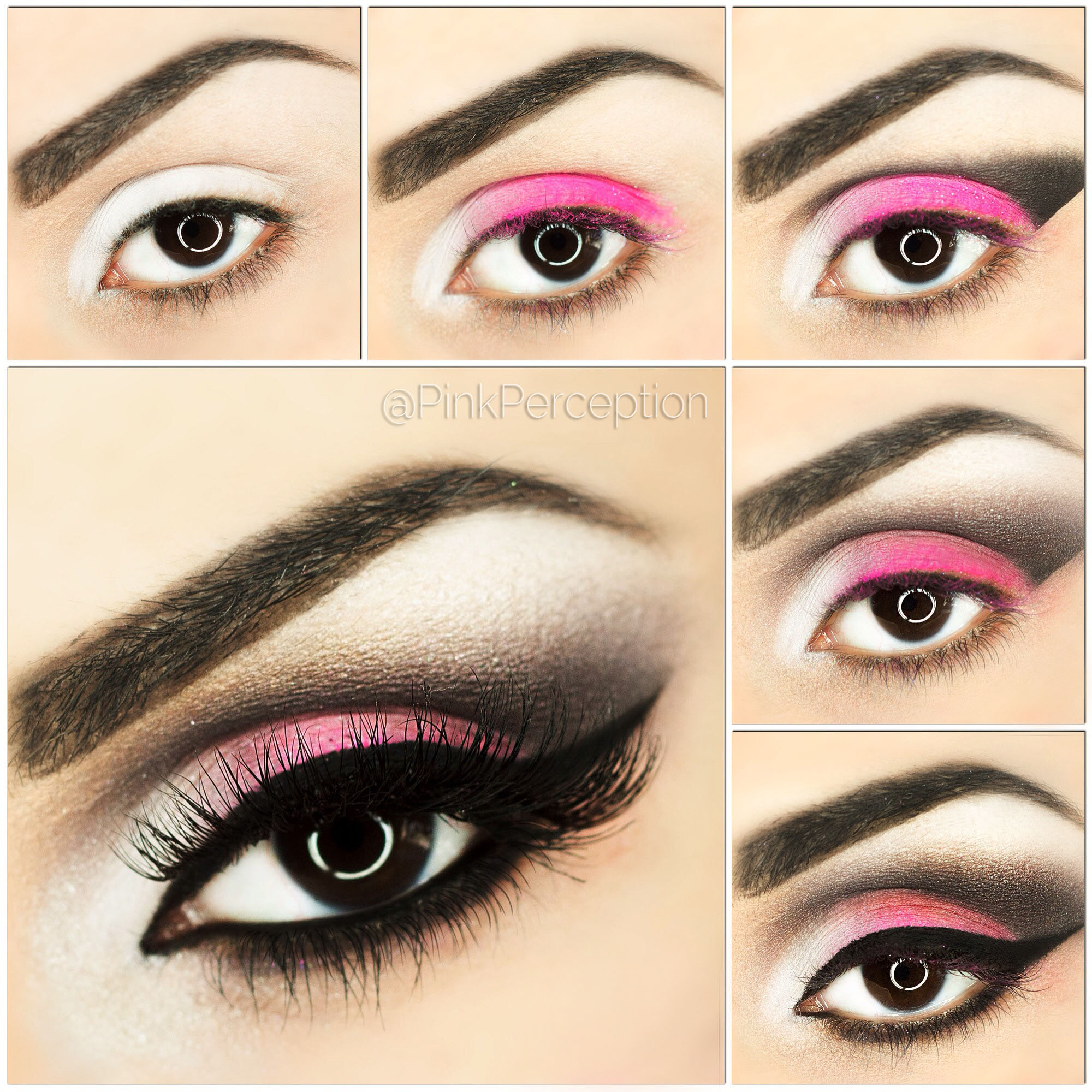 If we're being fully honest with you, a classically sultry smoky eye is probably our favourite makeup look of all time. There's just something about blending that darker black corner through whatever colour you've chosen to showcase and on through to a white in the corner that we really think makes the eyes pop in a gorgeous way. Pink is no exception! In fact, it's one of the most common smoky eyes we do because we think that black and pink look so good together. Just in case you need a bit of guidance with this style, here's a tutorial from Pink Perception!
6. Pink glitter lid with a neutral crease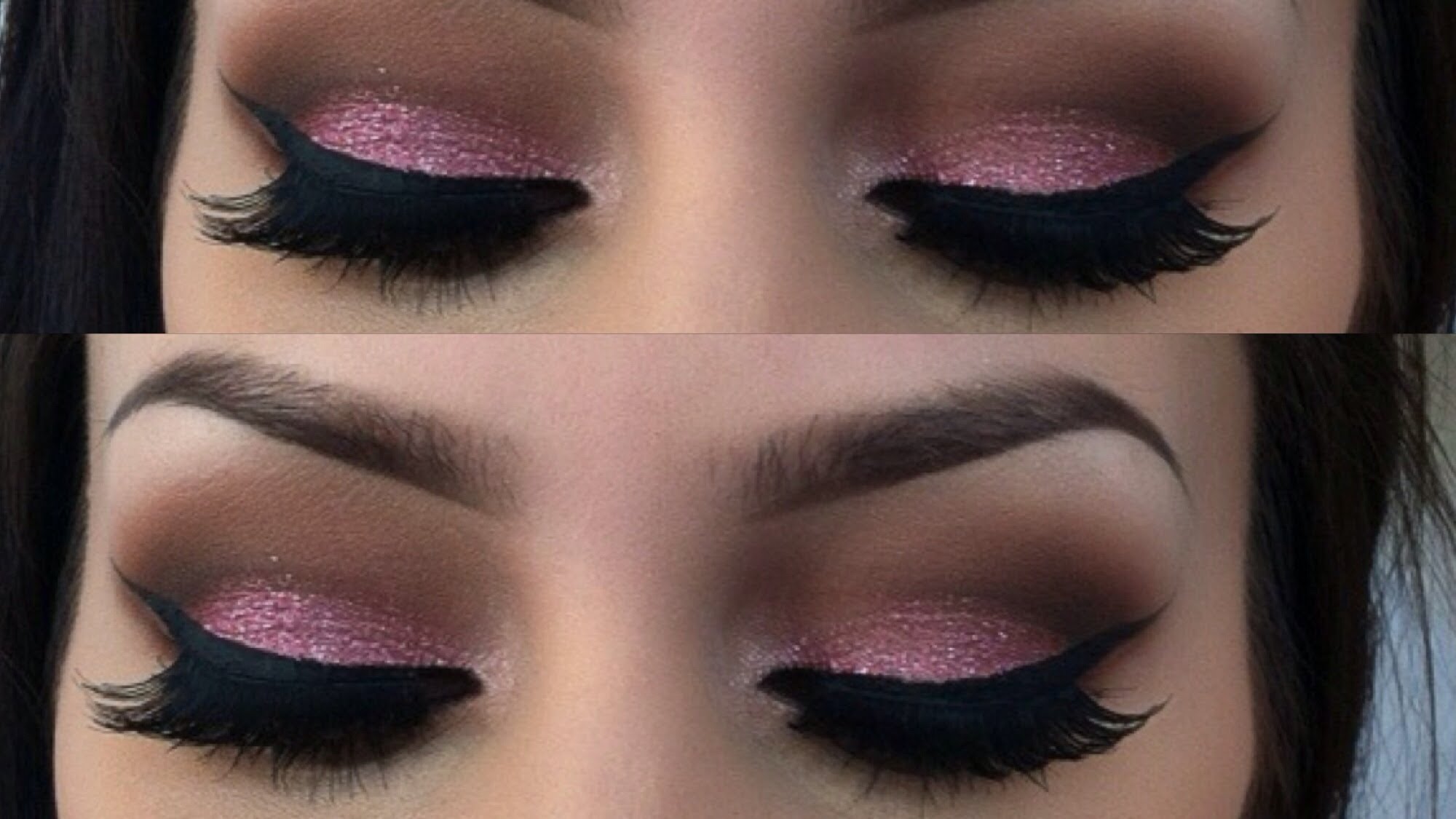 Are you still very into the idea of working with a lighter pink rather than something very rich or neon, but you still want the pink to stand out and draw some attention, since it's such a pretty shade? In that case, you're going to love the way cflowermakeup layered glitter over top of their dusty pink lid! To really make sure the eyes keep an intensity about them and don't just blend into your skin thanks to the pale colour, they also show you step by step how to blend a nice, neutral crease from light and dark brown before you add a sharp winged liner in black.
7. Pink neon wing makeup with neon flecks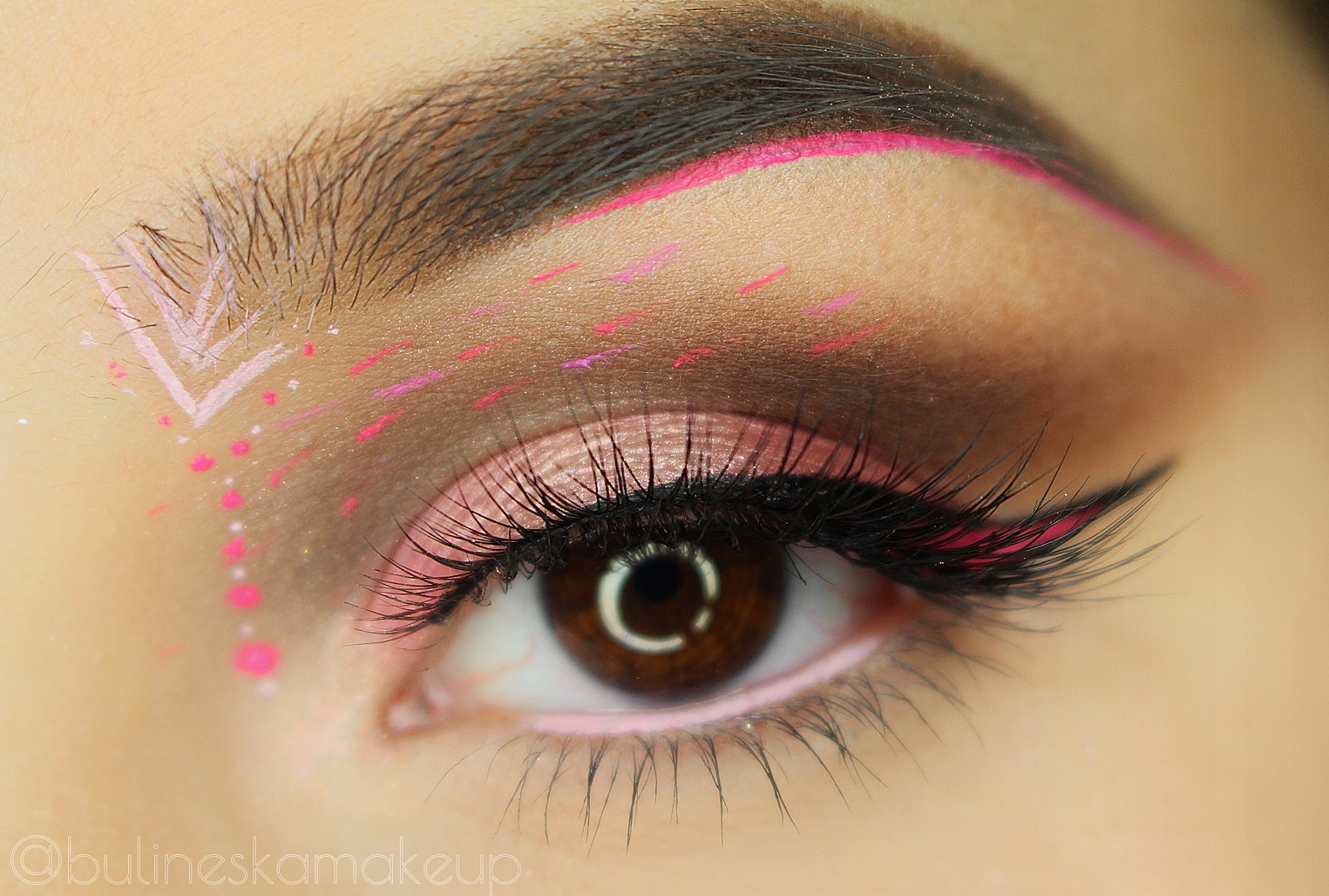 Perhaps you're actually headed to a party or a summer music festival and, in addition to using all the pinks in your palette, you'd actually like to add some shape, visual texture, and unique flare to the look as well? Then look no further than this awesome pink flecked eye and embellishments from Makeup Geek! Besides using pink to add a pattern to their brown bone and underline their eyebrow with a fun pop of colour, they've also made a bold statement painting their winged liner not just in black, but in a hot neon pink that's outlined in black. It's a look we simply can't get over (and we think the basic concept would actually look really cool in other colours too)!
8. Soft pink and magenta with fine gold dust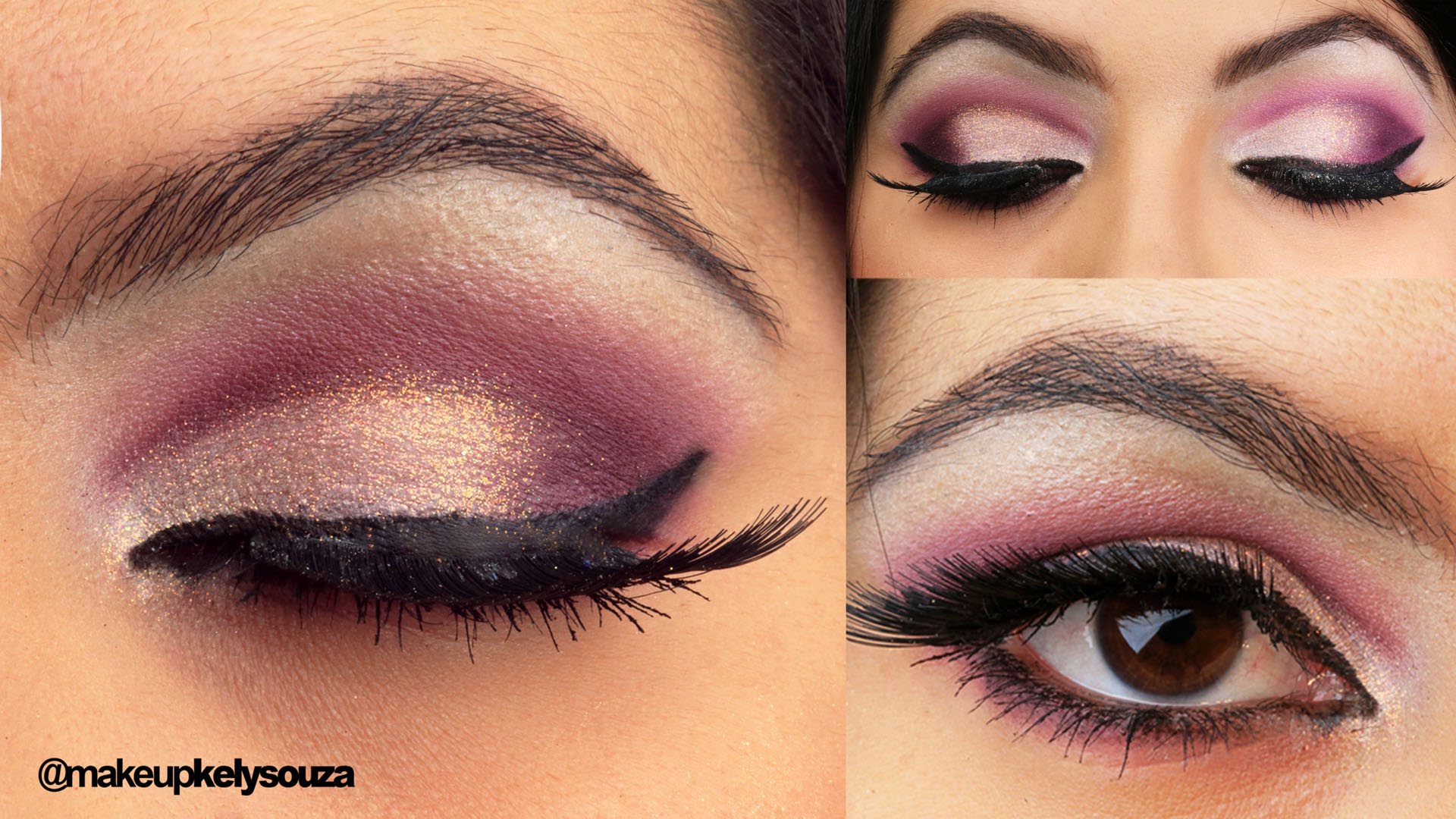 Perhaps you were intrigued by the idea of adding a little bit of sparkle to your look, but you're torn between wanting something that's still quite subtle and something that will provide at least a bit of contrast along with the sparkle you get from it? In that case, check out how Makeup by Kely Souza achieved precisely that with just a touch of gold shimmer! Rather than smother the whole lid with lots of shimmer that builds up, they added just a hint of golf over top of the lightest pink they used, right across the majority of their lid. The shimmer will catch the light just a touch each time you blink!
9. Pink lined wing with soft pink bottom liner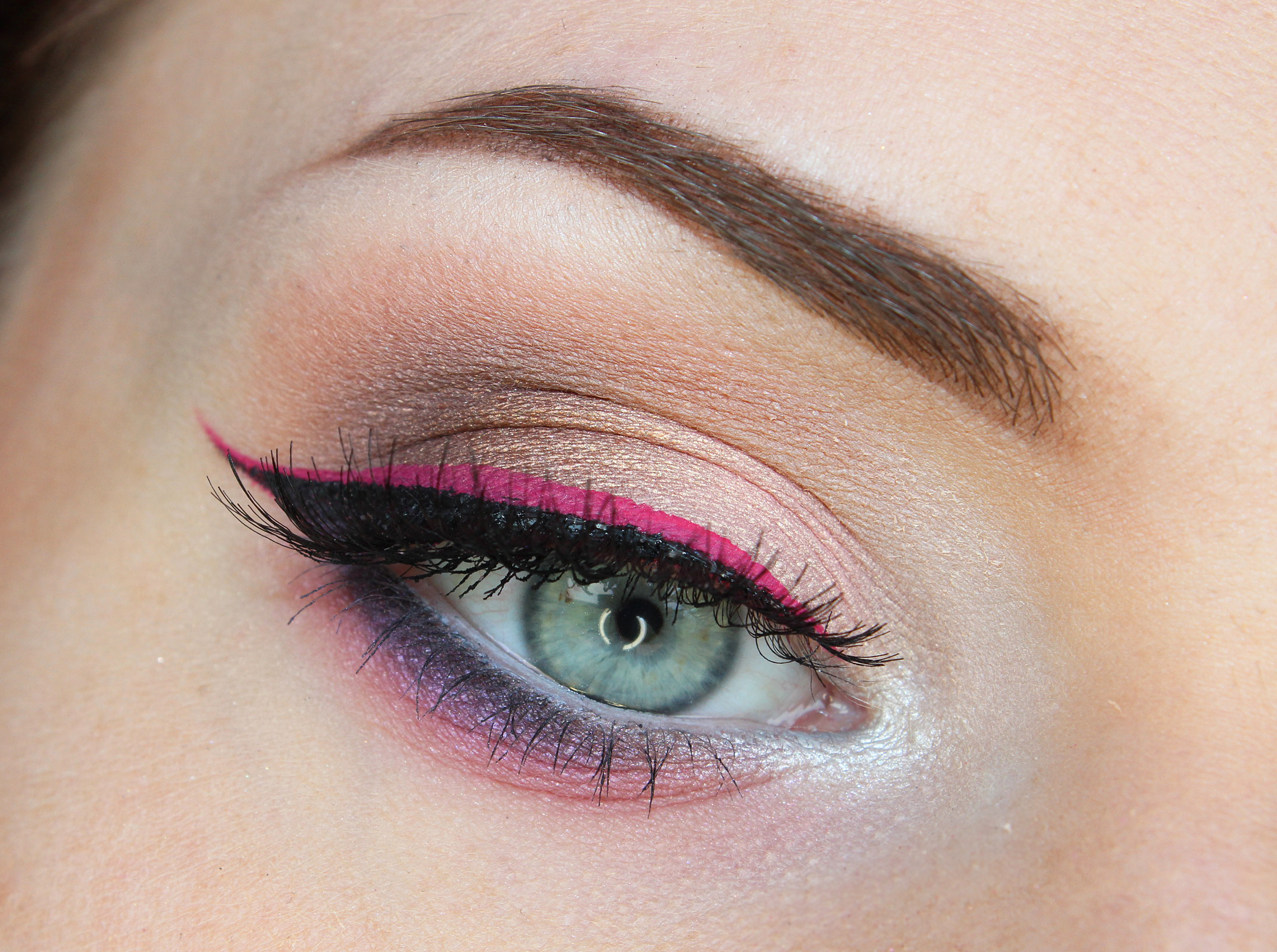 We've talked about it before in other makeup posts we've written and we're sure we'll talk about it again in the future too, but we simply love double liner looks! As if the basic simple black winged liner wasn't already fierce looking enough, the idea of adding a nice, bright colour as a sort of under liner that peeks neatly out all along the top is just cool to us in every way. Makeup Geek is here to show you how it's done, as well as how to do a complementary subtle look on the lid and crease that make the whole style look very finished without taking away from the liner as the focal point.
10. Pink and purple smoky eye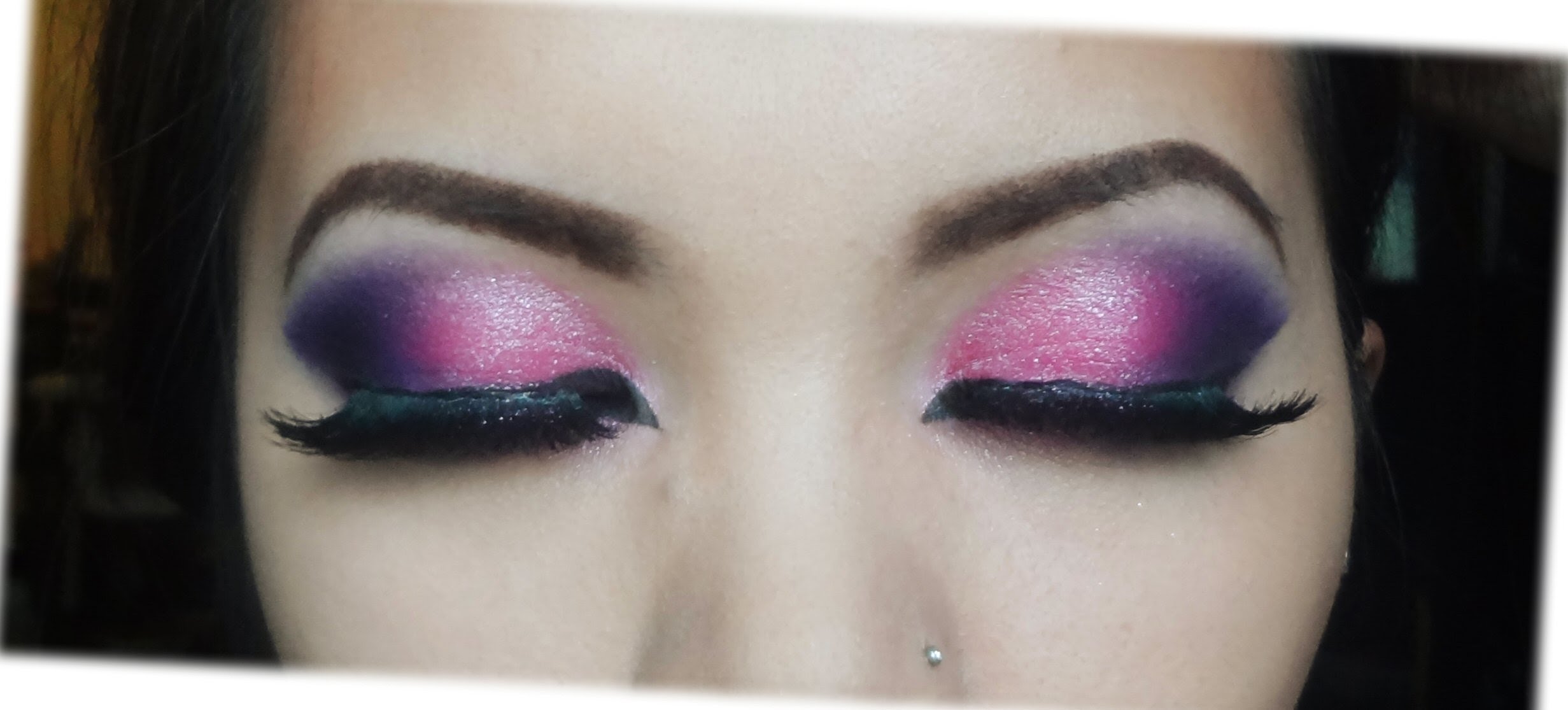 Are you still thinking about the gorgeous pink smoky eye we showed you earlier on our list, but wondering whether you might add even more colour to the look to really make sure you're looking as glam and stylish as possible next time you're out? In that case, we have a feeling you're about to fall in love with this deep pink and purple smoky eye from Nina P. Thongsavanh! They still blend a little bit of black in at the very outer corner to really build that intense ombre effect, but you're mostly creating the smoking aspect of the look using a purple that, when blended into your favourite pink, contrasts beautifully through a magenta phase too.
11. Peachy pink with a clean black wing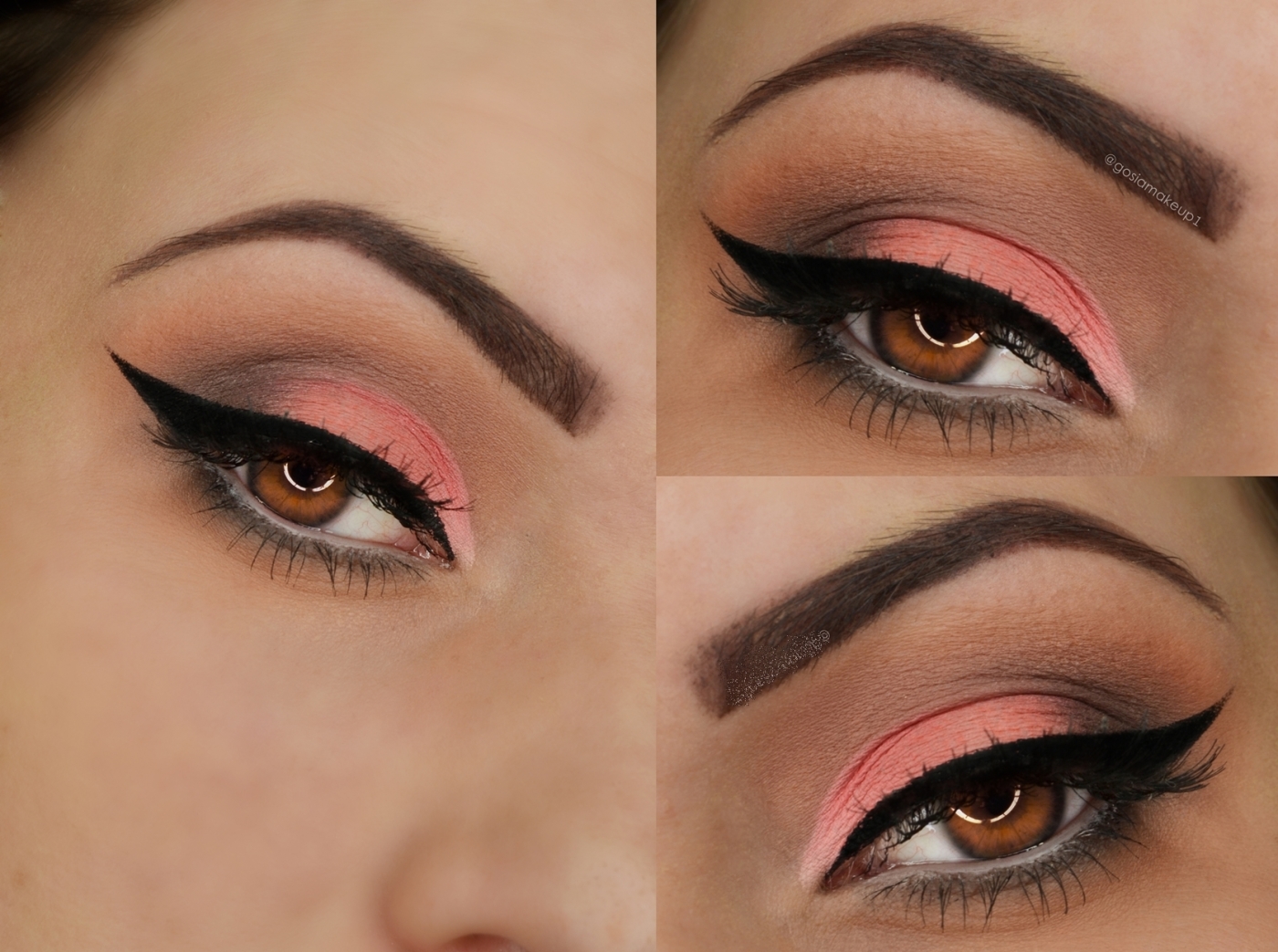 Are you hoping to get into the really unique summer tones with your pink looks, exploring peach and coral based pinks as well, rather than just your classic blush, petal, and neon type shades? In that case, you simply must take a look at the way Glam Express paired their bright peach-ink lid with a neutral light and dark brown crease. A neat tapered brow, a black wing, and a light lower waterline tie the rest of the look together beautifully!
12. Black and gold lid with neon pink centre accent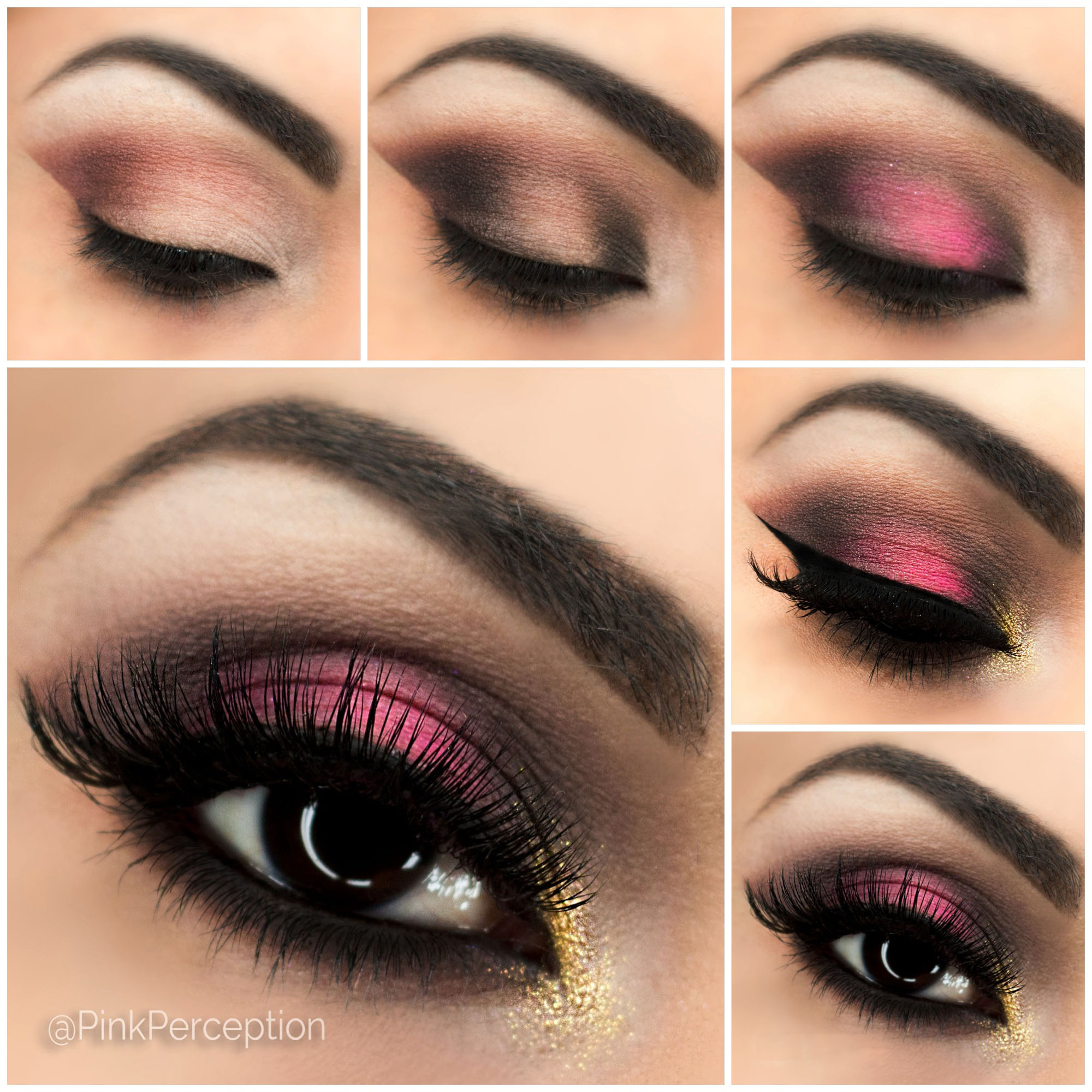 Are you look for a way to really make a pop of neon pink stand out, but you don't want to cover your entire lid or have the final product look really overwhelmingly… well… pink? Then we definitely suggest trying this pop of neon amongst a darker look featured on Pink Perception! They've allowed the bright pink pigment to build in the centre of an otherwise black lid leading up to a bugged out dark brown crease and, for extra flare, they've also added a light shimmering layer of find gold cosmetic glitter to the inside corner of the eye. The whole thing is mesmerizing when it's finished!
13. Blended pink eye with a lighter pink lid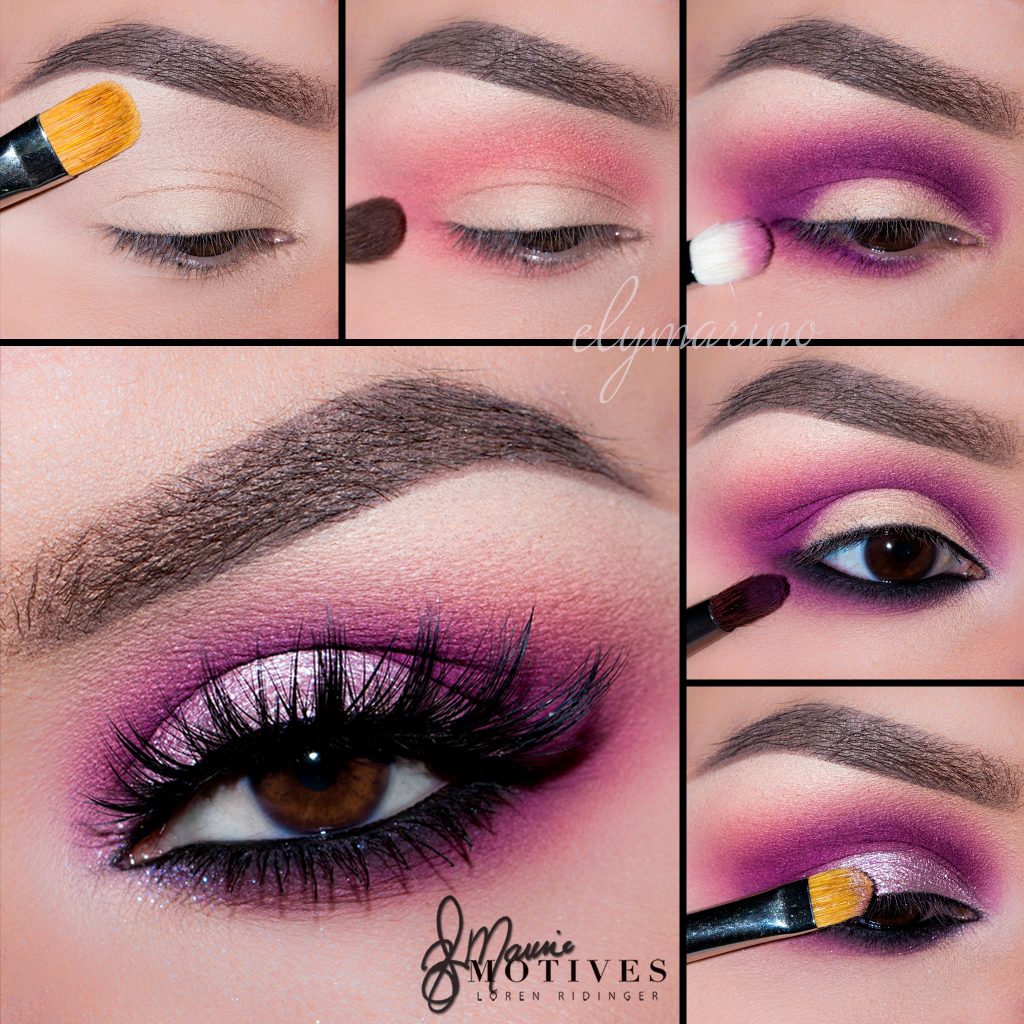 Are you very into the idea we've shown you so far in several iterations of having a lighter lid and a darker crease, but you really want to get as much pink in there as you possibly can? Then it's a good thing there are so many different shades of pink! We love the way My Fashion Cents laid down a dark pink base that blends out lighter into the crease but then topped the centre part of the lid off with a shimmery light pink shadow that has great pigment and really creates an effective tonal contrast.
14. Pink, purple, and gray subtle glam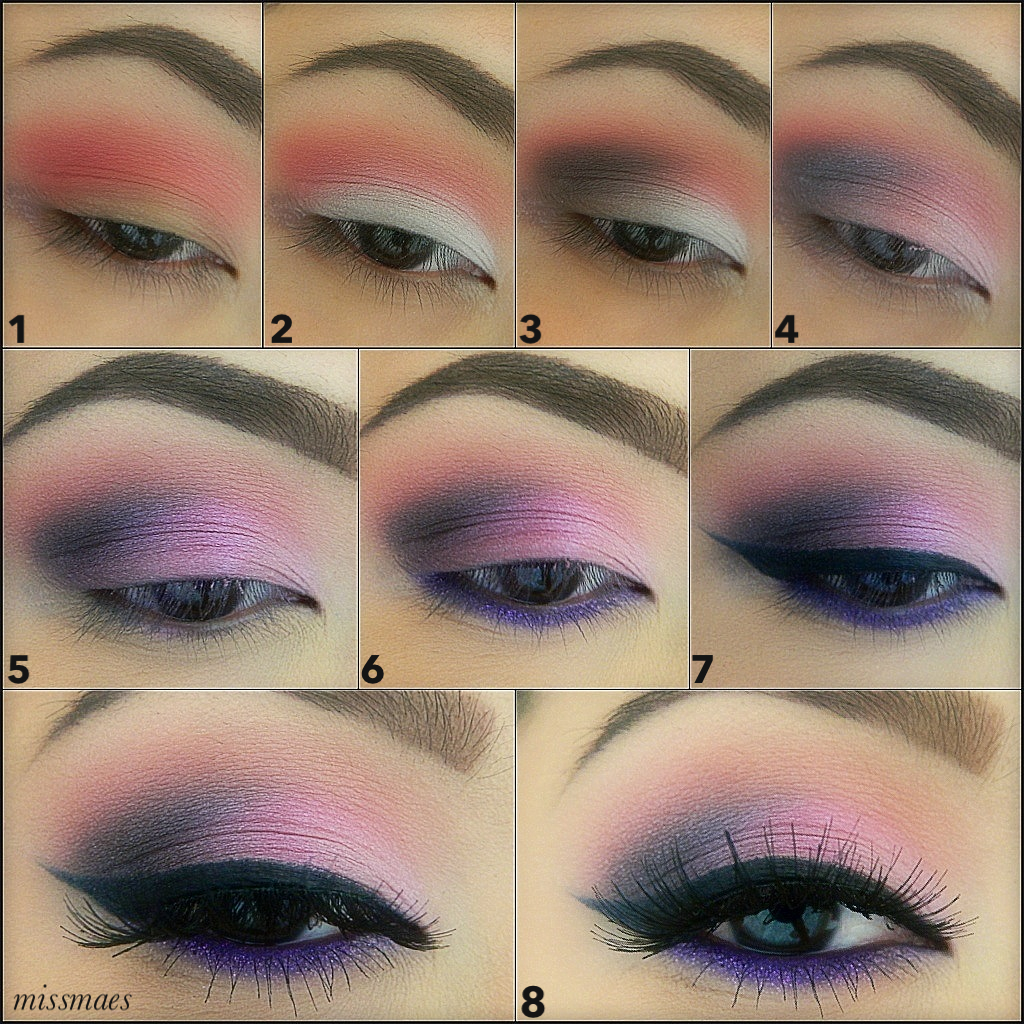 Were you quite taken with the pink and purple smoky eye we showed you earlier but you found the darkness of the look just a little bit too intense for your liking? Perhaps you'd rather use those colours in combination with each other but in a subtler, much lighter way instead? In that case, we have a feeling you'll absolutely love this look from Miss Maes! You're still getting that pink lid and pretty blended purple lining, but using a gray instead of a super pigmented matte black will keep things a little bit less "night time glamour" and a little bit more versatile throughout your day as a whole.
15. Peachy pink with a mint underline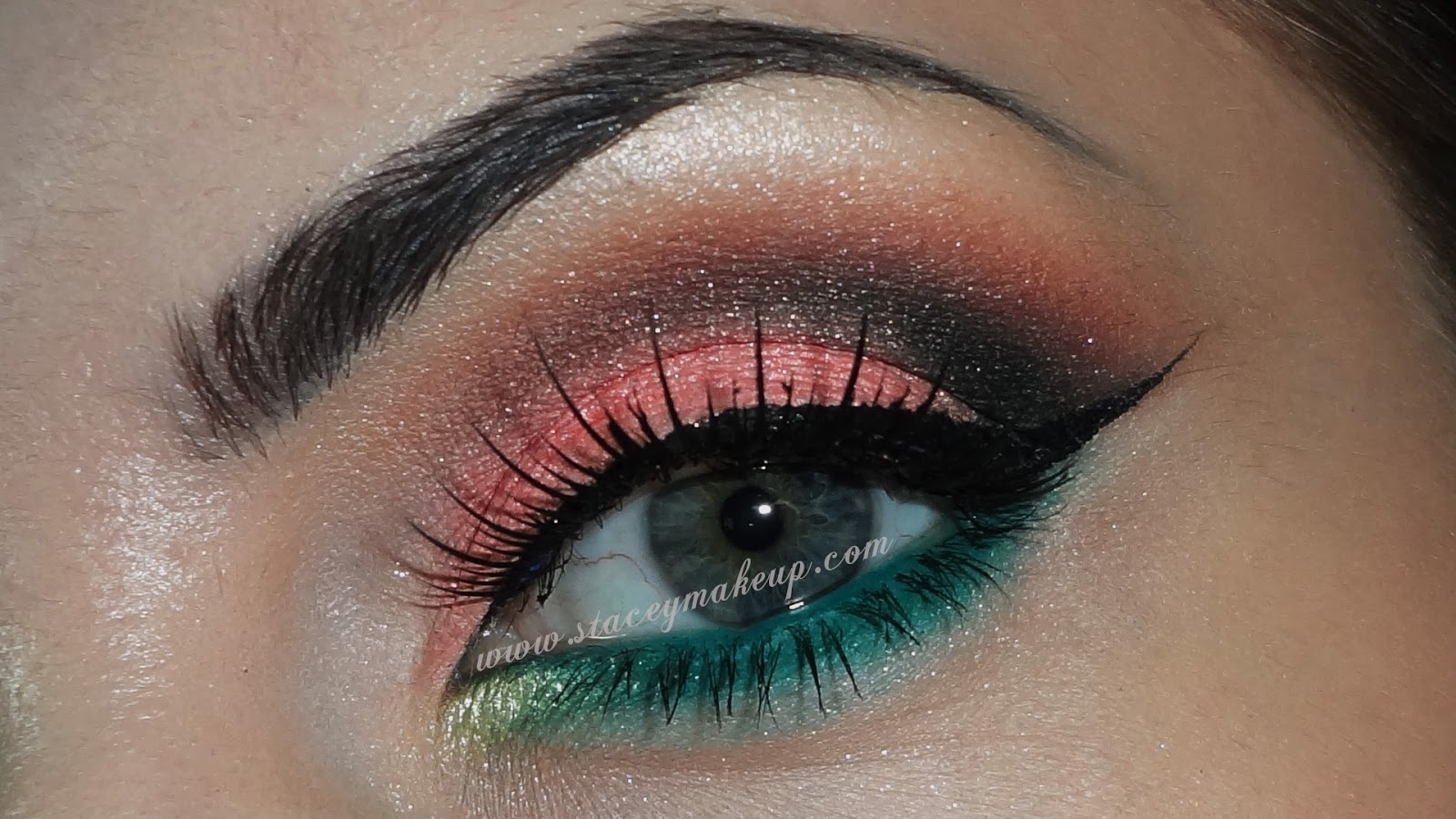 Are you still thinking about that peachy pink look we showed you earlier and loving the contrast between the uniquely bright lid and the stark black wing, but you kind of wish there was another colour for you to play with in that look as well? Then here's a great alternative that will give you just what you're looking for! We love the way Stacey Makeup added a mint underlining to the look, buffing everything out with a light shimmery overlay for a bit of extra cheerful glamour. We never quite realized just how much we love peachy pinks and mint blues together until we saw this stunning look, but now we're kind of obsessed!
Do you know a fellow makeup enthusiast who absolutely adores the colour pink but who's always looking for new makeup inspiration? Share this post with them to help them find new ideas!