When it comes to doing our makeup, there's nothing better than taking our eyes as an opportunity to get creative and play with colours. In fact, even when we're aiming for a look that's a little bit more subtle and appropriate for daytime, rather than something very glamorous and attention grabbing, we still like to incorporate our favourite shades into the look. Lately, we've been feeling pretty blue… but we don't mean that we're sad! We're doing great but we're completely obsessed with blue eye makeup and on the prowl for new looks all the time.
We've found plenty of awesome blue makeup designs in our search so far! Check out these fantastic step by step guides to making different blue inspired makeup looks of all kinds. We think you'll find something you like no matter your personal style or facial structure!
1. White with a blue outer corner and blue underlining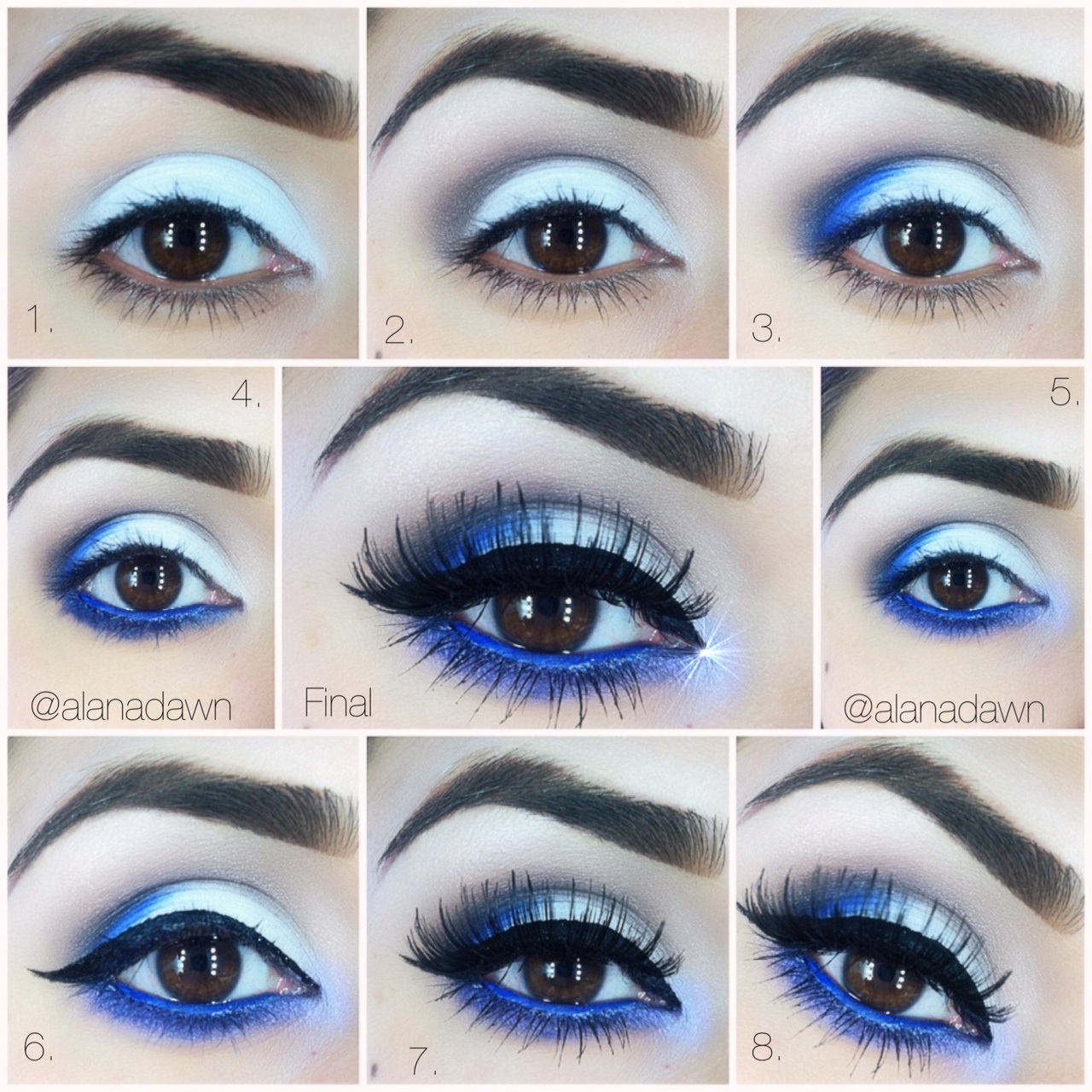 If you're going to get creative with the colour blue, you might as well really put your blue shadows, shades, and powders to good use and let people see how much you love the look! We quite enjoy how Beautiful Shoes did just that by shading blue in on top of white for some great contrast that extends from the outside corner of the eye, but our favourite part of this look is the way they lined all across the bottom lash and water lines with a nicely blended blue as well.
2. White and deep blue accents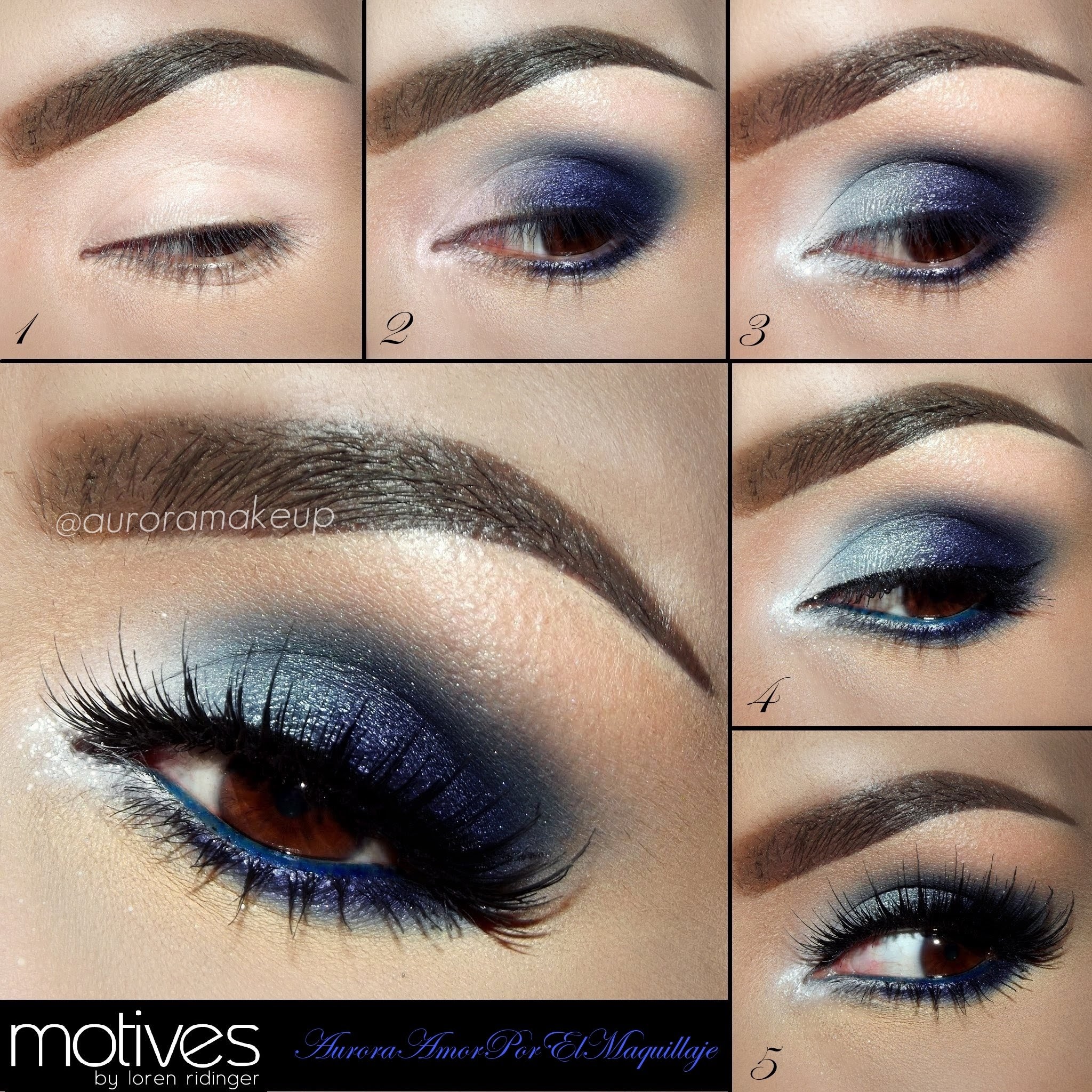 When you picture your ideal blue makeup look, does your mind actually wander to deeper, darker blues than what we showed you above? Perhaps you're picturing a smoky navy eye that's a little bit more sultry than some of the more eye catching blues that you'll find in brighter makeup palettes. In that case, check out how Loren's World combined that shade with white and black to tone things down but still make sure a hint of deep blue shines through.
3. Blended blue tones with a dusty pink crease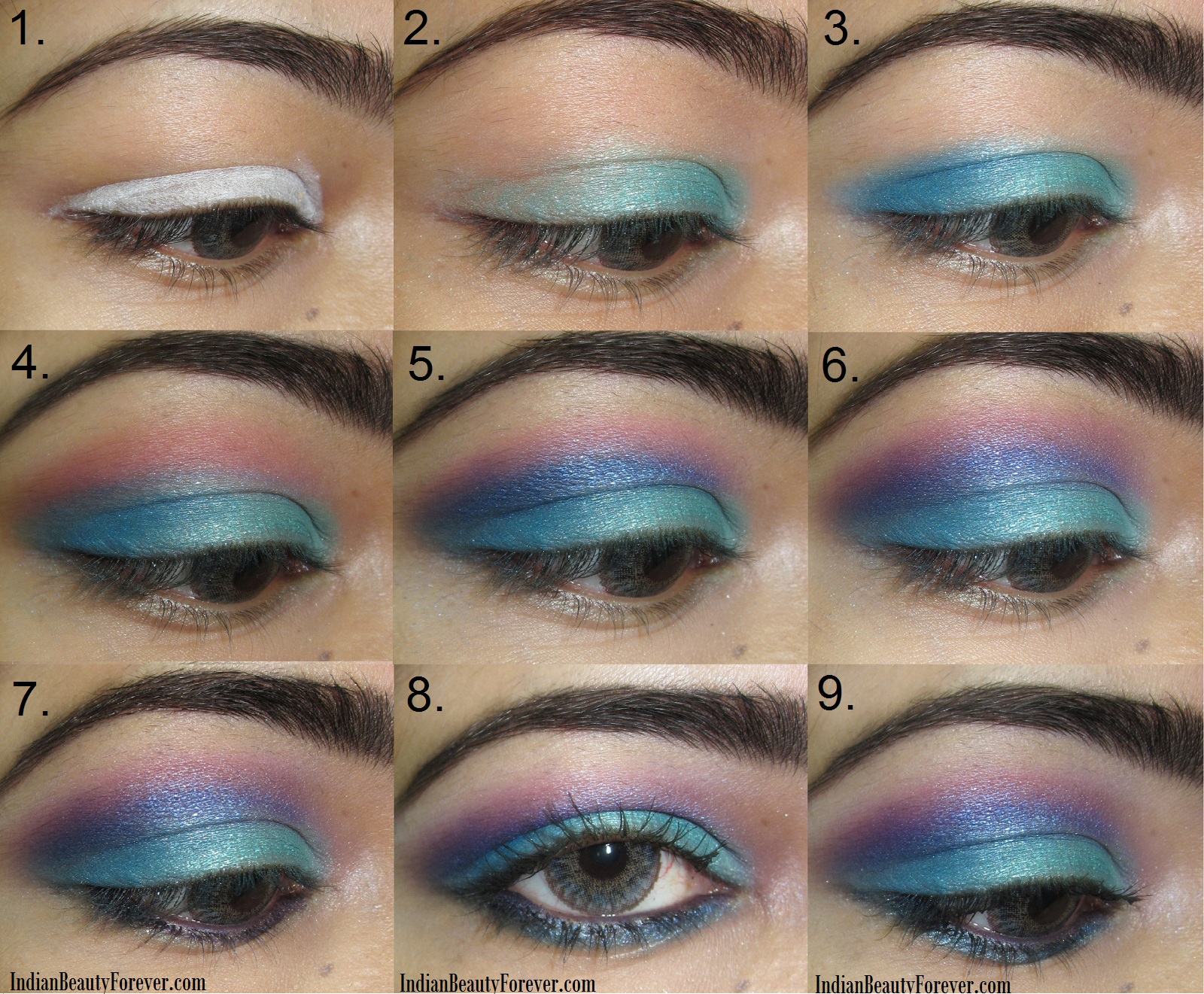 Have you always been a huge fan of colours and, even though you want your favourite shade of blue to take the stage this time, you'd love to combine it with some other hues to really give your style some umph? Then check out how Indian Beauty Forever blended  a light blue shadow with some pretty purple leading up the lid and a lovely magenta pink at the crease! We love the way they've kept the liner and lashes light so the emphasis really stays on the colours of the lid.
4. Blue with a grey inner corner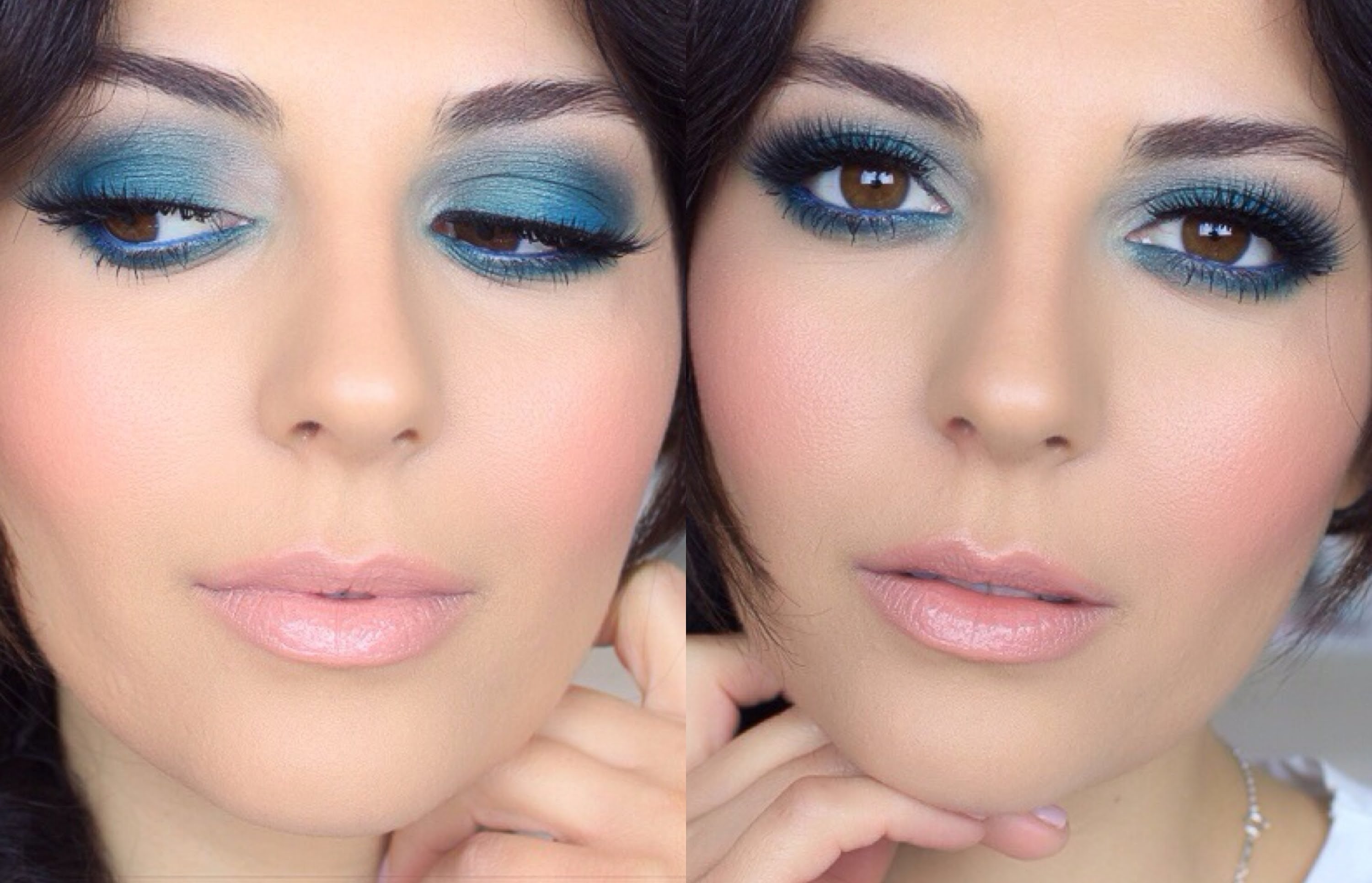 Do you love the idea of blending blue with other subtle shades but the stark contrast between your favourite blue and pure white, like we showed you before, is just a little too much for the look you've got planned? In that case, consider using a silver or matte gray in a very light shade instead! Sona Gasparian shows you how a light gray still helps the blue stand out by giving it a solid base to build on, but doesn't quite scream so loudly in its contrast as white does.
5. "Feeling blue" makeup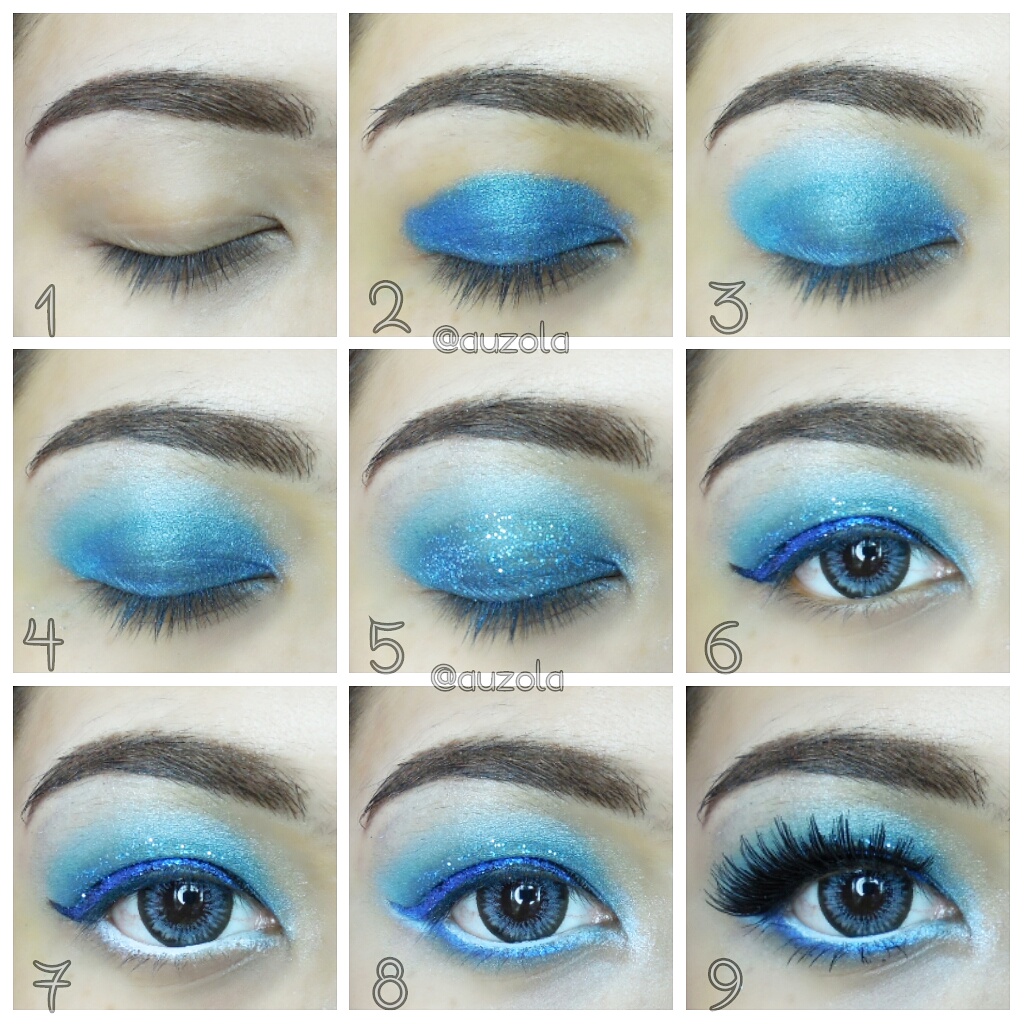 Have your favourite makeup tutorials and looks always been those that are inspired by all kinds of different creative sources? Then you're going to absolutely adore this very blue, slightly sparkly tutorial that was modeled after the character Sadness from the kids' movie Inside Out! Rainbowdorable guides you through the process of recreating their blue look designed to express not so much the actual sadness of the charater's demeanor, but rather to pay homage to the courage she ends up showing in the movie by using makeup that resembles her own looks.
6. Double lined bright blue wing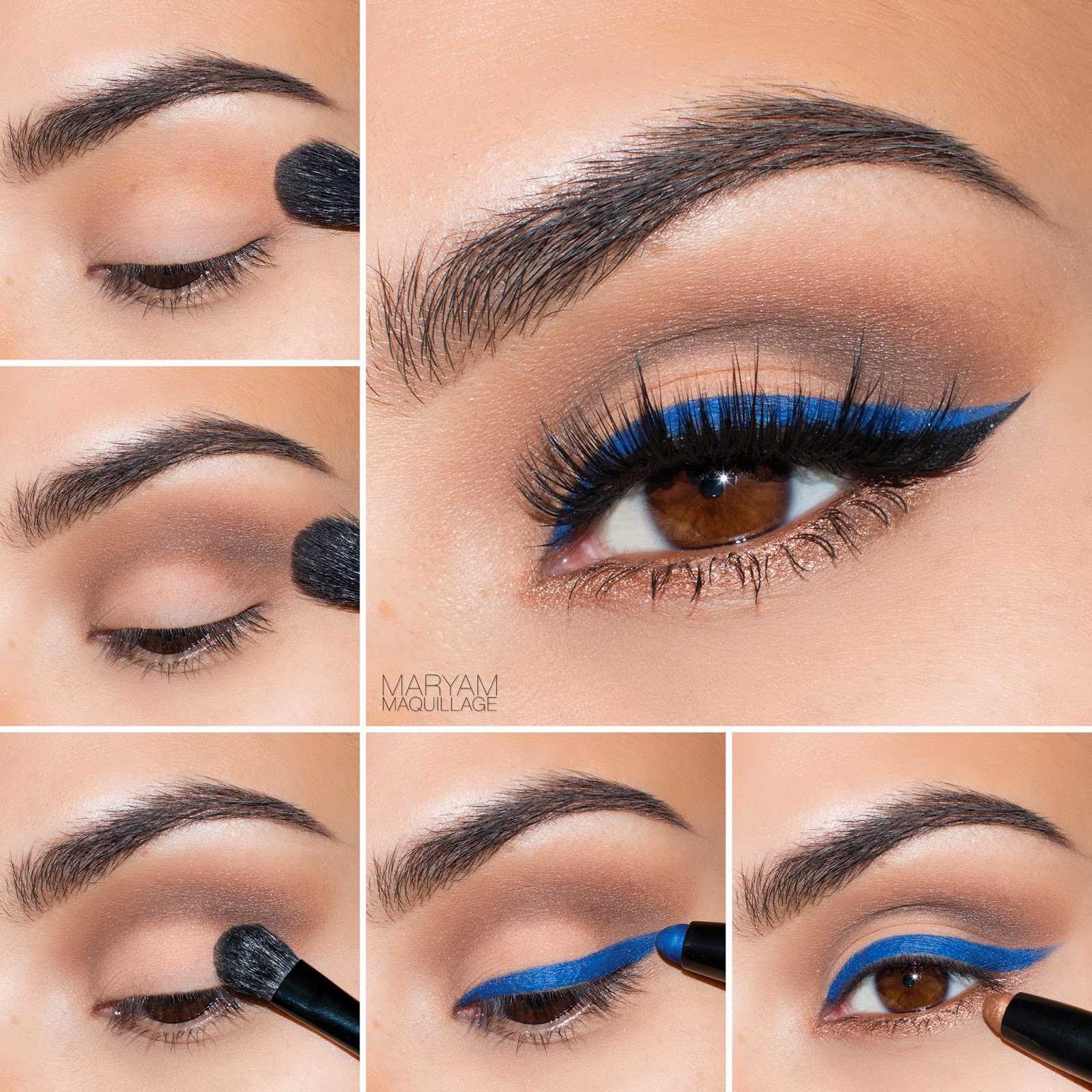 We've always loved layered eyeliner, especially if it's winged. There's just something about a good winged eyeliner shape that draws fantastic attention to the eyes and adding a second colour to the shape gives the whole look some umph. That's why we loved this neat, careful black and blue wing from Maryam Maquillage so much! A neutral and taupe crease makes sure the rest of the eye isn't overshadowed by just the bright liner.
7. Layered blue glitter lid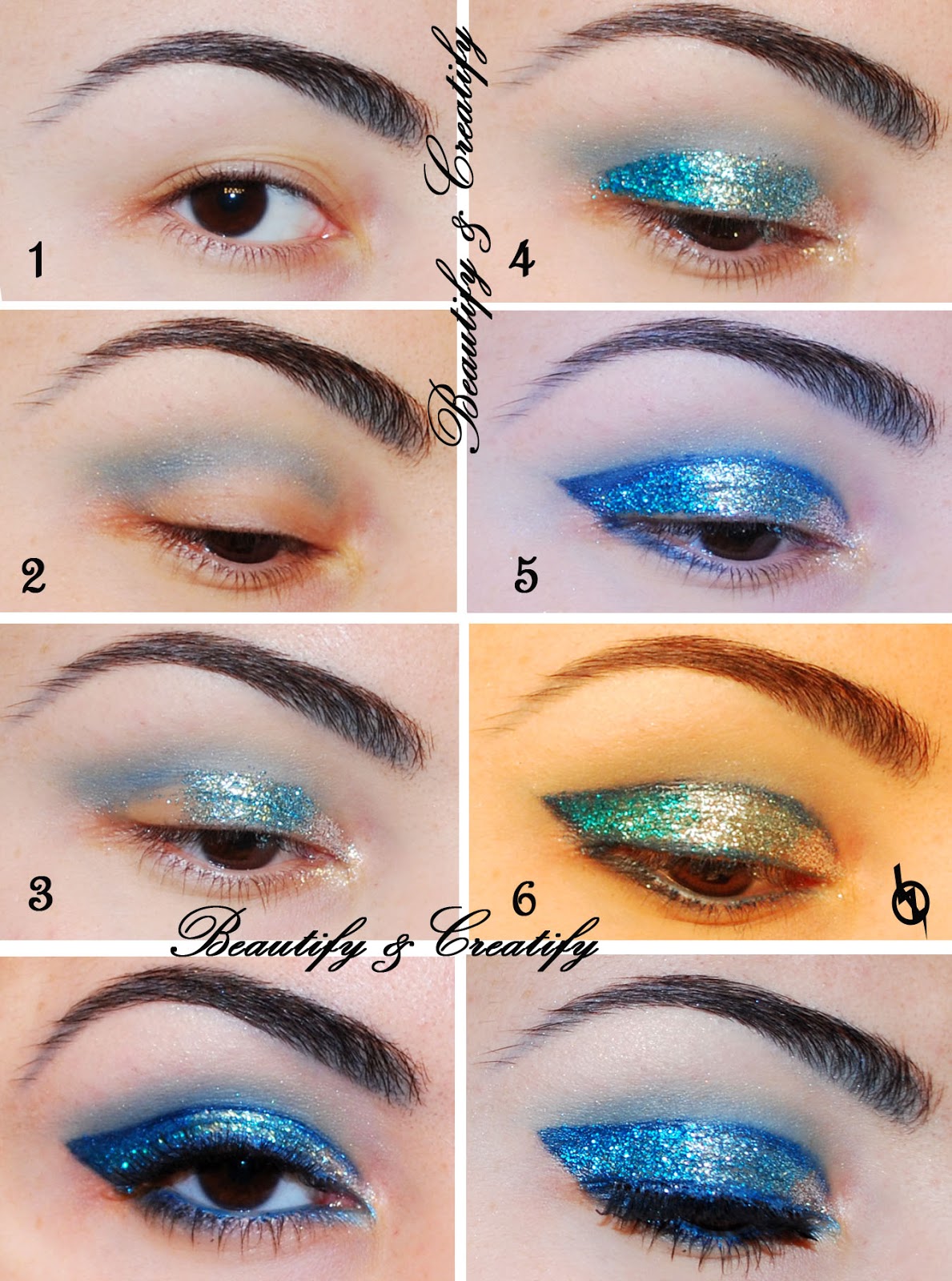 Are you the kind of makeup enthusiast who has trouble resisting the urge to use glitter every time you use bright colours? To be fully honest with you, we're exactly the same way! We actually love glitter so much, however, that we often don't even try to resist the urge at all. Instead, we do what Beautify and Creatify did here and just give in and combine the two! We love the way they layered blue glitter in different shades to create a multidimensional look that sparkles far and wide. If you look very closely, you can see they were even detailed enough to fill the brow a little bit with a subtle dark blue that adds an effective depth to the eye area as a whole.
8. Blue masquerade makeup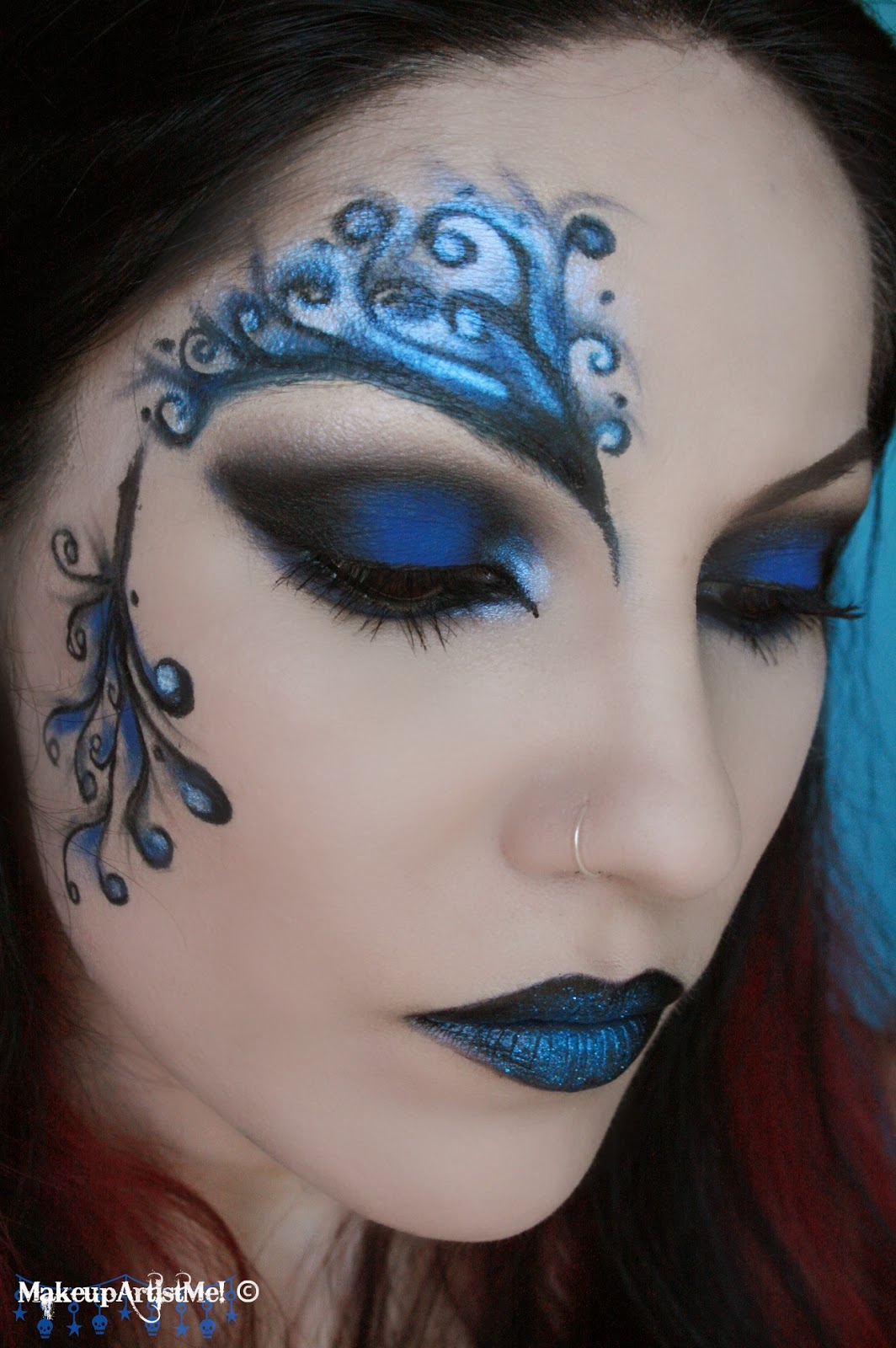 Have you actually been scrolling through this list looking for something that's a little bit more funky and artistic than just some coloured and blended eye makeup but that still harnesses the beauty of your favourite shade? Then take some inspiration from this masquerade inspired blue makeup tutorial by Makeup Artist Me! We actually think this look would be stunning no matter what colour you chose to do it in, but we're particularly fond of the way the blue looks in the swirling lace-like patterns above the eye.
9. Taupe neutrals and blue liners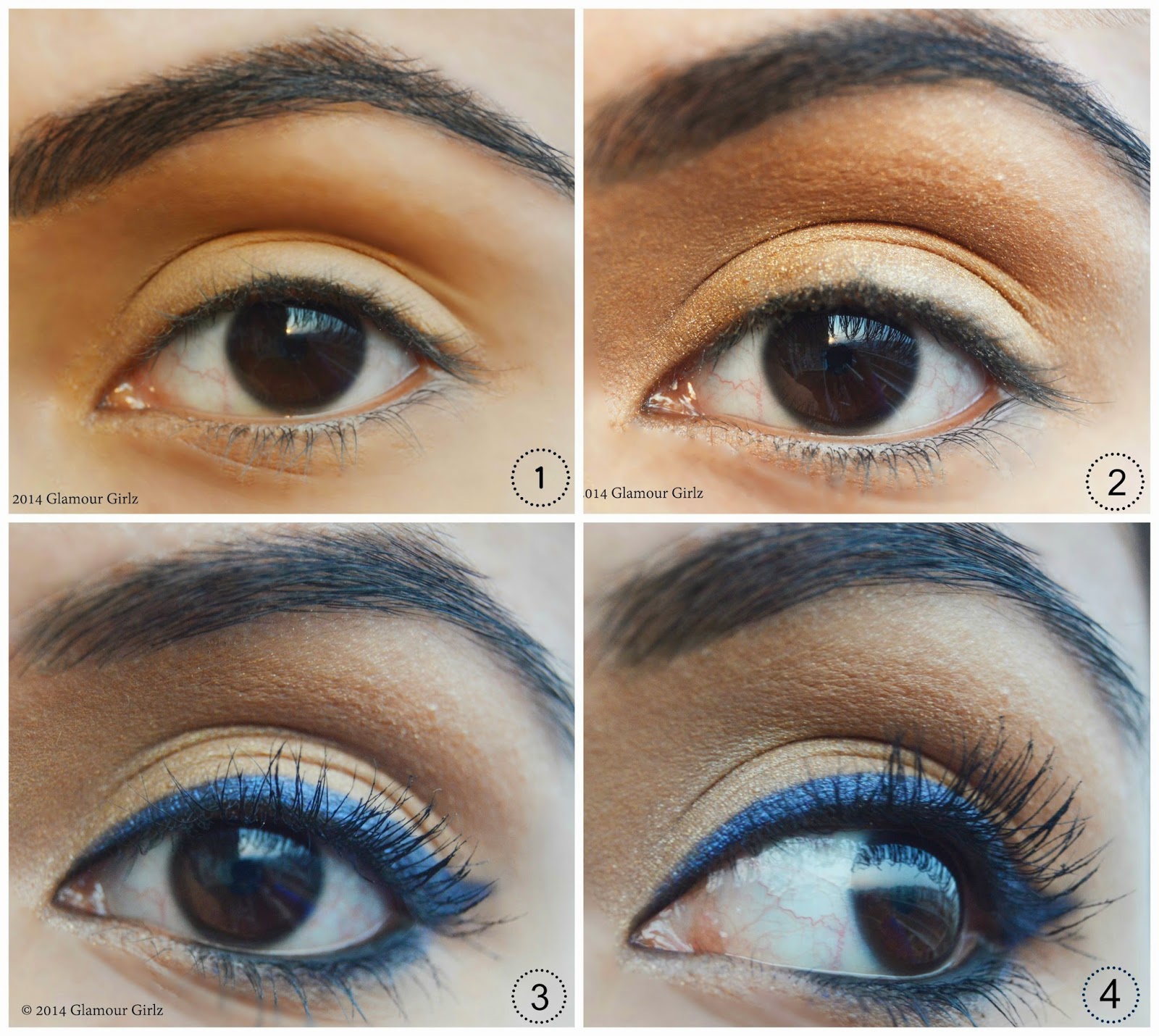 Do you love the idea of lining your eye in blue because it offsets the dark shade of your eyes and gives the whole area a pop of colour, but you want to let the blue stand out well without being overwhelming? In that case, check out the way Glamour Girlz combined a navy blue eyeliner with neutral tones close to their skin's shade in order to have a neat, finished look but still let the blue details take centre stage in a simple way.
10. Blue and gold glitter eyes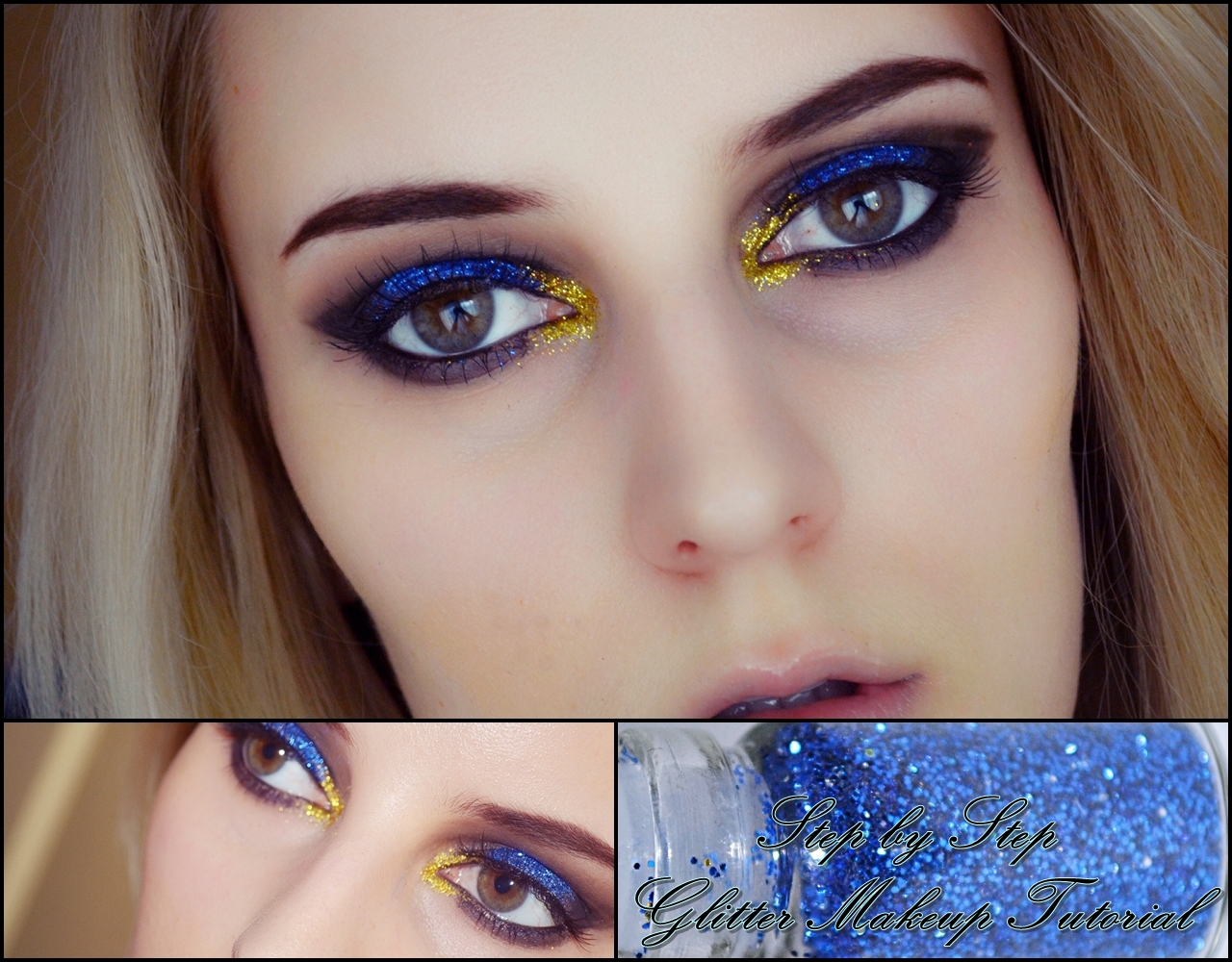 Did you love the idea of using blue makeup and glitter in one place but you think perhaps you'd rather get a little bit more creative and combine other colours with your look rather than just combining different shades of blue? Then perhaps you'd prefer a look similar to Beauty Conspirator's blue and gold sparkle look! They've kept the blue shadows and glitter as the primary focus of the tutorial but they've also added a pop of gold in the inside corners to create an interesting visual that draws attention.
11. Deep blue and steel silver smoky eye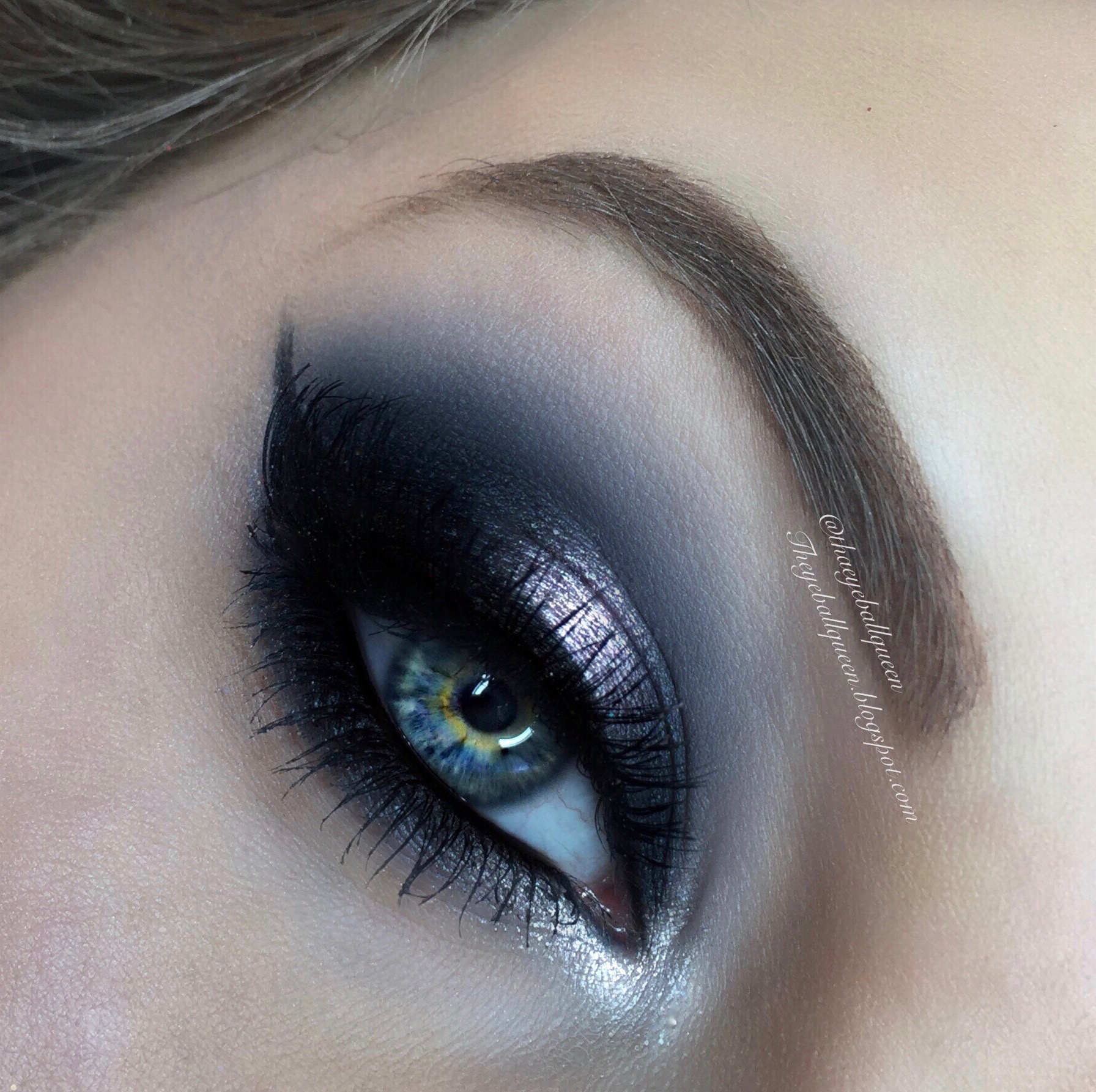 No matter what colour eye makeup we're using, we often find that one of our very favourite ways to put it to good use and really harness the power the colour has is to blend it into a classic smoky eye, just like Makeup Geek did here with this deep blue, black, and silver look. We simply love the way that balancing a darker shade on the outside of your chosen hue with a lighter one on the inside corner lets you see a full range of contrast within the colour itself. Black and silver both complement blue very well, just in different ways, and this look lets you see both!
12. Blue lid with a smoky corner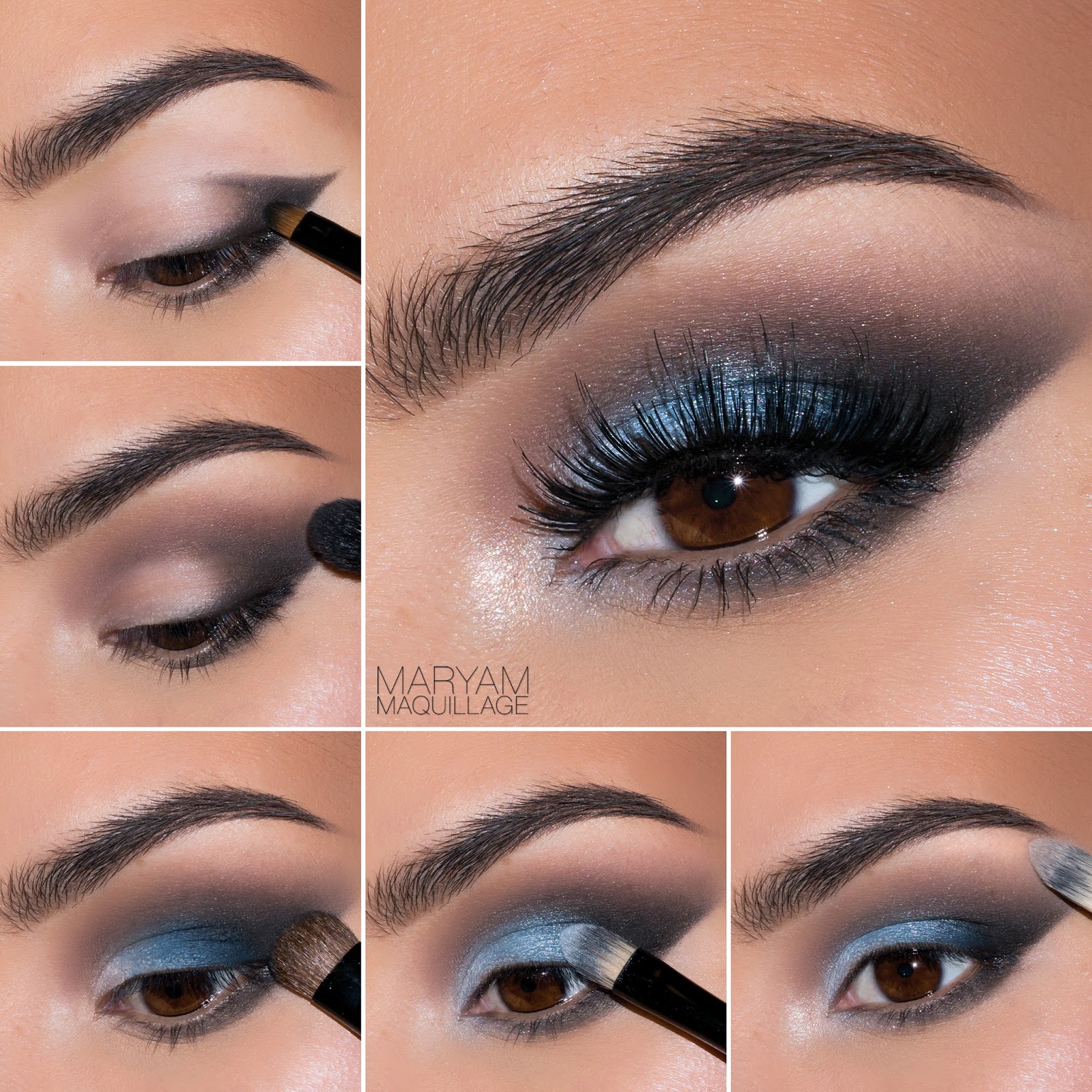 Perhaps you're not sure you quite want the darkness and intensity of a full blown smoky eye but you'd still like to get that contrasting balance of light and dark with your favourite blue nestled in between? We can't say we blame you. Sometimes it's nice to learn how to do a slightly toned down version of your favourite glamorous night out technique so that you can wear something similar during the day without looking out of place. Check out how Maryam Maquillage used a bit of the smoking technique but did so with a lighter hand.
13. Sky blue wing with a white centre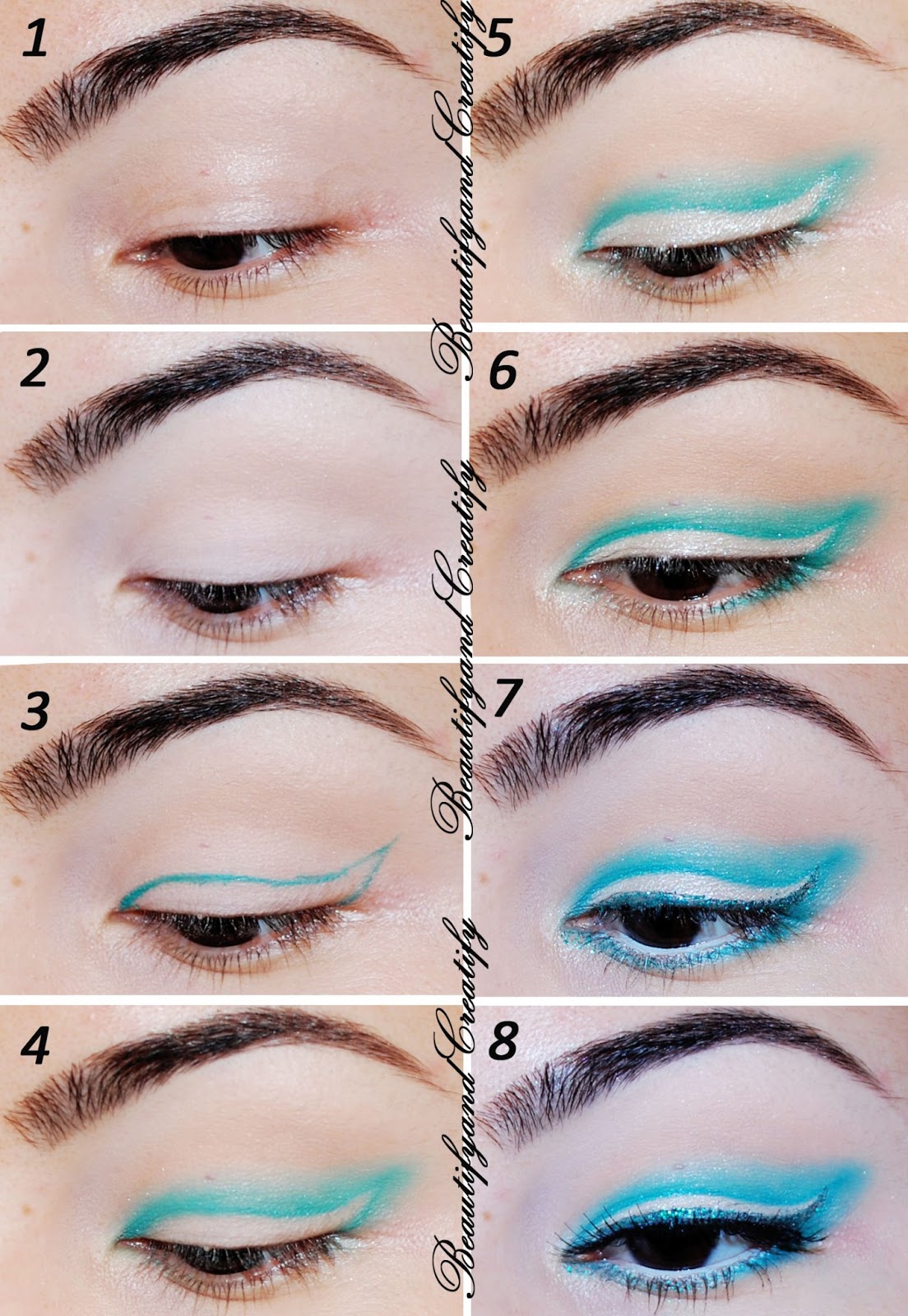 Have you been scrolling through our list hoping to find something that's a little more contemporary but still limited to primarily the eyes, making it technically still a day look rather than costume or artistic makeup? Then we think you're going to love recreating this cute white and blue inverse wing look from Beautify and Creatify! Between the way the blue glitter and matte white liners wing simultaneously and the way the cheerful electric blue shadow blends out and upward, we're essentially obsessed with how much fun this look is even though it's quite small and not extravagantly shaped.
14. Bright blue with a yellow inner corner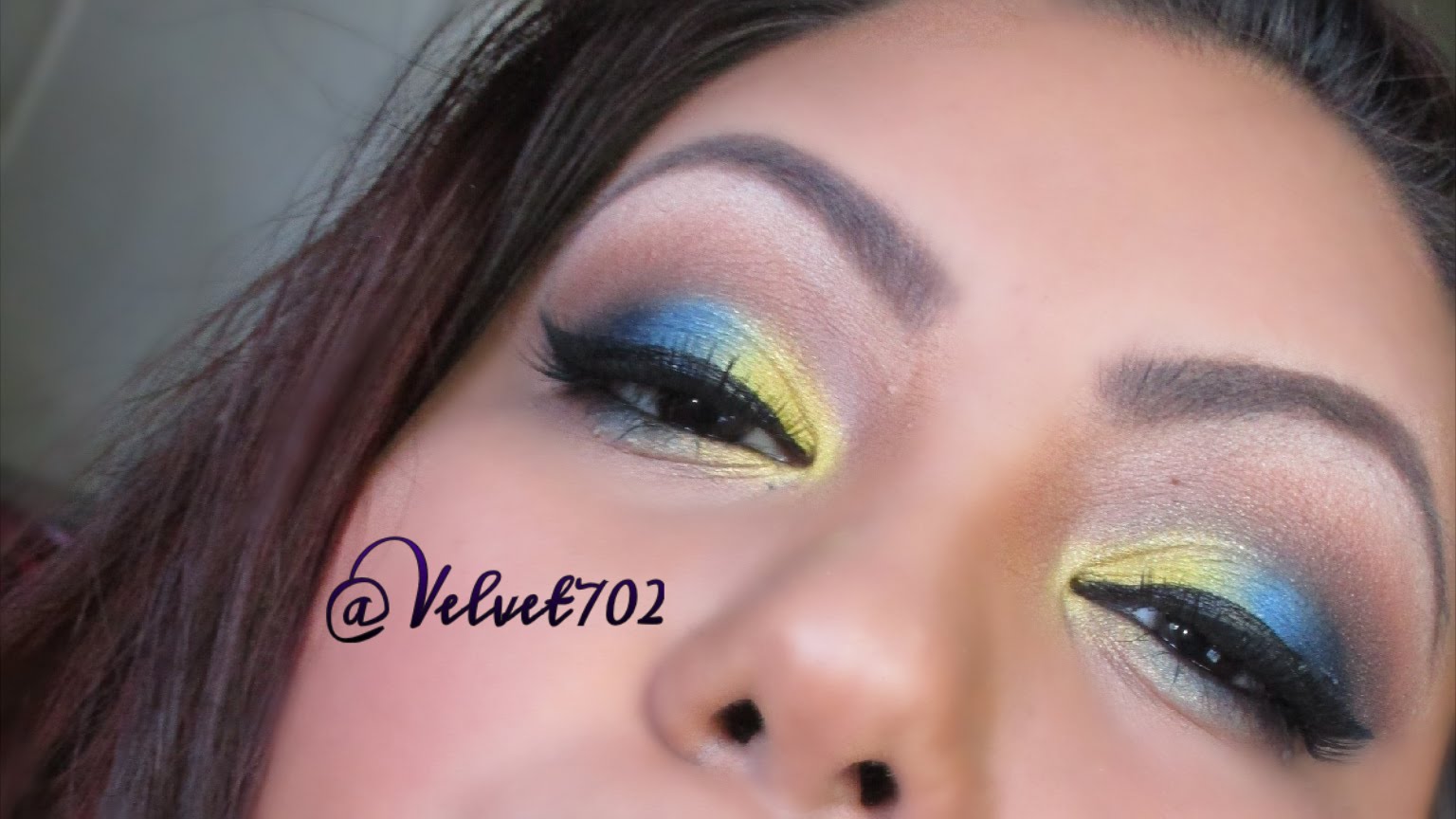 Are you still ruminating on what combination of colours you'd like with your blue and feeling intrigued by the golds contrast, but you're slightly put off by the idea of using that much glitter near your eyes? Then try doing a matte or shimmery look with similar colours instead! We very much enjoy the way Velvet702 replace gold glitter with yellow shadow but still got that summer day pop effect that looks like the sun sitting in the sky.
15. Sparkling blue lid with a blended magenta crease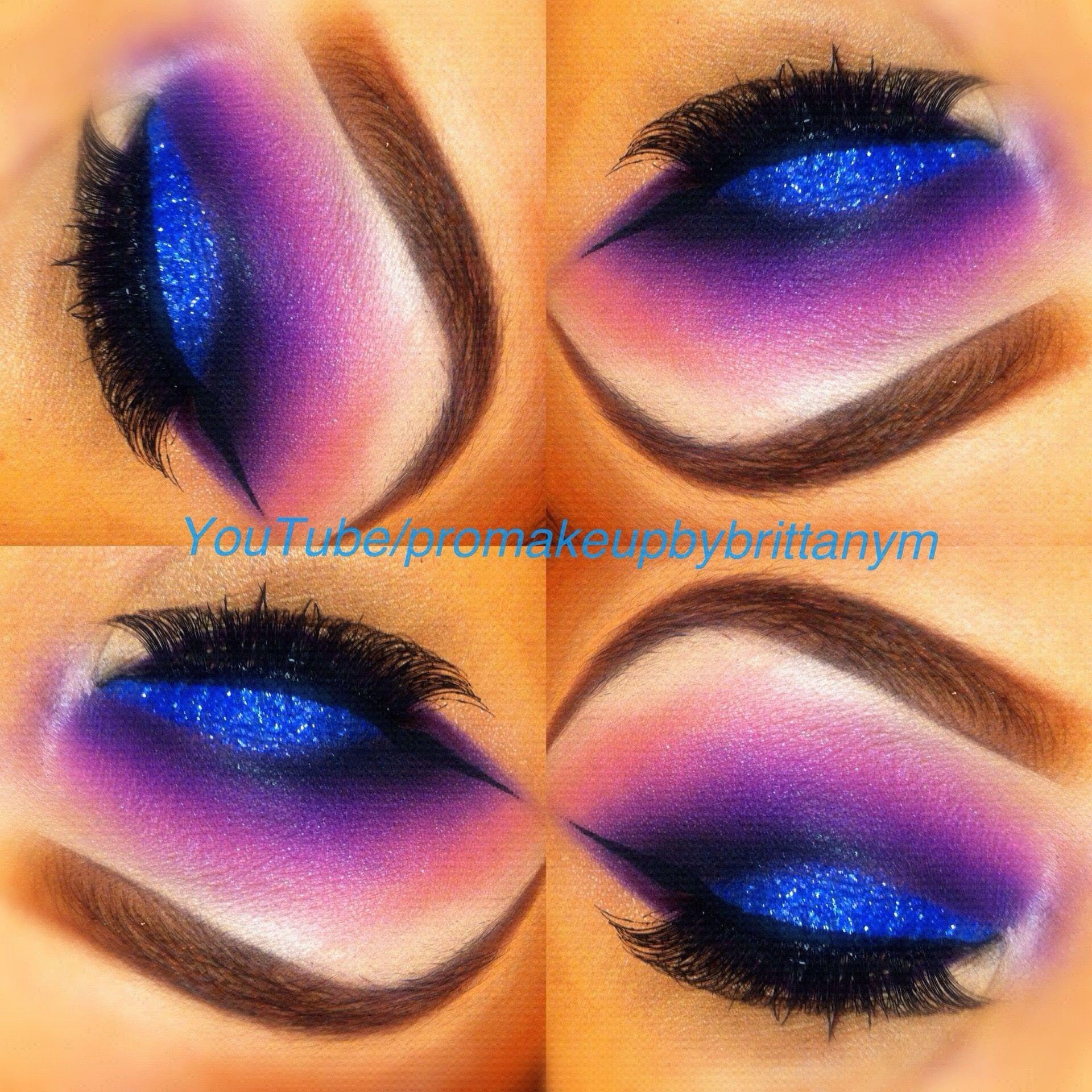 We've already shown you a few blue glitter looks and we've even shown you a lightly blended subtle magenta crease, but what would happen if you combined the two and amped up the colour pigmentation for a little more drama? Well, we suspect it would look just like this stunning sparkly blue, pink, and purple party eye featured on Brittany Martin! Their tutorial shows you how to do it neatly so that your look is blended well but still involves distinct colours and a clean glitter element, rather than just looking like you through some craft sparkles at yourself and called it a day.
Do you know someone who loves the colour blue very much, or perhaps someone who you think just looks stunning in blue, but could use some help coming up with new makeup ideas? Share this post with them so they can try out some of these tutorials!