It's totally true that glitter is a girl's best friend. There's no denying that wearing glitter on your person in some way, shape, or form automatically makes you feel more cheerful, energetic, and confident. If you love sparkles and want to make a dramatic statement with your lipstick, try glitter lips.
Any type of lipstick is one of the most uncomfortable forms of makeup for many women. Having product on your lips can easily disrupt daily activities such as eating, talking, and kissing more than other makeup like eyeliner or highlighter. Many women stay away from dramatic lip looks like glitter lips in order to avoid excessive discomfort. However, if applied correctly, glitter lips don't have to be impractical. Wearing glitter on your lips can be just as comfortable as any of your go-to lip products. Plus, with mattes and metallics stealing the limelight in the current lip-wear world, glitter lips definitely set you apart from the crowd. This out-of-the-box trend is a great way to show off your unique, sparkly spirit in a gorgeous way.
1. Prep Your Lips Right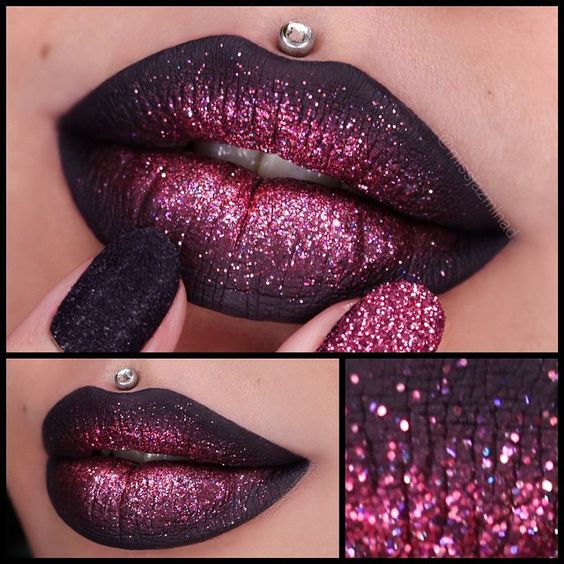 It is important to prepare your lips correctly before you apply any glitter to them. Remove any dead skin cells with gentle exfoliation in order to avoid clumps and flakes once you apply your glitter. Use a damp washcloth to massage a gently exfoliating blend of coconut oil and brown sugar to your lips and then wash off the scrub. Then, soothe and hydrate your exfoliated lips by applying a layer of moisturizing lip balm.
2. Apply a Base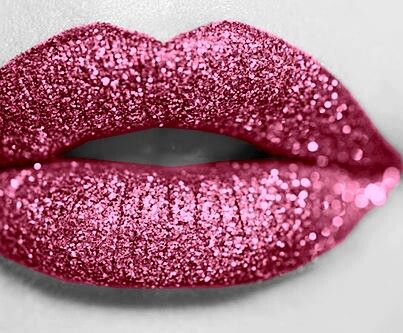 If you try to apply glitter to the bare skin of your lips, it is almost guaranteed to fall off immediately. To make sure that your glitter lips stay fresh and sparkly all day long, apply a base before your use any loose sparkles.
Apply a layer of lipstick as a foundation for your glitter lips. Use a nude shade of lipstick if you plan to use a bright glitter color. Or, apply a darker or brighter lipstick if you choose a clear or neutral glitter instead. Finish off your base with a layer of clear lipgloss to help your glitter stick more easily for a longer period of time.
3. Choose Your Glitter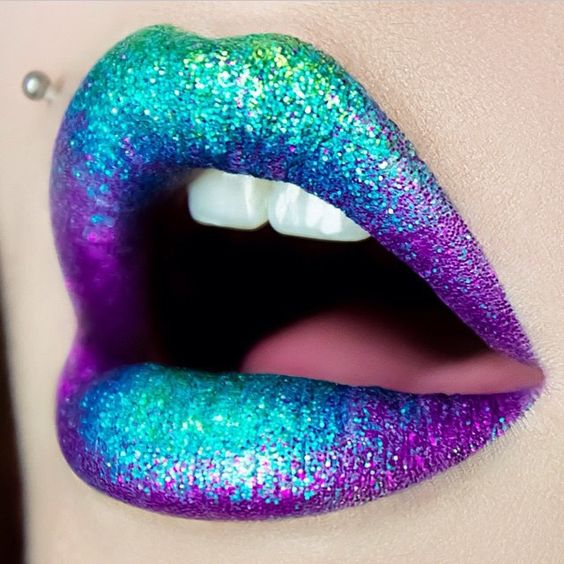 Never apply any glitter to your lips that is not professional makeup-grade glitter. Craft glitter is for paper, not your skin. Also, it is important to make sure that the glitter dust is as fine as possible in order to avoid the accumulation of thick clumps of glitter flakes on your lips throughout the day.
4. Use the Right Tools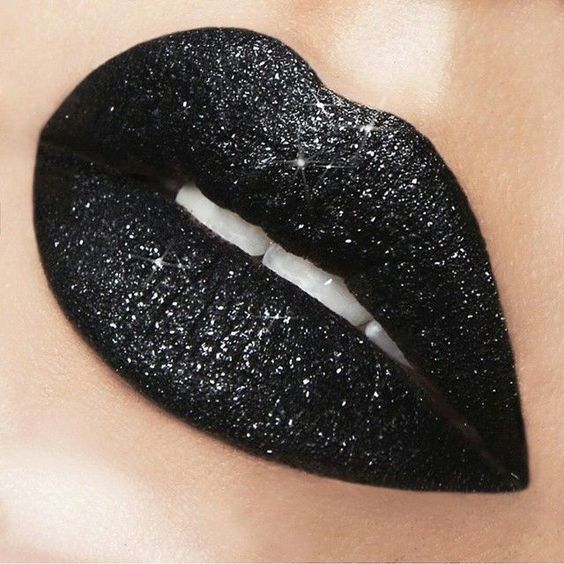 When you are ready to apply loose glitter to your lips, grab a mid-sized eyeshadow blending brush. Saturate the brush with water and squeeze out excess moisture until the brush is just slightly damp. Use the wet brush to pat, not rub, glitter onto your lips to achieve the best and longest-lasting results.
5. Pick a Color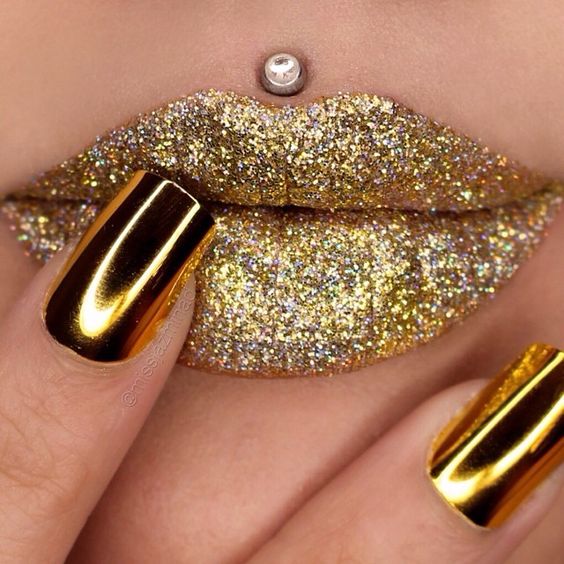 The world is your oyster when it comes to color choices for your glitter lips. The makeup market holds a treasure trove of loose glitter dusts in any and every color you can imagine. The color you choose just depends on the look you want to create. Use bright and wild glitter colors to create a more dramatic look. If you want to go for a more subtle finish, choose glitter in a more natural color like clear or light pink.
6. Clean Up With Concealer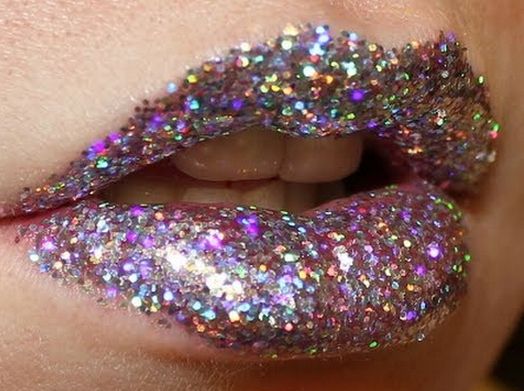 When you're dealing with glitter, fallout is virtually inevitable. No matter how carefully you apply loose sparkles to your lips, some of them are bound to end up on your chin or across your cheeks. After you finish applying your glitter lips, don't worry about the fallout. Just use a fan brush to gently dust the loose glitter off of your face.
To create a cleaner finish for you glitter lips, use concealer to perfect your look. Use an angled brush to line your lips with cream or liquid concealer. Blend the concealer outward to define the edges of your lips and ensure a neat finish.
7. Take Advantage of Scotch Tape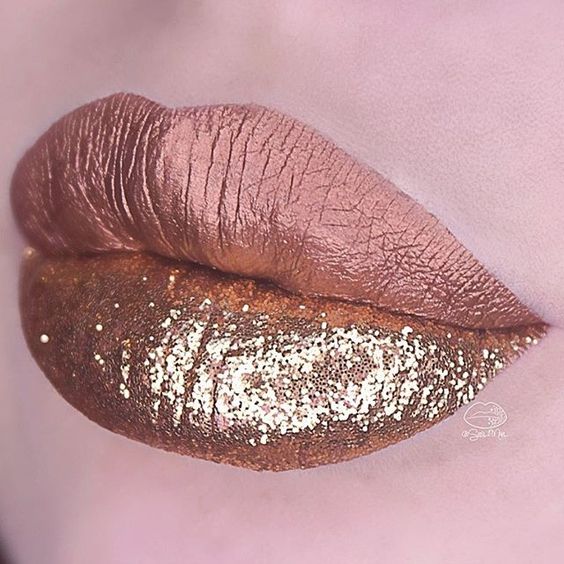 Removing your glitter lips can be a very daunting task. Once you get glitter applied to your lips correctly, it will last all day but it might not want to part with your lips once bedtime comes. Fortunately, you can remedy this frustrating problem without scrubbing the life out of your lips or living with sparkles for all of eternity. Just use a bit of clear scotch tape!
Using clear tape might seem like a strange way to remove your makeup, but it is very effective for getting rid of your glitter lips once you're done with them. Gently press a piece of clear tape to your lips and pull it away to remove the top layer of glitter from your lips. Then, follow this step up with standard makeup remover on a cotton swab to eliminate the rest of the makeup from your lips.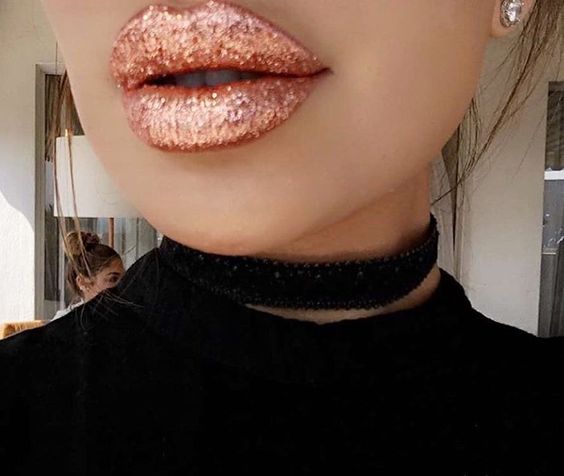 Wearing glitter lips is a fun way to switch up your beauty routine. Add some sparkles to your lips to create a fun and whimsical look with a glamorous finish.