Pink is the definition of a female. It spreads innocence and feminine characteristics wherever it's found. From baby pink dresses to fuschia lipstick, this color will have the word feminine written all over you. And what's better than having hot pink and black nail designs that do the job for you?
Hot Pink And Black Nail Designs
Pink requires being both careful and fabulous at the same time, while black requires being chic and classy. Eventually,  pink provides many shades of its own that can be mixed with the black color.
Besides, these two make up the perfect color fusion between fabulous and chicness. Immediately, create your own pink and black nail designs using the below list of 21 hot pink and black nail designs!
#1. Black and Pink French Tip Nails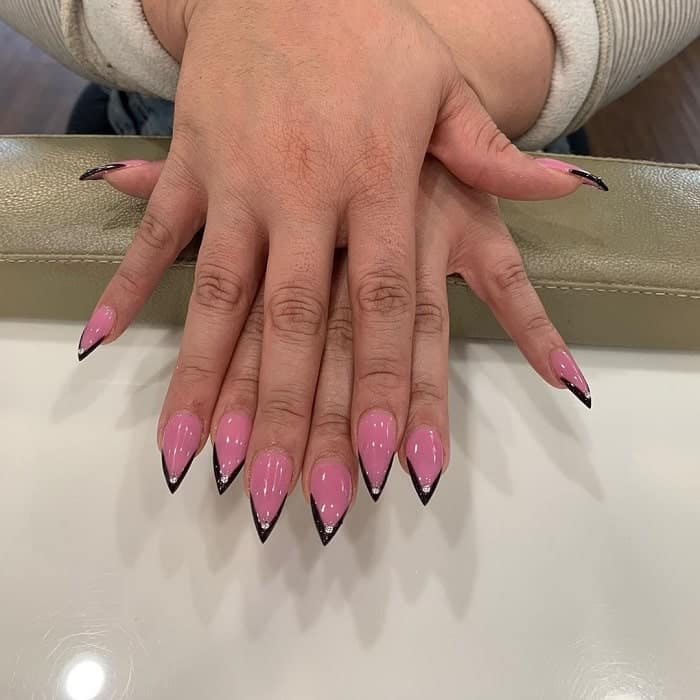 For this brilliant manicure, you are taking French nail style to a whole new level! Give your nails a pointy shape and also a stiletto French! Decorate with subtle rhinestones.
#2. Light Pink and Black Nail Art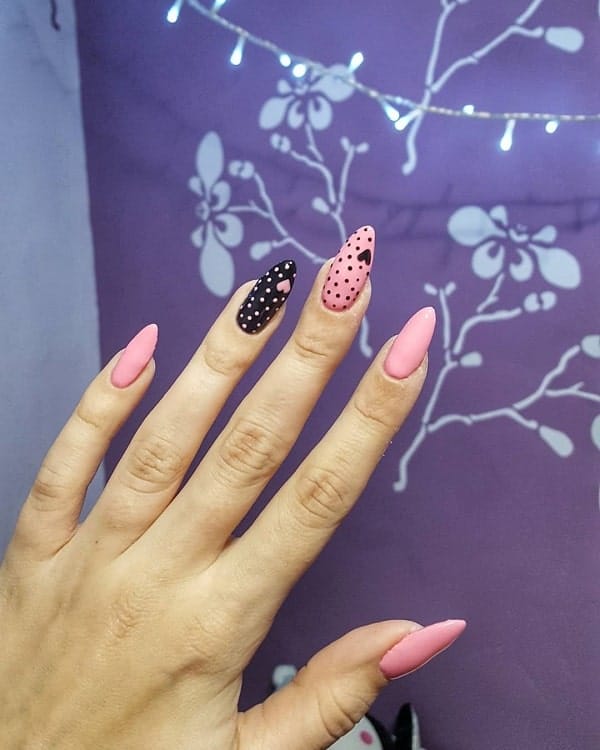 If nobody knew you are a romantic girl, with this manicure everybody will find out! Use a mate pale pink nail polish and create some dots design with hearts. Use the same technique for the black ring fingernail.
#3. Black Pink Checkered Nail Design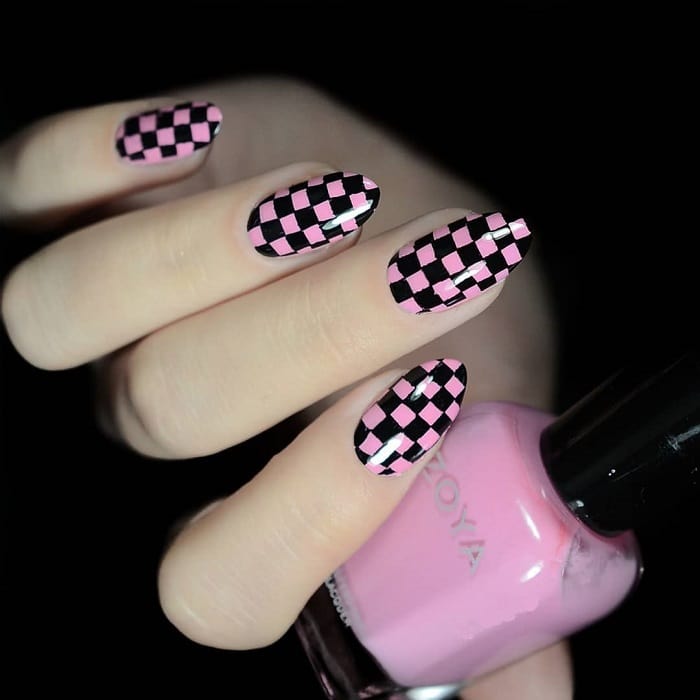 Go for this beautiful nail decoration only if you know you have a steady hand. Use pink and black to fill the little squares.
#4. Pink and Black Coffin Nails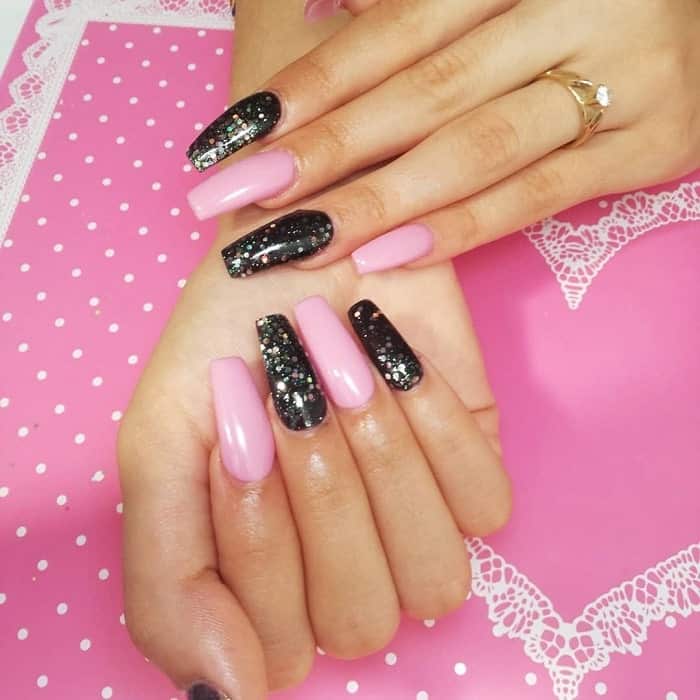 #5. Pink and Black Matte Nail Art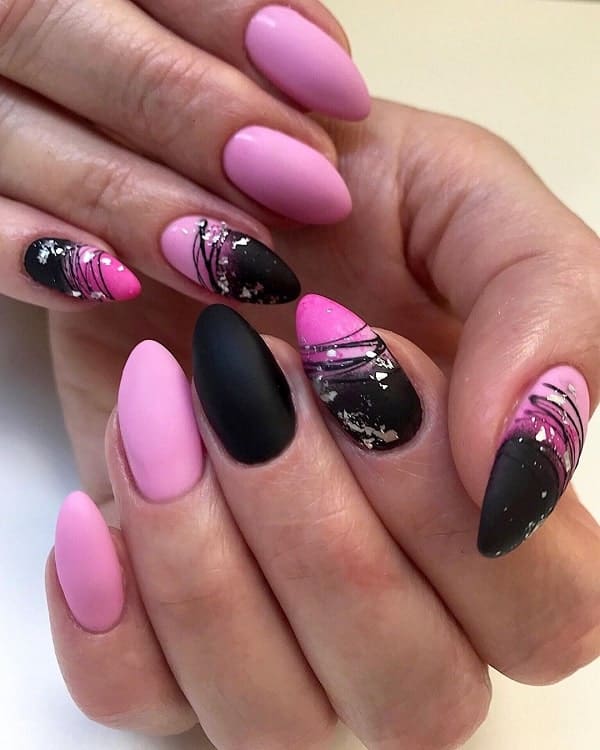 #6. Black Pink Nails with Diamonds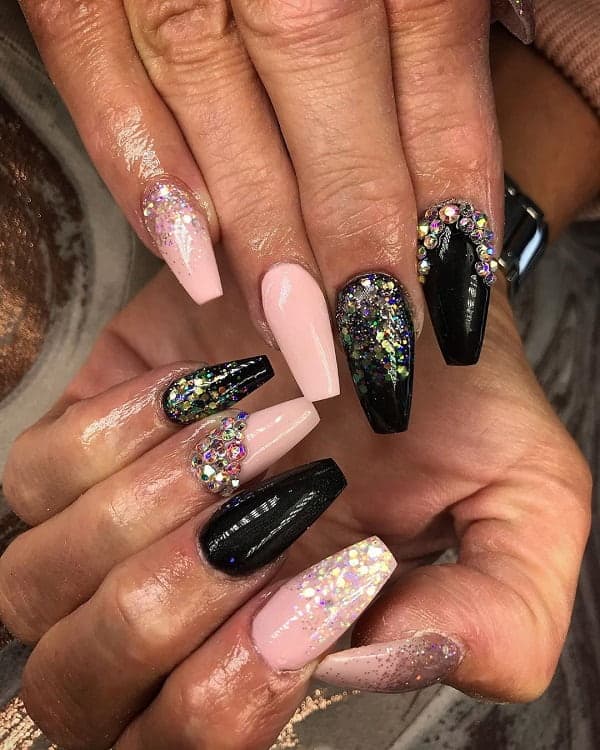 #7. Pink Black and White Nails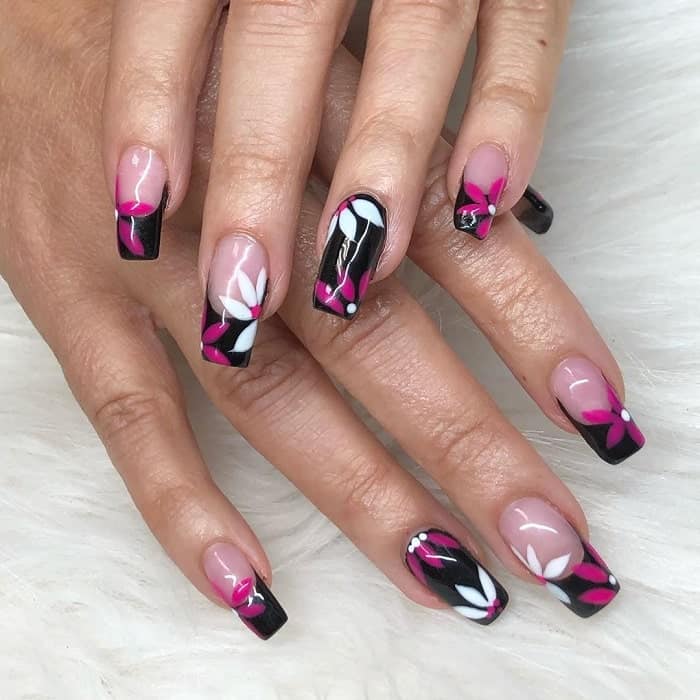 #8. Pink to Black Ombre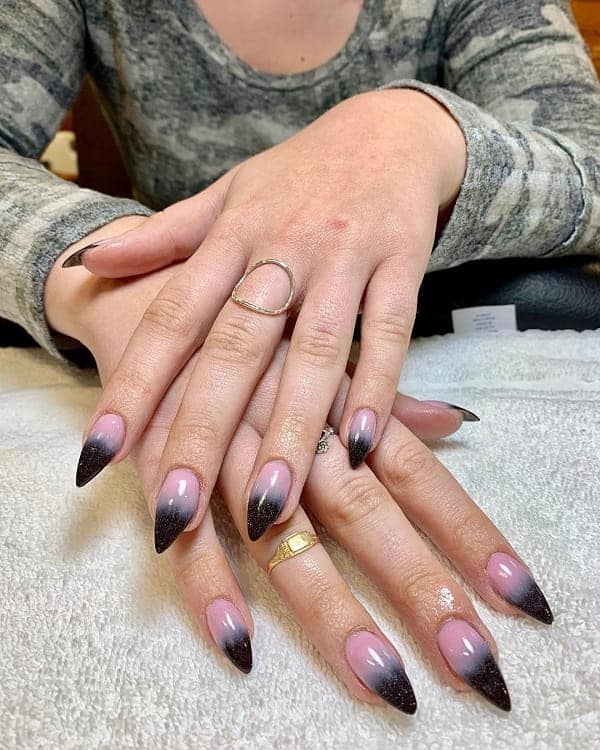 #9. Pink Black and Silver Nail Art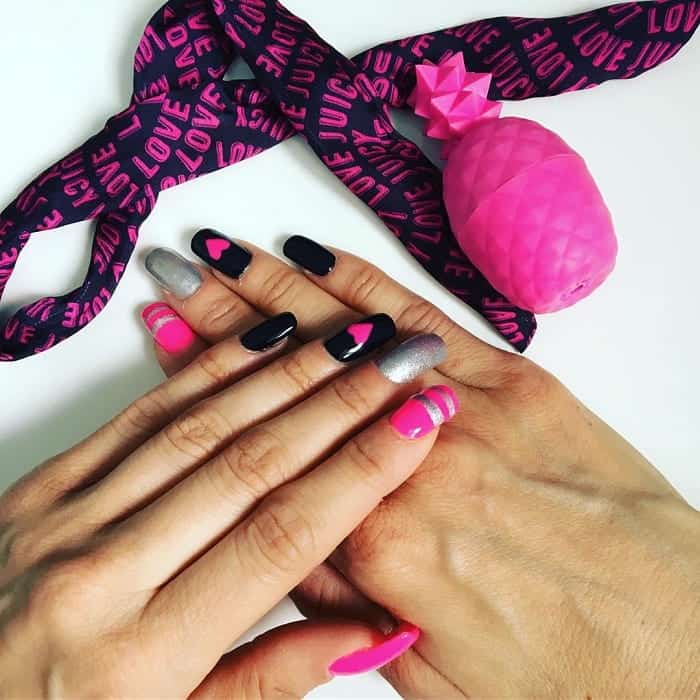 #10. Hot Pink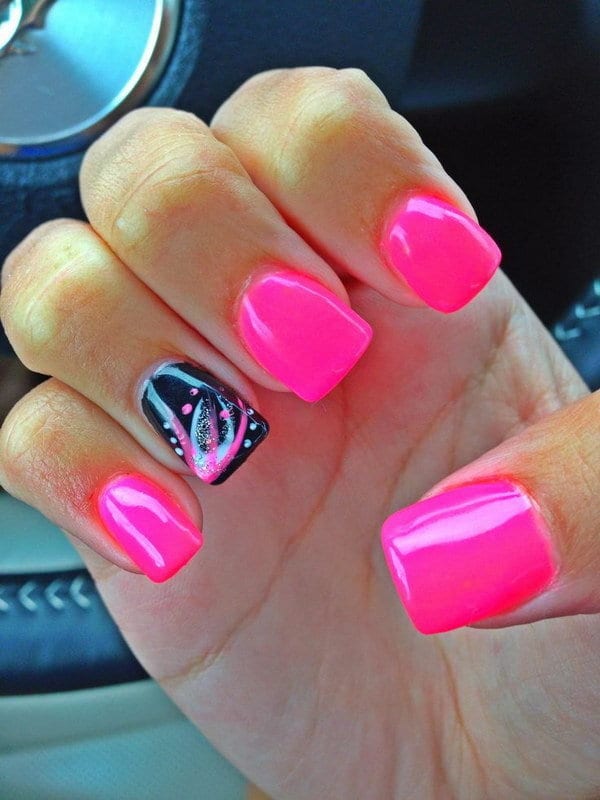 When it comes to pink and black colors, it is not difficult anymore to have a special nail design for your short squared nails. Just wear a hot pink colored manicure on all of your nails except the ring fingernail where the black manicure takes place designed with pink and blue colors.
Trend Alert! Pink Nail Designs
#11. Lace Style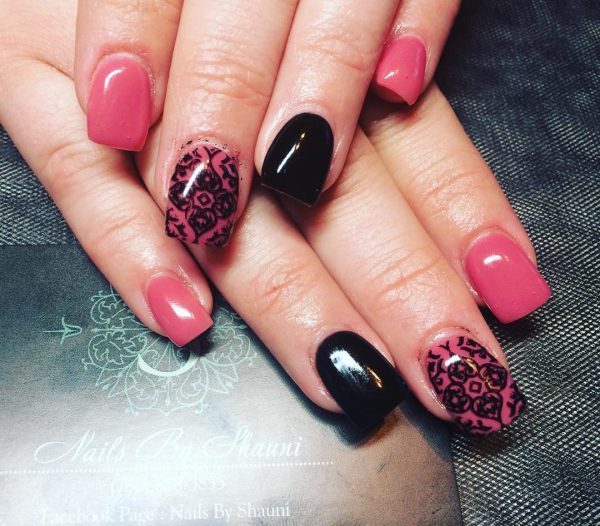 Invent the best lace styled nail design by wearing the punch pink color in the pinky finger, index finger, and thumb. And by wearing the black color on the ring finger, in addition to the lace style in the middle finger of the black color and punch pink base.
#12. Pink & Swirly
Go ahead and use a nail art pen to freehand draw the swirls on the gradient based accent nail with a bold color like black to make it look sophisticated and full of mysteries. All while other nails are delicately painted with a soft magenta shade of pink.
#13. Surrounded With Black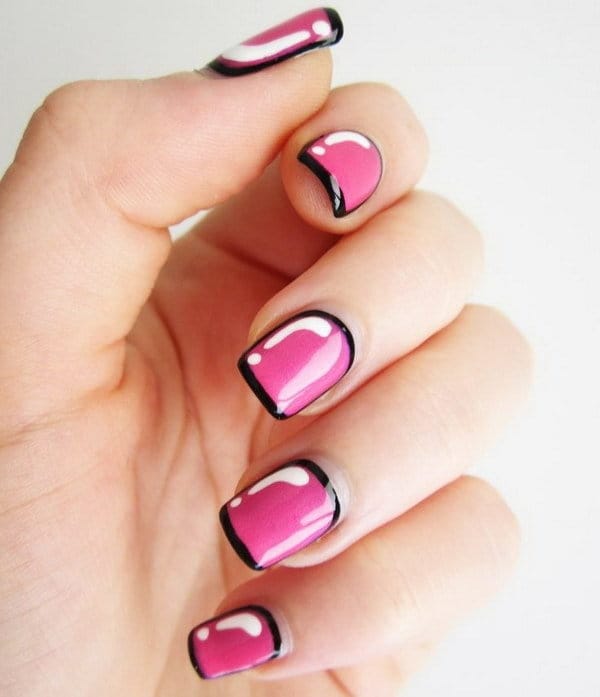 This is one of the weirdest pink and black nail designs because the pink nails are surrounded with a black manicure and we are not used to seeing a nail design marked by any color.
#14. Blush Pink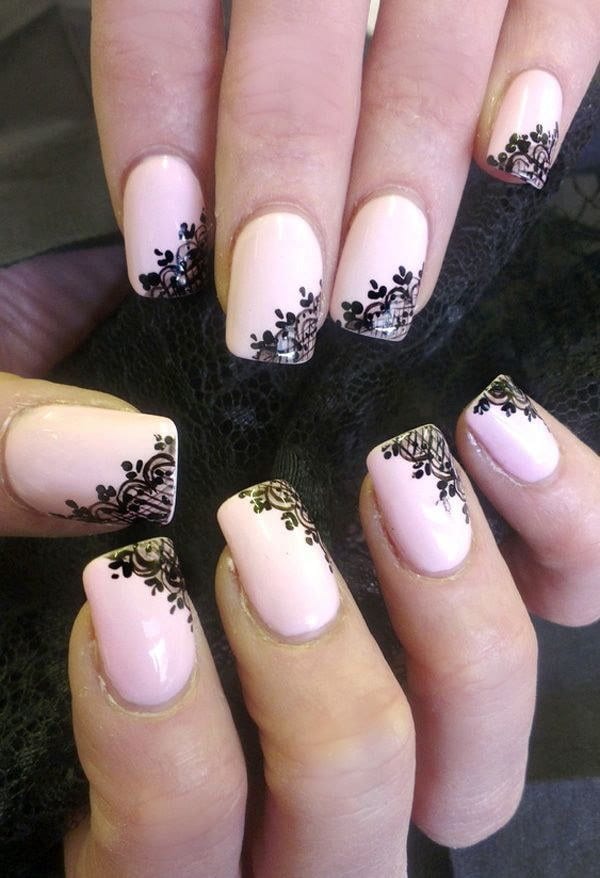 Between the white and the pink color comes the blush pink. It's a pure color that is polished in all nails adding a lace black touch at the edge of each nail in your hands in order to create a cute and girly pink and black nail design. This one can be a perfect pick on your wedding day.
#15. Fuscia Touch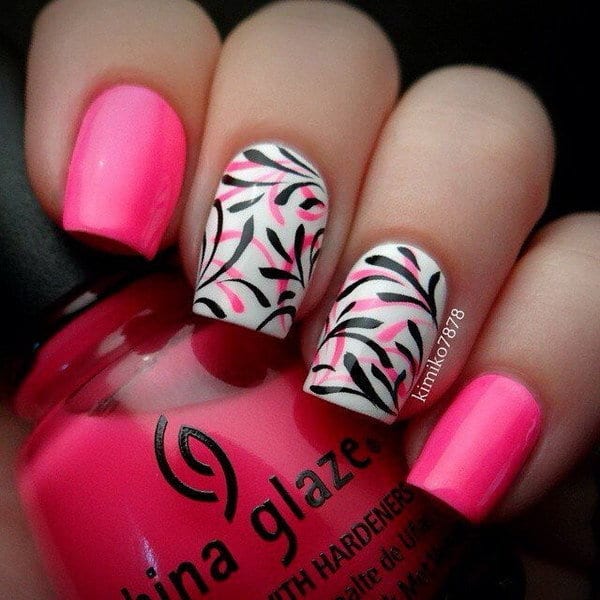 Go pink and puffy by wearing this fuschia nail design made up of pink polish in pinky and index fingernails, and of a girly pattern in both middle and ring finger nails that form from a white base and a black and pink pattern.
#16. Merged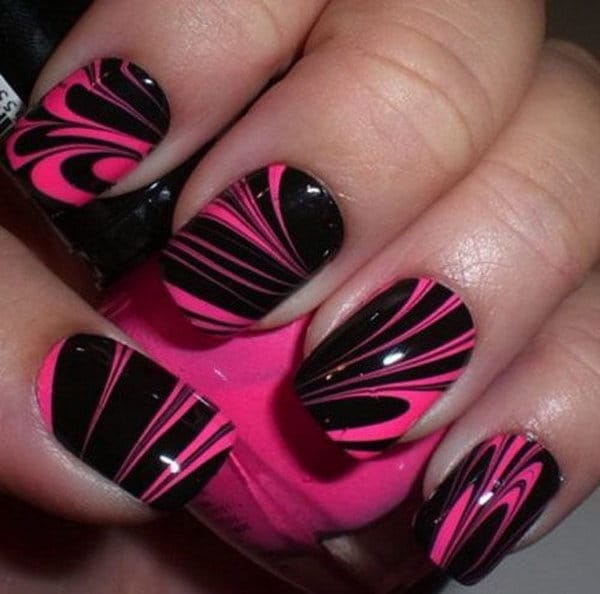 The Fuscia pink and the dark chic black colors are both merged together in a different way in each nail so that they can make up a new and trendy pink and black nail design.
Play With Marble Nail Arts
#17. Double Crossed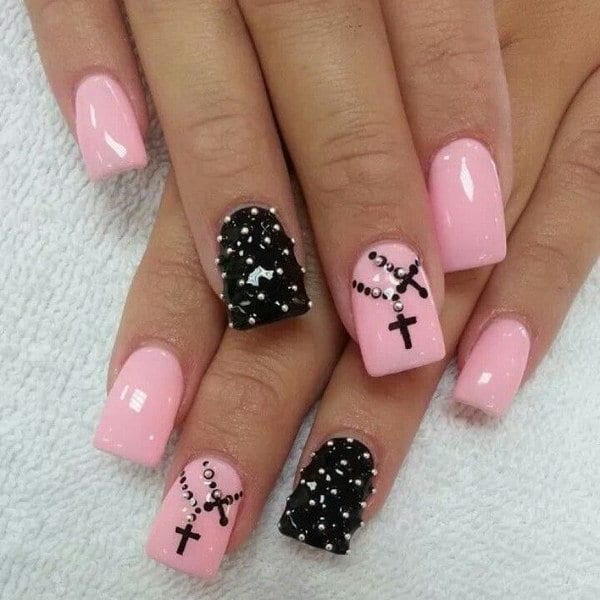 Lemonade pink is one of the best shades of pink. It shows calmness and is girly enough to describe a daddy's girl. The following lemonade pink nail design is made up of normal pink nail polish in the pinky finger, and the index finger.
Also, it is made up of a  pink base with crosses designed with black and some silver dots. While there is a black base in the ring finger with some silver nail polish small dots.
#18.  Butterfly Fly Away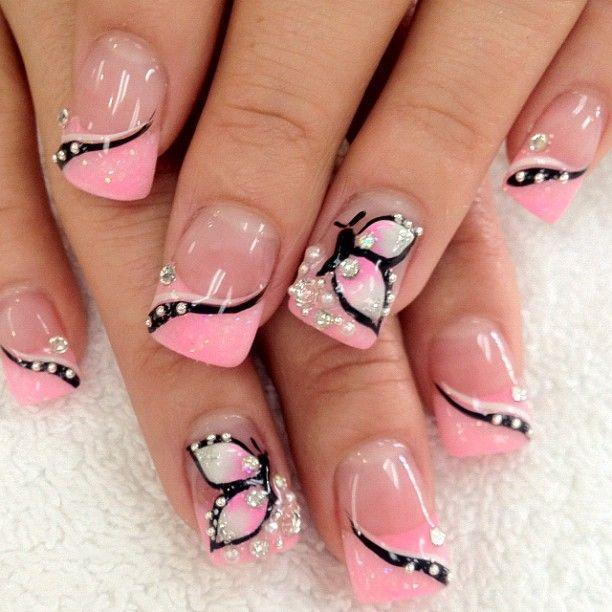 Perhaps the best french discovery has been the discovery of the great french tips! Meanwhile, it has been popular since ever and it keeps growing widely until is spread all over the world! It is a scheme you can wear for all kinds of events.
At the same time, make sure to depend on the decals and colors used of course. The above sample is for a butterfly themed french tips that are great to welcome spring with!
#19. Chevron Style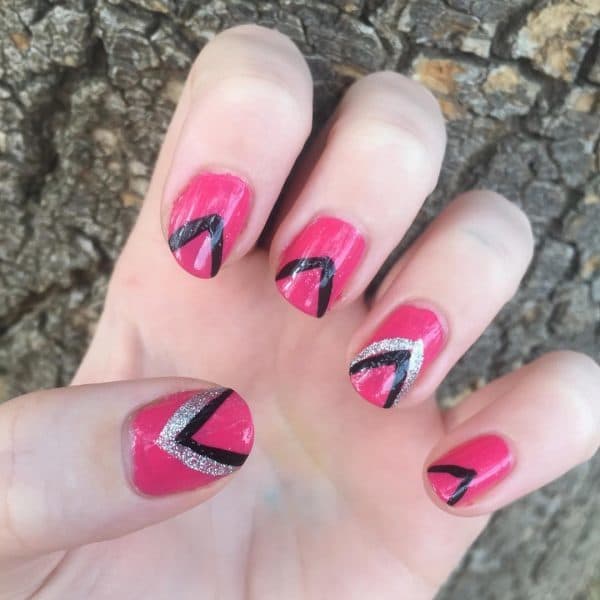 In a pink and black nail design, it does not always have to be full of weird patterns. On the contrary, it always has to be puffy and chic.
In this nail design, wear a simple hot pink manicure and design it with black and silver chevrons on the thumb and ring finger. You also can wear it with one single black chevron in the index finger, middle finger, and pinky finger.
#20. Silver Glitter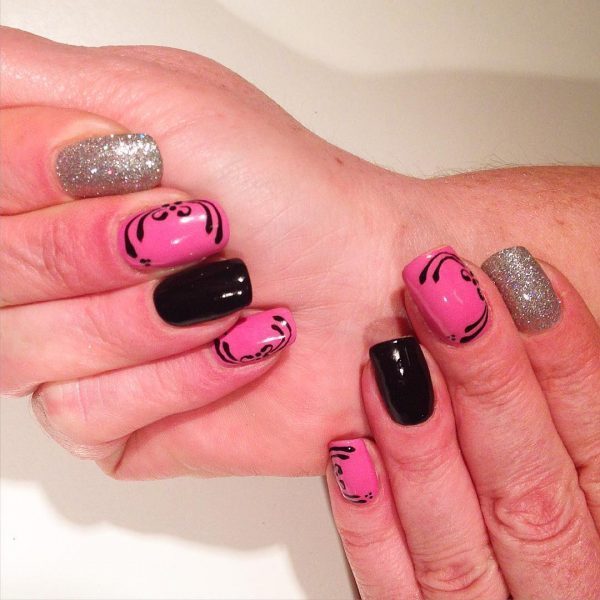 In a nail design full of pinky stuff and black touches, what's wrong with having a third color in your nail design? Cover the pinky finger with silver glitter shimmer to obtain a special pink and black nail design!
#21. Golden And Chevron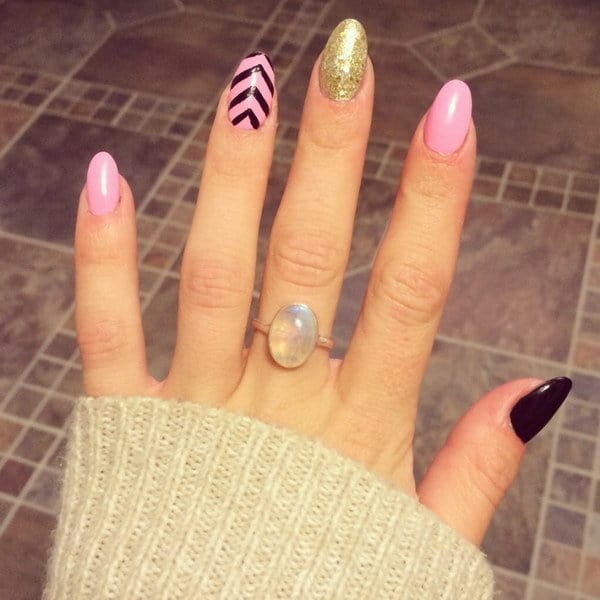 You do not always have to design your pink and black nail design with one chevron. Instead, you can design it with many black chevrons having a pink base as done in the ring finger.
In addition, you can make the middle fingernail all covered with golden glitter so that you can make a cool and fancy nail design made up of 3 colors.
Aesthetic Black and white Nail Design
Finally, if you have that feeling inside telling you that pink is the color that defines you,  and black is the color that makes you a chic one. Therefore, don't think twice about it and get yourself that pink and black nail art that you deserve!
Each shade of pink conveys a different meaning, especially when combined with black that makes them all shout out "girly" in your hearts. As a result, your job is to be wise and pick out the suitable pink and black nail design from the above list. Hope you like it!