Browsing the Internet for makeup inspiration pictures is one of our favourite things to do. Never have we enjoyed it more, however, than when we're looking for different ways to incorporate glitter into our looks! Right now, one of the most popular eye makeup trends going is to let your eyes sparkle and shine.
Check out these 15 edgy, adorable, and just plain fun ways to use glitter on your eye (but remember to get real cosmetic glitter rather than unsafe crafting glitter)!
1. Silver, pink, and purple gradient lid

No one ever said you have to stick to just one type of glitter! We love the way this look blends three different shadows and three different corresponding colours of glitter all across the lid for maximum effect.(Photo via Amazing Makeups)
2. Glitter brows and lashes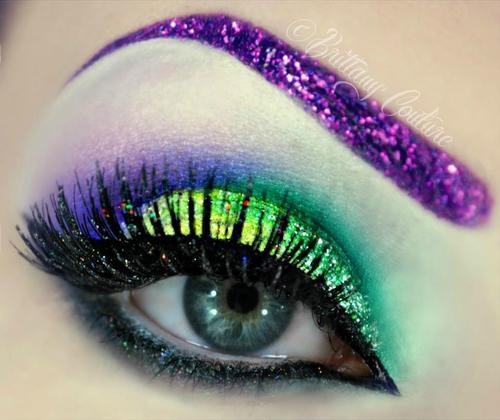 Glitter eyelids are amazing, but there are other awesome ways to incorporate some sparkle into your overall eye look as well! Try creating a coloured glitter brow or dusting some lightly onto your lashes and affixing it with spray adhesive before you put them on for the night.(Photo via I love Cute Makeup)
3. Neutral lid with gold glitter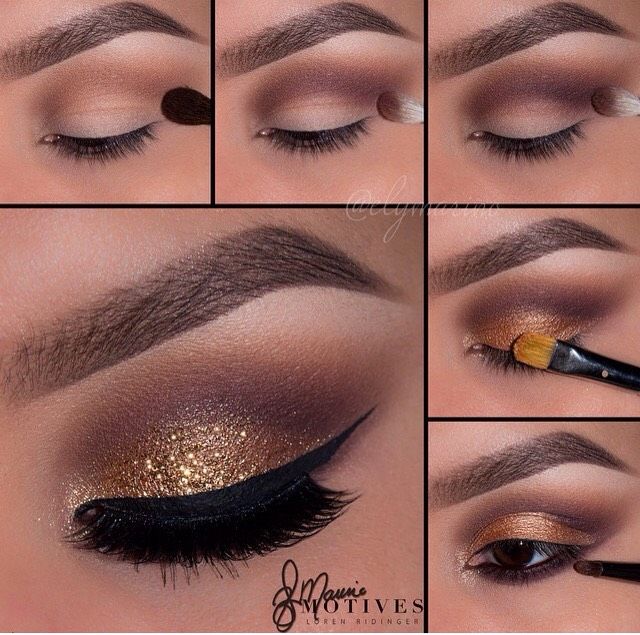 Glitter doesn't have to scream "bright" and "loud"! It can look just as edgy if you wear it in a more classed up way. Try blending a base of metallic gold and copper and then dusting tiny gold glitter in the very centre of your eyelid where the light hits it. Talk about subtle impact!(Photo via Love This Pic)
4. Black and chunky rainbow glitter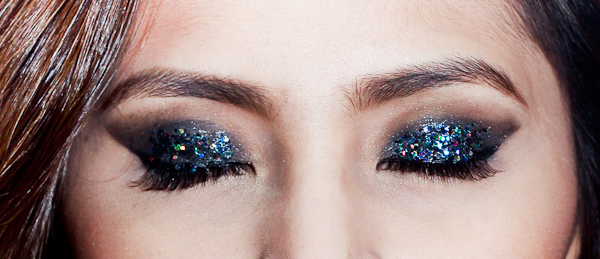 Is the idea of small, fine glitter not really wild enough for what you had in mind when you pictured "sparkles"? Never fear! Plenty of chunky cosmetic glitters exist too! We love how this chunky rainbow glitter looks across the lid on a deep black shadow base.(Photo via World Urbanista)
5. Iridescent glitter over purple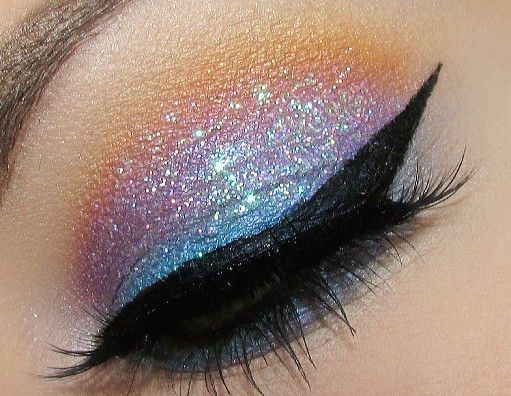 Our very faovurite type of glitter is the kind that looks white in some lights, but iridescent or opalescent in others. This type of glitter takes on a bit of whichever shadow shade you put it over, but still adds its own unique tone to the overall appearance. We love it here over purple and blue!(Photo via Love This Pic)
6. Mint glitter over purple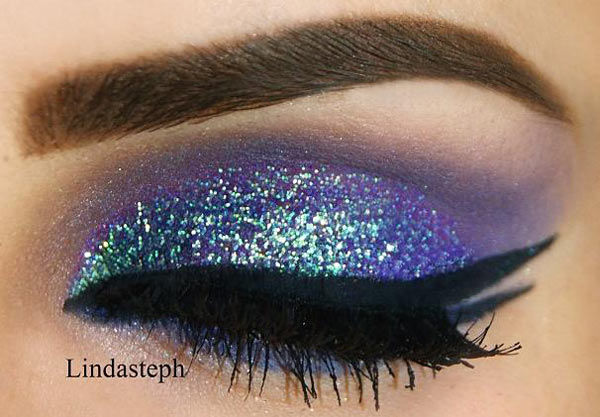 Besides iridescent glitter, it's possible that mint glitter is our favourite colour of sparkle. No one ever said that you have to put it over mint shadow though! We're taken aback by how pretty find mint glitter looks brushed over this purple shade.(Photo via Love This Pic)
7. Chunky iridescent glitter over white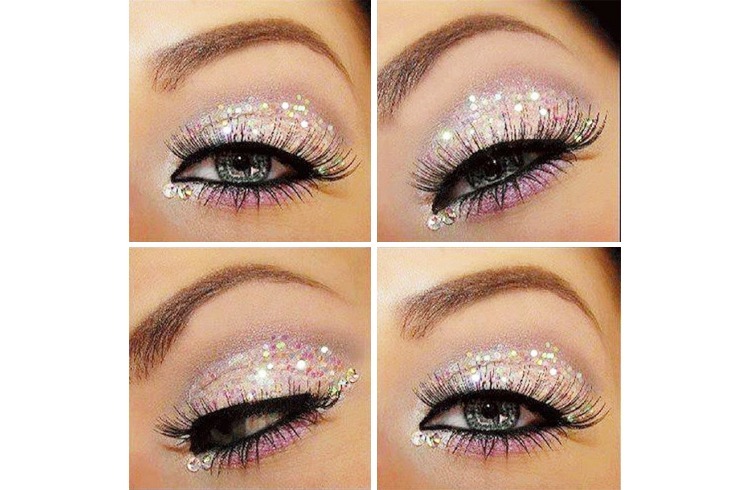 Do you love the idea of opalescent or iridescent white glitter but wish it was a little more flashy than very fine powdered glitters like most cosmetic companies offer? Try adorning your eyelid with chunky style glitter instead! We love the depth if gives your eyes without distracting from the colour.(Photo via Fashion Lady)
8. Glitter crease line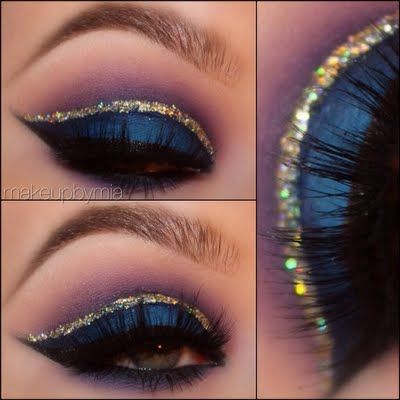 Sometimes you just need a touch of sparkle to really make things pop! Rather than filling your entire lid, try just glittering a thin line right along the crease.(Photo by Favim)
9. Soft pink glitter and a solid crease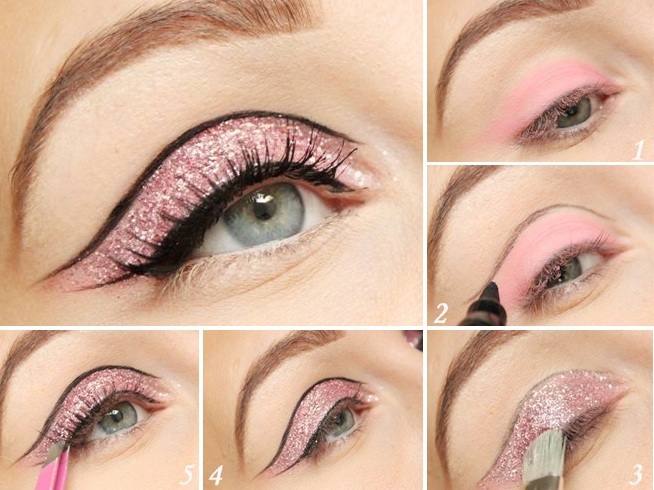 We love the way this solidly lined crease contrasts with the delicate appearance of pink glitter all across the lid. Really drive that shape home with a winged liner.(Photo via Fashion Lady)
10. Silver glitter and smoky black outer corners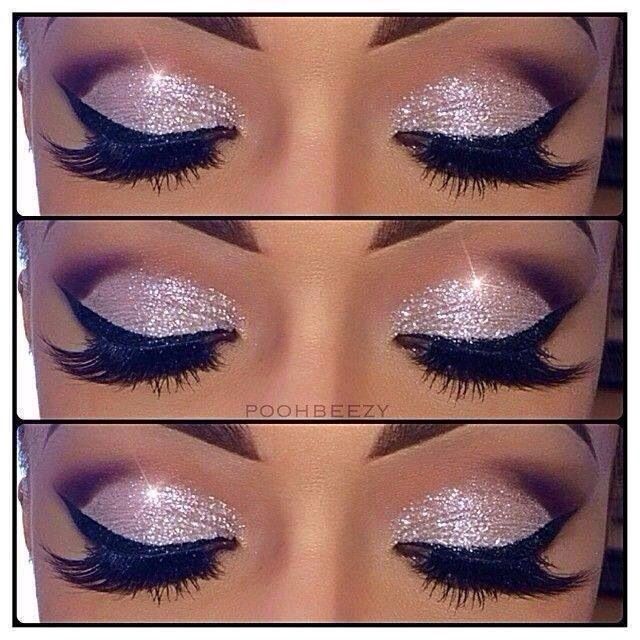 A solidly glittered lid always makes for an awesome look but you can give things a little more contrast by adding a smoky out corner to the mix. Blend it out so the darker smoky colour fades out, really framing the glitter well.(Photo via Love This Pic)
11. Glitter in the inner corners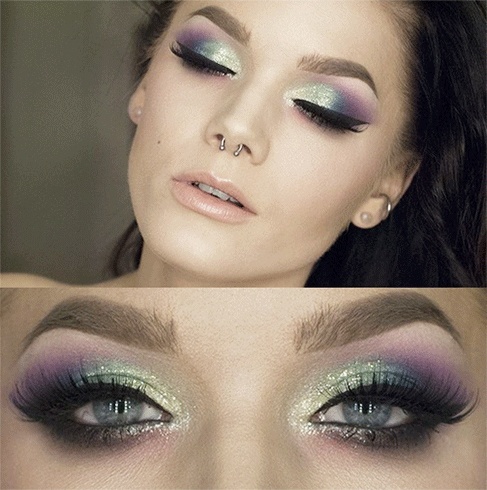 Sometimes a tiny touch of glitter is all you really need! Check out how impactful this light smattering of glitter at the inner corners of the eyes is. We love that it makes them look brighter and more excited.(Photo via Fashion Lady)
12. Full black glitter lid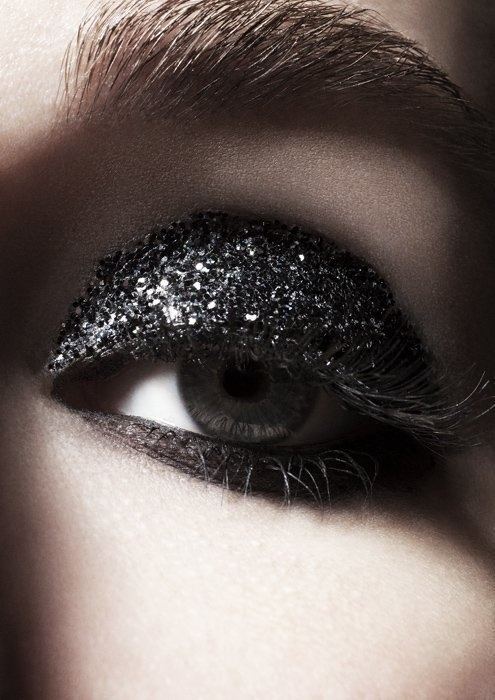 If you're going to get the intense black glitter out, you might as well really make it count! Try putting down a solid black shadow base and covering the entire lid with black glitter for maximum glamour.(Photo via Pinterest)
13. Sparkling liner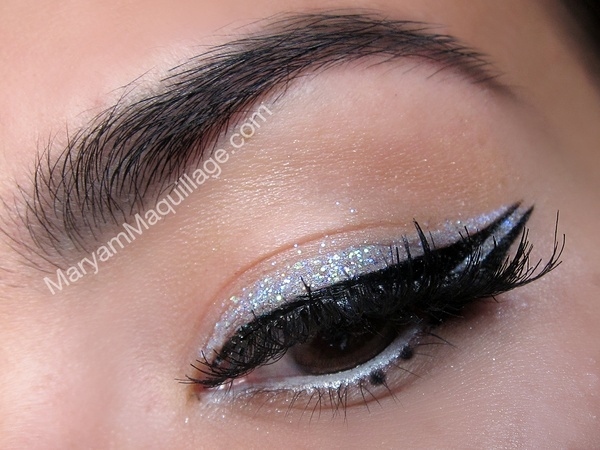 Painting glitter eyeliner might take patience because it's very detailed, but it's also completely worth it! A thin, concentrated line of glitter framing your black liner creates a glamorous effect without smearing it everywhere.(Photo via Pinterest)
14. Red glitter and rhinestones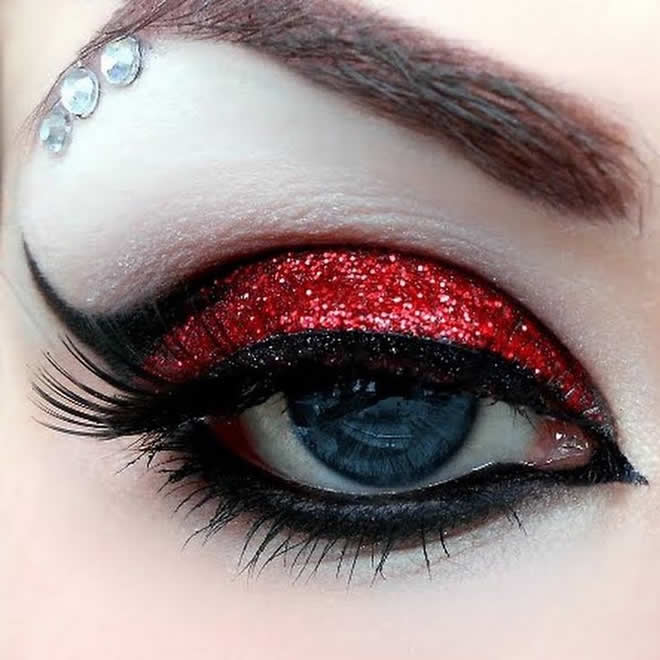 Red glitter has much the same effect as red lipstick; it makes people say "Wow"! We particularly love how much it stands out if you pair it with stark black liner and lashes, but also with a few subtle rhinestones just away from the eye itself.(Photo via Fashion Central)
15. Green on black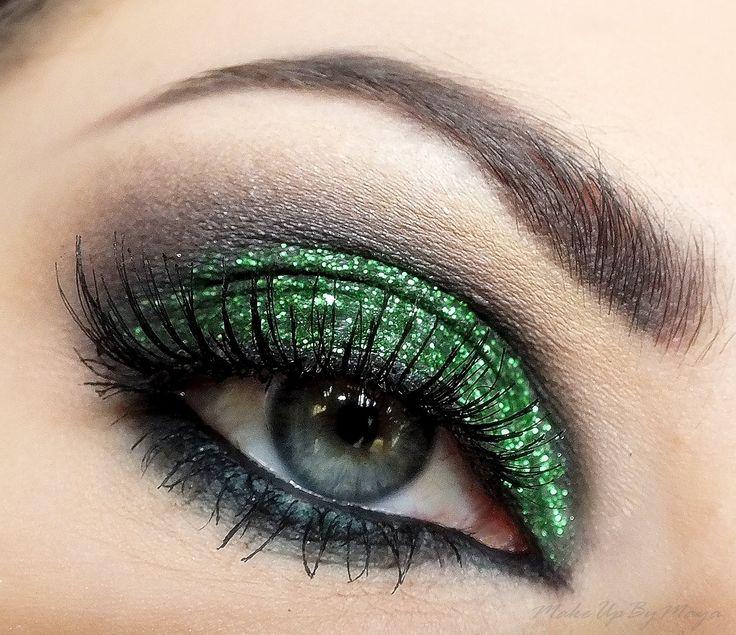 Grene is always gorgeous, particularly if you actually have green eyes! Even if you don't, however, this jewel toned green will look amazing on just about anyone.(Photo via Wedd Book)
Do you know someone who absolutely adores glitter in every aspect of their life? Share this post with them for a little bit of DIY makeup inspiration and practice!