Not a secret that the prom is a quite special and important event for students, especially for high school girls. Young ladies are competing in the best outfit and best hairdo so they could be the queens of this special night. Just with the right look, you can make the prom the best day of your life. Hairdos should match the dress, the accessories and even the make-up to make your look complete.
Plus, it is important that your hairstyle fits your face shape and highlights your personality. A natural look is in the most trends this year. You will get your perfect prom hairstyle for long hair if you look through the ideas below.
Formal Hairstyles for Prom for Girls with Long Hair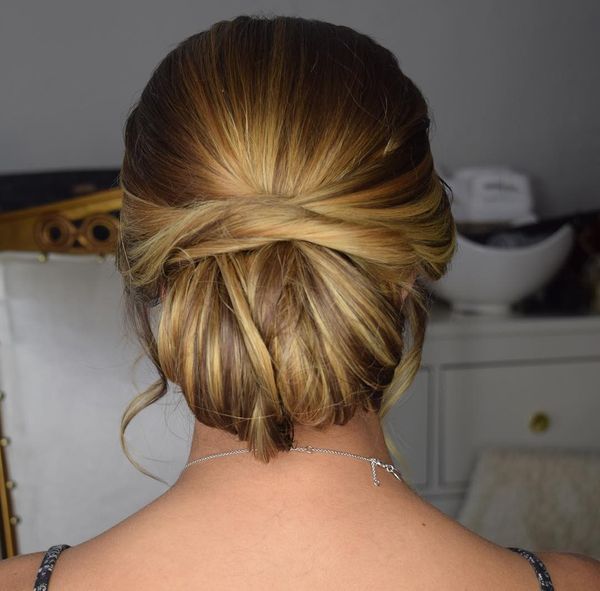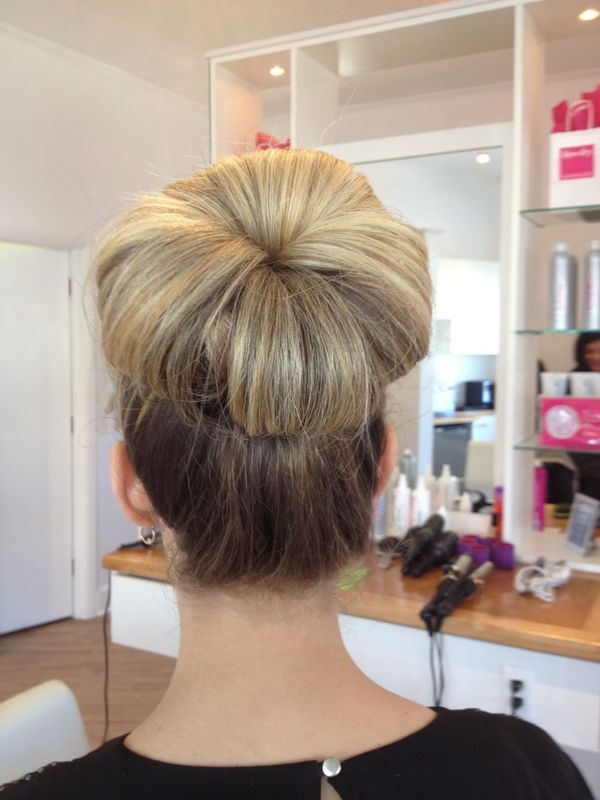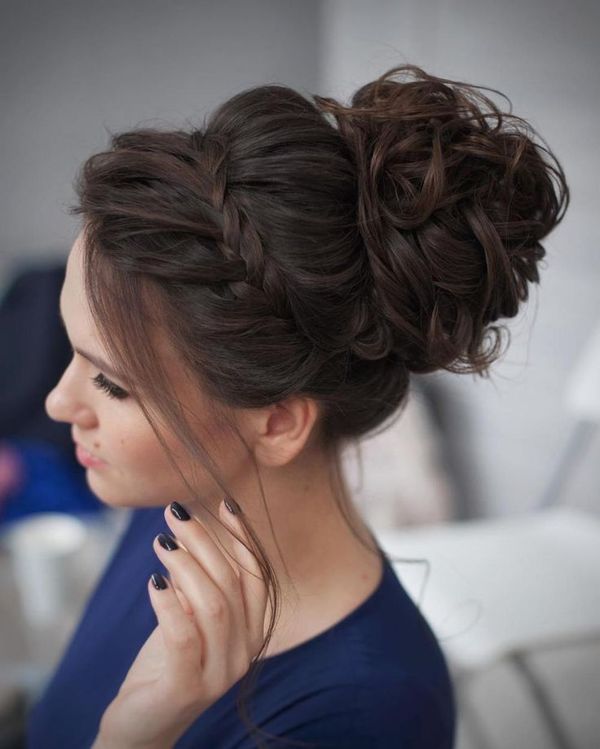 Truth to be told, girls with short hair have less hair styling options for prom, but it seems that it is easier for them to make a decision which hairstyle to go with. Girls with long hair, on the other hand, have got plenty of hairstyles which they can perform on their gorgeous long locks, but because of the variety, it's hard for them to choose. Ladies, we will gladly help you to finally find a perfect prom hairstyle for your long hair.
If you want to look like a Disney's cartoons princess at your prom ball, consider these charming long hairstyles. Let's take the one with a bow-knot. The technique of creating such a beautiful hairstyle is simple and tricky at the same time. Start from a ponytail, divide it into three parts, use pins to fix your bun from two parts and, finally, take one part to reel the bow-knot. Use a texturizing spray to create hold. After all, what can be better than vintage hairdos that survived through the time? Right, nothing! You will look phenomenal with sleek full bun decorated with the lace strip and beautiful pins. Such a polished and formal style is just the right for the prom night.
Fancy Prom Hairstyles for Long Hair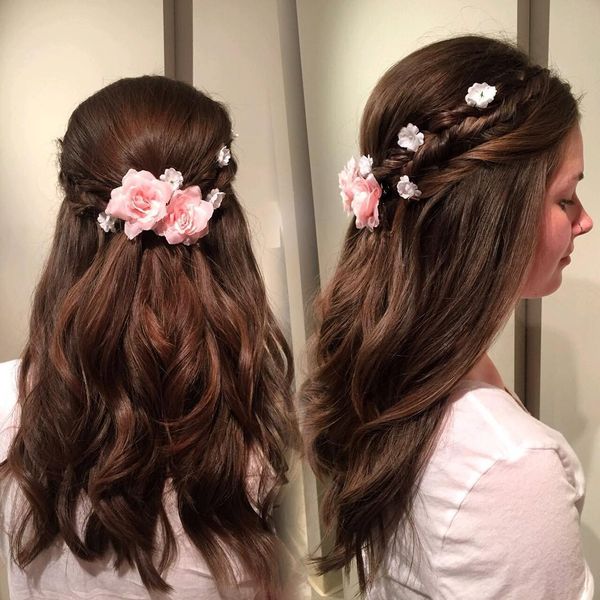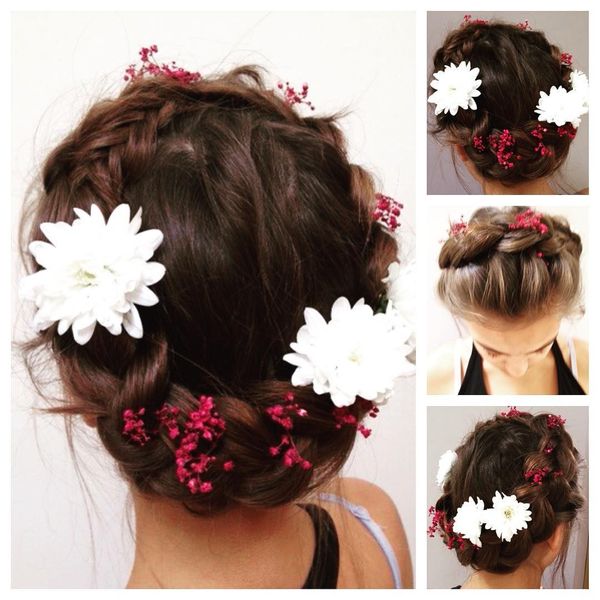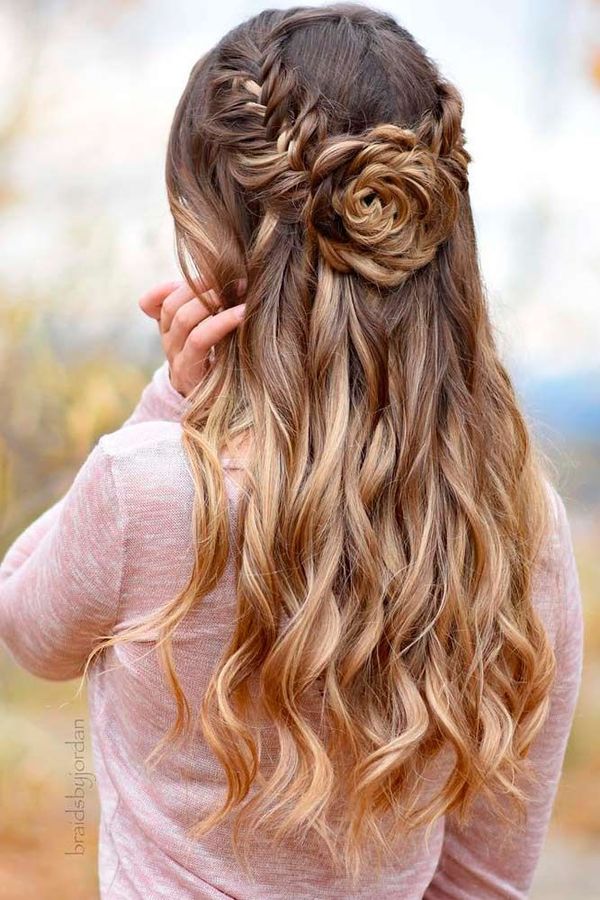 Your long hair is already your most precious and beautiful decoration so sometimes even simple hairdo looks fantastic because of your hair. Curl your long locks with the help of the thick iron, upswept one part of the hair, twist locks and use pins with flowers to fix the hairstyle.
Braids always make a girl look charming and cute. But how can you make a regular braid look more extraordinary? You will probably be surprised that simple floral pins can change an ordinary braid into hairstyle masterpiece. If you are not convinced yet, check out the pics with fancy prom hairstyles for long hair. What do you think about an incredible braided crown with white chrysanthemums and small red florets that are woven into a braid? This hairdo will make you look like a princess.
Ways to Style Long Hair for Prom
As we were saying, there are literally tons of ways to style your long hair for prom. Yes, you will probably need some help from another person because long hair is difficult to style. Yes, the whole process will probably take much time. Yes, you will spend more money on your prom hairstyle. But as a result, you will get exactly what you have wanted. And all the girls will be jealous of your long hair and the hairstyle you made of it.
The prom hairstyles for long hair in this paragraph are different but equally awesome. The modern take on a classic look will make you shine on your special night. Multiple twists that are woven inside create a fantastic low updo which fit any face shape and dress style. The gorgeous twisted updo that mesmerizes with the deep blue color of the hair.
Gorgeous Long Hair Styles for Prom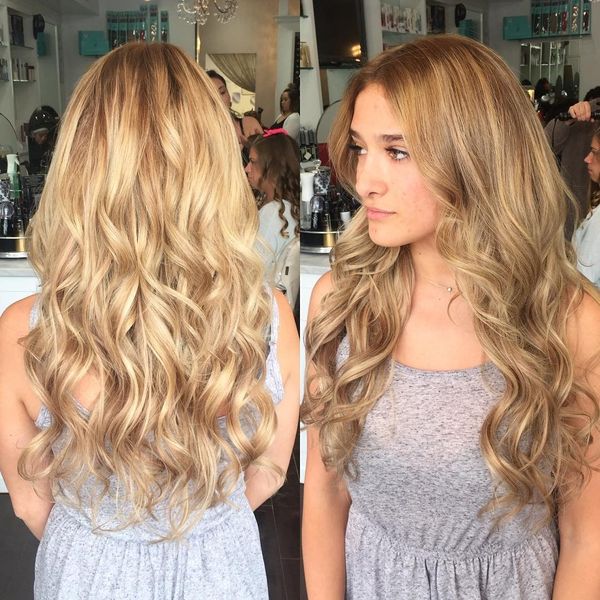 If you are the lucky owner of long thick hair, you don't have to worry about your beautiful prom look. Your hair will look fantastic even if you just use a thick iron to curl long locks. Consider this option if you want something simple but never out of fashion. Besides, you can always add something to such a hairstyle, for example, a braid or some accessories like ribbons or flowers. We firmly believe that the simpler your hairstyle is, the better. For starters, you won't be worry that it will be ruined by the end of the evening. And trust us, complex high updos look like a mess after a few fast dances. The same can't be said about long loose curls or braids. Secondly, such long hairstyles perfectly fit prom gowns of any kind. You won't drop the ball with a hairstyle like the ones in the pics here.
Cute Long Prom Hairstyles to Try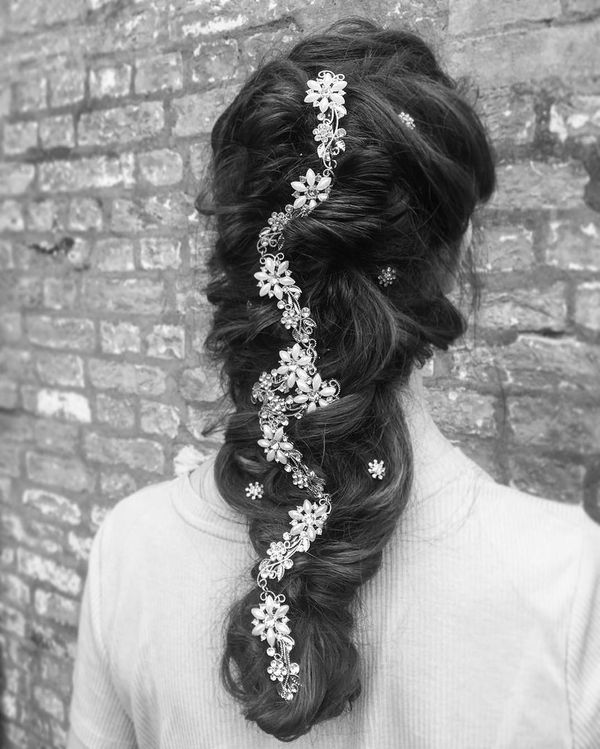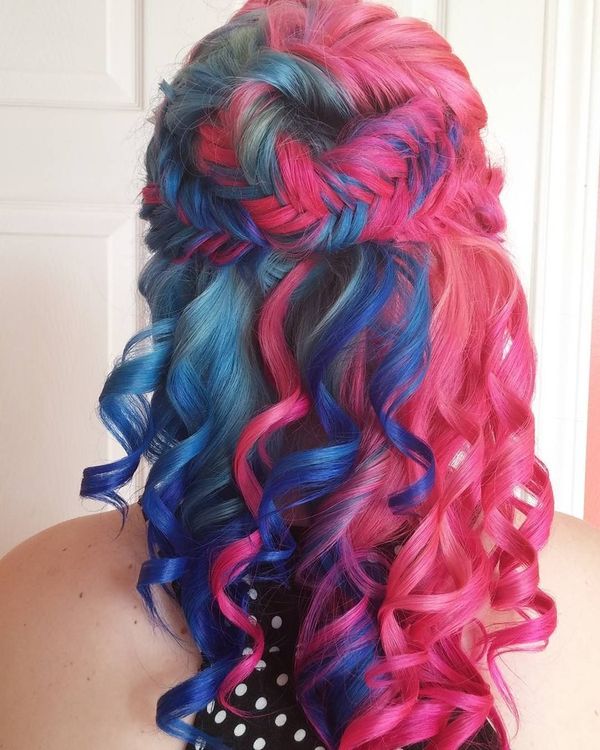 If you happen to be young extraordinary lady searching for some extravagant prom hairstyle for long hair, here's one of them! Bright pink and blue long hair that has been curled and braided into thick fishtail braid on the crown can be your number one among other prom hairstyles. You will totally rock on your special night with this delightful hairdo.
Extravagance isn't the only trump card when it comes to prom hairstyles for long hair. Natural look and braided updos are in trend this year. You can go for a Dutch braid that goes around the head, but don't forget to leave some messy wispy strands to create a romantic look. This hairdo is girly and very fashionable.
Prom Hair Styles for Long Hair (with Flowers)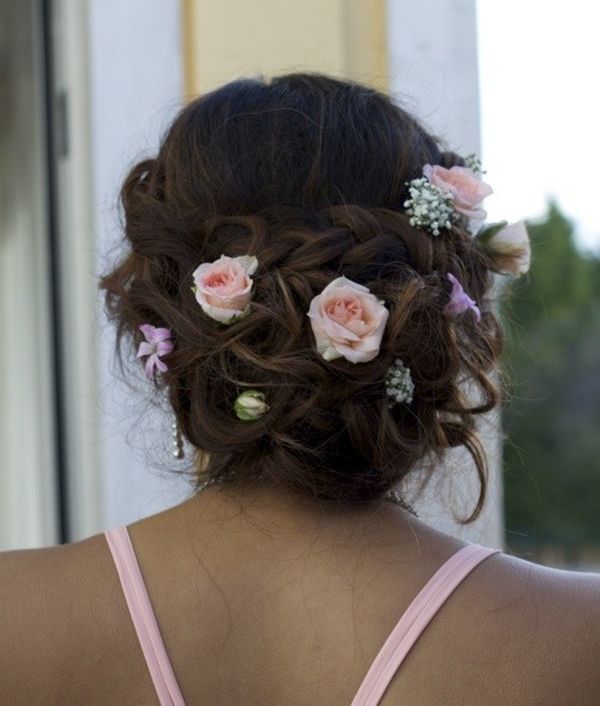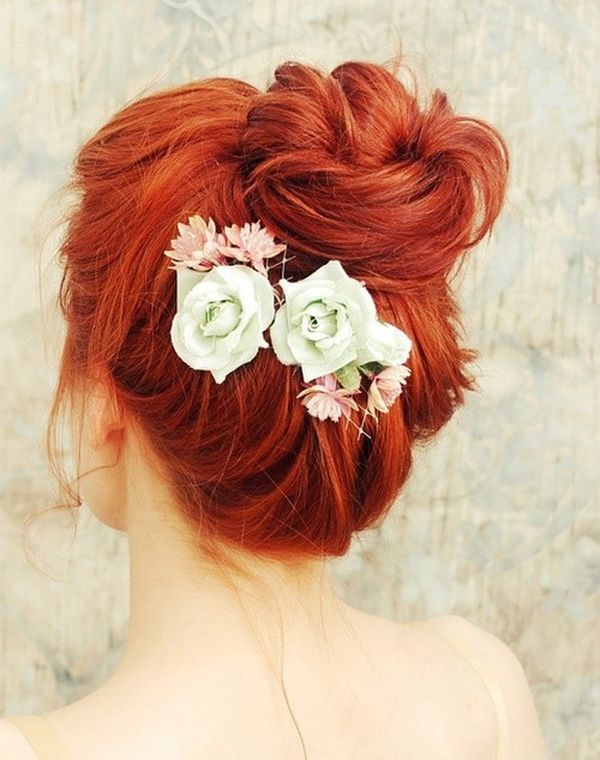 Whatever prom hairstyle you have already chosen for your long hair, flowers will make it even better. There's just something so cute and tender about such hairstyles that it is simply hard to ignore them. How about this messy hairdo with a braid that covers the composition and decorated with small tender flowers? Not only does it look impressive but also highlights your femininity and the softness of your look.
If you are searching for a romantic and tender look, these slightly messy curls with an orchid flower that pins the hair will work best. Separate your hair that has been already curled on thick iron into two parts. The upper part is pinned with the orchid and the rest of the hair left as it is. The tenderness of your look will impress every boy on your prom. Guaranteed!
Top Trendy Long Hairstyles for Prom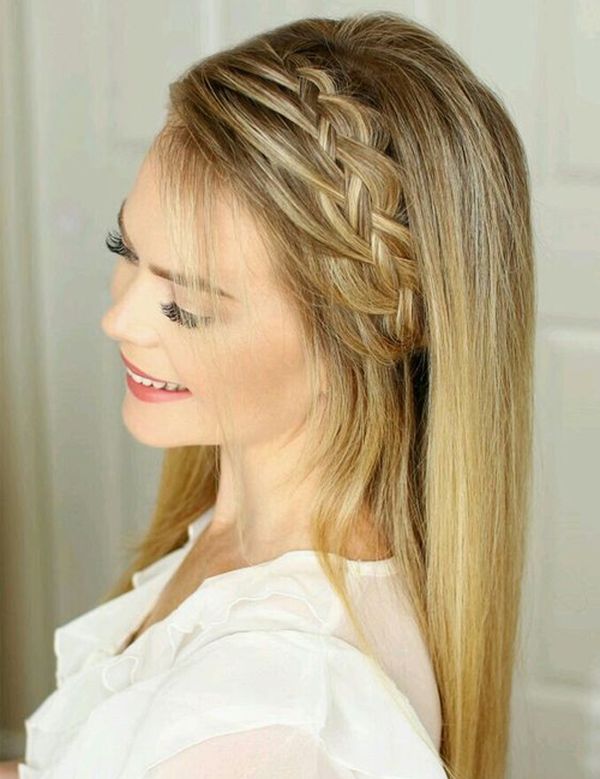 Prom hairstyles with ponytails will work best for those who have long thick hair. Such hairdos look elegant and even classy. Plus, they perfectly hold their shape throughout the night so you don't have to worry about hair sticking out in different directions. And on top of that, ponytails are easy to make by yourself. Yet, high and low ponytails aren't the only trendy prom hairstyles for long hair this season. Waterfall hairstyles with or without braids are back on the track, too. Nothing can beat soft long curls, right?
Nevertheless, some trends come and some trends go, but your long hair is always trendy. And it doesn't matter whether you have long curly or straight hair.
The Best Prom Hairdos for Long Hair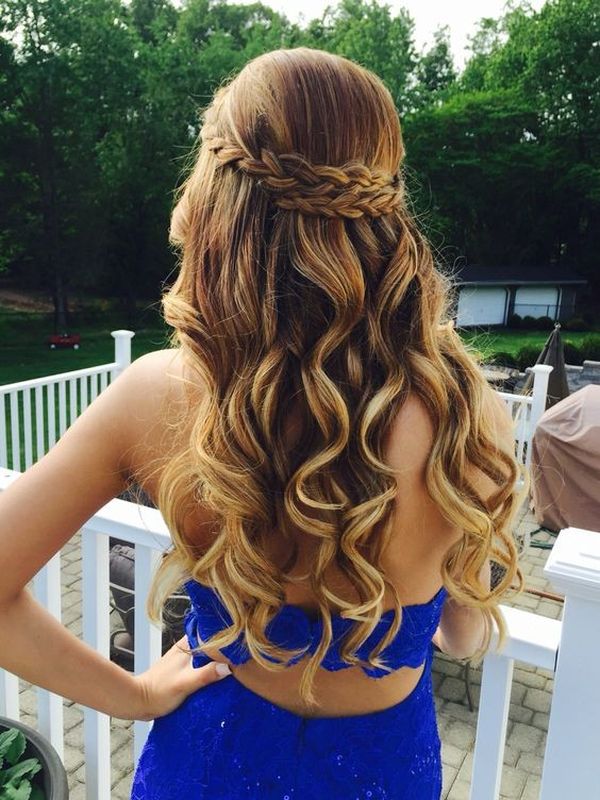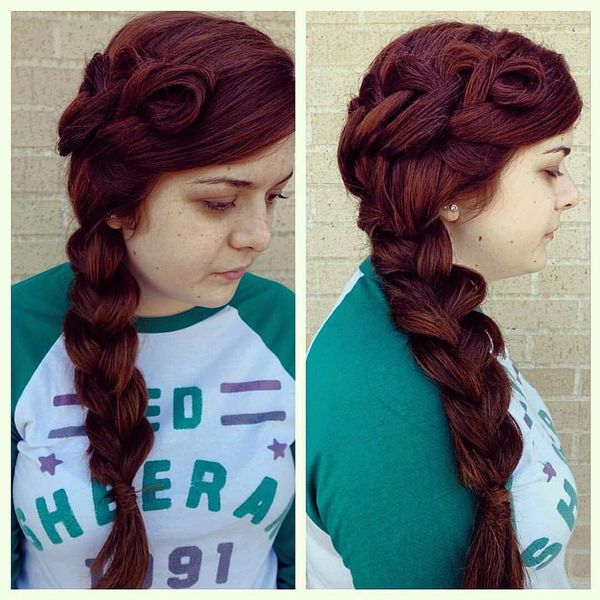 Let's make it clear, there's no such thing as the best prom hairstyles for long hair. It's all subjective and so your tastes might not be similar to ours. That's ok. What we'd like to say here is, the pics with long hairstyles for prom in this paragraph are the best as for our opinion. Side braids, in particular. Speaking of side braids, we must say that these are ones of the easiest yet most beautiful hairstyles any girl can make on her own at home. Unlike the usual braids, side braids are plaited to the side which makes it easy for you to braid them till the very ends of your hair. The good news is; such styles suit the absolute majority of girls regardless of their face shape or type of hair. And just so you know, when it comes to a real hairdo masterpiece, nothing works best than a natural look of your hair. Use a thick iron to make big thick curls all over the length and finish the composition with a crown made of two thin braids and you will definitely rock on your prom night. Just an option to consider.
Classy Long Hairstyle Ideas for Prom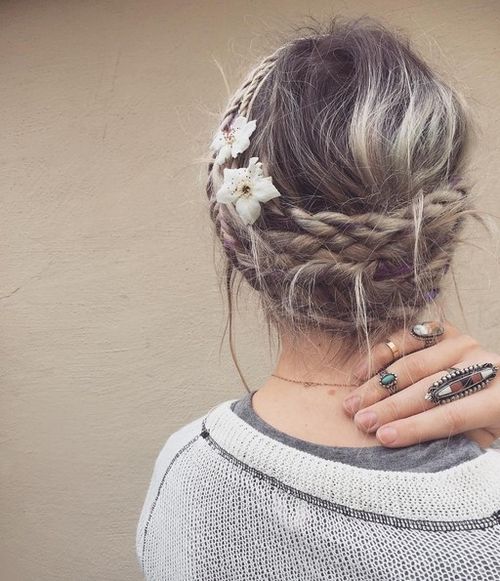 If you made a decision to wear a strapless dress, you might be interested in the prom hairstyle that contains free falling thick curled locks which are crowned with two braids. The hairdo is quite simple but really beautiful looking.
As well as that you might like the cute milkmaid braid that goes all around the head. It is simple and charming. The slightly tousled look is complemented by tender white flowers on the side. With this prom updo, you can dance all night and don't have to worry about the poofy look of your hair.
To sum up, we all know that a prom (as well as a homecoming) is a real battlefield where girls compete in who looks best, whose dress sits better, whose hairstyle is the most beautiful. But you need to remember that the first and foremost task of prom is to bring you positive emotions. So get inspired by this collection of prom hairstyles for long hair, pick a nice dress and have fun with your friends at prom.