Do you love changing your fashion choices and style to reflect the seasons? Summer is the perfect time to start wearing bright colours, especially if you're just emerging from a winter of deep, sultry shades. One of the brightest, most cheerful summer colours is yellow, but not everyone enjoys wearing yellow clothing depending on their colouring. What's the best way to compromise the two? Yellow nail polish, of course!
Check out these 15 gorgeously happy yellow manicures that are perfect for a day in the sun!
1. Yellow nails with a lightning bolt accent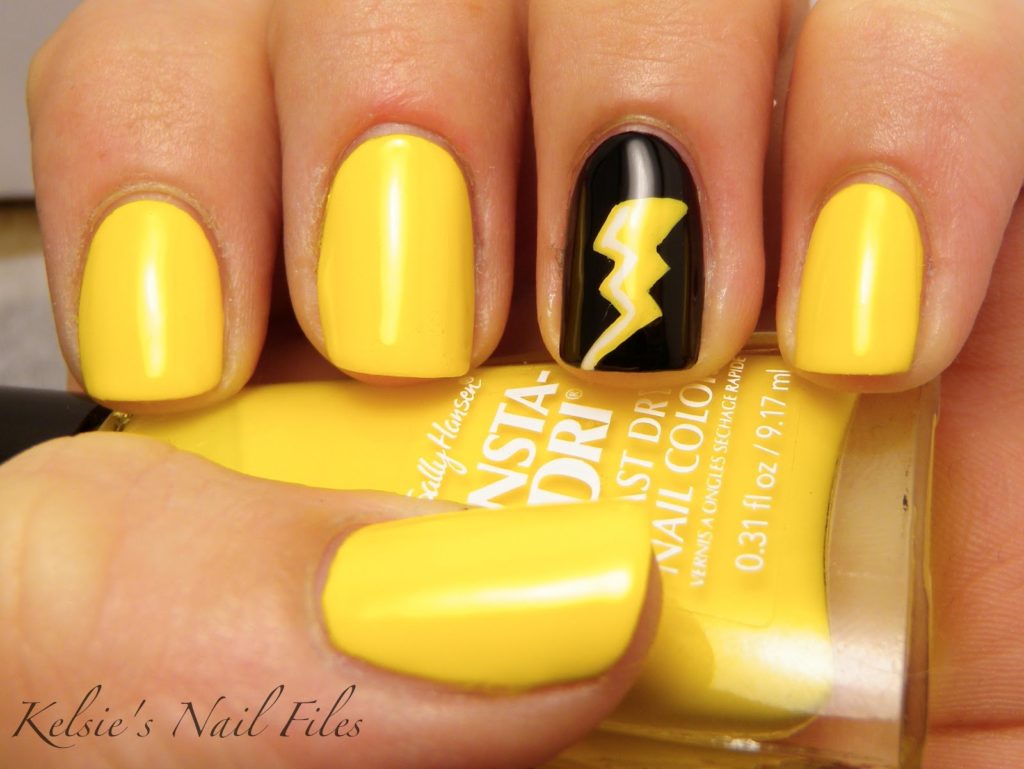 When you see yellow, does your mind automatically think of bright yellow lightning bolts? It's the first thing we thought of too! Painting a yellow lightning shape on a dark black background makes for an awesomely eye catching accent nail amidst an otherwise solid yellow manicure. Your nails will remind people of awesome summertime electrical storms!(Photo from Kelsie's Nail Files)
2. Bright yellow with a gold and green glitter accent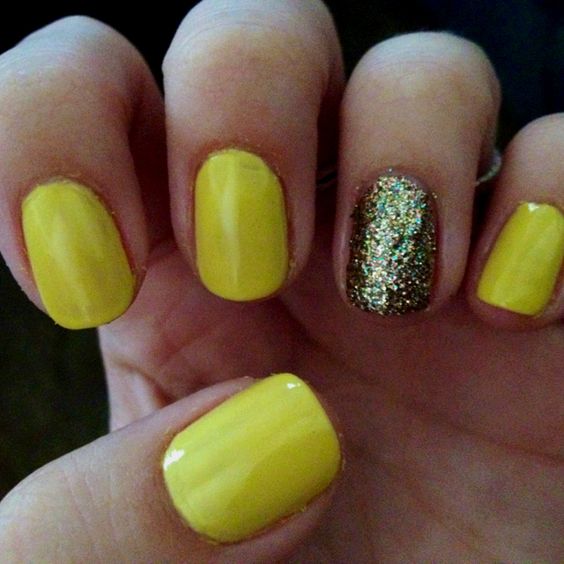 Do you love the idea of a yellow manicure with an accent nail but lightning bolts aren't really your style? Try a simple glitter accent instead! We love this gold and green mixed glitter shade and how the yellow pulls out the gold so well.(Photo from Pinterest)
3. Bright yellow with blue glitter nail beds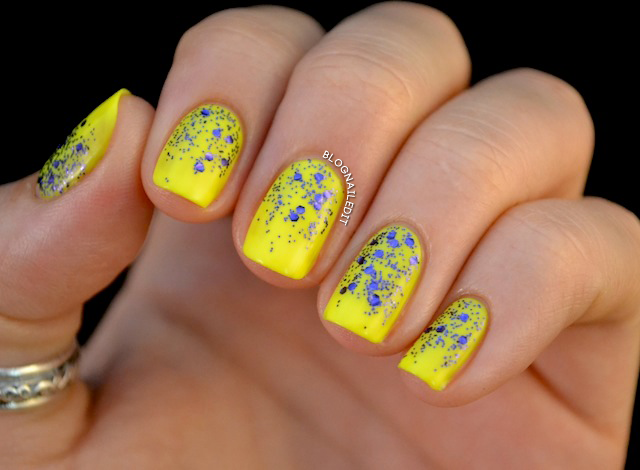 Yellow and glitter looks great together, but painting a single sparkly accent nail isn't your only option for combining the two! Try contrasting yellow with a nice royal blue chunky glitter and concentrating it near the base of your nail so it fades out towards solid yellow trips.(Photo from Nailed It)
4. Yellow and green light gradient nails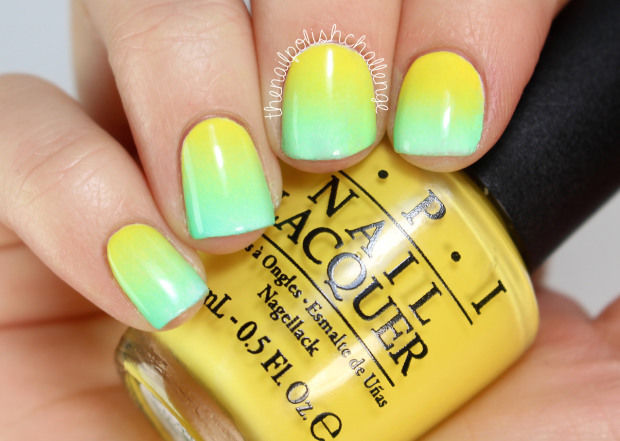 Speaking of colours that contrast well with bright yellow, green makes for a great summery visual as well! We love the way a light green looks sponged lightly onto a brighter yellow to create a faded ombre that's certainly cheerful to look at and will stand out just enough against most outfit choices!(Photo from Love This Pic)
5. Neon yellow with glitter and chevron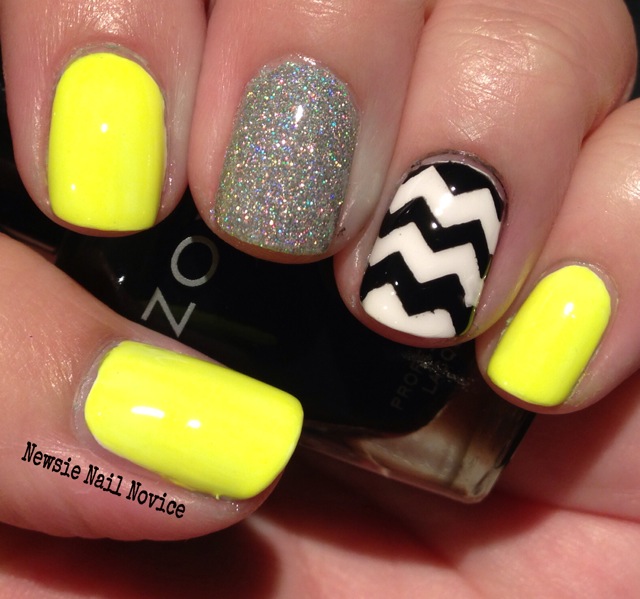 What more could you ask for in a fun summer manicure than bright colours, patterns, and sparkle? Give the glitter and the pattern a nail each and keep the rest a nice, solid neon yellow so that the look is wild without looking too overwhelming.(Photo from Newsie Nail Novice)
6. Yellow stripes, marble, and dots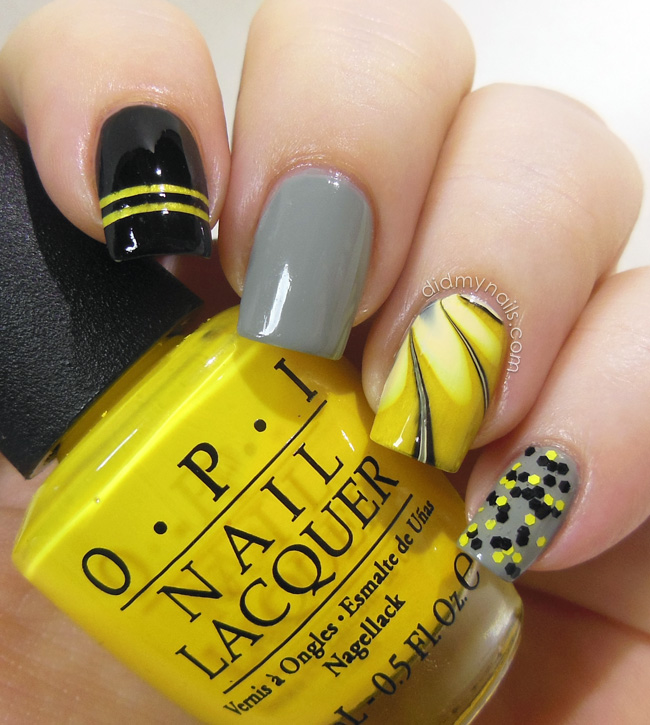 Sometimes yellow makes the best accent colour rather than being the base or primary element in the manicure! A few thin yellow stripes, some water marbling, and chunky yellow glitter are the key to this visually interesting manicure.(Photo from Did My Nails)
7. Taupe manicure with bright yellow tips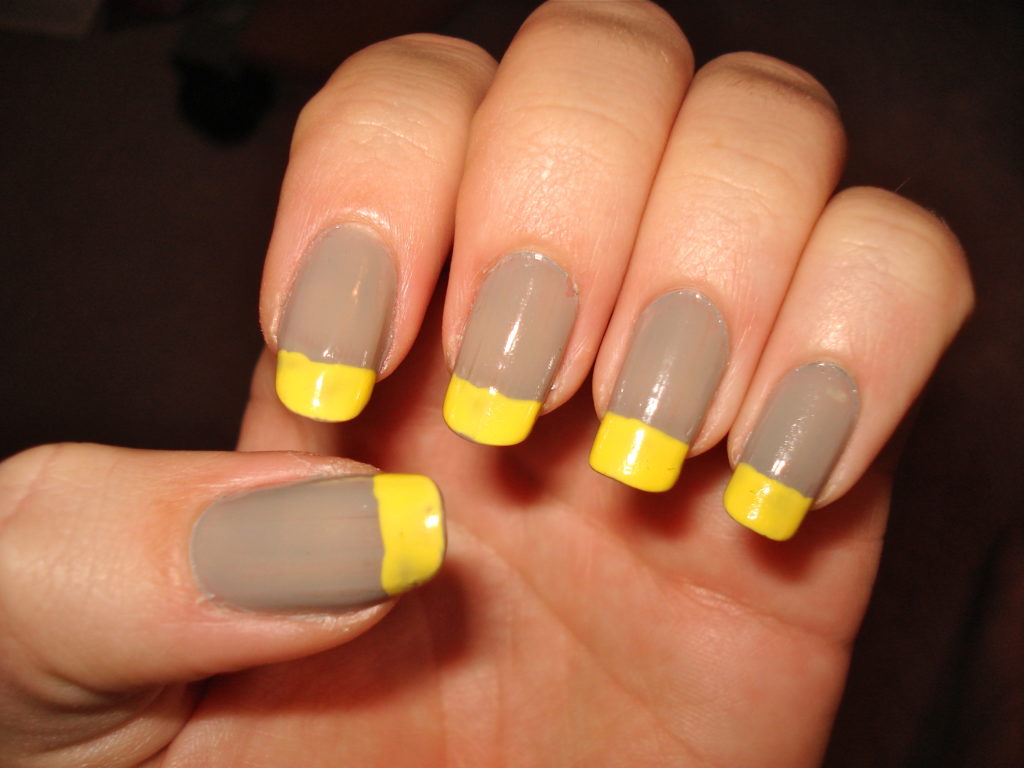 One of the best ways to really make the yellow element of your manicure stand out is to combine it with a more neutral shade. We love the way this taupe base lets the bright yellow tips take the stage.(Photo from Vauxoo)
8. Simple yellow and black solids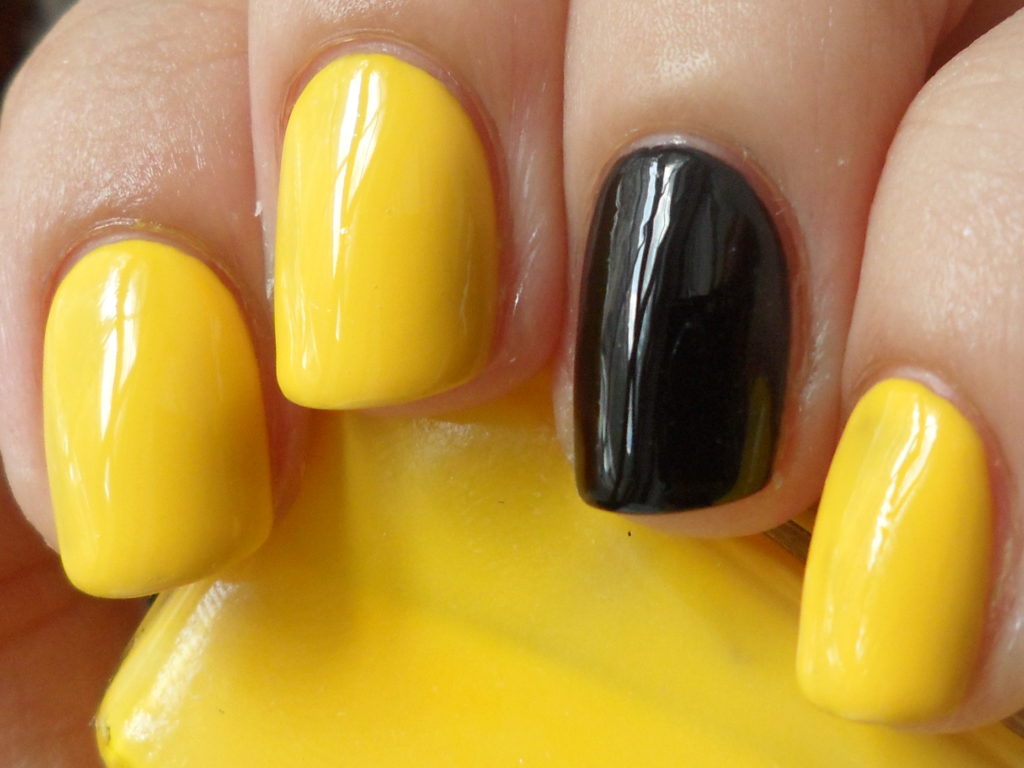 Sometimes the most stylish option are the simplest ones! Take a more minimalist approach that still has some contrast by painting eight nails a solid bright yellow but saving one accent nail on each hand for a shiny, solid black polish to break up the look.(Photo from Haus of Polish)
9. Pale yellow manicure with black glitter tips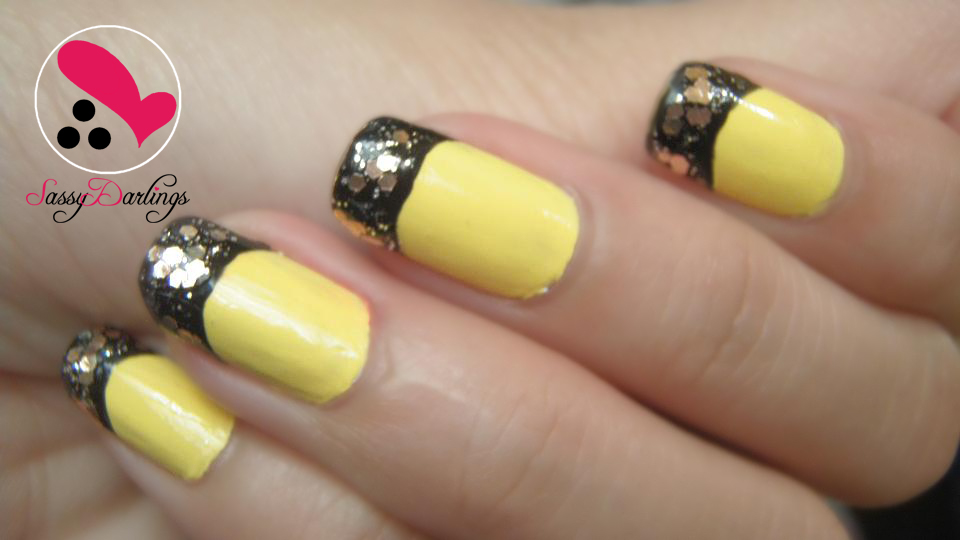 Do you like the idea of incorporating yellow into a "French manicure" look but you want more yellow than just painting the tips involves? Make the base colour yellow instead! We love the way a black tip makes the yellow pop, especially if you line the tip with complementing black glitter.(Photo from Sassy Darlings)
10. Bright braided summer manicure with yellow, pink, and orange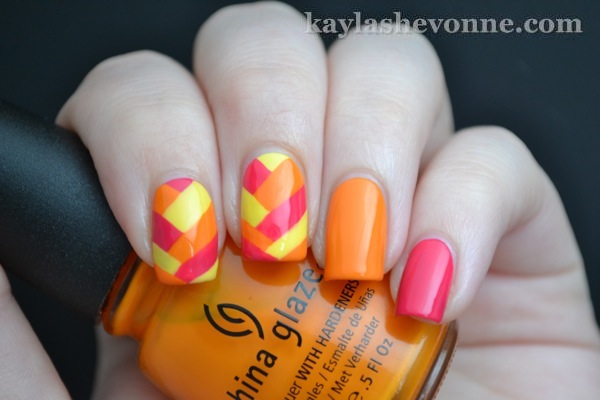 Do you love the idea of incorporating yellow, but you'd rather have it as part of a bright summery scheme rather than as a standout colour on its own? We love the way it looks woven through pink and orange in this bright braided manicure!(Photo from Nails by Kayla Shevonne)
11. Spongebob Squarepants nails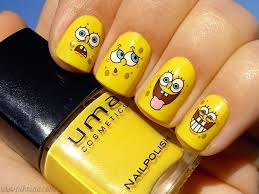 If you grew up in the early 2000's then we'd be willing to bed that any solid yellow square reminds you of Spongebob Squarepants almost immediately! If there's any time to get silly with your manicure then summertime is it, so why not actually create a Spongebob look with your yellow polish? We think it's hilarious and a whole lot of fun.(Photo from Loves it So Much)
12. Yellow, gold, and white contrasting patterns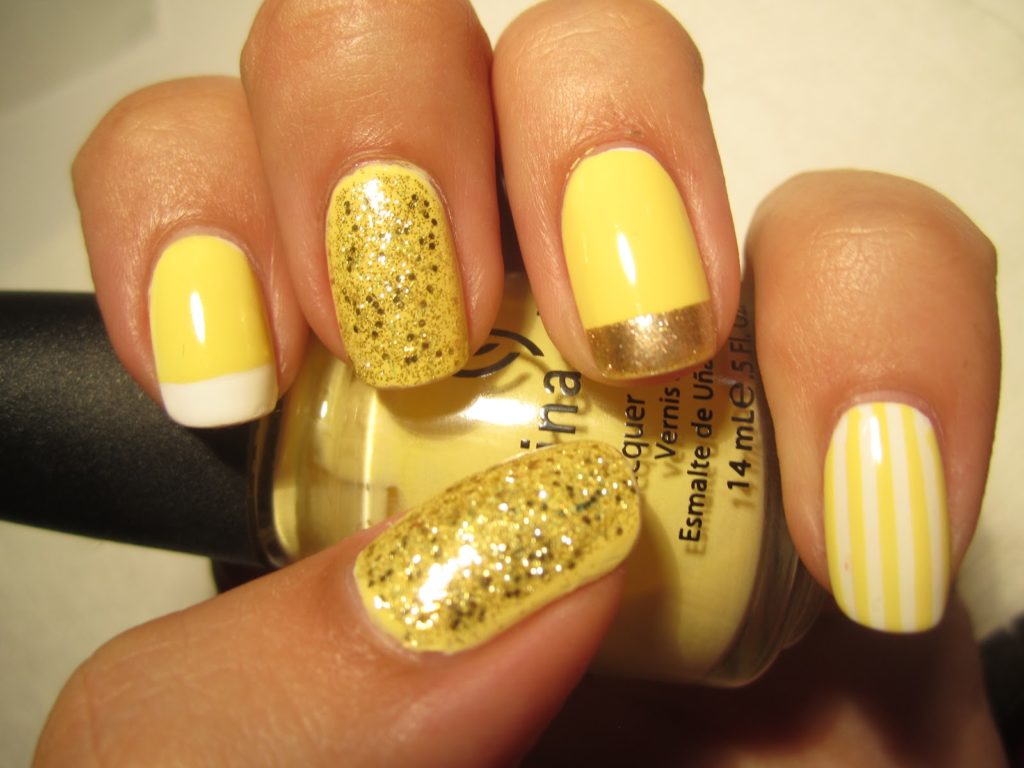 Are you looking for a manicure that's extra eye catching but still sticks to a complementary colour scheme that heavily features yellow? We love how white and gold look with yellow, but we think you can take the visual further by creating a different pattern on every single finger! Try varying French manicure nails, stripes, and sparkles.(Photo from New Nail Designs)
13. Black and yellow bumble bee nails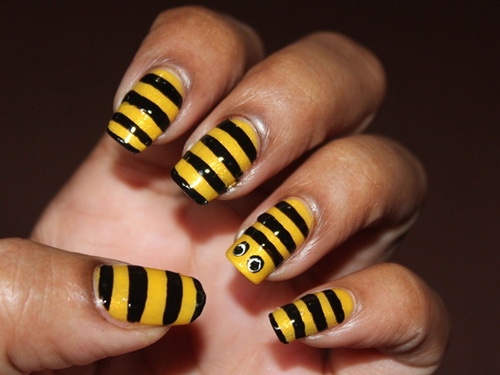 Sometimes creating a silly design or character is half the fun of using a particular colour on your nails! Painting each nail into a little bumble bee lets you use yellow while also turning your hands into a tribute to buzzing summer creatures.(Photo from New Nail Designs)
14. Yellow with black bows and polka dots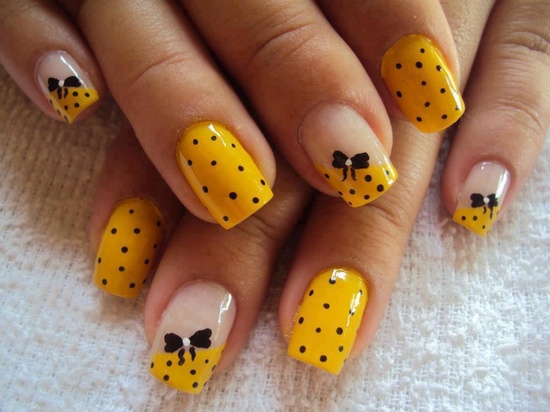 Have you ever heard the song that talks about an "itsy, bitsy, teeny, weeny, yellow polka dot bikini"? That's exactly what this yellow manicure with black polka dots and little bows reminds us of! We love the way some of the nails are left partially uncoloured with only an angled, dotted tip and a bow for flair.(Photo from We Heart It)
15. Yellow and black art nouveau nails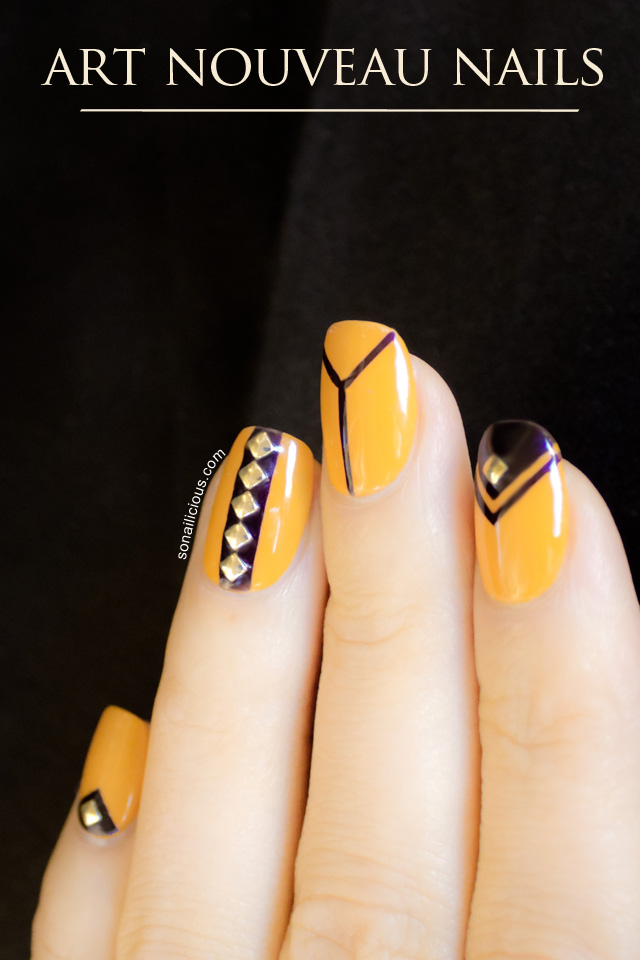 Do you love clean lines and geometric patterns? Yellow and black are a great colour combination for creating those types of looks! Tape will help you get those clean, straight lines and mini studded beads will help you really hit the art nouveau aesthetic home.(Photo from So Nailicious)
Do you know someone who absolutely loves giving themselves seasonal manicures? Share this post with them for a little bit of summery, bright yellow inspiration!