Date night is approaching and you'll want to make sure your digits are details just right. Add a bit of festivity and style to your hands for when February 14th rolls around. And who knows, you may be sporting a new ring by the end of the night! Here are 20 Valentine's day nails that make the most charming manicure!
1. Metallic Touch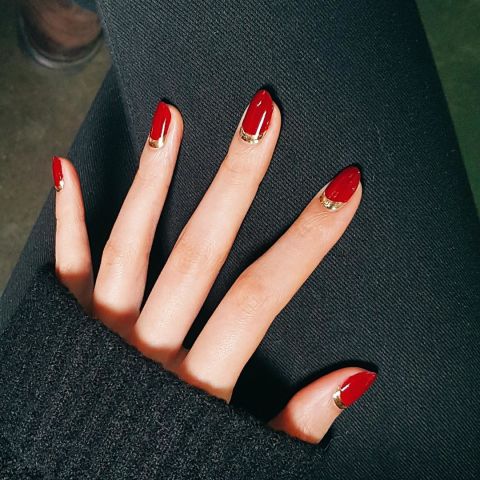 Elle shows us how to add a bit of a metallic touch to our classic red nails. An extra bout of sparkles are the perfect way to feel a little extra-special and festive.
2. Ikat Hearts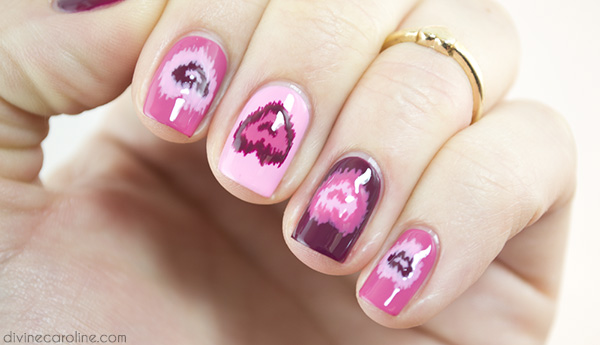 If you want something a bit more trendy and outside-the-box, take a look at this Ikat design. More has all the fun details.
3. Neon Heartbeat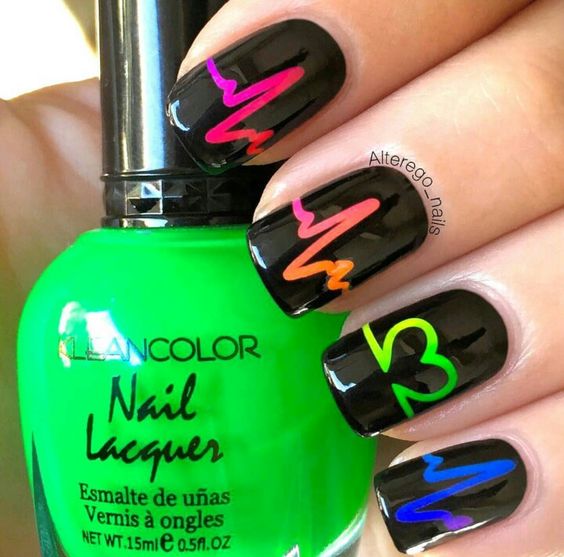 Why not celebrate the day with a heartbeat on your digits? Make it funky with some bright neons and feel festive too. (via)
4. Love Letters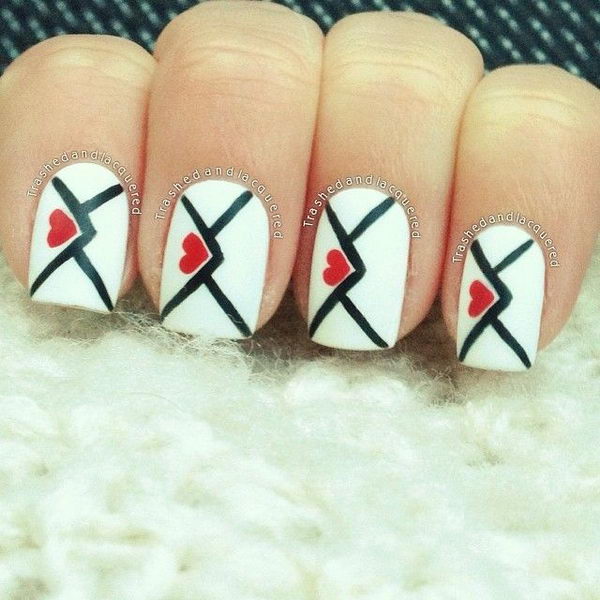 Native featured this charming design and we instantly fell in love. Turn your nail beds into tiny, swoon-worthy love letters.
5. Pizza

If there really is one true love in our lives, it's most definitely pizza. Cosmo has all the details on how to make this happen.
6. CUL8R – LUVU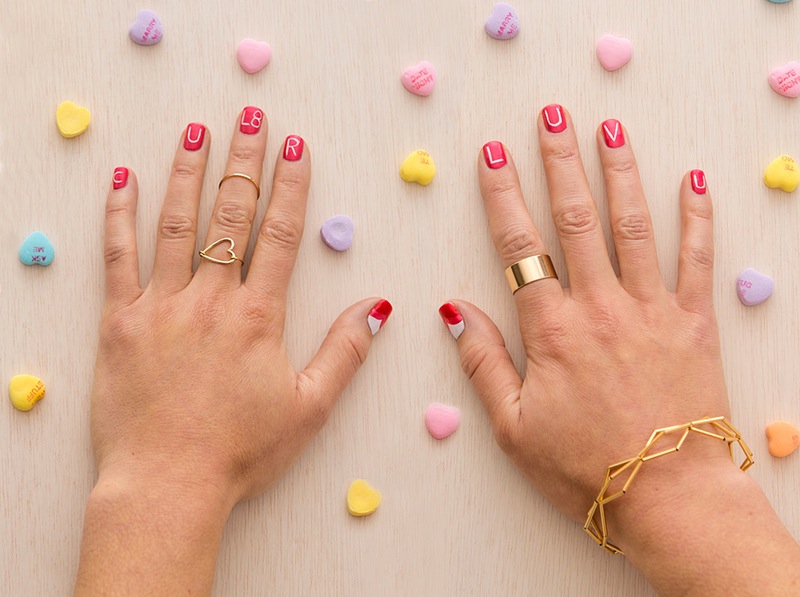 Brit + Co featured this adorable idea that includes not one but two Vday-inspired phrases. Draw on a "Luv U" and a "C U L8R" with style.
7. Metallic Ombre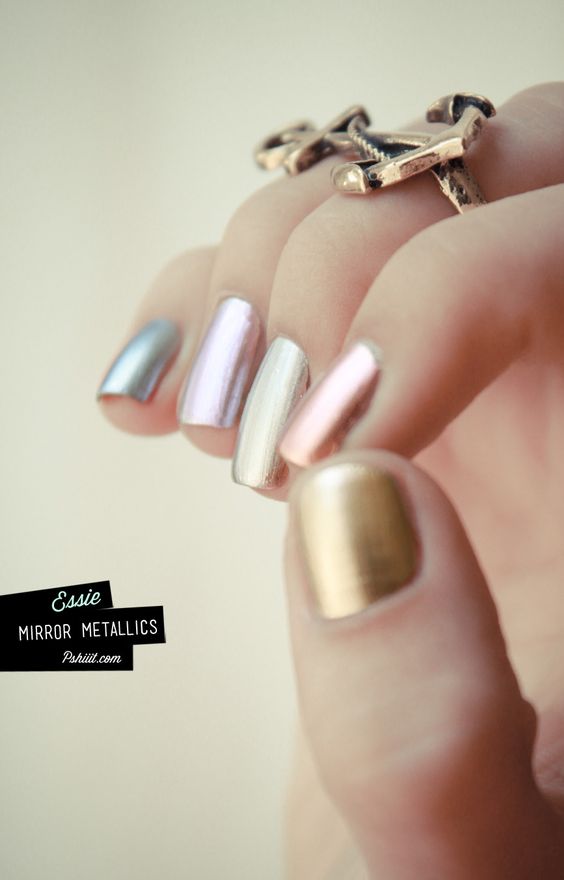 pshiit showcased a beautiful and subtle idea for our nails as well. A bit of metallic pastels can go a long way when we're gearing up for our Vday date night.
8. Heart Layers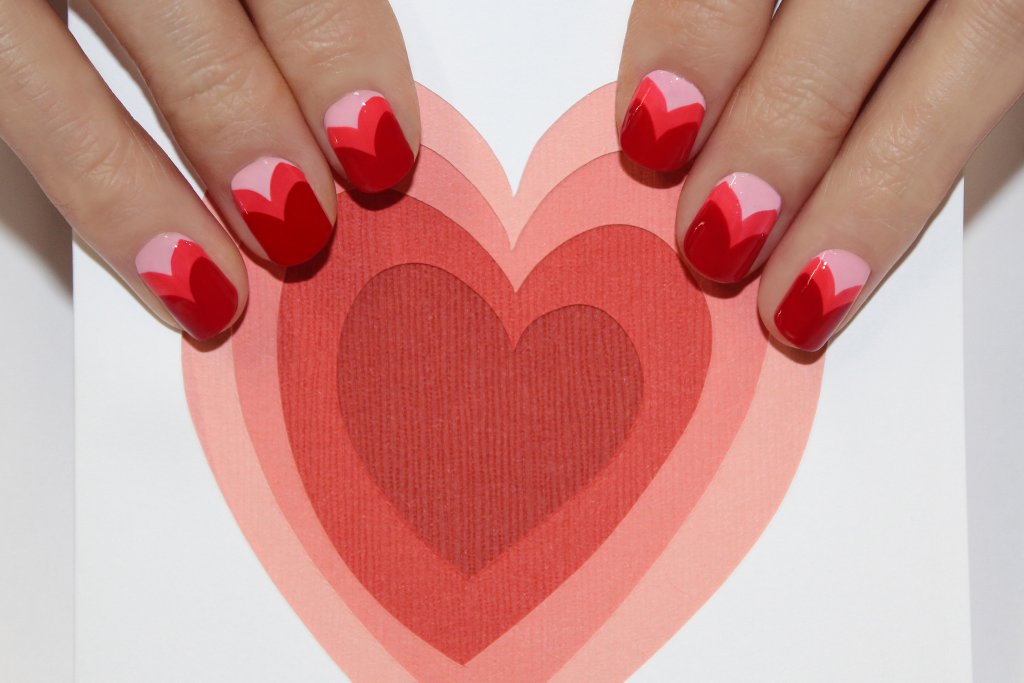 Layer up those hearts with some help from PopSugar. This is one of the more festive ideas on the list and we're in love!
9. Foxy Valentine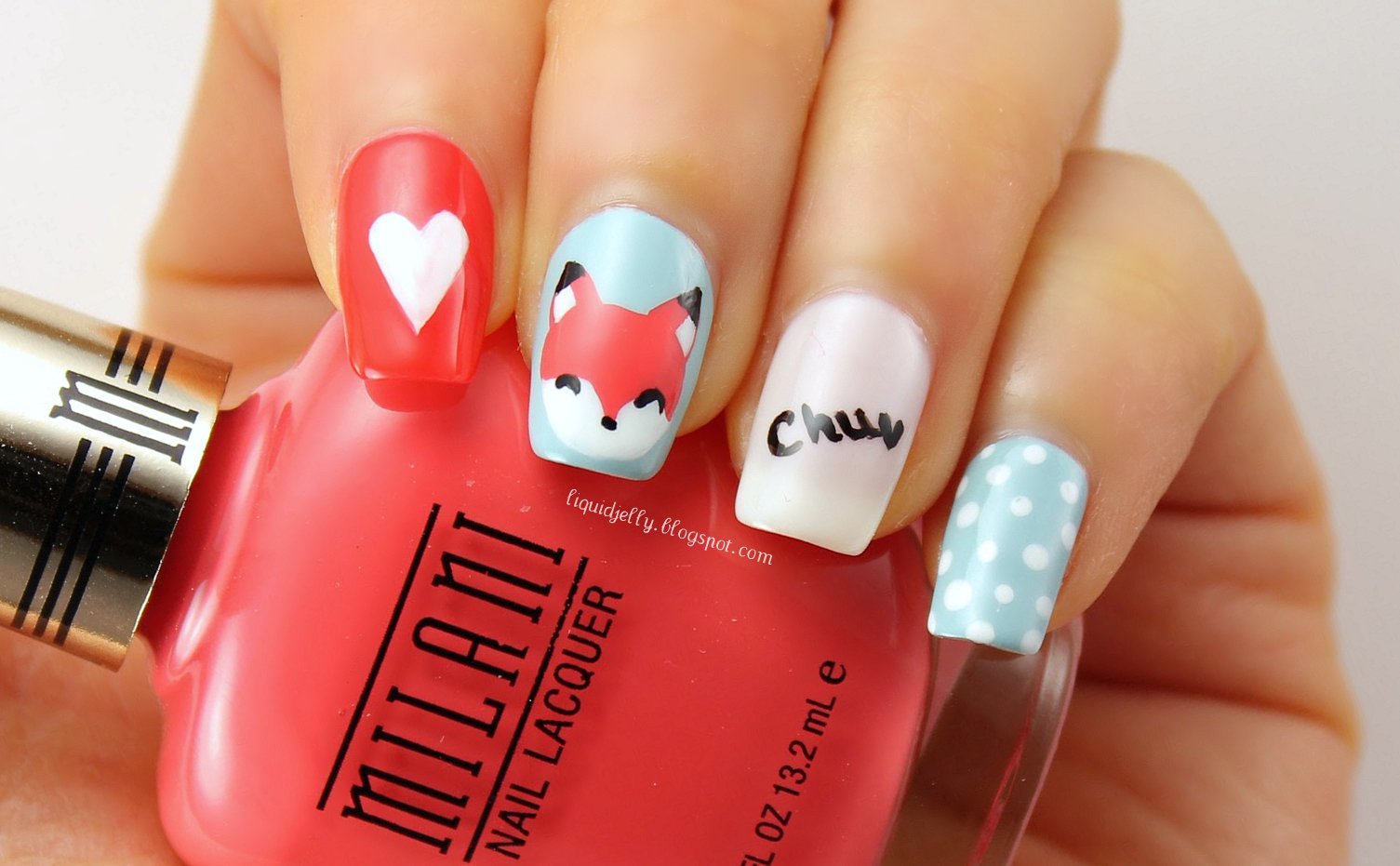 Hop on over to Liquid Jelly if you want to flaunt some foxiness. It's a more youthful idea and the kiddos may even want to get in on this one.
10. Pink French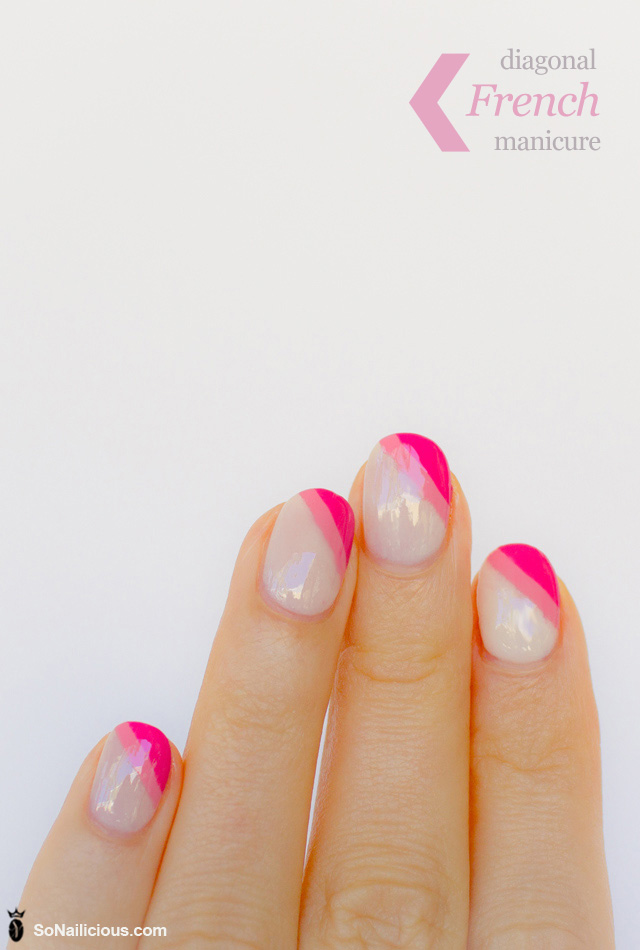 Pink French tips could be your way of paying homage to the holiday too. We love how the diagonal effect gives it a bit of uniqueness. (via)
11. Blue Violet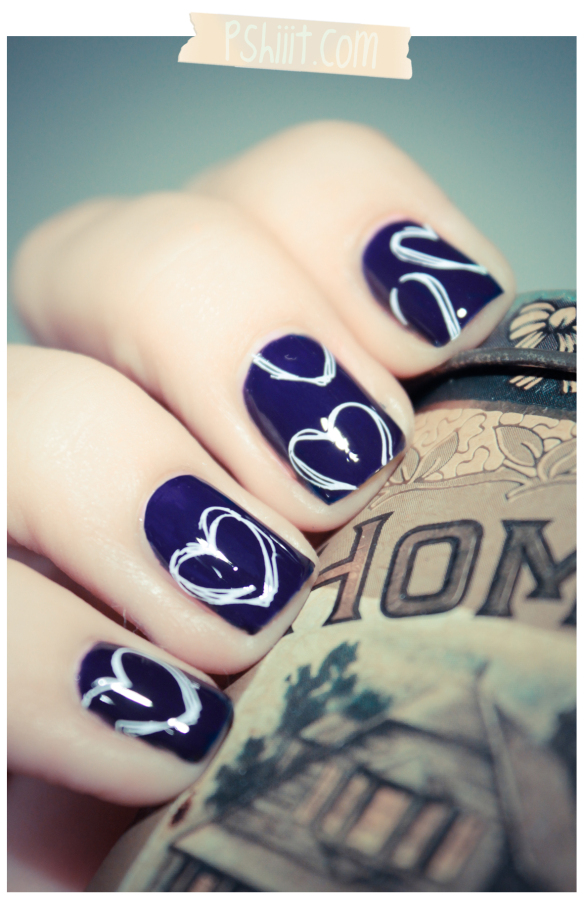 If you want to go with a non-traditional shade, stick with a deep and rich blue. Then draw on your hearts in the spirit of all the love around you. (pshiiit)
12. Red Lace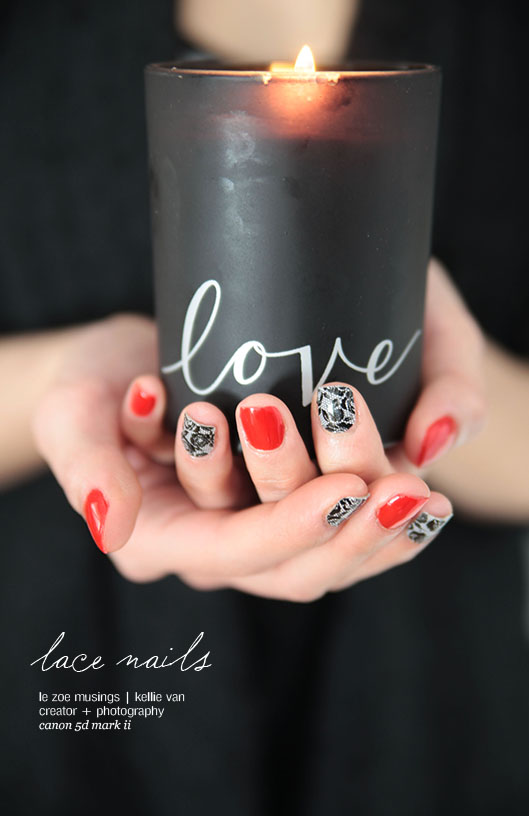 Le Zoe Musings featured a sexier design that we're loving too. A bit of red and a bit of lace would be quite the stunning addition to the day.
13. White Hearts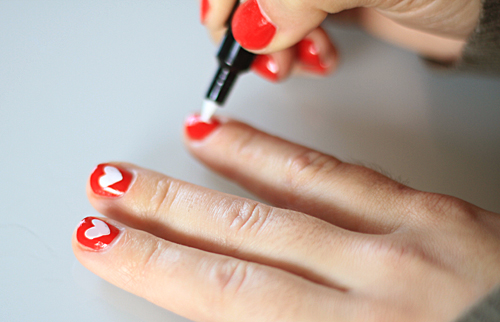 Some simple white hearts would do the trick as well. Grab the tutorial over at Julie Anna Art.
14. Scrabble Love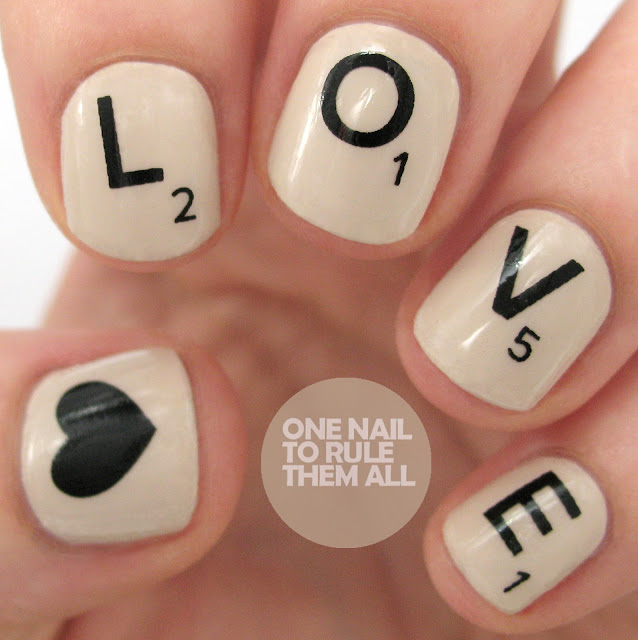 One Nail To Rule Them All shows us how to flaunt our love for Scrabble and our love for the holiday! Follow along with the directions after the jump.
15. Black on Black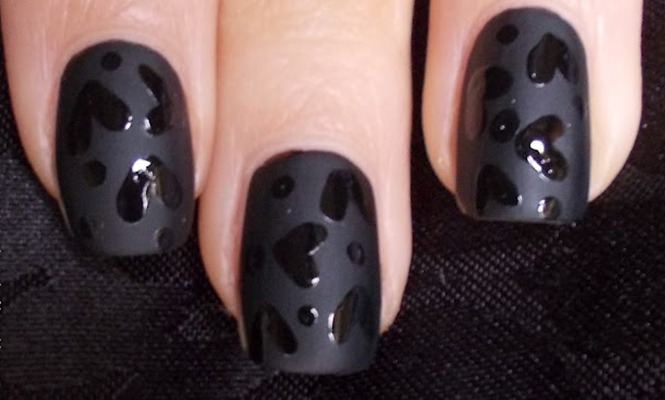 Visit Alyce Paris for a chic, black on black look that we're loving.
16. Heart Tips

Cosmo featured this rad tutorial as well. We're loving these subtle, heart tips that are both romantic and unique!
17. Glitter Hearts

Of course, an easy and simple glitter heart added to your digits works as well. Grab the details over at The Beauty Department.
18. Arrows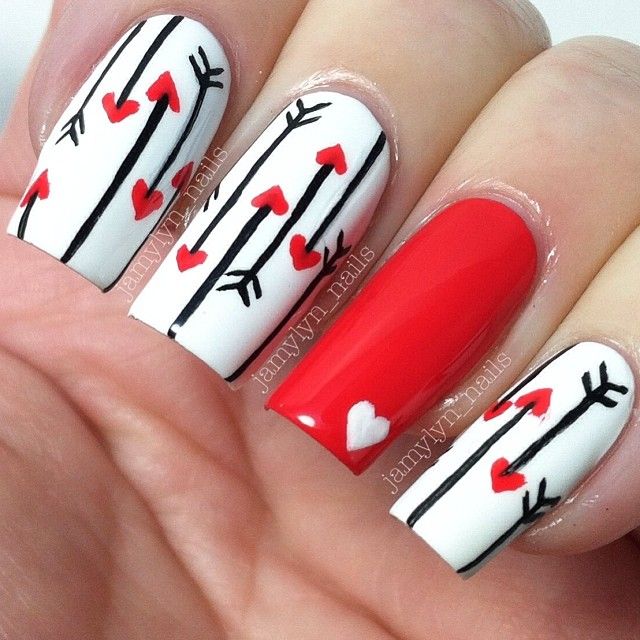 It is Cupid's holiday after all. You can use whatever colors you like as well to pay home to Valentine's Day in this kitschy way. (via)
19. Studded Hearts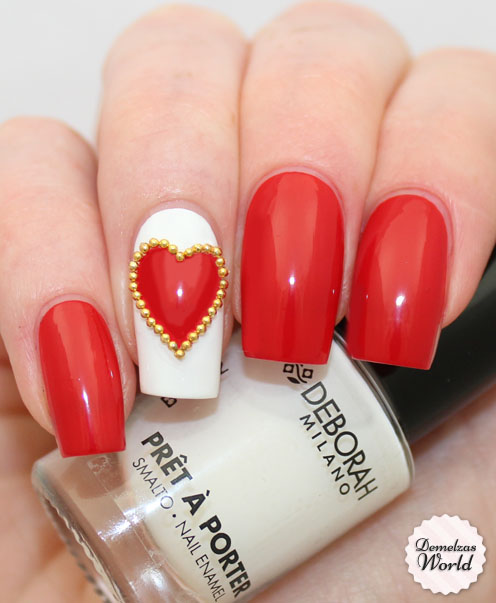 Demelza's World added some studs to her simple design. We love the texture and the extra bit of glam.
20. Pink Lines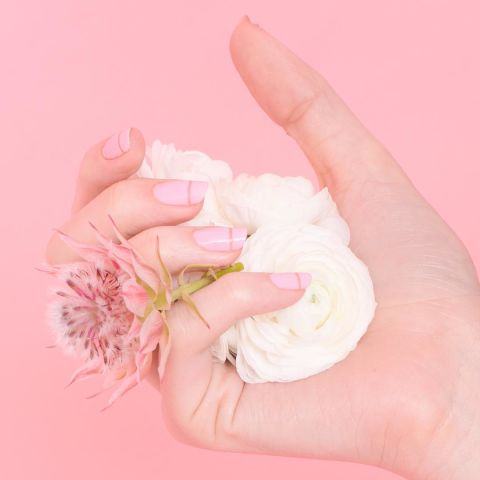 Elle had this pretty, classic manicure featured on their site. It's modern, it's subtle and it's got its own bout of romance wrapped up inside.