One-toned hair? Boring, and totally lacking contrast! You can revive your style and give it some awesome contrast by choosing two tones. Keep it simple with two shades of brown or blonde, or go crazy with some extravagant mixes like jet black and hot pink.
There's tons of ways to show off two colors of hair, and you will find everything from subtle ombre mixes to quirky side-by-side contrasting colors that really spark some interest.
Natural Blonde Balayage Waves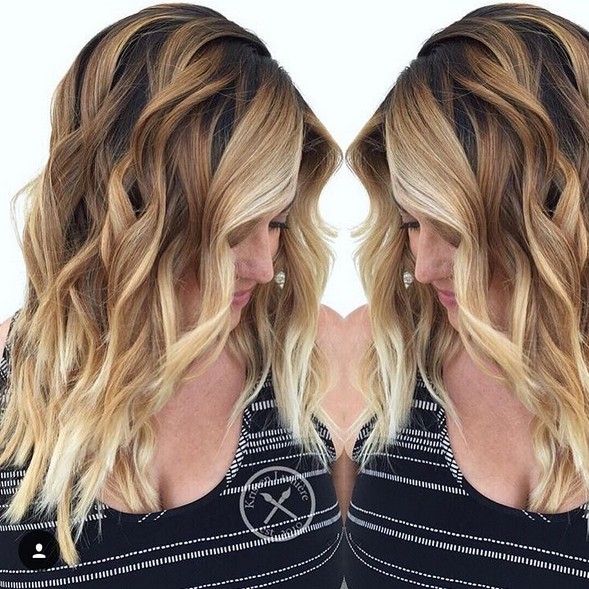 For a more natural take on two-tone hair, consider this blonde wonder. The blends of dark and light blondes gives that "Sunkissed" style we all dream of during summertime, and enhancing your locks with waves gives it that beachy feel we all adore.
White Lilac
If looking like a mystical fairy princess is your goal, then this is the ideal two-tone hairstyle. White hair is given some dainty lilac undertones, a blend that's ultra-feminine and delicate enough for a magical princess.
Blonde with Silver Ends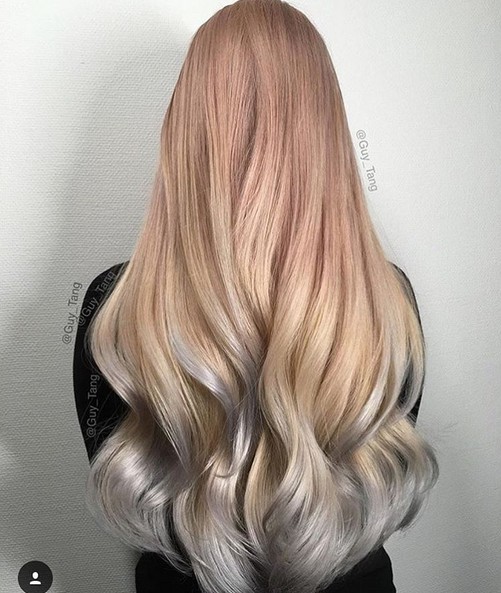 Gray hair is ridiculously trendy right now, but if you're looking for a subtle way to show off this trend, toss some silver pieces on the ends of your mane. Silver blends well with a wide variety of hair colors, but looks especially enlightening on blonde tresses.
Black-Blue with Designed Fade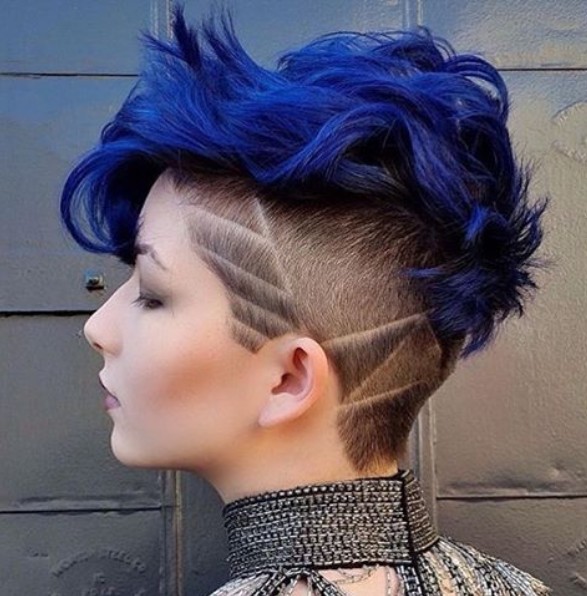 Live life on the wild side and do something utterly extreme and take on this quirky 'do. Her Mohawk-inspired locks are doused in a fierce combo of jet black and electric blue, while a designed fade ignites this look to the next level. For the gal who wants ALL eyes on her, consider this FIERCE look.
Platinum Denim Blue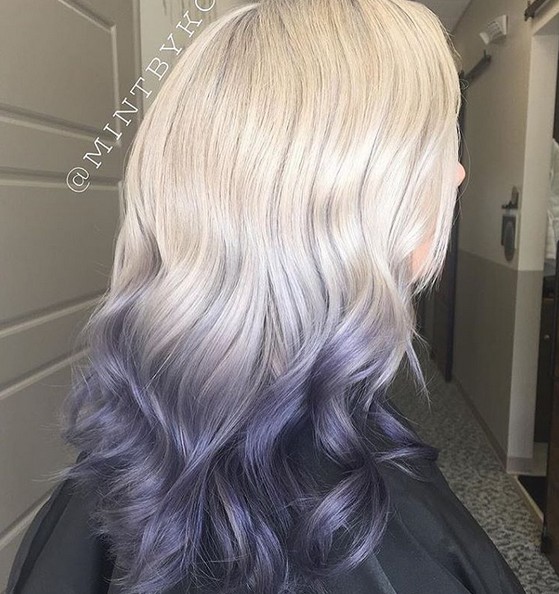 Denim blue is an up-and-coming hair color that reminds us of our favorite pair of dark blue jeans. Her denim blue has hints of purple infused for a warmer, deeper effect that looks simply magical when paired up with a platinum upper half.
Black and White Combo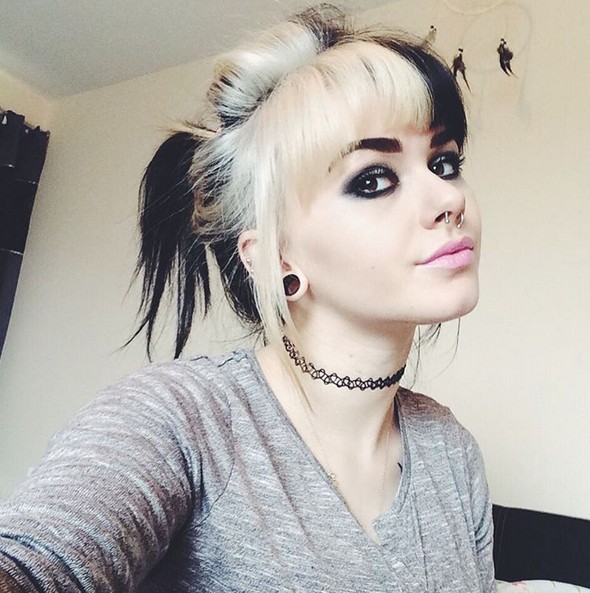 There's nothing as contrasting and striking as a black and white combination. The two colors are bold and on opposite sides of the spectrum, and you can make an even more divisive and exciting look by bringing the two-tones to your makeup routine as well with thick dark eye makeup and lovely light pink lips.
Dark Brown and Maroon Half Updo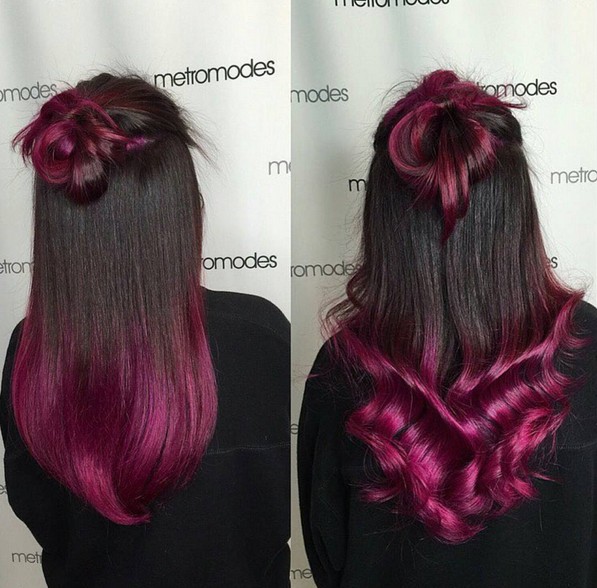 Dark brown to maroon ombré is certainly a fascinating hairstyle that's rich and intriguing. The glossy colors are bold and inviting, and tossing your locks up into a half updo really showcases the two colors in a tremendous way.
Pink Platinum Short Cut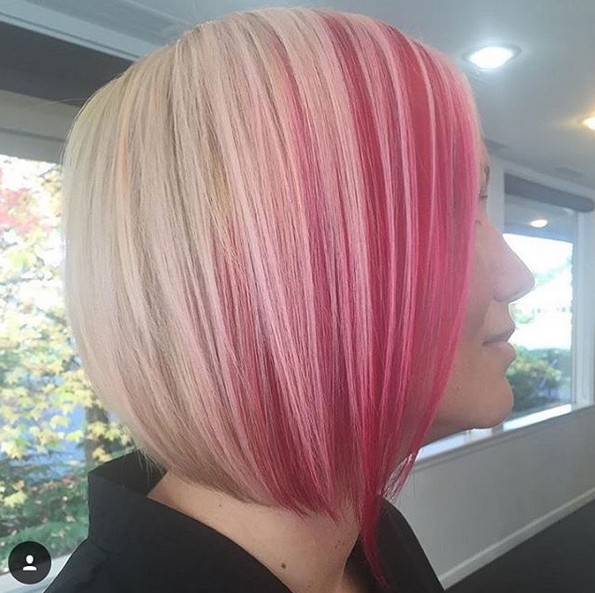 Pink around the face is sure to draw attention to your features, while bold platinum in the back creates a playful and exciting contrast. On a short haircut like this, this color combo is filled with exciting and bright personality, great for younger gals in the summertime.
Dark Black Roots with Platinum Ends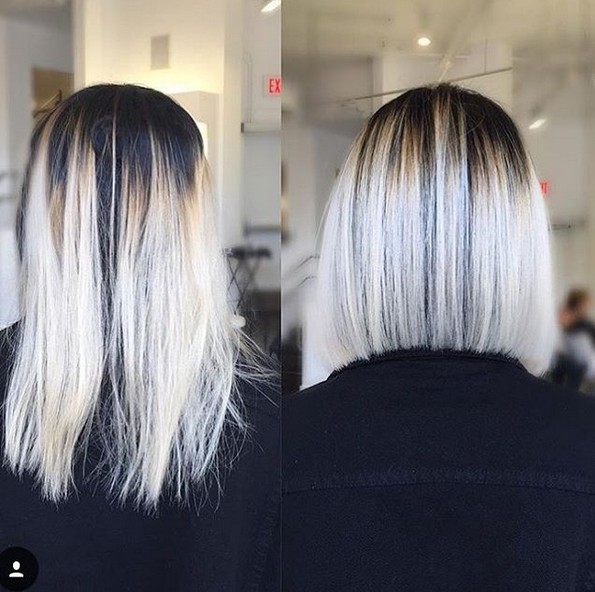 Again we see the classic and beloved black and white combination, designed differently for a more exotic feel. She leaves her dark black roots up top, contrasted heavily by a white lower half with hints of black sewn in strategically. A spicy style for the woman with confidence and sass.
Dark Green and Brown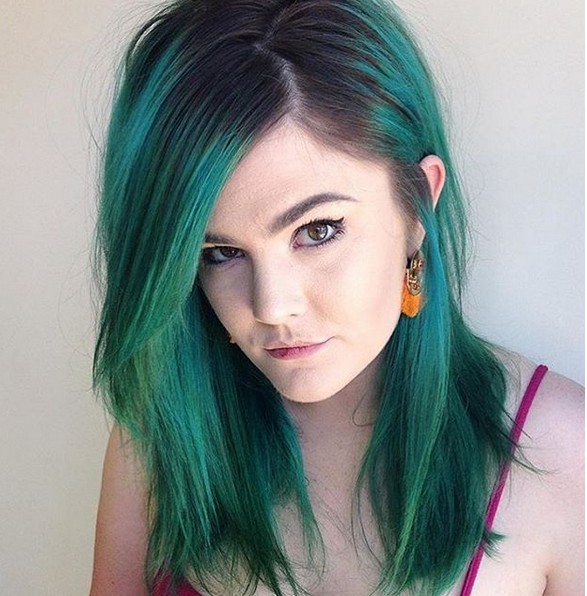 This luscious, foresty dark shade of green is a divine shade that's simply captivating. Paired with dark brunette roots, this is a deeply entrancing hue that reminds us of the beauty we would find in the depths of the forests and beyond.
Charcoal to Neon Green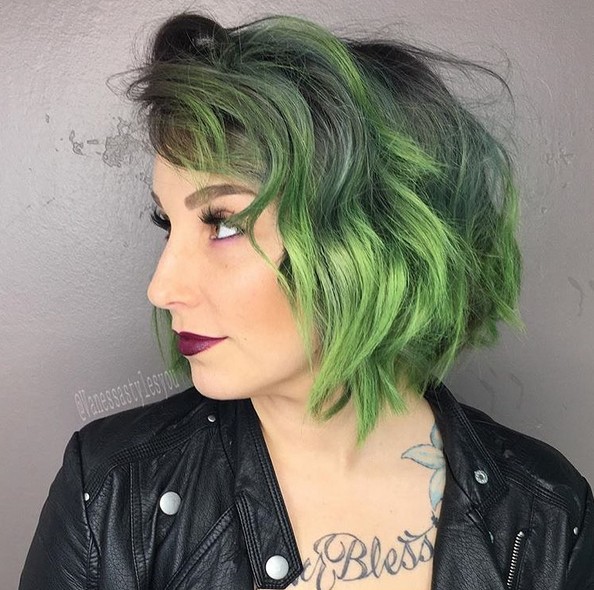 While the last shade may have given you a feeling or romance and passion, on the other side of the spectrum is this fun and carefree blend! Let your inner rockstar out to play with this exciting and playful creation of charcoal roots to an enticing neon green. Looks extra cute in a short, flirty bob such as this.
Platinum and Deep Mahogany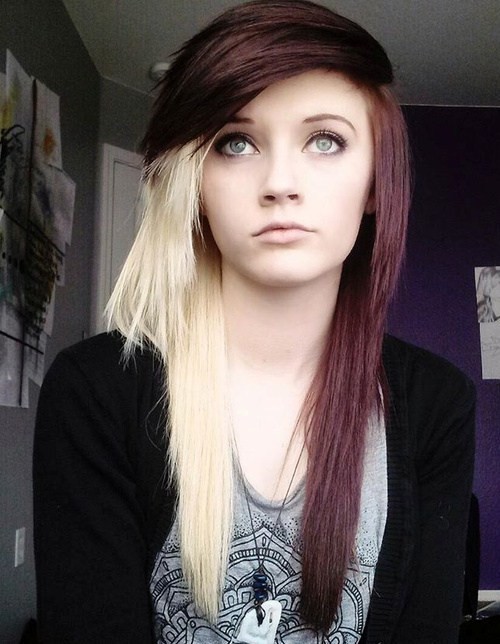 Setting up two vivid and heavily contrasting shades on either side of your head creates a fun, two-tone style that's sure to draw attention. Toss over a bit of color from one side to the other on top for a really exciting blend that's perfect for the 'scene queens' out there.
Black Orange Red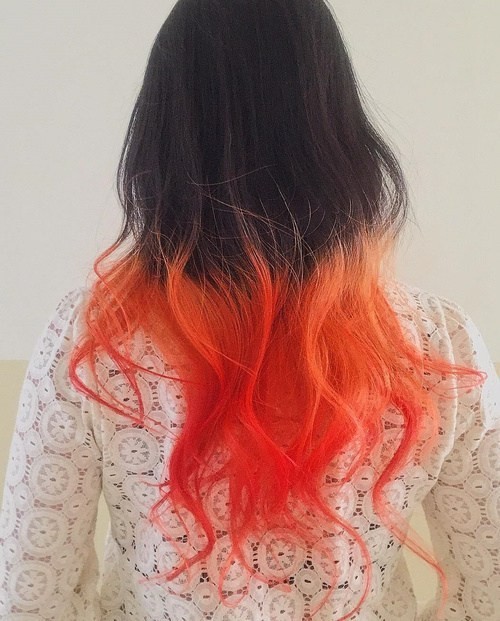 Two-tones that are fierce; two-tones that are exotic; two-tones that are devastatingly gorgeous: that's what you'll find in this incredibly striking two-tone hair idea! A jet black lower half is given vibrancy and flare thanks to an orange-red lower half. Simply stunning.
Green Grey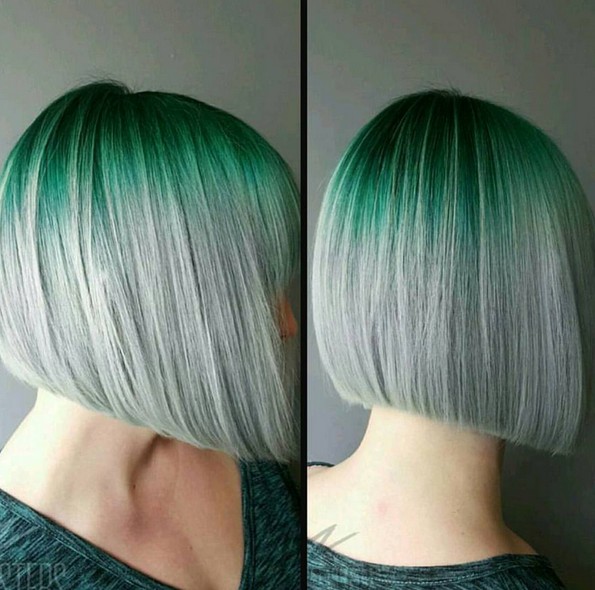 Definitely not a hairstyle you'll see often; but that doesn't mean it isn't FABULOUS. Her interesting technique uses precision to create a distinct line between an intense green hue and a subtle grey underneath. Cool, quirky, and definitely unique- can work for gals of all ages.
Smoky Balayage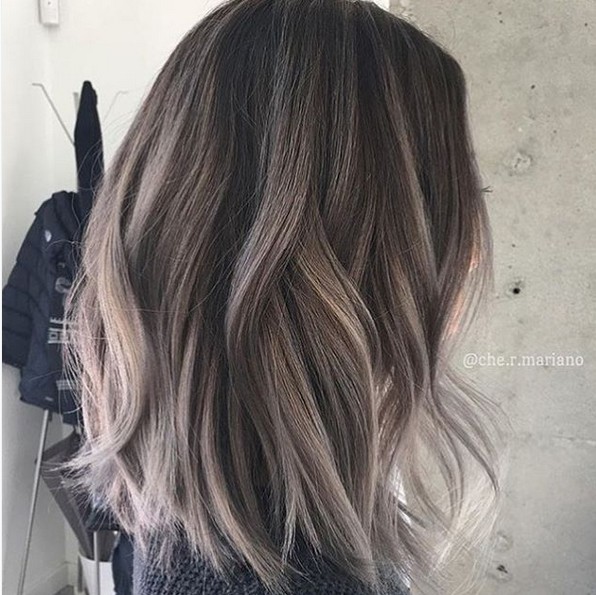 Subtle charcoal highlights are perfectly infused into this rather dark brunette mane for a look that's undeniably captivating and thought-provoking. It's a hue that oozes with a 'smoky' effect, as if she's just stepped out of a cavern and is ready to take on the world.
Gray-Lavender Highlights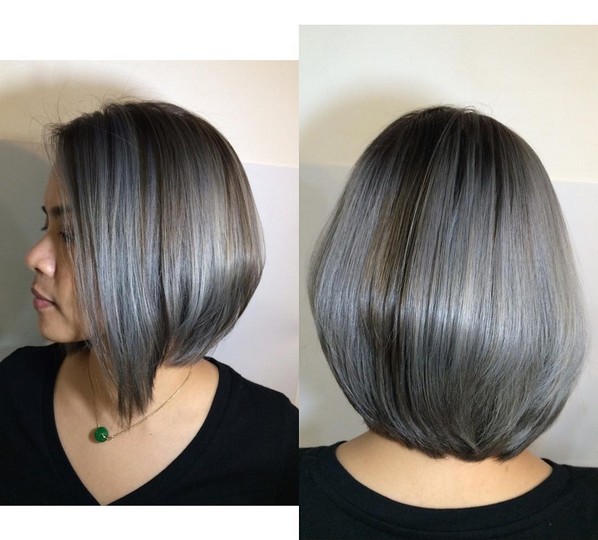 Gray-lavender is a shade you definitely don't see often, but is very appealing to the eye. It has subtle hints of lavender and gray infused together for a fascinating shade that plays well off the darker roots and darker natural pieces leftover through the crown.
Gray and Wine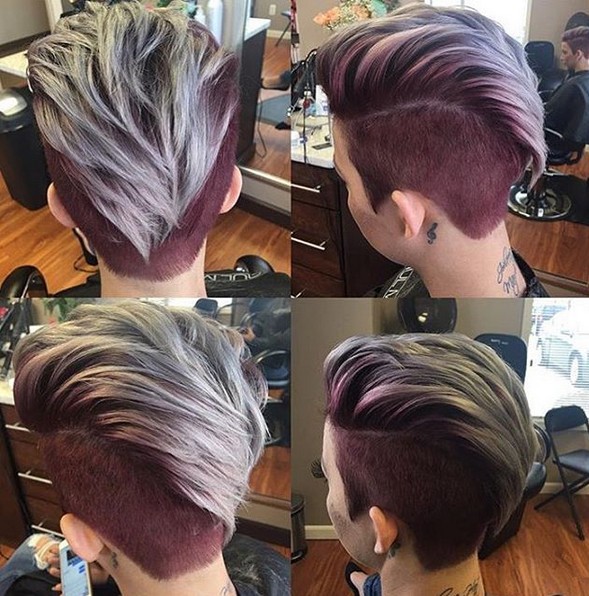 Wine colors have a certain sophisticated and regal appeal to them, which makes this unique mohawk truly stand out from the masses. Her slicked back mohawk hairstyle is an edgy one, but when lightened up with gray pieces on top and mahogany sides, it's a tamed down version that's worthy of the royal treatment.
Hot Pink Undercut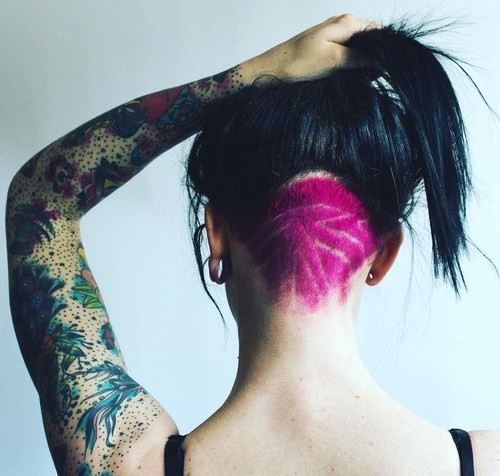 Shaving off a part of your hair is a bold statement, and to showcase your edgy design even further, try on a hot pink shade that's super bright against a jet black upper half. It's 'out-there' and exciting, and just imagine how awesome this hair will look in a ponytail!
Brunette!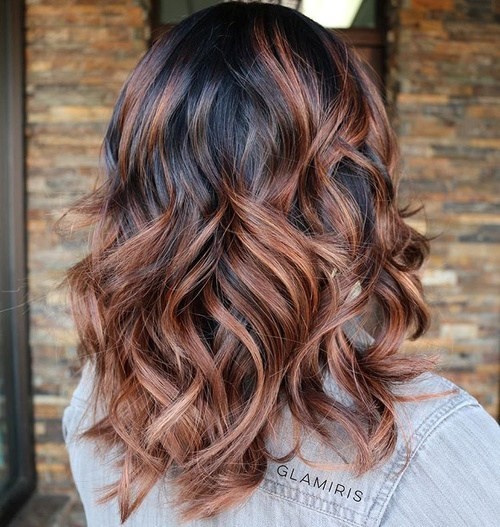 Go tame with your two-tone shade and pick natural colors that look extremely sensuous together. The two brown shades are a beautiful mix of darkness and lighter tones for a very caramely warm shade that's perfect for fall.
Dark Brown and Pink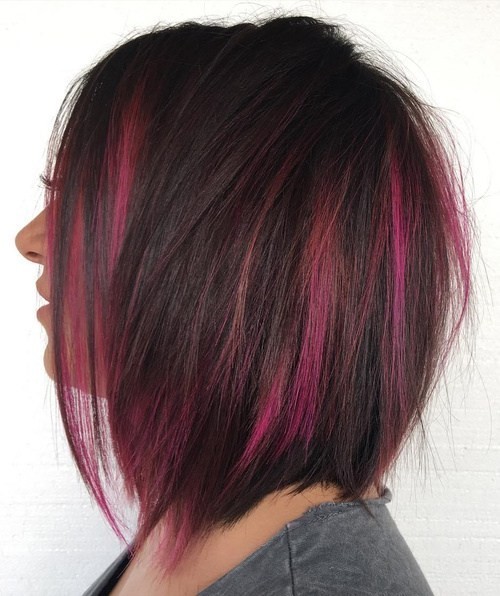 A darker shade of pink like this is a great match against deep brunette strands, a mix that's trendy and chic with just the right amount of sass to top this adorable short bob haircut.
Light Blonde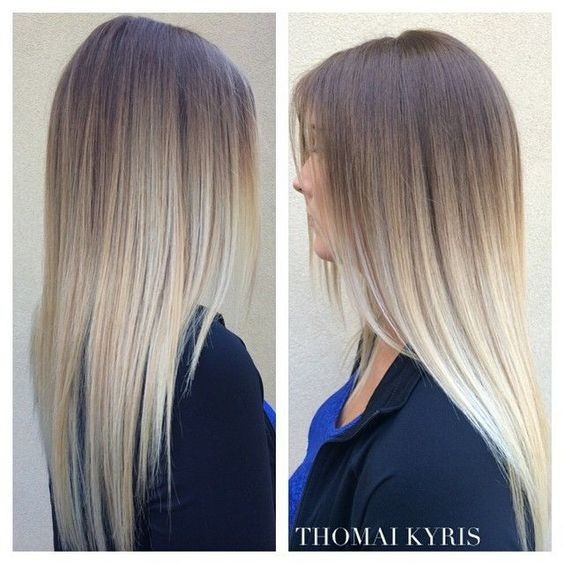 If you were blessed with naturally blonde locks, leave them on top a bit and lighten up your look with a platinum lower half. A great look for summer, it's the perfect combination of natural sandy blonde hues and striking lighter tones that are sure to glisten in the sun.
Platinum Side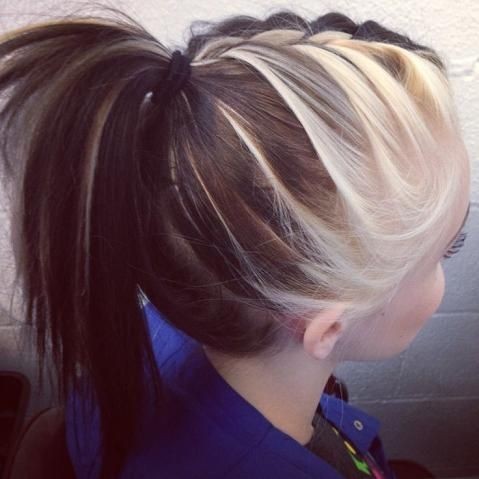 Forget ombre and balayage- do something quireky and unique! By adding platinum blonde to one side of her mane, she creates some interesting contrast that looks awesome whether the hair is left straight, braided, or tossed into a pony.