You have watched countless videos on social media labeled as nail tutorials. Try as you might, replicating the design never turns out the same. The lines can throw you off. Maybe you just struggle to paint your dominant hand with a shaky opposite hand. Though some of the gorgeous designs seem so easy, they turn out to be anything but. That does not mean you have to sacrifice all of your time trying to finally perfect beautiful fingertips. I am here to tell you there really is easy designs you can do at home. No, they aren't solid color prints either.
Just like some designs look easy and turn out to be difficult, some expert looking designs turn out to be simple. It is possible to get the look you want without having to change out of your pajamas to head to a nail salon. These looks are all gorgeous and can be done from the comfort of your couch, or wherever you want to do them. You can grab your girlfriends and make a night of it. From highlighters to sharpies, to do it yourself matte polish, these tips and tricks will leave you with hottest nails around.
1.Do Your Own Nails With Highlighters

It is time to step away from the books and put your highlighters to new use. Yes, highlighters can be used on your nails. Starting with a white base, dot the highlighter in the colors you want across your nails. Add a top coat to keep the colors from washing off. This easy look might become your next go-to nail design between study sessions.
2. Do-It-Yourself Ombre Nails With A Sponge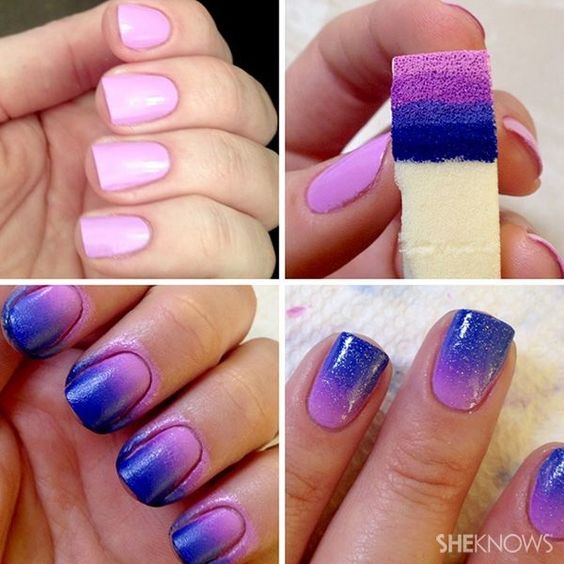 Do you have an old makeup sponge laying around you don't have a use for anymore? You aren't sure why you haven't tossed that old thing out. Now, you have a reason to use it. Paint the colors of your choice right onto the sponge. Dab the polished sponge onto your nails. Repeat until you reach the right thickness and the colors are solid on your nail. Finish with a top coat and clean excess paint off with a q-tip and nail polish remover.
3. Easy To Make Matte Nail Polish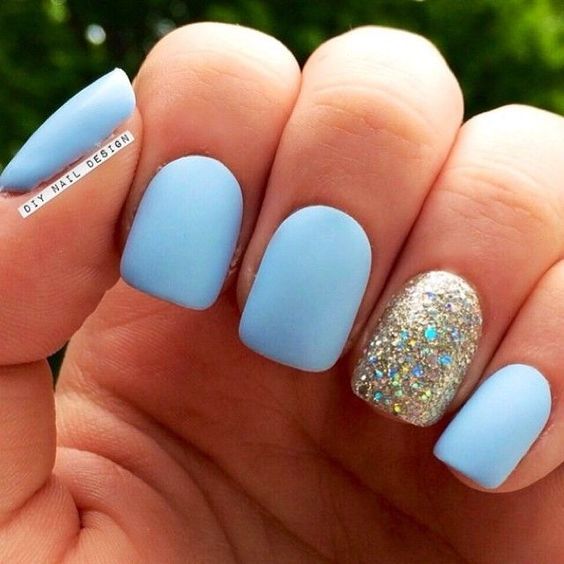 Matte polish is one of the hottest nail trends right now. Instead of going out and buying a whole new set of polishes, grab your eyeshadow palette and get ready to use up those colors you've never tried. Powder the shadow and mix it with a few drops of clear polish. To get this look, paint one finger with a matching glitter polish.
4. Simple And Cute Bows For Your Nails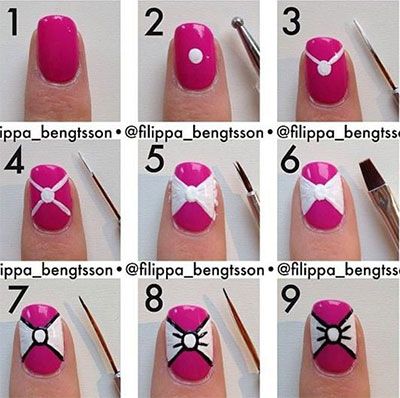 These girls pink nails with a bow design are fairly simple to do yourself. You will need different sized brushes and 3 colors. Paint the base color onto your nails. Add the bow by placing a dot in the middle. Add the outlines with lines on each side in an x shape. Fill the bow with the same color. Using a small brush add your outline color, finish with details and a top coat.
5. Easy To Do Firework Nail Trick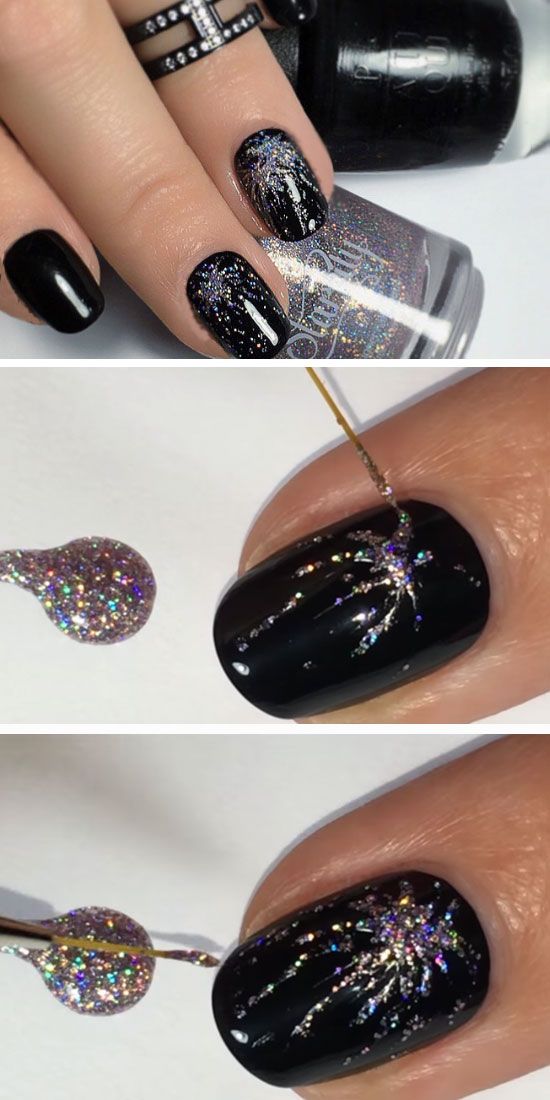 This simple design is perfect for a night out or a big celebration. To get these party nails, you can choose the colors you want, just as long as they contrast enough. The black makes for a perfect background, but white would be a nice alternative. Paint the base color. Add a spot in the middle with glitter polish and draw some lines in a firework design.
6. Glitter And Dots Easy Nail Design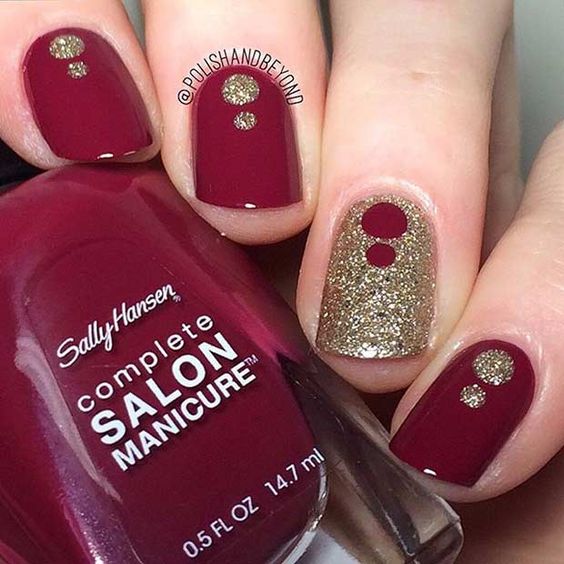 This color uses a base color and glitter polish for a simple and elegant look. You can pick your colors based on your preference and play with they style. Add dots in the same size or varying sizes near the cuticle. Just one dot or a few, a design this simple gives you plenty of options to play with.
7. Princess Inspired Easy Glitter Nail Design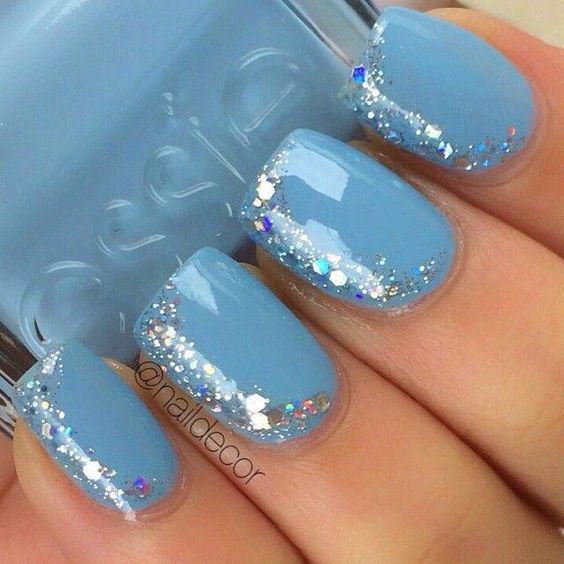 Almost every little girl dreams of being a princess at some point in their life. Sometimes those dreams can carry on as you grow. While it may not be possible for everyone to actually be a princess, you can certainly look like one. Paint a base color on your nails in your favorite princess color. Add a matching glitter polish around the cuticle, top and one side of your nail.
8. Easy To Do Watermelon Style Nail Art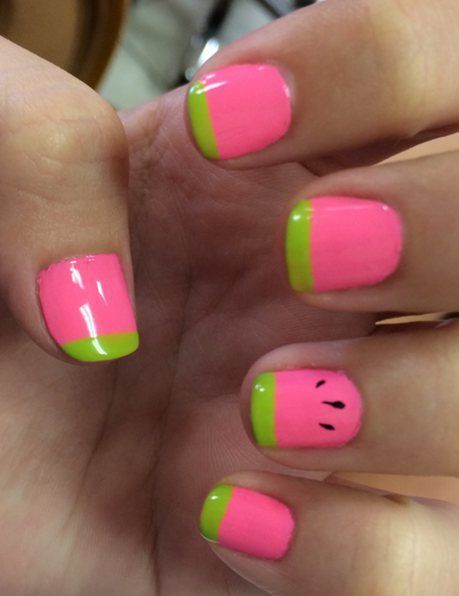 Summer picnics do not always have ants visiting them. These pretty watermelon nails are all the fun without the bugs. Paint a pink polish (or red) as the base. add green polish across the tips. Finish the look with a few small lines near the cuticle to make 'seeds.'
9. Cuticle Nails You Can Do At Home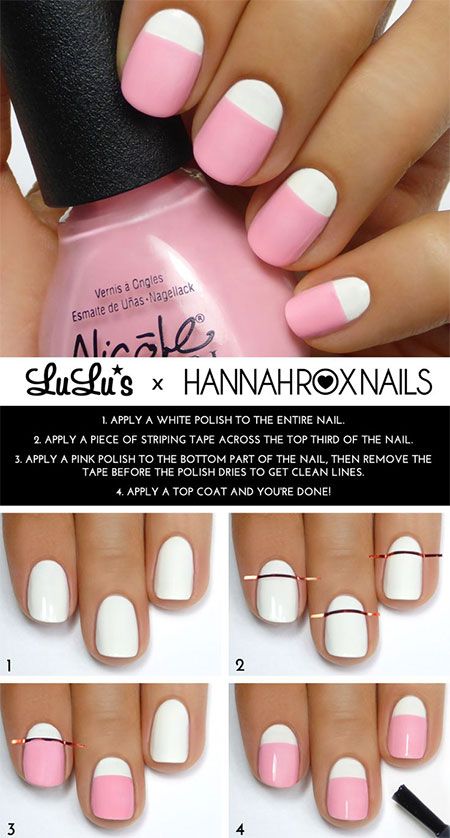 This Pretty Cuticle design has a very modern look that people will leave everyone thinking you must have gone to a salon. While simple, this design definitely leaves a professional impression.
10. Permanent Marker Designs For Your Nails

A metallic colored permanant marker leaves endless options for nail designs. You can play with different styles to find your favorite one.